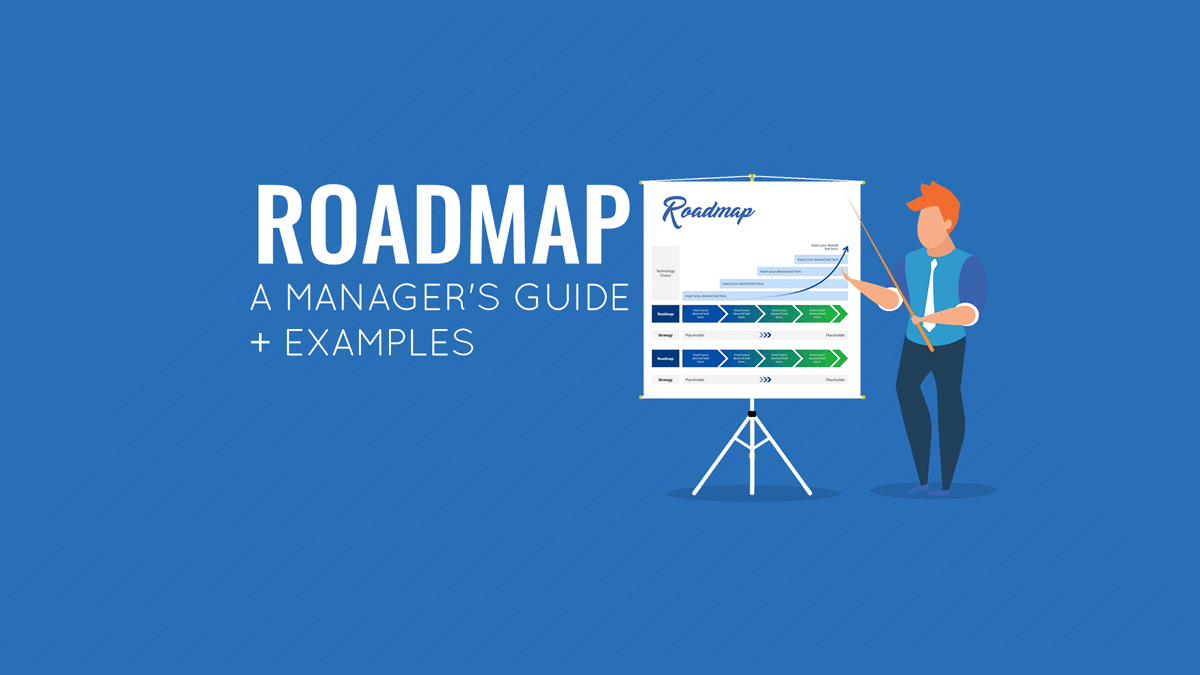 When you have a new project underway, it's easy to get overwhelmed with the overall scope of planning and the optimal execution sequence. Where should you begin? What timelines are realistic? How can I break down my vision for the team? These are the common questions managers have, and a roadmap is a tool many choose to turn the project pre-planning chaos into clarity.
Table of Contents
What is a Roadmap?
Traditionally a road map is a navigational tool, showcasing all the roads in the area for motorists. But more recently, the "roadmap" term found a footing in the business world — specifically, in project management and software product design.
Thus, here's a more business-oriented roadmap definition:
A roadmap is a high-level document, outlining the overarching direction of a planned initiative. Placed on a timeline, a roadmap specifies the main goals, steps, and milestones of the project.
Unlike more rigid strategic plans, a roadmap is an evolving document. It should be revised, updated, and improved as you move ahead with the execution or obtain new market data.
The underlying purpose of any type of project roadmap is threefold:
Serve as a reference point for main goals and objectives
Inform all project stakeholders about the important milestones
Communicate how short-term efforts align with long-term business objectives
However, you should remember that business roadmaps are more than project trackers or visual to-do lists. It's a higher-level document acting as "a single source of truth" when it comes to making day-to-day lower-level decisions and determining the priority of various tasks and activities.
What should a roadmap include?
Ideally, a roadmap has to count on the following elements to achieve its functional purpose:
Strategic Alignment: The roadmap has to reflect initiatives, their why and how they were conceived, and how do those initiatives align with the product or business strategies for the organization.
Schedule: A group of goals without time estimation is just a dream in the air. Due dates for deliverables have to be listed, as well as contingency plans when a key deliverable does not meet the deadline.
Required Resources: This comprehends both human capital involved in the project, and physical and technical resources that help the organization fulfill its aspirations.
Remember, as a tool, roadmaps have to highlight graphic values. It is not enough to use words and, preferably, avoid their usage to not overpopulate the diagram itself.
Types of Roadmaps
Roadmap planning is a highly versatile planning technique, applicable across different industries and functions. Below are several common types of roadmaps, plus examples.
Product roadmap
A product roadmap is a reference document for the team, specifying product vision, direction, priorities, and development vector over time.
It is a key document for product managers and helps to understand where an organization wishes to be and the steps to complete that vision.
Product roadmaps are used in conjunction with marketing plans and business plans since they track the development of a product milestone by milestone.
As an example, we can check this video presentation by Airbnb of their product roadmap.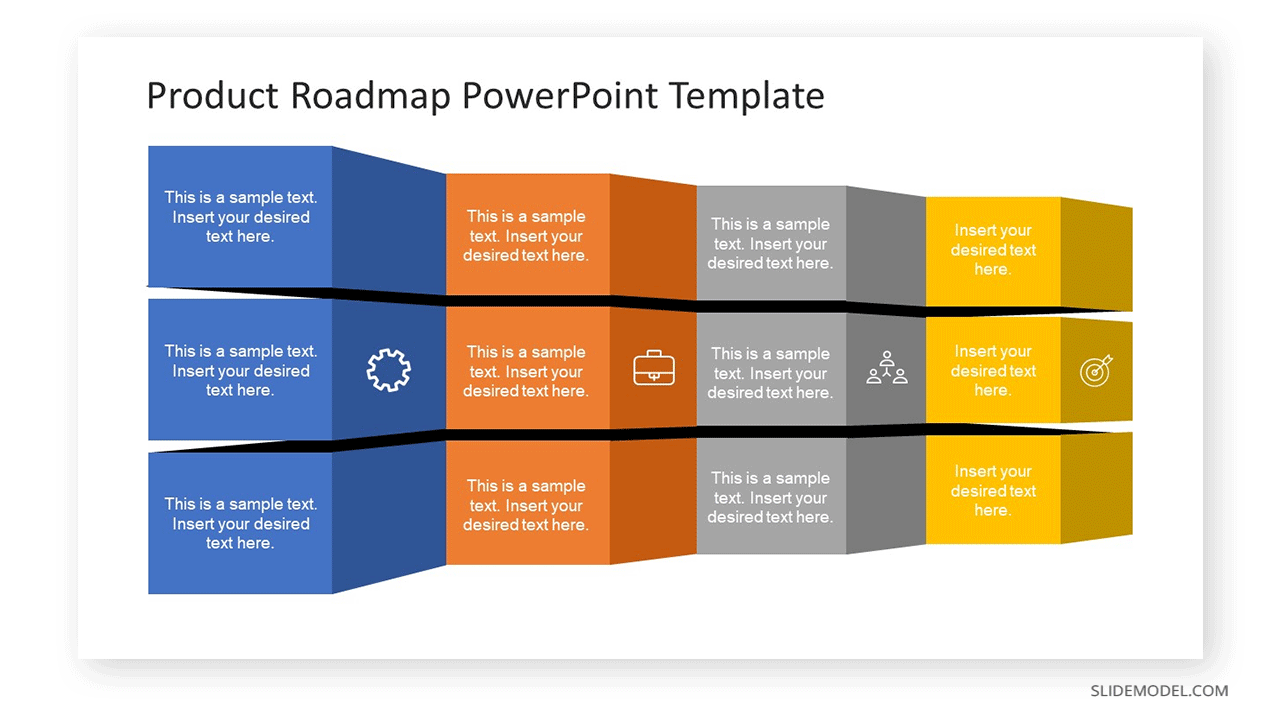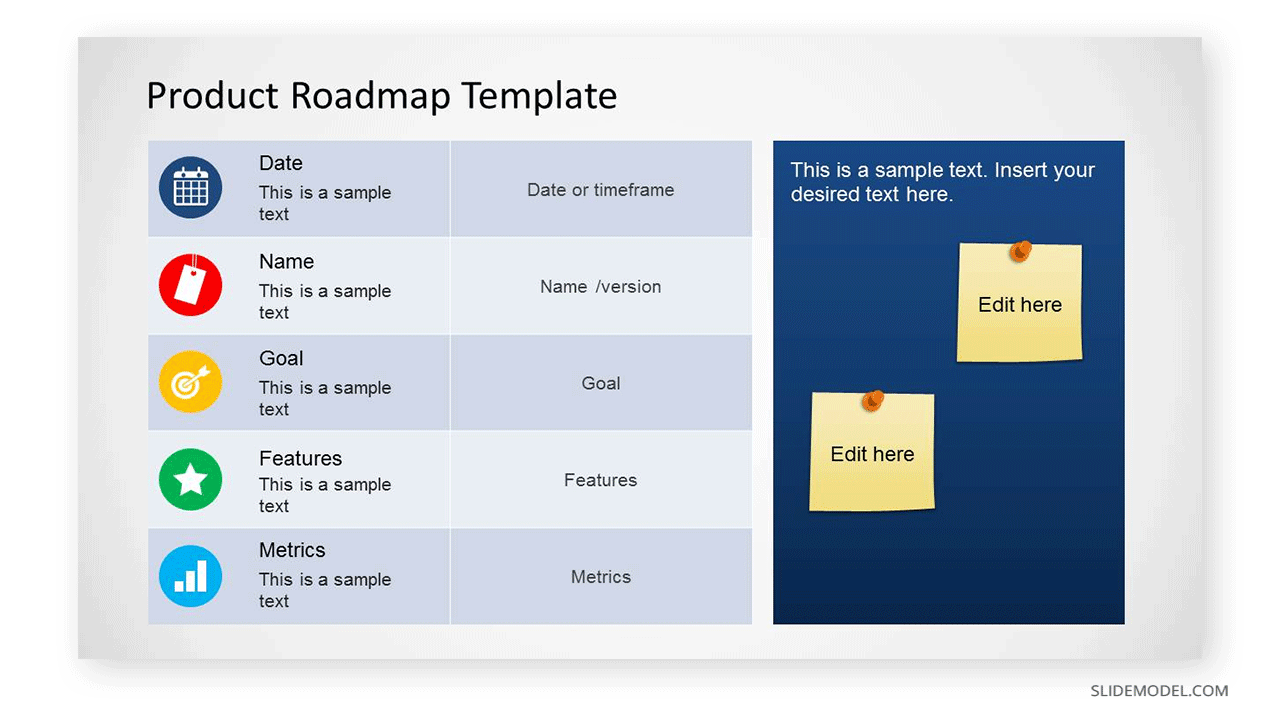 Technology roadmap
A technology roadmap is a document or diagram showing the technology adoption, investment, and upgrades plan for a company.
Their implementation is meant to help organization leaders to plan when, which and why technologies will be onboarded into the company, preventing costly mistakes. Another application of the technology roadmap is to define when a certain piece of technology becomes obsolete and is due to be replaced.
Technology roadmaps can become immensely useful for companies transitioning into Industry 4.0 smart factory models.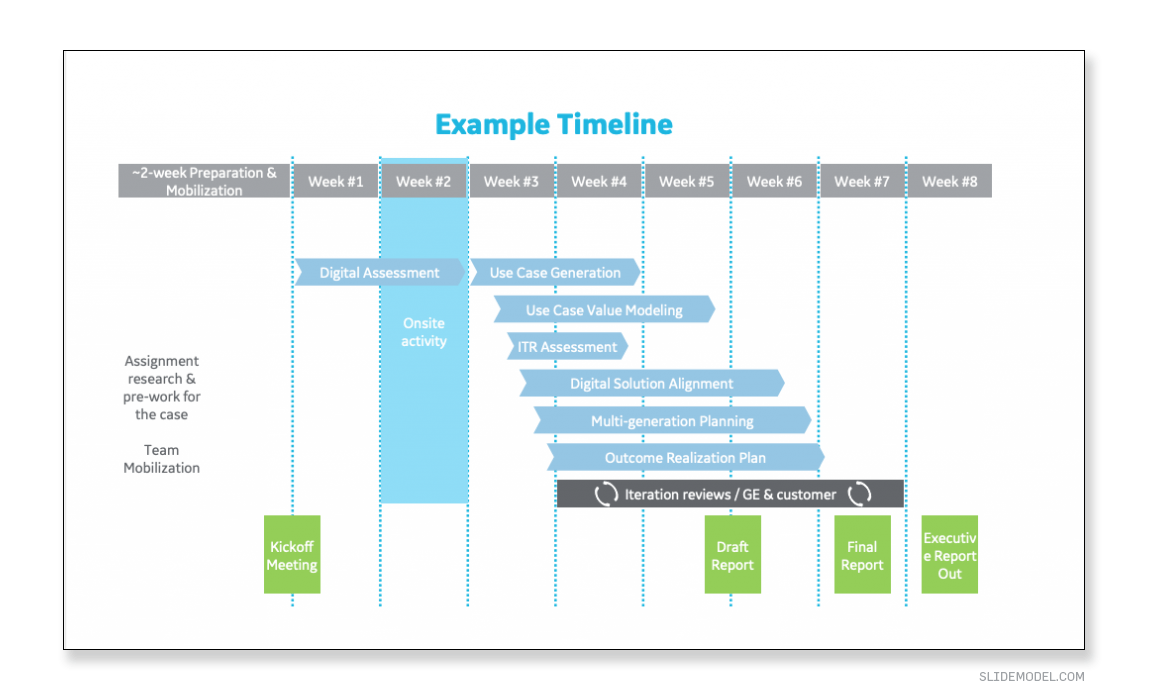 Below we can check these Technology Roadmap examples:
Technology roadmap templates from SlideModel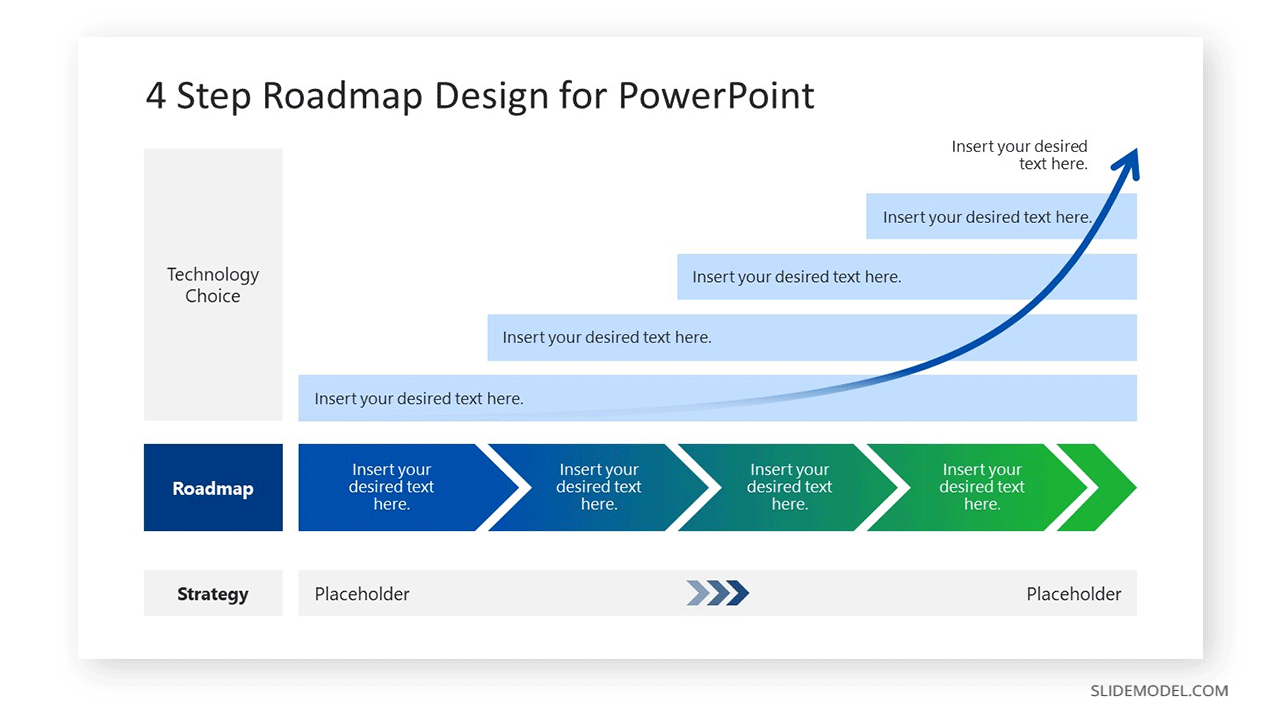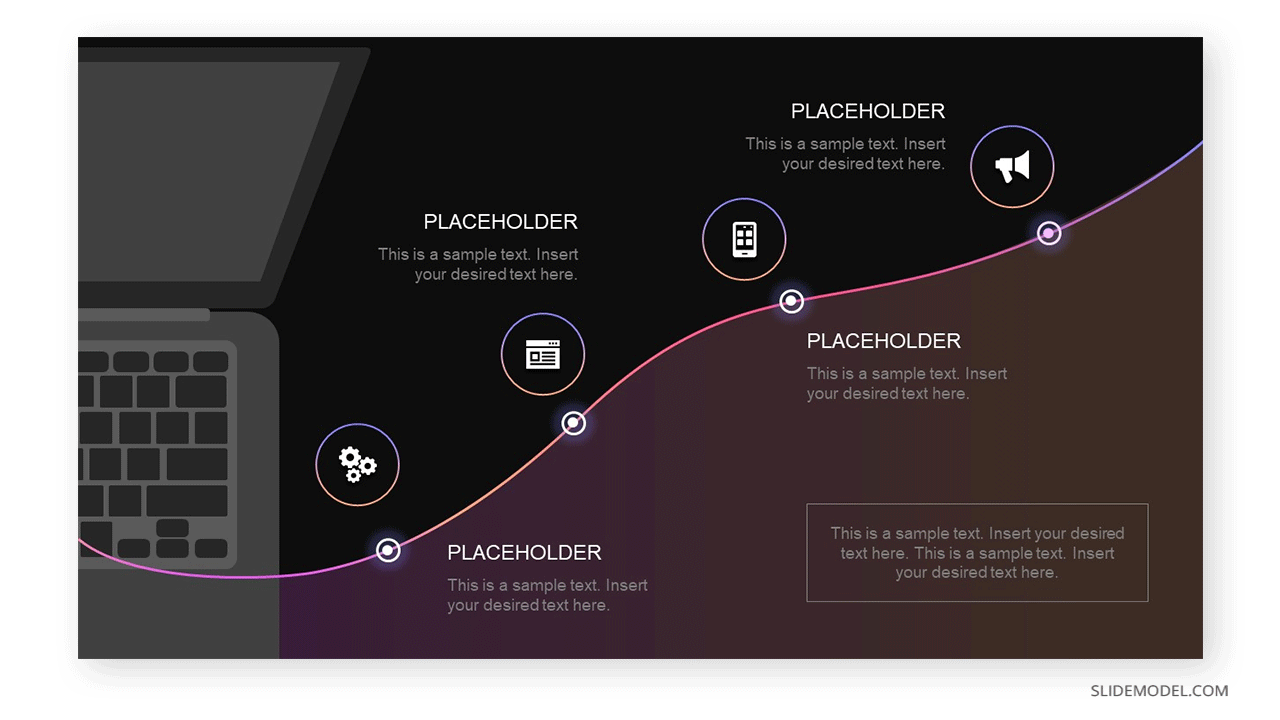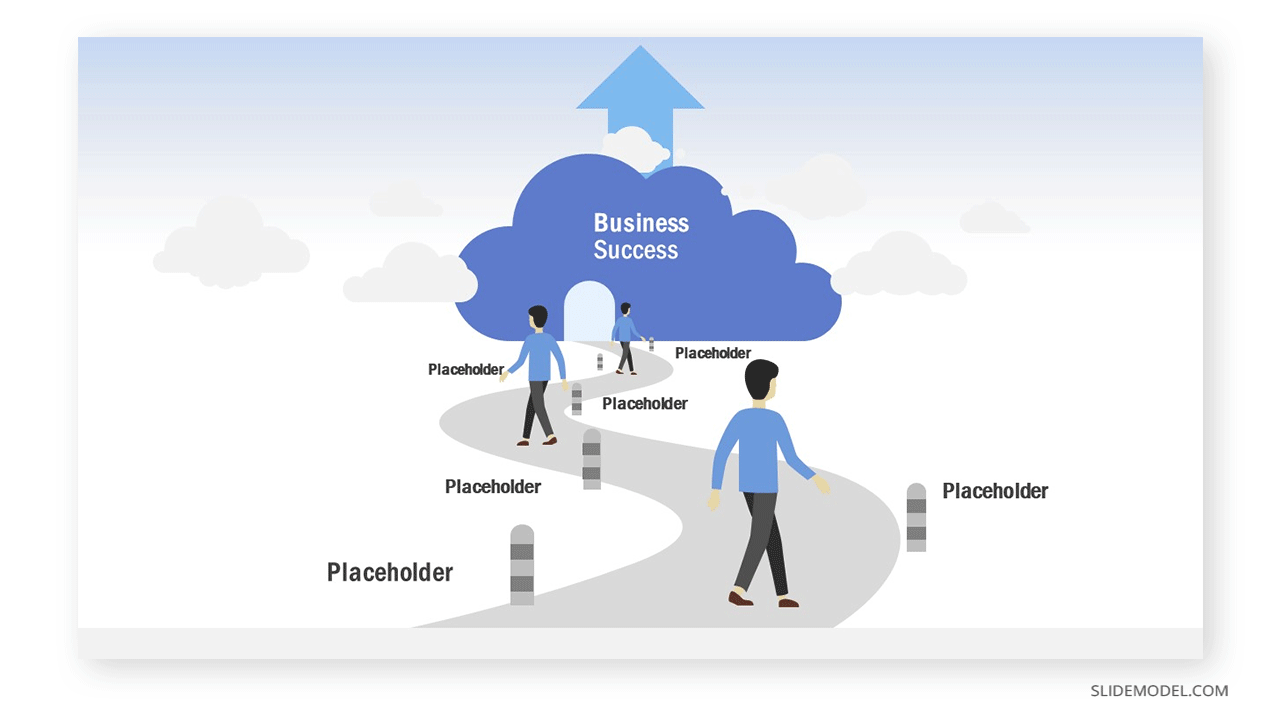 Program Roadmap
A program roadmap is a visual reference showcasing the main planned activities for a specific corporate or public program. Unlike the earlier two examples, a program roadmap has a wider scope and can include several sub-roadmaps, pertaining to specific processes such as technology adoption, product development, marketing, etc.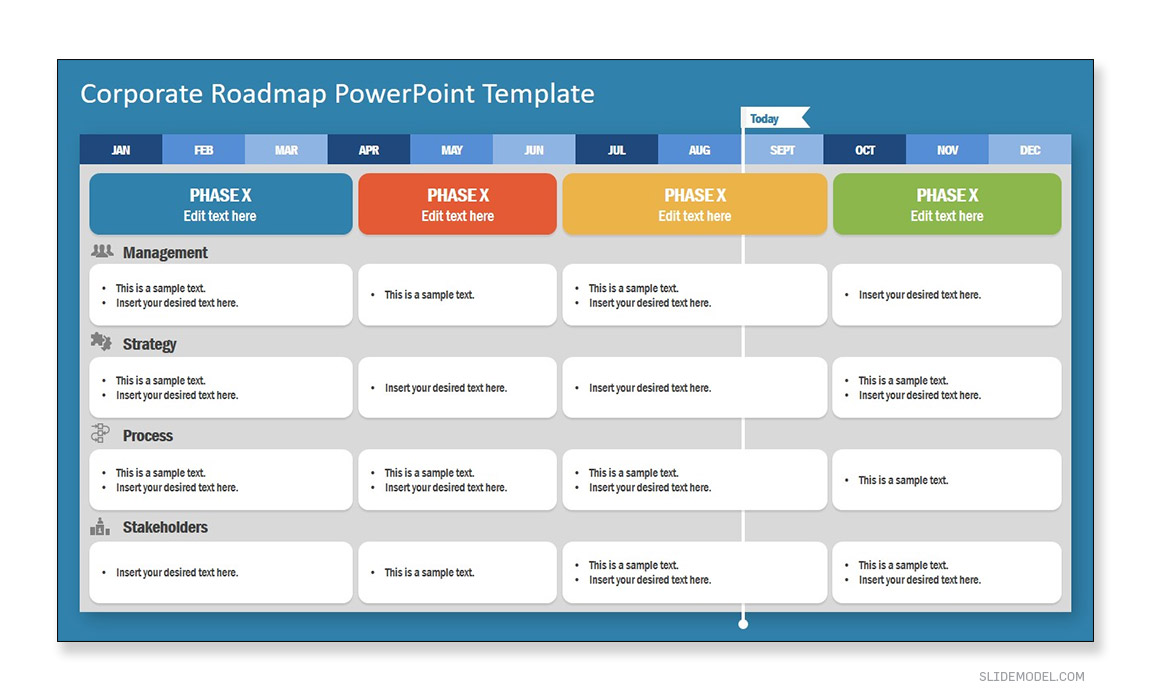 Program roadmap example
Program PowerPoint roadmap templates from SlideModel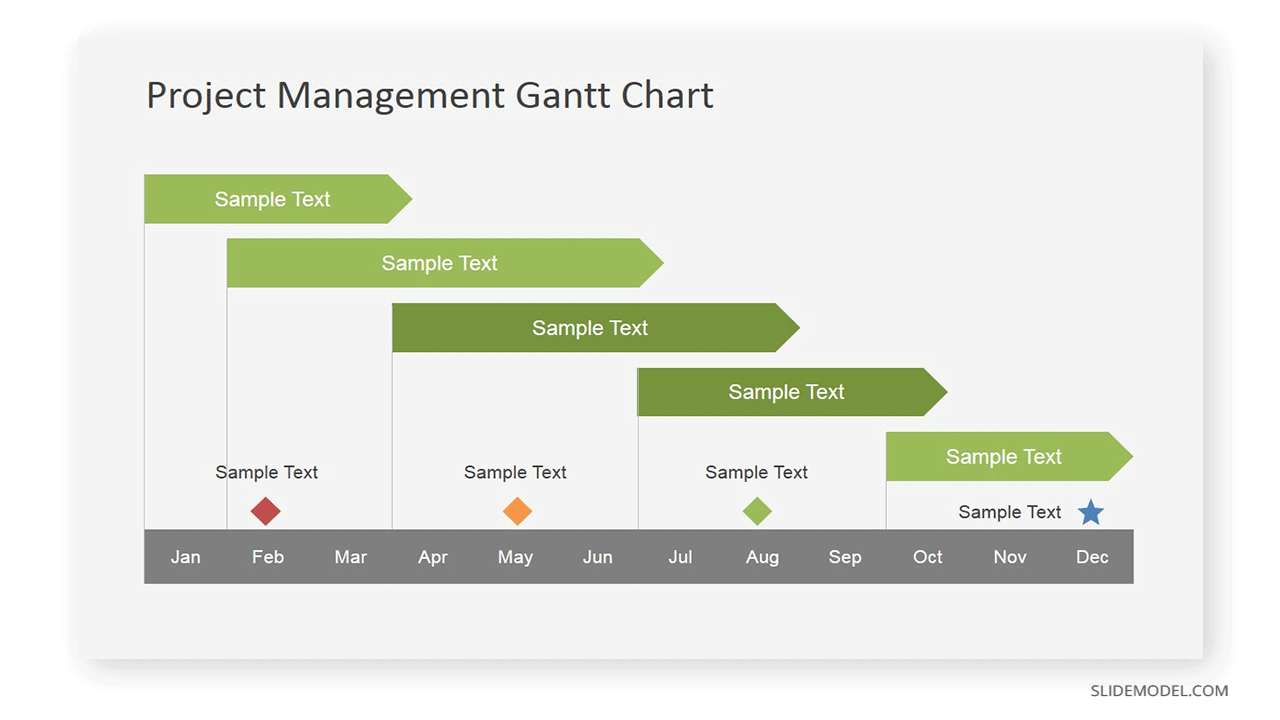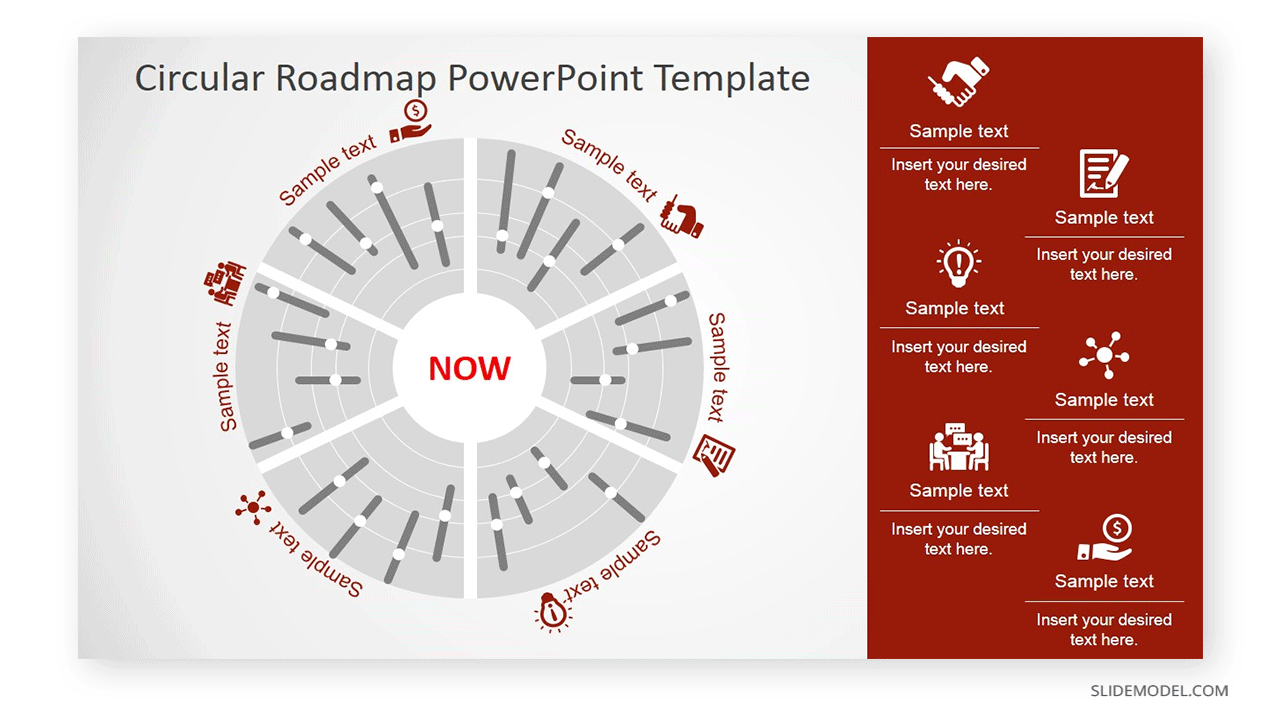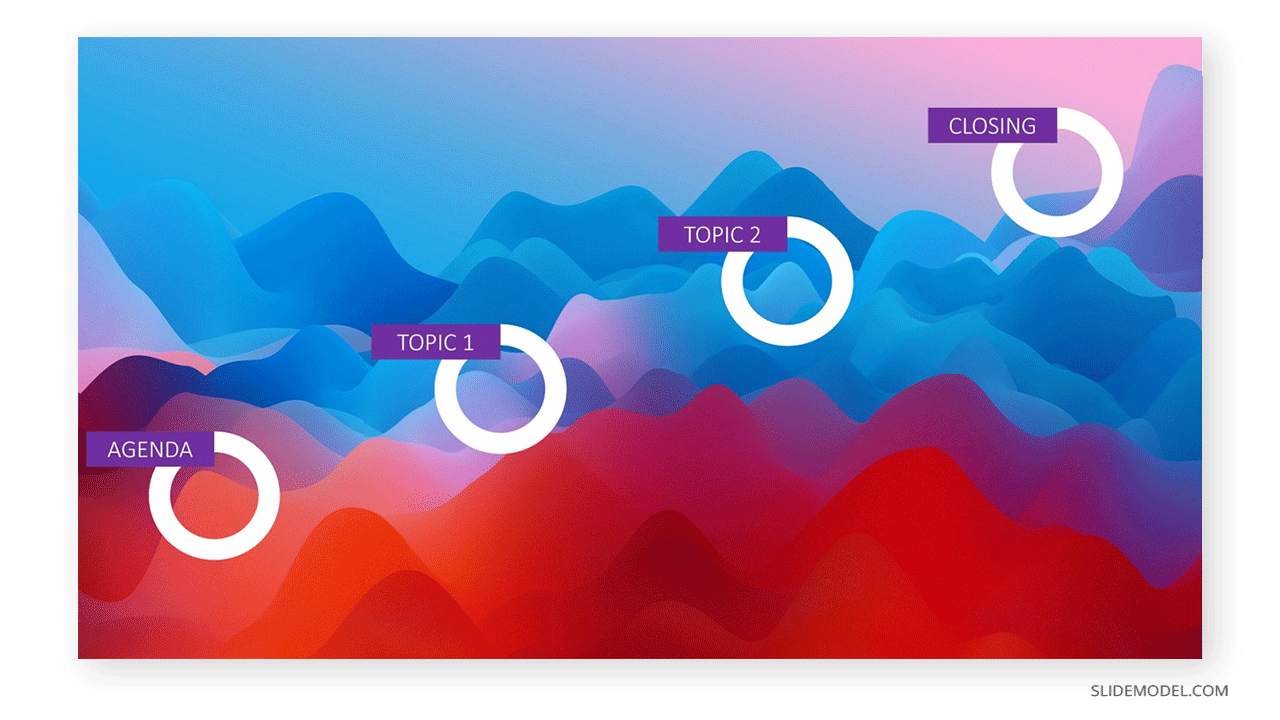 Project Roadmap
In general terms, a Project Roadmap is a simple visual representation of the elements bound to happen during a project, with their own deadlines listed. The purpose of this type of roadmap is to keep project stakeholders aware of what's going on at each stage of a project. It serves as an strategic overview for all the major elements that take part in the project.
Unlike a Project Plan, the project roadmap doesn't go into such detail as in day-to-day task. Instead, it only highlights critical dates that are required for the project completiton.
To successfully create a project roadmap, we must include:
The milestones and the key objectives each one targets.
Deliverables and their relationship with the milestones.
Potential threats to the project, such as delays due to production shortage, a rival company releasing a similar product, etc.
Project Roadmap PowerPoint templates from SlideModel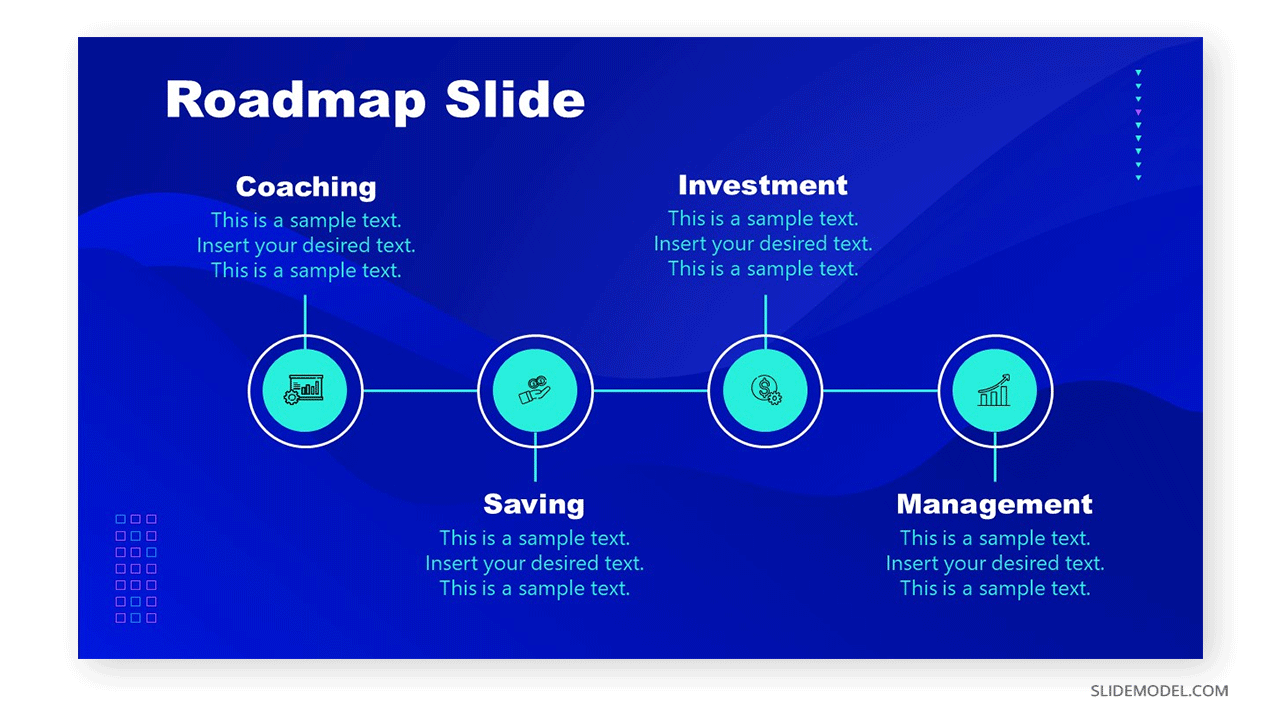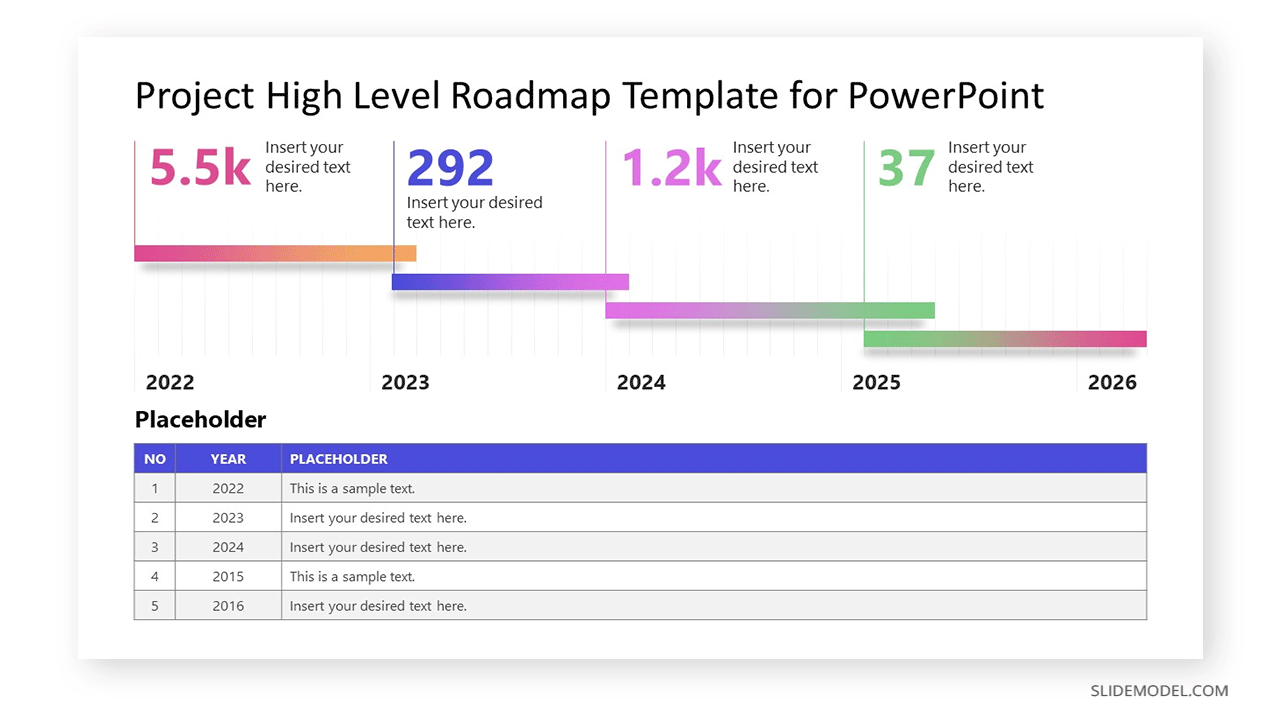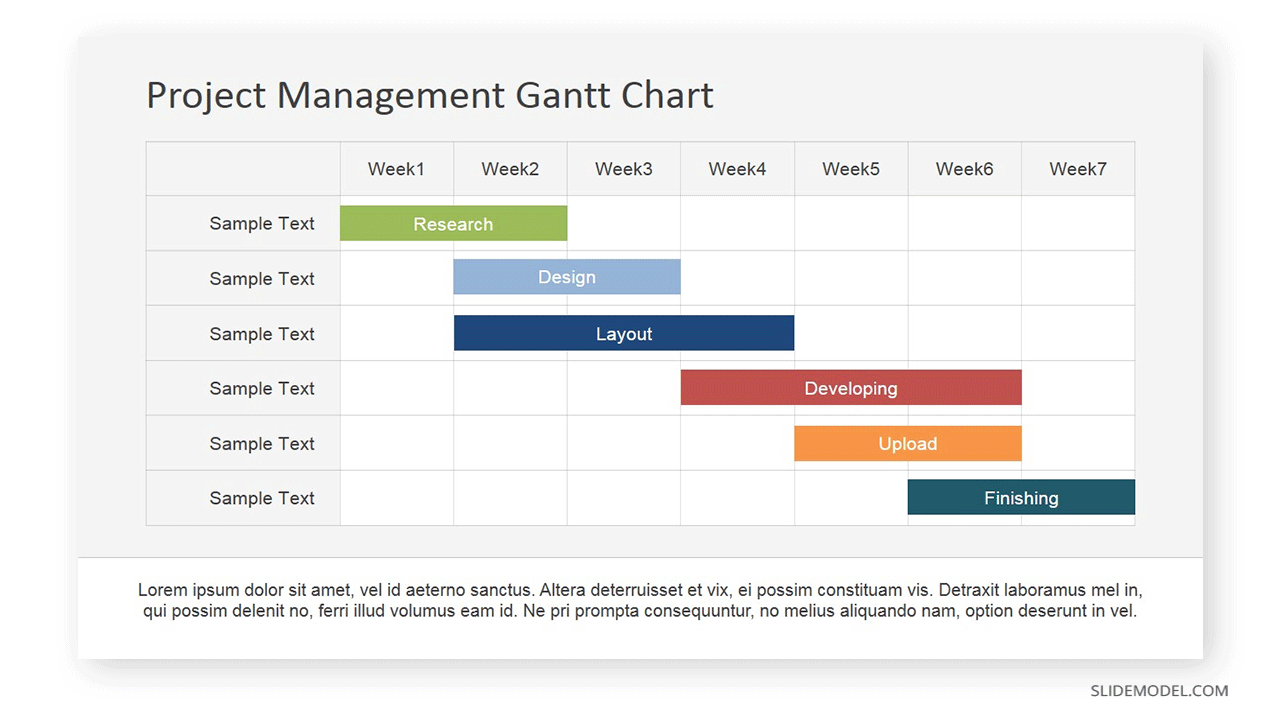 Agile Roadmap
The Agile Roadmap serves as an strategic planning tool, outlining the main elements to work, which and when deliverables are expected. Following the pillars of the Agile methodology, this tool brings transparency to the organization, for both teammates and stakeholders.
Aesthetics depend mostly on the team's preferences, but overall they do resemble a Gantt Chart. These agile roadmaps help organizations to work effectively, creating task priorization and improving speed. Above all things, it is essential to determine which tasks have hierarchy rank over others in order to avoid unclear deadlines.
There are different types of Agile Roadmaps:
Theme-based agile roadmaps: In which tasks are grouped by theme.
Time-based agile roadmaps: It sorts tasks in swimlane diagram format within a date range. Particularly effective for measuring efficiency in sprints.
Progress-based agile roadmaps: Their structure resemble Trello boards with a correlation to a timeline. They work in coordination with kanban boards or similar models.
Must-known tips for creating an agile roadmap:
Build a reasonable narrative around your strategy. It helps so anyone can understand the purpose of your strategy and why your team selected the goals you track.
Be certain to set measurable goals. What can be measured can be analyzed later on for constant-improvement strategies.
Watch out for deadlines. Not every task requires a strict due date, so decide with your team which tasks can have a reduced pressure so the effort is placed on critical ones.
Agile Roadmap PowerPoint templates from SlideModel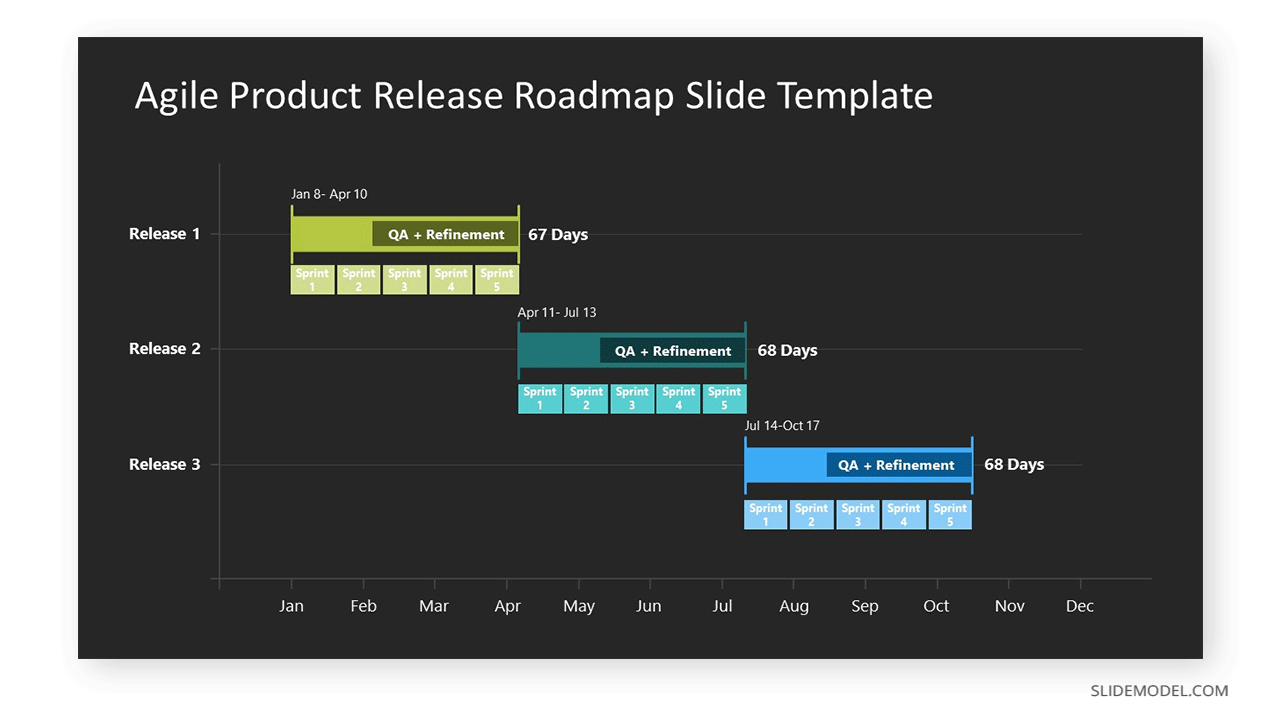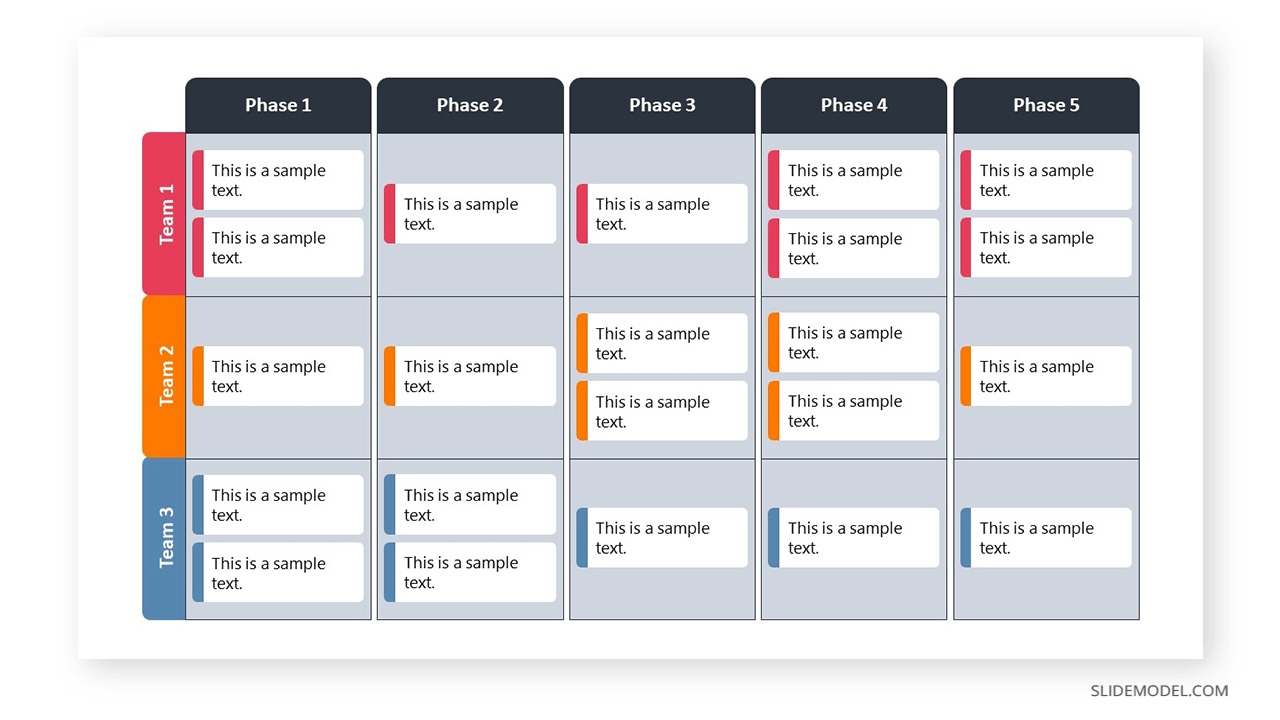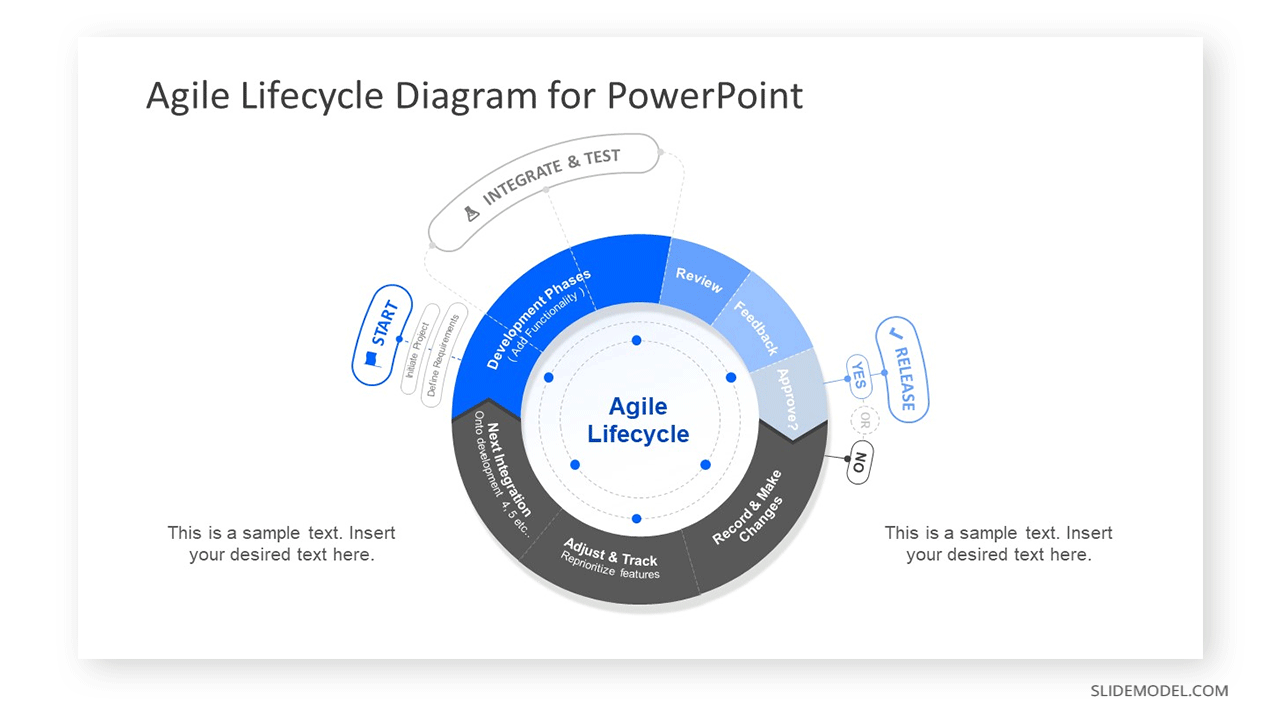 Career Roadmap
This particular kind of roadmap has gained relevance in the last decade as HR teams and career coaches use them to help people advance in their professional goals.
Unlike other formats, career roadmaps don't have to be strictly formal in their graphics. Metaphors such as mountain roadmaps and lane roadmaps are often used to express that career development is a process that involves different stages, with individual challenges per phase. Ideally, they serve professionals to track the steps and deadlines required to take their career to a dreamed level. As a plus, a career roadmap can help students to attend admission interviews for colleges, exposing their views and ambitions in which they include the education degree they are currently applying for as part of that roadmap.
A career roadmap has to include your start point, your destination, and the steps required to meet that deadline. You can list alternate routes if you feel unsure of which career path to take in careers with multiple prospective paths (i.e.: graphic designers who can specialize in packaging design vs graphic designers who are generalists).
Career Roadmap PowerPoint templates from SlideModel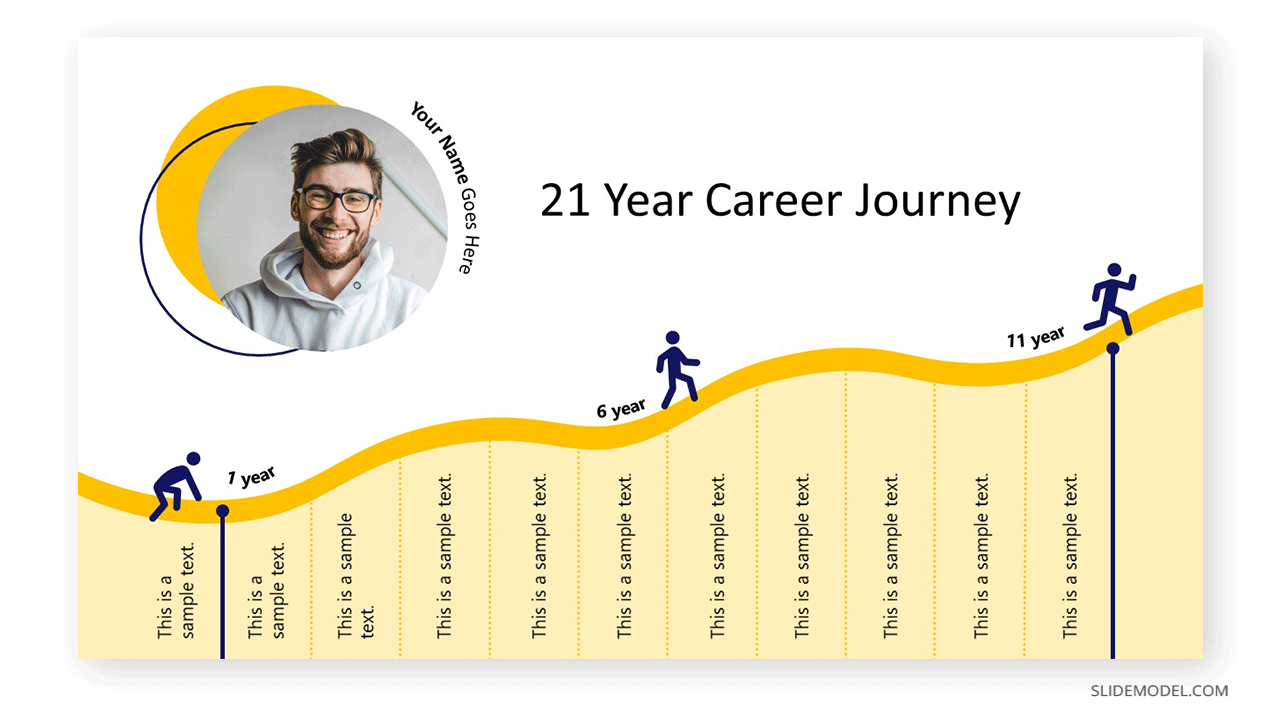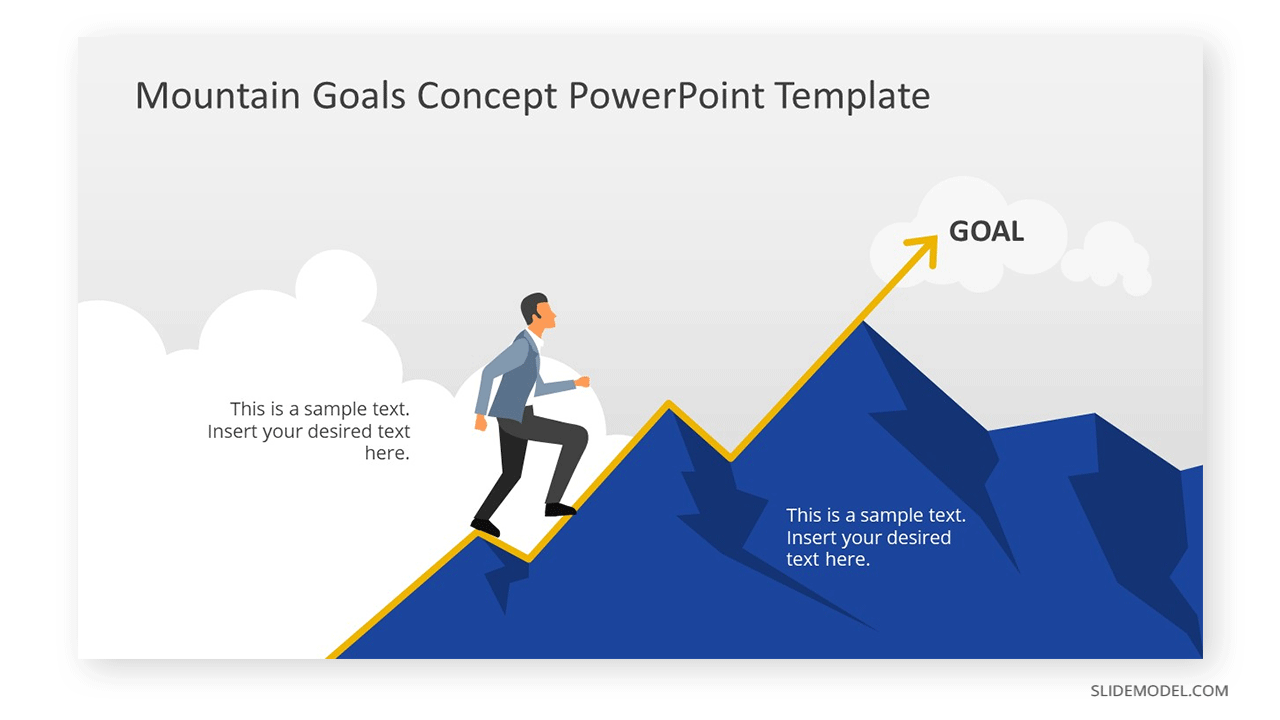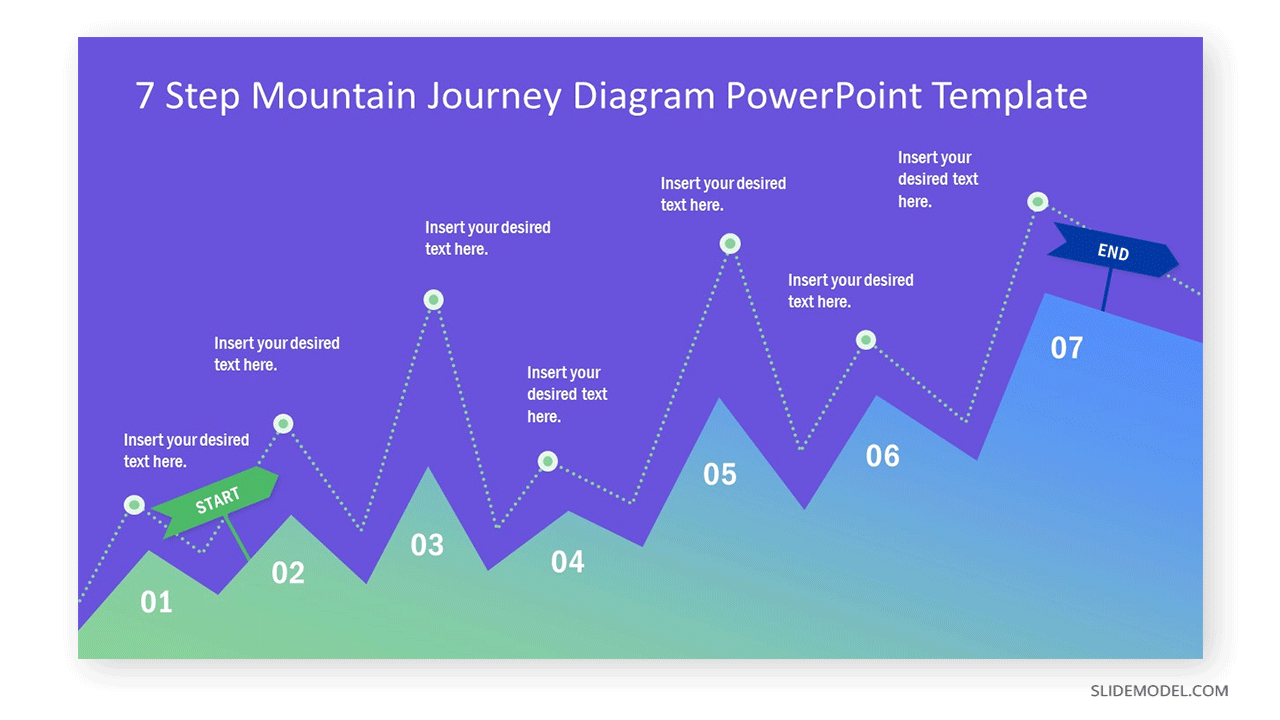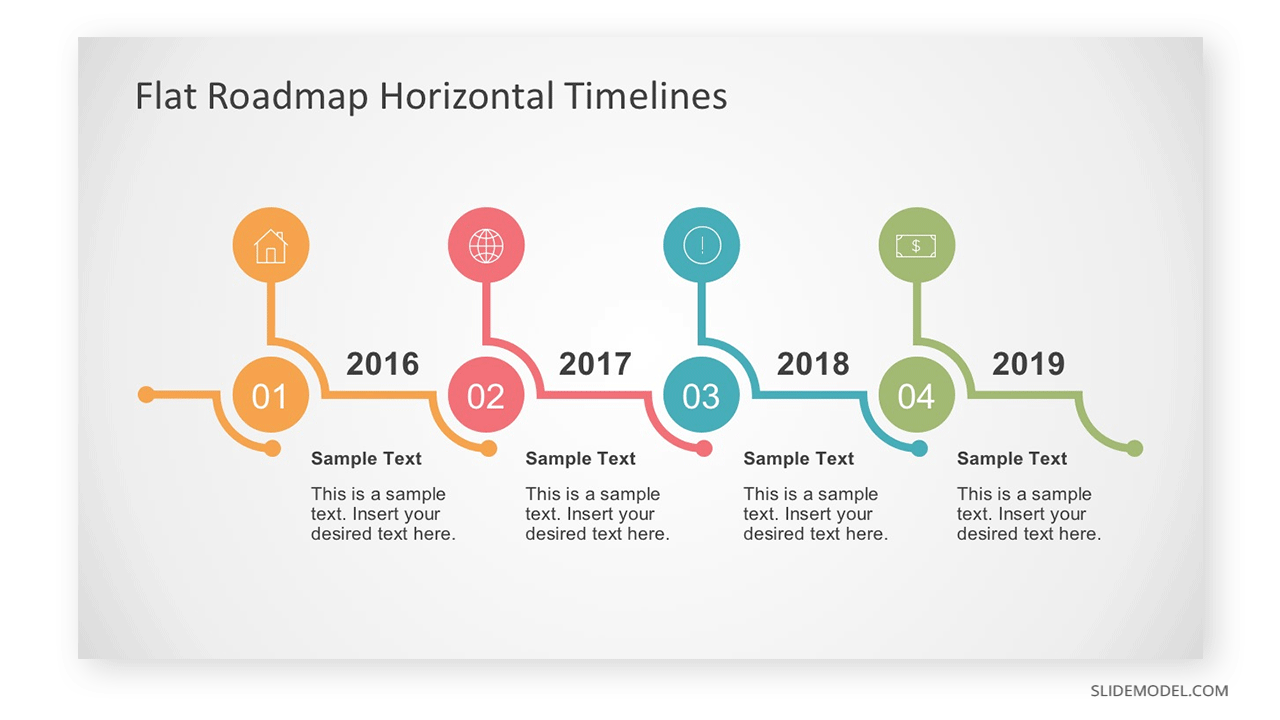 Strategic roadmap
We can create a stellar strategy for our company to increase its sales, but without an implementation plan, that hard effort is futile. This is where Strategic Roadmaps come into play.
Think of an strategic roadmap as the link between a strategy and its execution phase. Unlike other models, it doesn't involve just a Gantt Chart model. The strategy roadmap exposes the what and the why for each action taken, so tasks must be listed according to their role in the overall plan.
Strategic Roadmap PowerPoint templates from SlideModel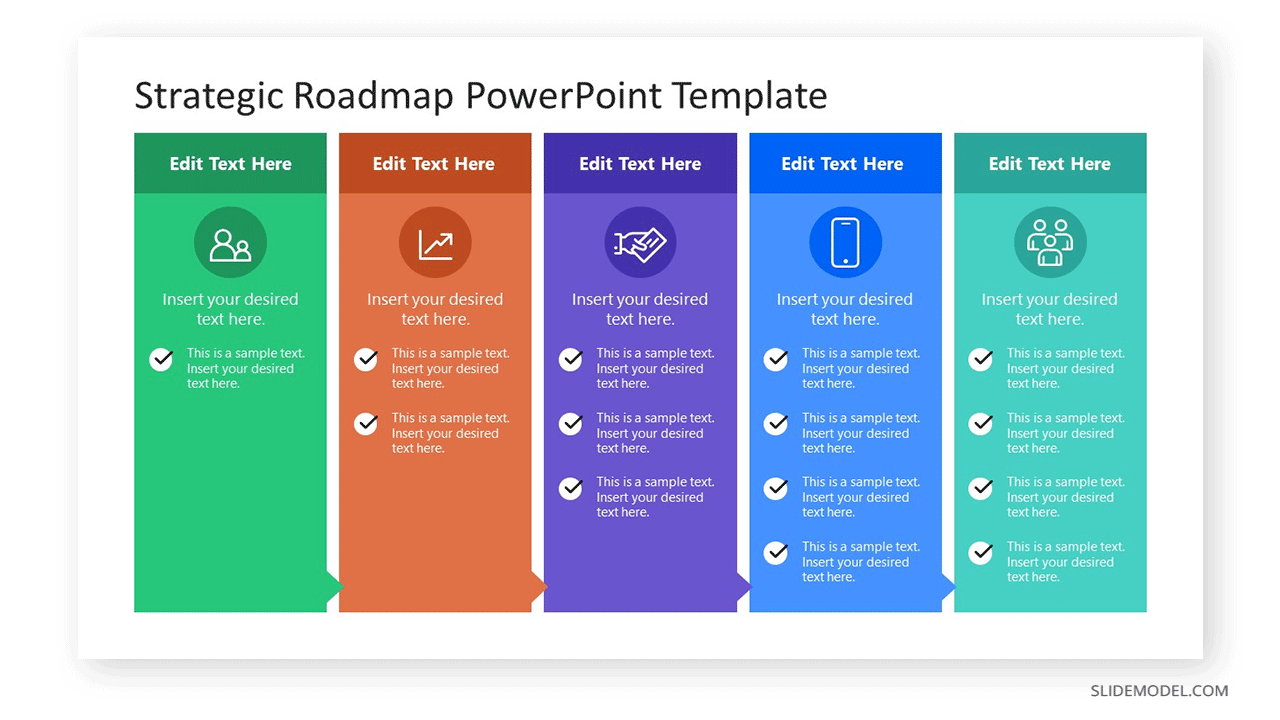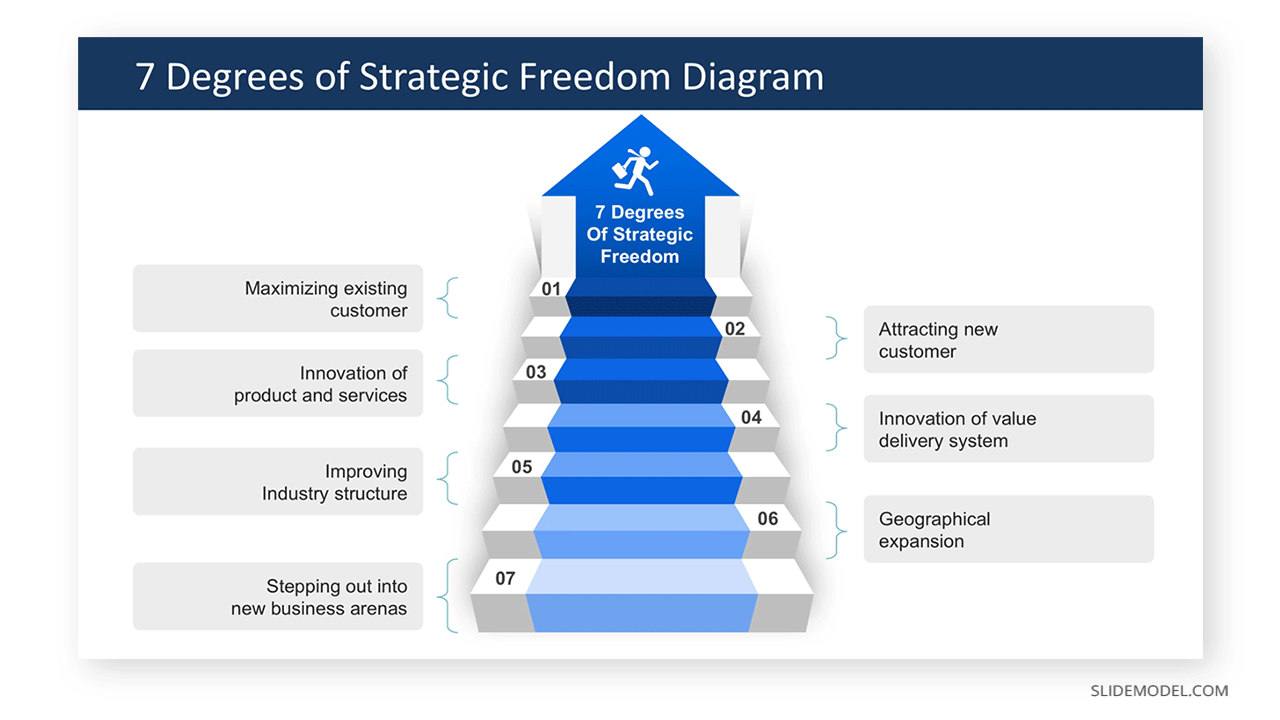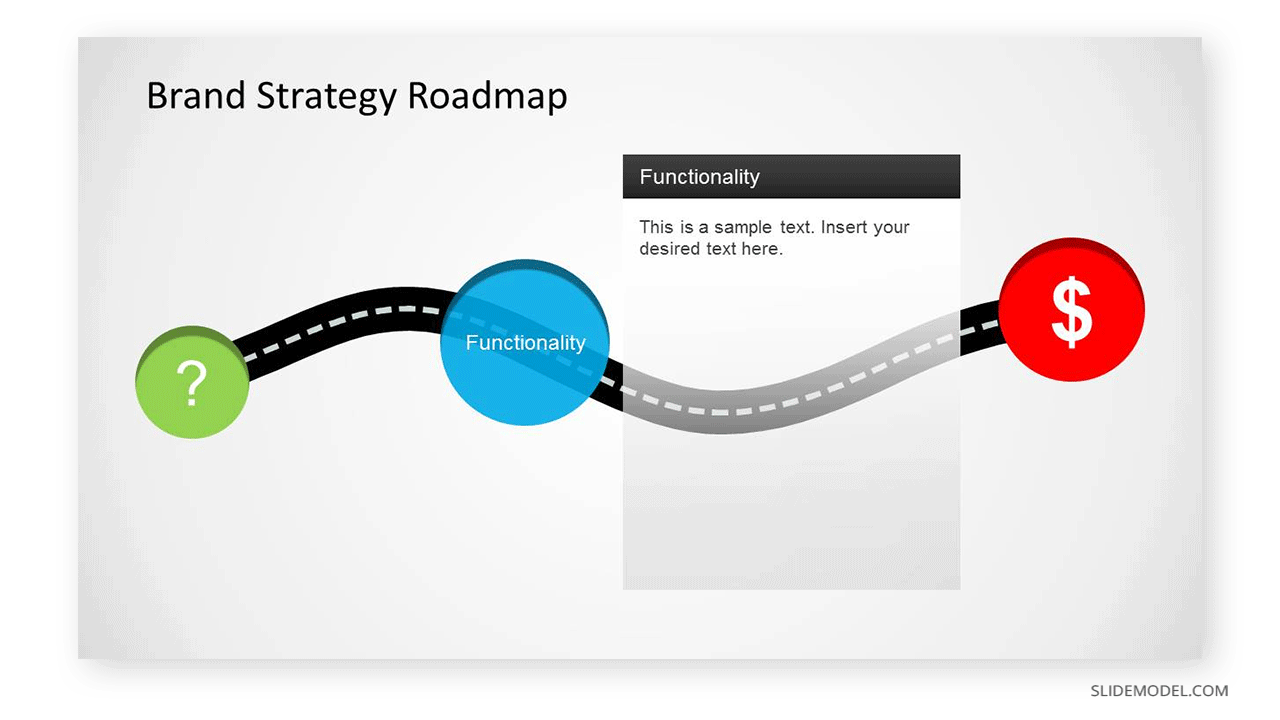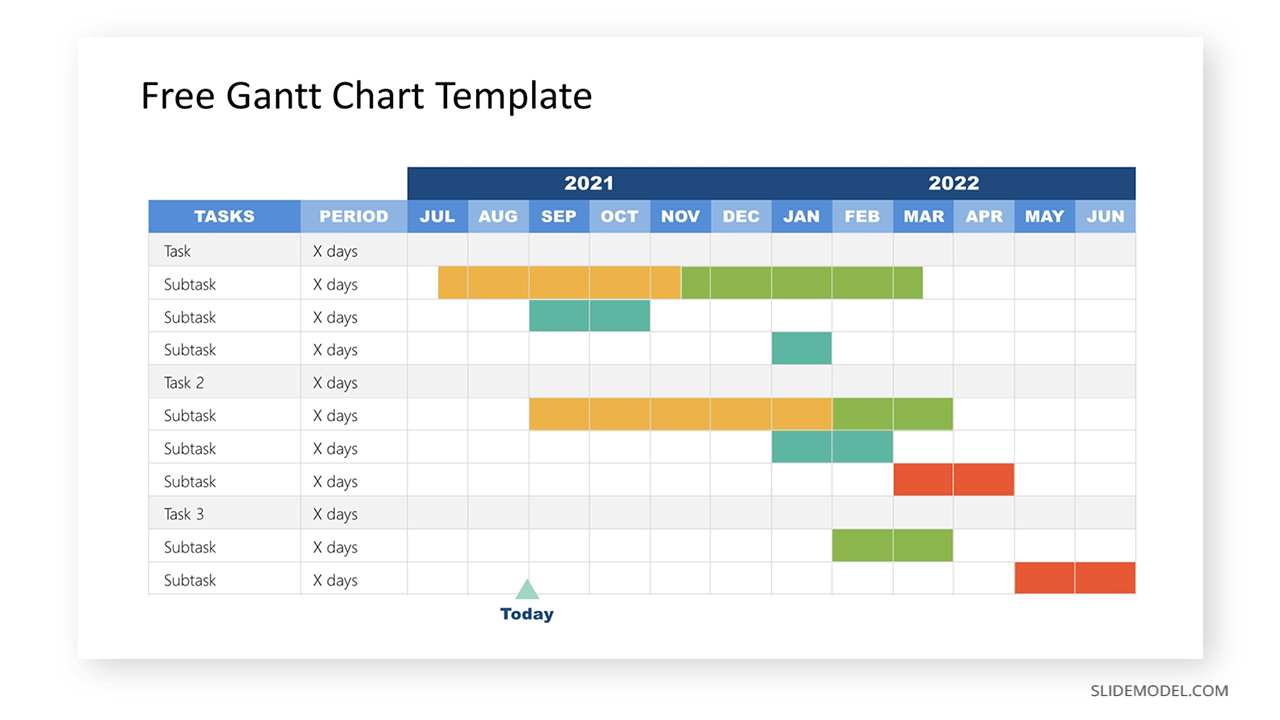 Marketing Roadmap
Regarding marketing, it is vital to acknowledge the gap between a strategy tool – such as a marketing map – and its subsequent execution. For that very reason, marketing teams opt to incorporate Marketing Roadmaps as mediums to communicate the overall direction the team shall follow. These roadmaps for marketing are aligned with the company's vision, and generally, they integrate groups from different disciplines.
To start creating your company's marketing roadmap, you have to identify the audience that's going to target. Understand their consumer behaviors, and the service they crave in terms of customer support, and then, group the objectives of these different parties:
Leadership
IT department
Customer support
Marketing team
Sales team
Product development team
Therefore, what should you include in a marketing roadmap? Start by laying out the goals and their respective timeframe. Any goal must be measurable. Initiatives from any department ought to take place, as they display key opportunities for growth. As a reference, make sure each initiative, task, or goal has a status next to it, so it is possible to measure its advancement as a sole element.
Marketing Roadmap PowerPoint templates from SlideModel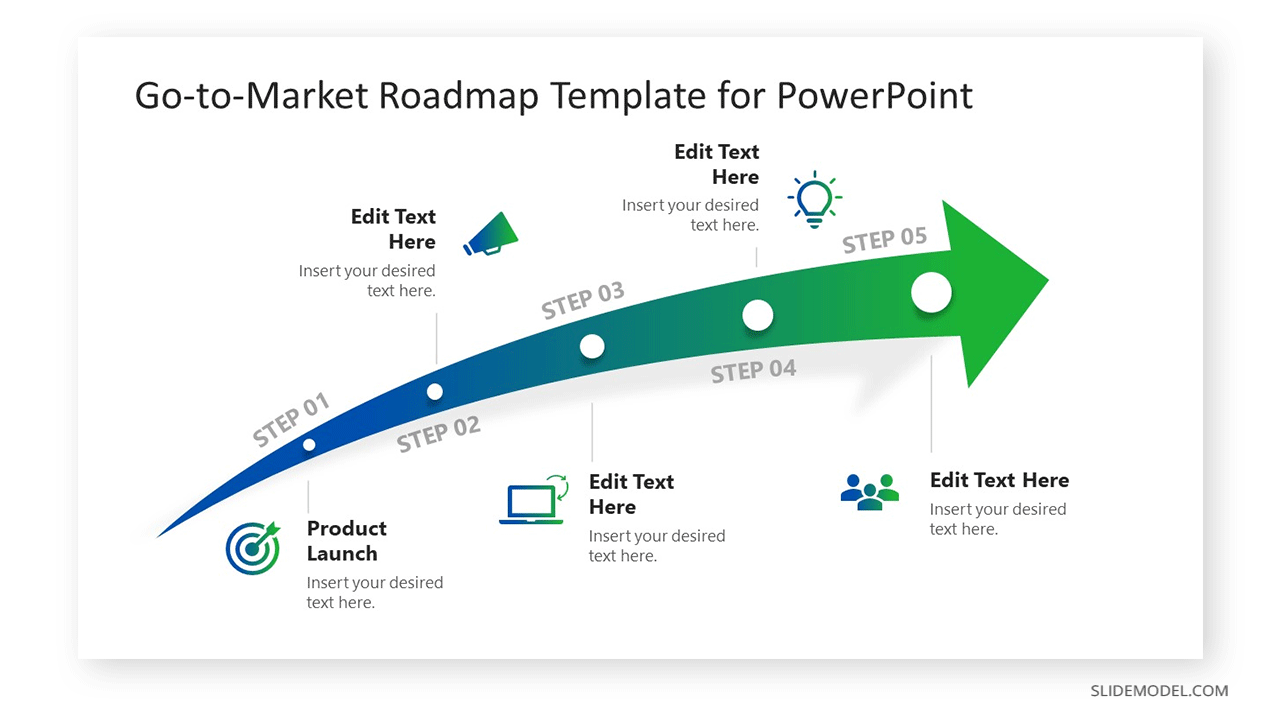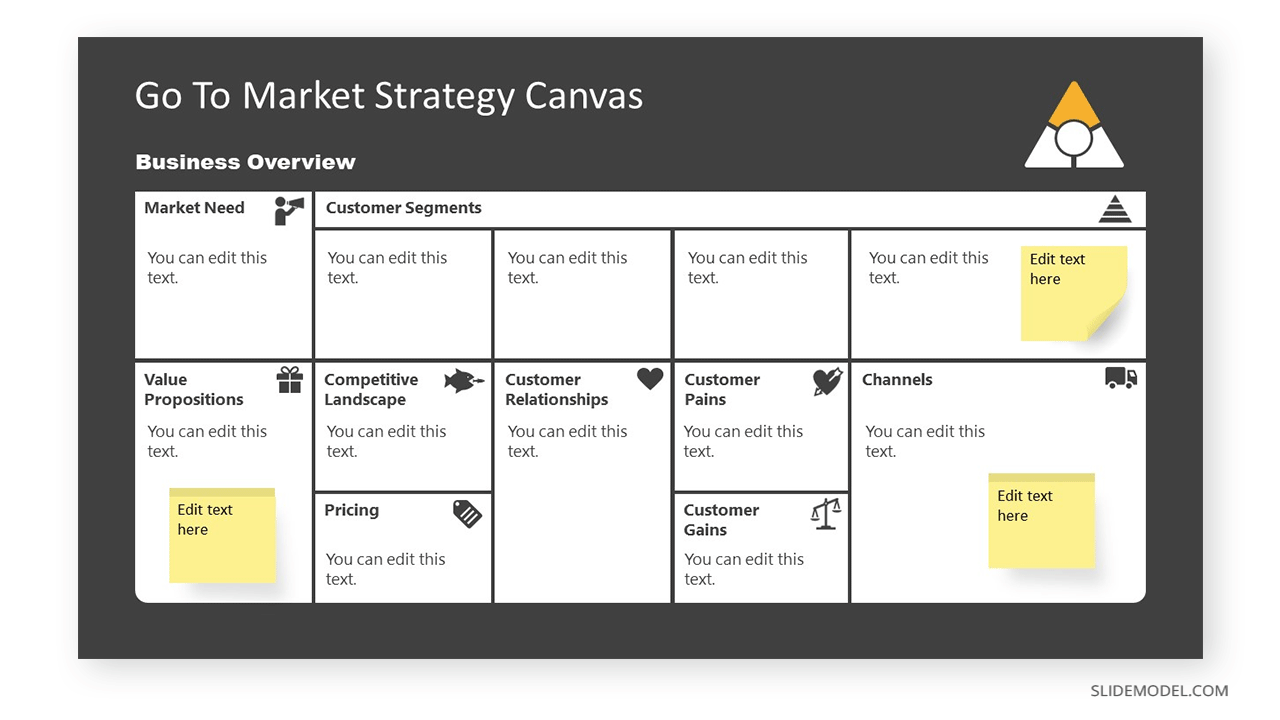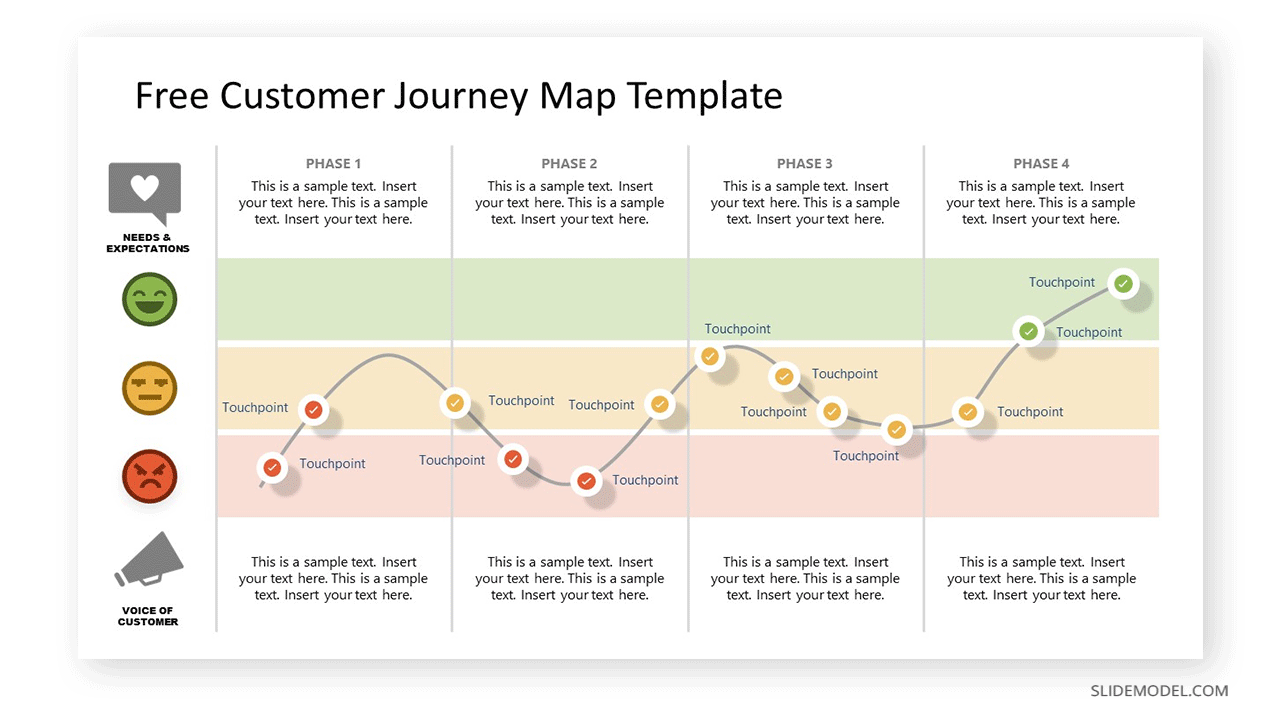 Main Elements of a Roadmap
Roadmaps are a common output of broader strategic planning sessions. A solid roadmap is illustrative and action-oriented, breaking down the overall project vision into specific goals, steps, and checkpoints. All the subsequent project planning activities have to align with these.
A business roadmap typically includes:
Summary of vision — a succinct statement, summarizing the direction of the initiative.
Strategy summary — the actions you plan to take to achieve the set vision.
Goals — time-bound, scoped objectives you can measure with a metric.
Planned features or planned action — a deliverable-based step you plan to complete or a product feature you commit to launching.
Time frames — the timeline of when all planned actions must be completed. These can be an approximation.
Status markers — indicators of the progress made.
Metrics — measures you use to quantify the progress and determine if you meet the set goals.
Certainly, your roadmap planning template can have somewhat different elements, especially if it's a field roadmap, created for a specific business process or sub-area. Likewise, technology and software roadmaps typically include more elements related to software development statuses, risk management, release plans, etc.
How to Create a Roadmap in 5 Steps
Building a roadmap requires some preliminary thinking. Do you already have a clear project vision and execution strategy? Did you collect market and custom data to prove or disprove your assumptions?
You should begin developing a roadmap when you understand your market trajectory, pre-existing business constraints, expected end value, and ultimate company goals. If these are at check, you can then follow these step-by-step instructions.
1. Roadmap Planning: Think Needs, Over Steps
A roadmap is a condensed version of wider planning activities. It sets the vector and provides directions for people, responsible for execution. Thus, before you dive into the making, you should formalize your goals.
Forrester recommends:
"Your product roadmap should communicate what needs your customers face, the impact and value of addressing those needs, and what will be done to address those needs – not the technical details of how those needs will be addressed."
If you lack the above customer knowledge or doubt its accuracy, be sure to:
Then use the obtained insights to create a list of SMART goals — specific, measurable, attainable, relevant, and time-bound objectives for your project.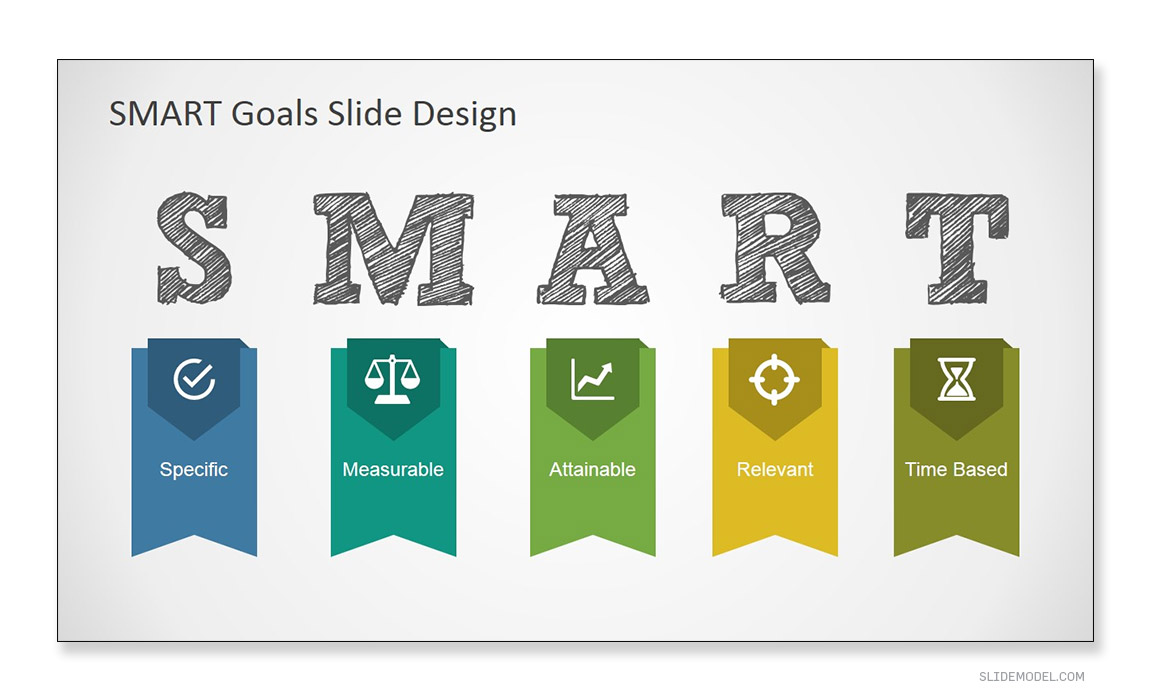 2. Prioritize Your Goals
You know, have a list of goals. The next step is to prioritize and place them on a timeline roadmap. Most roadmaps cover a quartal or a year. Few go further than that since the market landscape changes fast and corporate goals evolve in tune with that change.
Thus, as you look at your list, try to organize all the goals into:
Short-term (weekly/monthly)
Long-term (quarterly/annual)
Then place all of them on a visual roadmap. Does your canvas look too crowded with many overlaps? Then you might need to group some goals into themes and prioritize them by strategic importance. Because as Karen Martin, author of "Value Stream Mapping," says:
"When everything is a priority, nothing is a priority."
So pick your battles. The best way to prioritize goals on your roadmap is to revisit your project vision and think about which steps will take you the closest to meeting them. Also, if you are working on a product roadmap, consider the value different goals will create for current and potential users. Prioritize more customer-centric items.
3. Select a Business Roadmap Template Type
Because road mapping can be applied to a gazillion of different projects, there's no universal blueprint for roadmap creation. This means you can experiment with different approaches and techniques, such as:
Gantt charts
Many managers like using Gantt charts templates (or lookalike roadmap slide templates) to create action-oriented roadmaps.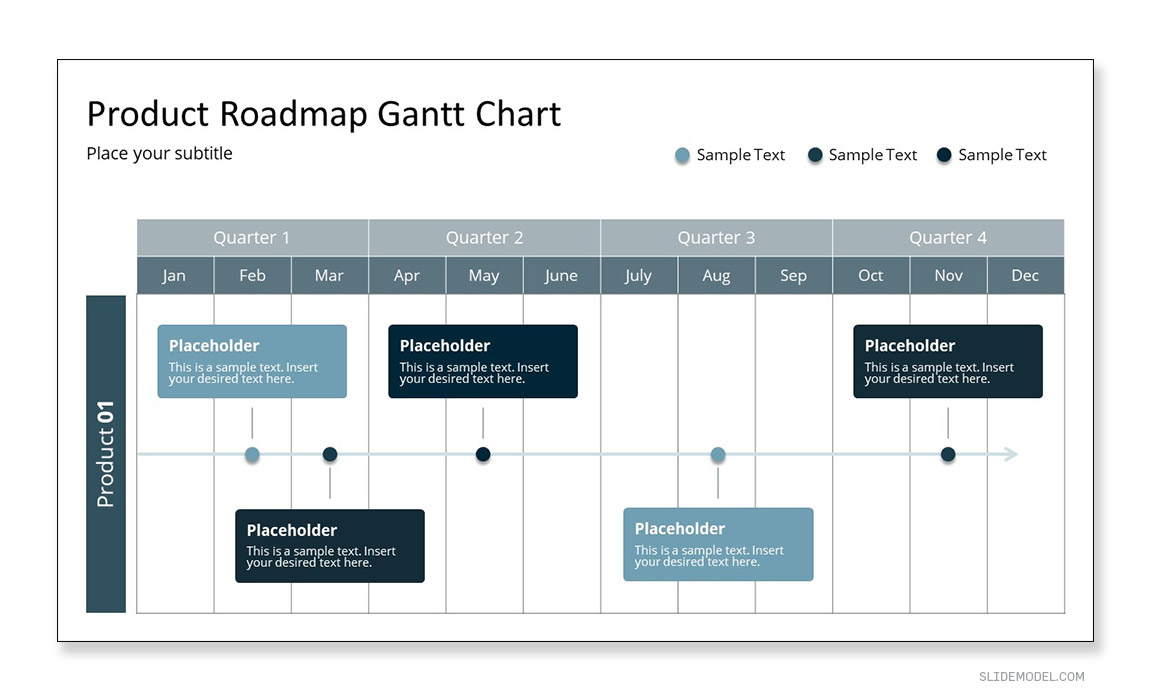 The definite appeal here is that your team can see all the planned activities, requirements, and timelines in one place. Plus, such charts make progress tracking easier. Here is a list of Gantt Chart templates for PowerPoint & Google Slides presentations that you can download from SlideModel.
Timeline Roadmaps
If you need to create a high-level external roadmap for informing project stakeholders, a simple timeline usually does the job well. Essentially, such a timeline template informs about the planned activities, plus key time-frames.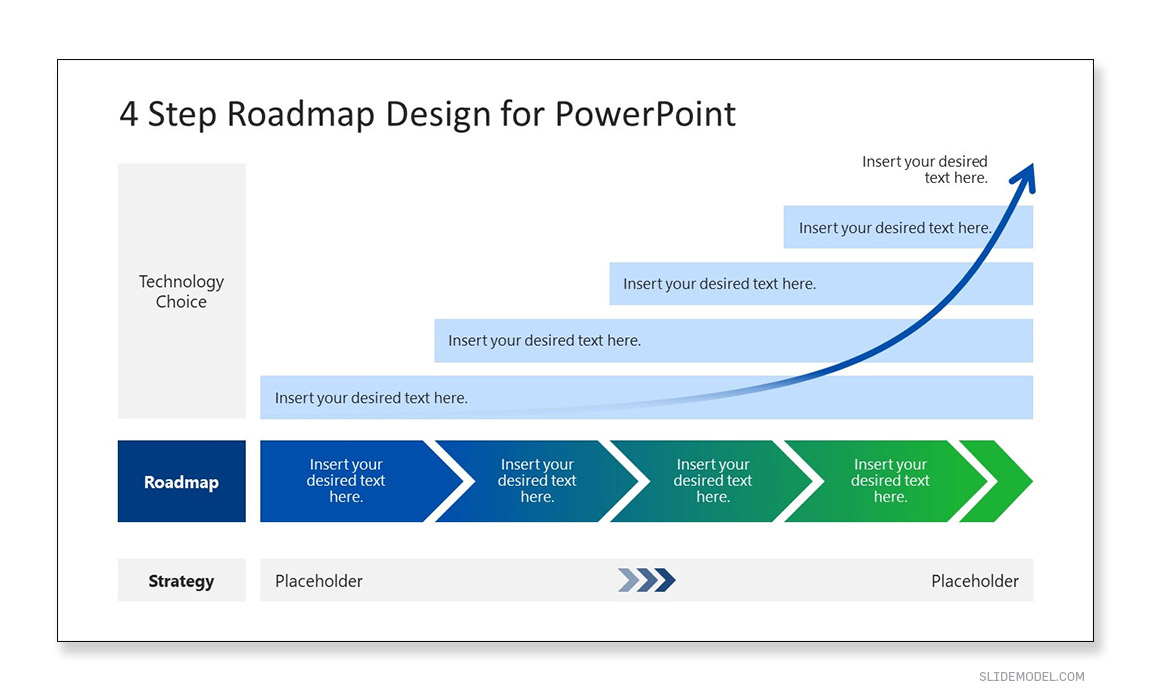 Metrics-based Roadmaps
Many technology teams who need a greater level of granularity prefer using roadmap tools from popular PM tools such as Confluence. This is a good option when you need to pull off specific details from planned Sprints or software development backlog. Likewise, road mapping also comes in handy when you need to create a work breakdown structure (WBS) for your project.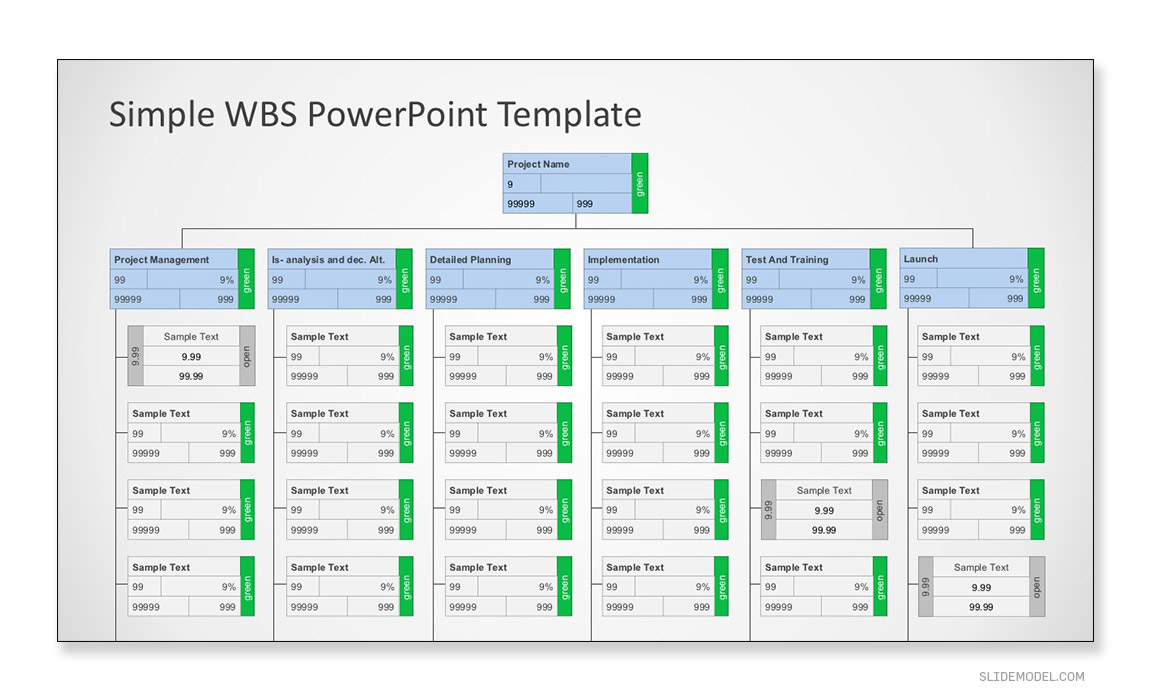 Remember: You should always tailor the format, content, and presentation of your roadmap to your audience. A software development team may be fine with deciphering your release terms and metrics abbreviations in a product roadmap presentation. But the line of business leaders will be far more interested in timelines and concrete outcomes.
4. Set Success Criteria
Roadmaps feature important milestones and checkpoints which help ensure successful initiative progression. But to be effective, a roadmap (and its users) must have a clear definition of success and how it will be measured.
There are several types of metrics worth using for product roadmaps. Here is a short list of sales and marketing metrics that can help inform your product roadmaps.
Customer acquisition costs (CAC)
The average revenue per user
Customer lifetime value (CLV)
Customer satisfaction score (CSAT)
And for technology roadmaps, you may also want to track:
Number of features shipped
Team velocity
Work-in-progress
Sprint burndown rates
By using the right metrics, you can holistically assess if the progress is happening at the desired pace. If not, you can always tweak your timelines to make more realistic prognoses, plus identify potential blockers.
5. Stay Open to Changes
Roadmaps are never rigid. They will evolve depending on the market conditions, internal organizational changes, etc. So you must stay open to adjusting your roadmap based on the new information.
As part of wider change management activities, be sure to tweak all dependent processes and tasks on the roadmap, plus adjust the timelines. Then verify that all the proposed changes are aligned with the original project vision.
Choosing a Roadmap Tool
Teams and managers must be aware of the different requirements per project when it comes to selecting a roadmap tool. Since every tool is different, there are a number of options to check to create a professional-quality roadmap in no-time.
Microsoft Project: For those who require the typical Gantt Chart but do not need fancy graphics, Microsoft Project is a classic tool that can help presenters. Keep in mind you won't be able to work with shapes and other formats as you would do with PowerPoint.
Microsoft PowerPoint: This is a no-brainer. PowerPoint has in-built templates that lend a hand in creating different types of roadmaps. You can browse for more options by accessing the store available for Microsoft 365 Subscribers.
Google Slides: If you prefer to work in the cloud, or your budget is restricted, Google Slides is a free tool powered by Google. It works as an alternative to PowerPoint, from whom you can import Google Slides templates and docs, and make them work as if they were native Google Slides files.
SlideModel: But what if your work requires a creative flair? Many times, we're rushing against a deadline, and this is where SlideModel's roadmap templates can save the day. Choose from a broad range of solutions, tailored to the needs of presenters, and edit as required. You can change themes, colors, typefaces, icons, and the contents in placeholder areas. What would usually take a week of work designing elements is as simple as picking a template and editing it.
Presenting a Roadmap
A roadmap typically requires buy-in from two groups — stakeholders and executioners.
The first is interested in outcomes. This means you'd have to convince the stakeholders of your vision and show how your proposed roadmap fits into the company's goals. The second group (executioners) wants to get a clear picture of the project direction and specific actions they'll need to complete.
To satisfy the needs of both, you may need to first create and present a general strategic roadmap template and then move on to discussing lower-level field roadmaps.
In any case, to deliver a coherent roadmap presentation, be sure to:
Explain the general context (the why behind the initiative) first.
Remove jargon and buzzwords from slides, designed for business users.
Focus on substance and concrete outcomes at each stage of the roadmap.
Err on the side of pessimism, and over-optimism when showcasing timelines.
Clarify the business impact of completing the initiative
Stay honest about your assumptions. Don't make promises unless you are 100% sure about delivering on them.
To Conclude
The purpose of a roadmap is to provide guidance. It's not a detailed plan for execution, but your strategic vision, presented through a series of steps and milestones. You may not have all the details ironed out yet, and that is fine. Share your preliminary plans and then modify your roadmap as new information becomes available.
To conclude, we invite you to discover our Free Roadmap Template available for PowerPoint and Google Slides, as well as a selection of roadmap templates below that can help you craft your upcoming project.