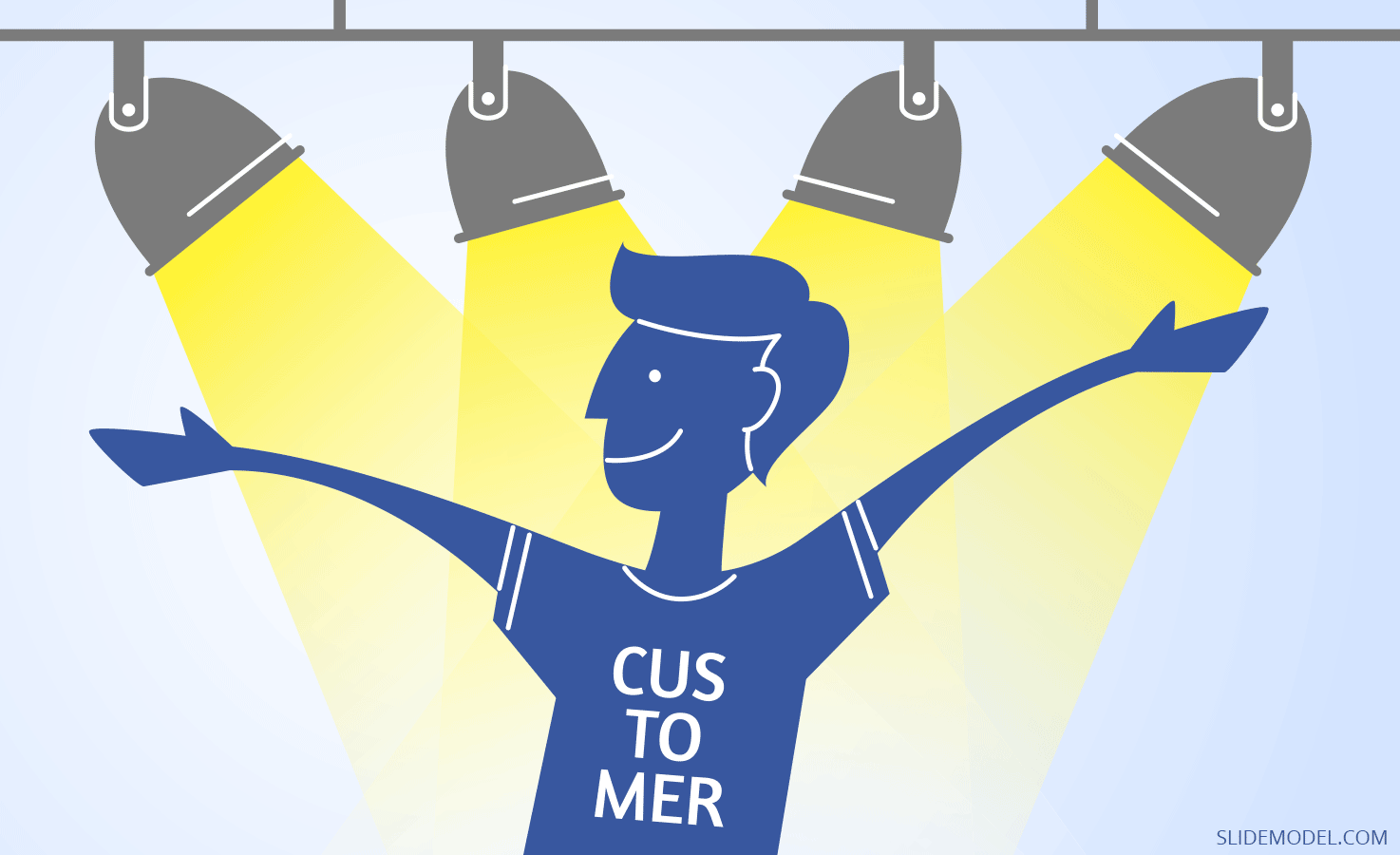 Customer centricity is a buzzword you can hardly escape these days. But, despite so much talk, few companies actually understand how to keep their customer focus sharp and, more importantly, why this area is worth more attention.
So let's dig into the matter and take a look at some great customer centricity examples, illustrating why this practice cannot be ignored.
What is Customer Centricity?
Customer centricity definition is pretty simple: create the best possible customer experience (CX) you can by placing the customer in the heart of your company's marketing, product development, and operations.
As the definition points out, CX is only one aspect of a customer-centric culture. While CX "summarizes" all the customer perceptions created during interactions with your brand across various channels, customer-centricity stands for a wider commitment to ensuring the absolute success of every customer heading your way.
Customer-centricity appeared as a stark contrast to previously dominant product-centricity — an approach where a company tries to sell as many products as possible by every means necessary. Or, in other words, "sprays and prays" that more people will buy from them instead of cultivating, long-term profitable relationships with the existing customers.
While product-centricity has been around for much longer than customer-centricity, the former practice is gradually losing its viability. As Peter Fader, professor of marketing at The Wharton School of the University of Pennsylvania, notes:
When companies ignore customer value in favour of being product-obsessed, they must organise around their products or services to maximise product expertise, rather than investing in strategies that will garner higher returns by seeking to acquire, retain and develop the highest-value customers.
Furthermore, Walker Consumer Research predicts that customer experience will overtake price and product as key brand differentiators this year. That's why switching to a customer-centric approach is the only right course of action to stay ahead of the competition.
Why Customer Centricity is Important
Customer experience has become a competitive battlefield for brands. Almost 90% of businesses are already competing on this factor. So neglecting the 'customer' aspect of your business can ultimately cost you… new customers. Here's why:
Customers are No Longer Enticed by Products Alone
Today, a good brick and mortar location or even a prominent placement in the search results alone won't win you a ton of sales. When almost any product, service or experience can be ordered virtually, in a matter of several quick taps on the smartphone, speed and convenience become the key.
Even if we circle back in time to the pre-digital era, we can still spot how customer-centric culture (aka building things for the customer) was driving some companies to success and leaving others in the dust.
In the 1980s, Kodak was still investing all its resources into better film cameras. But their customers were already eyeing digital cameras. While early digital cameras shot lower-quality photos, they were way more convenient and provided the pictures instantly.
Later in the 90s and early 00s, photo equipment manufacturers like Sony, Nikon and the like, were on a race against one another to first ship 5-megapixel cameras, then 10-pixel and later 30-pixels. How did things end? Apple started the "cameraphone" trend with the iPhone, offering customers a more convenient way to shoot pics and non-professional photographers switching to mobile photography. Because it was more convenient and you could immediately send your pictures to others (speed).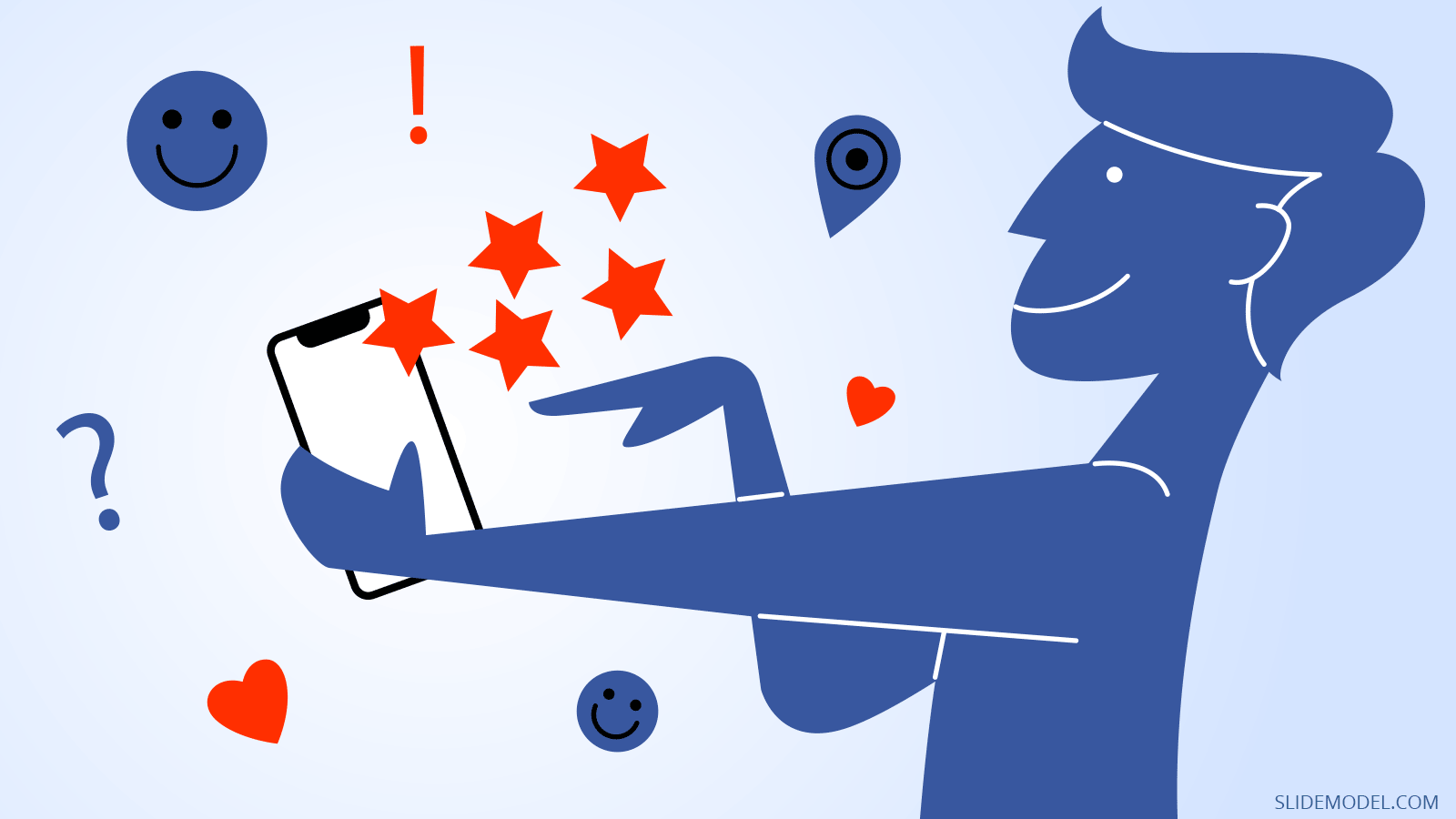 The bottom line: it's important to have a deep understanding of your ideal buyer personas and anticipate the slightest changes in their preferences. Or else, you risk losing the race to a more customer-centric competitor.
Helpful template: Customer-Centric Diagram
Online Reputation Grows in Importance
The majority (80%) of shoppers will stop doing business with a company if they had a negative customer experience. What's worse — they'll be fast to vent about it online. And here things get problematic.
You risk losing 22% of new business when a prospect finds at least one negative article about your brand on the first page of their search results. That figure goes up to 59.2% if there are 3 negative articles present. Clearly, without solid customer experience management practices in place, backed by proactive customer support, you risk sabotaging your reputation.
Here at SlideModel, we are proud to say that we are a customer service-oriented business. We constantly work on improving and expanding our collection of PowerPoint templates by collecting voice of customer data and using an integrated NPS (Net Promoter Score) tool to gather extra feedback. That's why we were rather surprised to find a 1-star rating on our TrustPilot page with SlideModel reviews the other day, and took immediate action to approach the customer, understand what the problem was, and clarify the situation.
Immediately, we reached out to the customer with a personalized letter to figure out what went wrong during their customer journey: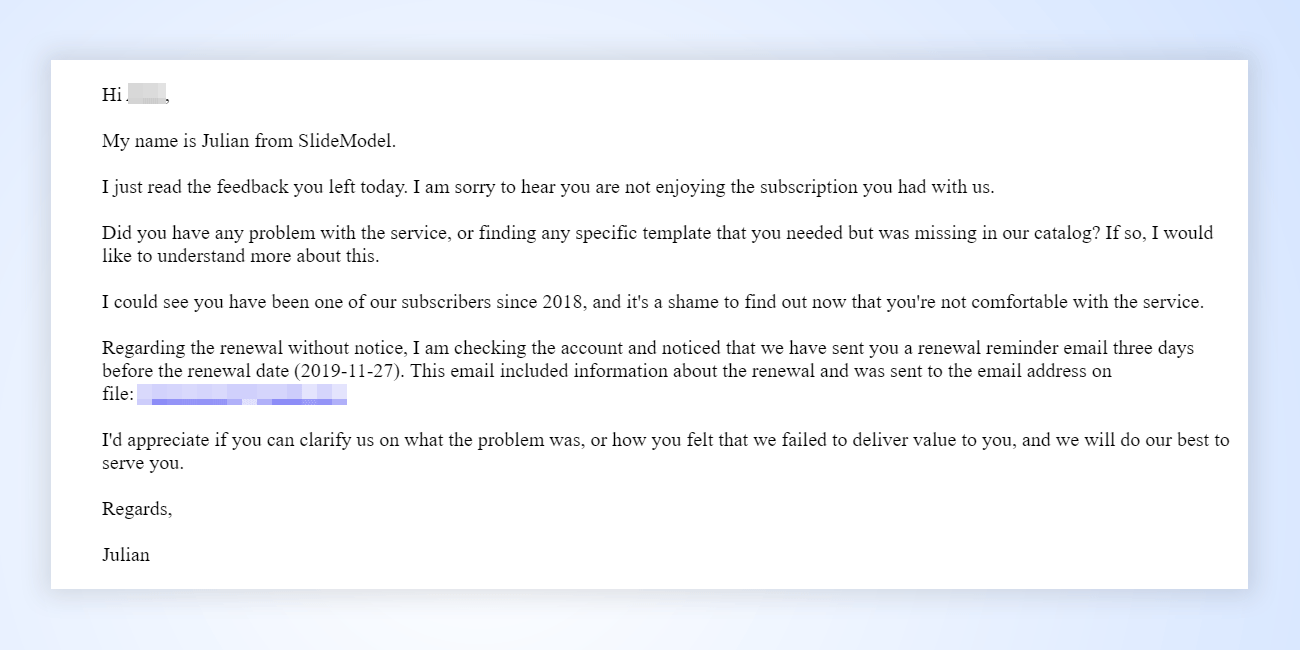 Source: SlideModel.com
After a quick exchange, we managed to iron things out and resolved the matter amicably. In fact, our former customer went on to changing their feedback to five-stars and parting ways with our companies on good terms.
If there's one thing you should pick up from the story is this: customer-centricity goes beyond maintaining good relationships with your current customers. It extends to creating an excellent pre-sales experience for prospects and proactively managing relationships with former customers.
To accomplish the latter, we love using the Net Promoter Score. It's a rather comprehensive metric that is:
Easy-to-collect since there are plenty of automated tools for that.
Comprehensive enough to provide benchmarks for improvement.
Well-representative of your overall efforts in different areas of customer service.
Universal enough for different divisions to understand.
Helpful template: Net Promoter Score PowerPoint Template
Positive Word of Mouth Marketing (WOM) Drives Brand Visibility and Sales
One of the major perks customer-centric companies gain is positive word of mouth marketing. And you should not underestimate its power.
Take a look at these statistics:
Almost half of the customers (48%) identify that user-generated content (UGC) is a popular method to find new products.
A significant 70% of consumers will browse for UGC reviews or ratings before making a purchasing decision. At least 41% of them will check out 4 to 7 UGC reviews as they make up their mind.
For millennial shoppers, user-generated content is 20% more influential than any other kind of media.
As the data tells, positive endorsements, raving reviews, and other forms of UGC from your brand's evangelists can drive sales. That's precisely why a lot of emphasis is placed on generating positive WOM in customer-centric marketing.
MVMT, a DTC company selling affordable watches, that was recently acquired for $100 million by Movado Group, attribute much of their success to effective social media advertising. Within a year, they racked up almost 2M followers on Facebook and nearly 1M on Instagram.
They secured loads of reviews and positive WOM from "micro-influencers" — social media personalities with 50,000 followers or less to mass-appeal to their millennial buyers. And, at the same time, they also negotiated social media sponsorship deals with celebrities like Kourtney Kardashian, Kylie Jenner, and Alyssa Lynch to sport their watches and endorse their brand.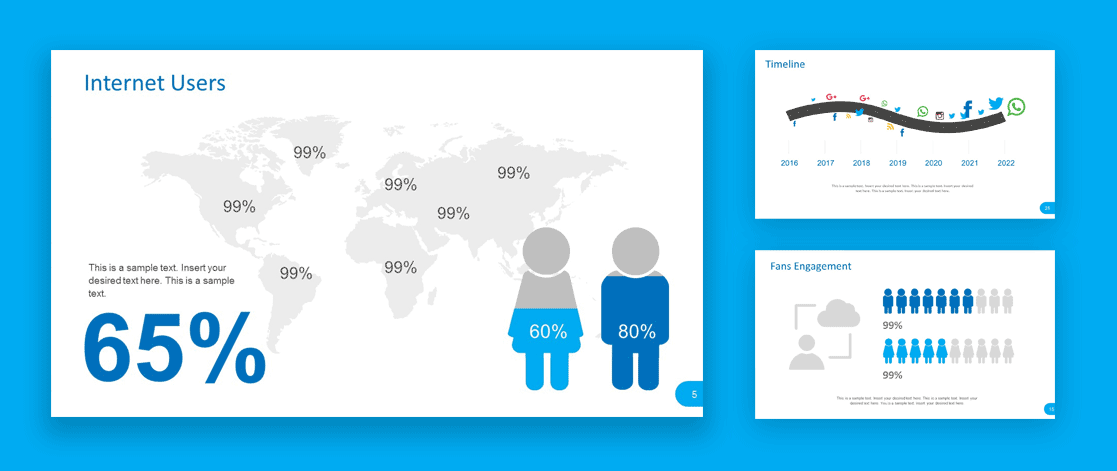 Proactive Outreach and Personalization Helps Customers Form Emotional Connections with a Brand
Did you know that both Millennial and Gen Z shoppers seek to establish an emotional connection with a brand before making a purchase? So much so that 48% of millennials are more likely to buy from a business if they know the people behind it.
Plus, as a recent Harvard Business Review post on customer-centricity highlights: "An emotionally connected customer is two times more valuable than a highly satisfied buyer."
When compared to other segments, emotionally connected customers are:
Less privy to pricing
More loyal to the brand
Shop more frequently
However, despite all of these major advantages, few companies make 'bonding' a key part of their customer-centric strategy. According to PwC, 59% of consumers feel that businesses have lost a 'human touch'.
Feeling that you might be among those brands? Here's an effective way to revive your connections with your target audience — try measuring the Net Emotional Value (NEV).
While NSP estimates how likely your customer will recommend your product/company to a friend, NEV allows you to dig deeper into the customers' psychological motivation for engaging with your brand.
NEV score is largely built upon the Hierarchy of Emotional Value — a model developed by Colin Shaw, jointly with the London Business School and the Chair of Consumer Psychology in England.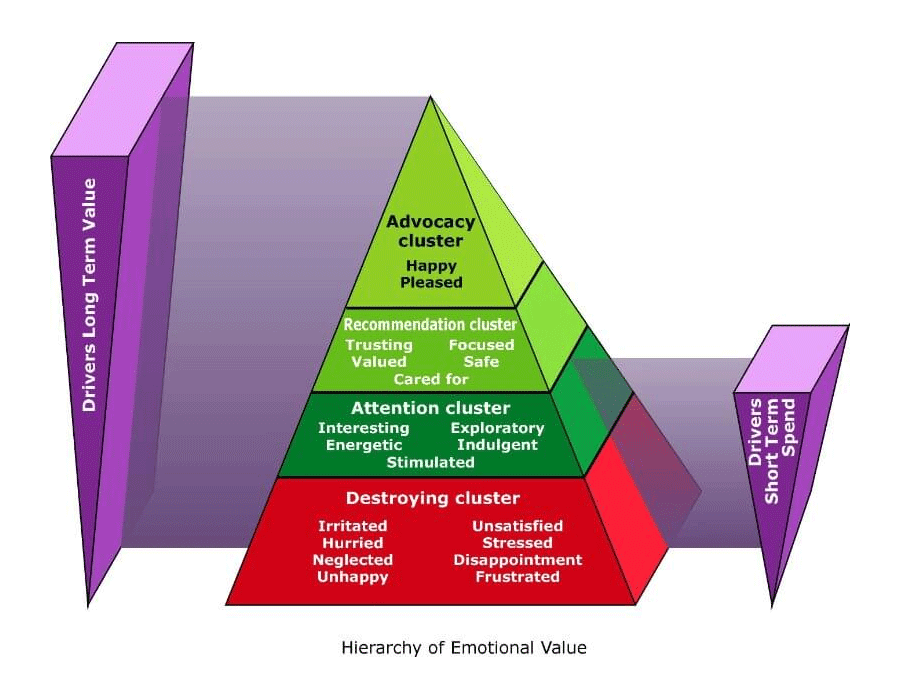 Source: BeyondPhilosofy.com
After two years of research, Shaw concluded that these 20 emotions drive or destroy value for the business.
In essence, your customer-centric focus should be aimed upon pushing most of your customers to the top of the pyramid — to the Advocacy Cluster. The key to doing that is in creating a highly positive customer-centric selling experience, delivering pleasure in the form of various fixes or treats.
Here's how customer-centric organizations accomplish that. First, your sales experience should prioritize the customer by asking the next two questions:
Will the customer's life improve if they agree to buy from you? How?
When the sale is done, will they be in a better place than they are now?
Next, rather than proactively convincing prospects to buy from you, empower your customers to do so. Infuse your sales funnel with various "treats":
Educational blog posts
Free product walkthrough videos and demos
Checklists, templates, and other helpful digital downloadables
Informational webinars and eBooks.
Proactively showcase how your product or service can "fix" certain pain points in your customers' lives. And when you make that sale and deliver that fix, make sure that all the subsequent experience (delivery, after-sales, etc) matches your promises at the sales stage.
Finally, ensure that your customer remains happy and pleased after the transaction is done with personalized outreach.
To Conclude
Customer centricity has become a core component of thriving brands. However, to succeed with this approach you'll need to look beyond merely optimizing various customer journeys. Go granular see how every division of your company contributes to customer wellbeing. Your customer-centric strategy should span over all corporate divisions and operations. That is the key to actually increasing customer value, and your company's profitability in the long run.