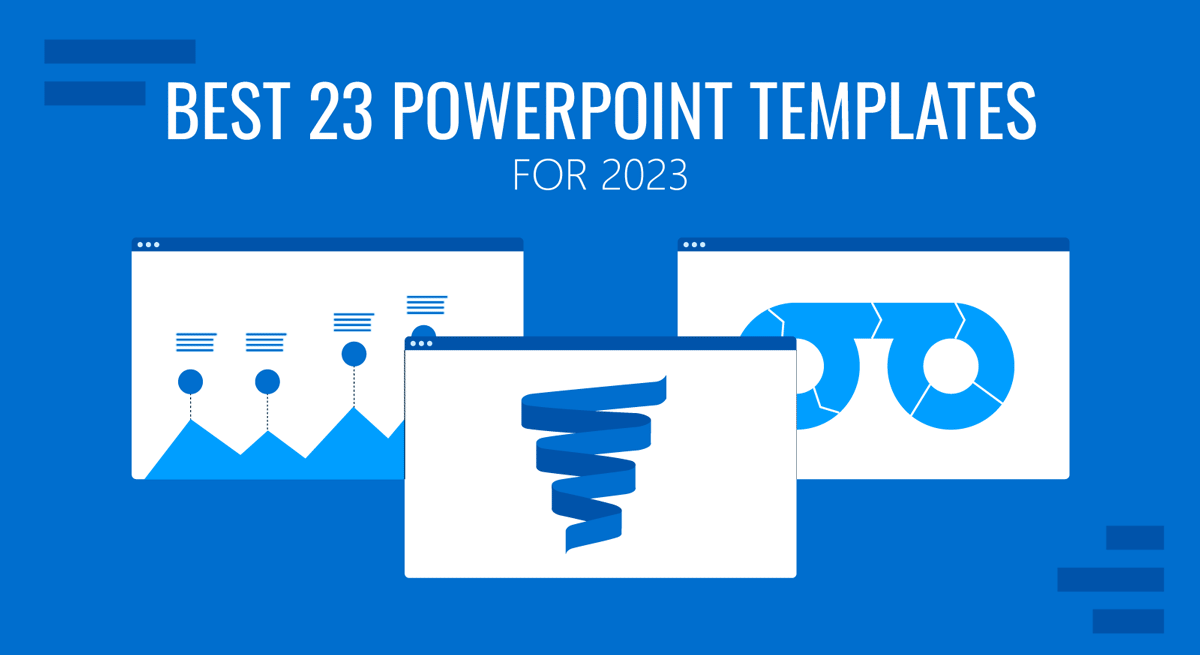 Starting a new year seems like the perfect chance to evaluate our current assets in terms of presentation tools. Corporate businesspeople, academics, students, career professionals, and even one-time presenters can get the benefits of working with professionally-designed PowerPoint templates.
In this guide, we gather what we consider are the most suitable selection of best PowerPoint templates & Google Slides themes to stay in touch with 2023's design trends. Let's get started!
Template #1 – Professional Business Slide Deck PowerPoint Template
Some business presentations can be versatile in their content; therefore, you ought to work with a slide deck capable of providing the different tools required for any presentation.
With the 'anti-branding' movement being a graphic design trend to watch in 2023, working with this minimalistic but beautifully colored slide deck can suit multiple projects, regardless of their area.
Check these 27 slides oriented in four distinctive sections: Agenda Slides, Trading Services, Product Analysis, and Extra Diagrams.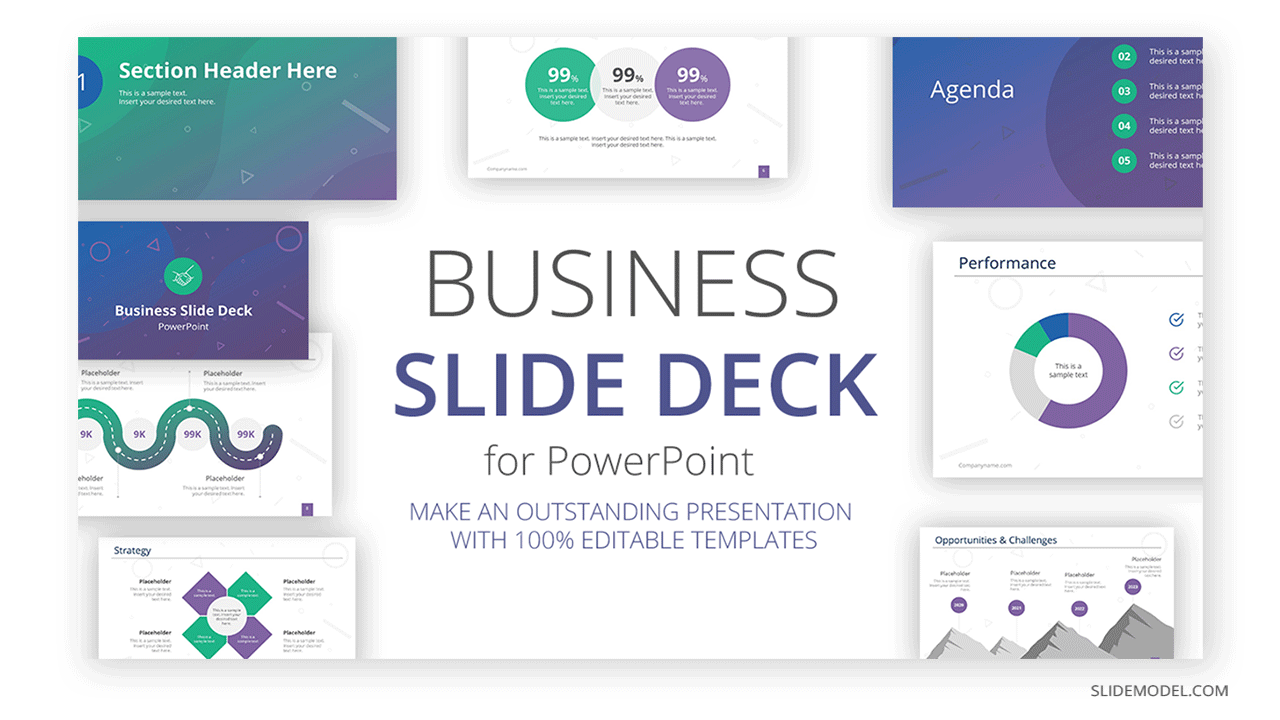 Template #2 – Carnival Pitch Deck PowerPoint Template
Gradients are another visual asset we shall see overflowing in 2023. For that very reason, we recommend you check the perfect balance between gradients and minimalistic design in our Carnival Pitch Deck PowerPoint Template. With a color scheme, entirely editable, composed of blues, grays, and blue-greens, create a powerful company profile presentation or startup presentation in just a couple of minutes.
We list 19 editable slides, including PowerPoint infographics, SOM, SAM, and TAM markets, data charts, and more.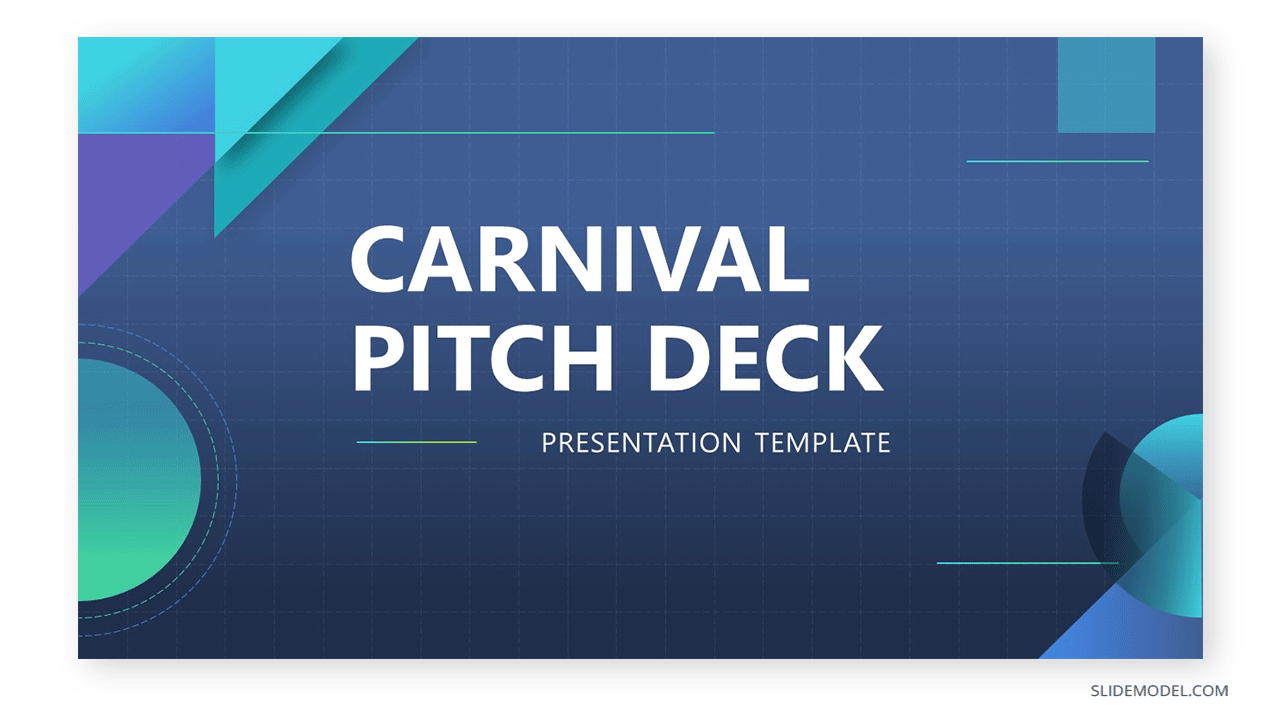 Template #3 – Marketing Plan PowerPoint Template
We can thank the pandemic for the need to find new color schemes that speak optimism, freedom, and overall success. Color combinations featuring vibrant tones are in the hype, so we recommend you give a fresh look to your marketing plan projects by mixing these intrepid palettes with some classy grey tones.
Meet our Marketing Plan Template for PowerPoint, listing world map for demographic presentations, TAM SAM SOM diagram, market competitor analysis, competitive advantage, and way more resumed in 17 slides.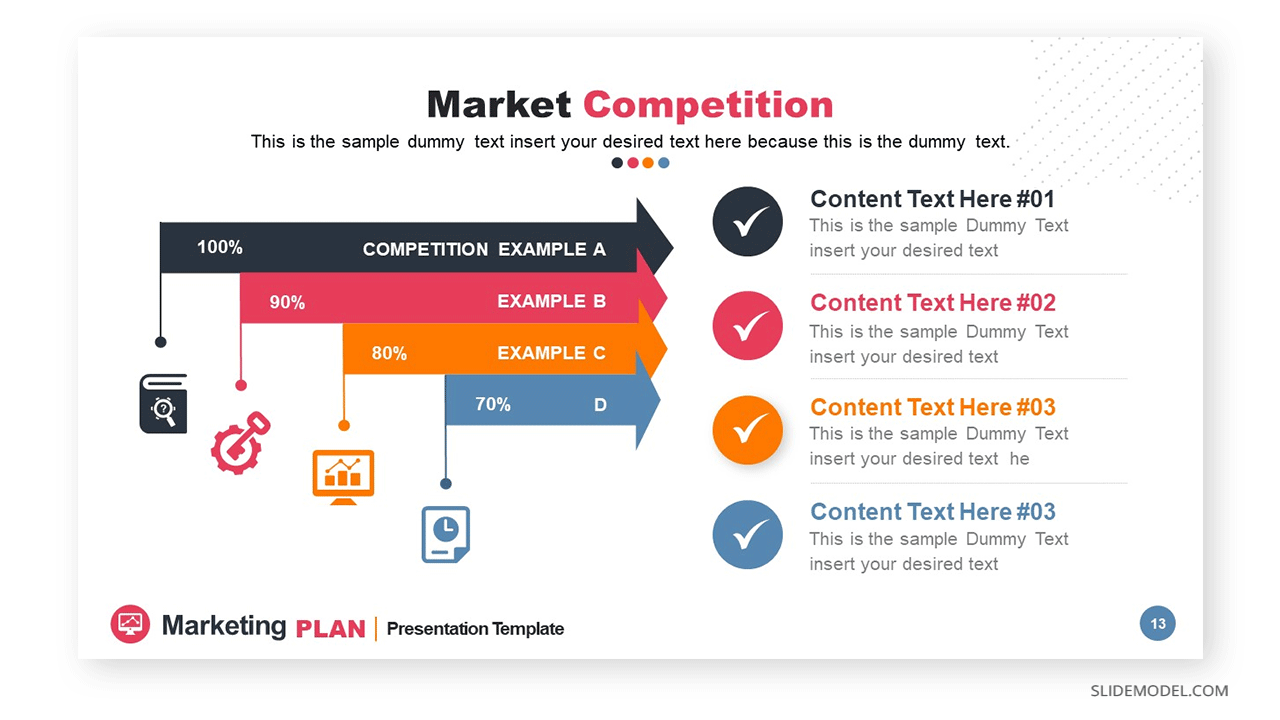 Template #4 – Executive Pitch Deck PowerPoint Template
Introduce your business in fashion by using a luxurious combination of purple and gray tones. Our Pitch Deck template for PowerPoint uses neatly designed graphics to summarize key information from our business. Investors can quickly get an overview of the historical milestones achieved, team members, market share, competitors, and other relevant data required for a business proposal.
Work your way with these 19 slides in a striking color combination to highlight key elements.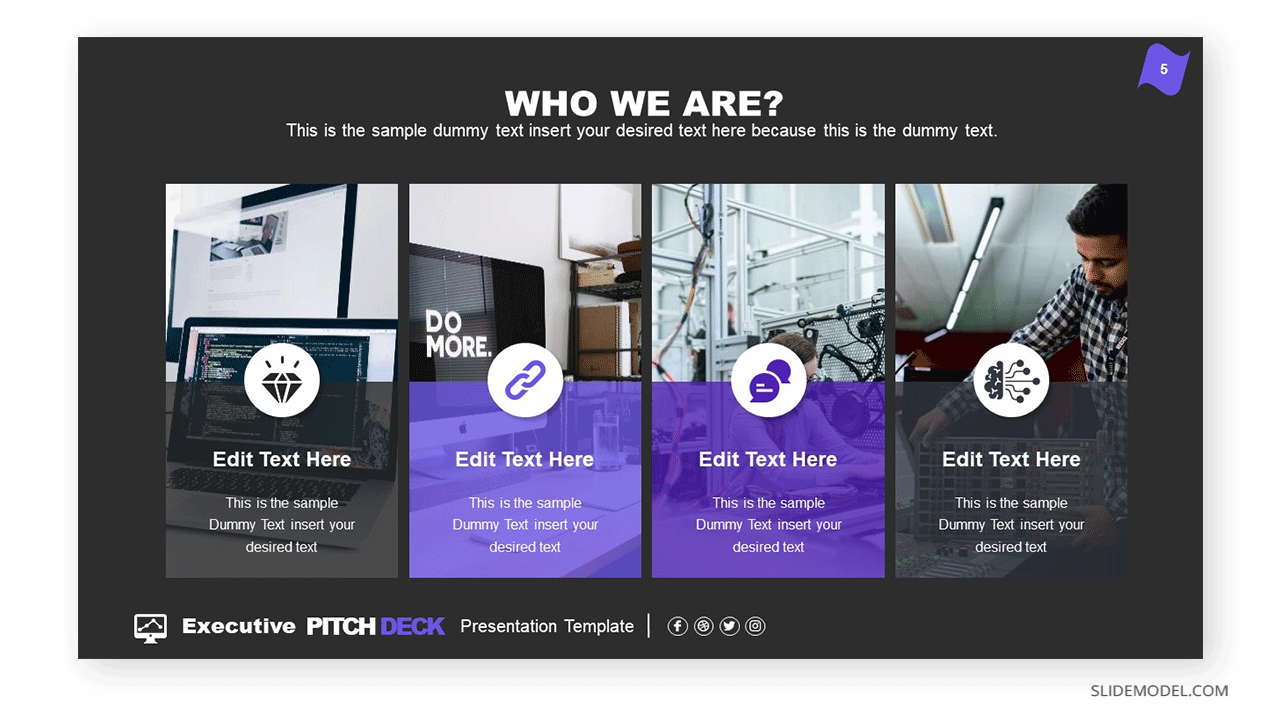 Template #5 – Multi-Step Ribbon Diagram Template for PowerPoint
3D diagrams and graphics came to stay for a long while. This trend, powered by many mobile apps UIs, helps users to create visual cues in their presentations. For that very reason, we list our Multi-Step Ribbon Diagram among the selected 2023 picks.
You can use 4, 3, or 2 steps diagrams, which are showcased in separate slides for easier access. Vertical bars using the same color code help presenters add extra relevant information to a step in the ribbon. Express information with ease thanks to this powerful 3D model for PowerPoint.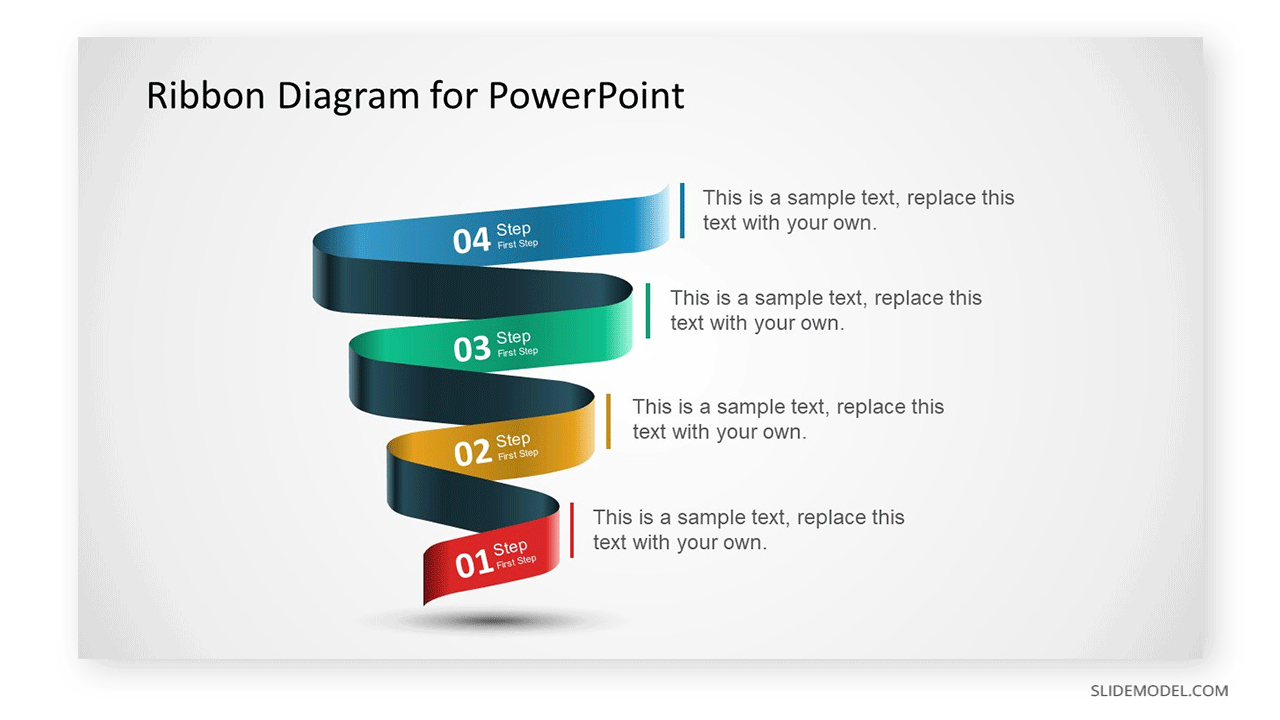 Template #6 – Project Management Dashboard PowerPoint Template
Dashboard templates are one comprehensive method to introduce variated data in one slide. Project managers, team leaders, stakeholders, and business owners can easily glance at the numbers of where the company stands in terms of workload, tasks completed, budget consumption, etc.
Thanks to our Project Management Dashboard template for PowerPoint & Google Slides, the data presentation process became much easier. Presenters can swiftly edit these slides to accommodate the data to introduce, alter the color diagram to suit the branding style of the company, and overall present complex data in a clear way in just minutes. Don't miss this template for your toolset.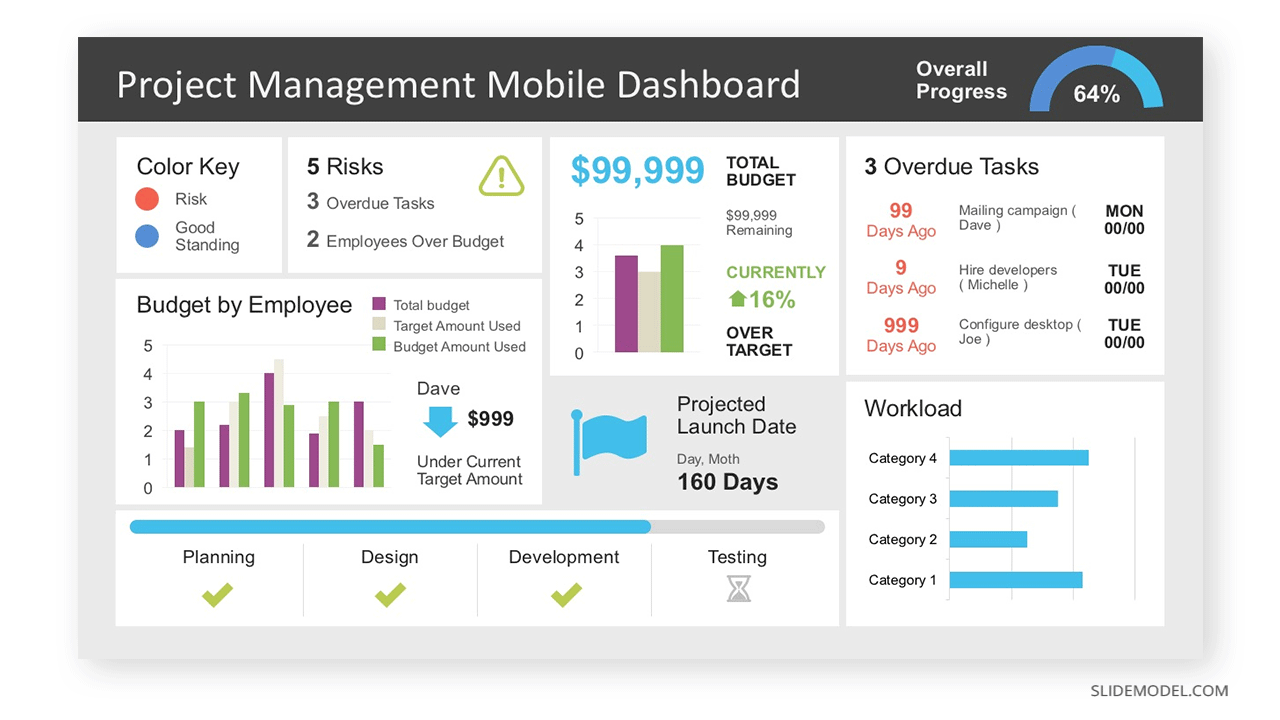 Template #7 – Event Management PowerPoint Template
The usage of human character vector images went from the simplistic silhouette shapes we've been seeing to detailed, diversity-range options to help people connect with the message we share. With this Event Management PowerPoint template, you can find a broad selection of slides featuring the different aspects of an event's organization.
Prepare your next event management project with the help of this vibrant-toned template, fully editable in PowerPoint, Google Slides, and Keynote.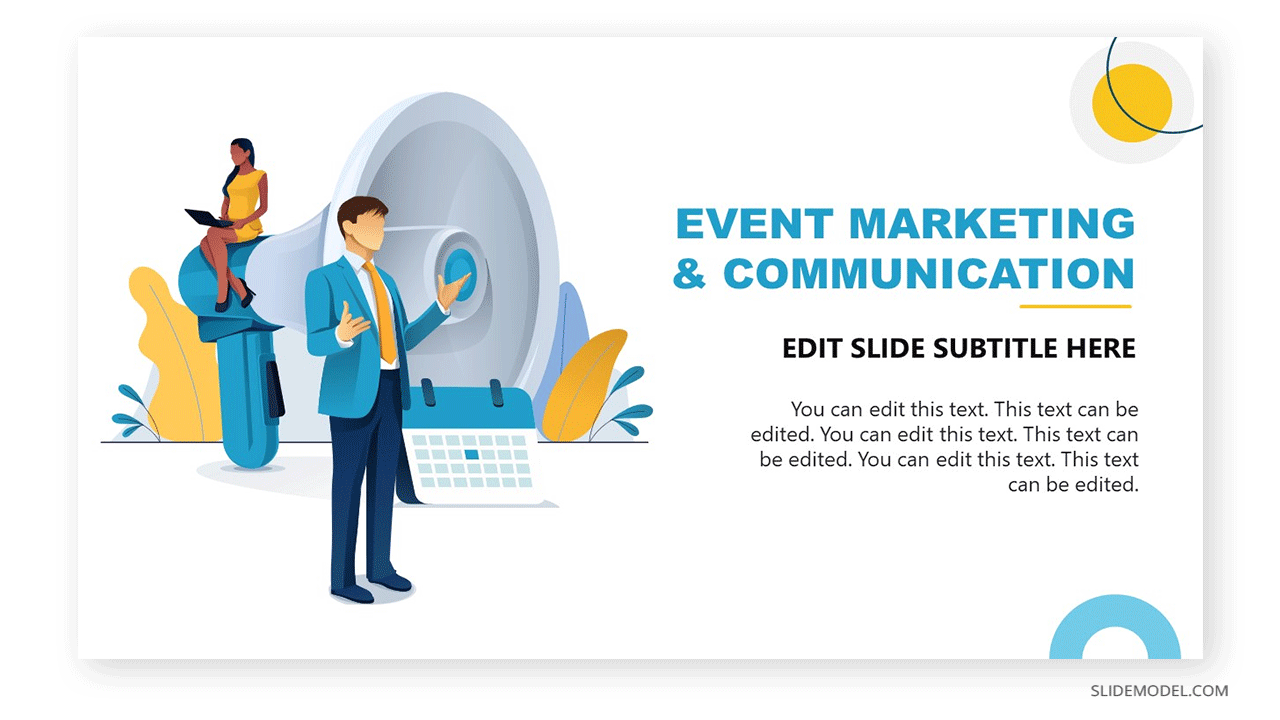 Template #8 – RMF Risk Management Framework Diagram Template for PowerPoint
A new year is a good chance to evaluate our potential for expansion in businesses. However, such practices cannot be encouraged without carefully addressing our risk status.
Using an RMF diagram template for PowerPoint helps us to speed up the process of identifying our risk points and crafting a strategy to respond to them. Professionals can use this template to align the risk management strategies with the company goals, creating a clear action protocol to follow.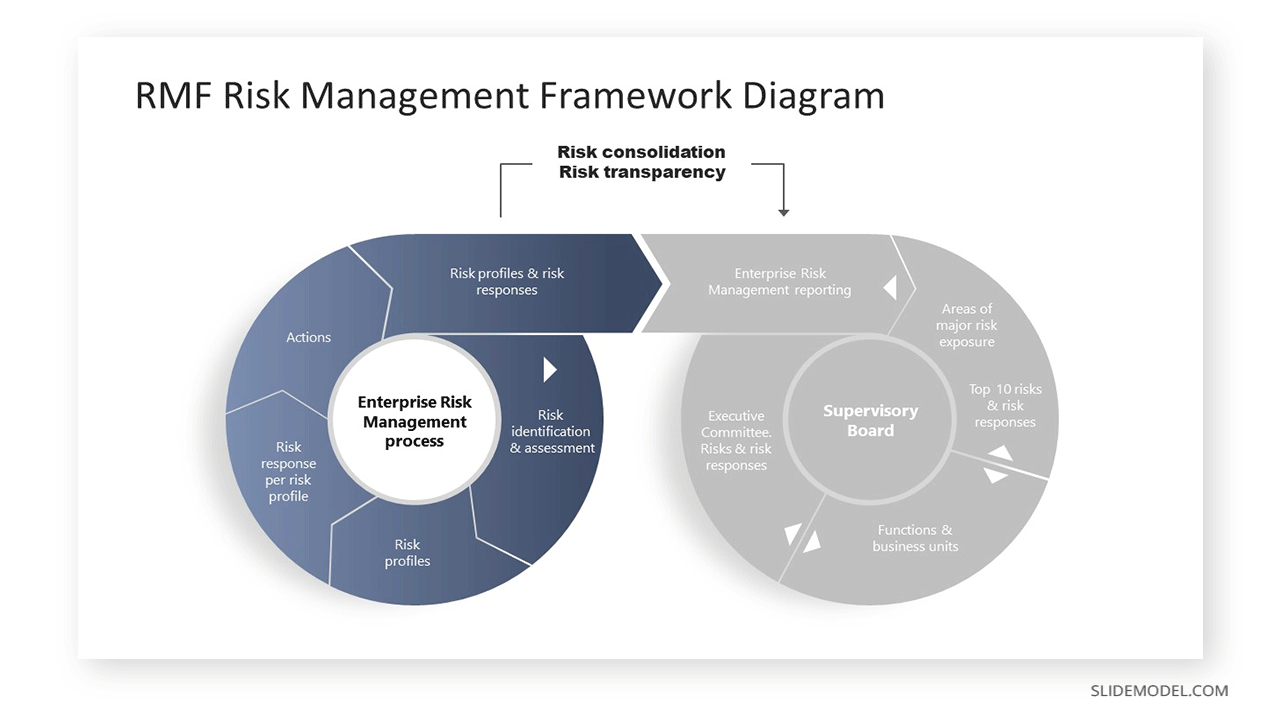 Template #9 – Invoice Template for PowerPoint
Tech layoffs were among the most common headlines of 2022, which in turn gave an opportunity for many to consider freelancing or starting their own businesses. With that career path in mind, it is important to count on tools to present ourselves and our services with style to prospective customers.
Use this invoice template for PowerPoint to go out of the common, boring PDF templates used to create invoices. If the color scheme seems too bold, worry not. This template is not only carefully organized to show clear numbers, but it is also entirely editable to your liking. Start your business on the right foot by adding this template to your toolbox.
Template #10 – Mountain Timeline Concept Template for PowerPoint
Storytelling techniques can take your presentations to a whole new level if we pair them with visual elements to illustrate your metaphors. Is there a better way to expose the path a company has followed in terms of challenges and constant improvement than a timeline that suggests a mountain path?
Help your business partners understand the challenges your business managed to overcome by using this mountain climbing metaphor in your next presentation. It can be also used to present a future project and the path you expect it shall follow in terms of goal achievement.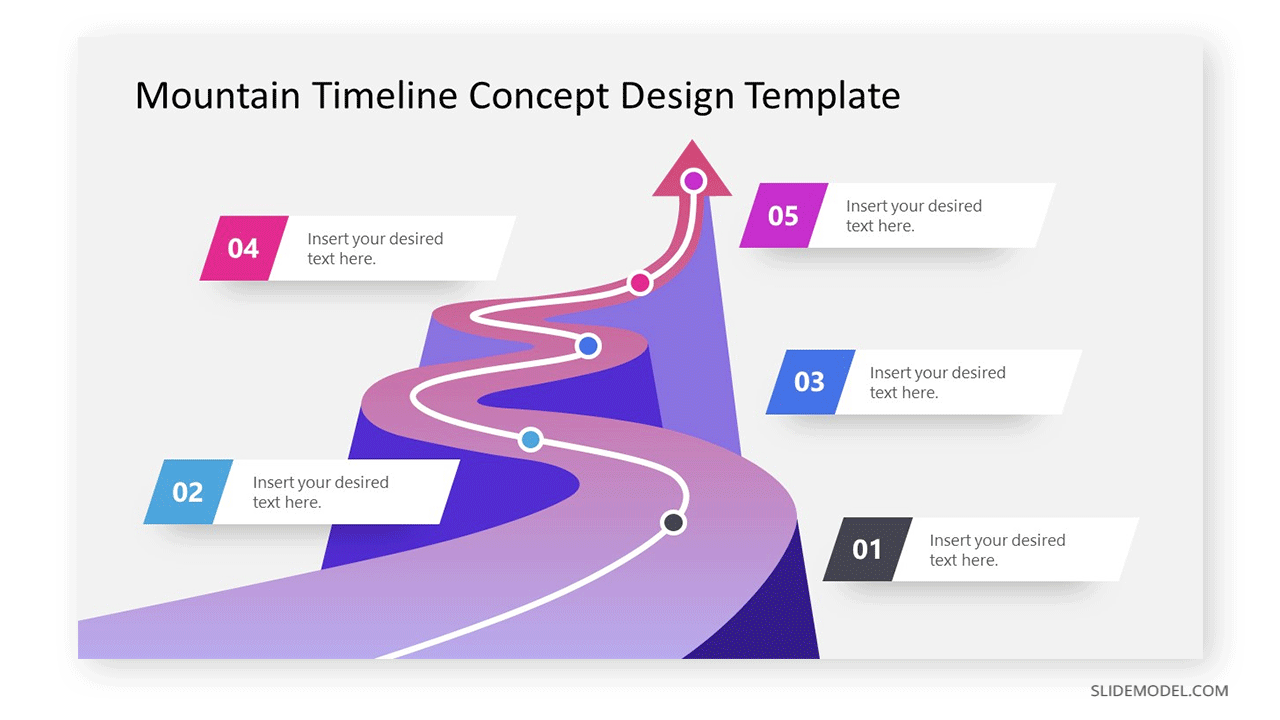 Template #11 – Annual Work Plan Template for PowerPoint
The best step we can take to ensure a productive year is to plan ahead with an Annual Work Plan Template for PowerPoint & Google Slides.
By using this work plan template, we can split tasks by steps, assigning the person in charge for each of those roles, progress criteria, and goals to be met. It is an efficient graphic layout to cover projects in detail, and is entirely editable according to our needs.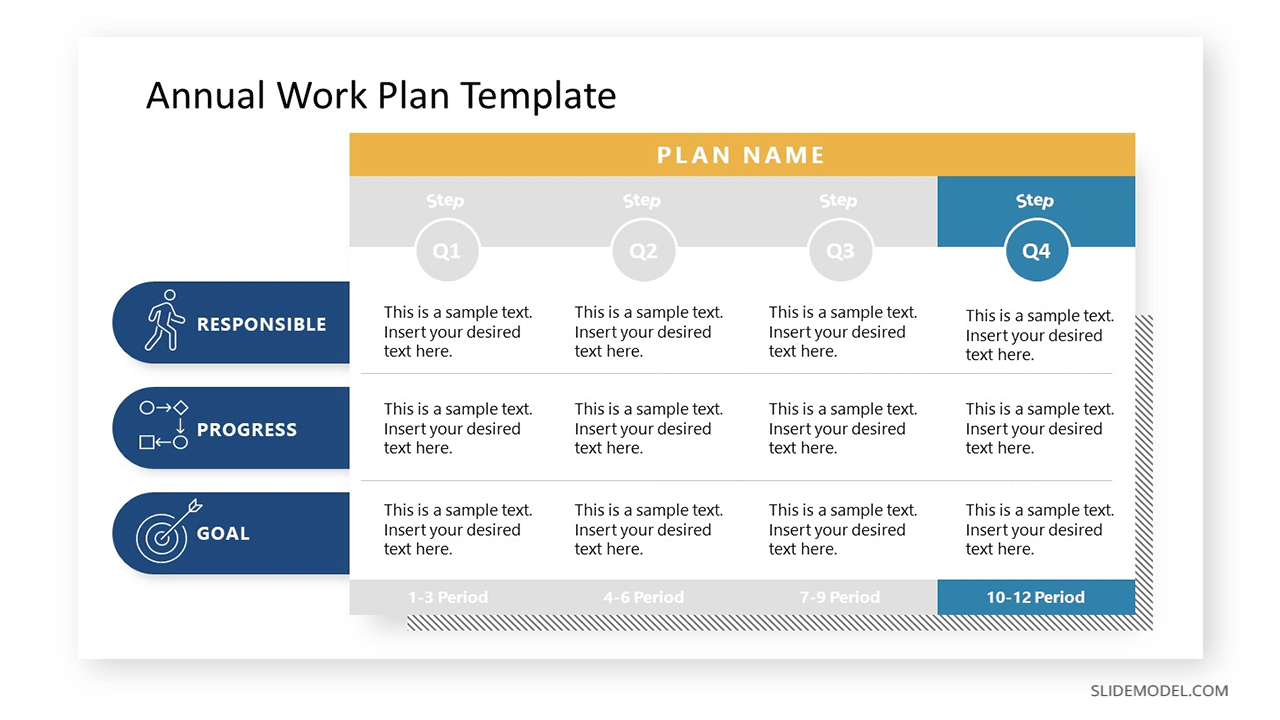 Template #12 – SMART Goals For Balanced Scorecard PowerPoint Template
Following the line of thought of productiveness for 2023, SMART Goal cards are ideal to plan different areas in which we have goals to achieve, but with realistic timeframe, success criteria, and that helps us to acknowledge its importance in our lives.
Use this vivid-toned SMART goal template for PowerPoint that resembles an old scorecard. Vintage feeling with a contemporary color palette to make your goal-setting process more exciting.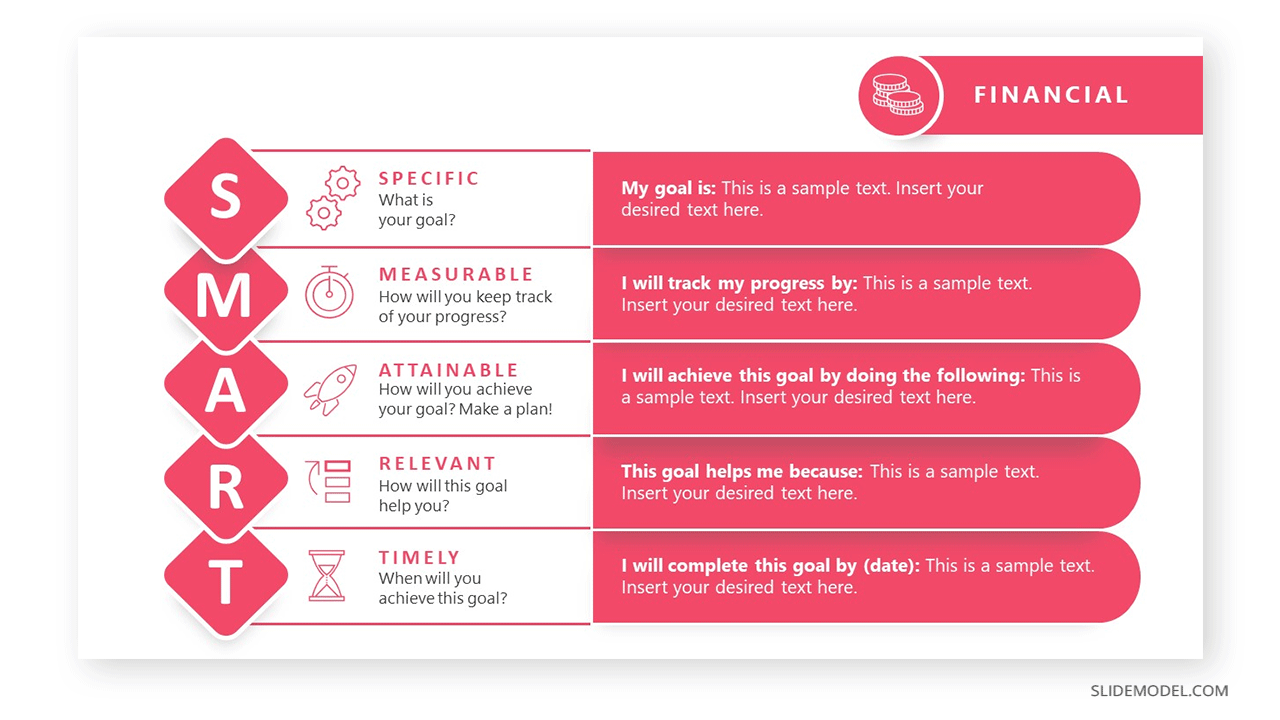 Template #13 – 2023 Calendar PowerPoint Template
We cannot have a selection of the best 2023 templates without listing a calendar template! The classic, business-intended calendar template design that shall accompany each and every project we embark on in 2023.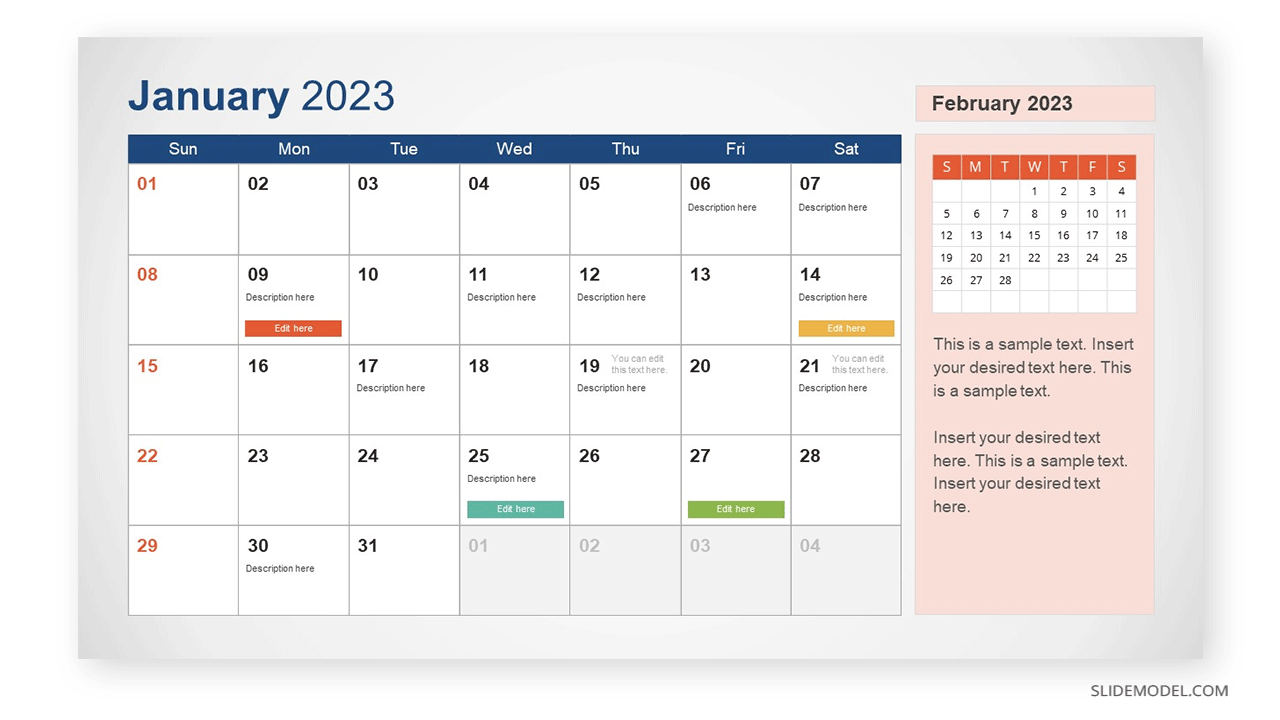 Template #14 – Annual Report Slides for PowerPoint
We can plan ahead for this upcoming Fiscal Year by preparing a detailed annual report presentation in PowerPoint. An annual report is used by organizations to showcase financial reports, board statements, and significant statistical data to be used by the financial, sales, and marketing departments.
Using a clear layout with contrasting colors, make your annual report slides more engaging with the help of this editable template for PowerPoint and Google Slides.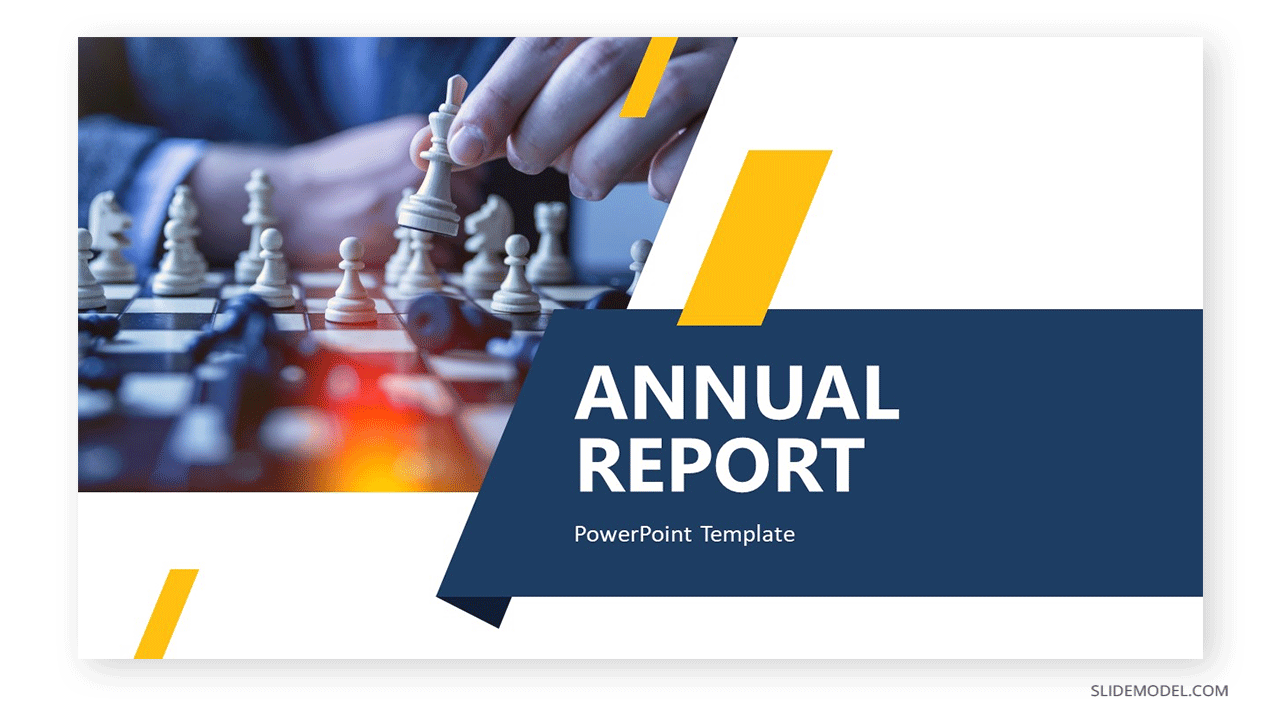 Template #15 – Trending Topics PowerPoint Template
If social media networks are a key element of your business, or you are an influencer looking to enhance the graphics quality of their streaming platform, check this PowerPoint template now.
Ideal for introducing stats in a graphic manner, you can use the Trending Topics PowerPoint template as overlays in videos to celebrate reaching a new significant number in your follower count by channel. We list icons for Facebook, LinkedIn, Twitter, Pinterest, YouTube and Instagram. Separately, you can find slides that express the values of the Audience, Activity and interactions for each social media channel.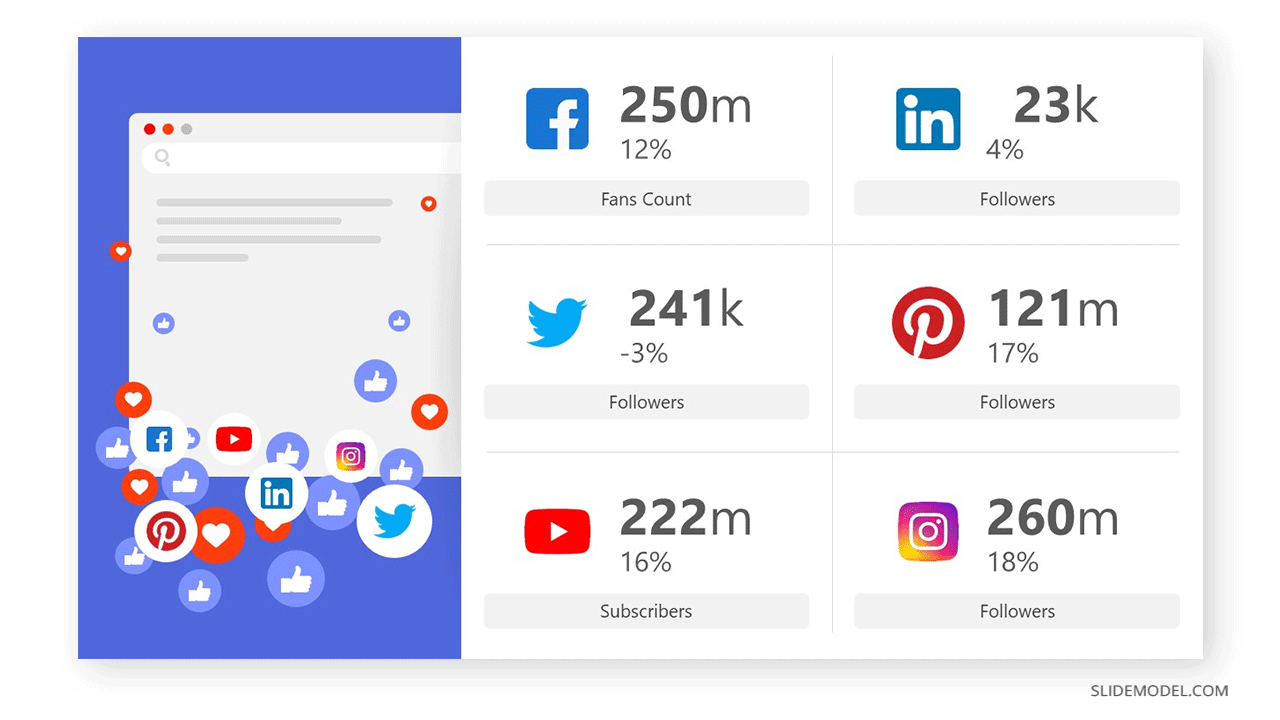 Template #16 – B2B Customer Journey Map PowerPoint Template
For companies who wish to upscale their B2B relationships, this B2B Customer Journey Map template for PowerPoint helps to understand the different steps involved in B2B commerce. Express, in a detailed and visual format, the stages your customer transits, from brand discovery to contract renewal.
By using a B2B Customer Journey Map, companies can study success cases, or even failed negotiations, allowing them to trace strategies to improve their current sales performance.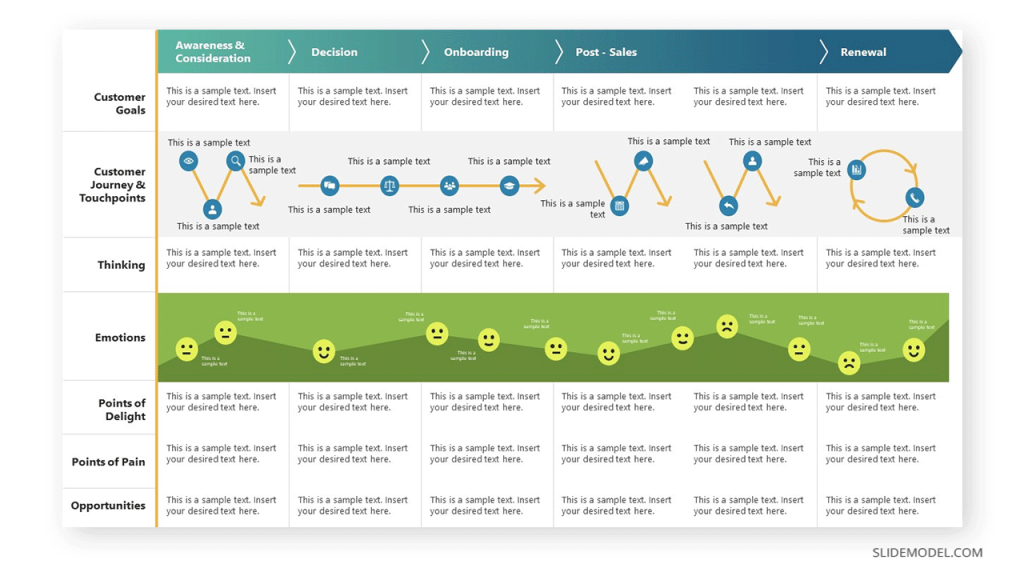 Template #17 – Who What When Where Why PowerPoint Template
A 5W Model is a problem-solving tool that helps us evaluate a situation from diverse angles. We can power up our logical thinking skills in 2023 by adding the 5W Model template for PowerPoint to our presentation toolkit.
Answer the typical "Who What When Where Why" questions that go behind any decision and draw useful conclusions from them. Ideal for students, project managers, customer service, and any other discipline that requires creative thinking.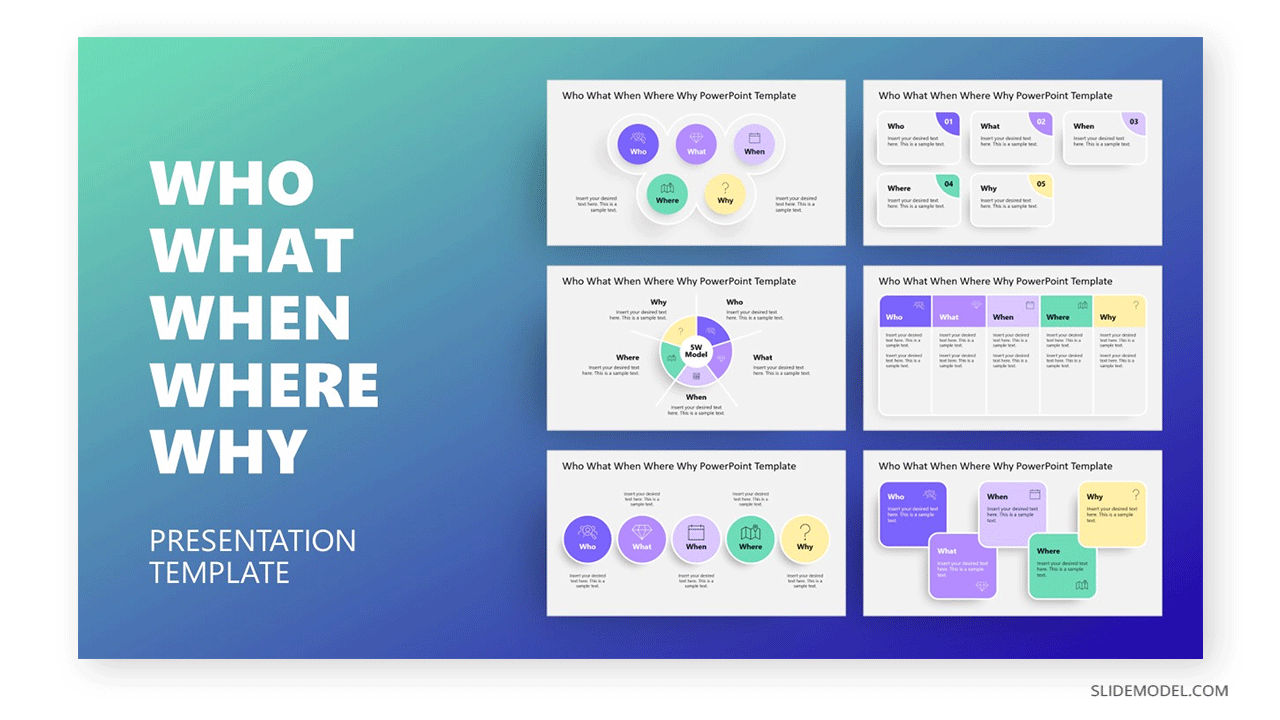 Template #18 – 8Ps of Marketing PowerPoint Template
Craft a new marketing strategy this 2023 with the help of our 8Ps of Marketing PowerPoint Template!
The 8Ps of Marketing is a model used to expose the factors that aligned drive companies to gain a competitive advantage and increase sales. This marketing strategy template is a powerful tool for promoting a new product or service as well as for tracing marketing strategies. With this PowerPoint slide deck you get 8 different slides featuring the elements of this marketing mix model, fully editable to your business' style.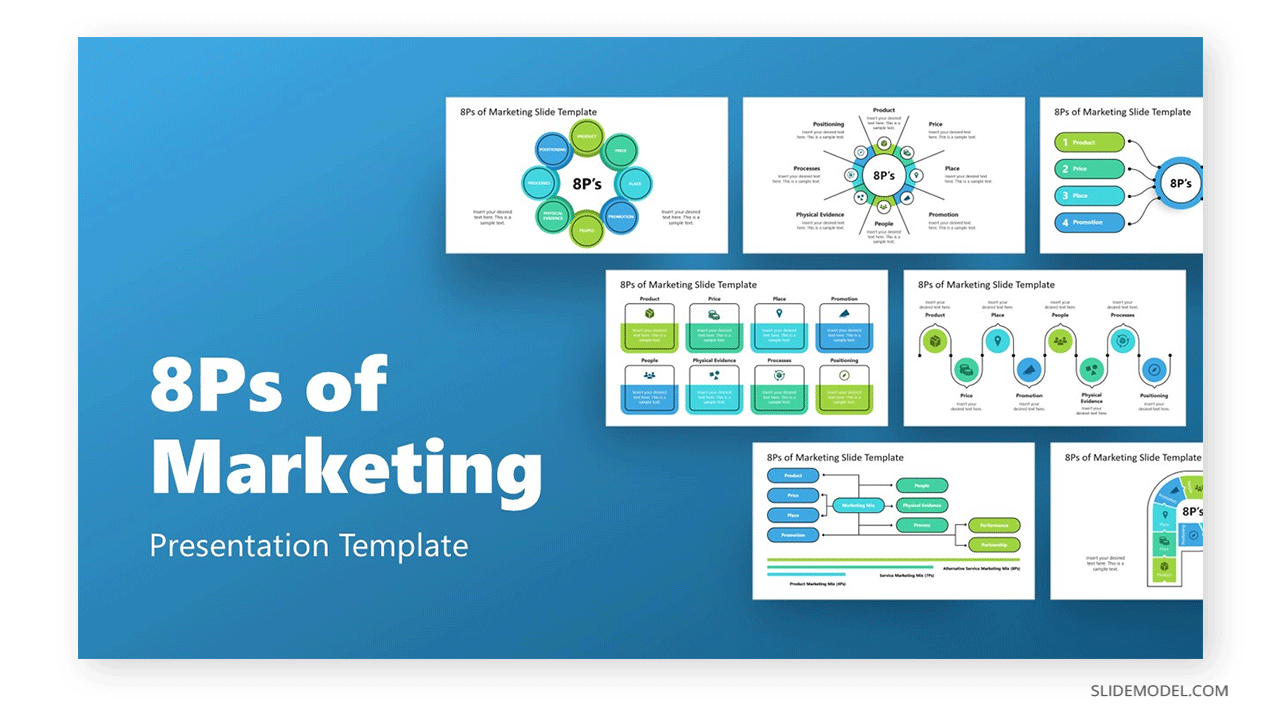 Template #19 – 4 Steps Editable 3D Ladder Infographic for PowerPoint
Following this design trend for 3D objects, we introduce our 4-Step Ladder Infographic for PowerPoint.
The ladder is designed as a 3D shape in white color, with a ladder ribbon signaling different colors for each step of the journey. This 3D diagram can be used for multiple purposes, to highlight the required steps on a process or correlated concepts.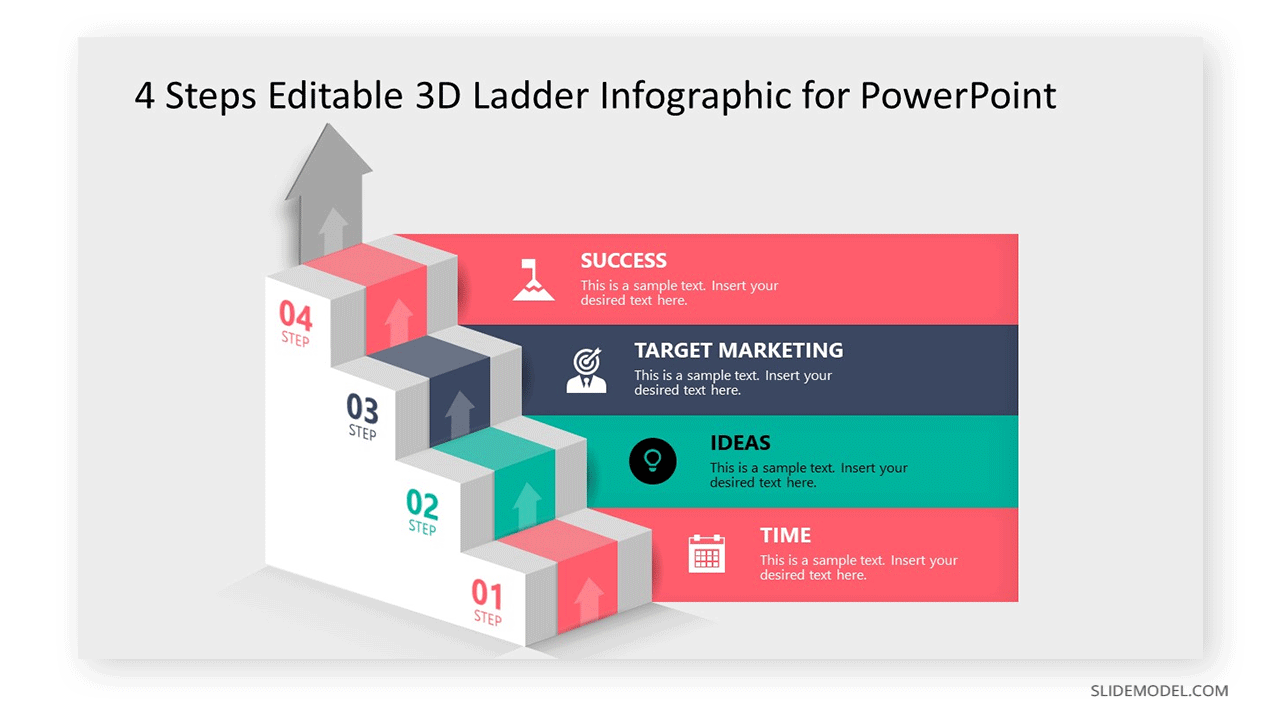 Template #20 – Creative Company Profile PowerPoint Template
Have you envisioned a company profile presentation containing catchy colors, vector graphic characters, and an overall contemporary aesthetic? If that's the case, we have the ideal product for you.
Drifting apart from the usual, formal-styled company profile templates, this slide deck works with a dazzling combination of blue and lemon-yellow tones. 10 slides, including icons, fully editable to match your style.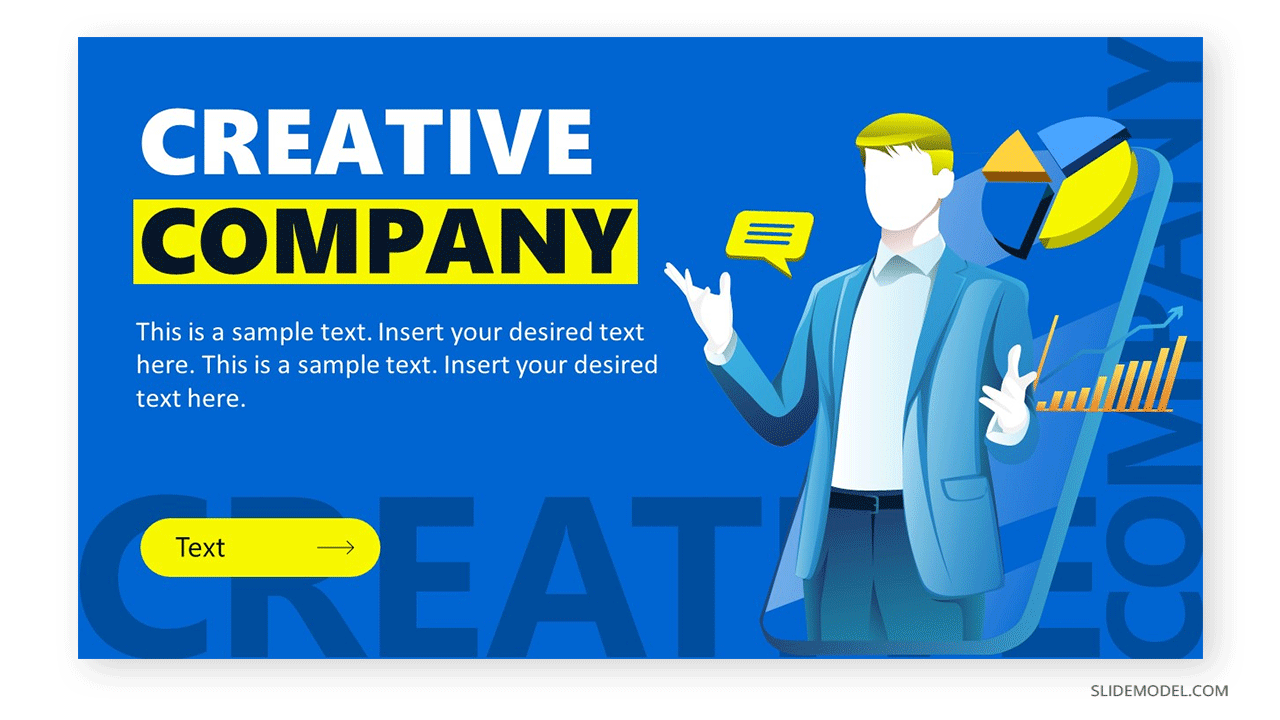 Template #21 – Circular Timeline Infographic Template for PowerPoint
Timeline templates don't always have to follow a linear pattern. Using circular timelines can bring fresh air to your presentations, and they work perfectly to introduce upcoming cycles in your business.
Check out this circular timeline infographic, created in both light and dark themes. Text boxes are conveniently placed to explain each phase of a project. The color gradient effect enforces a message of unity along the steps to follow through the timeline.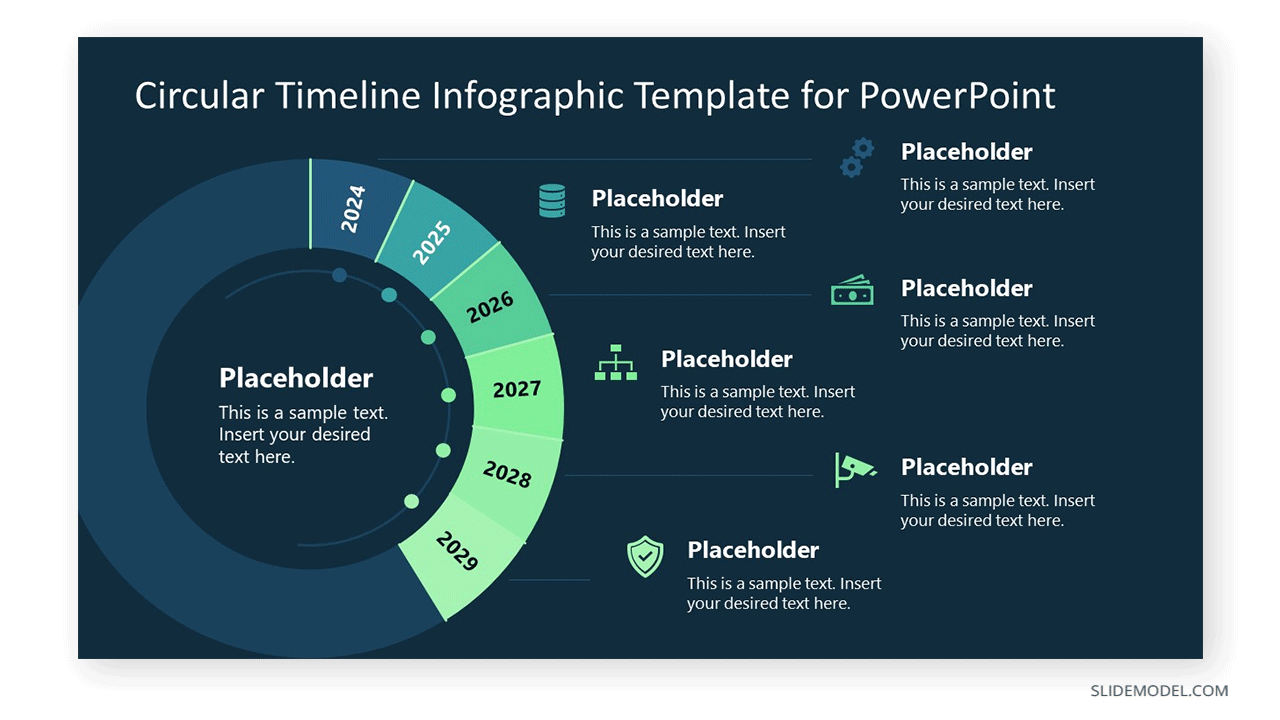 Template #22 – Matrix PowerPoint Template Toolkit
For those who asked for matrix templates, here we have one of the most complete collections you can find online. Work with as many matrices dimensions as your project requires thanks to this editable format Matrix PowerPoint Template Toolkit.
Placeholder text areas are highlighted in multiple hues to differentiate sections for easy access.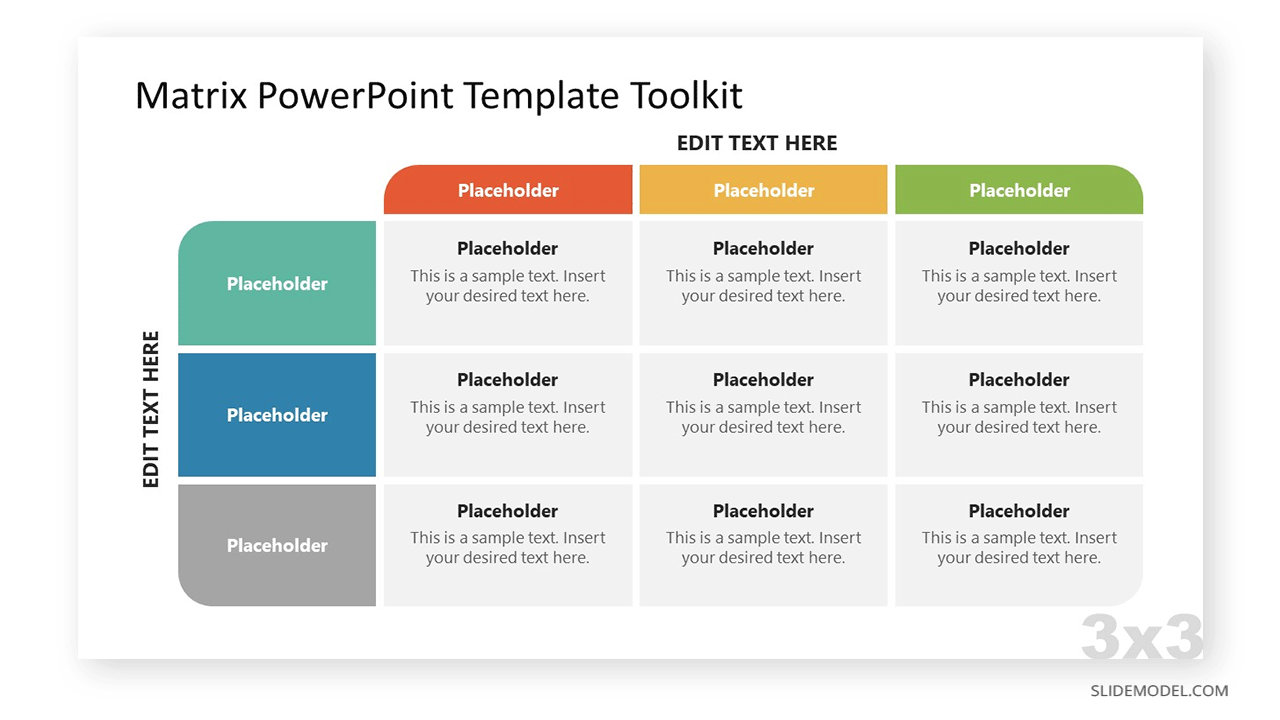 Template #23 – Modern Webinar Invitation PowerPoint Template
We conclude this selection of templates for 2023 with recommendations for professional webinar sessions.
Create banners for webinars by using this contemporary-styled webinar invitation template. The main area has a placeholder area for images such as a photo of the host, a relevant image on the topic, or any other fitting graphic. This image container is enhanced through shadow layers, creating a 3D pop-up effect, with ribbons for the logo and contact information accompanying the design. Choose either a light or dark theme to make your upcoming webinar a memorable event.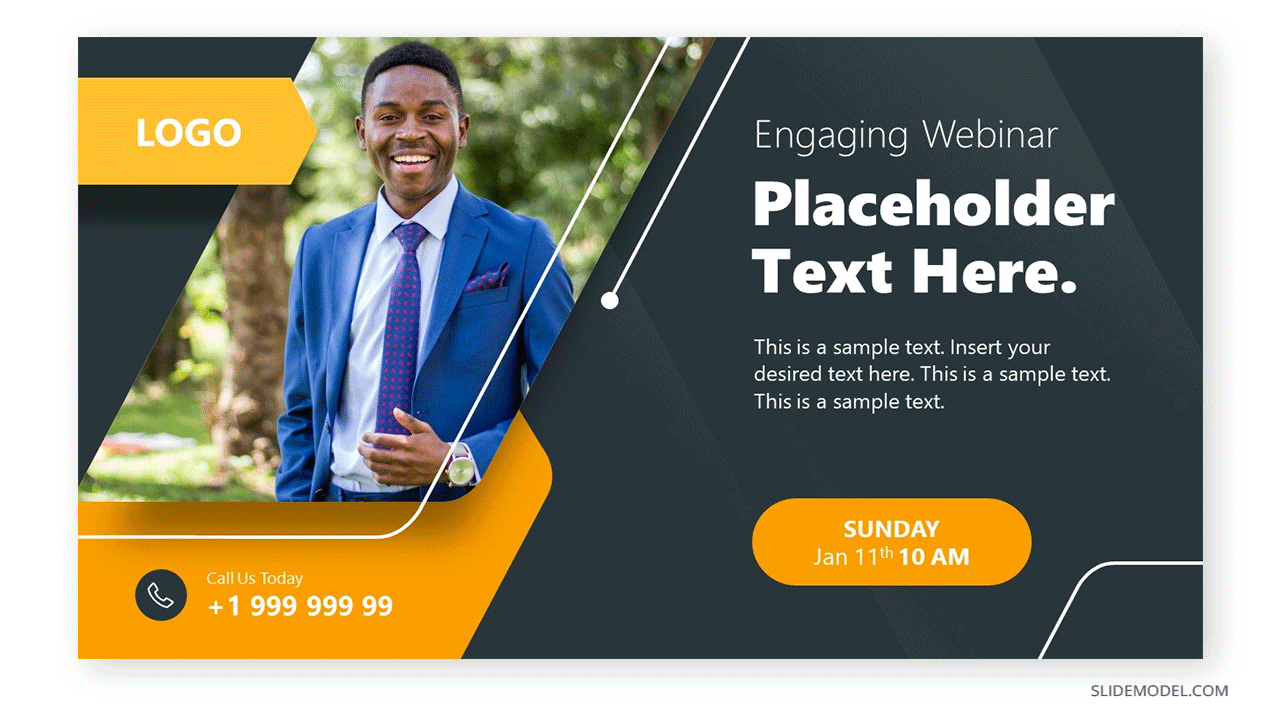 Closing Thoughts
Starting a new year is a perfect chance to review the tools and strategies we implement for our professional life, and that's what led us to craft a list of templates to help in this process.
Consider these templates as a starting point, and if you intend to look at more designs on specific topics, here we list some of our most popular categories:
Happy 2023 and our warmest wishes for this new year!