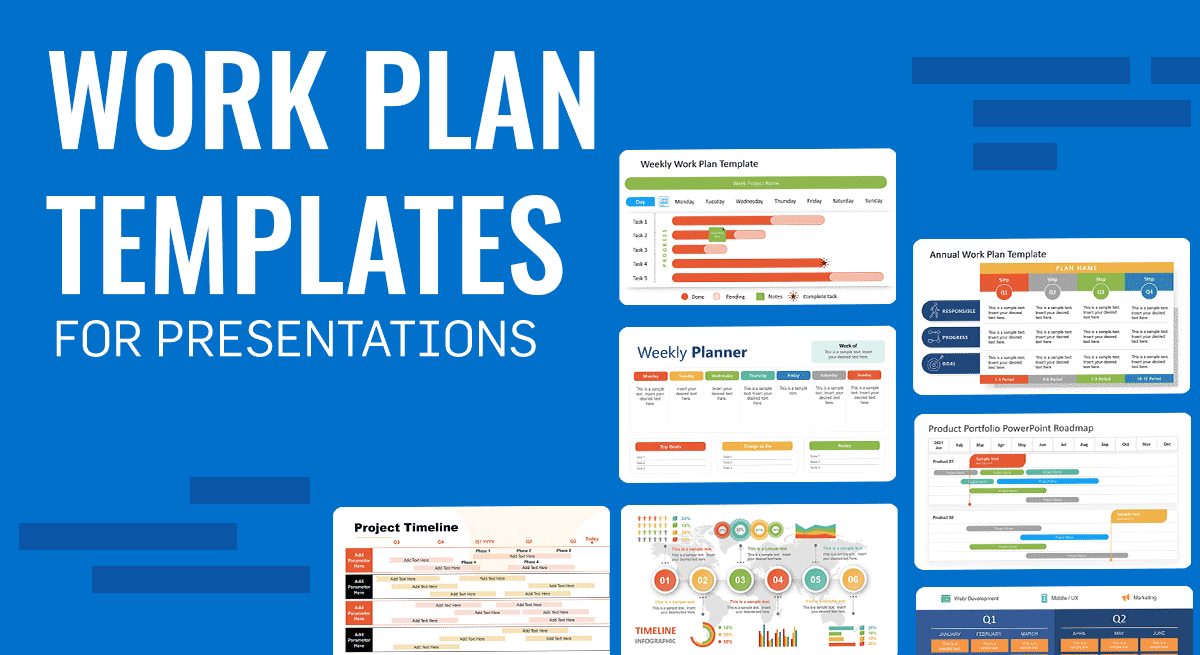 A work plan is created to manage a project and ensure that it is completed efficiently. It helps managers and team members utilize their time, efforts, and company resources effectively. The assigned project manager and team members can benchmark their progress against the planned timeframe and evaluate if deadlines will be met. In this article, the definition of work plan is presented, its types, components, a work plan template, and how you can be used to document and present your roadmap. Finally, we share the best workplan templates offered by SlideModel that you can use for presenting a good work plan.
What is a Work Plan?
Work plans are created to have a planned visual reference for a project. It defines the project purpose, goal, and objectives to be achieved.
The work plan definition by the Oxford Dictionary is 'the suggested strategy, schedule and road map of a specific project". The plan has a breakdown of tasks assigned to team members, so they know what they are responsible for. Team members are updated on the progress and status of the project via the work plan, which ensures that the whole project is streamlined and the deadlines are met.
Components of a Work Plan Template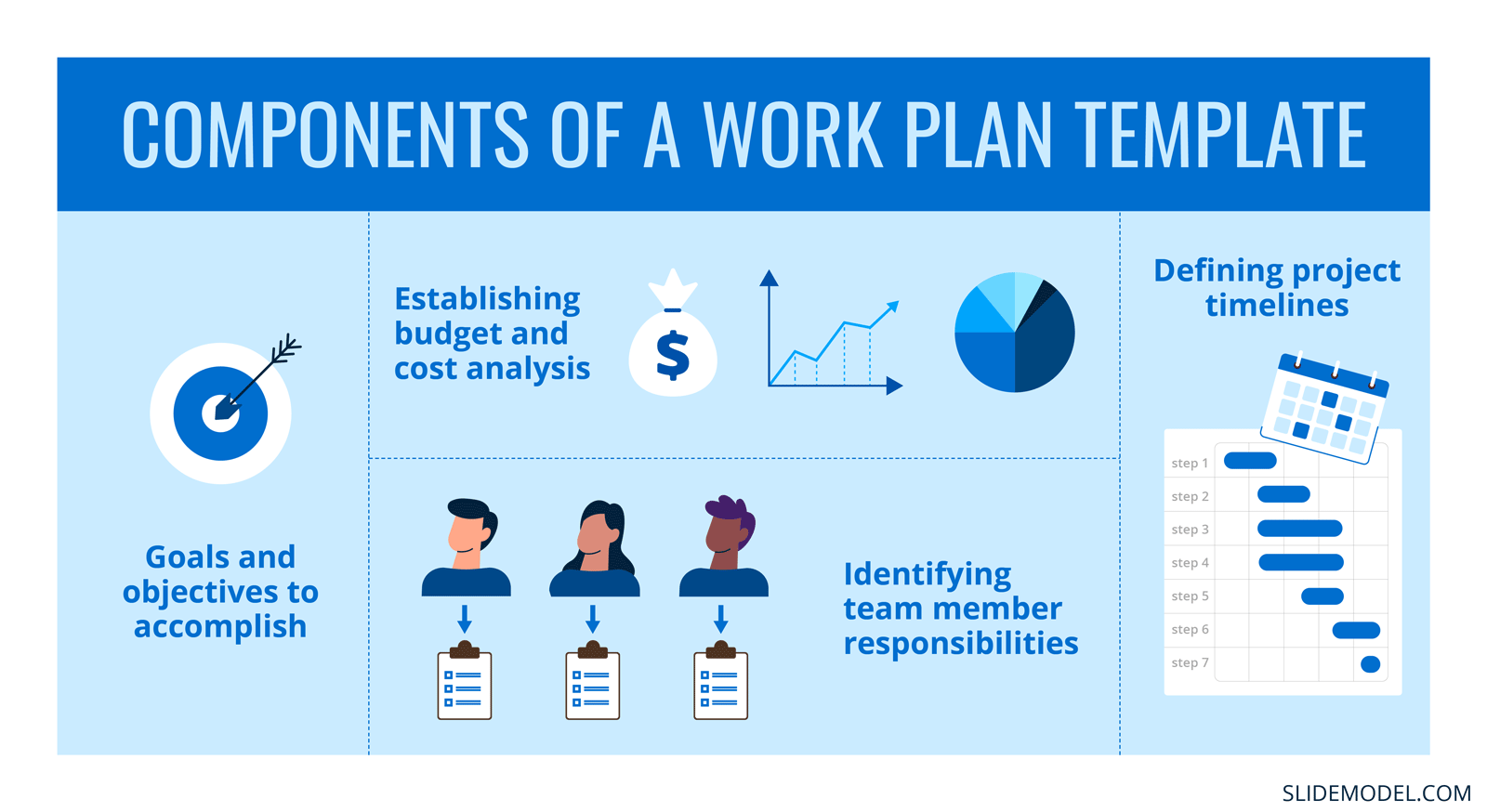 The necessary elements of a work plan includes:
Goals and objectives to accomplish
Every project or business as usual activities exists because there are goals and objectives to achieve.
Establishing budget and cost analysis
Every endeavor requires resources (materials, people, services, etc.). To create a work plan, it is necessary to set a budget and costs of doing, in order to estimate required resources. This assumptions will be used to take approval/rejections decisions over the plan and its execution.
Identifying team member responsibilities
In order to set accountability over execution, is essential to set responsibilities over tasks.
Defining project timelines
Once task efforts are estimated, and resources allocated, managers can create timelines with tasks durations, in order to estimate milestones dates. Using this mechanism, project dates can be estimated, monitored and updated according to reality.
How to Create A Work Plan?
1. Define Goals, Objectives, and Action Steps
When developing a work plan, the first step is to set clear goals and objectives. When identifying the project's main goal, focus on the big picture and specify the actions needed to achieve the goal. The objectives you define in your work plan should be precise, specific, and tangible.
An example of a goal would be to launch a new marketing campaign to drive sales and generate 10% more revenue than the last quarter.
The objective would be to launch social media ads to promote the brand and generate online sales.
The action steps would be assigned to each team member, such as writing ad copies, creating ad graphics, and displaying ads on different social media sites.
For reference of professional techniques for goals settings you can check our articles on SMART Goals and OKR framework.
2. Assign Task Responsibilities
After defining the objectives and action steps in your work plan, assign a project team leader and designate task responsibilities to team members that can help achieve the individual actions with efficiency.
For reference of professional methods for assigning responsibilities, you can check our article on RACI Matrix.
3. Prepare Timeline for Completion
Estimate each tasks duration based on the resources allocated. Setting project timelines for completing the project is essential to keep the workflow streamlined and ensure all team members complete tasks within the project's time frame.
5. Evaluate Constraints and Limitation
After establishing the budget in the work plan of the project, evaluate any possible constraints and limitations. This way, you would have an action plan in case any unexpected situation happens.
6. Discuss Risks From Different Perspectives
At last, identify the potential risks from multiple perspectives, such as project delays, budget issues, and errors that could occur. Ask team members about the potential risks and discuss how you can mitigate them if the project faces any contingencies.
For reference of professional risk analysis techniques check our article on Risk Analysis.
Types of Work Plans
Bellow we present a list of real life workplan types:
Work Plan for Corporate Employees
Corporate employees are often required to develop or follow a work plan for projects or business as usual activities Their work plan are built over action steps typically including the following:
Goals and objectives to achieve for business.
An estimated budget and resources required to complete the job.
A projected timeline for completion.
Enterprise Resource Planning activities requires to establish yearly estimations of the corporations activities and investment. Workplans are created by every area of the organization before the end of the fiscal year to plan ahead the following year and evaluate required resources. In an iterative fashion, every quarter the master workplan used for yearly planning is updated and drilled down into neat future activities. This new workplans are executed by each area and evaluated the following quarter for validation and correction.
Work Plan Example for Corporate Employees
The marketing department of a company can create a work plan for launching a new ad campaign. The goal would be specific, such as increasing conversion by 10%. The marketing team would classify the objectives of the work plan and list the action steps for each team member. The assigned employees will then proceed to complete their tasks, and the team leader can keep track to ensure that the campaign is set to finish on the projected timeline.
Work Plan for Business Owners
Businesses of SME (small and medium enterprises) scale require a good work plan for focusing on quarterly or annual goals; or for developing a new product or services.
The work plan template would be similar to a business plan. It contains activities related to market research, long-term budget projections, revenue-generating goals, and key people involved in the business. It would require the following:
Financial planning and budget
Marketing Strategy for product or service
Target sales and revenue
Operations Activities
Work Plan Example for Business Owners
The owner of a fashion brand may create a work plan for increasing annual revenue and profits by 20%. The specific objectives would list the sales target for each quarter, the sales team would be assigned sales targets, and the marketing department could have a specific budget to promote brand awareness and online sales.
Work Plan for Project Managers
A work plan for project managers is an extension of the work plan for corporate employees. It will have a broader scope and will have a whole team or department involved to achieve the goal and objectives.
This plan would discuss who is responsible for which part of the project and would focus on the steps needed to complete each task. This type of work plan would typically include:
Project Benefits for the company.
Detailed budget and cost for completing the project.
Tasks Durations and Predecessors relationships, Resource allocation, and Critical Path.
Estimated statistics and relevant data that will help monitoring the execution of the project.
Work Plan Example for Project Managers
An example of a Work Plans for project manager could be to develop an online website and application for an eCommerce store. The objectives could be to design the website and application with proper navigation, good visual design, responsiveness, and user-friendliness.
Team members would be assigned their respective tasks based on their skills, and the project manager will ensure the project is completed within the timeframe and within budget.
How to Present a Work Plan?
A work plan can be presented in a PowerPoint Presentation to A work plan can be presented in a PowerPoint Presentation or via a video presentation. You can create your own work plan template in PowerPoint by using different elements, tables, and animations.
It can be time-consuming to create your own work plan template from scratch.
This is where you can benefit from our 100% editable PowerPoint Presentations that you can easily use to create a professional and visually appealing work plan in no time.
Best PowerPoint Work Plan Templates By SlideModel
PowerPoint work plan templates by SlideModel can be used to create visually appealing work plans that define all objectives, tasks, and timelines for the team.
Free Work Plan Template
Develop your Work Plan in a professional way with our Free Action Plan Template. In this template you will be able to develop each of the objectives of your project and establish tasks, assign roles, deadlines and priorities.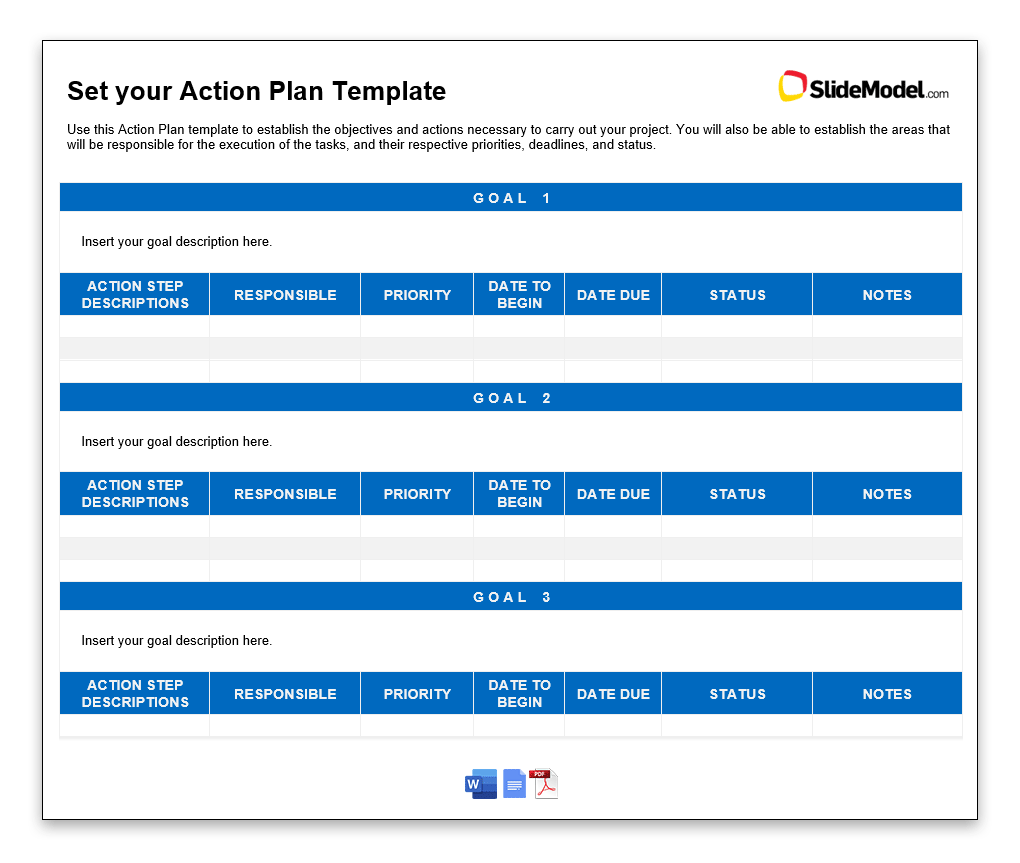 Conclusion
Creating a Work Plan requires time and effort. A lot of information is needed to have a good work plan for streamlining any project. Using a professionally designed work plan template will save the user time and effort. Just replacing placeholders with real data will be enough to achieve a professional and executive work plan.