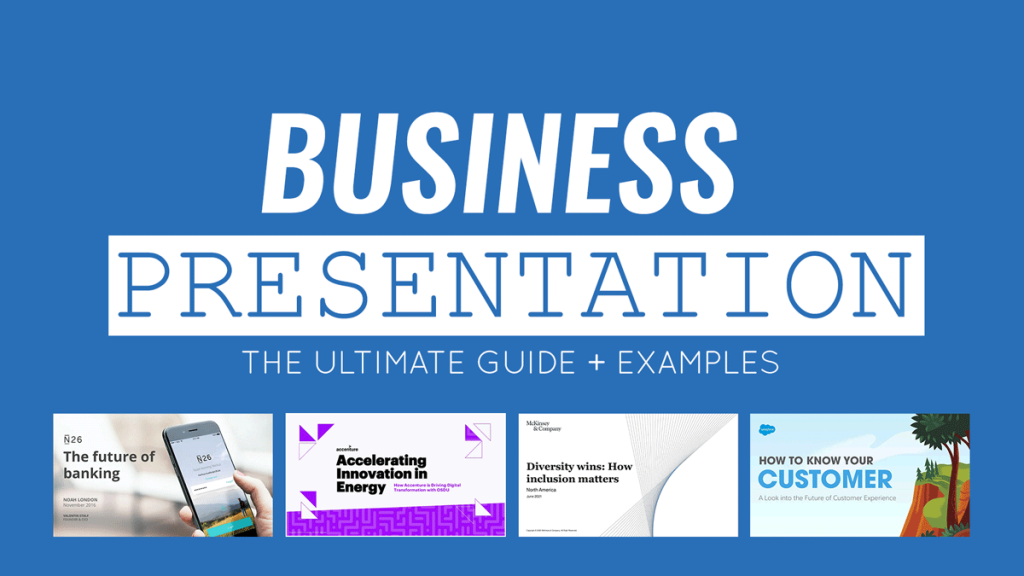 A business presentation is a purpose-led summary of key information about your company's plans, products, or practices, designed for either internal or external audiences. Project proposals, HR policy presentations, investors briefings are among the few common types of presentations.
Compelling business presentations are key to communicating important ideas, persuading others, and introducing new offerings to the world. Hence, why business presentation design is one of the most universal skills for any professional.
This guide teaches you how to design and deliver excellent business presentations. Plus, breaks down some best practices from business presentation examples by popular companies like Google, Pinterest, and Amazon among others!
3 General Types of Business Presentations
A business presentation can be given for a number of reasons. Respectively, they differ a lot in terms of content and purpose.
But overall, all types of business presentations can be classified as:
Informative
Persuasive
Supporting
Informative Business Presentation
As the name suggests, the purpose of an informative presentation is to discern the knowledge you have — explain what you know. It's the most common type of business presentation out there. So you have probably prepared such at least several times.
Examples of informative presentations:
Team briefings presentation
Annual stakeholder report
Business portfolio presentation
Business plan presentation
Helpful templates from SlideModel:
Persuasive Business Presentation
The goal of this type of presentation is to persuade your audience of your point of view — convince them of what you believe is right. Developing business presentations of this caliber requires a bit more copywriting mastery, as well as expertise in public speaking. Unlike an informative business presentation, your goal here is to sway the audience's opinions and prompt them towards the desired action.
Examples of persuasive presentations:
Business case presentation
Helpful templates from SlideModel:
Supporting Business Presentation
This category of business PowerPoint presentations is meant to facilitate decision-making — explain how we can get something done. The underlying purpose here is to communicate the general "action plan". Then break down the necessary next steps for bringing it to life.
Examples of supporting presentations:
Roadmap presentation
Project vision presentation
Helpful templates from SlideModel:
What Should Be Included in a Business Presentation?
Overall, the content of your business presentation will differ depending on its purpose and type. However, at the very minimum, all business presentations should include:
Introductory slide
Agenda/purpose slide
Main information or Content slides
Key Takeaways slides
Call-to-action/next steps slides
We further distill business presentation design and writing best practices in the next section (plus, provide several actionable business PowerPoint presentation examples!).
How to Make a Business Presentation: Actionable Tips
A business presentation consists of two parts — a slide deck and a verbal speech. In this section, we provide tips and strategies for nailing your deck design.
1. Get Your Presentation Opening Right
The first slides of your presentation make or break your success. Why? By failing to frame the narrative and set the scene for the audience from the very beginning, you will struggle to keep their interest throughout the presentation.
You have several ways of how to start a business presentation:
Use a general informative opening — a summative slide, sharing the agenda and main points of the discussion.
Go for a story opening — a more creative, personal opening, aimed at pulling the audience into your story.
Try a dramatic opening — a less apparent and attention-grabbing opening technique, meant to pique the audience's interest.
Standard Informative Opening
Most business presentation examples you see start with a general, informative slide such as an Agenda, Problem Statement, or Company Introduction. That's the "classic" approach.
To manage the audience's expectations and prepare them for what's coming next, you can open your presentation with one or two slides stating:
The topic of your presentation — a one-sentence overview is enough.
Persuasive hook, suggesting what's in it for the audience and why they should pay attention.
Your authority — the best technique to establish your credibility in a business presentation is to share your qualifications and experience upfront to highlight why you are worth listening to.
Opening best suited for: Formal business presentations such as annual reports and supporting presentations to your team/business stakeholders.
Story Opening
Did you ever notice that most TED talks start with a quick personal story? The benefit of this presenting technique is that it enables speakers to establish quick rapport and hold the listener's attention.
Here's how Nancy Duarte, author of "Slide:ology: The Art and Science of Creating Great Presentations" book and TED presenter, recommends opening a presentation:
You know, here's the status quo, here's what's going on. And then you need to compare that to what could be. You need to make that gap as big as possible, because there is this commonplace of the status quo, and you need to contrast that with the loftiness of your idea.
Storytelling, like no other tool, helps transpose the audience into the right mindset and get concentrated on the subject you are about to discuss. A story also elicits emotions, which can be a powerful ally when giving persuasive presentations. In the article how to start a presentation, we explore this in more detail.
Opening best suited for: Personal and business pitches, sales presentations, other types of persuasive presentations.
Dramatic Opening
Another common technique is opening your presentation with a major statement, sometimes of controversial nature. This can be a shocking statistic, complex rhetoric question, or even a provocative, contrarian statement, challenging the audience's beliefs.
Using a dramatic opening helps secure the people's attention and capture their interest. You can then use storytelling to further drill down your main ideas.
If you are an experienced public speaker, you can also strengthen your speech with some unexpected actions. That's what Bill Gates does when giving presentations. In a now-iconic 2009 TED talk about malaria, mid-presentation Gates suddenly reveals that he actually brought a bunch of mosquitoes with him. He cracks open a jar with non-malaria-infected critters to the audience's surprise. His dramatic actions, paired with a passionate speech made a mighty impression.
Opening best suited for: Marketing presentations, customer demos, training presentations, public speeches.
Further reading: How to start a presentation: tips and examples.
2. Get Your PowerPoint Design Right
Surely, using professional business PowerPoint templates already helps immensely with presentation deck design since you don't need to fuss over slide layout, font selection, or iconography.
Even so, you'll still need to customize your template(s) to make them on brand and better suited to the presentation you're about to deliver. Below are our best presentation design tips to give your deck an extra oomph.
Use Images, Instead of Bullet Points
If you have ever watched Steve Jobs's presentations, you may have noticed that he never used bullet-point lists. Weird right? Because using bullet points is the most universal advice in presentation design.

But there's a valid scientific reason why Jobs favored images over bullet-point texts. Researchers found that information delivered in visuals is better retained than words alone. This is called the "pictorial superiority effect". As John Medina, a molecular biologist, further explains:
"Hear a piece of information, and three days later you'll remember 10% of it. Add a picture and you'll remember 65%."
So if your goal is to improve the memorability of your presentation, always replace texts with images and visualizations when it makes sense.
Fewer Slides is Better
No matter the value, a long PowerPoint presentation becomes tiring at some point. People lose focus and stop retaining the information. Thus, always take some extra time to trim the fluff and consolidate some repetitive ideas within your presentation.
For instance, at McKinsey new management consultants are trained to cut down the number of slides in client presentations. In fact, one senior partner insists on replacing every 20 slides with only two slides. Doing so prompts you to focus on the gist — the main business presentation ideas you need to communicate and drop filler statements.
Here are several quick tips to shorten your slides:
Use a three-arc structure featuring a clear beginning (setup), main narrative (confrontation), ending (resolution). Drop the ideas that don't fit into either of these.
Write as you tweet. Create short, on-point text blurbs of under 156 symbols, similar to what you'd share on Twitter.
Contextualize your numbers. Present any relevant statistics in a context, relevant to the listeners. Turn longer stats into data visualizations for easier cognition.
Consistency is Key
In a solid business presentation, each slide feels like part of the connecting story. To achieve such consistency apply the same visual style and retain the same underlying message throughout your entire presentation.
Use the same typography, color scheme, and visual styles across the deck. But when you need to accentuate a transition to a new topic (e.g. move from a setup to articulating the main ideas), add some new visual element to signify the slight change in the narrative.
Further reading: 23 PowerPoint Presentation Tips for Creating Engaging and Interactive Presentations
3. Make Your Closure Memorable
We best remember the information shared last. So make those business presentation takeaways stick in the audience's memory. We have three strategies for that.
Use the Rule of Three
The Rule of Three is a literary concept, suggesting that we best remember and like ideas and concepts when they are presented in threes.
Many famous authors and speakers use this technique:
"Duty – Honor – Country. Those three hallowed words reverently dictate what you ought to be, what you can be, and what you will be". Gen. Douglas MacArthur.
"Life, Liberty, and the Pursuit of Happiness" are the unalienable rights of all humans that governments are meant to protect." Thomas Jefferson
The Rule of Three works because three is the maximum number of items most people can remember on their first attempt. Likewise, such pairings create a short, familiar structure that is easy to remember for our brains.
Try the Title Close Technique
Another popular presentation closing technique is "Title Close" — going back to the beginning of your narrative and reiterating your main idea (title) in a form of a takeaway.

Doing so helps the audience better retain your core message since it's repeated at least two times. Plus, it brings a sense of closure — a feel-good state our brains love. Also, a brief one-line closure is more memorable than a lengthy summary and thus better retained.
Ask a Question
If you want to keep the conversation going once you are done presenting, you can conclude your presentation with a general question you'd like the audience to answer.
Alternatively, you can also encourage the members to pose questions to you. The latter is better suited for informational presentations where you'd like to further discuss some of the matters and secure immediate feedback.
Try adding an interactive element like a QR code closing your presentation with a QR code and having a clear CTA helps you leverage the power of sharing anything you would like to share with your clients. QR codes can be customized to look alike your brand. With the help of the best QR code generator, you can create a QR code that's secure and trackable.
12 Business Presentation Examples and What Makes Them Great
Now that we equipped you with the general knowledge on how to make a presentation for business, let's take a look at how other presenters are coping with this job and what lessons you can take away from them.
1. N26 Digital Bank Pitch Deck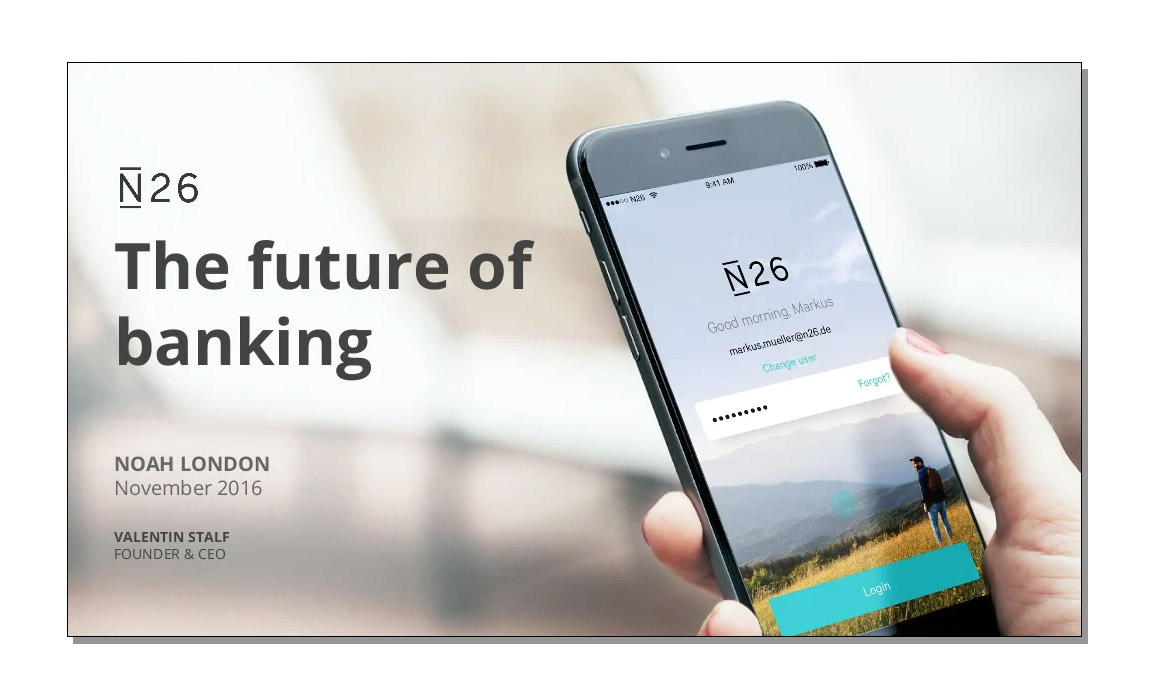 This is a fine business pitch presentation example, hitting all the best practices. The deck opens with a big shocking statement that most Millennials would rather go to the dentist than step into a bank branch.
Then it proceeds to discuss the company's solution to the above — a fully digital bank with a paperless account opening process, done in 8 minutes. After communicating the main product features and value proposition, the deck further conceptualizes what traction the product got so far using data visualizations. The only thing it lacks is a solid call-to-action for closing slides as the current ending feels a bit abrupt.
2. WeWork Pitch Deck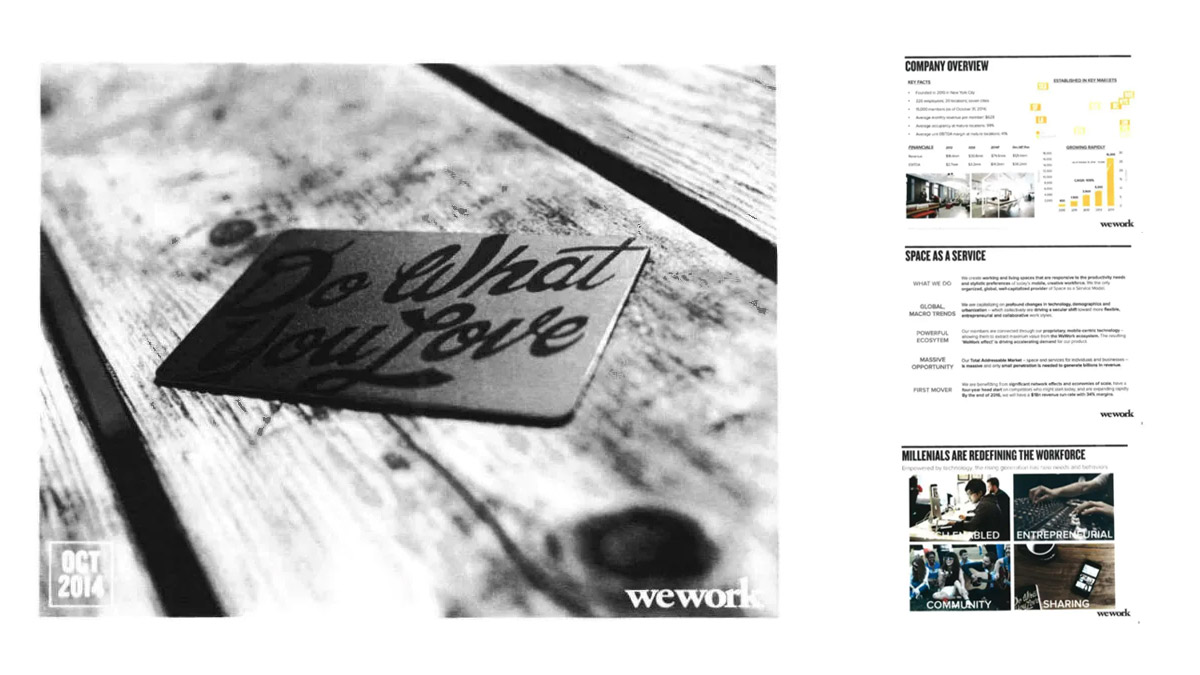 For a Series D round, WeWork went with a more formal business presentation. It starts with laying down the general company information and then transitions to explaining their business model, current market conditions, and the company's position on the market.
The good thing about this deck is that they quantify their business growth prospects and value proposition. The likely gains for investors are shown in concrete numbers. However, those charts go one after another in a row, so it gets a bit challenging to retain all data points.
The last part of their presentation is focused on a new offering, "We Live". It explains why the team seeks funds to bring it to life. Likewise, they back their reasoning with market size statistics, sample projects, and a five-year revenue forecast.
3. Redfin Investor Presentation
If you are looking for a "text-light" business presentation example, Redfin's investor deck is up to your alley. This simple deck expertly uses iconography, charts, and graphs to break down the company's business model, value proposition, market share, and competitive advantages over similar startups. For number-oriented investors, this is a great deck design to use.
4. Google Ready Together Presentation
This isn't quite the standard business presentation example per se. But rather an innovative way to create engaging, interactive presentations of customer case studies.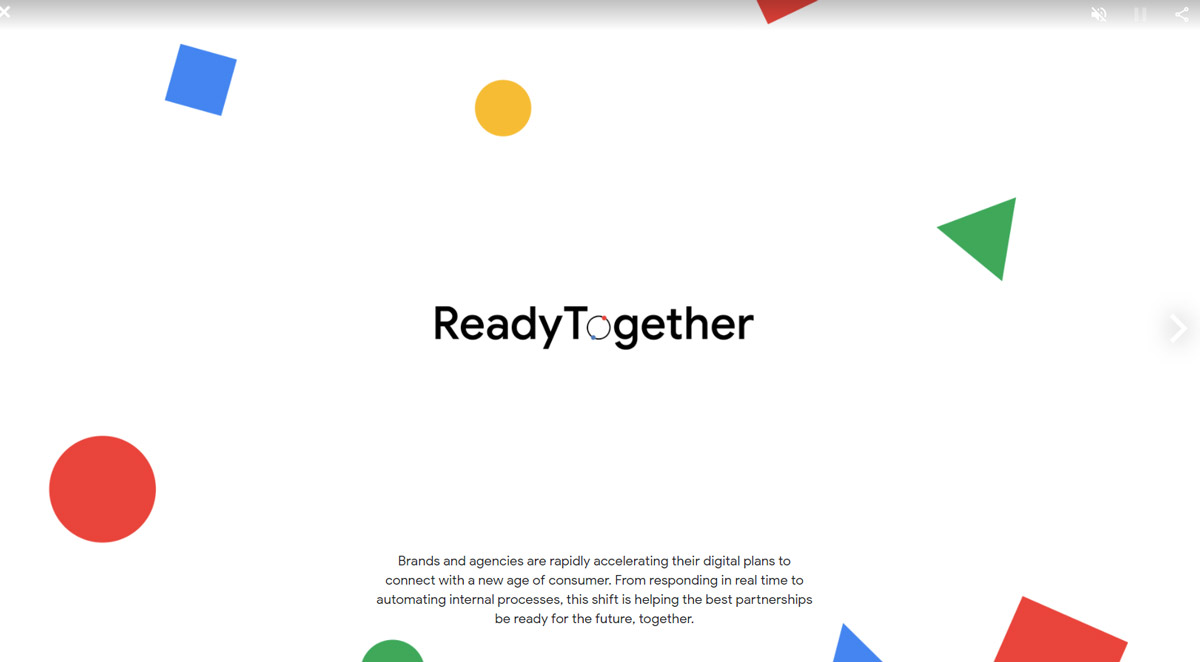 The short deck features a short video clip from a Google client, 7-11, explaining how they used the company's marketing technology to digitally transform their operations and introduce a greater degree of marketing automation. The narrated video parts are interrupted by slides featuring catchy stats, contextualizing issues other businesses are facing. Then transitions to explaining through the words of 7-11 CMO, how Google's technology is helping them overcome the stated shortcomings.
5. Salesforce Business Presentation Example
This is a great example of an informational presentation, made by the Salesforce team to share their research on customer experience (CX) with prospects and existing customers.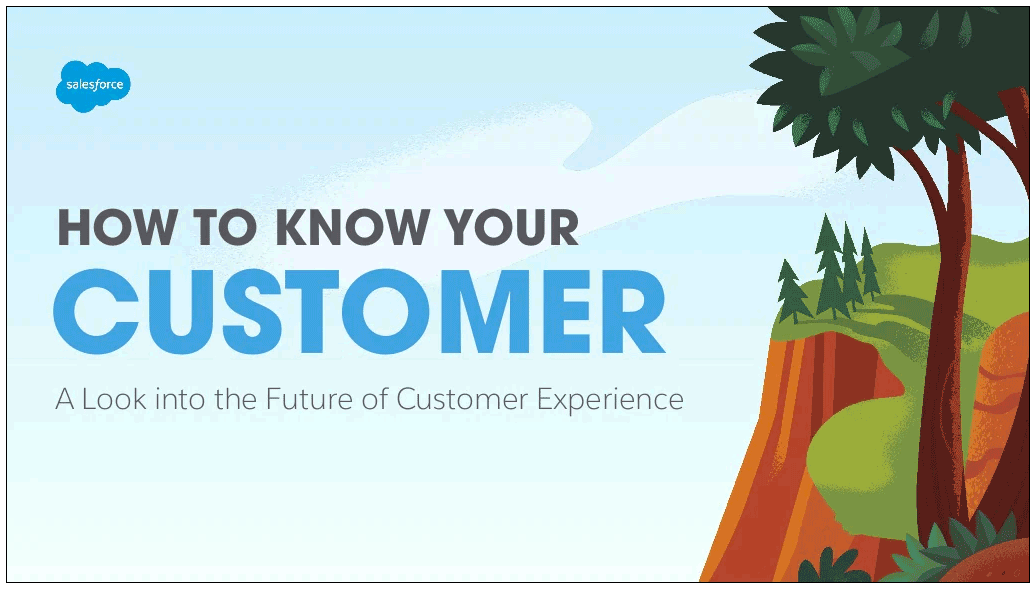 The slide deck errs on the lengthier side with 58 slides total. But bigger topics are broken down and reinforced through bite-sized statistics and quotes from the company leadership. They are also packaging the main tips into memorable formulas, itemized lists, and tables. Overall, this deck is a great example of how you can build a compelling narrative using different statistics.
6. Mastercard Business Presentation
This slide deck from Mastercard instantly captures the audience's attention with unusual background images and major data points on the growth of populations, POS systems, and payment methods used in the upcoming decade.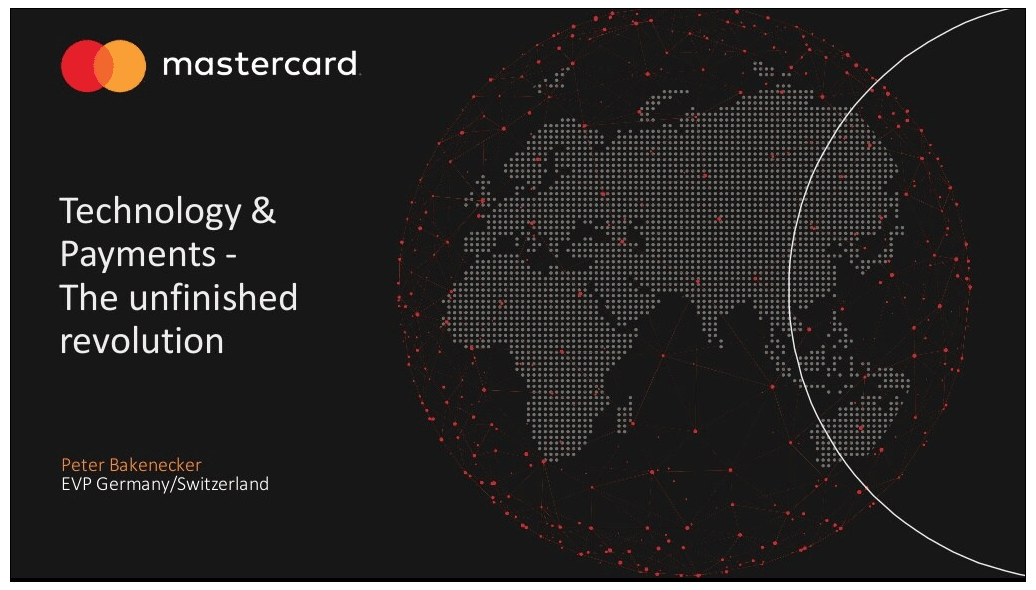 Perhaps to offset the complexity of the subject, Mastercard chose to sprinkle in some humor in presentation texts and used comic-style visuals to supplement that. However, all their animations are made in a similar style, creating a good sense of continuity in design. They are also using colors to signify the transition from one part of the presentation to another.
In the second part, the slide deck focuses on distilling the core message of what businesses need to do to remain competitive in the new payments landscape. The team presents what they have been working on to expand the payment ecosystem. Then concludes with a "title close" styled call-to-action, mirroring the presentation title.
7. McKinsey Diversity & Inclusion Presentation
This fresh business slide deck from McKinsey is a great reference point for making persuasive business presentations on complex topics such as D&I. First, it recaps the main definitions of the discussed concepts — diversity, equity, and inclusion — to ensure alignment with the audience members.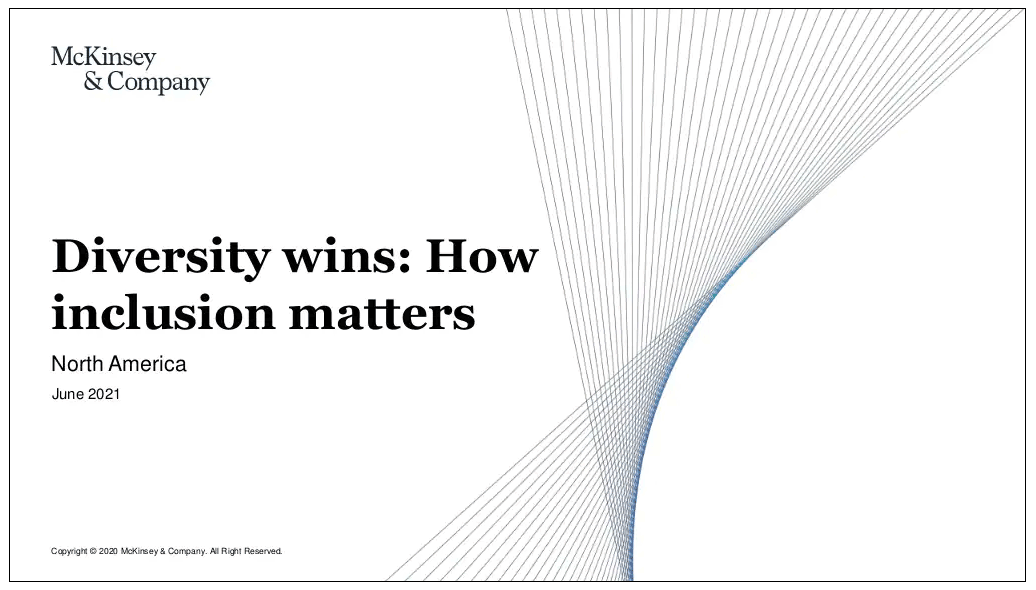 Next, the business presentation deck focuses on the severity and importance of the issue for businesses, represented through a series of graphs and charts. After articulating the "why", the narrative switches to "how" — how leaders can benefit from investment in D&I. The main points are further backed with data and illustrated via examples.
8. Accenture Presentation for the Energy Sector
Similar to McKinsey, Accenture keeps its slide deck on a short. Yet the team packs a punch within each slide through using a mix of fonts, graphical elements, and color for highlighting the core information. The presentation copy is on a longer side, prompting the audience to dwell on reading the slides. But perhaps this was meant by design as the presentation was also distributed online — via the company blog and social media.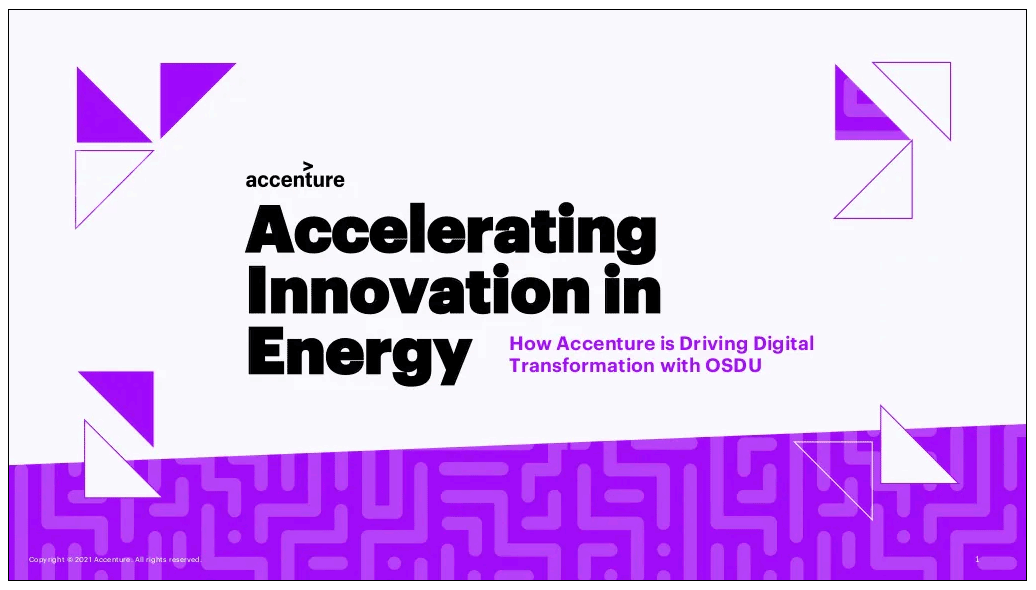 The last several slides of the presentation deck focus on articulating the value Accenture can deliver for their clients in the Energy sector. They expertly break down their main value proposition and key service lines, plus quantify the benefits.
9. Amazon Web Services (AWS) Technical Presentation
Giving an engaging technical presentation isn't an easy task. You have to balance the number of details you reveal on your slides to prevent overwhelm, while also making sure that you don't leave out any crucial deets. This technical presentation from AWS does great in both departments.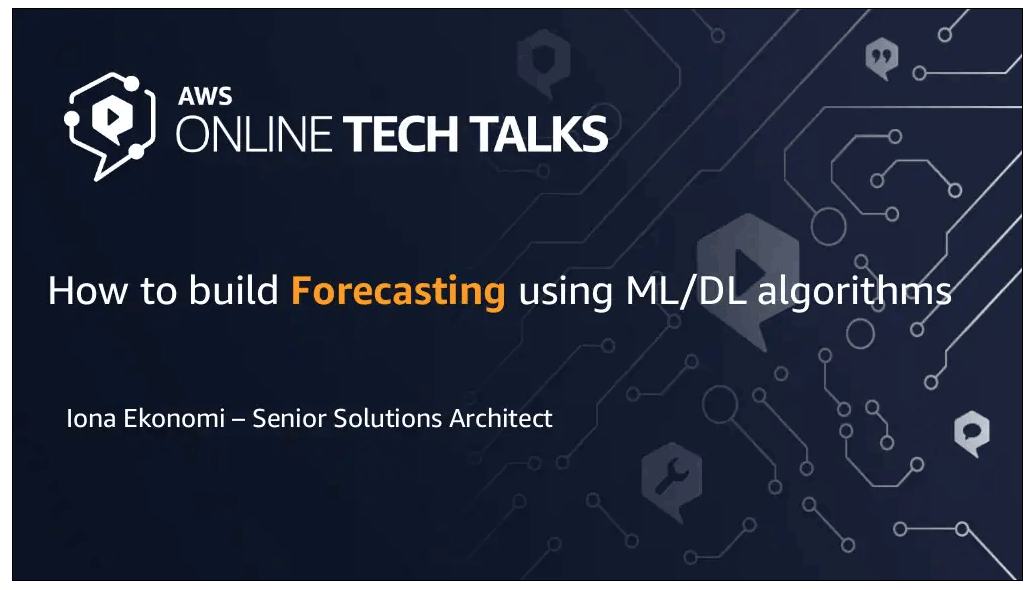 First, you get entertained with a quick overview of Amazon's progress in machine learning (ML) forecasting capabilities over the last decade. Then introduced to the main tech offering. The deck further explains what you need to get started with Amazon Forecast — e.g. dataset requirements, supported forecasting scenarios, available forecasting models, etc.
The second half of the presentation provides a quick training snippet on configuring Amazon SageMaker to start your first project. The step-by-step instructions are coherent and well-organized, making the reader excited to test-drive the product.
10. Snapchat Company Presentation
Snapchat's business model presentation is on a funkier, more casual side, reflective of the company's overall brand and positioning. After briefly recapping what they do, the slide deck switches to discussing the company's financials and revenue streams.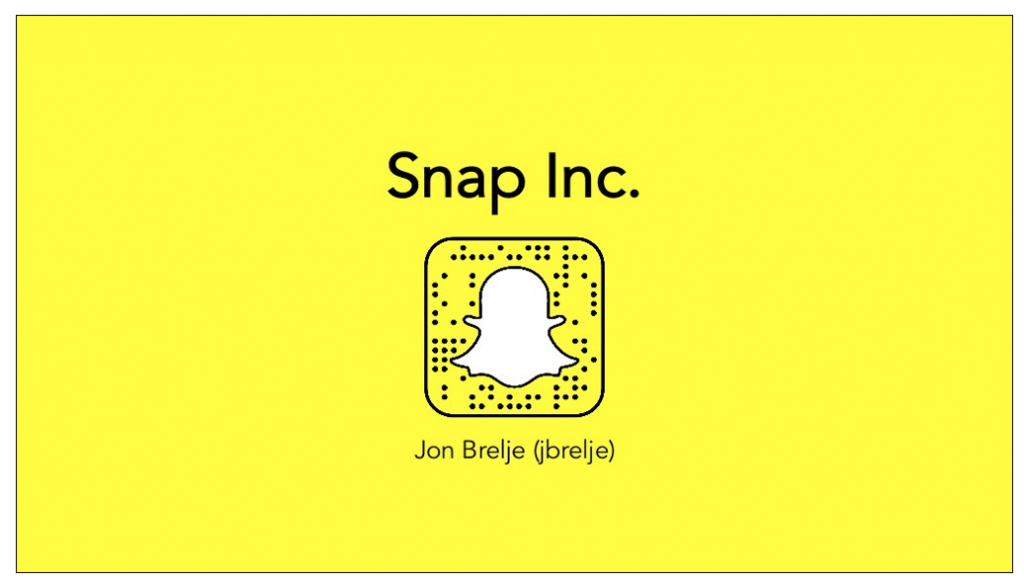 This business slide deck by Snap Inc. itself is rather simplistic and lacks fancy design elements. But it has a strong unified theme of showing the audience Snapchat's position on the market and projected vector of business development.
11. Visa Business Acquisition Presentation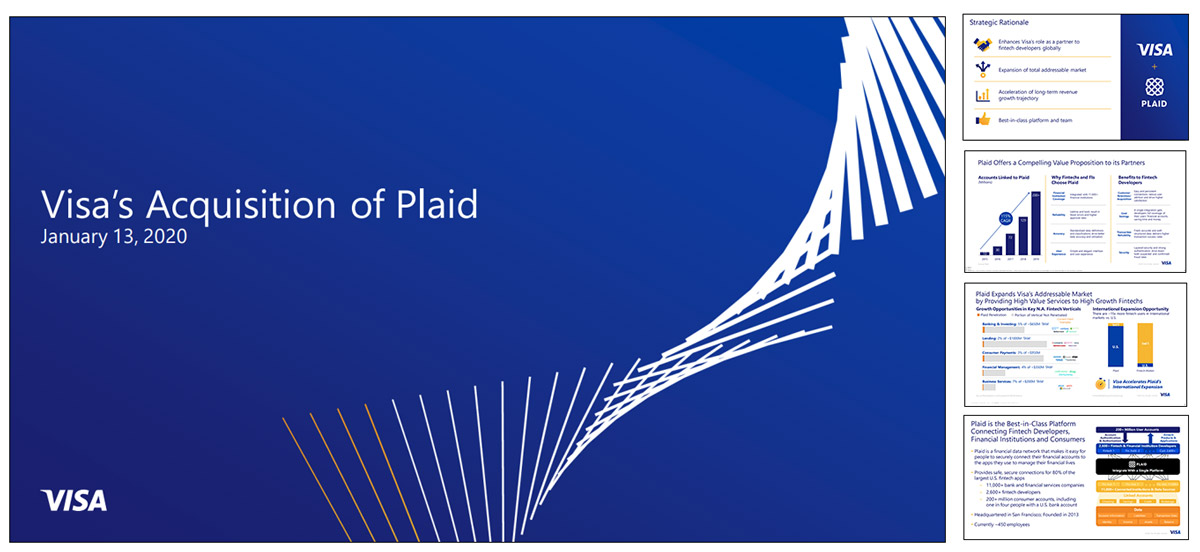 If you are working on a business plan or M&A presentation for stakeholders of your own, this example from Visa will be helpful. The presentation deck expertly breaks down the company's rationale for purchasing Plaid and subsequent plans for integrating the startup into their business ecosystem.
The business deck recaps why the Plaid acquisition is a solid strategic decision by highlighting the total addressable market they could dive into post-deal. Then it details Plaid's competitive strengths. The slide deck then sums up all the monetary and indirect gains Visa could reap as an acquirer.
12. Pinterest Earnings Report Presentation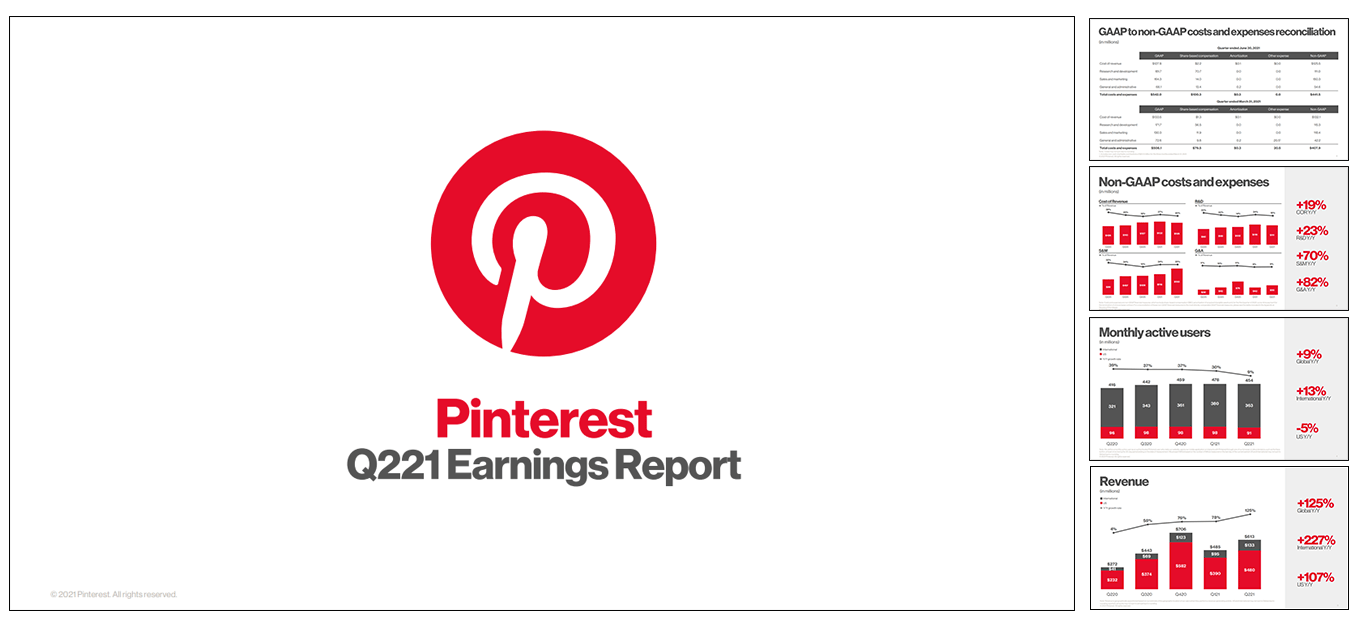 Annual reports and especially earnings presentations might not be the most exciting types of documents to work on, but they have immense strategic value. Hence, there's little room for ambiguities or mistakes.
In twelve slides, this business presentation from Pinterest clearly communicates the big picture of the company's finance in 2021. All the key numbers are represented as featured quotes in the sidebar with diagrams further showcasing the earning and spending dynamics. Overall, the data is easy to interpret even for non-finance folks.
To Conclude
With these business presentation design tips, presentation templates, and examples, you can go from overwhelmed to confident about your next presentation design in a matter of hours.

Focus on creating a rough draft first using a template. Then work on nailing your opening slide sequence and shortening the texts in the main part of your presentation when needed. Make sure that each slide serves a clear purpose and communicates important details. To make your business presentation deck more concise, remove anything that does not pertain to the topic.
Finally, once you are done, share your business presentation with other team members to get their feedback and reiterate the final design.