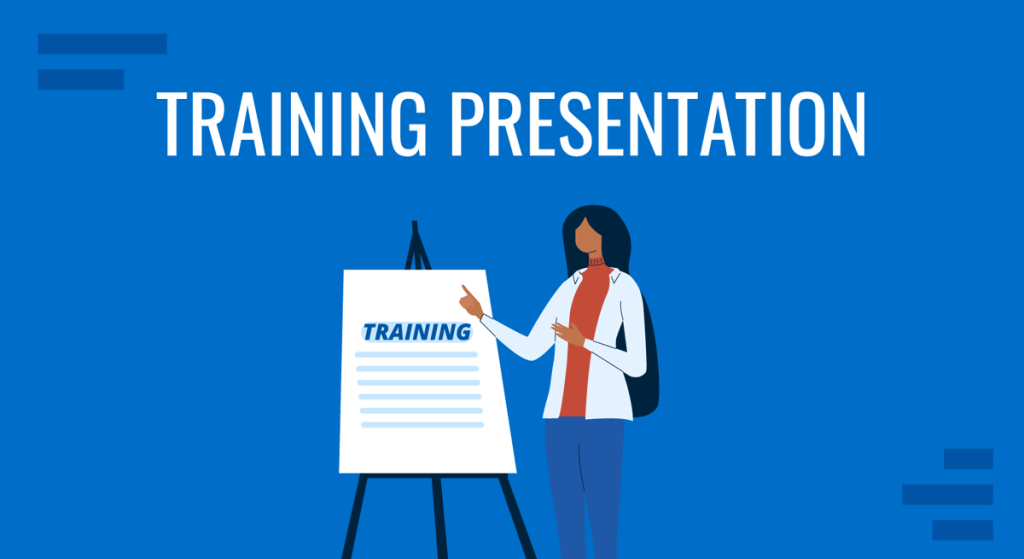 Blended learning and hybrid workplaces have improved how employees train and optimize their work output. Corporate training is now a rich combination of in-person group sessions, live online lessons, and SCORM courses that employees can follow at their own pace.
Are your training presentations up to the challenge?
Learning & Development strategists, HR, and performance management managers take note. In this guide, we'll show you how to create a training deck from start to finish. Plus, some template examples and optimization tips for creating training presentations that make learning more effective.
What is a Training Presentation?
A training presentation is a set of slides created to teach a skill or increase knowledge of a topic. They're used in training and development strategies in companies worldwide. Across the slides in a training presentation, employees learn essential information and skills to do their job better and grow in their careers.
Types of Training Presentations
Training presentations form part of all L&D initiatives in an HR department. They have one of two purposes; to train employees for the job at the present moment and to train them for growth and the future.
Training for the job instructs employees on how to carry out their assigned tasks and responsibilities. The skills they learn follow guidelines from the company's brand, processes, and structure.
Examples include:
Onboarding
On-the-job training
Practice simulations
Orientation
Skillbuilding
Mentoring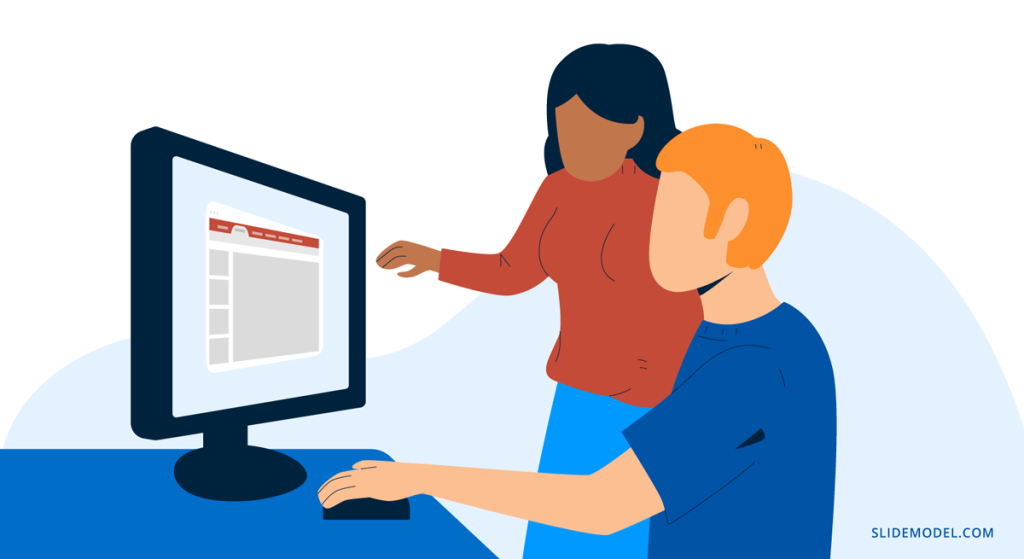 To train for growth, employees are given resources to increase their capabilities, like learning new technology or methodology. They learn skills that will help their career future, preparing them for a promotion within the company or for changing teams laterally in a new role.
Growth training includes topics like:
Soft skills
New technology
New processes or methodologies
Job rotation
Personal development
Career expansion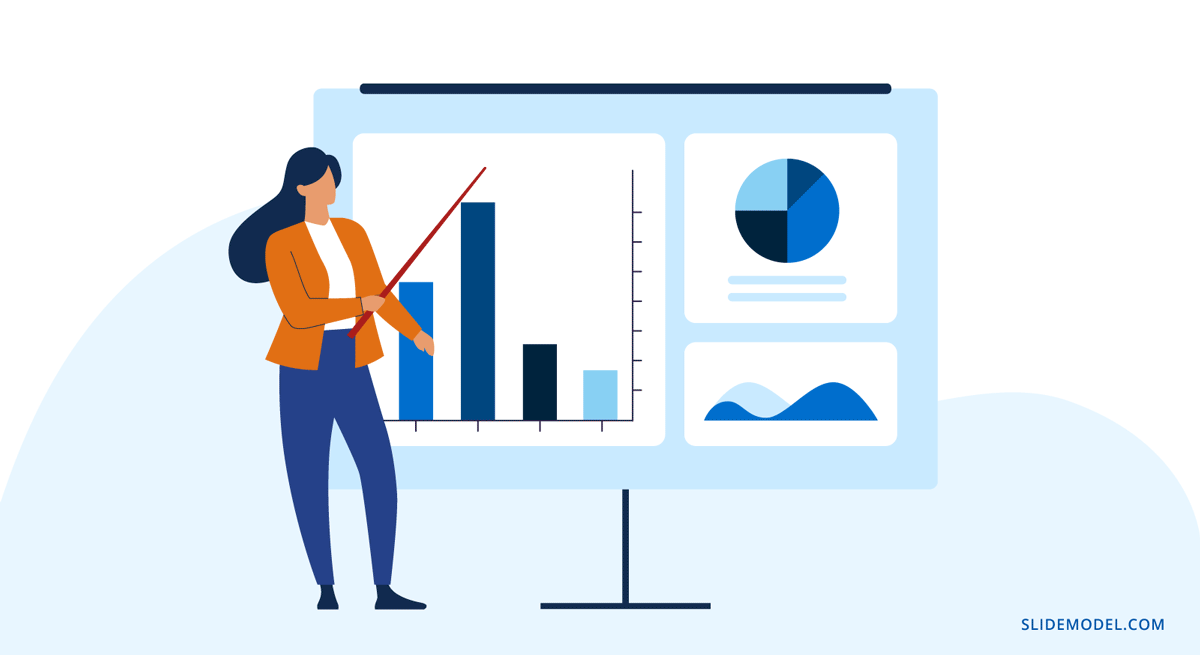 Why Are Training Presentations Important?
High-quality training and development initiatives in a corporate setting offer many benefits. Three of the most relevant are employee buy-in and retention, company culture, and professional development.
Employee Buy-in and Retention
When training presentations are achieved at a high standard, team members in People Management, Human Resources, Learning & Development, and DEI feel confident and proud of their work in training fellow employees.
They accompany employees along training paths, so it's better if they're invested in what they're sharing. For a solid brand identity—and clear company culture—thorough training helps with buy-in straight out of the gate with an onboarding strategy. Then continues with regular training initiatives that lead to retention, satisfaction and loyalty.
Company Culture
The role of company culture in an organization has a lot of weight towards brand equity. But a strong culture doesn't happen overnight; it's instilled in the employees' minds through team-building activities, motivational seminars, and equitable training in all aspects of work.
Company culture flows through the ongoing interaction between trainers and trainees. Group sessions and training days help build relationships between teams and employees. Feeling invested is a trait developed through the right type of training.
Professional Development
High-quality training for professional development is essential in every organization. On-the-job training for daily tasks is only part of the puzzle; employees also need to train for growth.
In-company training for professional development includes training for higher—or lateral—positions. Offering training for the future not only heightens professional development for individual employees but also carves a strong culture.
How to Create a Training Presentation
Let's create a training deck together. We'll use a case study to guide us along.
You and your L&D team at an IT Company are preparing a company-wide training session about the SCRUM framework before implementing it in more aspects of the business. The Training presentation is titled "Understanding the SCRUM Framework. Agilizing our productivity, together." Sessions will be blended/hybrid to accommodate both in-office and remote employees. There will be a camera recording the instructor, and remote employees will see the presentation and the video of the instructor talking side by side on their screen.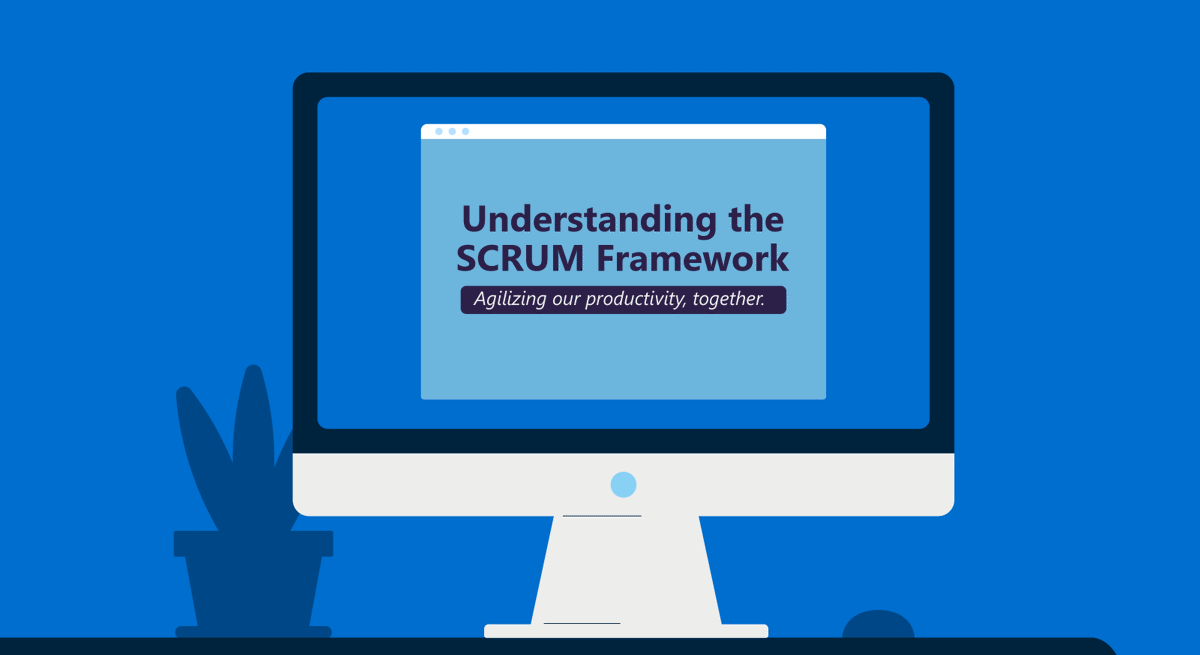 1. Plan and prepare
Planning and strategizing are as important in training as in other business areas. Your training presentation already has a purpose, company-wide training about the SCRUM framework. But if you aren't sure what employees need to learn to increase productivity and employee satisfaction, you'll have to do some research.
Figuring out your people's learning and development needs takes some work. Are you using a performance management system? What does the reporting reveal? Where are employees failing to set goals? How can training presentations help?
Analyze the reports, and you'll see where they're lacking. Plan upskilling strategies around those topics. With a clear objective, start preparing the training, presentation, and conversation points for group sessions.
Put together a lesson plan covering the main characteristics of your presentation. Use it as a foundational reference during the production of the training presentation slides.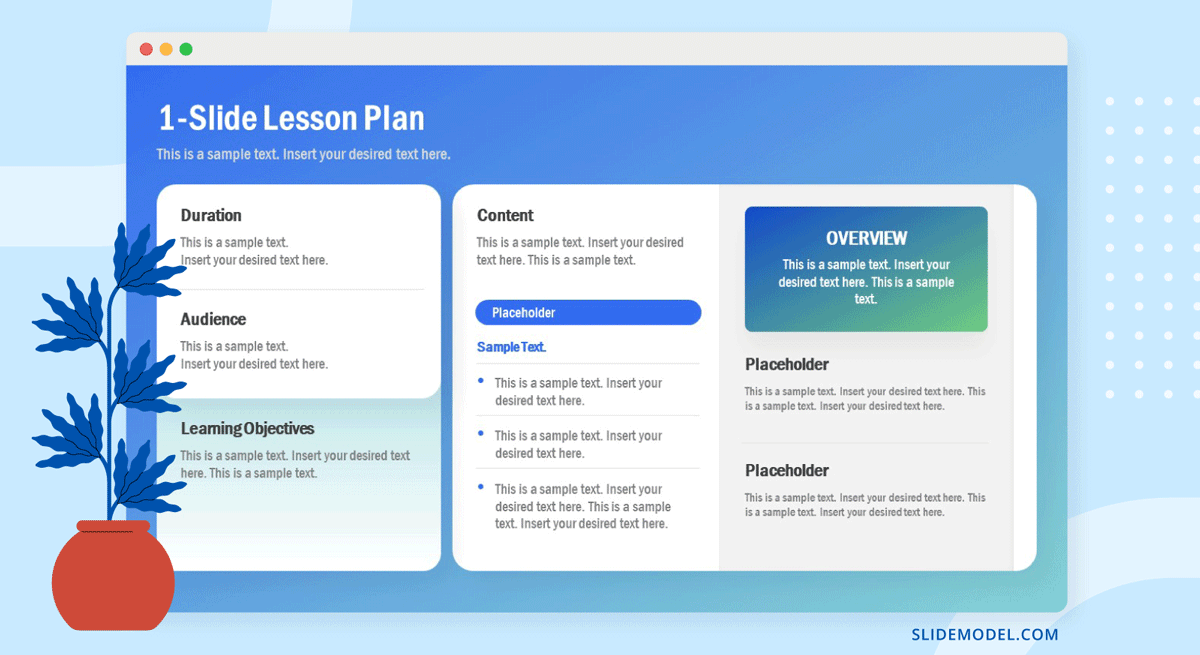 2. Create a basic structure
Creating a structure for a training presentation is a critical step before designing slides or even writing the content. Training presentations with a set structure are more impactful than ones without.
Following a structure makes the transference of knowledge much simpler. Write an outline that follows that structure. Do it on a document or use a visual tool like a storyboard to overview the full presentation deck.
The main structure for any training presentation has three parts; beginning, middle, and end. Yes, it's that simple.
Beginning: Tell them what you are going to tell them.

Start with an agenda slide that covers the contents of the training presentation and builds a framework of what to expect out of this training program. Follow by listing the syllabus for the course and required learning material that will be accessible, and where students should download/access such content.
Inform learners that at the end of the presentation, they will have all the basic and practical knowledge to understand and begin working with a SCRUM framework.
Explain (if necessary) what they need as a prerequisite to get the most out of the training.
Any instructions they need to follow during the session, such as how to approach practical exercises or instructions for deliverables expected.
Share all supplemental material through links they can download or access from. This should also include any book chapter mentioned, video resources, photos, etc. Cloud-based storage accessible from the Company's intranet tends to suit all needs.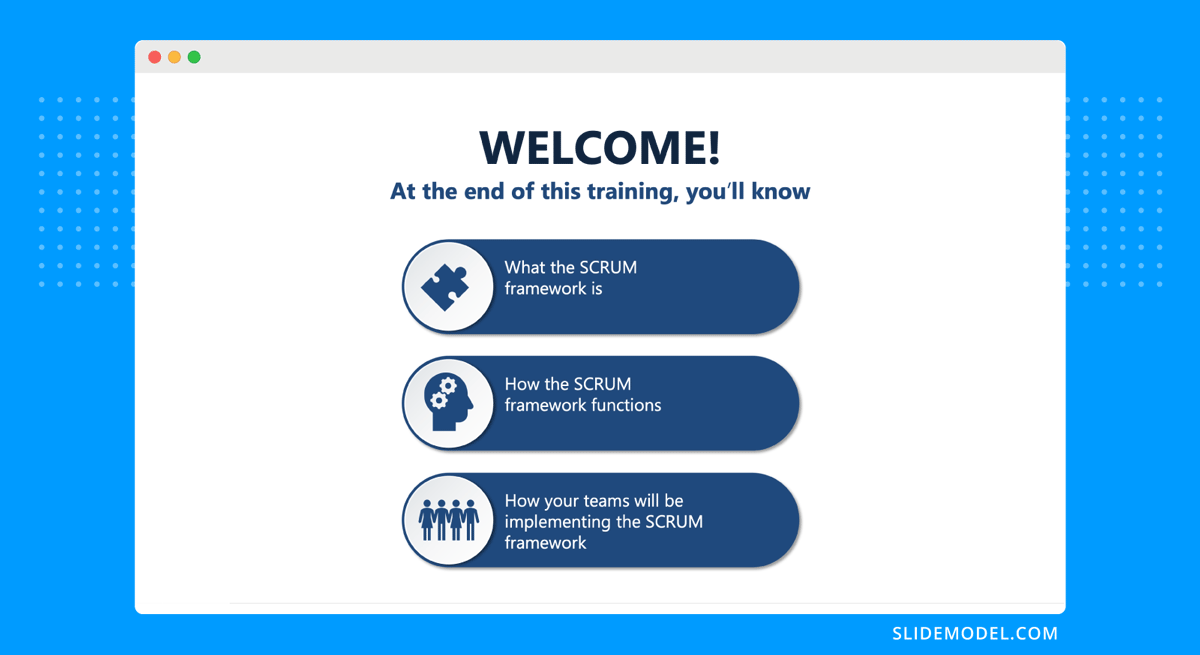 Middle: Tell them it.

Throughout the meatiest slides of the presentation, teach them about the SCRUM framework. Then share how their team will use it to agile production and work in general.
Use visual training techniques to explain themes and topics clearly.
Create interactive moments for learners to imprint information.
Incorporate a variety of teaching formats to cover all learning styles; video, text, images, infographics, interactive activities, etc.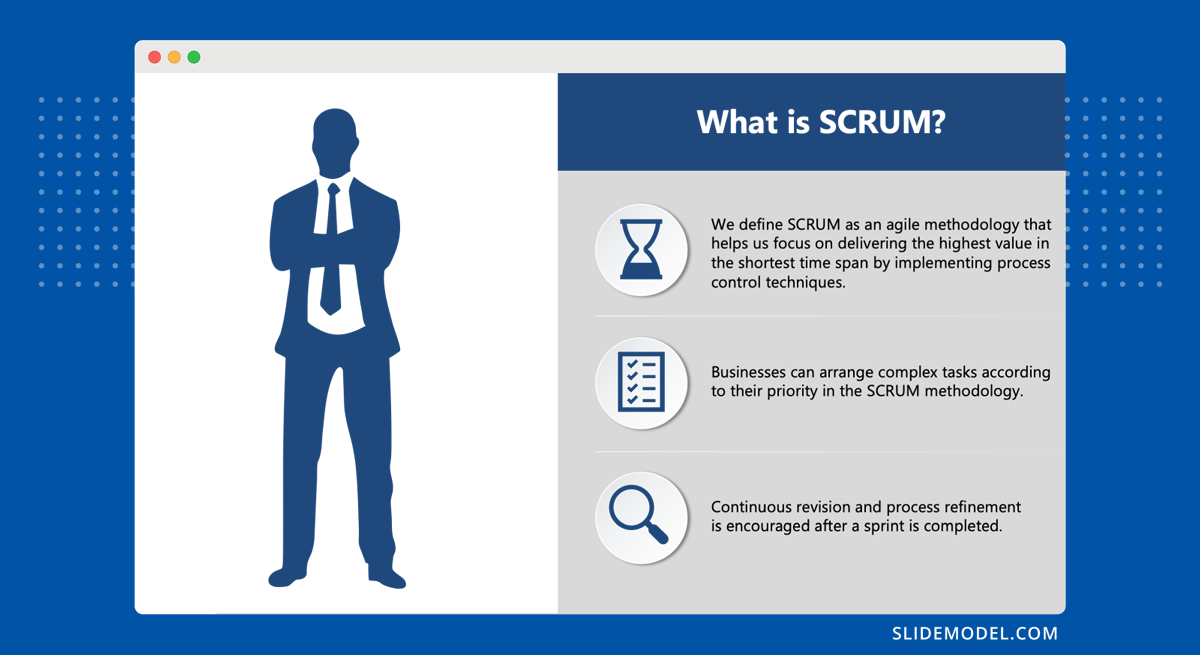 End: Remind them what you told them.

Craft a few slides summarizing what they learned using a highlights list.
Have learners take a quiz to test their knowledge and offer results that include the right answers to the questions they got wrong.
Share references to supplemental material where learners can get more information on the topic.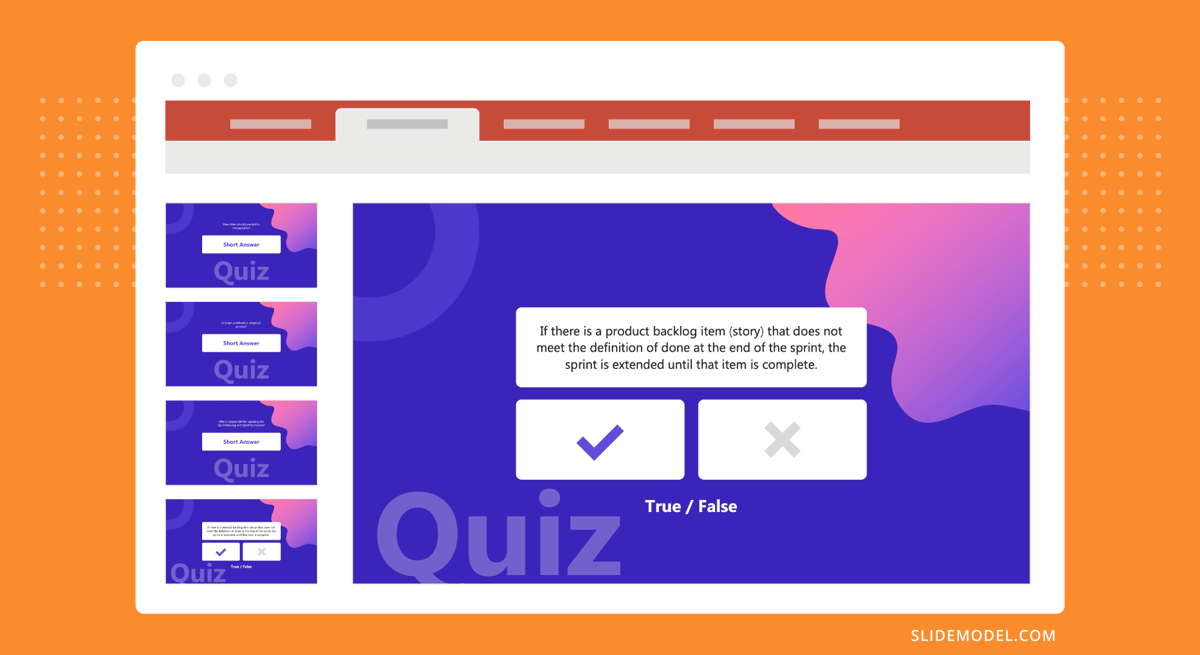 The Middle Structure
In the middle is where most of the magic happens. A training presentation is much like a lecture in its purpose. Therefore, using teaching and lecture techniques in your presentations can only be a good idea.
Here are six lecture structures that you can apply to the middle of your presentation. For the SCRUM Framework training, we'll use the first example.
Start with what students can be expected to know to what students don't know.
Proceed from reality to abstract ideas, theories, and principles.
Begin with generalizations and continue with particular examples and applications.
Open with simple ideas and round them up with complex ones
Start sharing common misconceptions and then explain the truth.
Go from a whole view to a detailed view.
3. Gather resources
Organize all the content you'll need for the presentation in a folder on the cloud or your team's content library. Browse the SlideModel template collection, where you'll find plenty of slides, full decks, and cut & copy elements to include in your training deck. For the slides to describe the SCRUM framework, we used this 3D PPT template of how the parts of the framework are interconnected.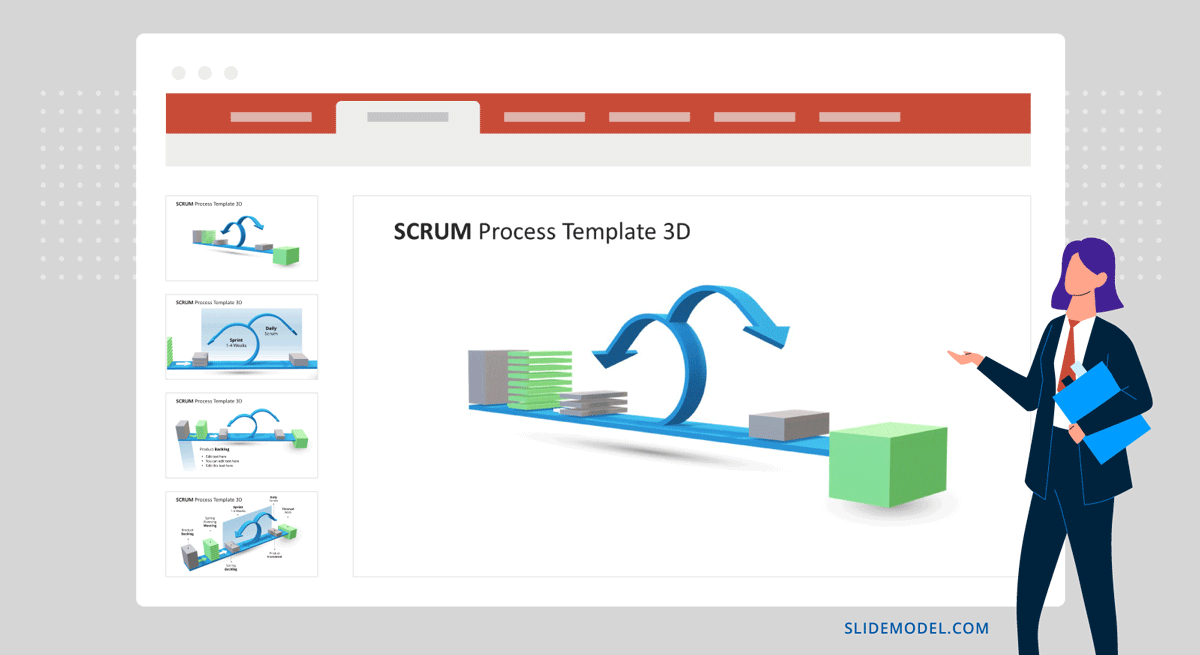 Resource checklist for any training presentation:
All visuals, videos, and PowerPoint slides add value to the training.
Case studies and examples support your points.
Your company has the appropriate licenses to use the resources that are included in the final design.
All references, citations and attributions are gathered for inclusion in the training documentation.
Your templates are from Slidemodel.
4. Design the slides
Now, it's time to put it all together and design the slides. Get all your resources ready, a list of all the templates you'll use, and start a new project on PowerPoint.
Have your outline and/or storyboard open and start designing slides. Start with the cover and then follow the structure you decided on. Work your way through to the end and add a quiz. Here are some instructional presentation design best practices to help you along.
Create visual unity and balance by choosing a color theme and font pairing that supports the brand message and purpose of the training.
Mind the flow between slides from beginning to end. Use subtle transitions that don't distract from the learning.
Use a table of contents, section dividers, and interactive slide menus for easier navigation.
Ensure each slide has a focal point and a visual hierarchy between all other elements.
All training material emulates the company brand, its values and vision. As marketing material follows visual and messaging brand guidelines, so should internal development content.
5 Training Presentation Slide Examples
Are you looking for inspiration to create a training presentation? SlideModel has numerous designs suitable for explaining, visually dissecting, and analyzing the material. Likewise, you'll find templates that help L&D strategists communicate with instructors during the planning phase and beyond.
Here are five templates that can help with your training presentation design.
Employee Onboarding
First, this multi-slide ppt template for training is an employee onboarding presentation. Use it to cover all characteristics of a corporate onboarding process. Slides include;
Pre-boarding
Orientation
Training Activities
Onboarding Roadmap
Evaluation
Title & closing slides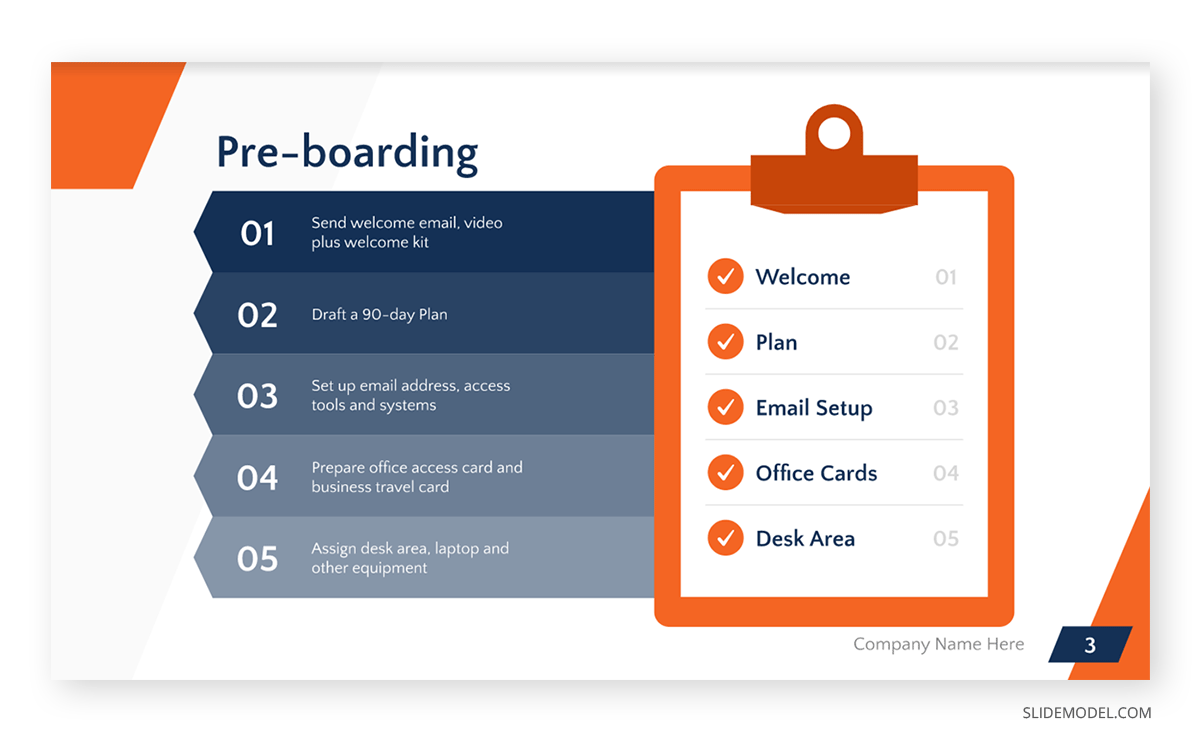 Managerial Grid
The Blake & Mouton managerial grid is a great way to explain and analyze the different types of management based on production concerns and people concerns. Production concerns are characterized by tasks, and people are concerned with relationships.
Matrix Grids can be used for other purposes as well. Like stakeholder engagement, talent analysis, and content marketing.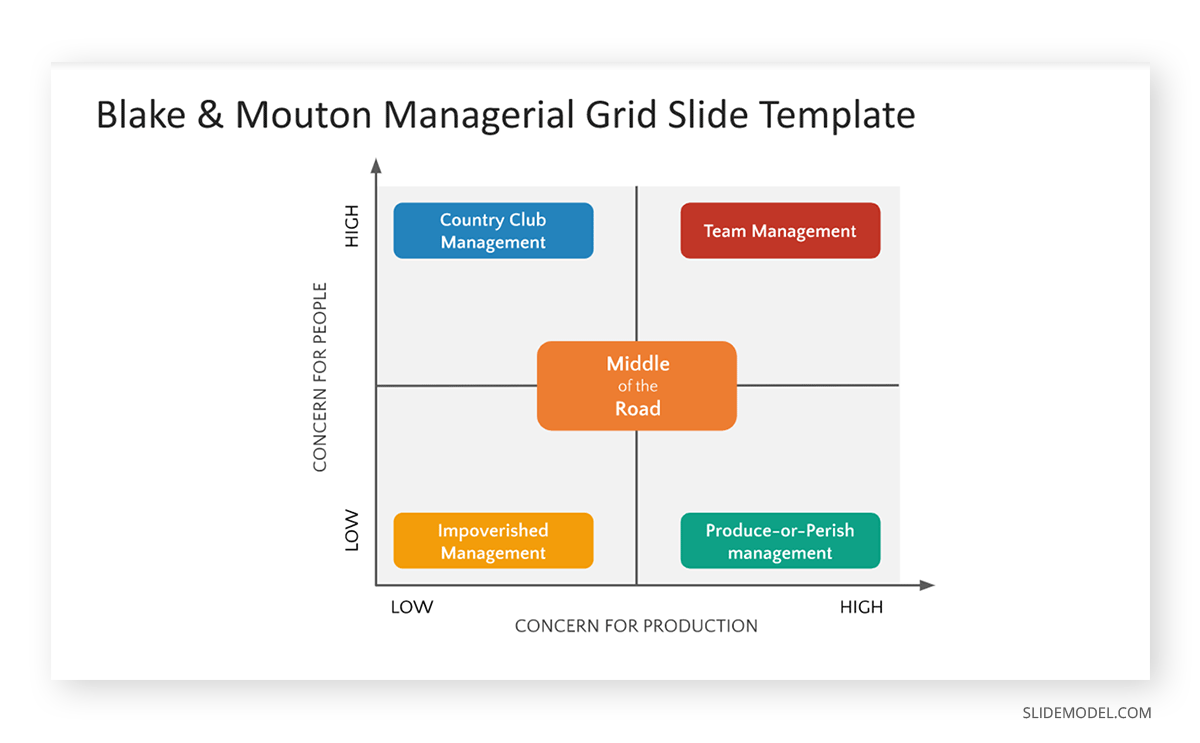 Multichapter Presentation
Does your training content span long chunks of information? Separate it into digestible sections and create a multichapter training presentation. If it still feels very long, separate each chapter into a lesson of a comprehensive digital course. This multichapter presentation template will help you either way. Plus, it will add considerable visual value to the deck as a whole.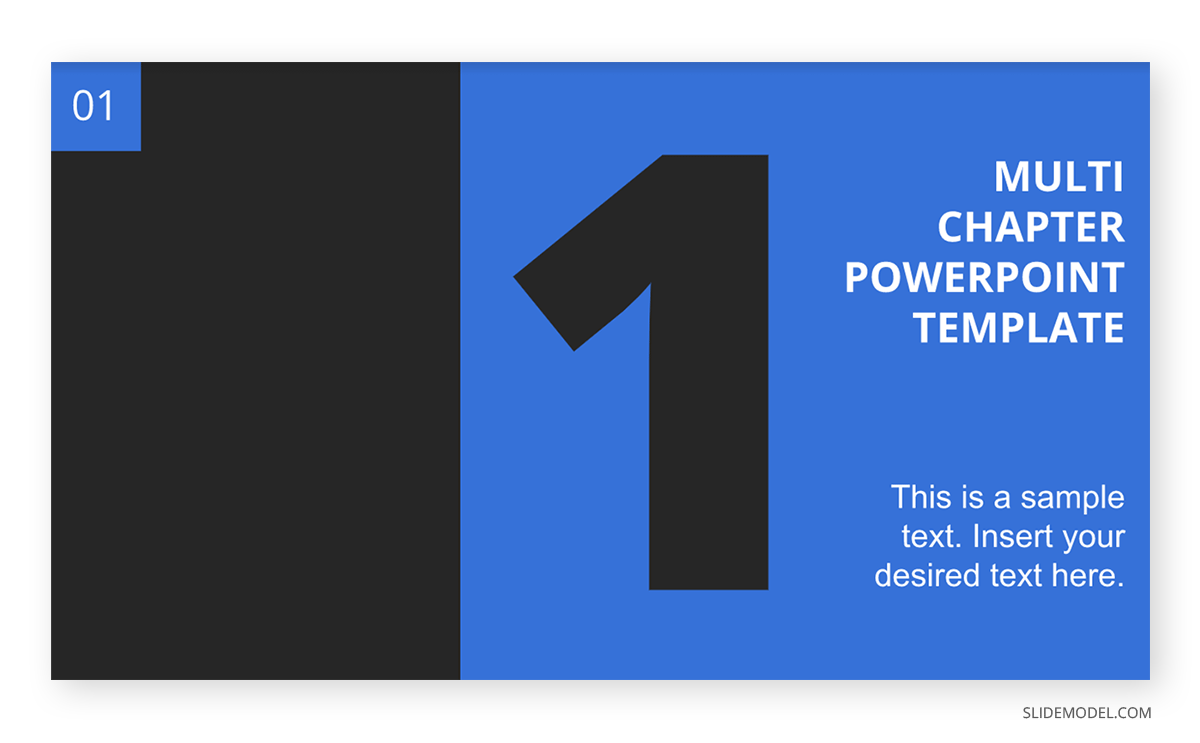 SWOT Analysis
Teaching the SWOT Analysis process is best achieved with a "start big and continue into the details" presentation structure. This 5-slide template starts with the main idea and then delves deeper into each section. A visual structure like this also works for any concept that needs explanatory simplification. Simply separate the main concept into four parts and create a further slide for each.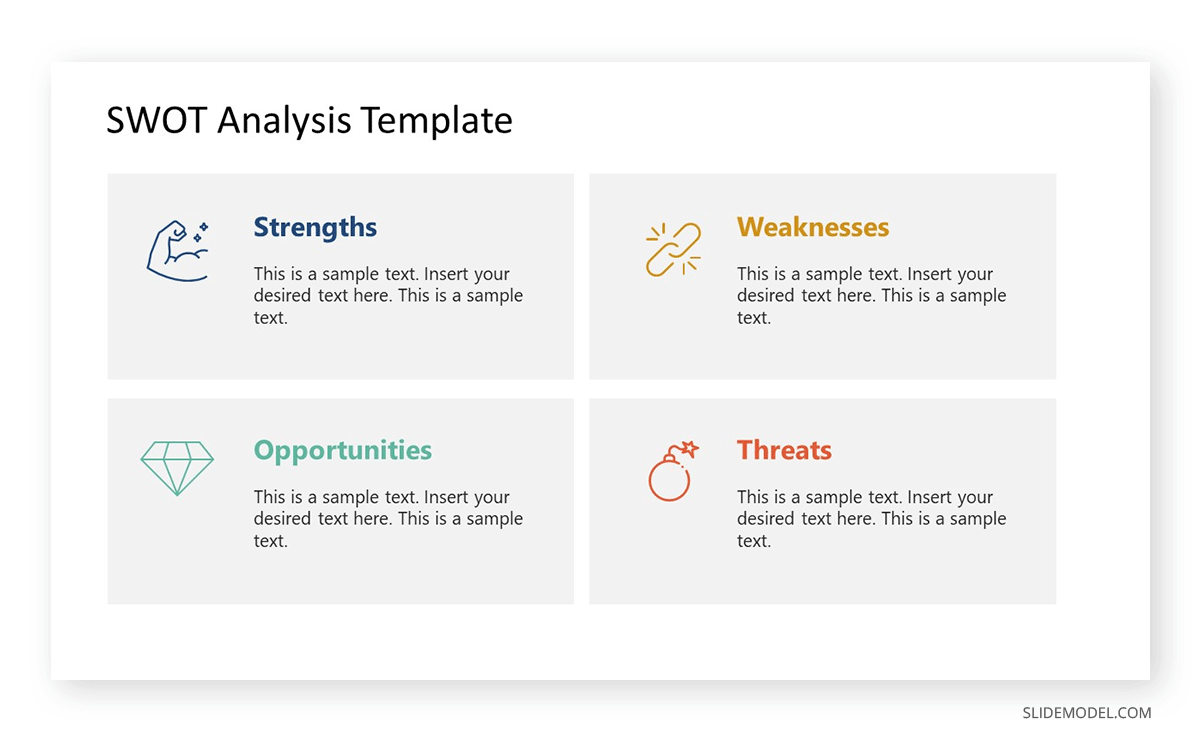 5Cs of Customer Service
Nothing exudes versatility as much as infographics. This template has one function, to describe and analyze the 5Cs of customer service. Nevertheless, you get six visually different infographic compositions for the same topic in one template. How else can your content be separated into five sections with the same first letter? This—all words with the same first letter—is a mnemonic technique that will help your learners absorb and retain information.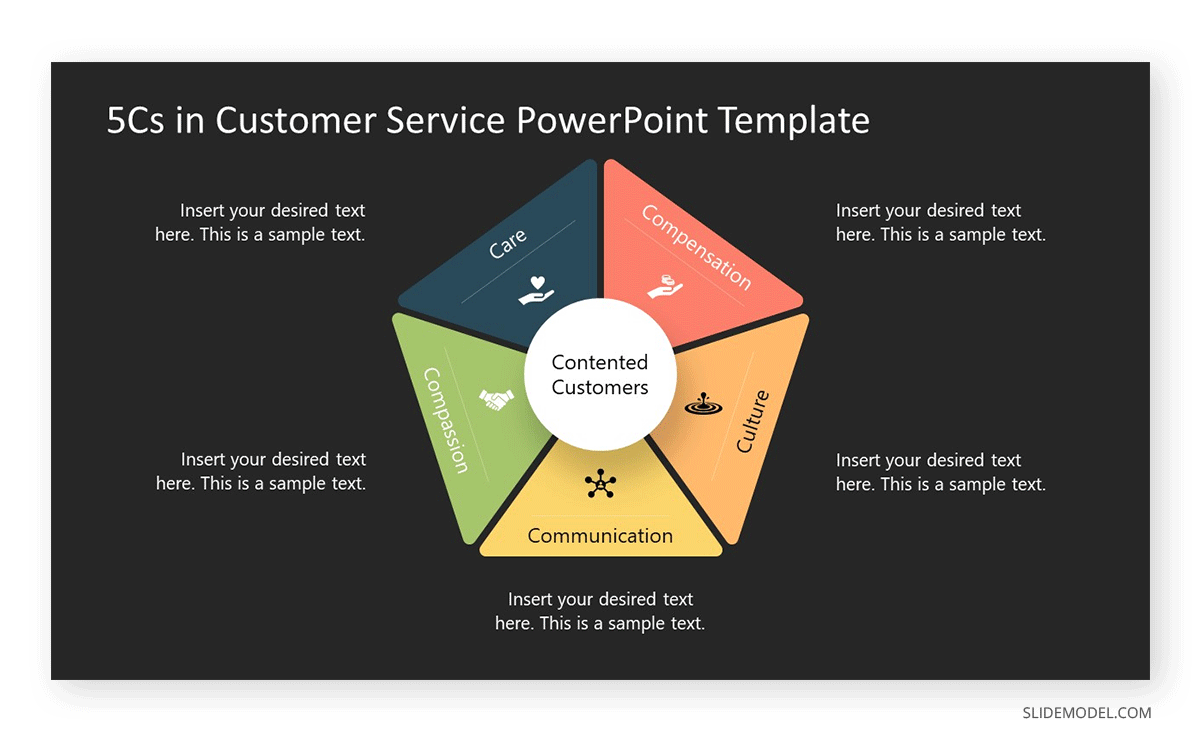 How to Deliver Your Training Presentation
How will you deliver the training presentation to your learners? Depending on the company culture and working model, your training presentation will appear in any of the following scenarios.
1. As visual support to your In-person group training session.
The in-person group training session is the most common—until the pandemic changed many things. Your training presentation is the visual support during the event.
Here are some tips for delivering a presentation during a group training session.
Practice your ability to talk to a group. Notice your voice inflections or lack thereof. Practice the lesson with the training slides to support your spoken or activity-based teaching material.
Remember that presenting a business presentation and teaching with a training presentation aren't the same. If you're new to in-person group training, research to learn and practice instruction skills.
While training, maintain constant interaction with the learners. Ask them questions, and let them ask you questions. Invite anyone interested to join the online whiteboard for notetaking and mind-mapping the lesson.
2. As Part of a Live Online Session for Hybrid Teams.
Online, blended learning is quickly becoming popular with L&D teams. But how does it work? And why is it so special?
When you have hybrid teams with some employees in-office, others at home, and even more in other parts of the world, you need training solutions that work for everyone.
For the SCRUM training, we'd do the following:
Prepare the training presentation slide deck.
Organize a space for the in-person group and plan the event.
Set up a camera to record the lesson or training session.
Invite all employees to the session and offer them options of attendance; in-person, online, and live, watching the event recording.
Get set up to stream the session live. You can use a webinar tool like Streamyard or the one inside your LMS platform. Someone might need to help so you can concentrate on the training rather than the technical tasks.
Stream the lesson live and record it. On Chromecast, choose to use the split screen. One side shows the video of you teaching, and the other is the training presentation you prepared.
Send the recording to the employees that didn't attend in person or live online.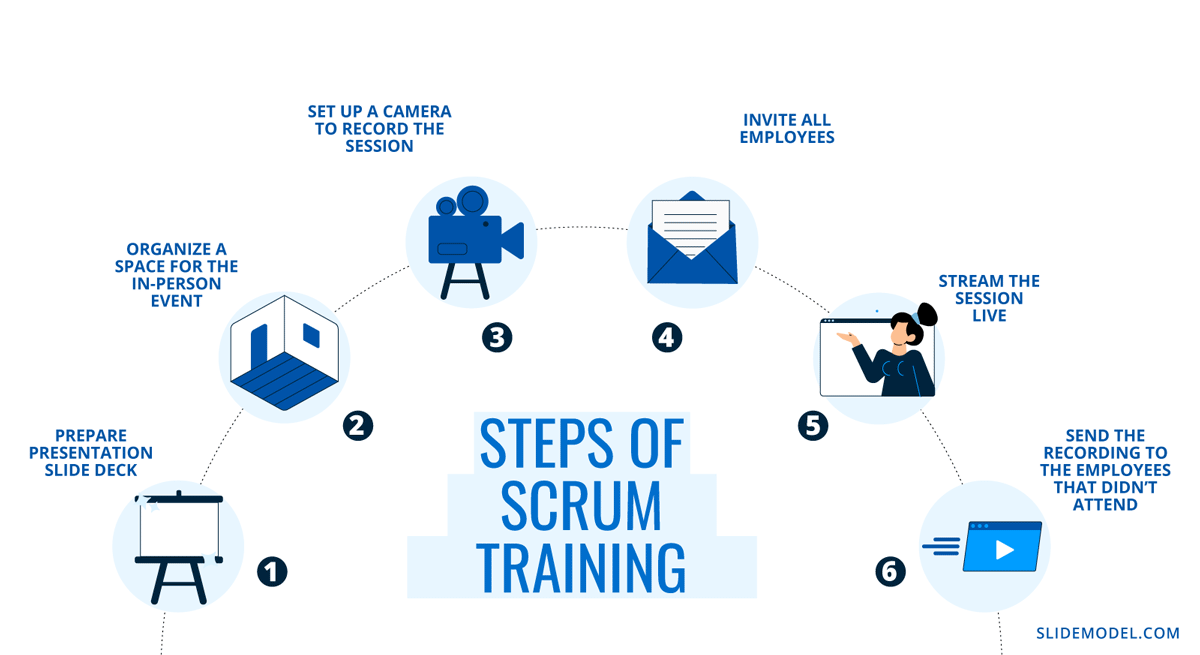 3. As a lesson in a digital course
Your training presentation can be its own course or part of a bigger one. In a comprehensive multi-lesson course, each section has its training presentation or a combination of presentations and other material. Use e-learning tools like SCORM and xAPI to create courses learners can do at their own pace, which you can keep track of.
Create your SCORM and xAPI courses with PowerPoint, SlideModel, and the iSpring PPT plugin. Once finished, upload it all to your LMS platform and enroll employees to learn.
What's the difference between SCORM and xAPI? The visual below has all the answers.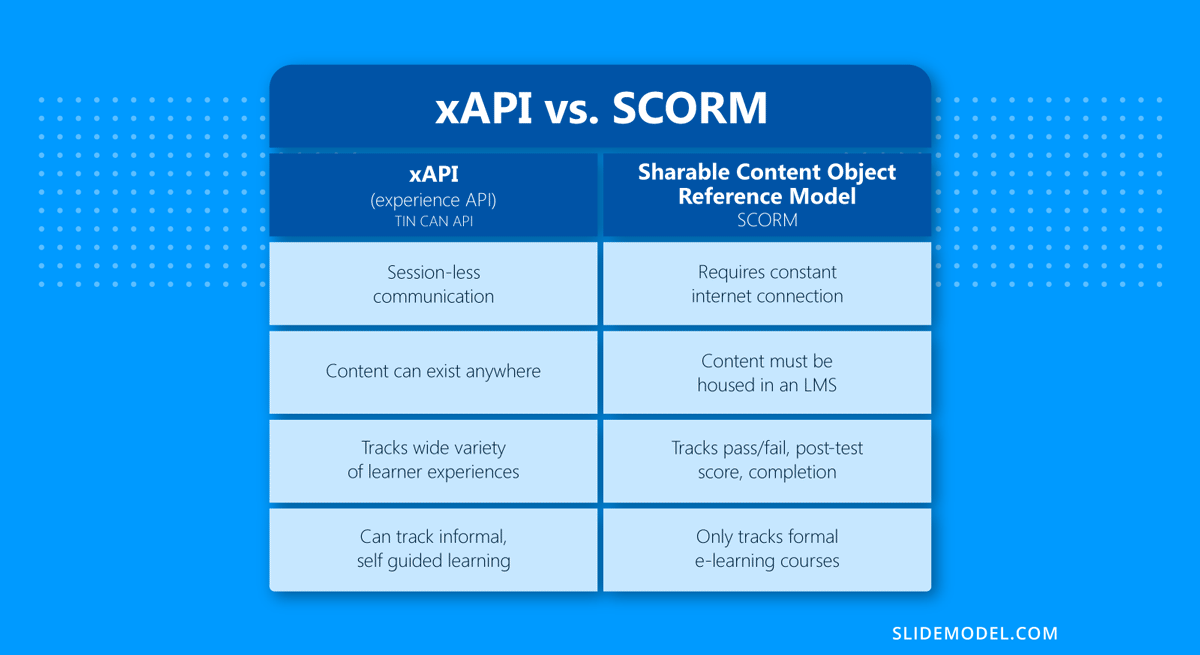 Read our guide on how to create an online course for detailed instructions and tips to make your course stand out.
3. As a PDF document
Delivering a training presentation as a PDF document shouldn't be your first choice, but consider it for those employees that prefer learning that way. The same training presentation you create for in-person training, online learning or hybrid sessions can be downloaded as a PDF and shared via email or through the learning portal.
Takeaways for how to create successful PowerPoint Training Presentations
Optimize your training presentations to be as efficient as possible using instructional design techniques from the pros. Start with your trusty authoring combination of PowerPoint and SlideModel, and add an iSpring design plugin to complete the toolkit. Follow the steps in the sections above and then some.
Implement Interactivity
Add interactivity to your training presentations to make them more engaging while touching on more learning styles. Interactivity can be as simple as a navigation menu between slides, dialogue simulations, and quick in-slide quizzes. Use xAPI and an LMS to create interactive training presentations for any topic.
Add In-Slide Video
Hybrid learning and online learning have a wide berth of possibilities. One is in-slide video recordings of you—the training presenter—talking to the audience on the other side of the screen.
This is especially practical for digital training presentations that never had an in-person session and instead are all done online. Use tools like Loom and Camtasia to record yourself speaking as you flip through the training slides. Then share the final video output on your company's learning platform.
Offer Supplemental Material
Regardless of how you deliver your training deck, it's always a good idea to offer supplemental material for the learner. Let's look at some ideas:
If you deliver the training presentation as a video with much narration, offer a PDF transcript for download.
On an LMS platform, add printable PDF worksheets and further reading material.
Before or during an in-person session, give handouts and worksheets.
In a hybrid webinar, share links to online games that help reinforce the topic.
In any scenario, offer further resources for self-paced learning.
Incorporate Gamification
One of the best teaching techniques for turning training presentations from meh to memorable is gamification. Using games and game-like visual qualities helps learners capture and retain information better. Gamification techniques like badges, challenges, and competition elevate the learner's feeling of happiness and contentment. They enjoy the process more and therefore learn more effectively.
Cover Multiple Platforms
Reach all employees where they are by creating and delivering versatile training presentations that are viewable on any device, from wall projectors to mobile phones. Create interconnectivity between them with downloads, digital whiteboards for notetaking, online chatrooms, handouts, etc.
Don't forget also to follow accessibility standards. For example, closed caption subtitles on videos and e-reader-compatible text.
Share Questionnaires And Surveys At The End
Do you agree with the business notion that nothing in business is worth it unless you can track it? If so, then your training presentations must have a callback. Shortly after the learner has attended, watched, or listened to your training presentation, send them a short survey to gauge their satisfaction. Combine this with testing and quizzing results, and over a short time; you'll have a good grasp on the effectiveness of your training.
Give a Certificate of Completion
Offer your learners a certificate of completion. As its name indicates, a certificate is essential for certifying that a person has taken your course. Create a visual certificate that you can send as a pdf in an email. Include all the necessary information for the learner to mention the completed course on their LinkedIn profile.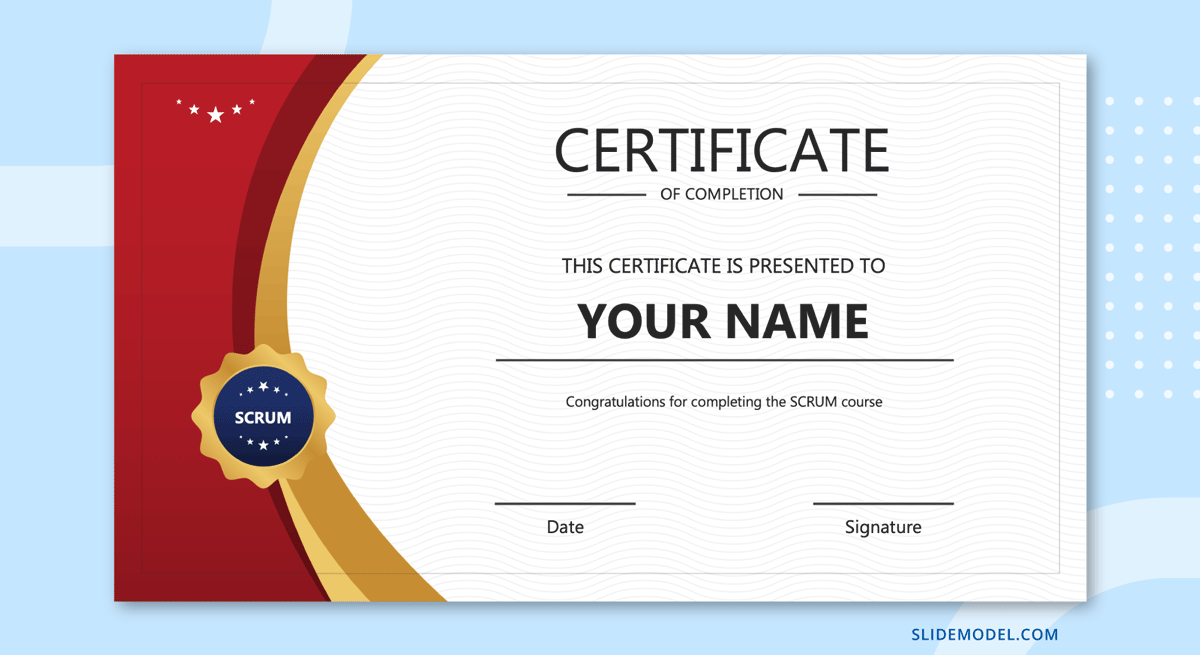 Conclusion
In less than three thousand words, you learned why training presentations are important for business, how to create and deliver them, plus tips on how to make your training presentations amazing.
Your L&D team and all your trained employees will benefit from optimized training presentations that use SlideModel templates for PowerPoint and Google Slides. Support your learners with visuals and instructional infographics. Start downloading educational templates today.