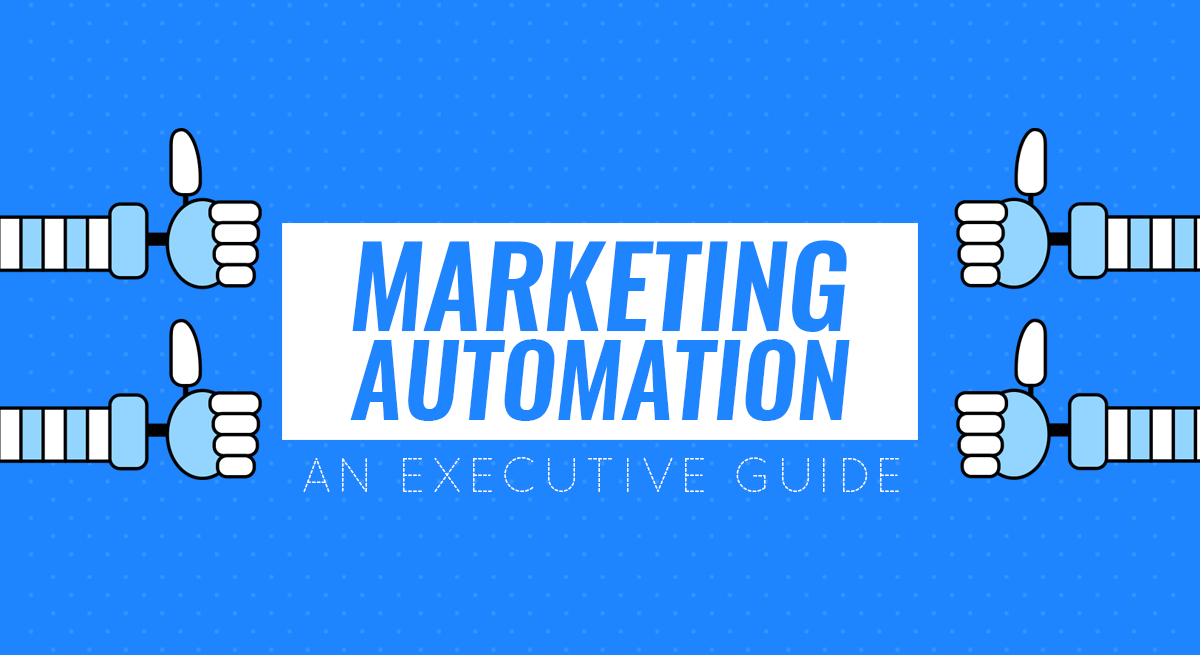 Data analytics, big data and marketing automation are among the top of mind concerns for marketers these days. And it makes perfect sense as the volume of data has grown exponentially over the past several years and it becomes impossible to effectively deal with such volumes manually. So it should come as no surprise that the global marketing automation market is predicted to hit $25 billion by 2033.
However, the adoption of advanced technologies does not come easy for most companies. While 92% of businesses invested in AI last year, 52% admit that they cannot compete on data and analytics. In other words, their new analytics solutions aren't working the way they should. The same often holds true for marketing automation.
So how do you make your investments count? Let's explore together.
What is Marketing Automation?
Marketing automation is an umbrella term for technology that's used for managing marketing processes and campaigns across a multitude of online (and sometimes offline) channels automatically.
With marketing automation software companies can devise more comprehensive campaigns, featuring personalized workflows for different buyer personas. In essence, it's an easy way to pre-program a sequence of marketing pitches to be sent at the right time, to the right person. So that your team does not have to do that manually or rely on "gut feeling" alone when plotting digital marketing campaigns.
Some of the common tasks marketing automation platforms can handle are as follows:
Lead scoring and nurturing
Targeted email marketing
Social media marketing automation
Sentiment analysis on social media
Big data analytics and predictive analytics tasks
Market segmentation and progressive customer profiling
CRO and A/B testing
PPC campaign management and optimization
SEO and content marketing
The best marketing automation systems seamlessly integrate with all the other software in your toolkit — CRM, marketing clouds, website analytics, and other marketing analytics tools, and social media automation tools — and act as a single-pane control panel for all your activities, plus offer advanced analytics and reporting functionality.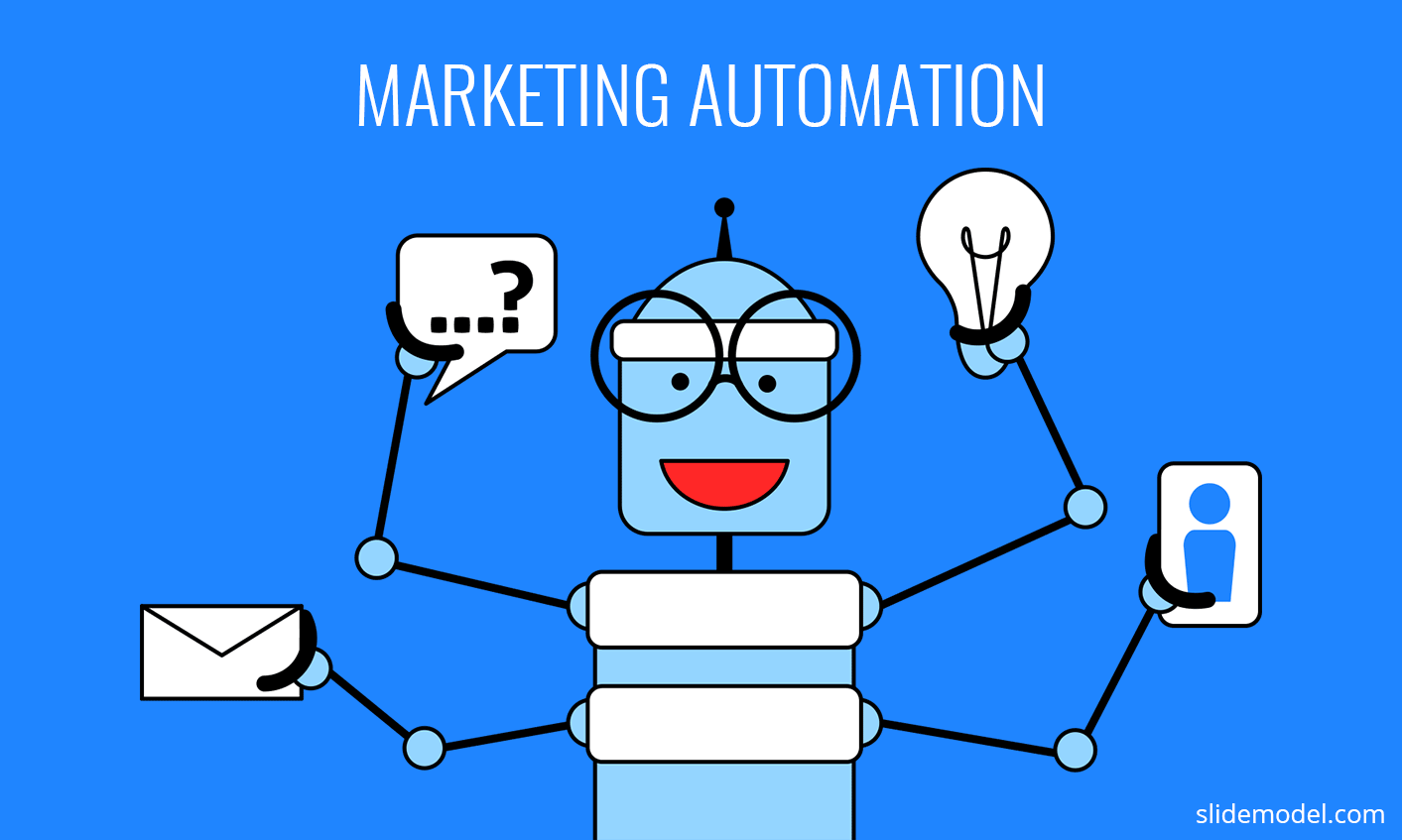 Some of the best-in-class marketing automation tools are as follows:
Salesforce — cloud-based CRM software with advanced marketing automation modules.
Marketo — all-in-one automated marketing solution for account-based marketing, SEO, content creation, and digital advertising campaigns.
ConvertKit — email marketing automation platform with lead management and nurturing features.
HubSpot — a comprehensive platform offering inbound marketing, sales, and customer service functionality.
ActiveCampaign — a robust automated marketing system that combines email marketing, sales, customer experience, CRM, and all-purpose marketing automation categories.
QuickMail – a cold email outreach software that offers email warm-up service and cold email automation.
Klaviyo — email marketing software that includes email and SMS marketing automation features.
Messente – a cloud base SMS marketing automation platform to send and verify bulk SMS across different countries.
LinkedIn automation is also an excellent example of a marketing automation niche that has provided huge value.
The Main Marketing Automation Benefits
As we mentioned in the intro, marketing automation can be expensive to get wrong. To experience the full power of advanced automation tools, you may need to foster certain internal digital transformations first:
Improve your big data collection process
Create a dedicated data lake for storing and operationalizing incoming insights
Invest in employee training and upskilling
Revise and "retire" some of your old marketing routines
However, the challenges and costs of pursuing automation in marketing are majorly offset by the scope of benefits you can gain post-adoption.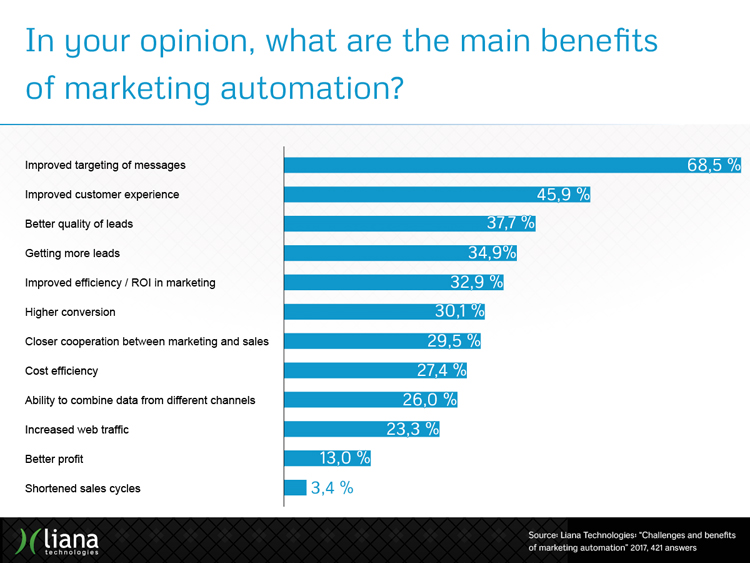 Source: Challenges and Benefits of Marketing Automation – Liana Technologies
Improved Lead Management
A study by the Annuitas Group determined that businesses that rely on marketing automation to nurture leads:
See a 451% increase in qualified leads
Nurtured leads place 47% larger orders compared to non-nurtured leads.
This fact makes sense even more sense when you pair it with the following number: 77% of buyers want unique, targeted content at each stage of their customer journey. Marketing automation software helps you deliver the right content to the right prospect at the optimal time and do so on a large scale.
Higher Conversions
A report published by VentureBeat indicates that early marketing automation adopters are now seeing a 77% increase in conversions per campaign, plus an 80% increase in qualified leads.
Again, this fact has a lot do with the personalization and timing capabilities that most tools offer. Plus, better access to data empowers marketing analysts to develop more relevant campaigns cross-channels.
Higher Team Productivity
The big boon of marketing automation tools is that they allow your teams to streamline the low-value repetitive tasks and focus on more essential "value-added" activities such as strategy, creative production, or campaign optimization.
Nucleus Research estimated that marketing automation can boost business productivity by as much as 20% on average.
Considering all these benefits, it makes even more sense why 4 of 5 successful marketers name marketing automation as the main contributor to their success.
What's even better is that 44% of businesses that adopted a marketing automation platform see a positive return on investment in just 6 months, and 76% experience it within the first year.
How to Create a Winning Marketing Automation Strategy
Let's move on from theory to practice and take a closer look at how you can build a solid business case for adoption and capture the most benefits from your new marketing automation solution.
Step 1: Link Your Customer Journeys to The Right Workflows
Marketing automation delivers the most results when it's applied toward a well-defined workflow. For example, when a customer signs up for a particular newsletter (new product updates), they receive an email drip campaign, stretched across several months, and personalized based on their recent on-site behavior.
That's why to see the best result from any new digital marketing software with automated features you'll have to:
Understand and formalize the common customer journeys
Review, revise and update your target buyer personas
Refine or create from scratch a set of new workflows for automation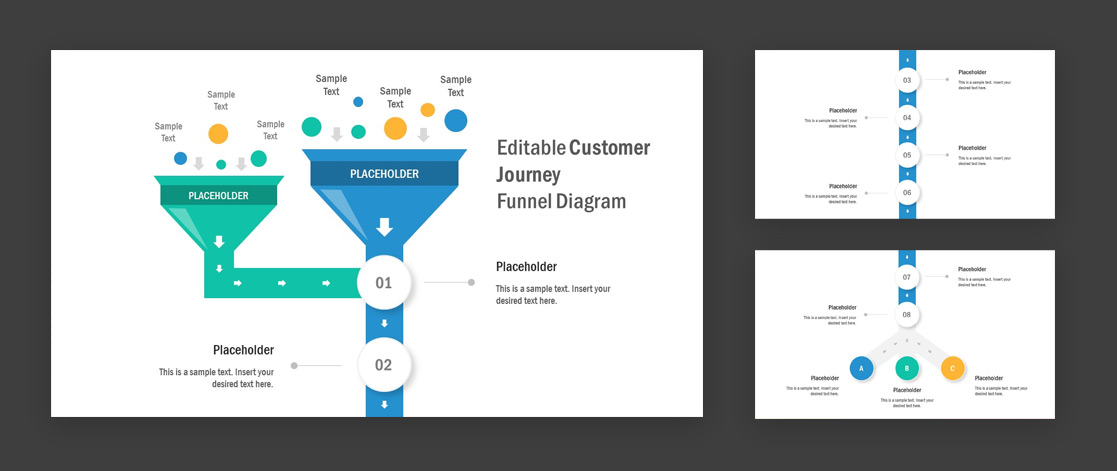 Helpful template: Creative customer journey funnel diagram
Let's dwell on the last point a bit more. An automatic workflow is a programmatic function that gets activated by certain user actions such as interactions on your website, response to email campaigns, or actions on social media.
Among the best contenders for automation are the next four types of workflows:
Lead generation workflows — hot lead workflows, triggered by the lead score; re-engagement lead workflows, triggered by inactivity; freemium user onboarding workflows, triggered by new sign-ups; new newsletter subscriber workflow, triggered by sign up.
Lead nurturing workflows — product demo workflow, triggered by recent on-site actions; event workflow, triggered by recent sign up for an event/webinar; stuck-in-the-sales-funnel workflow, triggered by long inactivity on a certain stage.
Engagement workflows — special promo events, triggered by the special events e.g. birthday, seasonal holidays; personalized product digests, triggered by customer's recent on-site activity/wishlist items; topic-based workflows, triggered by customer's recent on-site searchers/in-app actions.
Customer retention workflows — personalized upsells/cross-sells, triggered by recent customer purchases; customer review requests, triggered by recent purchases; cart abandonment emails, triggered by on-site actions.
Helpful template: 8-step horizontal process diagram design for PowerPoint
Step 2: Map Relevant Content to Different Funnel Stages and Workflows
The content you deliver to users should rally for further action. To get the most out of marketing automation, you'll need to carefully weigh when to deliver each message and how to word your sales pitches.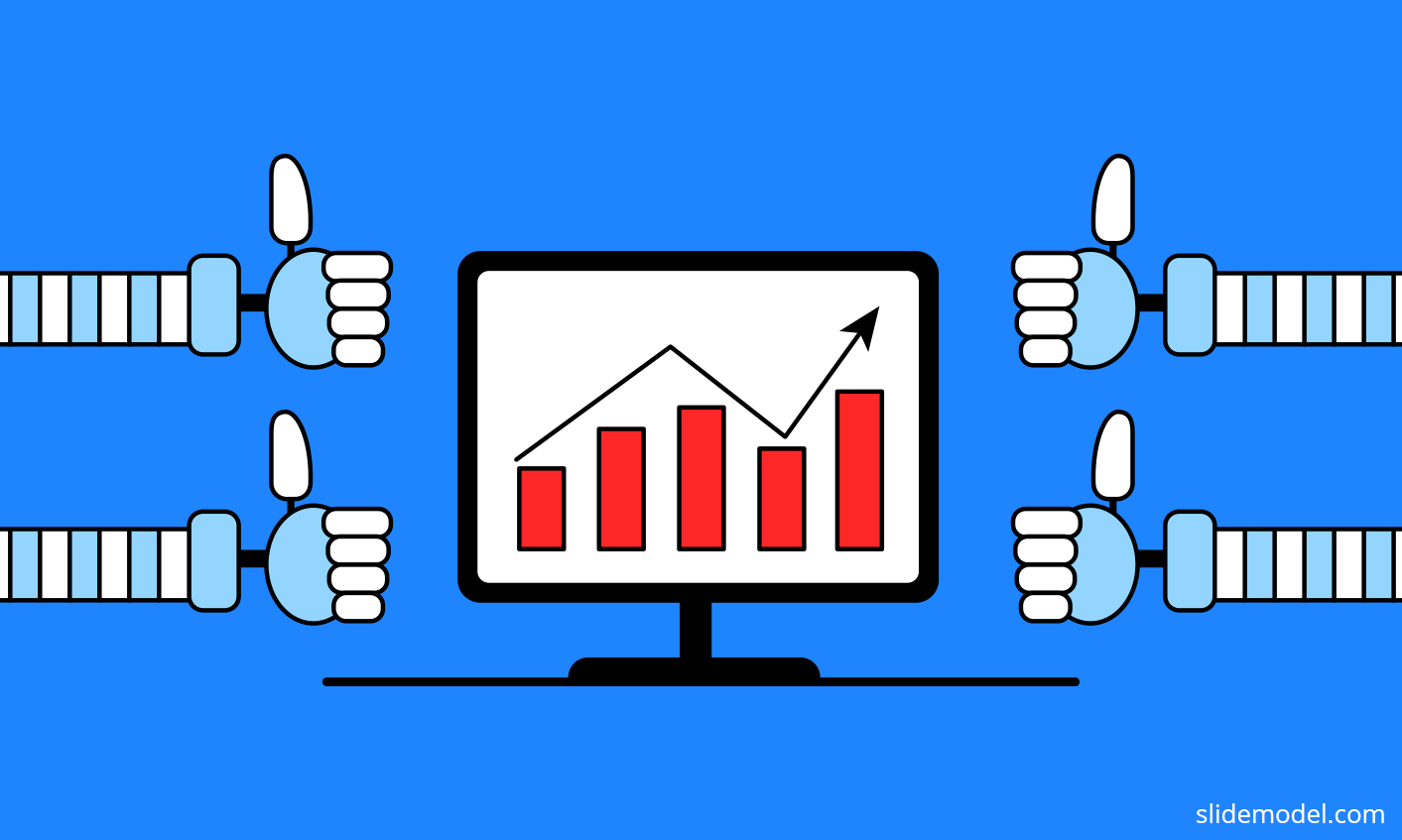 Below are several helpful tips just for that:
Personalize content tone, style, and format to match different buyer personas on your list.
One message should have one clear goal — inform, sell, build up interest, engage, retain, etc. — and one clear value proposition.
Create different messaging strategies for different lead segments at different stages of their customer journey.
Leverage other marketing analytics software to learn even more about your prospects and write in a language that truly speaks to your audience.
Helpful template: Content Marketing Plan template
Step 3: Leverage Both Internal and External Data Sources
Marketing automation goes hand-in-hand with personalization. To improve your personalization act, you need solid customer data. The good news is that your company probably already sits on a goldmine of big data. The less pleasant one is that fetching it may require some technical effort and investments.
So it's best to start with the low-hanging fruit and connect the following data sources to your marketing cloud:
Transactional data and customer purchase histories (usually stored in CRM and ERP systems)
Online behavior data that can be taken from Google Analytics and Google Webmaster Tools.
Service/product use data, obtained from CRM, internal product analytics, customer support systems, etc.
A combination of these data sources can help you create more data-rich workflows and discover new triggers for campaigns.
Recommended templates: Automation templates for PowerPoint and Google Slides
Adding external data sources to your marketing mix such as demographics data sets, market trends, or seasonality, can also help you attain a greater level of personalization within all the campaigns you set. For instance, as a clothes retailer you may want to add weather data to your marketing mix. An update about a sudden snow blizzard in March can prompt you to send a targeted email marketing campaign to your customers, featuring warmer garments.
Step 4: Evaluate and Refine Your Automation Workflows with CRO
CRO (conversion rate optimization) is an integral step of any marketing automation strategy. Your early workflows may contain gaps and lack full context. So keep a close eye on each segment's response to various pitches, measure individual message performance, and carefully record which improvements have led to tangible gains.
If you are already a data-mature company, you can also consider adopting predictive analytics solutions, powered by AI and ML, which would estimate the likelihood of conversion across various channels, campaigns, and customer demographics.
To Conclude
Marketing automation gives you additional communication "superpowers", so that you can reach every customer with a message that is strongly aligned with their current needs and position on their journey.
Different marketing automation examples from this post showed you how such tools help improve the lead scoring process, boost customer retention and scale email marketing campaigns. So that you can convert prospects into lifelong brand advocates on auto-pilot!