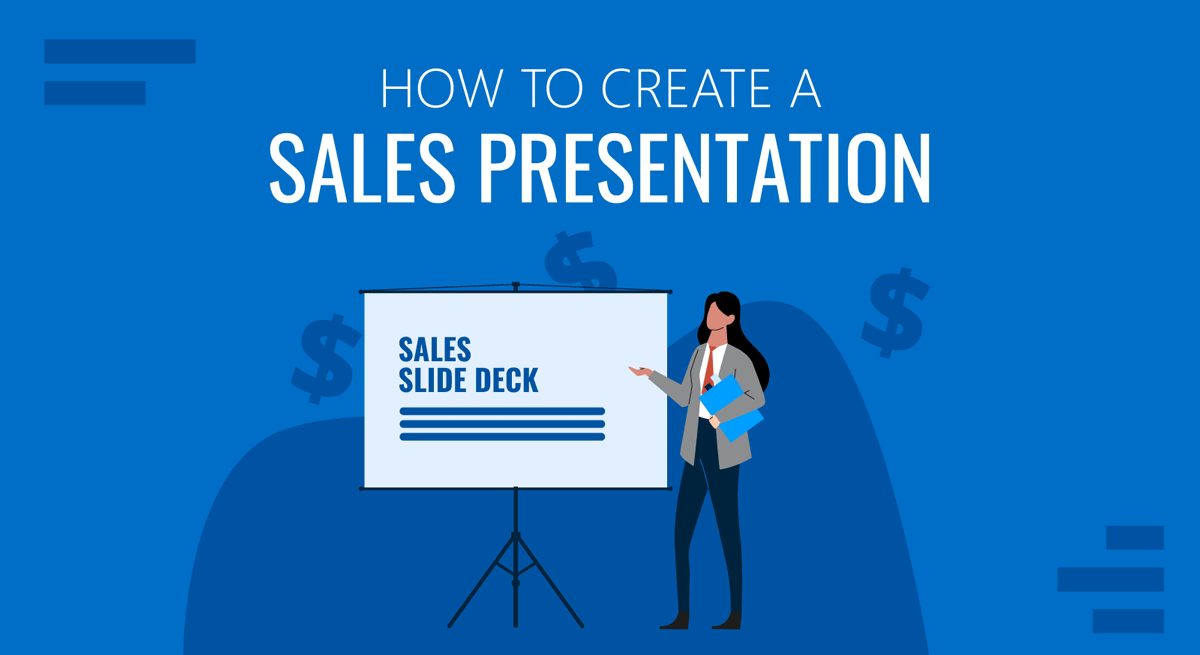 In business, sales keep the lights on, the paychecks paid, and the stakeholders happy. But if your sales presentations—and you, the sale professional behind them—aren't stepping up to the plate, your competitors are making the sales that you're not.
In sales processes, sales presentations are unavoidable. You can turn the unavoidable into uplifting discussions that improve your buyer's work life. Switch your boring, repetitive slides with personalized solution-driven conversation starters. Add value to how you sell, and supercharge your presentations.
This guide is for sales professionals who want to improve their sales presentations. We cover what goes on your slides plus what's behind the scenes, you!
Let's get started.
Table of Contents
What is a Sales Presentation
There is a common mixup in terms of defining a sales presentation, as people instantly associate the event with the tool used to deliver the presentation.
In practical terms, a sales presentation is a short meeting where a sales-intended slide deck is designed to sell a product or service. More holistically, a sales presentation is a transference of feeling between a sales professional and a prospect.
A sales presentation is an essential part of the typical sales process. At different touchpoints with the buyer, sales professionals use tried-and-tested techniques in their sales presentations to persuade and convince a prospect to close the deal.
Why are Sales Presentations important?
Without sales, there is no business. Sales bring in revenue and profit for your company, helping it grow and positively impacting more people. And what's behind the sales? Sales presentations and the sales professionals that spearhead them.
In B2B, sales presentations are the conduit to successful business communication. Your company sells what another company needs. The salesperson and the decision maker communicate, and if it all works out, there's a sale that'll hopefully benefit everyone.
B2B Sales Presentation vs. Sales Pitch / Pitch Deck
A sales presentation and pitch aren't the same, although closely related. A sales pitch is a type of sales presentation. Pitches are generally used at the top of the funnel in the sales process; they bring people in.
A sales presentation can be used at any touchpoint with the buyer; their progression through your funnel and process will mandate what type of sales presentation you need.
This guide covers sales presentations as a category; if you're looking for pitch decks, here are our favorites.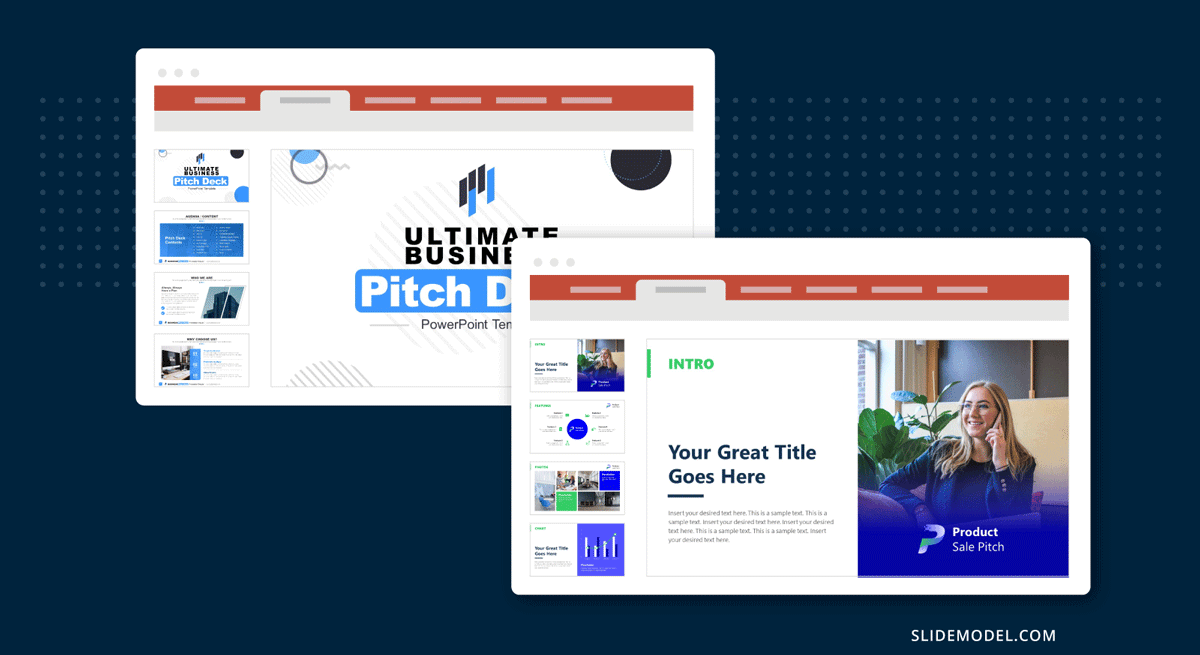 Types of Sales Presentations
As a sales professional, you create all styles of sales presentations. Your choice depends on what level of the sales process you're on, what you're selling, your prospects' needs, and the company's selling framework.
These are some of the most common sales presentation types concerning what's being sold:
Product: A product sales presentation showcases a singular product (physical or digital) to solve a specific problem. You are paid to provide products.
Service: A service sales presentation shares why your prospect needs your service. You are hired (paid) to provide a service.
Project: A project sales presentation attempts to close the deal to start a project that involves an exchange of money. You are hired (paid) to spearhead a project and finish with deliverables.
Regarding sales presentation styles and their placement in the sales process, you have three options:
Informative: Informative sales presentations are at the top of the sales funnel or process. You share information about what you sell in a relatable language for the buyer—no call to action yet.
Persuasive: In a persuasive sales presentation, you remind the buyer of the information and add how what you sell solves their problem.
Reminder: A reminder sales presentation reminds buyers of their interest and brings them back into the buying frame of mind.
How to Craft a Sales Presentation From Start to Finish
Selling guru Zig Ziglar always said that your sales presentation is an extension of you as a person. Your personality must come through positively through your slides and speech, creating a feeling of trust with the buyer.
In this section, you'll find the ultimate guide to crafting a sales presentation from start to finish. We'll use a case study as a foundation for every step of the sales presentation creation process.
The buyer is a large manufacturing factory looking to outsource services or buy a product that will help them monitor production data. Currently, they manage a complex tech stack that involves different software solutions. This system proves inefficient; it takes too long to export reports, and operators regularly have issues introducing data or troubleshooting error codes.
They need a solution that will be efficient, save time, and avoid operator frustration. Likewise, they also need the system to be in one place, replacing all the components of their previous tech stack.
You, the sales professional, work for an AI-based SaaS that offers production and manufacturing dashboards. Everything is powered by a cloud-based application that is accessible 24/7 through PC, tablets, and smartphones. The information is fetched from the machines through sensors paired with cameras that sync the information for easy troubleshooting.
Your company has three years of experience in the market, with several customer success stories regarding energy management, increased production output, and reduced waste production—all thanks to implementing your production and manufacturing solutions. You aim to upscale the company's operations, securing a deal with a large corporation. Hence, the sales presentation to close the deal.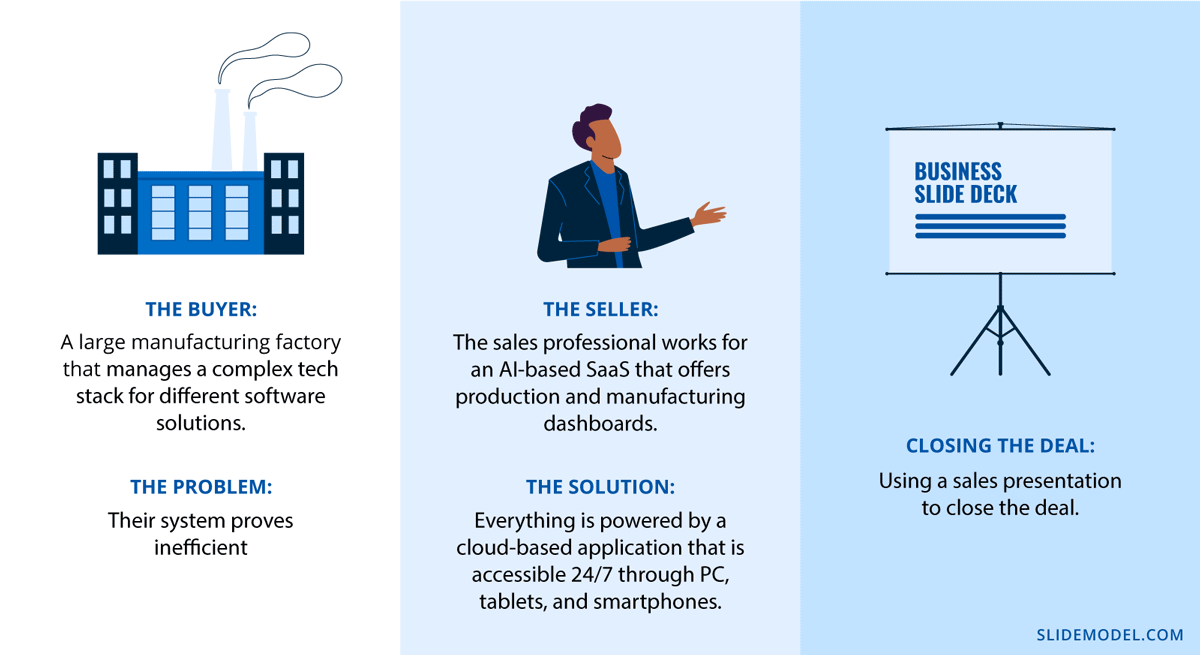 To help you navigate the sales presentation journey, we've separated this section into four categories that lead to each other.
Preparation
Development
Delivery
Continued Communication
How to Prepare a Sales Presentation
A lot of work goes into preparing a sales presentation. You're not just designing the slides for the deck but also preparing yourself for an impactful conversation.
Strategy
Before designing slides or writing speeches, you must strategize the sales presentation according to your client's needs and your goals as a sales professional. Think of their needs and address them clearly.
Here are some questions to answer:
How can you best communicate a solution for their needs while building trust?
Where in the sales process are you with this client? Is the purpose of this presentation to inform, persuade or remind?
Is there a sales playbook or guideline available to help you stay within company selling procedures?
How can you get to know the prospect better before presenting?
Planning
Always think of both the slides and the speech as an inseparable pair. If you can't visit the prospect in person, prepare for a virtual call.
Here are some planning stage actions.
Meet with the buyer to have a conversation about their issues. Book a call with them to deliver your presentation.
Use a Gantt Chart template to organize your timing for preparation and development.
Visualize a roadmap of the ideal sales process with your prospect and aim to achieve it.
Schedule time in your calendar to practice your speech.
Research the buyer's particular pain points. Did any of your existing clients have the same paint points? How did your service solve them? Have case studies on hand to share with the prospect.
Connecting
A large part of a successful sales presentation is the human connection you create with the prospect or buyer. As you communicate with the potential buyer, build a relationship. You want this buyer to buy and become a loyal customer and, eventually, a natural promoter.
The manufacturing company that needs your dashboard solution has specific pain points, which they shared during the initial call. Use them as conversation points to connect on a deeper level. Depending on your personality, you can use humor, empathy, or other psychological tactics to connect meaningfully and honestly.
How to Develop a Visual Sales Presentation
Developing a sales presentation involves putting the content together for the slides and speech. Presentation slides aren't your speech in written form; they're supporting material. Ideally, share the visual presentation before and after you talk with them; this helps reinforce the message by imprinting the conversation in their minds.
Write the Content
Your monitoring dashboard company has the solution the manufacturing factory needs. You know this, but they aren't quite sure yet. They need to buy from someone, and it could be anyone. Use the power of communication to be the one they buy from.
Here are some tips for writing and developing the content for your presentation.
Create a double outline with two columns—one for the slides and one for the speech. Match the presentation slide to your speech, but don't make them exactly the same. The slide has to support what you're saying, not repeat it.
Write the speech as if you were talking to the prospect. Think of questions they might ask and write down the answers.
As you work through the writing, develop one-liners to bring the message home for the buyer.
Use specific examples. In this case, the manufacturing enterprise needs a custom dashboard for its production monitoring. Write down reasons why your offer solves their most significant problems and issues. Why did they start looking for a custom dashboard solution in the first place? Knowing the buyer almost intimately is essential so that your offer sells itself.
Structure the Presentation
The two most powerful parts of your presentation are the opening and the ending. Everything in the middle is a filler that the prospect might or might need to pay more attention to.
Start with your best shot, the point you feel has the most persuasive power. Then use your second-best shot for the ending.
Here's a rundown of sections that'll help move along the conversation. Each section can be one slide, or it can be a few.
Personalized cover and intro.
A personalized cover on a sales presentation deck makes a positive first impression and interest for the rest of the slides. By now, you should know the company's name, the buyer's name, and their role in the company. Include them on the cover with a prefix like this:
Prepared for: Name of buyer, role, company.
Prepared by: Your name, your role, your company.
On the opening slides, reintroduce what your company offers. Only some members on the client side know the specifics involved in the deal. Present a quick reminder of what your company does. This is the perfect opportunity to share your elevator pitch, your best shot.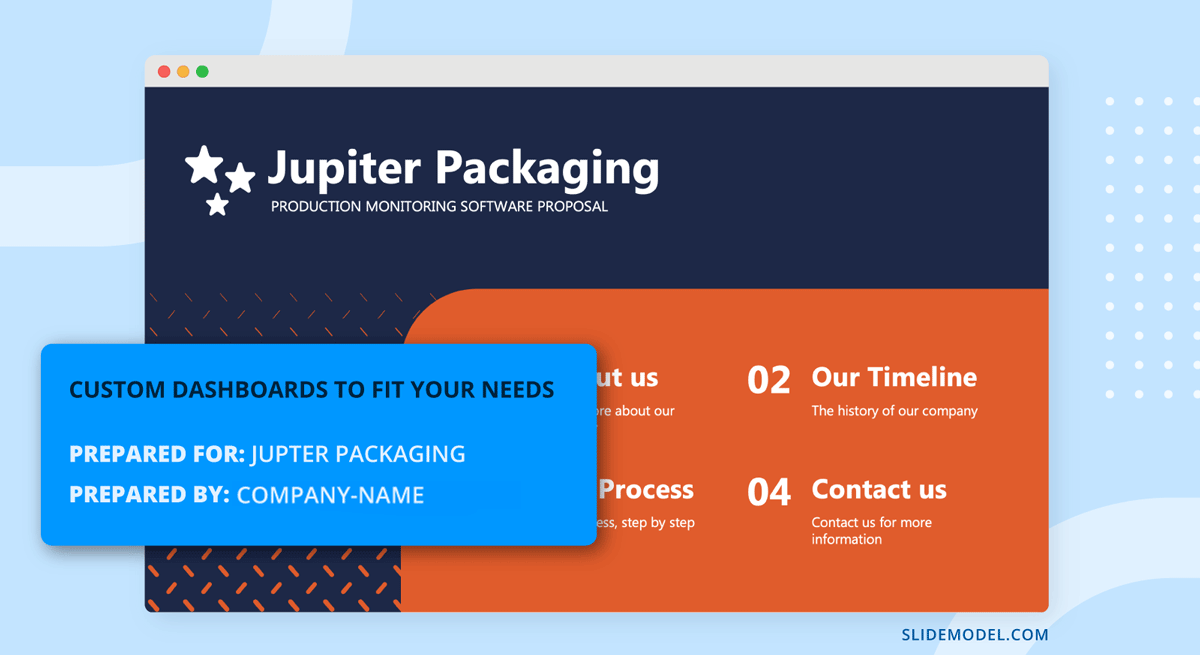 Problem / Solution Analysis. Be specific. You already know what they need from you, but they don't. Sell the solution confidently by being specific about how your custom dashboard service will solve their monitoring pain points.
Here's how to do it: Start by presenting the problem given to you by the company. Visually display the reports you obtained from the buyer. Then, present an analysis crafted by your team. Show how specific pain points are solved by displaying real and projected data.
Share your perspective on the issue, and bring up potential trouble points the customer may still need to spot. Conclude by introducing "the solution" with accurate data and projections.
The Cost of Doing Nothing. Use data to show how your solution will not only solve their immediate problem but also in the future. Visually explain how choosing not to buy your dashboard service—doing nothing, staying the same—will cost more than you're asking them to invest. Using clear calculations, explain how if they stay as they are, not only will they end up wasting more money than if they had bought the dashboard system, they'd be in deeper water and still without the dashboard.
Your solution instantly solves the cost of doing nothing or staying as they are. Returning to the custom dashboard sale example, let's say that after the estimation analysis you present, the buyer sees an increased OEE (Overall equipment effectiveness) by 30% in the upcoming four months after the production monitoring software pinpoints the bottlenecks in production. That's enough information to make the sale!
Real Referrals
Go beyond the testimonial quote and share real referrals from clients whose pain points you solved with custom solutions. Keep a file of case studies, testimonials, and social media mentions ready to add to any presentation.
Create internal case studies if your company is relatively new and you have few referrals or testimonials. Use your product or service to solve your company's pain points and document the process. Through quality video presentations, your company can also expose insightful information if your referrals aren't enough, as said videos demonstrate the operational aspect of the product or service you intend to sell.
Regardless of the background, this section aims to increase credibility and authority. Use real data in clear visualizations to showcase gains like ROI and production. Ensure that what you share makes an impact. Storytelling techniques come in handy at this point.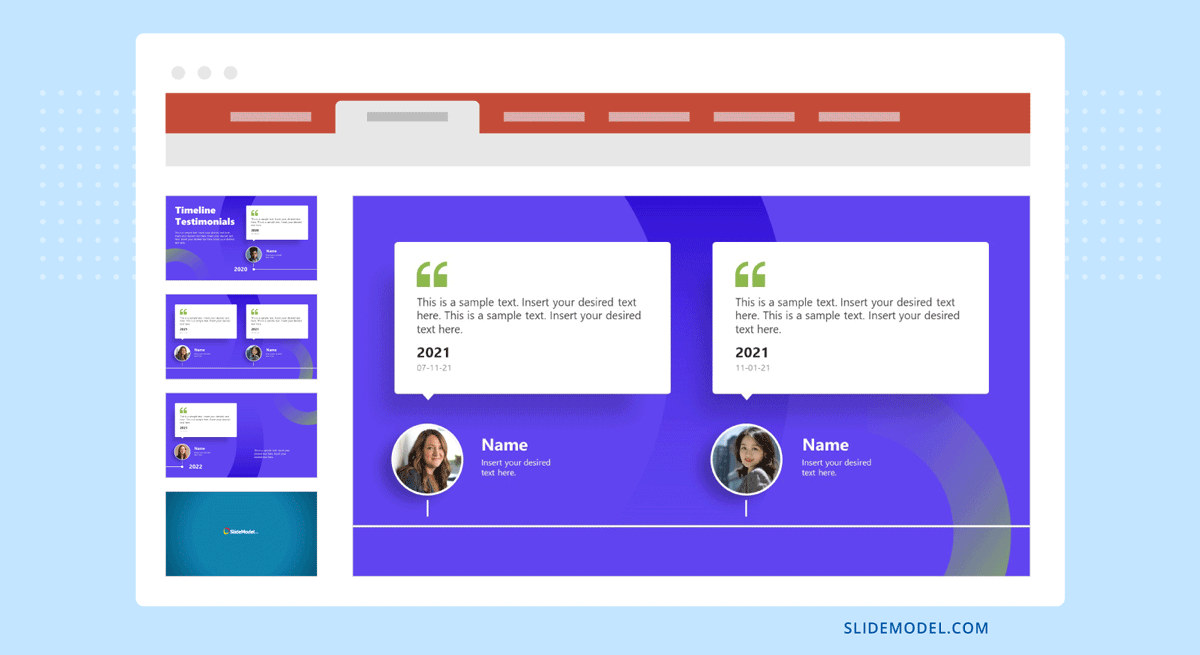 The pricing slide is optional
The slide with pricing is optional. Generally, fixed pricing is more apt for a slide in a sales presentation template. Flexible or complex pricing needs more than a slide.
Putting the case study as an example, the buying company has 30 product lines but wishes to conduct a trial run for the software solution you are selling them, on 5 product lines for 90 days. Based on the initial results, they will gradually upscale the service.
In a case like this, the price negotiation is managed by both companies' financial departments, where accurate quotations are handled. On the slide, you can link to the spreadsheet where calculations are conducted, but you can leave detailed calculations out of the conversation completely.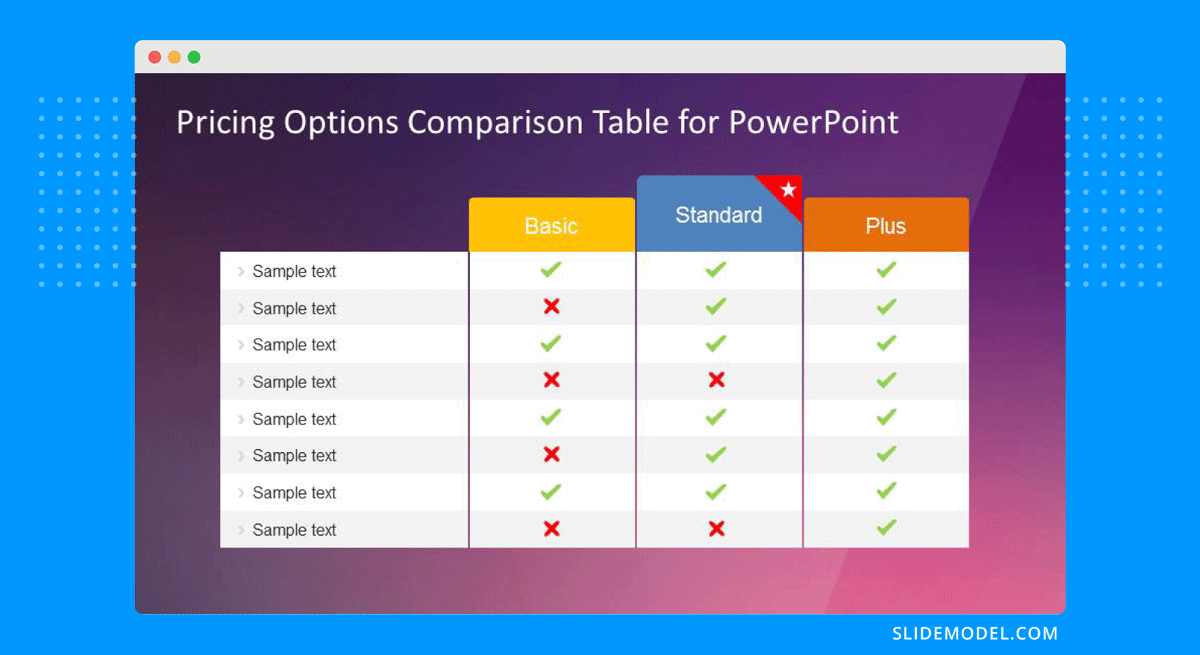 Closing
Thank everyone that attends the call or meeting. And also, include a Thank You note on the last slide. Use your second elevator pitch, the second shot, at this point. Leave the ball in the buyer's court and make it easy for them to buy. Close the sale by agreeing for your financial team to contact theirs.
Include all forms of communication on that slide with hyperlinks to call you on the phone or get in touch via email.
Design the Slides with Visuals
Designing the slides means putting it all together into a set of slides that flow along with your speech or recorded video-over. We won't go too deep into this point, but be sure it's important! Here are some essential things to achieve when designing slides:
A balanced layout on all slides.
Harmonious transitions from slide to slide.
Visual unity between slides.
A unified color and font scheme.
Licensed visuals, videos, and images.
This is what your sales presentation can look like.
Save Time With Templates
PowerPoint Templates are the ultimate timesaver for anyone creating presentations. Not only do they save time in development and production, but they also help with visual consistency and flow. Using predesigned templates where you only need to change the content and the colors is ideal for someone with minimal design skills or limited time. FYI, even designers use templates.
How to Deliver a Sales Presentation
Presentation delivery is more important than all the other steps combined. At the point of delivery, your goal is to convince and then persuade the buyer that your solution is worth investing in.
Practice your Speech
At this stage, top-performing sales professionals stand out from the rest. A memorized speech and perfect slides won't make the sale; YOU will. The entire transaction depends on you and how you connect with the buyer.
Here are some tips on how to turn a speech into a conversation that will lead to a close.
Develop and train your voice. Simply memorizing information isn't going to make sales; you need to practice voice inflection and change of pace. Don't discount taking speaking courses to improve your skills.
Record yourself practicing and play it back. Take notes on what you can improve and what can be discarded.
Ask peers and colleagues for feedback.
Always keep improving from every sales presentation.
Practice for many scenarios; standing in front of a group, sitting at a table next to people, via virtual call.
Remember that all this work you're doing is for the prospect's benefit. Don't talk at them; talk with them. Don't deliver your presentation dryly or rushed; give yourself and each other time to converse.
Distributing Presentations Digitally
You won't always be able to visit the prospect in person. Practice delivering the sales presentation and speech on camera. On some occasions, you won't be able to meet the prospect. In this case, create the presentation and then record yourself presenting on each slide. Use tools like Loom or Nimbus to record yourself while presenting the slides.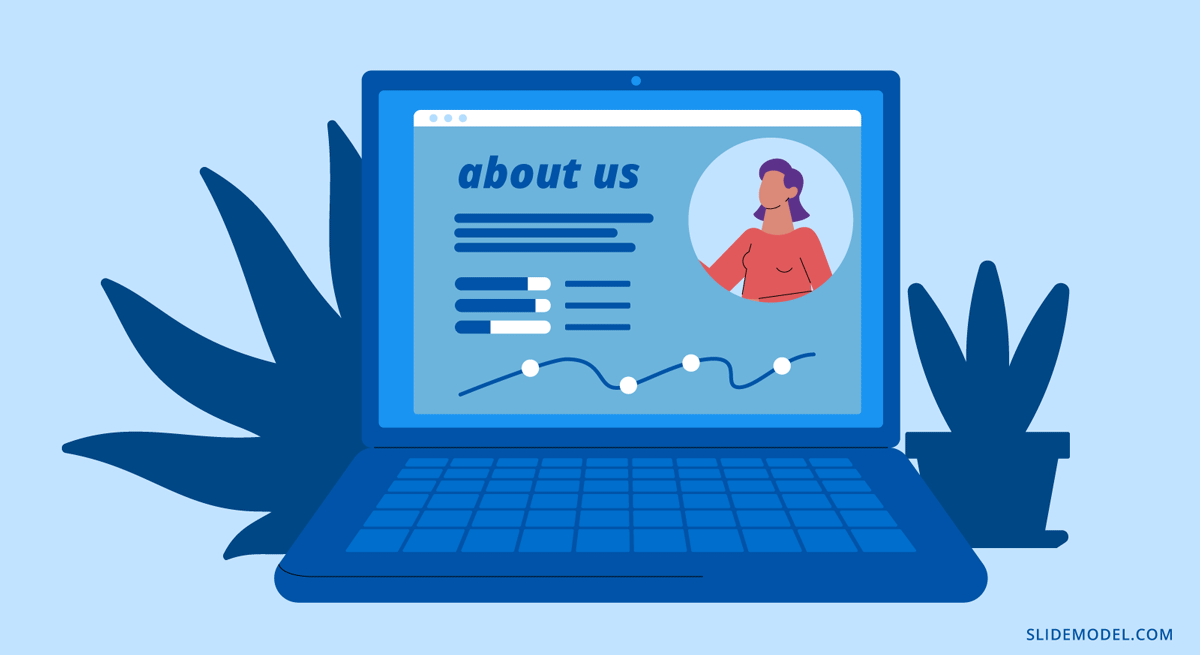 Body Language
It is imperative to be mindful of your body language when delivering a sales presentation, as also interpret your customer's body language signals. In corporate environments, the interactions between buyer and seller are carefully handled in terms of speech, documents, and deals, but our bodies are able to convey our true feelings about a situation without us even realizing such a fact.
Eyes are a window to the soul, and where a spectator places their focus is usually their main point of interest. If the audience is looking at you, their interest is targeted to what you are disclosing. On the other hand, if you perceive the audience is looking at a distracting element or at no specific point, like gazing at the horizon, then you should revive the presentation with a hook or introduce a surprise element. Constant staring is considered an intimidating practice in Western cultures, so avoid being too forward when speaking to your client. A good ratio of eye contact for sales is between 55-65%.
Anxiety can manifest in multiple shapes, such as toe tapping, pursing lips, unstill hands, or continuous neck movement. Drumming fingers is a common sign of impatience as if your content isn't relevant or boring to the audience. Playing with desk elements, doodling, or looking at the smartphone are signs of boredom and annoyance. Keep extra care if you see attendees leaning into their arms, as it is a clear sign of a desire to leave the meeting.
When delivering a sales presentation, avoid common non-verbal communication mistakes such as:
Hands in pockets: It suggests a lack of transparency in the information disclosed.
Arms crossed close to body: Protectiveness against the audience.
Posture: Slouching your back is a no-no unless you have any kind of proven physical limitation. Otherwise, it transmits a lack of interest and an unprofessional look.
Watching the clock: While it is okay to be mindful about the remaining time available in a sales presentation, watching your clock can be felt as if you want to run away from the room as quickly as possible.
Follow Up After a Sales Presentation
The type of follow-up after a sales presentation will depend on if you closed or not. Hopefully, by this point in the relationship with your prospect, a follow-up will come naturally through a few emails or calls. Keep the conversation going and share compelling content and data to help them finalize the deal.
If you close on the sales presentation, the follow-up will be more about financial exchanges. Nevertheless, keep communicating with them and let them know you are always available to discuss whatever they need.
6 Tips to Supercharge Your Sales Presentations
To succeed in high-profile sales, go beyond the basics to make your presentations close on business deals, increase conversion rates and build meaningful business relationships.
1. Be actionable
At every point in the sales process, ensure the prospect knows where they stand. Expose the next steps in the sales negotiation through conversations and email. Share the sales process with prospects at first contact, letting the buyer know you're not hiding anything.
Don't take the negotiation like a closed deal from the start. The buyer is the one that ultimately makes the decision, but that doesn't mean you have to put pressure on them. Instead, be actionable and help the buyer make an informed decision that will benefit their company immediately and in the future. Show them how easy it is to take action and close the sale.
2. Presenting the Cost of Not-Doing
When prospects push back, they still don't see the full value of what you're offering in terms of what it will cost them if they don't close the sale. This is why including data visuals and convincing information about the Cost of Not-Doing is a critical angle for your slides.
Use storytelling with numbers and data to create a sense of urgency. Take a cue from Zig Ziglar and his view on the topic, "The fear of loss is greater than the desire for gain." Present the cost of not-doing as a non-action, leaving everything the same. Continuing with ineffectiveness only results in loss of profit, wasted time, and disgruntled factory managers.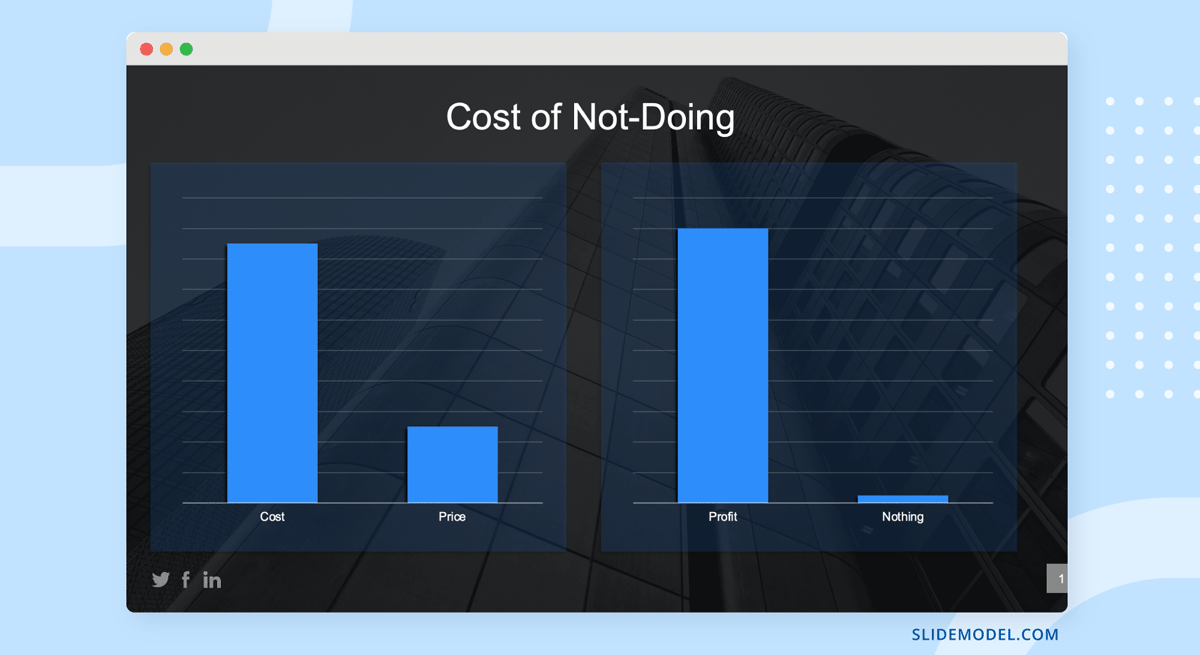 3. Show Empathy Over Sympathy
In sales, it's all about the attitude you bring to the table when doing a sales presentation. Not only do you have to believe that what you sell solves problems well, but you also have to believe that what you sell is helping people by making their job easier. Therefore, you're making their lives better.
In the case of your software company creating a custom dashboard, the buyer's pain points are:
Their current tech stack is inefficient.
Reports take too long to export.
Troubleshooting is a mess.
Go a step further and ask the buyer what happens when the reports take too long, or the troubleshooting could be smoother. Highly likely that there's downtime in production or reporting. And what does that lead to? Frustration. And manager frustration leads to negative attitudes toward employees, leading to complaints.
Show the buyer how your solution doesn't just help monitor production but also makes your managers and employees more content with work. When employee satisfaction increases, it leads to employee retention. In the opposite scenario, there are unhappy managers and higher employee turnover.
4. A Good Image Across Your Slides
Just as your appearance influences your sales career, so do the presentation slides you prepare, develop and deliver. It starts with the visual aspect and the design of the presentation as a whole. Here are some best practices to follow so you can achieve a good, professional image all around.
Have an offline format for the presentation. Have it on a USB stick, not online.
Be ready for any kind of question.
Ensure the presentation is compatible with viewing on different formats; tablet, laptop, mobile, PC, or projector.
Use catchy, engaging, branded visuals like infographics slides, illustrations, data visualization, video, and voiceovers.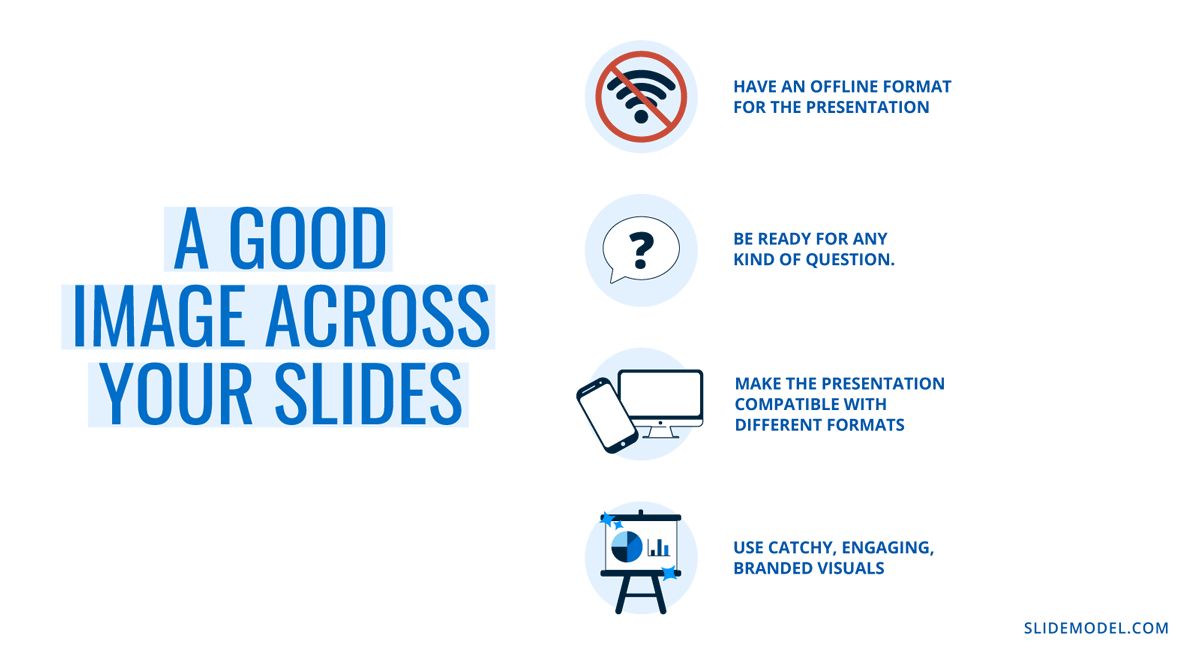 5. Presenting ROI Projections
When deciding which data to visualize, put ROI projections at the top. Showing projections and visions of the buyer's success increase the chances of closing the sale. This technique is the opposite of showing the cost of Not-Doing.
With ROI projections, you put the buyer in a privileged position. You show them how much they will gain from their investment. Go further and project how long it will take to repay the investment. Hopefully, it's not very long!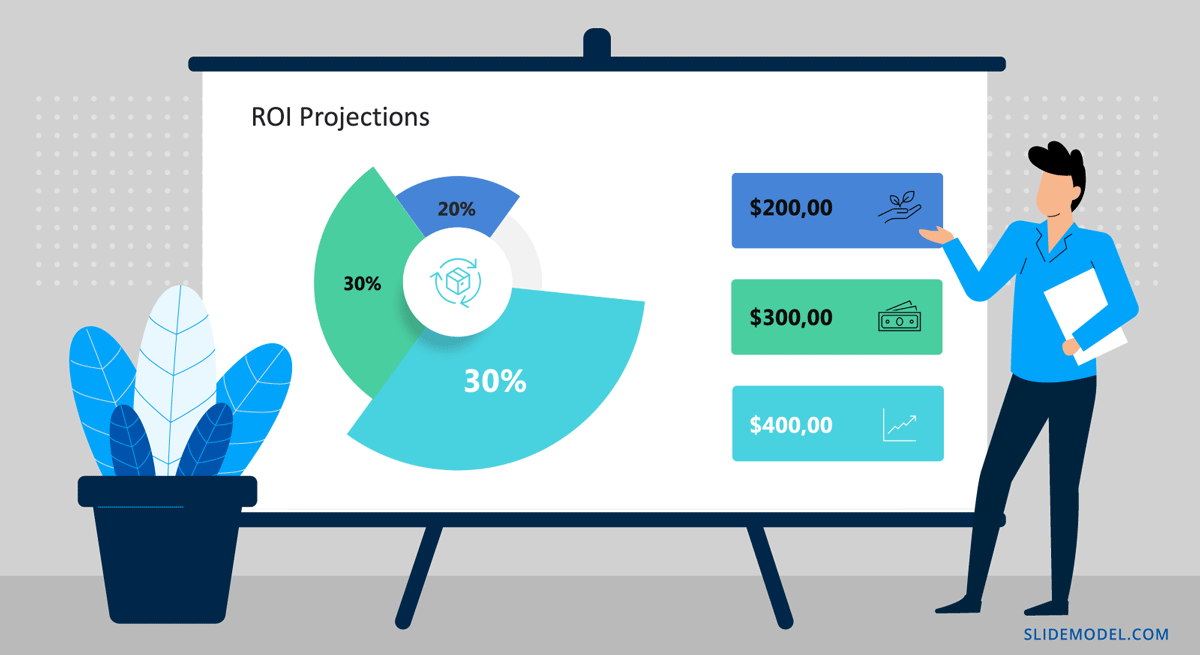 6. Be on Brand
The content and visuals on your presentation slides must reflect the company's brand with a compelling narrative. We already mentioned the importance of believing in your product or service. Take it further and believe—and stand behind—the company brand's values, mission, and vision.
Aligning with the company's values will help you see the sales process as a way to grow the brand you work for and your career as a sales professional. Craft the sales presentation with this in mind, and take your sales career to the next level with every close you make.
Closing Thoughts
Your role in a sales presentation is to embody the brand, the product, or the service, as the best and only solution to the buyer's pain points. Craft and practice your messaging to reveal how the buyer's situation will improve once they close.
Use SlideModel templates for full deck presentations, individual slides, and design element collections to help craft sales presentations that convert. Choose the perfect data visualizations and infographics to share the Cost of Not-Doing. SlideModel has your back.