Making effective sales presentations may require the help of appropriate diagrams, charts, statistical data, company profile and a projection of the product lifecycle. Below is a compilation of PowerPoint Templates for making Effective Sales PowerPoint Presentations.
Company Profile PowerPoint Template
Sales presentations often start with a small profile of the company. This is not only true for sales presentations that are meant to sell a product but also presentations that are to be shown to company stakeholders. For example, you may require explaining about the company profile before a venture capitalist or members of a community where you may have existing or potential customers. The Company profile PowerPoint Template is an ideal resource for making such introductory slides or even entire presentations explaining the profile of your company.
Go to Download Company Profile PowerPoint Template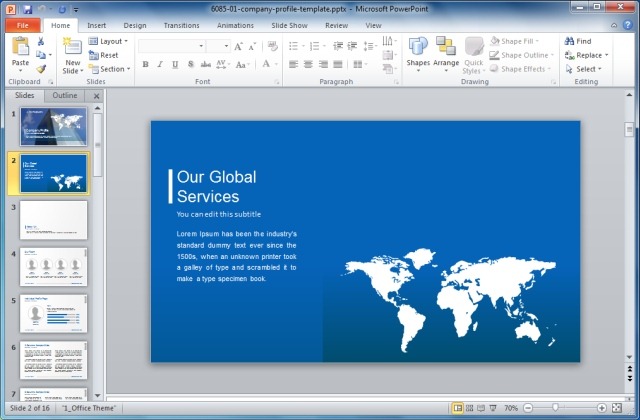 Global Sales Bar Chart Template For PowerPoint
This is a template for making sales charts with a clean blue background that not only offers eye-catching graphics but also provides editable charts to easily create sales related chart slides; with minimum effort.
Go to Download Global Sales Bar Chart Template for PowerPoint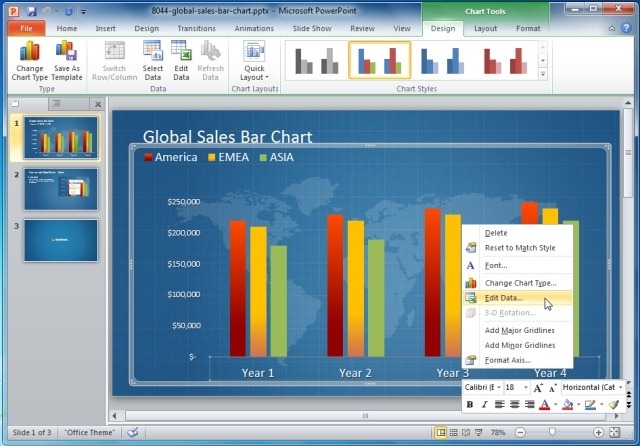 Dashboard Template For PowerPoint
Want a template that can help you create a dashboard for presenting different types of data in a nice and clean way? The Dashboard Template For PowerPoint is an amazing template for presenting complex data in a clean layout for sales presentations for company management or customers. With this template you can emphasize the different aspects of a product. This may include information about customer trends, sales projections, consumer confidence, etc.
Go to Download Dashboard Template For PowerPoint

Supply And Demand PowerPoint Template
Projecting sales related data before the senior management may require presenting a demand and supply diagram with current and projected sales expectations. Instead of going through the hassle of making a Demand and Supply diagram on your own (which is likely to be time-consuming and less than accurate), you can make use of this template to create such diagrams with ease.
Go to Download Supply and Demand PowerPoint Template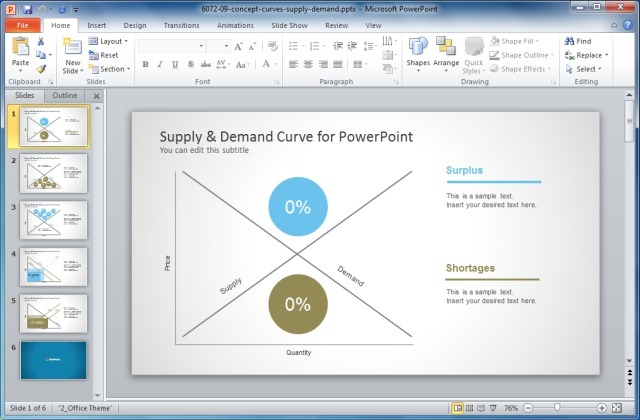 Product Life Cycle PowerPoint Template
Convincing a team of investors to invest in your business is nothing short of a sales pitch. Likewise, selling ideas to the company shareholders can be as tough as a sales presentation. The Product Life Cycle PowerPoint Template can be effectively used for projecting the lifecycle of a product. This template can be quite a useful resource for making presentations for P.R. campaigns, company shareholders, senior management and customers (e.g. too show how trusted and strong your product may be in the market).
Go to Download Product Life Cycle PowerPoint Template