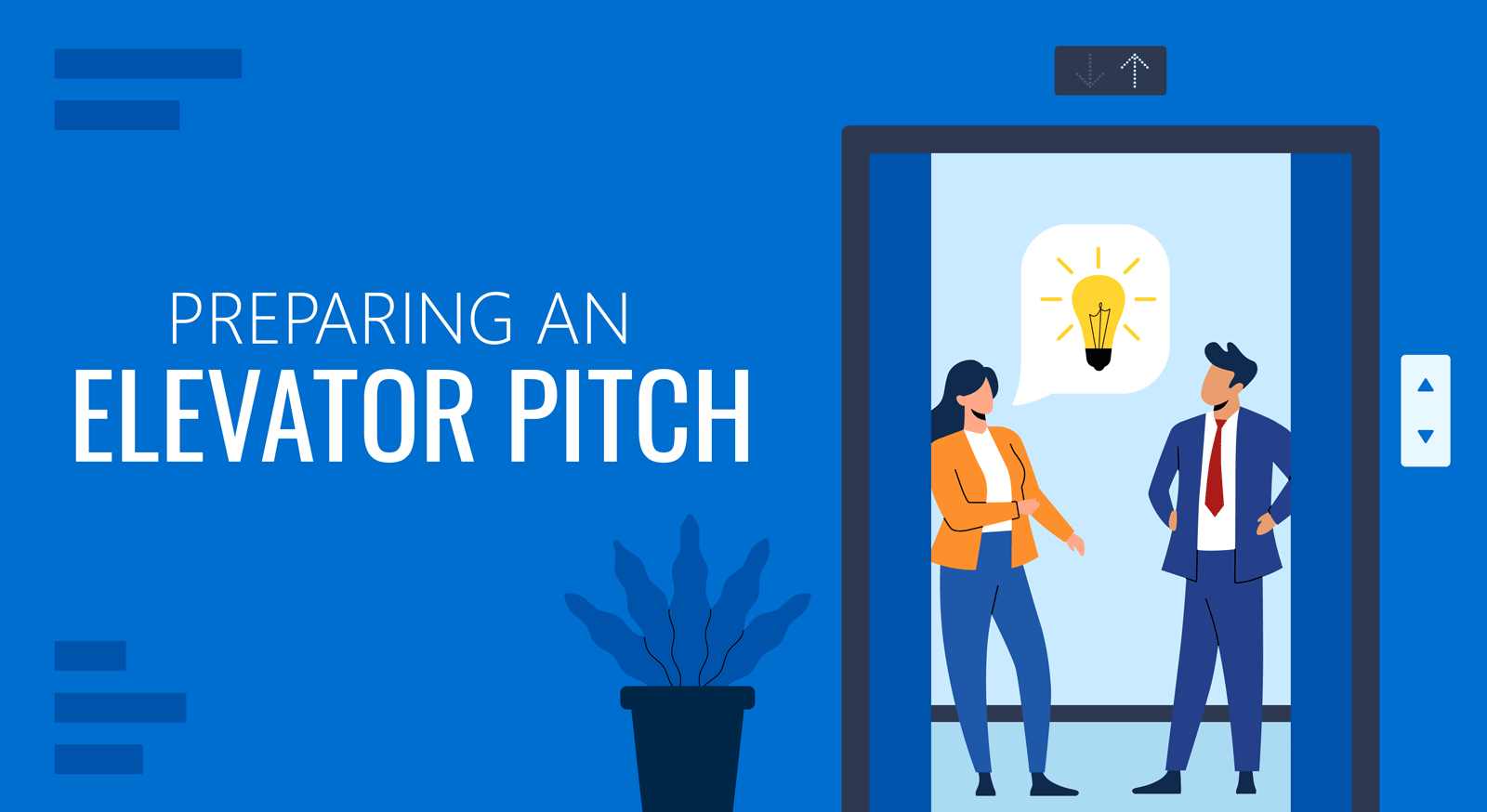 In her book Resonate, communication and persuasion expert Nancy Duarte, a highly praised master of turning story patterns into effective business communications, recommends "Showing your humanness when you present" as a "great way to stand out." Yet, how do we manage to do that over a conversation that can only last as long as an elevator ride, at best? We're focusing on elevator pitches over this note, aiming at strengthening your skills in delivering a successful elevator pitch for business in a way that brings your company, efforts, and ideas the best success moving forward.
What's an elevator pitch?
According to elevator company Kencor, Inc., vertical lifts "have variable ride times". An elevator ride in a small town in Kentucky is certainly not the same as one in New York City. The reason "there may be considerable differences in terms of speed", as CMA Lifts states, is "because one thing is having to serve maybe a four-story building and much more is having to do with a building that in turn goes to touch a dozen." Times will vary depending on the type of elevator, too, amount of a building's stories, and stops made on the way.
In Taipei 101, which CMA presents as "the third highest skyscraper in the world," a lift can travel at 60.6 km to reach the 89th floor "at an altitude of 382 meters, in a time frame of about 40 seconds." Why does this matter? We can use these times as a starting reference.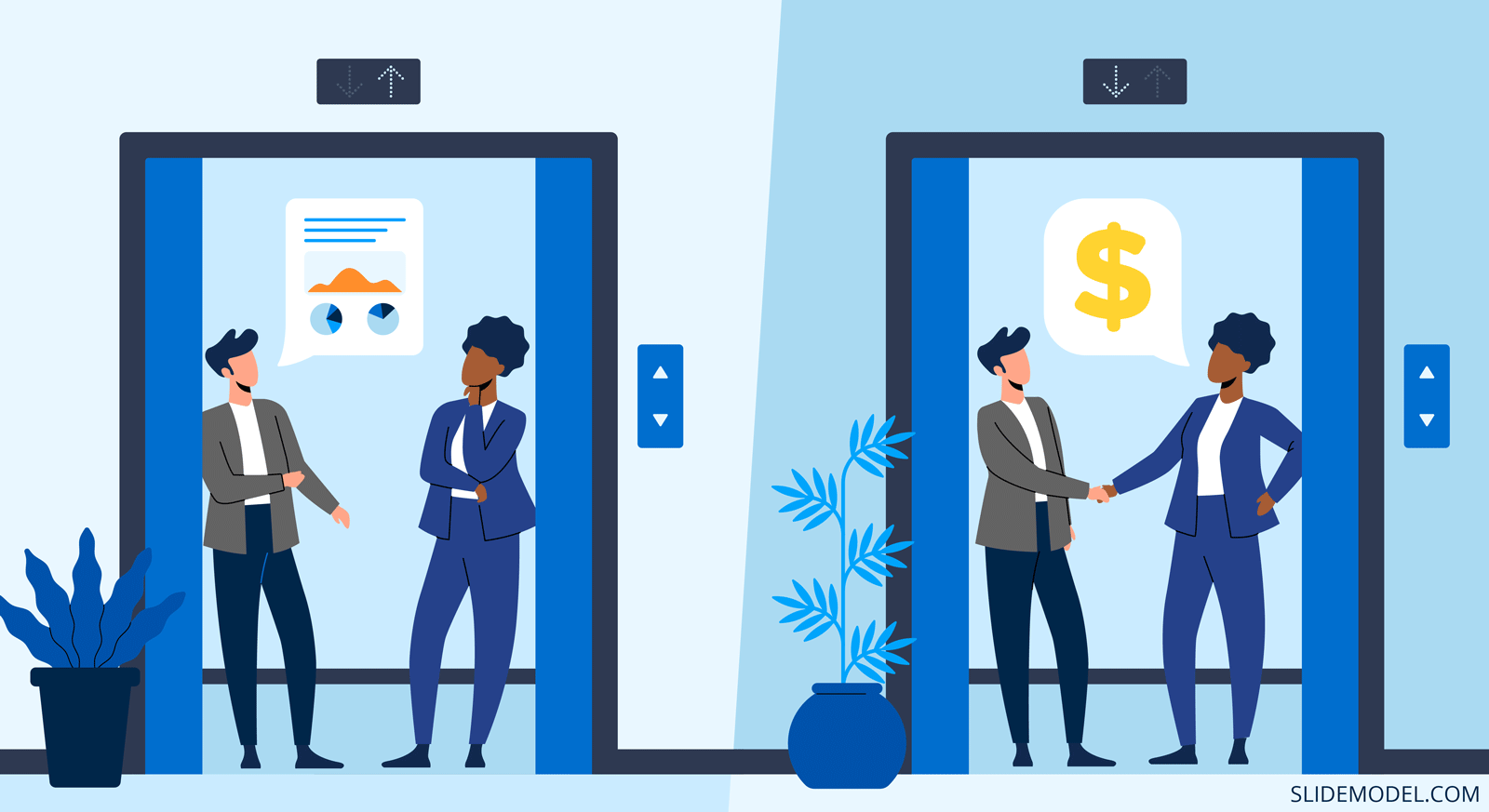 The concept of an "elevator pitch" is most clear when we think of the length of an elevator ride as that timeframe in which you can make a perfect introduction to a potential investor or stakeholder.
The content of a perfect elevator pitch should be succinct, direct, yet plentiful. It's also certainly one you polish every time you deliver it.
How long should an elevator pitch be?
A highly-esteemed 30 seconds are the common industry rule for a winning first impression. A half-minute capsules the average notion of an elevator pitch length. This is one common reference point for elevator pitches.
The second common standard for elevator pitches is based on a higher ride average stemming from New York City. Harvard Business Review (HBR) actually goes for this higher elevator ride average of 118 seconds. Of course, the higher amount of skyscrapers in that multicultural place makes up for the considerable difference.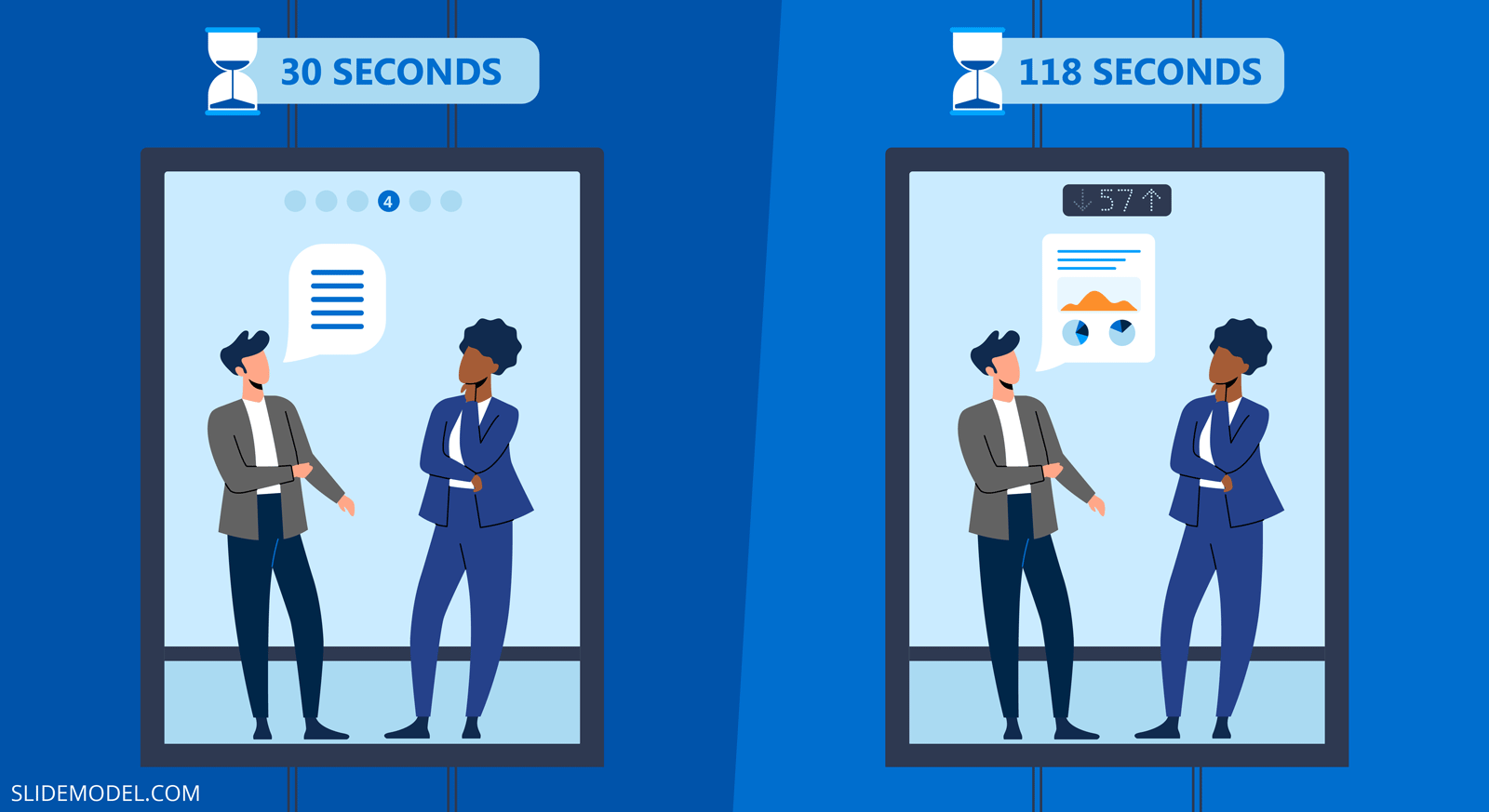 Whether you're settling for the standard 30 seconds or allowing yourself the extension up to 118 seconds, the truth is that elevator pitch rides are quick, efficient, and to-the-point. The goal is to sell your idea or product as fast as the attention you're likely to get during a single elevator ride.
The above is very much tied to the standard sitcom, TV, and movie scene of someone selling an episode, a project, or any idea while catching up to the jam-packed, unattainable executive everyone wants a hold of as they walk into the office.
Elevator pitch real-life applications
If we stick to this produced idea of an elevator ride that we see on screen, the most common real-life application is a key potential investor or customer, a person we wish to attract to whom we, in our minds, say: "If only I could pitch my idea to this person for a single minute, I'd sell it!"
A conference, a demo-day presentation, product launches, and many other networking events are the real-life equivalent of what we see on TV (as in a Shark Tank episode).
In general, elevator pitches are used to pitch a startup, engage in sales, introduce oneself, present a new venture to a venture capitalist, and seek a job, even.
As we said when we presented our Creative Elevator Pitch Deck PowerPoint Template, "The Elevator Pitch for Interview enables users to demonstrate their career portfolio in an engaging manner." Someone who walks into an office or casually discusses their career over a taxi ride in a way that succinctly showcases their expertise and abilities is much more likely to catch attention for an open position than someone without clarity or ability to express their thoughts, goals, and desires.
A well-thought-out elevator pitch for a role or as a presentation to a startup, even as a project description in a nutshell, is similar to a very powerful wild card that you pull up your sleeve when that person you know meets you by chance as much as gives you a quick 15-minute introduction to prove your point. Whether an investor can call you back during a 10-minute break or you run into a key business partner in a hallway, on the way somewhere, or at a quick reception at any event, an elevator pitch is destined to convey your ideas across very succinctly so you can pick up longer conversations (or pitches) at a more convenient or later stage.
As we also said in the article to the template above, "business owners and managers use elevator pitch PowerPoints to discuss ideas briefly." Templates and business presentations in this category of elevator pitch decks serve the useful purpose of putting ideas up on screen in a nutshell for focused discussion. And that's usually highly appreciated.
Further below, we'll get to a real-life example of a pitch that worked great for Carmine Gallo in working with an esteemed language interpretation company in Monterrey, California.
For now, if you're looking to know more about "interview presentations", including an Elevator Pitch Example for Job Seekers, our article How to Give A Compelling Interview Presentation: Tips, Examples and Topic Ideas is here to help. We'll get to more elevator pitch examples for entrepreneurs in a section below, as well.
For now, how do we ideally present our elevator pitches?
The basic structure for an elevator pitch
Create visually appealing presentations as much as possible. The goal is for your visuals to give power and create engagement that adds to your message or speech. Then, also work very conscientiously on your messaging.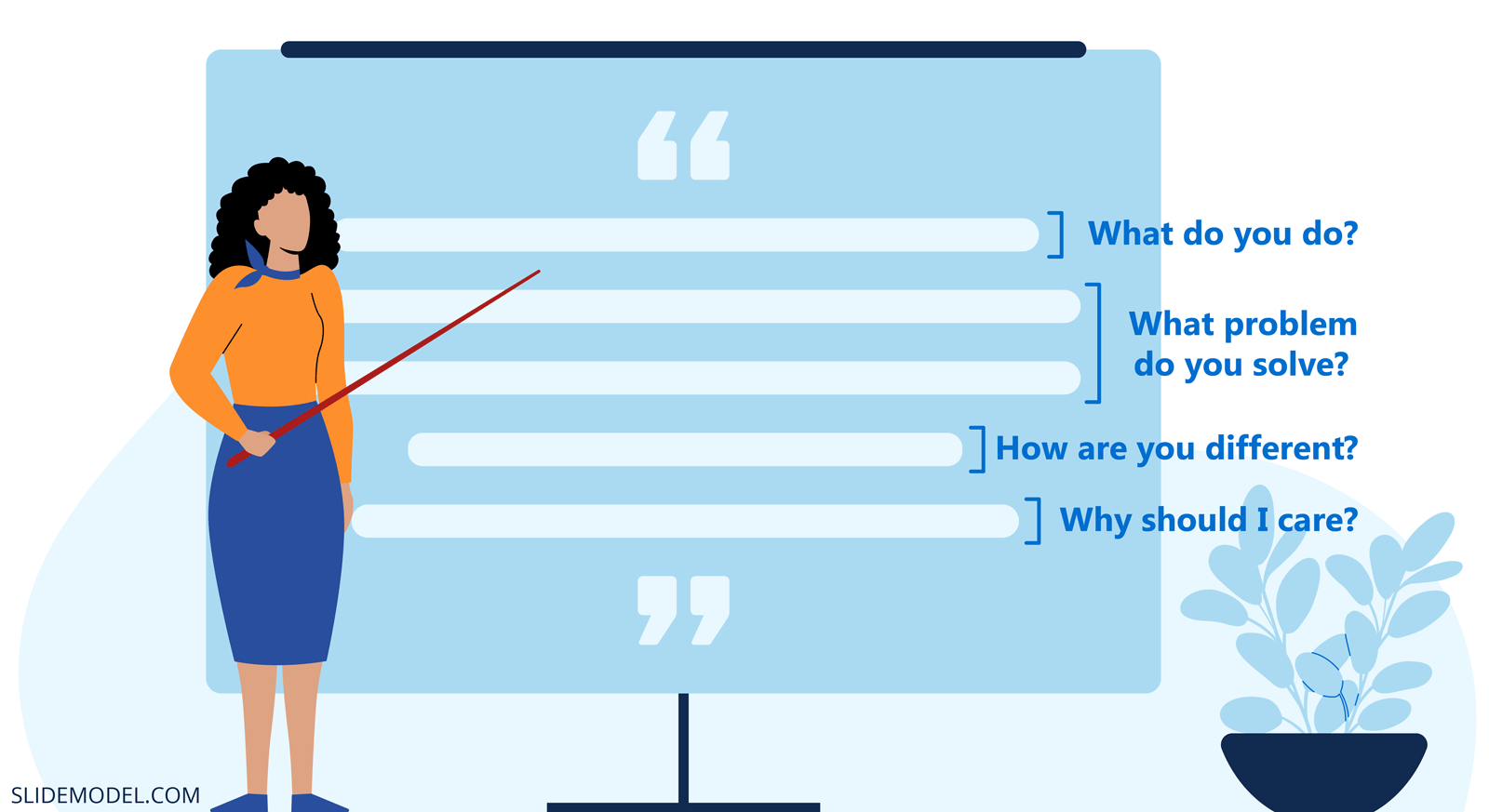 As Nancy Duarte says, "Truly great communicators make it look easy as they lure audiences to adopt their ideas and take action." To learn how to deliver a presentation pitch, and if we can expand on what the author says, this "isn't something that just happens automatically; it comes at the price of long and thoughtful hours spent constructing messages that resonate deeply and elicit empathy." Make sure you put in your focused, attentive hours constructing that ideal message that will resonate with your audience to make them take action. Results will be noticeable if you do, and your confidence in delivering these speeches will naturally and greatly improve as you move forward. This long-term exercise is about being in control of what you're gearing and how you're doing so.
As the already-referenced HBR article states, "The first 8 seconds are the 'hook'—the time you have to get the 'lean in' factor, to snag your prospect, to catch their interest." For them, "Those first 8 seconds are the key", as HBR puts it. And that's essentially so because this first span is where we most commonly capture an audience's full attention before we naturally lose it.
Thereafter, you're looking to answer a few key questions for your audience. In Presentation Secrets of Steve Jobs – How to be Insanely Great in Front of Any Audience, for example, Carmine Gallo breaks down the ultimate elevator pitch by recommending a presenter:

"Simply create a one-sentence answer for the following four questions:
(1) What do you do?
(2) What problem do you solve?
(3) How are you different?
(4) Why should I care?"
As promised, here's what a winning elevator pitch looked like for Gallo in working with an interpretation company (which we labeled here as XYZ) in Monterrey, California:
XYZ company…
"is the world's largest provider of phone interpretation services for companies who want to connect with their non-English-speaking customers [what it does].
Every twenty-three seconds, someone who doesn't speak English enters this country [the problem].
When he or she calls a hospital, a bank, an insurance company, or 911, it's likely that an […] interpreter is on the other end [how it's different].
We help you talk to your customers, patients, or sales prospects in 150 languages [why you should care]."
Quite succinctly and like we also said in our Creative Elevator Pitch Deck PowerPoint Template, whenever you're figuring out how to write an elevator pitch, think of ways "to deliver the concept to an audience in a short description that listeners can easily understand." The pieces of advice we give above should all assist in knowing how to present an elevator pitch successfully. But we've for further recommendations to this end.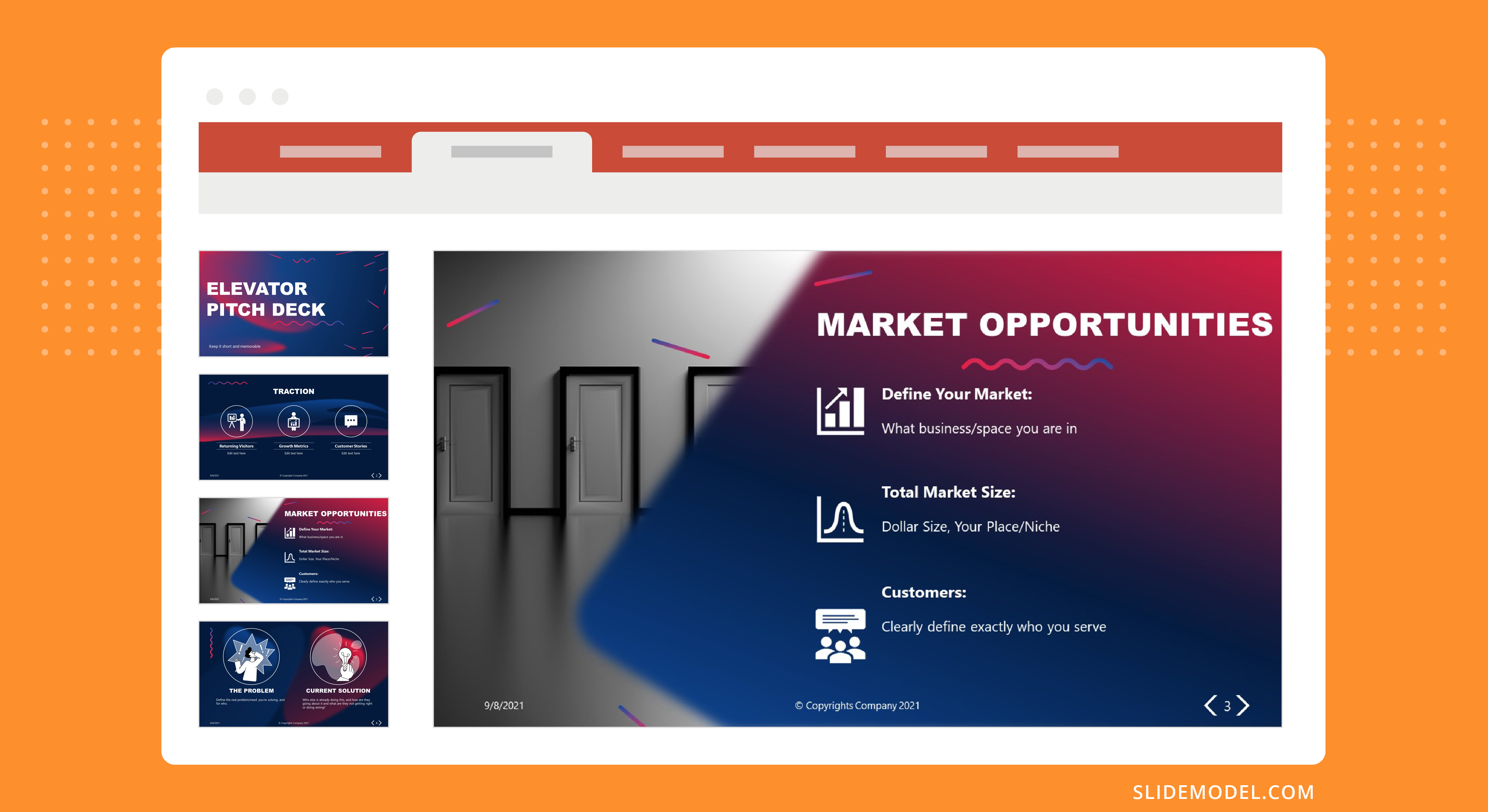 Recommendations on Delivering Your Elevator Pitch
The first of our recommendations has to do with pacing. Just because an elevator pitch is expected to be of short duration, that doesn't mean you need to race through it. Keep it intelligible. Take your time to breathe. Go slowly at it so your ideas can come through to your audience. Don't rush through an elevator speech just so you can make up for a short time allowed. Practice, instead. Make sure you choose the right words and learn them by heart. Then, move slowly through them.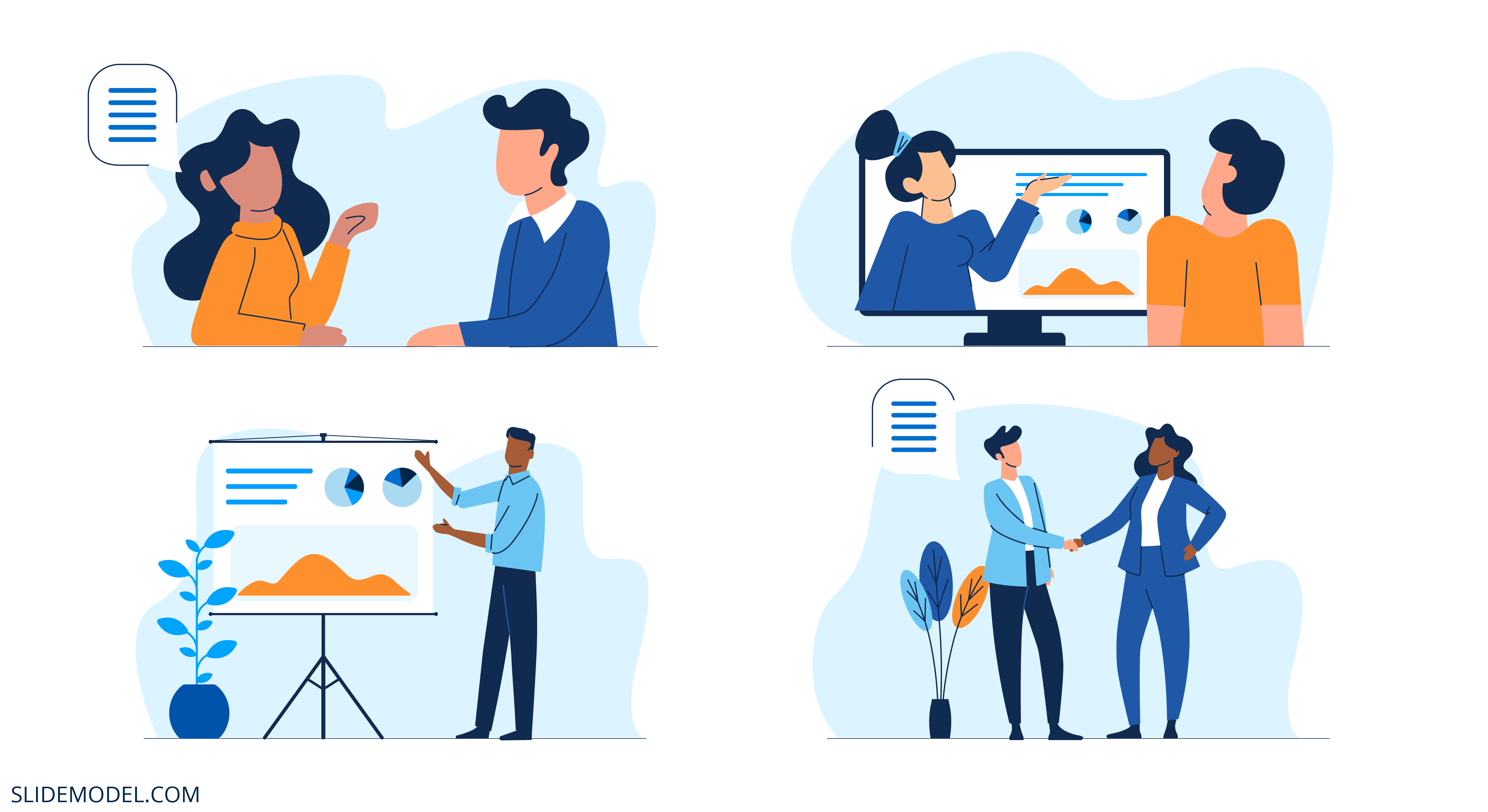 The above leads us to our second piece of advice. If you're building a perfect elevator pitch, revise, edit, and check again! Go through each word many times until you find the right-suiting one for the precise idea or concept you wish to convey. Get them right!
Also, if you're looking for an elevator pitch presentation template specially designed for presenting to VCs, angel investors, or stakeholders, for example, seek out specialized material. Our Formal Elevator Pitch Template for PowerPoint might work better in that case. The material is a framework of various slides designed for users to customize and perfect their sales pitches. You're starting off with a base.
On the other hand, seek to put yourself out there to family and friends. Especially seek business partners, colleagues, and people in and out of your field who can tell you how you're doing with your elevator pitch for business. Rather than fight, be offended, take observations or corrections personally, and let alone justify your pitch's content as you present to people in our outside the industry, seek to truly listen to feedback, take note, and make sure you incorporate it later.
The reason behind this observation is that a perfect business pitch contemplates the human aspect of everyone listening. As Duarte puts it in her book, "Even with mountains of facts, you can still fail to resonate. That's because resonance doesn't come from the information itself, but rather from the emotional impact of that information." So, seek to connect emotionally.
Acknowledging emotion is frequently left out of everything business-related; yet, note how specialist Duarte recommends presenters "Use plenty of facts, but accompany them with emotional appeal." Listen to your audience and polish your content and delivery until you can sync both the importance of data with the emotional calling that gets audiences to forget what and how you said it, but they walk away changed, with a new vision, and, more importantly, ready to support you and your endeavors.
Let's check how people have achieved this before you.
Four Effective Elevator Pitch Examples (with Real Life Experiences)
Our first elevator pitch example comes from a German impact food startup. Though a bit on the longer side with a final 3 minutes for length, the video introduces the problem and solution flowingly with a captivating start. It includes benefits, creates an overall experience in itself for viewers as it appeals to the senses, and it also incorporates a concise call to action that describes exactly where their efforts will be focused. This is a good example to get started in perfecting your upcoming elevator pitch.
From the college side, Utah State University's Cooperative Extension Services has an elevator pitch winner who made a compelling business case in less than 2 minutes. This is a perfect example of a 118 elevator pitch that needs a bit of pacing down to be perfect. Instead of rushing, this coffee cup business idea can easily be conceived to go much further on a slower scale. The pitch merits it. Yet, the data and sentiment, the surprise, and all the background work are there, making this a great academic example that can easily guide any executive into winning business presentations.
On the last note, The National Science Foundation came up with a video series on elevator pitches titled "Real people. Real elevators." Check out their episode 2 here for tips with a real-life dramatization and setting if you'd like to picture the situation of a real-life example a bit further.
Now that we're moving to the more cinematic side, one of Vince Vaughn's characters has also made a point on product elevator pitches that we can rescue in a light spirit. The reason is that Vince's character's pitch works thanks to how he conveys a clear business idea with a captivating (though risky!) introduction to selling a powerful concept to a group of executives. The scene appears fueled by a writing team that apparently knows the back works of pitching an idea fairly well. Here's what's been labeled as "The best elevator pitch of the world" in a YouTube clip of 2011's movie Dilemma.
Conclusion
A few key aspects of perfecting a product elevator speech (or any elevator pitch, for that matter) is to keep it short. Be brief. From 30 to 118, we're speaking of a few seconds put together for you to be persuasive, share your goals, problem, solution, and skills, and make a difference in attracting your intended audience.
Practice, practice, and then practice some more. Mastering a pitch of this kind truly takes a lot of practice to go over the right words at the right pace, and powerfully impact a person or group.
Also, keep a business card handy. If your pitch works, a quick and efficient way of giving your contact details to your stakeholder will do wonders to move your business forward. 
What's next? Our recommendations
Before you go, here are a few Real-life examples on how to end a presentation, in case they help in general. And, if you're looking to Create a Great Investor Pitch Deck and Close the Deal, this other article might be useful. We're giving you The 11 Key Slides For Creating A Winning Investor Pitch Deck there, too.