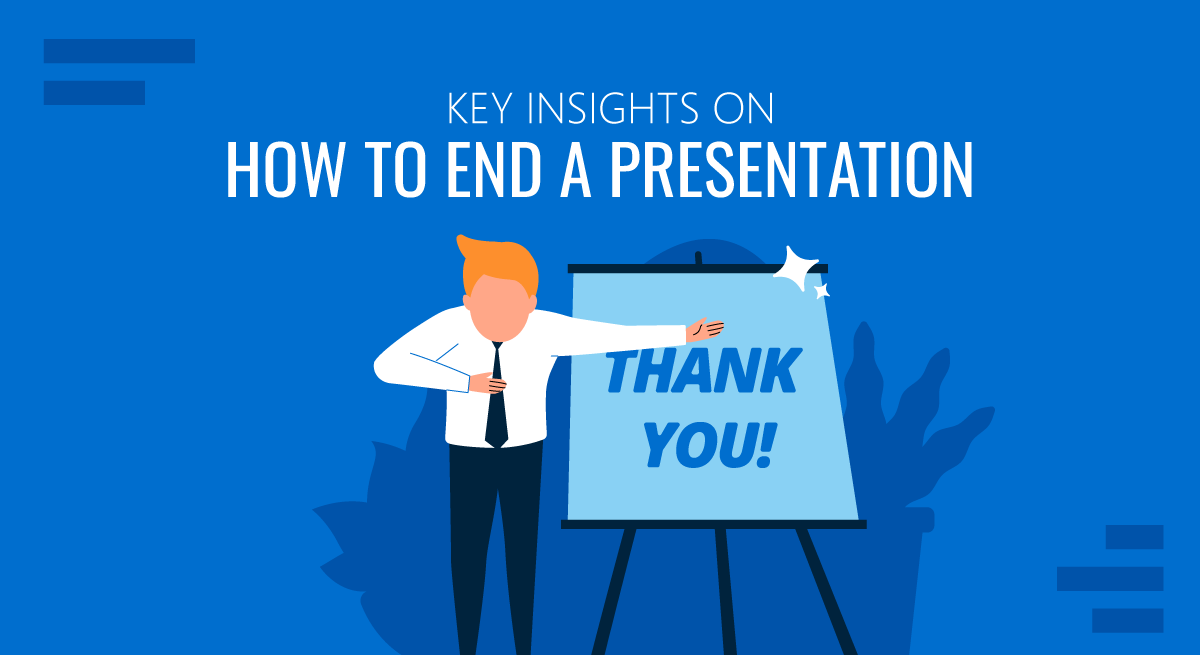 A piece of research by Ipsos Corporate Firm titled "Last impressions also count" argues that "our memories can be governed more by how an experience ends than how it begins." A lasting final impression can be critical to any presentation, especially as they make our presentation goals more attainable. We're covering how to end a presentation, as it can certainly come through as an earned skill or a craft tailored with years of experience. Yet, we can also argue that performing exceptionally in a presentation is conducting the proper research. So, here's vital information to help out with the task.
This article goes over popular presentation types; it gives suggestions, defines the benefits and examples of different speech closing approaches, and lines all this information up following each presentation purpose.
We also included references to industry leaders towards the end, hoping a few real-life examples can help you gain valuable insight. Learn from noted speakers and consultants as you resort to SlideModel's latest presentation templates for your efforts. We're working together on more successful presentation endings that make a difference!
A presentation's end is not a recap
We need to debunk a widespread myth to start. And that's why ending a presentation calls for an appealing action or content beyond just restating information that the speaker already provided. 
A presentation's end is not a summary of data already given to our audience. On the contrary, a wrap-up is a perfect time to provide meaningful and valuable facts that trigger the desired response we seek from our audience. Just as important as knowing how to start a presentation, your skills on how to end a presentation will make a difference in the presentation's performance.
Effective ways to end a presentation stem from truly seeking to accomplish – and excel – at reaching a presentation's primary objective. And what are the benefits of that?
Benefits of ending a presentation uniquely
Considering the benefits of each closing approach, think about the great satisfaction that comes from giving an excellent presentation that ends well. We all intuitively rejoice in that success, regardless of the kind of audience we face.
That feeling of achievement when an ending feels right is not a minor element, and it's the engine that should drive our best efforts forward. And going for the most recommended way of ending a presentation according to its primary goal and presentation type is one way to ensure we achieve our purpose.
The main benefit of cleverly unlocking the secret to presentation success is getting the ball rolling on what we set ourselves to achieve. Whether that's securing funding round, delivering a final project, presenting a quarterly business review, or other goals; there is no possible way in which handling best presentation ending approaches fails to add to making a skilled presenter, improving a brand or business, or positively stirring any academic or commercial context.
The best part of mastering these skills is the ability to benefit from all of the above time and time again; for any project, idea, or need moving forward.
How to end a PowerPoint Presentation?
PowerPoint Presentations differ by dimensions. They vary not only tied to the diverse reasons people present, but they also separate themselves from one another according to: a- use, b- context, c- industry, and d- purpose.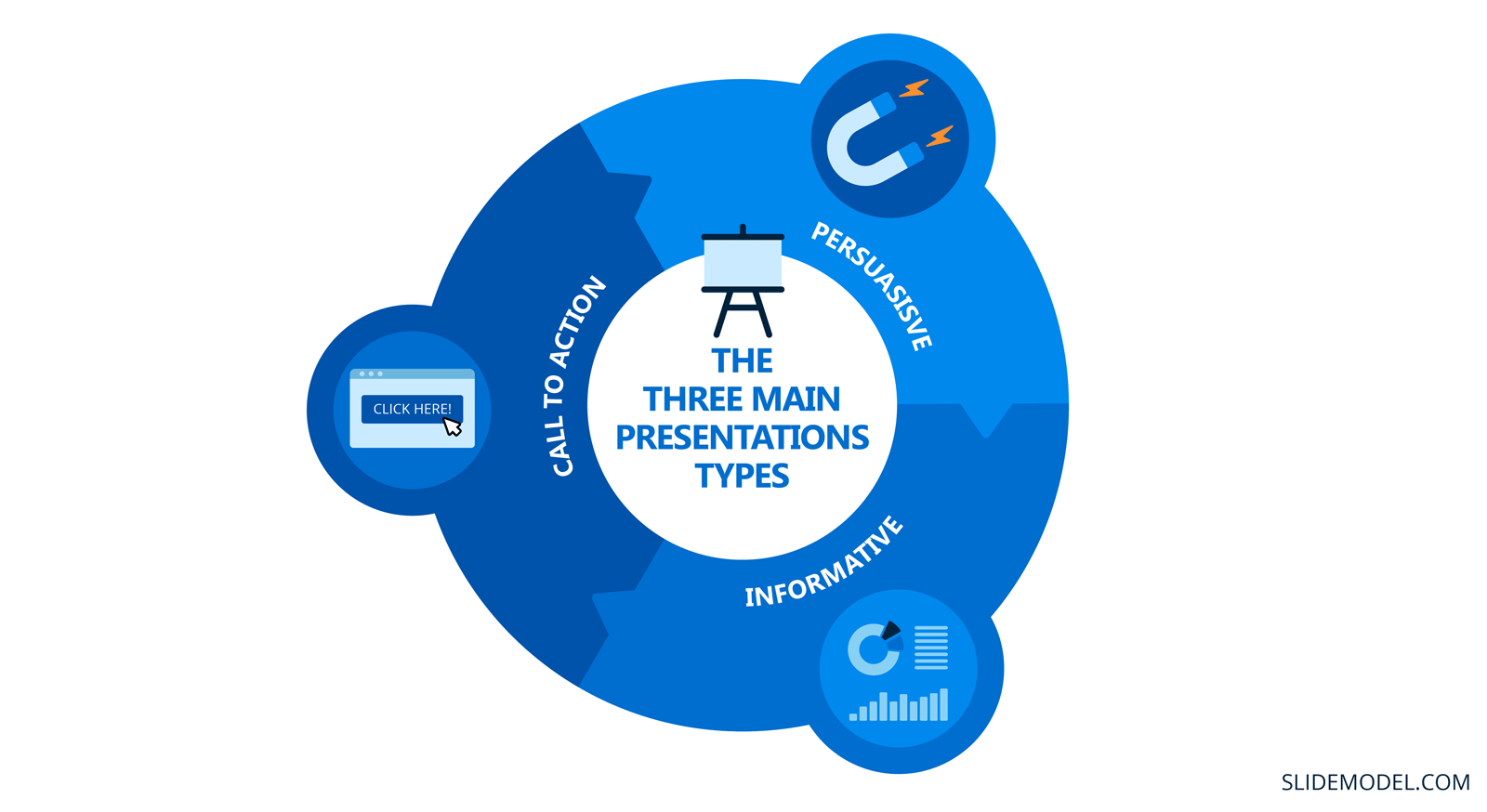 We're focusing on three different types of presentation pillars, which are:
Persuasive
Informative
Calls to action
As you can guess, the speaker's intent varies throughout these types. Yet, there's much more to each! Let's go over each type's diverse options with examples.
The power of closing in persuasive presentations
In 2009, "The new rules of persuasion," a journal article published by The Royal Society for Arts, Manufactures, and Commerce, determined that commercial persuasion was missing "the ability to think clearly about behavior goals and the mindset of starting small and growing what works." Incorporating these thoughts is still equally valid in persuasive presentations today.
What hasn't changed since, however, is this society's good reminder that "the potential to persuade is in the hands of millions." As they stated in that publication, "ordinary people sitting in dorm rooms and garages can compete against the biggest brands and the richest companies." The proven reality behind that concept can be pretty inspiring.
According to this source, "the first critical step in designing for persuasion is to select an appropriate target behavior." And, for behavior to occur, in their opinion, "three elements must converge at the same moment […]: Motivation, Ability, and Trigger." This theory signals a person is motivated through sensation, anticipation, or belonging when they can perform a particular action. This concept is at the backbone of setting the correct trigger to allow a group of people to react a certain way.
The above is of utmost importance as we seek to gear persuasive efforts. The more insight we get on the matter, the easier it is to define the precise actions that will effectively trigger a certainly required response – in any scenario.
Here are options on how to deliver a final punch in a persuasive presentation during different types of objectives:
Investment presentations
Whenever you seek funding, that need should be expressly clear during a pitch. Investors need to know what's in it for them on a given investment. Highlight what interests them, and add what the return for the investor is. Mention dividends, equity, or the return method selected, for instance. Your final ask slide should show the exact amount you're looking for during this funding stage.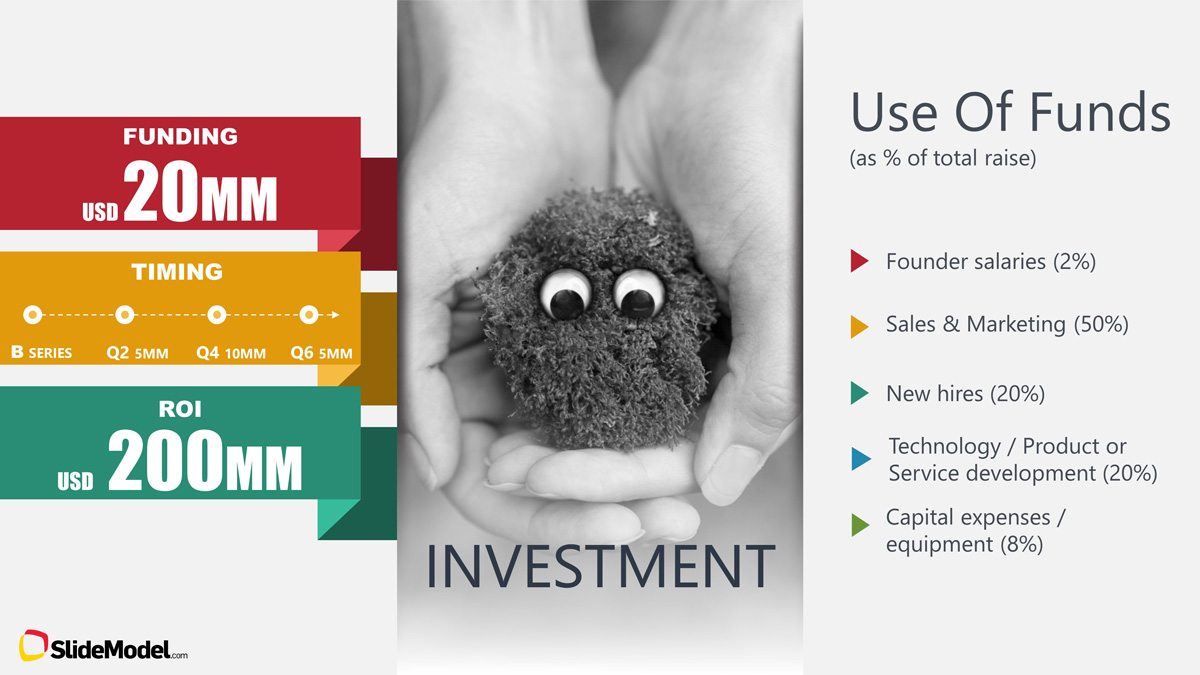 Throughout, explain what an investor's return on investment (ROI) will be. And make sure you do so according to provable calculations. Here, the goal is to display current figures and future opportunities in your speech.
You mustn't make up this data. In this setting, presenters are naturally assessed by their ability to stay within real options fully supported by proven and concise reliable information.
Focus on showing an ability to execute and accomplish expected growth. Also, be precise on how you're using any trusted funds. For that, mention where they'll be allocated and how you foresee revenue after investing the funds in your idea, product, or company.
Pitch Presentations
Pitches are also another form of persuasive presentation. Presenters are expected to wow in new ways with them, be engaging in their approach, and deliver valuable, market-impacting data. When someone delivers a pitch, it seeks a particular kind of action in return from the audience. Being fully engaging towards a presentation's end is crucial.
Make sure you give the presentation's end a Call to Action slide in sales. You're certainly looking to maximize conversion rates here. Bluntly invite your audience to purchase the product or service you're selling, and doing so is fair in this context. For example, you can add a QR code or even include an old-fashioned Contact Us button. To generate the QR code, you can use a QR code generator.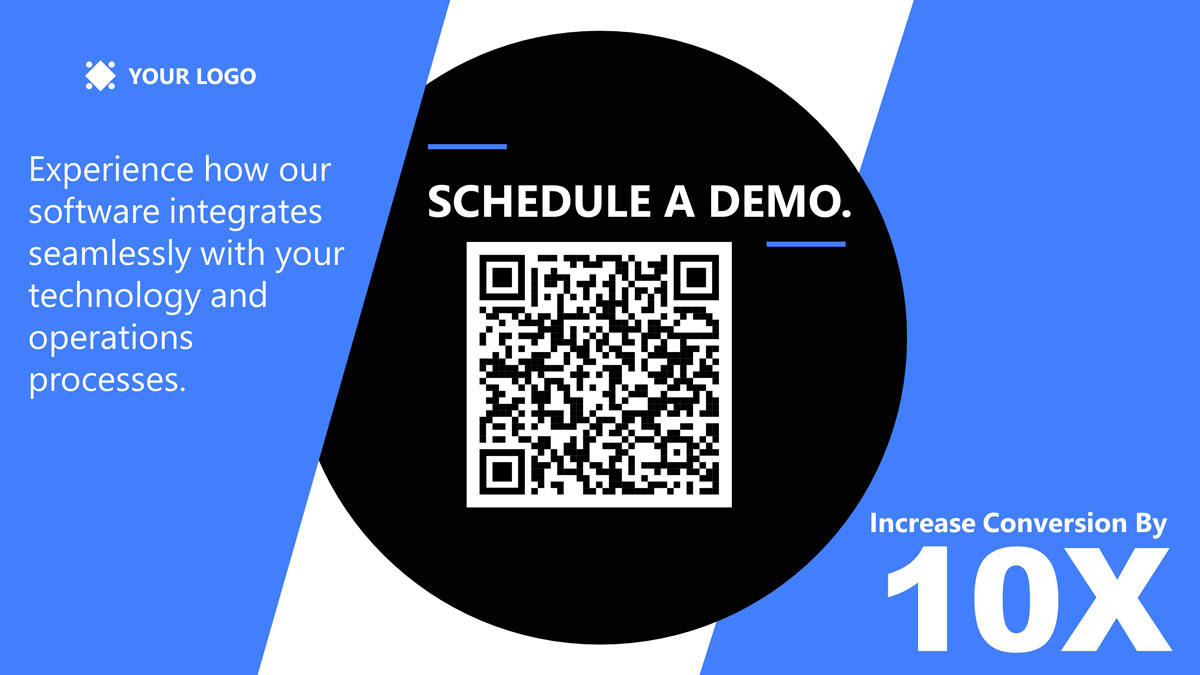 Informative presentations: the kind set out to convey
According to Sage Publishing, there are "four types of informative speeches[, which] are definition speeches, demonstration speeches, explanatory speeches, and descriptive speeches." In business, descriptive speeches are the most common. When we transport these more specifically to the art of presenting, we can think of project presentations, quarterly business reviews, and product launches. In education, the definition and demonstration speeches are the norm, we can think in lectures and research presentations respectively.
As their name suggests, these presentations are meant to inform our audiences of specific content. Or, as SAGE Flex for Public Speaking puts it in a document about these kinds of speeches, "the speaker's general goal is always to inform—or teach—the audience by offering interesting information about a topic in a way that helps the audience remember what they've heard." Remember that as much as possible, you're looking to, also in Sage's words, give out "information about a topic in a way that's easy to understand and memorable." Let's see how we manage that in the most common informative presentation scenarios mentioned above.
Project Presentations
For projects, presentations should end with an action plan. Ensure the project can keep moving forward after the presentation. The best with these conclusion slides is to define who is responsible for which tasks and the expected date of completion. Aim to do so clearly, so that there are no remaining doubts about stakeholders and duties when the presentation ends. In other words, seek commitment from the team, before stepping out of these meetings. It should be clear to your audience what's expected next of them.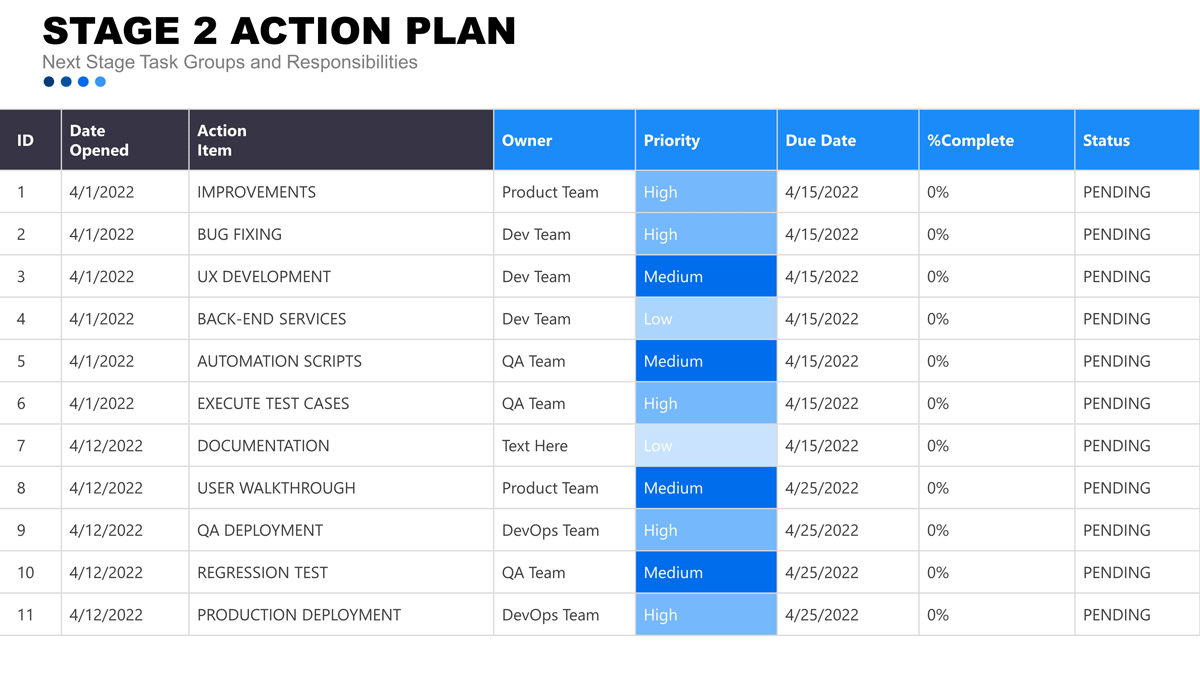 As an addition, sum up, your problem, solution, and benefits of this project as part of your final message.
Quarterly Business Review Presentations (QBR)
By the end of this presentation type, you would've naturally gone over everything that happened during a specific quarter. Therefore, make sure you end this quarterly review with clear objectives on what's to come for the following term. Be specific on what's to come.
In doing so, set figures you hope to reach. Give out numbers and be precise in this practice. Having a clear action plan to address new or continuing goals is crucial in this aspect for a recent quarter's start out of your QBR. Otherwise, we're missing out on a true QBR's purpose. According to Gainsight, "If you go into a QBR without a concrete set of goals and a pathway to achieve them, you'll only waste everyone's time. You won't improve the value of your product or services for your customer. You won't bolster your company's image in the eyes of key stakeholders and decision-makers. You won't better understand your client's business objectives." As they put it, "Lock-in solid goals for the next quarter (or until your next QBR)" and secure your way forward as the last step in presenting these kinds of data. Visit our guide on How to Write an Effective Quarterly Business Review for further tips on this type of presentation.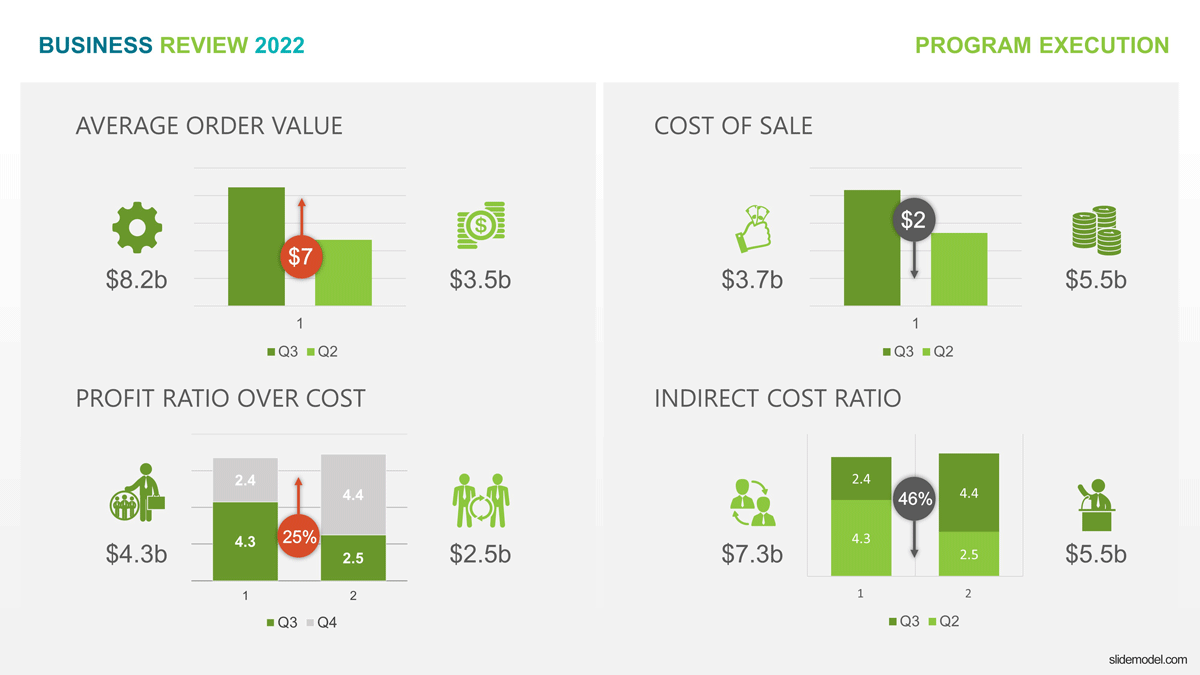 Research presentations
Your research has come this far! It's time to close it off with an executive summary.
Include the hypothesis, thesis, and conclusion towards the presentation's end.
How do you get the audience to recall the main points of all this work? Let this guiding question answer what to insert in your final slide, but seek to reinforce your main findings, key concepts, or valuable insight as much as possible. Support your statements where necessary.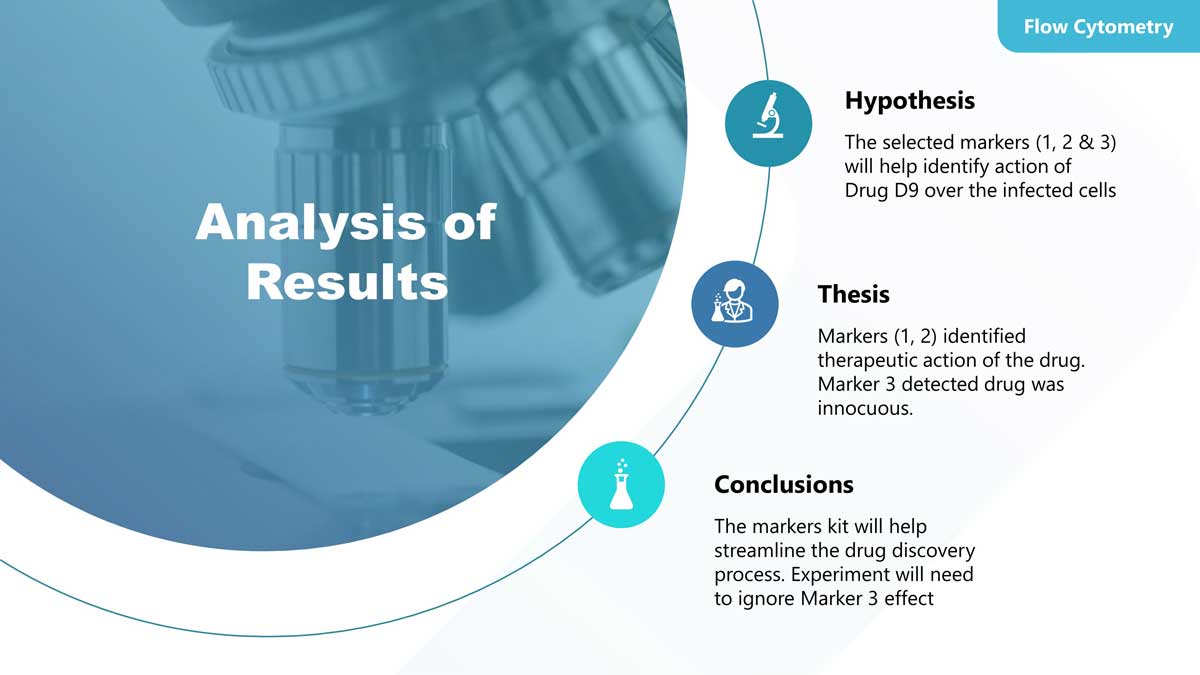 Most commonly, researchers end with credits to the collaborating teams. Consider your main messages for the audience to take home. And tie those with the hypothesis as much as possible.
Product Launch Presentation
Quite simply, please take out the product launch's roadmap and make it visible for your presentation's end in this case.
It's ideal for product launch presentations to stir conversations that get a product moving. Please don't stick to showcasing the product, but build a narrative around it.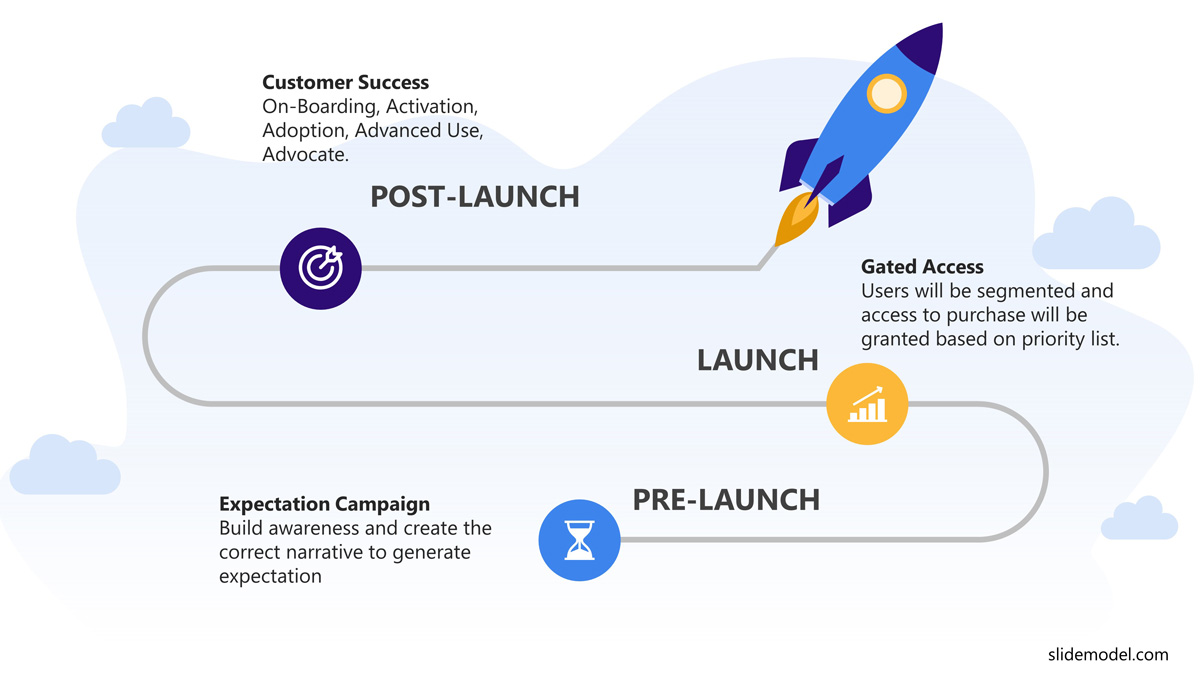 Steve Jobs' example at the bottom might help guide you with ideas on how to go around this. A key factor is how Apple presentations were based on a precise mix of cutting-edge, revolutionary means of working with technology advancements and simple human touch.
Elon Musk's principles are similar. People's ambitions and dreams are a natural part of that final invitation for consumers or viewers to take action. What will get your audience talking? Seek to make them react.
Lecture for specific classes / educational presentation
When it comes to academic settings, it's helpful to summarize key points of a presentation while leaving room for questions and answers.
If you're facing a periodic encounter in a class environment, let students know what's coming for the next term. For instance, you could title that section "What's coming next class," or be creative about how you call for your student body's attention every time you go over pending items.
If you need to leave homework, list what tasks need to be completed by the audience for the next class.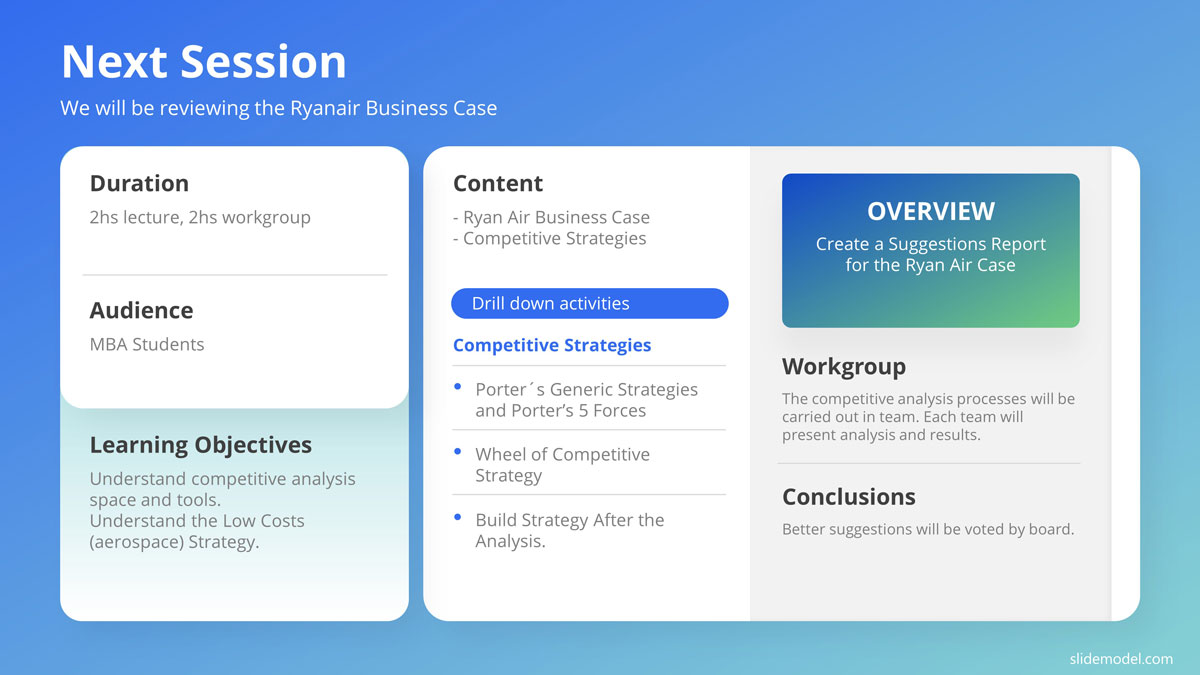 Another option is to jot down the main learnings from this session or inspire students to come back for the following class with a list of exciting topics. There's more room for play in this setting than in the others we've described this far.
Call to Action Presentations: trigger actions or kickoff initiatives
Harvard Business Review (HBR) concisely describes the need at the end of a call to action presentation. HBR's direct piece of advice is that you should "use the last few moments of your presentation to clarify what action [an audience] can take to show their support." And what's key to HBR is that you "Also mention your timeframe" as, for them, "a deadline can help to urge [the audience] into action." Having a clear view of specific timelines is always fruitful for a better grasp of action items.
In her book Resonate, Nancy Duarte explains that "No matter how engaging your presentation may be, no audience will act unless you describe a reward that makes it worthwhile. You must clearly articulate the ultimate gain for the audience […] If your call to action asks them to sacrifice their time, money, or ideals, you must be very clear about the payoff."
Business plan presentations
Here, we need to speak of two different presentation types, one is a traditional approach, and the second is what we call a lean-approach.
For the traditional business plan presentation, display each internal area call to action. Think of Marketing, Operations, HR, and even budgets as you do so. Your PowerPoint end slide should include the rewards for each of the areas. For example, which will benefit each area when achieving the targets, or how will the company reward its employees when attaining specific goals. Communicating the reward will help each of the responsible entities to trigger action.
On the other hand, for your lean business plan, consider a business model canvas to bring your presentation to an end.
Job interview presentations
You can undoubtedly feel tons of pressure asking for a specific position. For a great chance of getting that new job, consider closing your case with a 30 60 90 day plan as a particular hiring date. The employer will see its reward in each of the 30 days milestones.
Also, show off what you'll bring to the role and how you'll benefit the company in that period, specifically. Again, to a certain extent, we're seeking to impress by being offered a position. Your differentiator can help as a wrap-up statement in this case.
Business Model Presentation
The pivot business model fits perfectly here for a presentation's grand finale. The reward is simple; the business validated a hypothesis, and a new approach has been defined.
Though the setting can be stressful around business model presentations, you can see this as simply letting executives know what the following line of steps will need to be for the business model to be scalable and viable. Take some tension off this purpose by focusing on actions needed moving forward.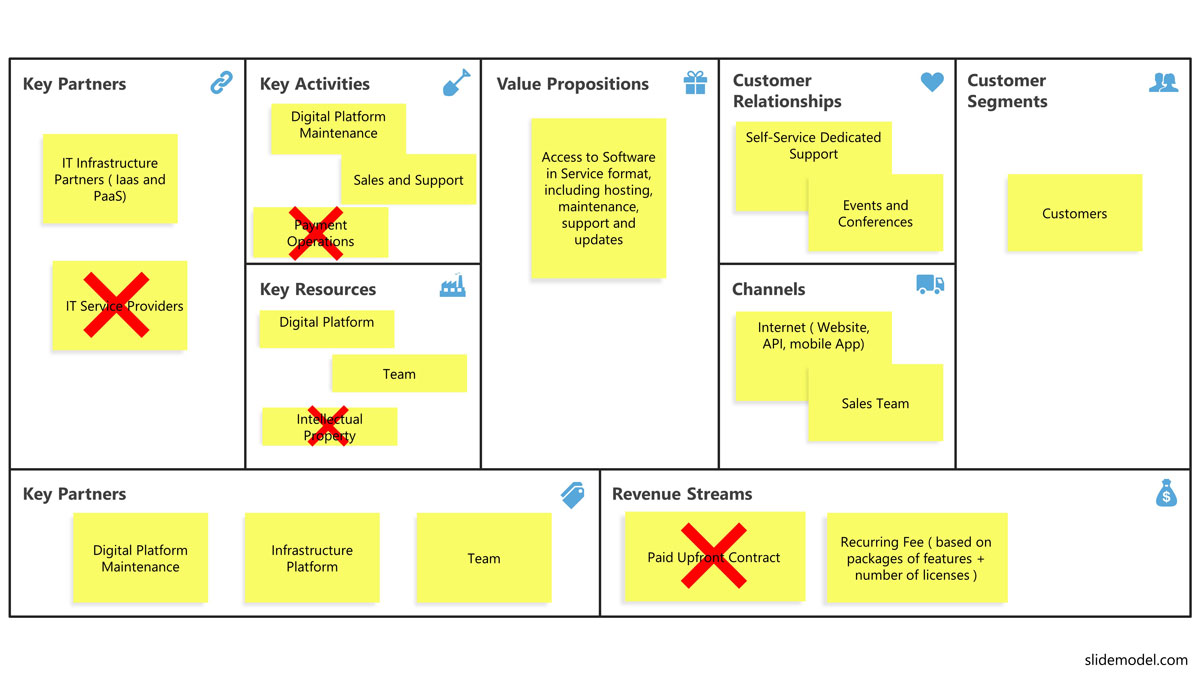 Your call to action will center around a clear business model canvas pivot here.
A final word on CTA presentations
We need to work hard at ending presentations with clear and concise calls to action (CTA) and dare be creative as we're doing so! Suppose you can manage to give out a specific CTA in a way that's imaginative, appealing, and even innovative. In that case, you'll be showing off priceless and unique creative skills that get people talking for years!
Think of Bill Gates' releasing mosquitoes in a TED Talk on malaria, for example. He went that far to get his CTA across. Maybe that's a bit too bold, but there's also no limit!
Real-life examples on how to end a presentation
Now that we can rely on a broader understanding of how to conclude a presentation successfully, we'll top this summary off with real-life examples of great endings to famous speakers' presentations. These people have done a stellar job at ending their presentations in every case.
We're also going back to our three main pillars to focus on a practical example for each. You'll find an excellent example for an informative speech, a persuasive pitch, and a successful investor pitch deck. We're also expanding on the last item for a guiding idea on ending a pitch directly from Reid Hoffman.
Informational Presentation: A product launch of a phone reinvention
The first is what's been titled "the best product launch ever." We're going back to iconic Steve Jobs' iPhone launch dated more than a decade ago. You can see how to end a presentation with a quote in this example effectively. The quote resonates with the whole presentation purpose, which was not "selling" the iPhone as a "hardware phone" but as the "hardware" platform for "great software." Closing with a quote from a famous personality that summarizes the idea was a clever move.
Little words are needed to introduce Steve Jobs as a great speaker who effectively moved the business forward every time he went up on a stage to present a new product. No one has ever been so revolutionary with a calm business spirit that has changed the world!
Persuasive Presentation: The best pitch deck ever
We're giving you the perfect example of a great pitch deck for a persuasive kind of presentation.
Here's TechCrunch's gallery on Uber's first pitch deck.
As you can see, the last slide doesn't just report the status to date on their services; it also accounts for the following steps moving forward with a precise date scheduled.
Check the deck out for a clearer idea of wrapping up a persuasive business presentation.
Call to Action Presentation: LinkedIn's series B pitch deck by Reid Hoffman
As mentioned before, here's an expanded final sendoff! Reid Hoffman is an established entrepreneur. As a venture capitalist and author, he's earned quite a remarkable record in his career, acting as co-founder and executive chairman of LinkedIn.
We're highlighting LinkedIn's series B pitch deck to Greylock Partners mainly because these slides managed to raise a $10 M funding round. Yet, moreover, we're doing so because this deck is known to be well-rounded and overall highly successful.
LinkedIn may be famous now for what it does, but back in 2004, when this deck made a difference, the company wasn't a leader in a market with lots of attention. As Reid highlights on his website, they had no substantial organic growth or revenue. Yet, they still managed to raise a considerable amount.
In Reid's words for his last slide, "The reason we reused this slide from the beginning of the presentation was to indicate the end of the presentation while returning to the high line of conceptualizing the business and reminding investors of the value proposition." In his vision, "You should end on a slide that you want people to be paying attention to," which he has tied with the recommendation that you "close with your investment thesis," as well. A final note from him on this last slide of LinkedIn's winning pitch is that "the end is when you should return to the most fundamental topic to discuss with your investors." Quite a wrap-up from a stellar VC! Follow the linked site above to read more on the rest of his ending slides if you haven't ever done so already.
Succeeding with an effective presentation's ending
The suggestions above are practical and proven ways to end a presentation effectively. Yet, remember, the real secret is knowing your audience so well you'll learn how to grasp their attention for your production in the first place.
Focus on the bigger picture and add content to your conclusion slides that's cohesive to your entire presentation. And then aim to make a lasting final impression that will secure what you need. There is a myriad of ways to achieve that and seek the perfect-suiting one.
Also, be bold if the area calls for it. As you see above, there is no shame, but an actual need in stating the precise funding amount you need to make it through a specific stage of funding. Exercise whatever tools you have at your disposal to get the required attention.
Also, being sure about whatever decision you make will only make this an easier road to travel. If your head is transparent about what's needed, you'll be more confident to make a convincing case that points your audience in the right direction.
Check out our step-by-step guide on how to make a presentation.