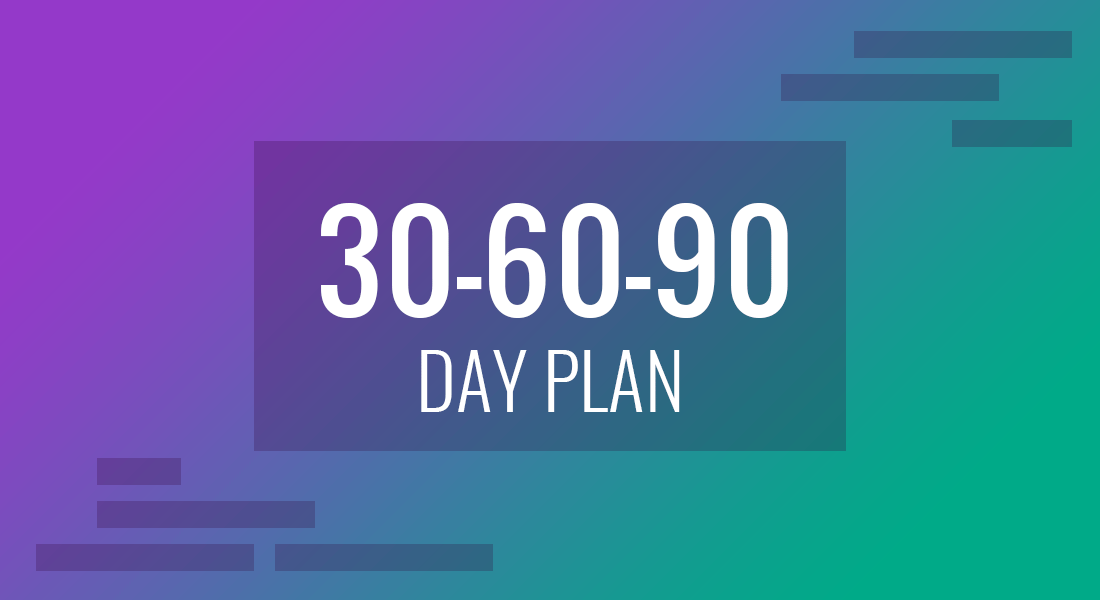 Some job interviews entail making or presenting a plan to show what can the new recruit offer the organization once he/she is hired. Depending upon the job title, there are various types of plans that one might require making such as perhaps a communications plan or project plan. However, the most common plan one might require making is a 30-60-90 day plan.
What is a 30 60 90 Plan?
Some employers ask candidates to present a 30-60-90 day plan. This helps employers understand the candidate's skills, ability to create and manage measurable goals, foresight and willingness to be accountable for his/her work. The plan includes a roadmap to how the candidate aims to learn, add value and play a transformational role within the organization.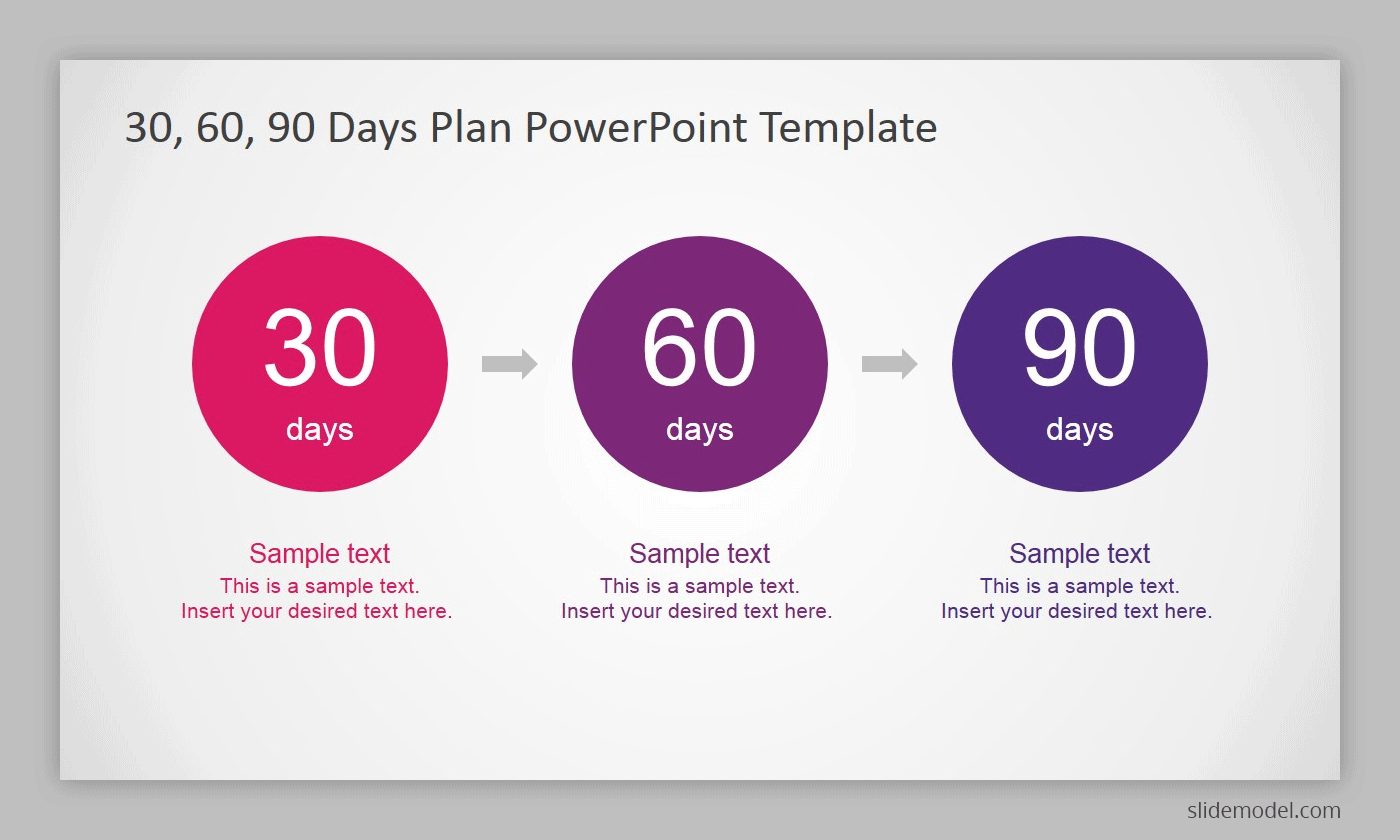 Source: 30-60-90 Day Plan PowerPoint template
Organizations usually expect candidates to not only put in an effort to understand and evaluate the organization, projects and working environment; but to also add value, optimize procedures and bring positive change.
How to Create a 30 60 90 Day Plan for a Job Interview?
If you have a job interview where you might require using a PowerPoint presentation to reveal your 30-60-90 day plan, you should focus on the key elements of the plan.
Key Elements of a Job Interview 30-60-90 Day Plan
The key elements of a 30-60-90 day plan for a job interview entail understanding processes, people, procedures, product and competition, evaluate processes and provide an action plan for optimization and transformation within the organization.
30 Days – Learning Phase
The first 30 days entail the learning phase, where you must understand the processes, procedures, your team, product and the competition.
Process, People and Procedure
The first 30 days is to get acquainted with your new job. The objective is to understand the team, processes and procedures. Understanding how things work within the organization would be key to moving things forward. Many project managers can become disconnected with company processes and their own team, leading to bad decisions and subordinate resentment. During your job interview don't try to show that you know everything, since everyone needs to learn about the new company before they can take meaningful steps.
Product and Competition
During the first 30 days you will also require understanding the product or service, its key features, the clientele and how competitors might be a threat to it.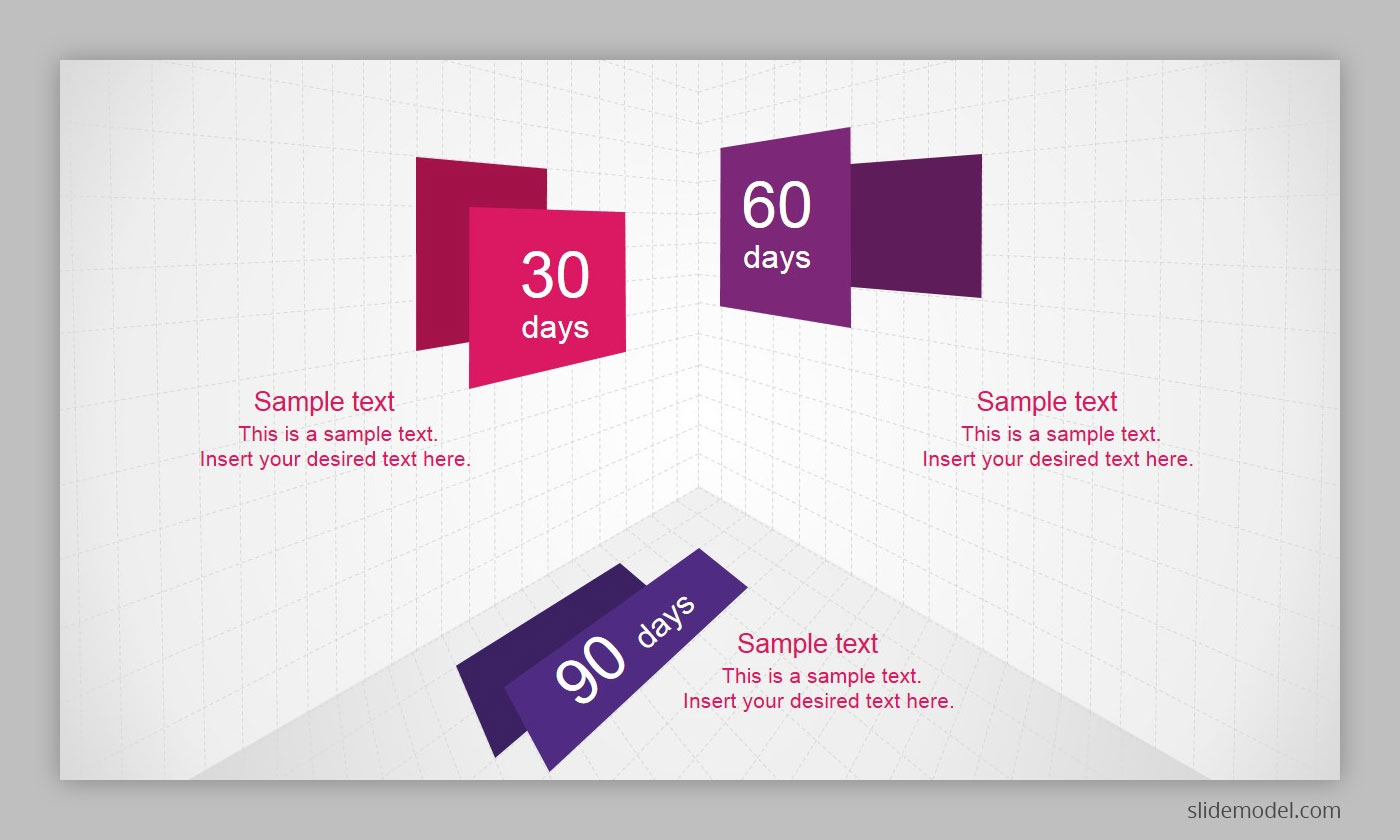 Source: 30-60-90 Day Plan PowerPoint template
60 Days – Evaluation Phase
As evident from the aforementioned, the first 30 days, therefore, are all about learning the basics, followed by the next 30 days where you would move forward to the evaluation phase.
Evaluate Current Processes
The next 30 days (60 days) will include assessing current processes to understand how things work and to identify room for improvement. You might want to create a SWOT analysis to determine strengths, weaknesses, opportunities and threats. This will also help you allocate resources in the best possible manner to optimize your impact.
Evaluate Changes
Once you have evaluated processes, you now must try to evaluate grounds for bringing meaningful change. For example, you can identify cost-saving initiatives, methods for reducing waste, improve processes, lower per unit cost, etc. During this time, you would also be acquainted with the team (during the first 30 days) to determine what kind of change might be rational and what changes might lead to employee resentment and a possible backlash.
90 Days – Optimize
The next 30 days (90 days) would conclude 3 months, which is also usually the probation period for employees. This is the time when you need to deliver, or you might find yourself looking for a new job. If you set out with SMART goals, you should be fine during this time.
Initiate Action Plan
Based on your specific, measurable, attainable, realistic and time bound (SMART) goals, you will require initiating your action plan. This will be a detailed plan with timelines and a scorecard to measure the success of your strategies.
Implement New Strategies and Procedures
During the last 30 days of the 30-60-90 day plan, you should start rolling out your new strategies and procedures. For example, a new process might be rolled out during this time or initiatives to cut costs and improve efficiency might be initiated.
Practical Example: How to Create a 30-60-90 Day Presentation for a Job Interview?
Now that we have discussed the basics of a 30-60-90 day plan, let's take a look at how to create a presentation to show your potential employer how you intend to add value and improve the processes, procedures and project delivery.
Start with an Introduction
There is no point jumping right into the topic. You should start with a brief introduction of the topic at hand and explain what the plan is about. This is the section of the presentation which starts with a brief explanation of the topic.
The First 30 Days – Learning Goals
You should incorporate your goals within your presentation, starting with the learning phase or the first 30 days. You should briefly explain how you intend to learn about the processes, procedures, people and corporate culture, product or service and the competition to evaluate room for improvement. If you don't have a lot of information regarding the organization, you can create sample goals based on hypothetical examples.
Many people can end up joining a job and thinking they have made a mistake. You need to have absolute clarity that the new job is something you are interested in, are looking to take the initiative to move forward with and can add value to the organization. Speak with clarity regarding your goals and if necessary, use hypothetical examples to give an example of what you might bring to the table.
You can also discuss strategies used by competitor organizations and even present a SWOT analysis in your presentation. Your information during this time might be limited regarding the organization, since you are unlikely to know specifics. But that's alright, since employers expect the candidate to put in an effort in their plan and not know everything regarding the organization at the time of the job interview.
The First 60 Days – Initiative Goals
Based on the learning phase (first 30 days), you must set goals for taking initiatives. As mentioned earlier, this is the evaluation phase where you would look for bringing changes to processes, procedures and perhaps team orientation to set out an outline for what might be rationally achievable. You can set SMART goals with indicators in the form of a scorecard for this purpose.
The First 90 Days – Transformation Goals
This part of your presentation will focus on the change you intend to bring and the way you ensure it. You can explain how you intend to integrate your team with your organizational mission, vision, core values and bring improvement to existing processes, procedures and methods. You can also refer to a SWOT analysis to explain how your methods might be the right way forward for the organization. For example, in case the company is facing declining sales, you can incorporate a plan for improving market share, competing more effectively against competitors which pose a threat to the business and how you intend to capitalize on available opportunities (e.g. brand goodwill or making better use of existing marketing resources).
Timeline & Scorecard
Make sure that you incorporate a timeline and scorecard in your 30-60-90-day presentation. This will allow your potential employer to assess your capability of organizing your goals and get an overview of what your plan might look like at a glance. The scorecard will enable you to show how you intend to measure success and achieve your goals. This will help give a positive impression regarding your capabilities and clear out any possible confusion that your audience might have regarding your plan.
Alternatives to 30-60-90 Day Plans
There are a few alternatives to the 30-60-90 day plan. Let's briefly take a look at a few 30-60-90 day alternatives.
Mintzberg's 5Ps
Mintzberg 5Ps have been around since 1987. These 5Ps were the brainchild of Henry Mintzberg and include; Plan, Ploy, Pattern, Position and Perspective. These 5Ps serve as a roadmap for making a business strategy to make the most out of an organization's strengths.
ADDIE Model
ADDIE stands for Analysis, Design, Development, Implementation, and Evaluation. Being an Instructional Systems Design framework, the ADDIE model is used by instructional designers and training developers for developing courses.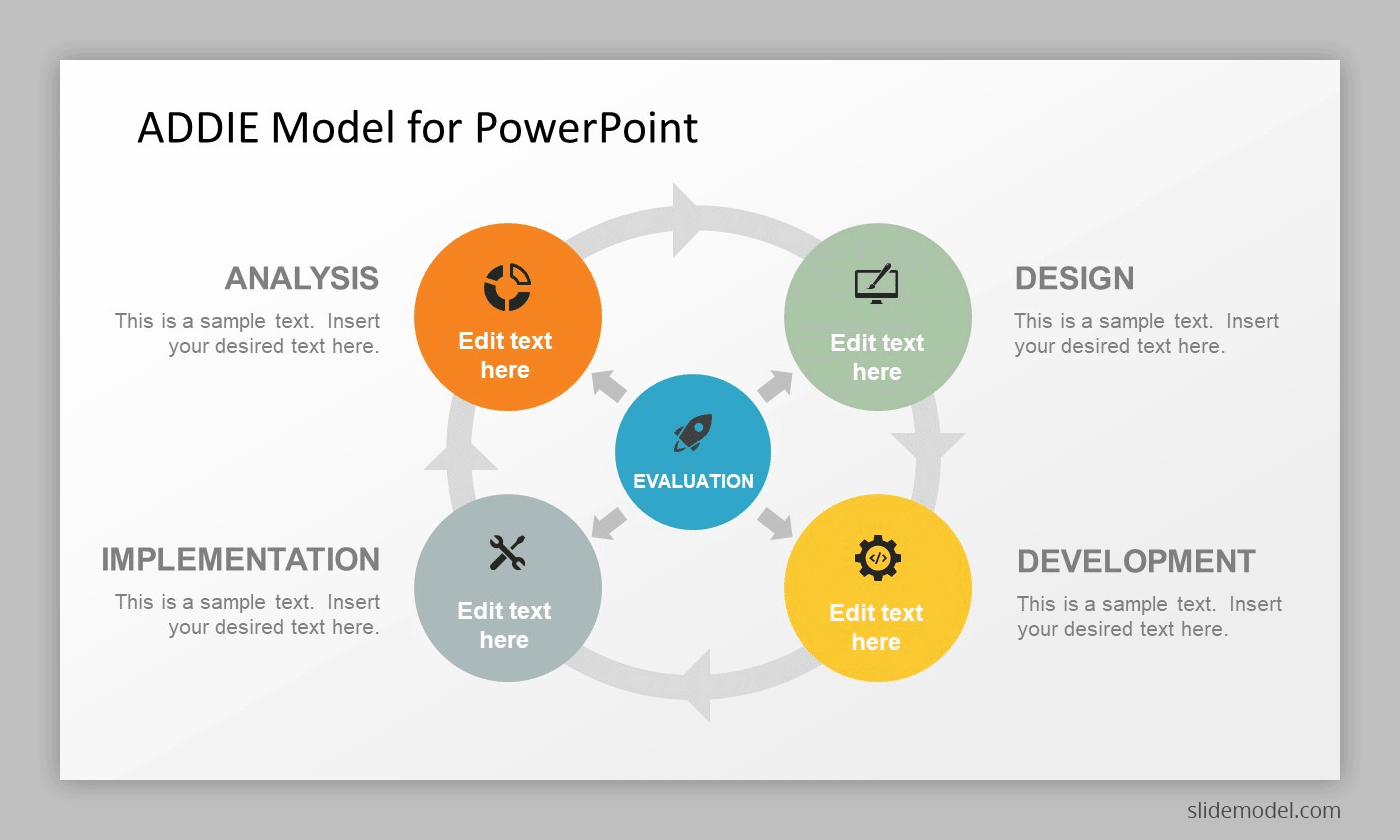 Source: ADDIE Model PowerPoint template by SlideModel
GROW Model
The GROW Model is used by executive coaches. The model is meant for setting goals and problem solving. The model can be understood simply by its name, which stands for Goal, Reality, Obstacles, Options and Way Forward.
Final Words
Even if you are not asked to bring a 30-60-90 day plan, it might not be a bad idea to bring along one to improve your chances of scoring a job. A 30-60-90 day plan is essentially meant to assess the capabilities of a potential employee and what change he/she might bring to an organization. When making such a plan for a job interview, you should gather as much information regarding the organization as possible. You should also look into competitors, weaknesses in procedures, financial outlook of the organization, etc. This information is usually available on the organization's website, via news articles and from companies dealing with trends related to the industry.
Your 30-60-90 day plan needs to be rational, with SMART goals and measurable success. You should not jump to conclusions but rather focus on rational approaches which might be implemented should you get the job. You should also account for aspects like a rigid corporate culture, possible non-cooperation of coworkers and procedures which might make it hard to implement your goals. In such a case you can mention pre-conditions for your 30-60-90 day plan to be successful. This is because many such plans can fail due to the bad working environment prevalent in particularly large organizations, where petty politics and slow procedures can be the bane of newly hired employees looking to implement strategies which might otherwise look rational.