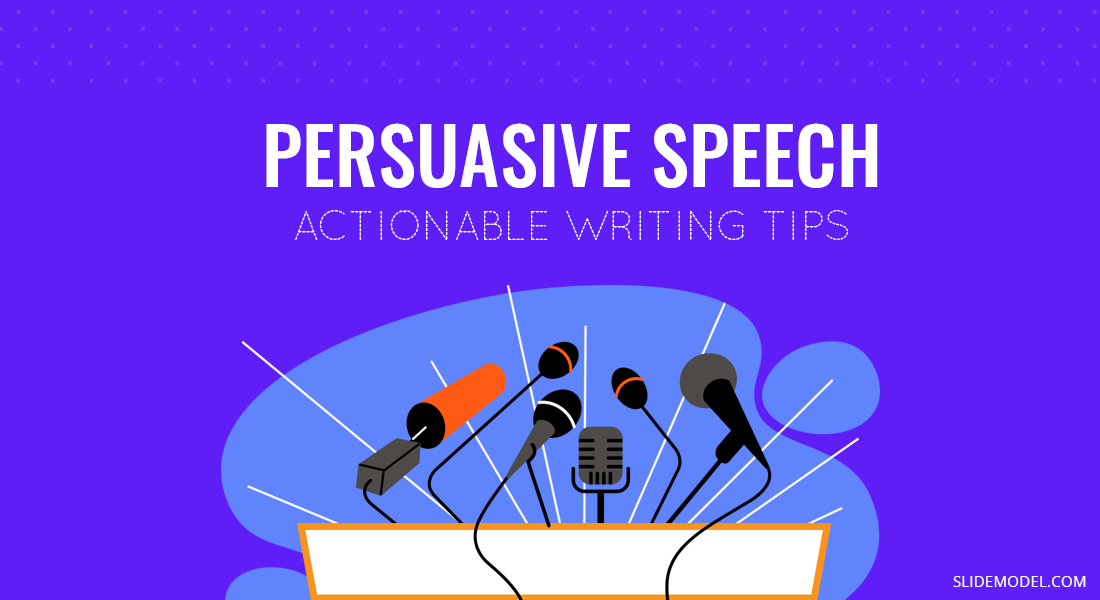 Business professionals, students, and others can all benefit from learning the principles of persuasive speech. After all, the art of persuasion can be applied to any area of life where getting people to agree with you is important. So without much further ado, let's get into the basics of persuasive speaking, persuasive speech writing, and lastly persuasive speech topics!
What is Persuasive Speaking?
A persuasive speech is a specific type of speech where the presenter attempts to convince the audience of their point of view. The ideal goal of a persuasive speech is to make the audience change their mind on the issue, or at least, become more accepting of their point of view.
You might give an informal persuasive speech when trying to convince your friends to agree to the movie you want to watch. If you are chosen to pitch a new product idea to stakeholders at work, you are essentially being asked to give a persuasive speech.
What are The 3 Types of Persuasive Speeches?
All the persuasive speech ideas can be organized into one of the next three categories:
Factual Persuasive Speech
When someone gives a factual persuasive speech, their goal is to convince the audience that something is true or false. In some cases that simply requires gathering evidence and presenting them in the form of arguments/counter-arguments. This approach works for all persuasive topics where true/false is a binary consideration.
You can also give a factual speech on a topic that isn't as cut and dried. For example, you could make the argument that assimilation is the best way for cultures to mix even though there is no single piece of evidence proving that without a doubt.
In essence, you can select any topic and frame it into the factual persuasive speech as long as you have strong oratory and presentation skills.
Value Persuasive Speech
In this case, you are trying to convince your audience that something is good or bad. You want your audience to understand your values on a topic, and then adopt those values as their own. For example, a speech written to convince people that it's immoral to buy single-use plastics is a value persuasive speech.
Policy Persuasive Speech
In a policy persuasive speech, you describe a problem, then work to persuade the audience to agree with your proposed solutions. These speeches can be given to simply change the audiences perspective or convince them to take a specific action.
Policy persuasive speeches can be further spiced up with some nuggets of Nudge Theory to reinforce the idea you are trying to deliver.
How to Write a Persuasive Speech: The Essential Steps
Before we dive deep into the writing, let's quickly recap the anatomy of a persuasive speech:
Opening: start strong to capture the audiences attention and explain your agenda.
Key arguments: present your key talking points and lay down the facts.
Counterpoints: address the common objections.
Closure: recap your key message once again and suggest further action.
Now, this isn't a "set-in-stone" structure, but rather a base you can use when drafting your persuasive speech outline.
Below we are listing some extra tips for each section, along with persuasive speech examples.
How to Start a Persuasive Speech: Opening Tips and Examples
Every good speech and presentation need a strong opening slide. After all, how can you persuade anyone if they do not feel compelled to listen to you in the first place? Right, you can't and that's exactly why you should spend quite a lot of time working and refining on your speech opening.
Here are some techniques you can try:
Start with a curious personal story/anecdote
Sharing a surprising statistic
Next, you must convince the audience that they should listen to you. You can do this by explaining what you have in common.
For example, Everyone here is a concerned parent. I am also a mother of three who cares deeply about the lack of interest in STEM among girls. This is also where you might share your credentials. That's why I'm here to speak to you as a professional with 30 years of experience as an educator.
Follow your intro statement with a quick explanation of your goal. Be direct here. In one or two sentences state your purpose, and what you want your audience to believe or do.
"I believe that women in STEM can close the looming tech skills gap and generate an extra $12 trillion in global GDP. That's why I'm asking you to stop encouraging girls to learn dancing and encourage them to code instead."
Finally, transition to the main part of your speech with a statement that lets the audience know what is coming. For example, Today, I am going to provide you with the evidence that some parental practices are alienating girls from STEM subjects.
Liked this primer? Great! Here are several more techniques you can use to frame your ideas for persuasive speeches.
What are The 5 Persuasive Techniques?
After the opening, it's time to present your arguments and counter any arguments that could conflict with your point. The following five persuasive techniques tend to work like a charm for that purpose:
Repetition
Social proof
Comparisons
Agitate and solve
Storytelling
More controversial persuasive speech topics, in particular, will require you to artfully work through various objections and mix different persuasion methods. Now let's take a closer look at each one.
1. Repetition
There's a reason that advertisements repeat the same thing over and over again. Research proves that people are more likely to believe something if they hear it multiple times. In addition to this, repetition simply helps people to remember key points that you want to stick with them.
When it comes to persuasive speeches, you should always repeat your most important points at the beginning and end of your speech.
Helpful template: 6 Steps Hexagonal Segmented Diagram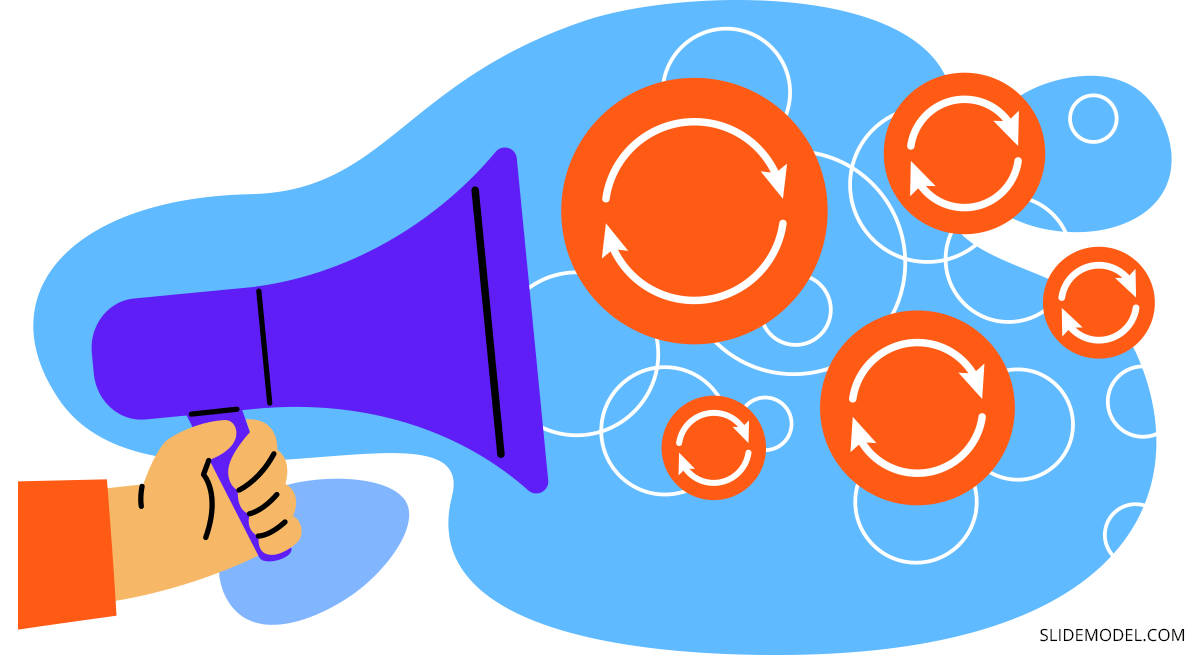 2. Social Proof
People are influenced by the actions and beliefs of others, whether they admit it or not. Use this during your speech. For example, you can share testimonials from people who agree with your POV or leverage the voice of customer data, expressing the same concerns as you do.
NB: When lining up social proof for your presentation, make sure that this data comes from a peer group that your audience relates to.
Helpful template: Voice of customer PowerPoint template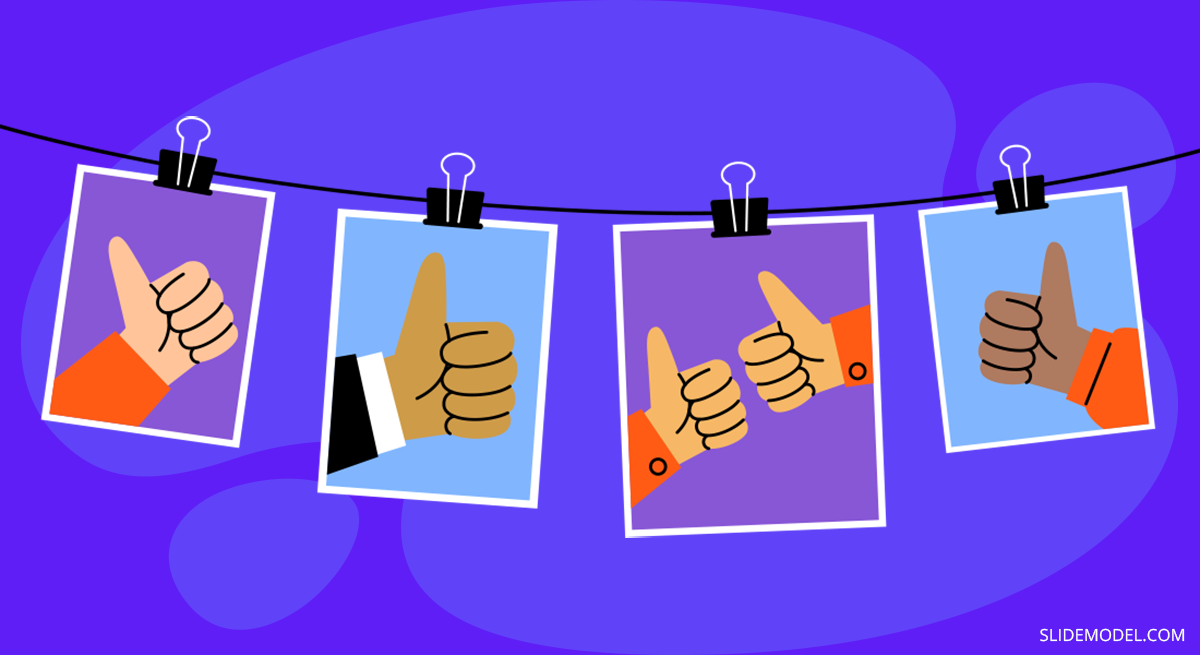 3. Comparisons
The point of using comparisons is to present a contrast of the idea/element that you support with the one that you do not. Then you'll need to prove that yours is the best choice. For example, you might compare the features of two software applications to persuade that your team needs option A, not B.
Using comparisons also gives your speech more credibility since it appears that you are giving the opposing position a fair shake, even when you are only showcasing it to score points against it.
Helpful template: Two option comparison template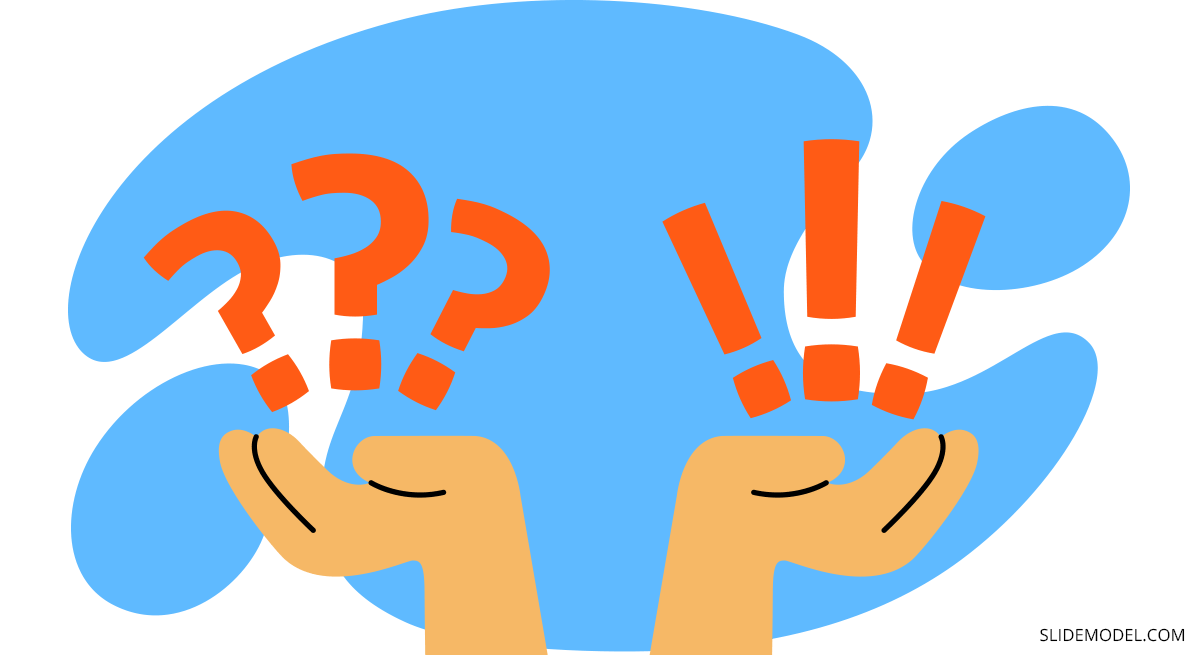 4. Agitate and Solve
When you take the "agitate and solve" approach, you first make your audience vary and somewhat dissatisfied with a certain issue (agitate). Next, you present your idea as a solution (solve). The idea is to hit a nerve and get the audience to relate. Then, when you present your solution, it's that much more persuasive to them. It also makes the entire scenario more emotionally compelling to them.
Here's an example of this approach in action:
Nearly every one of us has been ripped off by an unscrupulous mechanic. Nobody deserves to be taken advantage of. That's why every person needs to vote in favor of this consumer protection ballot measure.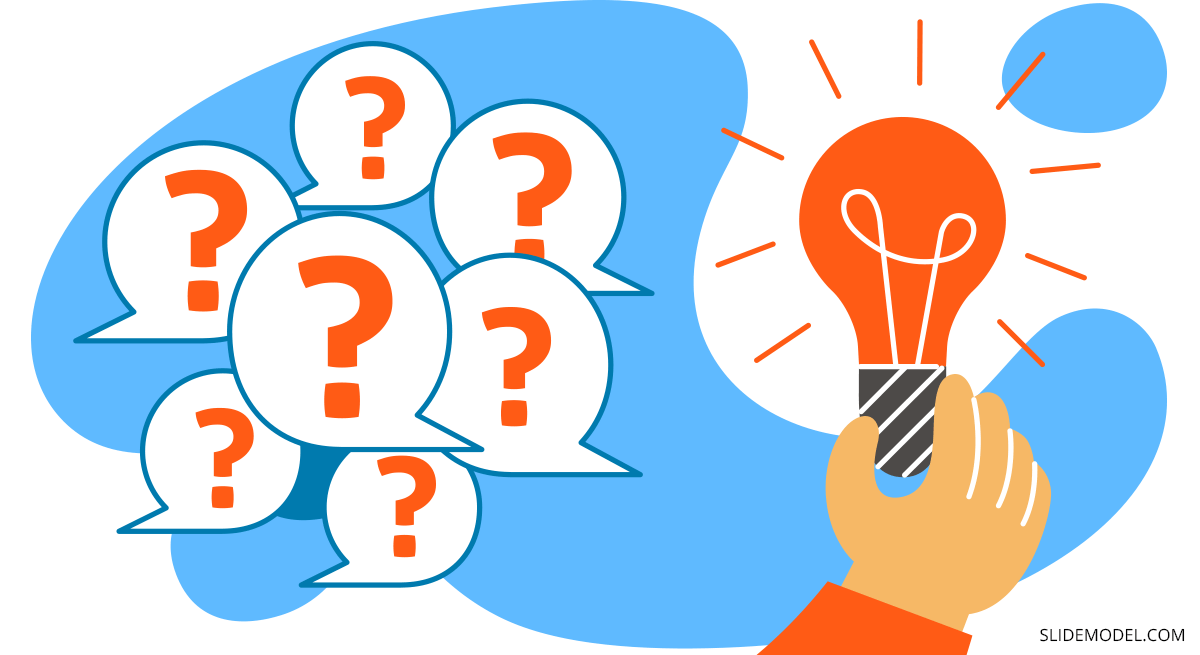 5. Storytelling
Many people opt to use a rhetorical triangle when building their persuasive arguments. These days storytelling may be more effective. Here's why:
Stories create an emotional connection and relatability. Imagine listening to a speech where the speaker lists a variety of statistics about the harm that plastics cause to marine life. Now, imagine listening to the true story of a marine biologist who discovers a dolphin that has been badly injured by plastic trash it has encountered in its habitat.
Clearly, the second one, if told correctly, will cast a much deeper impact on the audience.
Helpful template: Storytelling theme template.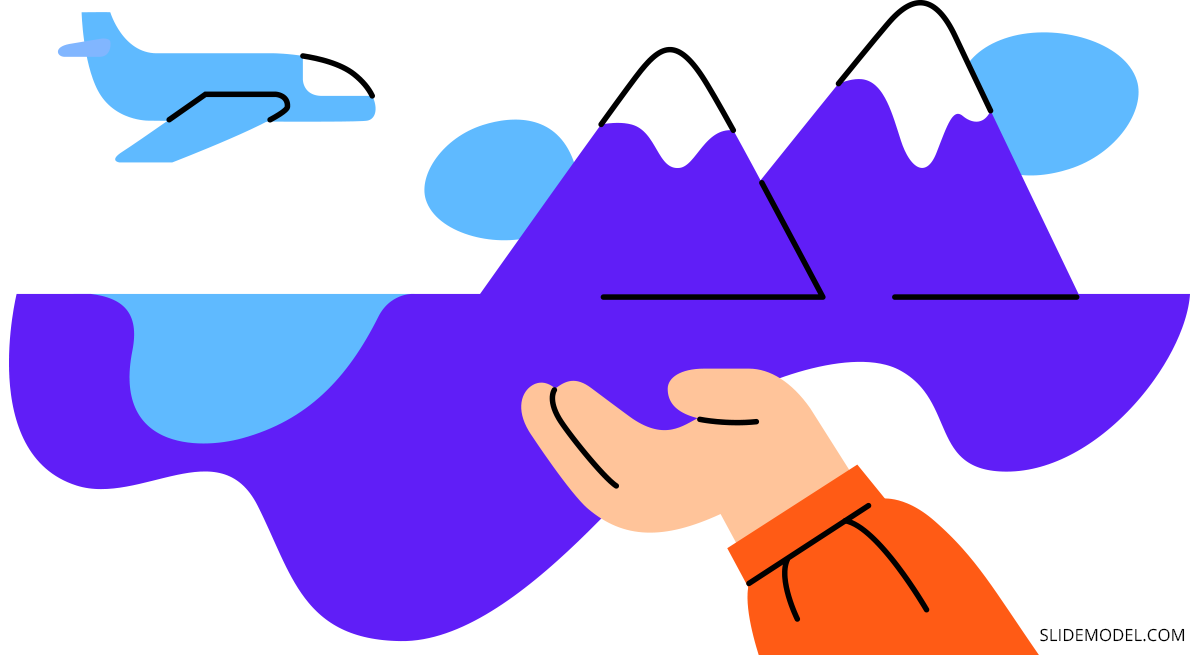 Bonus: Address Counter Arguments
It's up to you to decide if you want to address any counterpoints to your arguments, and where you will do that in your speech. Some speakers choose to include an obvious counter-argument in the introduction, so they can effectively dismiss it before they begin.
Others address these points when they are relevant to the current argument they are making. Finally, you can address a counterpoint in its paragraph just above your concluding paragraph.
Here are some actionable techniques for addressing counter-arguments:
Provide a direct refutation of the point. Prove that it simply isn't an issue.
Concede that it's an issue, but show that it isn't significant enough to derail your overall argument.
Acknowledge the plausibility of the counterpoint, but argue yours as the better option.
Recommended Reading: Building a Persuasive Argument with the Rhetorical Triangle Concept
How to Close Your Persuasive Speech: Quick Examples
How you present your closing depends on your goal. If you want your audience to take a specific action, show them how to do it, and make it as easy as possible. Try this:
When you pay your trash bill next month, you'll be asked if you want the city of Gravesdale to begin a recycling program. If you value water quality and marine life, please say yes.
If your goal is to simply influence a change in opinion, you might say: Both facts and experience prove that we can no longer afford to send plastics to the landfill. Please consider this the next time you go shopping.
Alright, now you may be wondering: what are the best persuasive speech topics? We've got you covered here too!
A List of Persuasive Speech Topics
Here is a list of persuasive speech topic examples, with writing tips.
Easy Persuasive Speech Topics
The easiest topic to present on is the one that you are truly passionate and knowledgeable about. Also, easy persuasive speech topics usually don't tackle any controversial issues with a lot of contrarian opinions, especially on complex matters regarding politics, religion, human rights, and so on. Instead, you choose an angle that may already resonate with a good fraction of your audience and require one or two good counterarguments, rather than using a host of persuasive techniques.
For example: Should all internships be paid?
Most people will instinctively say yes, especially if your audience consists of college graduates and former interns.
Interesting Persuasive Speech Topics
What makes an interesting speech? Topical ideas that get people engaged, agitated, and eager to follow your storyline.
In this case, you'd want to find a deeper subject that allows you to incorporate some storytelling elements and personal examples that would create some empathy with the audience and make them relate to your cause on a more personal level. As Lucinda Beaman, fact check editor at The Conversation said in her Ted talk:
"While you are listening to your opponent's case, you are probably listening for an opportunity to refuse them".
A quality narrative can help you draw your opponent's attention from their counterarguments and, instead, make them more sympathetic to your cause.
For example: Schools kill creativity. As a former drop-out, turned CEO of the Fortune 100 company, I can tell you why.
Good Persuasive Speech Topics on Controversial Issues
If you are ready to pick a bigger 'fight' with your audience, you may tackle a more complex and controversial issue that's dividing the audience. In such cases, it's best to rely on a mix of persuasive techniques:
Start with a strong opening, drawing the line in the sand
Line up social proof and data points to bake your key arguments
Rally people to understand your point of view and why you feel the way you do
Precisely address the common counterarguments on the matter.
For example: It's time to realize that marijuana legalization is wrong.
Your opponents will argue that legalization reduces criminalization around the selling of marijuana, plus medical marijuana usage does help certain patient groups cope with their illness better. Acknowledge these ideas in your speech, but also provide extra facts that can speak to the opposite.
Funny Persuasive Speech Topics
Did you know that humor itself is a powerful persuasive technique? That's why it's often used in advertising. Choosing a funny angle and topic for your persuasive speech is a sleek move if you know that you can really pull it off without offending anyone or downplaying the importance of the issue you are discussing.
For example: Millennials are definitely from outer space and our workplace isn't ready for them.
You can start with a funny opening:
Millennials constantly chew on that weird greenish sandwich type of thing that they lovingly call the 'avo toast' and their fingers move inhumanly fast when they type things on their smartphones, amiright?
But that switch to a more serious accord:
But no matter how weird these Millennial folks may seem to us, boomers, they are a wonderful asset to every workplace. And we must make their point of few count, too!
Designing Persuasive Visuals: Slide Elements for Maximum Impact
Crafting persuasive presentations goes beyond words alone. Designing persuasive visuals is a strategic approach to captivate your audience and enhance your message's impact.
Choosing Appropriate Visuals, Images, and Infographics: Select visuals that resonate with your message. High-quality images and relevant infographics can reinforce your points and aid audience comprehension.
Using Color Psychology and Font Selection: Utilize colors that evoke desired emotions and align with your message's tone. Choose fonts that are easily readable and complement your presentation's aesthetics.
Balancing Simplicity and Complexity: Strike a balance between simplicity and complexity in your slide content. Avoid overwhelming visuals while ensuring that complex concepts are presented clearly and succinctly.
Mastering Delivery Techniques: Engaging Body Language and Voice Modulation
The art of persuasion extends beyond content to encompass delivery. Engaging body language and voice modulation play a pivotal role in conveying credibility and connecting with your audience.
Significance of Body Language: Body language is a potent nonverbal tool. It influences the audience's perception of your confidence, sincerity, and authority.
Gestures, Eye Contact, and Posture: Employ purposeful gestures, maintain consistent eye contact, and exhibit a confident posture to establish rapport and engage the audience.
Role of Vocal Variety, Tone, and Pacing: Utilize vocal variety to sustain audience interest. Vary your tone and pacing to emphasize key points, maintain engagement, and prevent monotony.
Rehearsal Methods: Effective rehearsal hones your delivery skills. Practice your presentation multiple times to refine your speaking style, enhance clarity, and ensure a polished performance.
Persuasive Presentation Structures: Organizing Your Content for Maximum Influence
Structuring your persuasive presentation optimally enhances its influence. Effective organization guides the audience's understanding and reinforces your key arguments.
Analyzing Different Presentation Structures: Choose a structure that aligns with your persuasive objectives. Sequential, problem-solution, comparative, or chronological structures can be tailored to your message.
Crafting a Compelling Introduction: Your introduction should immediately grab attention. Use anecdotes, intriguing questions, statistics, or powerful quotes to pique interest and set the stage.
Logical and Coherent Organization: Organize your arguments logically. Each argument should flow naturally into the next, creating a cohesive narrative reinforcing your persuasive case.
Incorporating Emotional Appeals and Logical Reasoning: Blend emotional appeals with logical reasoning. Use relatable anecdotes, emotional stories, and compelling data to substantiate your points.
Handling Audience Interaction: Q&A Sessions and Audience Engagement
Effective handling of audience interaction involves: Interacting with your audience during a persuasive presentation enhances engagement and reinforces your message.
Preparing for Q&A Sessions: Anticipate potential questions and challenges. Prepare concise and confident responses to reinforce your message's credibility.
Techniques for Active Audience Engagement: Encourage audience participation through questions, discussions, and interactive activities. Engaged audiences are more likely to internalize your persuasive message.
Using Audience Feedback and Questions: Leverage audience feedback and questions to enhance your presentation. Address concerns, clarify points, and demonstrate your expertise through thoughtful responses.
Strategies for Adapting to Audience Reactions: Remain adaptable to audience reactions. Gauge their responses and adjust your delivery in real time to maintain engagement and address uncertainties.
Persuasive Call to Action: Inspiring and Motivating Your Audience to Act
Concluding your persuasive presentation with a compelling call to action (CTA) is pivotal for motivating the desired response from your audience.
Essential Elements of an Effective CTA: Craft a concise and impactful CTA that aligns with your presentation's goals. Clearly communicate the desired action and its benefits to the audience.
Crafting Persuasive and Actionable CTAs: Frame your CTA using persuasive language that resonates with your audience. Ensure the CTA's feasibility and relevance to increase audience commitment.
Techniques for Memorable and Compelling CTAs: Employ rhetoric, vivid imagery, and emotional appeal in your CTA. Make it memorable by creating a strong emotional connection that resonates with the audience.
Measuring CTA Success and Tracking Audience Responses: Assess the effectiveness of your CTA through measurable outcomes. Monitor audience responses, track engagement, and gather feedback to evaluate success.
Conclusion
If you know how to give a convincing persuasive speech, you will be at a real advantage both in your personal life and at work! Commit the tips above to memory and start practicing on some of the good speech topics we've listed here to polish your tradecraft!