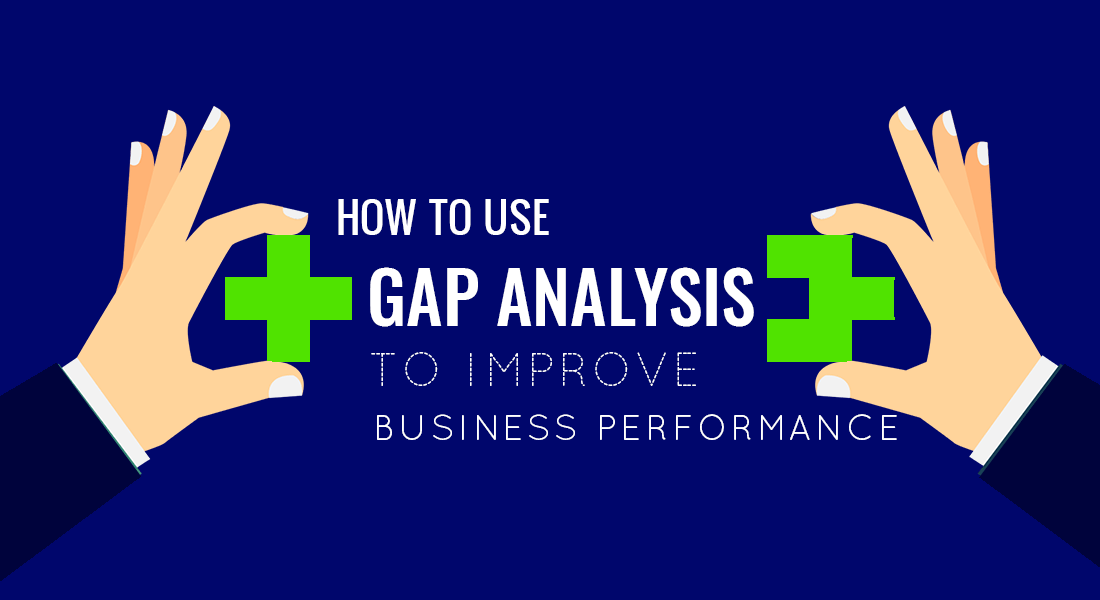 How do you run a business that's profitable, efficient, and primed for growth? You have to stay on top of things at once. Every process must work as perfectly as possible. At any given moment, you should know where you should invest time and resources.
That's much easier said than done. To reach such a well-orchestrated state of affairs you'll first need to figure out where your shortcomings are. One proven method for determining that is gap analysis.
What is Gap Analysis?
A gap analysis is a process of examining the current state of your business and comparing it with potential or desired outcomes. Your goal is to identify the gaps between your current situation, and where you would like your business to be in the future.
After you complete the initial investigation, you will also need to work out a strategy for closing those gaps to reach your goals.
Key Areas of Usage
In general, the company as a whole can benefit from a gap analysis process. However, you may be better off focusing on a few key business areas where you will get the most improvement. Some of these key areas of usage include:
Fiscal performance
HR
Market competition and market segmentation
Innovation (Research and Development)
IT
Sales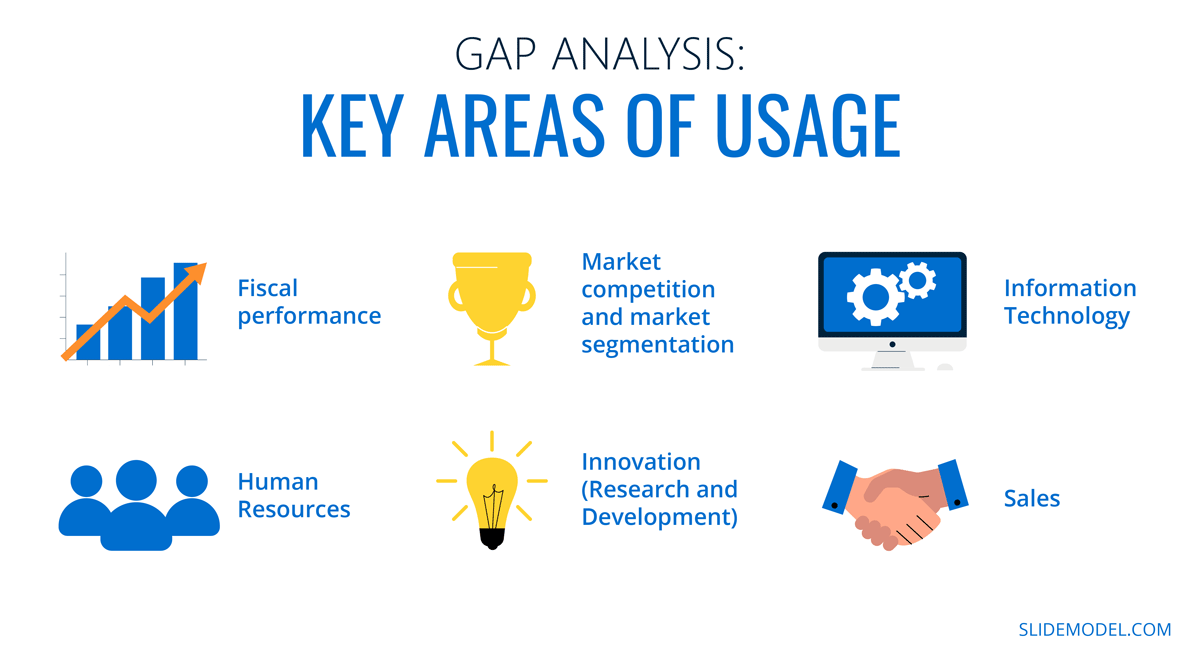 To provide you with more context, here are a few specific use cases that demonstrate different situations, and focus areas for a gap analysis. These gap analysis examples show the broad application of gap analysis methodology.
You can conduct a gap analysis of manufacturing, shipping, and other factory processes when your company is not meeting productivity goals, there are customer returns and complaints, or other relevant objectives are not being met. A gap analysis can reveal what processes are the issue (e.g. outdated supply chain management practices), and give hints as to what needs to be done.
When you launch a new product, you might consider using gap analysis to identify why your sales projections weren't met, or why customer sentiment is skewing negative. It's a good method for assessing the effectiveness of your go-to-market strategy.
If you sell physical products, you can look at the results of a sales gap analysis of the performance of specific items, categories of items, etc. Then use the results to determine if you are focusing on the right product lines.
Gap analysis is also a useful tool in supply management. For example, if a franchisee in a restaurant chain is continually running out of necessary items, a gap analysis can help them to understand why.
A gap analysis can also be conducted on personnel. In fact, it can be used as a valuable self-assessment method. For example, members of a sales team can analyze their current performance to identify where they may need additional assistance and training. The process can also reveal some best practices that all team members should consider taking on.
The Objectives of Gap Analysis
When a gap analysis is conducted effectively, the company can gain a host of tangible benefits. The key is establishing clear, succinct objectives before the analysis process begins. Here are some examples:
To learn where improvement is needed in areas such as employee engagement, customer satisfaction, profitability, efficiency, product quality, etc.
To determine where there is a weakness in any business area.
Support stakeholders and managers as they make decisions.
Learn where to prioritize resources.
Provide a reality check where assumptions and reality may conflict.
Determine whether the objectives of a project have been met or not and why.
Concrete Vs. Conceptual and Strategic Vs. Operational Gap Analysis
Concrete Vs. Conceptual
A concrete gap analysis is one that focuses on what events are and have happened. With a conceptual gap analysis, you consider hypotheticals. You can take many similar steps in both, however, there are some differences to consider with a conceptual gap analysis. For example, you will need to make educated assumptions about data. With a concrete analysis, you should have real facts and data available to you.
Strategic Vs. Operational
An operational gap analysis is more atomic. It focuses on daily operations and is often centered on a specific team or department. Gap analysis in strategic management is done at a higher level. Here, the focus is often cross-organizational and deals with developing future strategies, planning, and execution. These are both concrete and require real-world data.
The Benefits And Limitations of Gap Analysis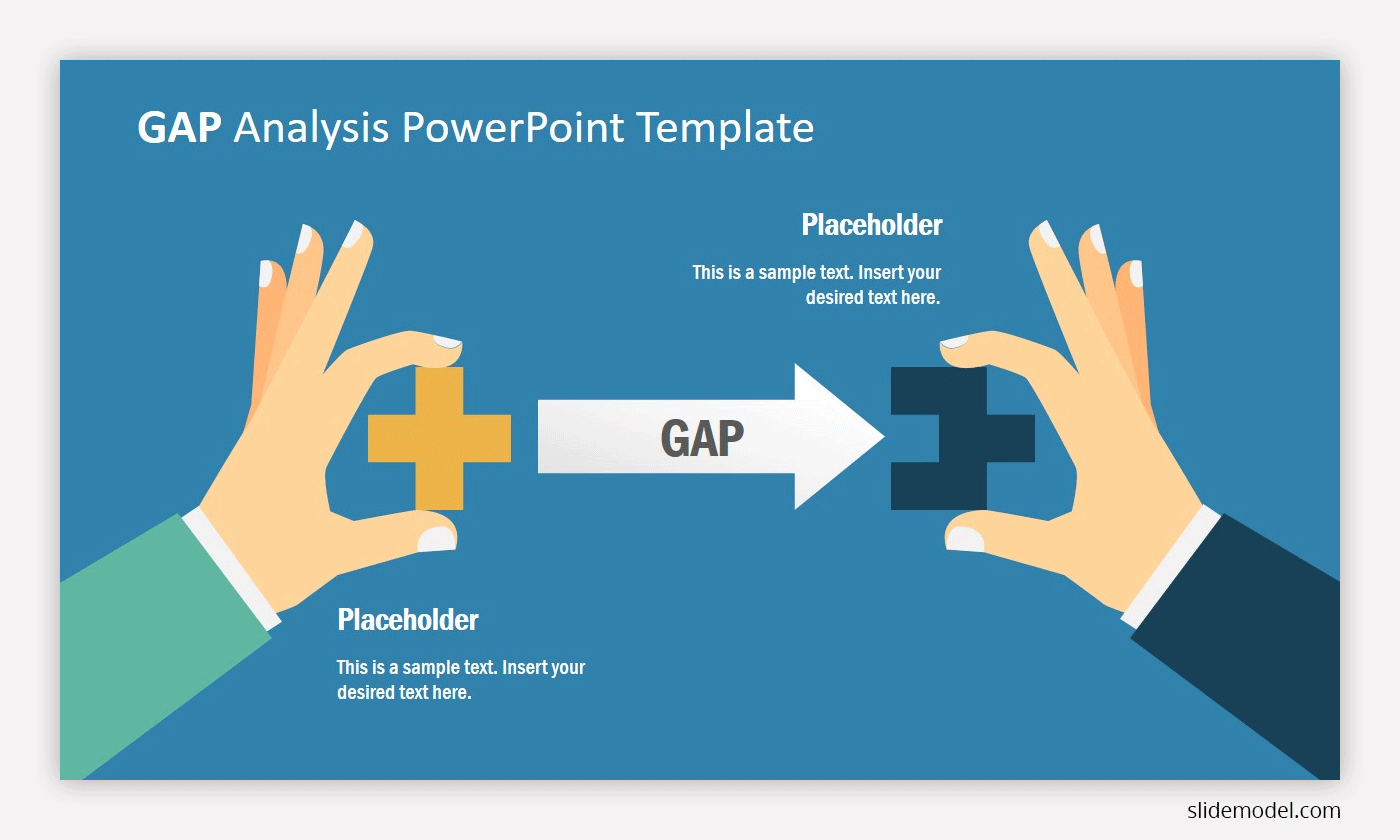 The Benefits
The way to get the best results from any gap analysis techniques is to obtain buy-in. You can do this by pointing out the benefits of conducting a gap analysis. These include:
It provides you with a view of your business that you have likely not experienced before. Depending on the type of analysis you perform, that outlook could be quite focused and in-depth. It can also be done from a very wide angle.
It facilitates important decision-making processes and allows management to better determine where their priorities should be.
It forces you to take a deeper look at your current practices without the built-in assumption that they are effective. By taking that objective look, you can identify which processes may have outlived their usefulness.
Depending on the breadth of the project, a gap analysis can lead to rapid problem identification. This is often done using a Gap Fit analysis.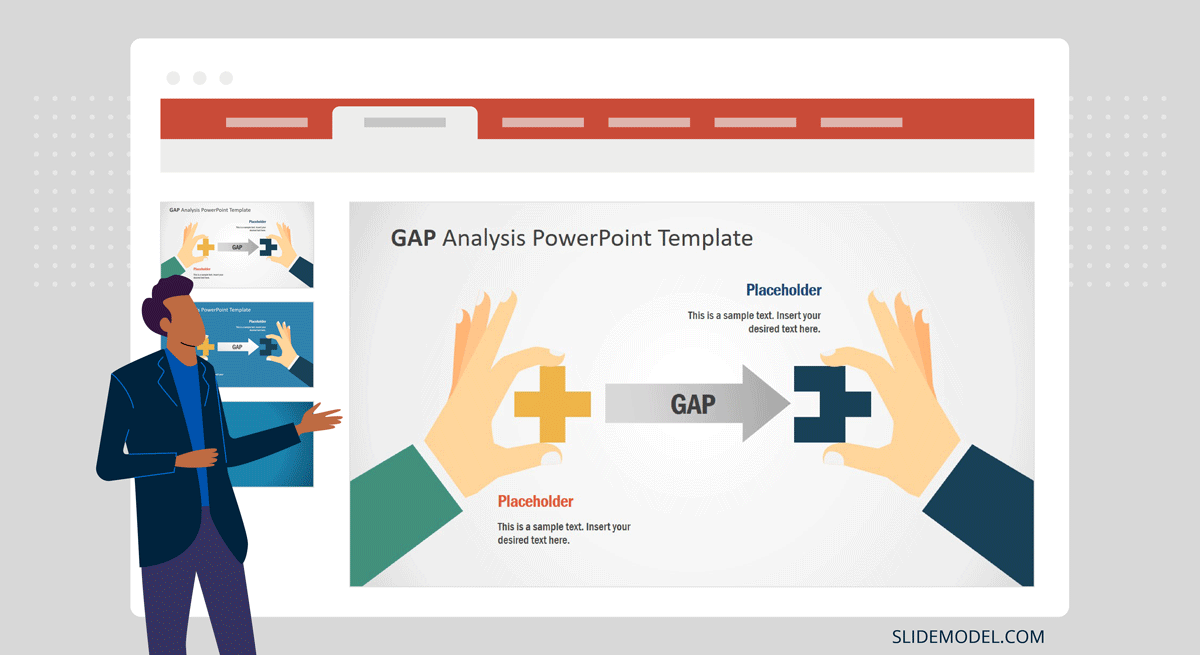 The Limitations
It's also important to understand what you will not accomplish with a gap analysis. In addition to this, it's critical to acknowledge where an analysis is likely to be flawed. First, a gap analysis is simply an identification of a gap. It does not provide action steps or points for improvement. There may also be competition and external factors at play that will not be part of the research. Finally, in fast-moving industries, there may be so much shifting and changing constantly, that an analysis may be outdated before it can be published and distributed.
Gap Analysis Examples and Frameworks
There are several effective gap analysis tools worth using and Gap Analysis templates for PowerPoint and Google Slides presentations. Pick the right one to best accomplish your objectives. Here are some examples of Gap Analysis models and tools that you can use to conduct and present a Gap Analysis.
Mckinsey 7S Framework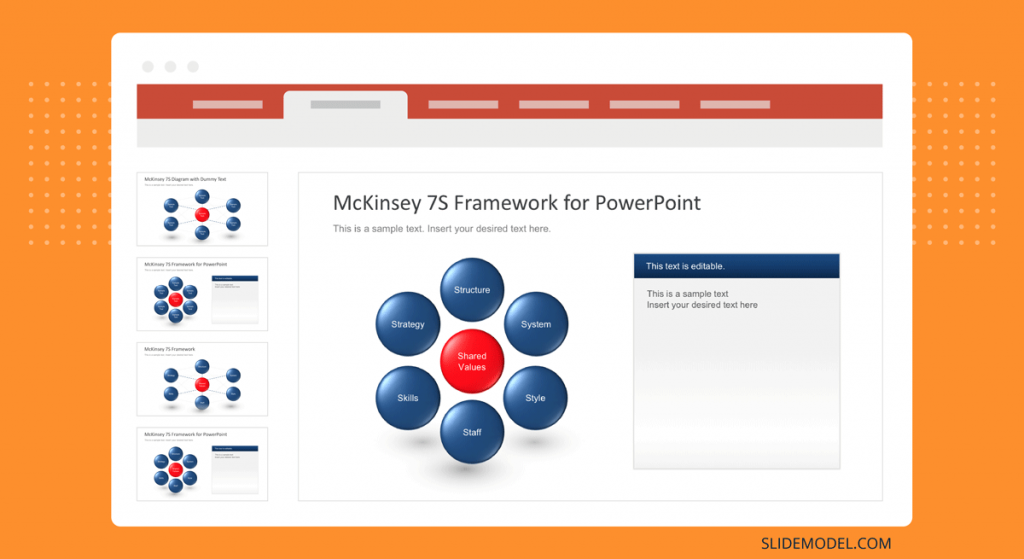 The 7S Framework was first conceived in the 1970s by the namesake consulting company. Its key focus is on exploring the organizational structure and achieving optimal alignment for the 7 internal elements within the company. McKinsey 7-S model is particularly handy when you want to analyze the interplay between different parts of your organization.
PESTEL Framework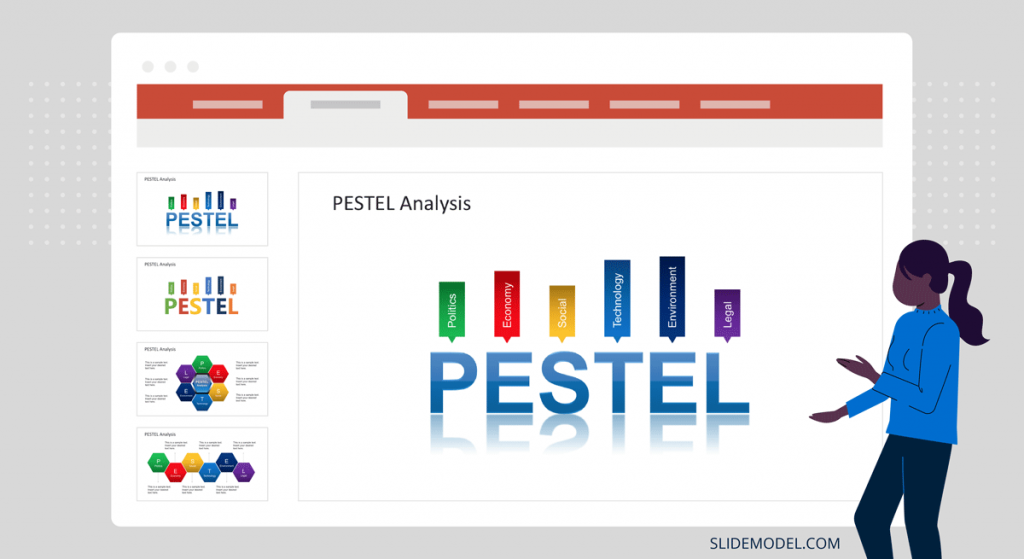 PESTEL acronym stands for Politics, Economy, Social, Technology, Environmental, and Legal. It is often used by marketing departments as a means to analyze how external factors can impact a business's marketability. For example, political fighting between a company's country of origin and another can impact the company's ability to make its products available in that area. It can also turn customer sentiment negative. An example of economic factors would be that rising unemployment could impact sales.
Nadler-Tushman Congruence Framework
The Nadler-Tushman Congruence framework is commonly used to identify the cause of performance issues. It's based on the idea that four of the following elements must be in harmony to get the best performance out of employees:
Culture
Work
People
Structure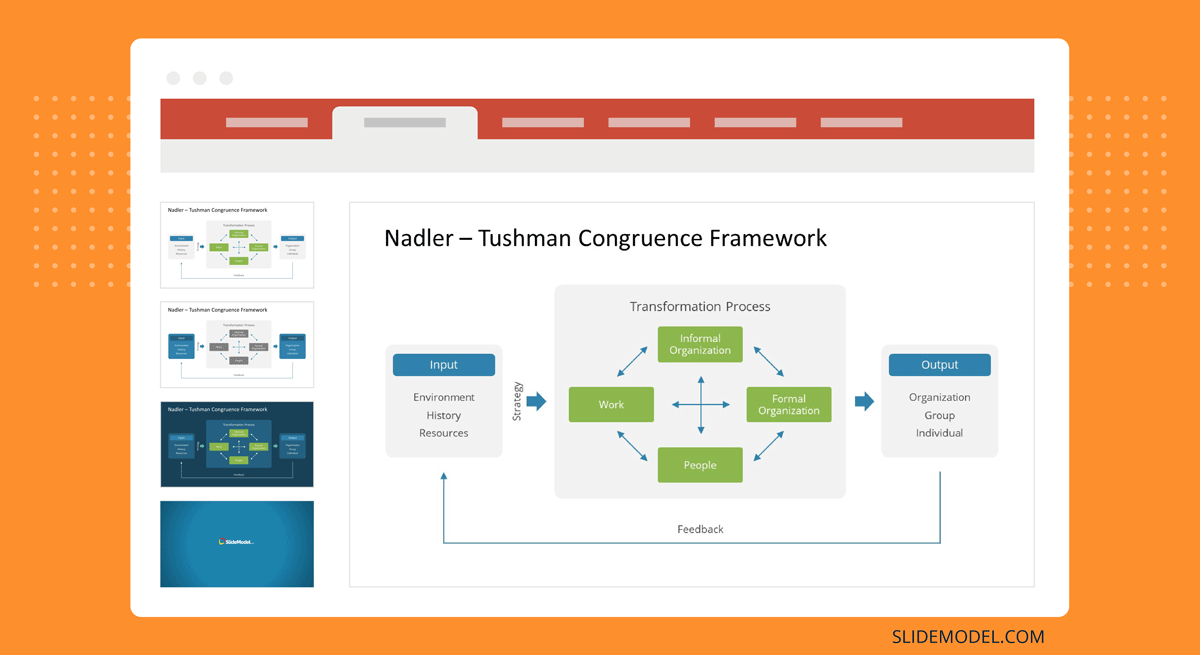 For example, imagine that you have hired a team that is very skilled, but also very independent. If your work culture is very traditionalist, and your management structure is tall, those people won't be able to work at their best.
SWOT Analysis
For the uninitiated, SWOT is an analysis of a company's Strengths, Weaknesses Opportunities, and Threats.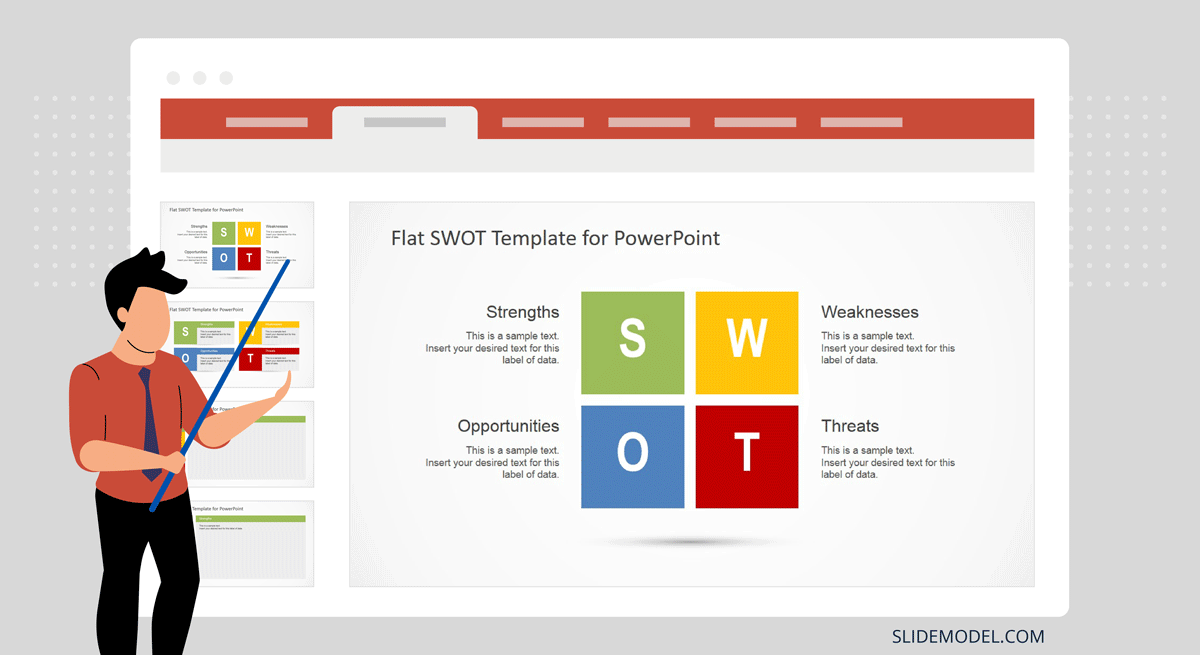 A SWOT analysis can be exceptionally uncomplicated, like a simple brainstorming session with notes jotted on a piece of paper. It can also involve an in-depth analysis where data is used to identify the factors impacting SWOT.
Burke-Litwin Causal Model
The Causal gap analysis model is based on the hypothesis that both internal and external factors impact organizational performance. This framework is used to assess the functions of both the environment and organization that can impact performance.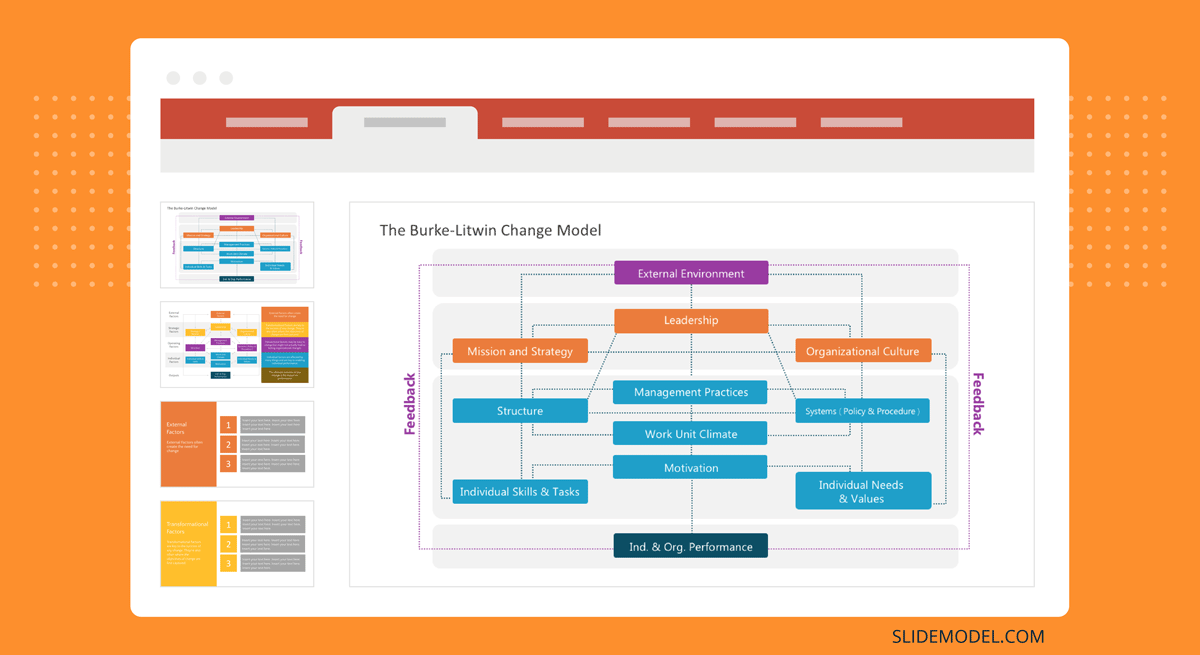 There are other frameworks and templates available. For example, the fit-gap analysis template can be used for rapid problem identification as mentioned above.
How to Do a Gap Analysis
There is a four-step approach that most people will find helpful to follow when they conduct a gap analysis. The steps involved as well as a gap analysis example is listed below:
1. Identify The Current State of The Analyzed Subject
Your current state is simply what you are doing right now. Imagine that you have a growing catering company, and you want to focus on improving your corporate events catering revenue. Your first step would be to identify what you consider to be a corporate event vs. other types of events, then determine the monthly revenue you are making from those events. Let's imagine that your monthly revenue is 20K.
2. Formalize Future Goals
It isn't enough to simply want to improve, you have to establish formal goals to work towards. These should be measurable, achievable and realistic. In the case of our example, let's say that you want to increase the monthly revenue from corporate events to be 35K.
3. Identify Existing Gaps
Based on the information you have, you are 15K away from reaching your goal. That is your gap, and that gap will continue to exist unless action is taken.
Your goal, however, is not just to identify the current gap, but also drill into why it exists. This is best done with the help of 5 Whys root cause analysis. Pose your team a series of questions up till you can identify where the real bottleneck is.
4. Devise an Improvement Plan Based on The Gap Analysis Report
Once you have examined the final gap analysis document, you can begin devising strategies to fix things. To do so effectively, leverage the root cause information you have obtained, and incorporate it into the fixes. For instance, if you found that your team lacks people to be more effective, look into hiring more staff or schedule less personal events for a few weeks.
Also, assess the cost of implementing various strategies for closing the gap. Perhaps you don't have the budget to hire new people full time. Maybe you can increase your team's efficiency in some other way? For example, by providing them with better event planning tools.
Conclusions
By conducting a gap analysis, you force yourself to take an honest look at the state of your business today and identify the specific processes and procedures that are stopping you from reaching your business goals. There are many different types of analyses to conduct. Fortunately, you can find a gap analysis template that is certain to meet your specific needs. Ultimately the importance of a gap analysis shouldn't be ignored when establishing goals and creating a strategy to achieve those goals.