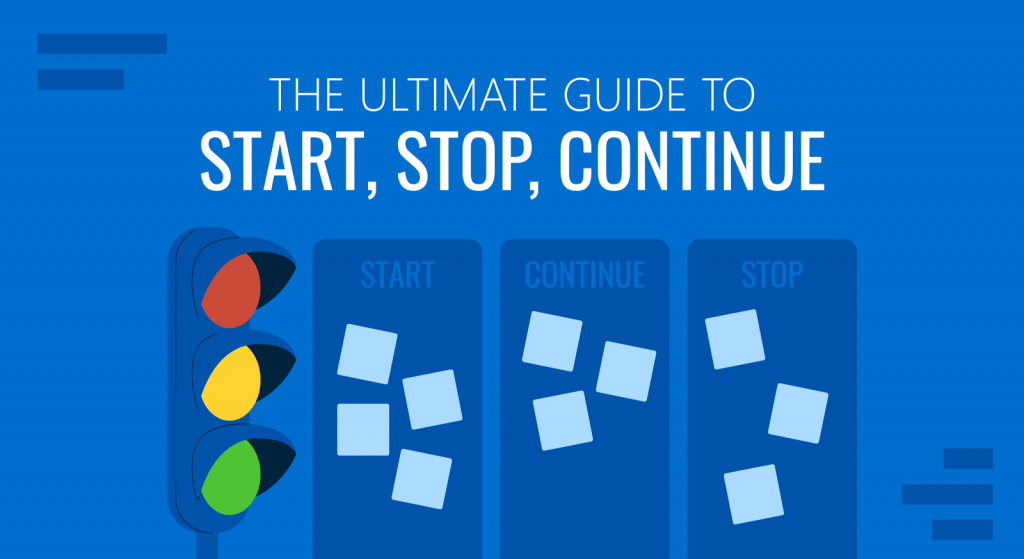 Companies often need to analyze their processes to see what is working, what's not working, and what should be continued. It is a collaborative analysis that reviews a team's performance and identifies activities that can improve their overall contribution.
In this article, we explain the Start, Stop, Continue Retrospective. Starting with what it is, we dive into the purpose of using the start, stop, continue analysis, discuss its three elements, elaborate how companies can create their own start, stop, continue framework, what it can be used for, and lastly, share how to present the analysis.
What is Start – Stop – Continue?
Start Stop Continue is an action-oriented approach for collecting feedback on work processes at the individual as well as team level.
It is an intuitive framework that enables team members to ask each other what activities they should begin doing, what they must stop doing, and what they should continue doing to be more effective and efficient in achieving their goals and objectives.
Also known as the SKS process (Stop, Keep Doing, Start), the analysis is popularly used by managers, project supervisors, and leaders to review team and individual performances, collect group feedback and provide momentum and energy for the team through the results of the analysis.
The start stop continue feedback model is also used in agile retrospective meetings by project managers and scrum masters, where the activities and outcomes of the last sprint are analyzed and used to obtain suggestions for further improvement.
Purpose of Using the Start, Stop Continue Retrospective
1. Provides Actionable Review
Start, stop, continue analysis provides actionable feedback on how the team members, individually and collectively, change their processes to improve their efficacy.
By reviewing their overall actions and collecting feedback, they can start doing things that will help accomplish their goals, dismiss behaviors that are not helping towards achieving their objectives, and keep doing those activities that are proven to help them reach their targets.
2. Identifies Areas of Improvement
By conducting the start, stop, continue analysis, managers, and leaders clarify team issues, and new areas of improvement come to light. As the areas of improvement are identified, practical plans and actionable strategies can be developed to result in behavioral change.
3. Empowers Teams and Individuals
The start, stop, continue exercise empowers teams and individuals to continuously improve their workflow and work processes. It gives them insight and enables them to identify what is working, what's not working, and what they need to start doing to reach their goals.
4. Builds Trust and Increases Self-Awareness
Building team trust and individual self-awareness are critical for streamlined work processes and successful project completion. And the start, stop, continue framework is a great tool for building trust among team members and developing their individual self-awareness.
5. Results in Behavioral Change
The start, stop, continue retrospective enables teams to review their previous activity and makes it easy for them to identify practical points to work on individually and collectively. The SKS review results in behavioral change through the actionable points that are obtained during the analysis.
6. It can help to replace Quarterly or Annual Performance Reviews
Being a straightforward and easy to execute method of evaluation, the start, stop, continue review can be used to replace quarterly or annual performance reviews and annual employee evaluations. Analyzing a year's worth of activity is much more complex than reviewing the last sprint's activities. Therefore, the start, stop, continue feedback is enough to analyze performances and eliminates the need for annual performance reviews.
The Three Elements of Start, Stop, Continue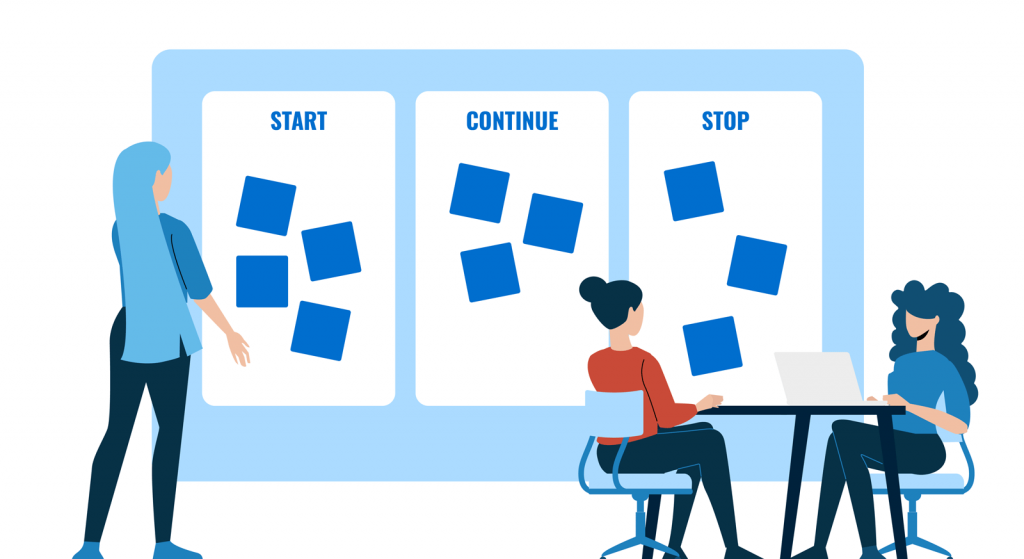 When using the start, stop, continue model, managers simply have to provide or request team members the answers to the following three questions,
1. Start: What should the team start doing?
The activities that the team should learn to do or start doing in the next sprint or project phase. These activities are recommended to improve work processes, reduce wastage and increase the team's overall efficiency.
2. Stop: What should the team stop doing?
Any activities and behaviors that are not working, resulting in wastage, inefficiency, and a negative impact on the team's morale, should be eliminated.
3. Continue: What should the team continue doing?
Actions that have positively contributed towards the project completion in the last cycle and should be included in the team's core activities for the upcoming sprint.
How to Conduct the Start, Stop, Continue Analysis?
1. Define Clear Objectives
Setting clear objectives will help clearly identify any actions that should be stopped, any activities that need to be started, or things that the team should continue doing.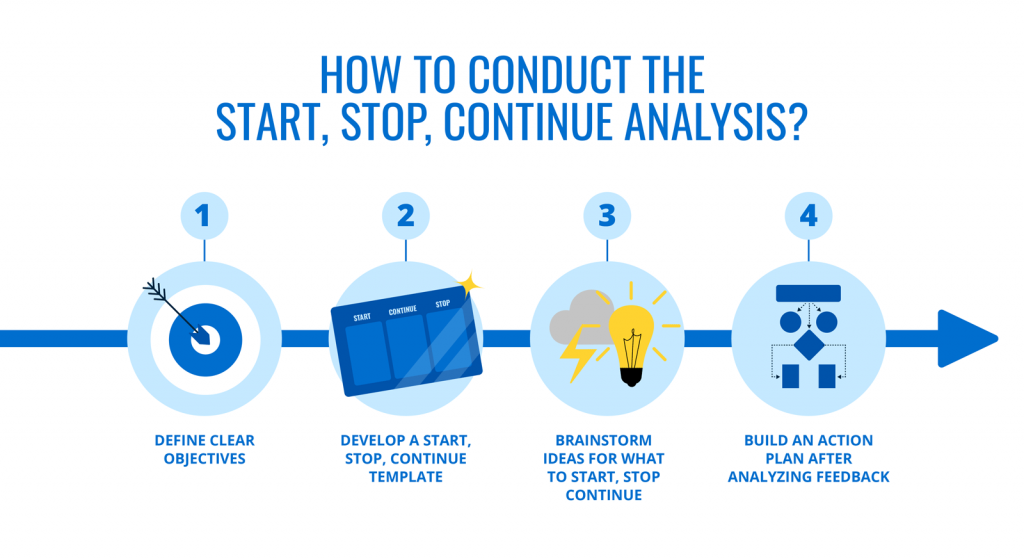 A simple example of this is, "We want to figure out what we need to start, stop, continue in order to increase sales by 25% by the end of this quarter."
2. Develop a Start Stop Continue Template
By developing a start stop continue template, managers can request feedback from team members. Their input is valuable to identify new things that would make them more efficient, old activities that need to be let go of, and existing actions that they should keep doing to be more productive.
3. Brainstorm Ideas For What to Start, Stop Continue
Managers can hold a brainstorming session with their team and gradually fill in the template. Positive actions can be prioritized; new actions can be highlighted while identifying actions that must be dismissed.
4. Build an Action Plan After Analyzing Feedback
Since the start, stop, continue feedback is an actionable model of reviewing team actions, the last step is to build an action plan after analyzing the critical points gathered in the brainstorming session. SMART goals should be made based on the feedback, and a proper action plan can be made to achieve the goals.
What is the Start, Stop, Continue Framework Used For?
1. Achieving any Objective
The start, stop, continue provides real-time feedback, thus it is especially useful for successful achievement of any objective. It enables teams and individuals to understand what's required, what's working, and what might be getting in the way of achieving the objective.
2. Developing a Product Strategy
When developing a product strategy, managers and team members can review products and analyze what needs to be continued, stopped and what new strategy should be implemented to gain momentum.
3. Analyzing Internal and External Processes
The SKS process is a simple and easy to execute tool for analyzing internal and external processes that need transformation. Core processes can be analyzed to further optimize, new opportunities for improvement can come to light, while bottlenecks can be highlighted and unblocked to streamline the workflow.
4. Obtaining Feedback from Partners
Feedback can be gathered from business partners, both internal and external, for analyzing workflow, key products, company financials, and go-to-market (GTM) strategies.
5. Analyzing Customer Onboarding
Analyzing the customer onboarding process from the customer's perspective is possible by getting the customers involved in the start, stop, continue analysis. Customer service, onboarding, communications, and customer care can be reviewed and transformed to increase overall customer satisfaction and create loyal customers.
Start, Stop, Continue Example
An example of the Start, Stop, Continue can be to increase sales by 25% by the end of the current quarter. The manager defines the clear objective that needs to be accomplished and asks the team members of the sales department what can be stopped, continued, and started to achieve the objective.
After brainstorming and analyzing all responses an action plan is developed as described below,
What to Start?
Begin influencer marketing to attract customers
Build a verified email list by offering discounts on subscribing to newsletters
Send out promotional newsletters on a weekly basis.
What to Stop?
SMS Marketing
Cold Calling customers
What to Continue?
Social Media Marketing focusing on Facebook, and Instagram
Launching a new product collection every month
Reaching out to customers to get their reviews after they receive their order
How to Present the Results of Start, Stop, Continue Analysis?
Managers need to present the start, stop, continue results to their team and let them know how they can implement the changes by using a proper action plan.
The results of the analysis can be presented by discussing essential elements in a PowerPoint and Google Slide Template.
1. Choose The Right Template for Presenting
Choosing the right template for presenting the results of the SKS analysis is essential as team members need to be persuaded and informed of the changes required.
For that, SlideModel specializes in creating 100% editable PowerPoint and Google Slide Templates for professional uses.
Their start, stop, continue template is discussed in the next section. Managers and business leaders can make use of the template to present to their team and discuss the SKS analysis.
2. Discuss Metrics To Show Why the Change Is Required
To achieve the objectives, team members need to know which changes are required and why. Sometimes employees can be opposed to changes and might not understand why some tasks need to be stopped, started, or continued.
This is why communication is key here. Discussing metrics will help them realize why some processes need to be dismissed, why new processes can help them, and which activities should still be continued to achieve the targets.
3. Assign Activities to Team Members
For the execution of the action plan developed after the SKS analysis, it is necessary that managers assign the activities listed to the team members so they know about their responsibilities, the resources needed to complete the activities, and the expected timeline for the completion of each task they are assigned.
Start, Stop, Continue Template
What's best to metaphorically represent the start, stop, continue exercise than the traffic light? Therefore, in this presentation template, the traffic light's colors represent the start, stop, continue retrospective making it a visually appealing template for team members to fill in.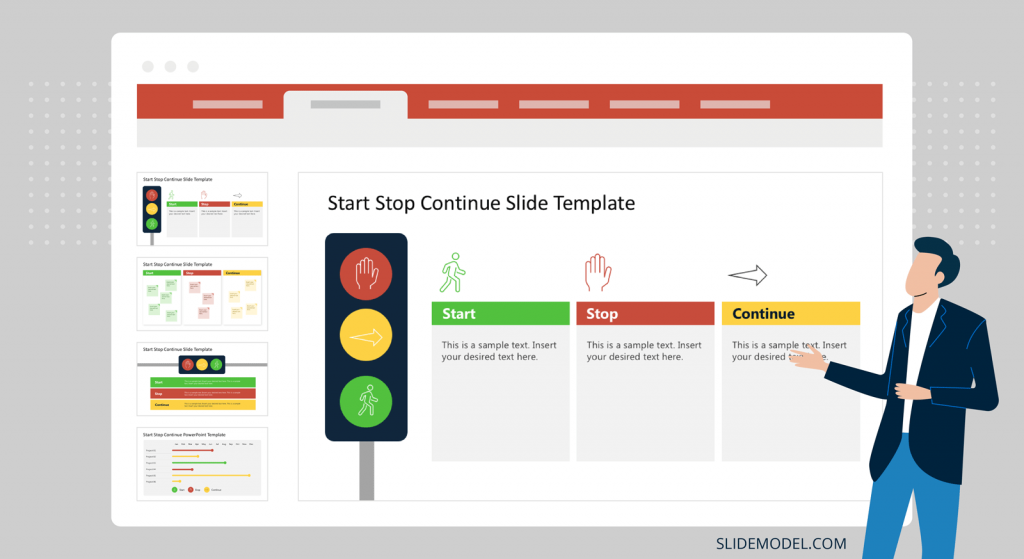 The start, stop, continue template also has a traditional whiteboard, sticky note slide to help decide which activities should be ceased immediately, which should continue as they are, and what new activities should be added to accomplish goals and objectives.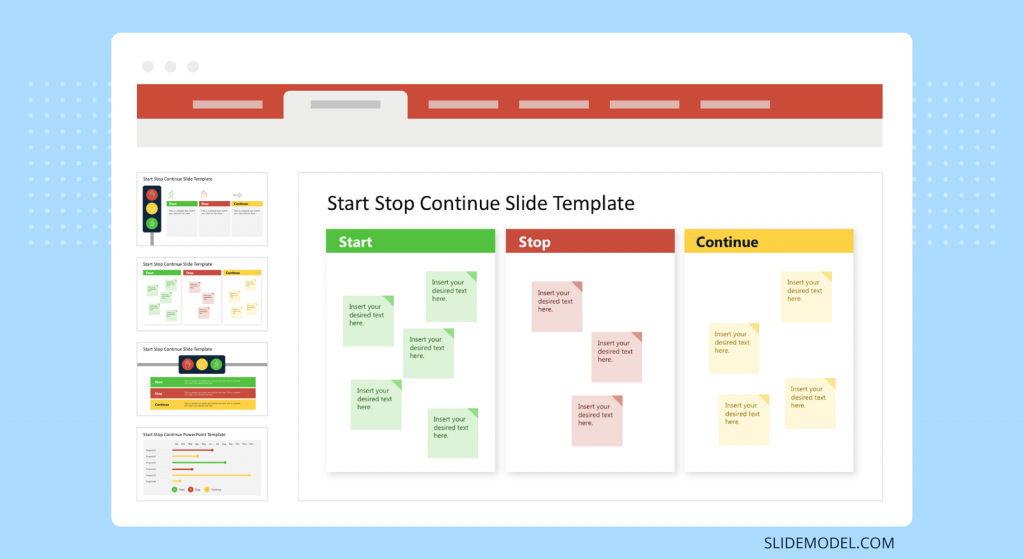 Free Start Stop Continue Template
Use this Free Start Stop Continue Template to reflect on your current practices, personally and professionally, and make better decisions as to which actions to Start, Stop and Continue.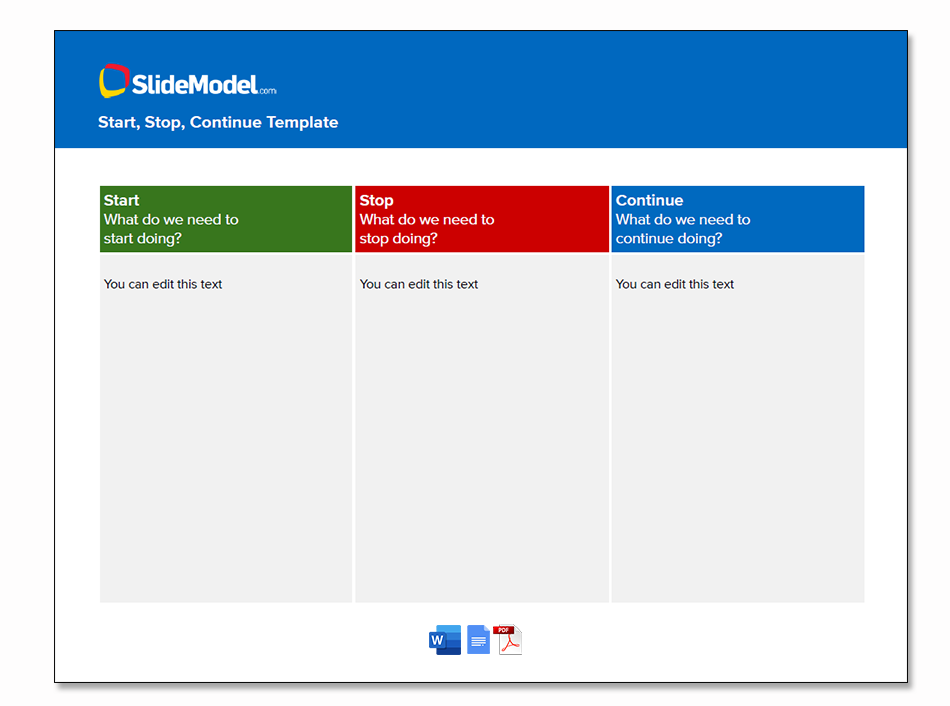 Conclusion
The start, stop, continue model is a simple methodology that enables people to think about their work processes, analyze errors, and identify ways to improve them.
The feedback gathered needs a follow-through after analysis to see the actual results. A proper plan of action is critical to make sure the behavioral transformation and the changes in work processes take place in the future project sprint.
Presenting the actionable insights by using a pre-made template by SlideModel can make the whole process easier and quicker. The review points gathered can also be saved for later use to analyze improvements and understand what needs to start, stop, continue in the next phase.