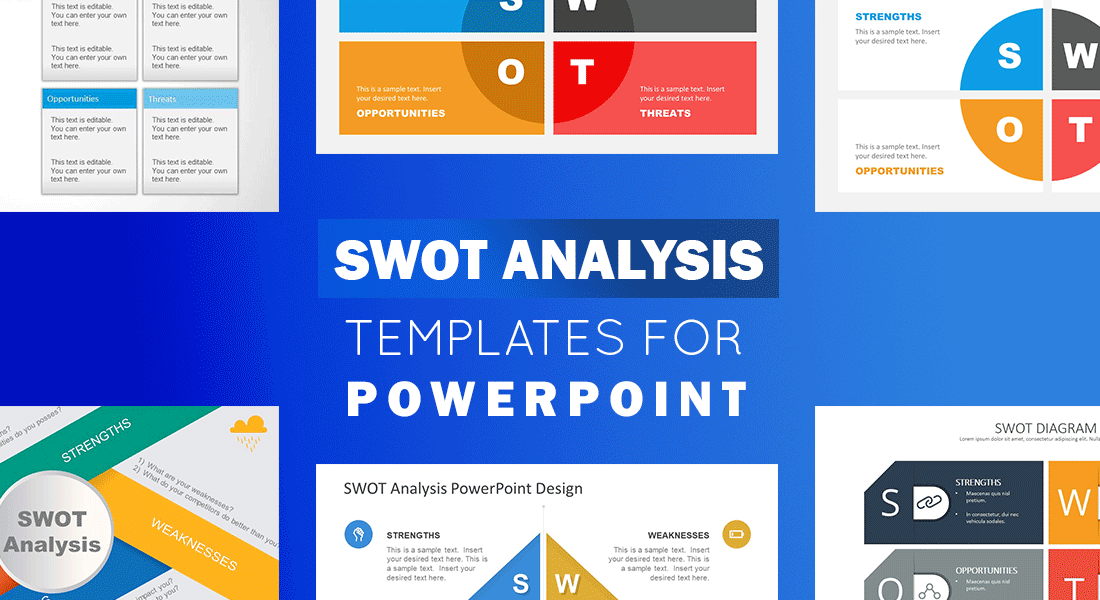 When it comes to exploring the strengths, weaknesses, opportunities and threats for a business or venture, the best method is to construct a SWOT Analysis. A SWOT analysis can be anything from a simplified document created like a mind map to a complex analysis based on available facts and figures. Nonetheless, you can always summarize the points within your analysis to create a SWOT analysis presentation, to reflect upon your finding before the senior management, shareholders and even company employees.
What is a SWOT Analysis?
A SWOT Analysis or SWOT Matrix is a planning method for exploring the four significant aspects of a business venture, i.e., the Strengths, Weaknesses, Opportunities, and Threats. This information can be interpreted in numerous ways, such as in detailed reports or as a presentation using SWOT analysis templates. A SWOT analysis can help explore the critical aspects of an organization's products, projects, reputation, and goodwill. It is trendy for its simplicity. Project management practices extensively use SWOT analysis during the planning and monitoring stages.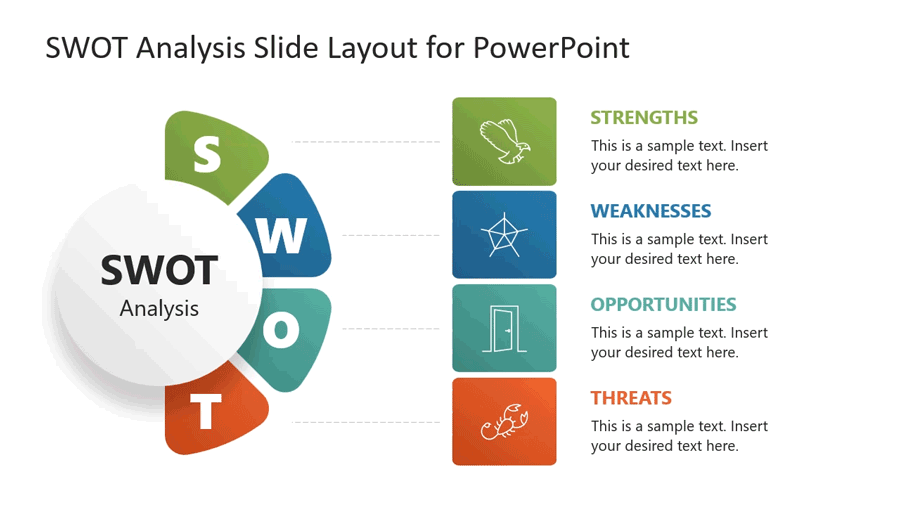 Internal and External Factors
Every SWOT Analysis starts the overall approach by thinking in facts through two high-level points of view.
Internal Factors – The Strengths and Weaknesses of the subject of analysis are always internal factors. In business context may include financials, talent , machinery, equipment, systems, and intellectual property. Also they can include intangibles as culture, leadership and patents. The analysis of strengths and weaknesses from and internal standpoint will be objective, and need to be assessed within a context or boundary. The analysis will focus on the advantages or disadvantages created by this internal entities.
External Factors – Threats and Opportunities are always external factors. These are external elements influencing the subject of analysis. The entities involved might include market behavior, demographics, partners, suppliers, global economy, political and environmental policies, etc. The analysis will focus on new business opportunities and space for growth. Also the factors that can erode current areas of excellence or block new opportunities.
Best SWOT Analysis PowerPoint Templates
Instead of making a SWOT analysis from scratch, you can get a head start by using an appropriate SWOT Analysis PowerPoint Template. Below is a list of some finely crafted professional SWOT analysis templates for PowerPoint and Google Slides, which provide several sample slides with various layouts to help you make a professional-looking SWOT analysis by simply adding text and images. Also, we provide a set of SWOT Analysis examples that will show you how to apply your content to each template.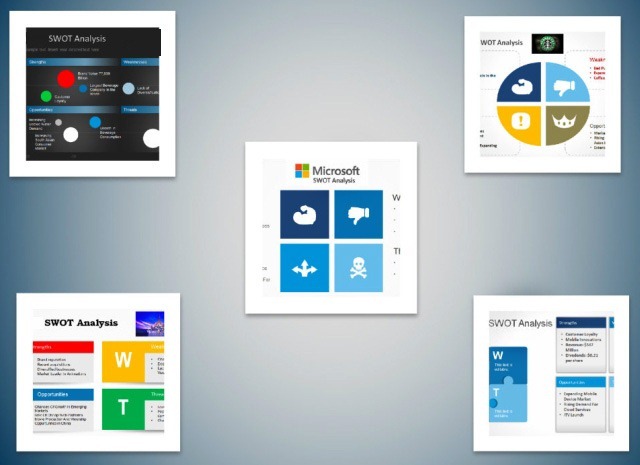 1. Simple SWOT PowerPoint Template
As the name suggests, this is an easy to use PowerPoint Template that has a clean look and a highly customizable layout. The template offers different sample slides for making a diverse range of slides for touching upon each aspect of your SWOT findings in detail, as well as to create a summary of your analysis, which can be your introductory or concluding slide.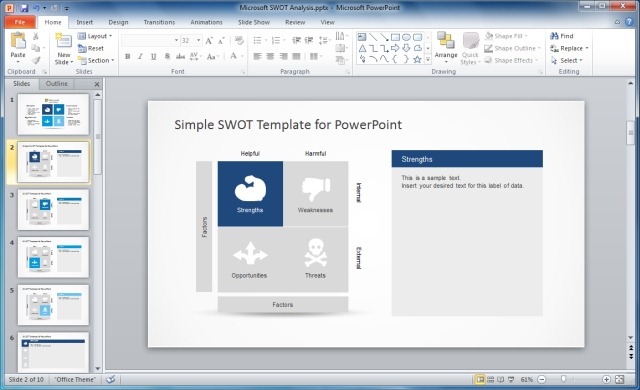 Go to Download Simple SWOT PowerPoint Template
Example Microsoft SWOT Analysis
The below screenshot shows a sample Microsoft SWOT Analysis created using a slide from the Simple SWOT PowerPoint Template.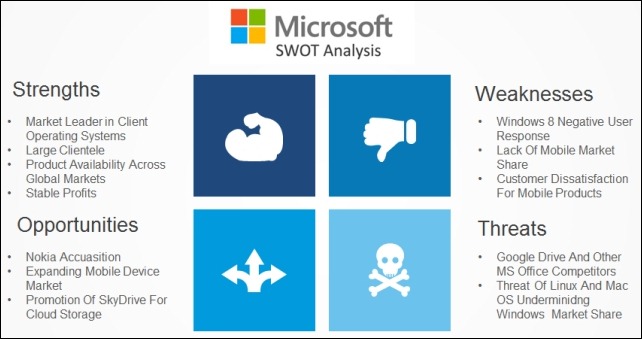 2. Flat SWOT Template For PowerPoint
The Flat SWOT Analysis Design Template has a minimalist layout for making uncomplicated SWOT analysis presentations within an easy to grasp design. The sample slides in this template provide enough flexibility to craft presentations with individual slides for each aspect of the SWOT analysis, as well as different slides for making a summary of your SWOT Matrix.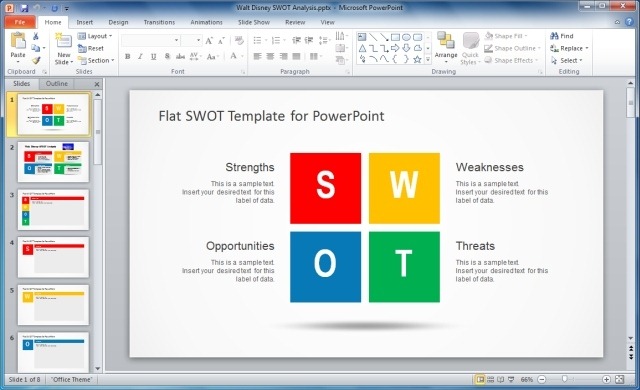 Go to Download Flat SWOT Template For PowerPoint
Example of Disney SWOT Analysis
To demonstrate the utility of this template we created a sample SWOT Analysis for Walt Disney.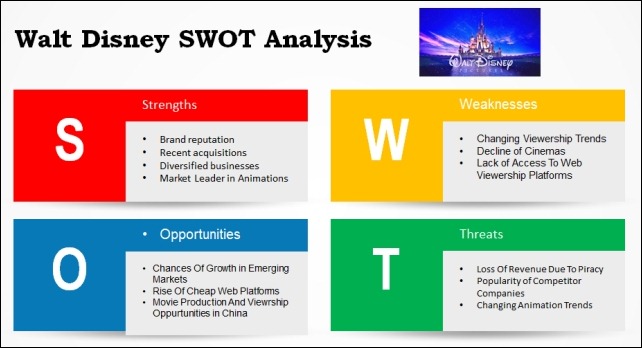 3. SWOT Analysis PowerPoint Template
If you are looking for a template that not only has nice graphics but also makes good use of white space, then this is just what you need. the SWOT Analysis PowerPoint Template comes with a blend of eye-catching graphics and a nice, clean layout.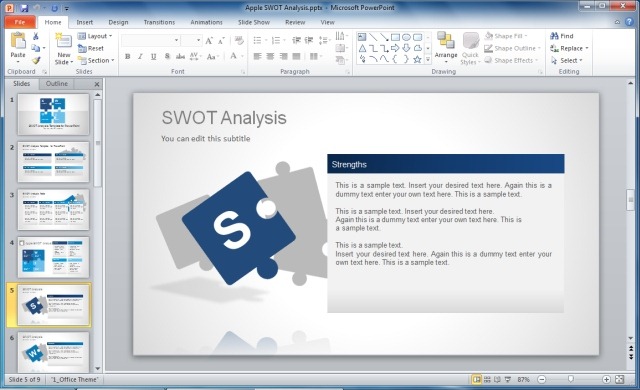 Go to Download SWOT Analysis PowerPoint Template
Example of SWOT Analysis for Apple
The layout of this template makes it possible to neatly display all major aspects of your SWOT analysis with great ease, as evident from the sample Apple SWOT Analysis shown below.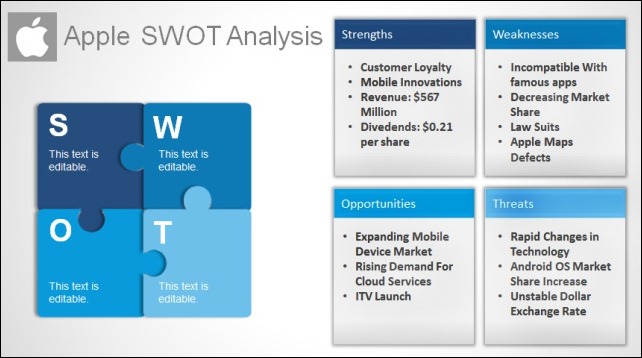 4. SWOT Analysis Concept Slides For PowerPoint
This slide set for PowerPoint is meant for people looking to make a presentation with some outside the box thinking. The template has a complex, yet amazingly attractive design which can be molded into an impressive presentation with the help of a few images and properly arranged text. you can drag the given place holders to increase or decrease the size of the textboxes or objects and even rearrange them to suit your needs.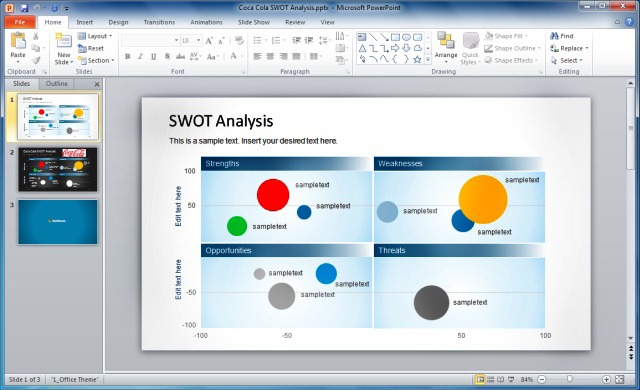 Go to Download SWOT Analysis Concept Slides For PowerPoint
Example of SWOT Analysis for Coca Cola Company
The screenshot below shows the diversity with which you can create a SWOT Analysis using this template; to make it more attention grabbing and unconventional.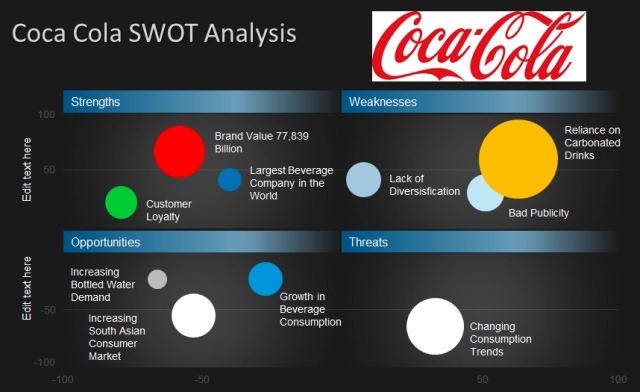 5. Creative SWOT Analysis PowerPoint Template
This is another template for making more elaborate SWOT analysis presentations and diagrams, with the help of a highly customizable design. More about this is explained in the article how to present a SWOT Analysis and how to develop a Personal SWOT Analysis. You can drag around the given SWOT diagram placeholders and the core objects in this slide to resize the given placeholders and images according to need.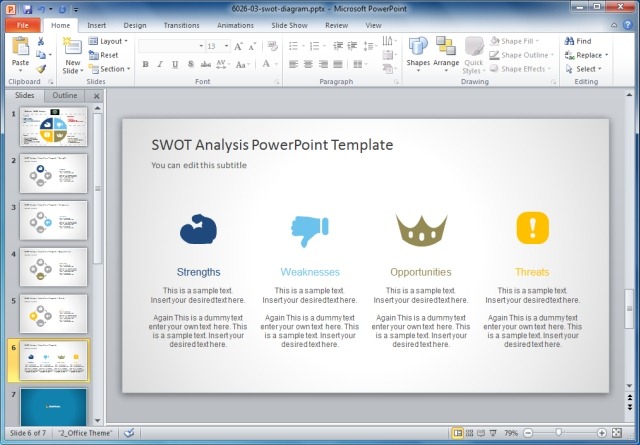 Go to Download Creative SWOT Analysis PowerPoint Template
Example of SWOT Analysis for Starbucks
Check out the sample Starbucks SWOT Analysis made using a slide from the Creative SWOT Analysis PowerPoint Template.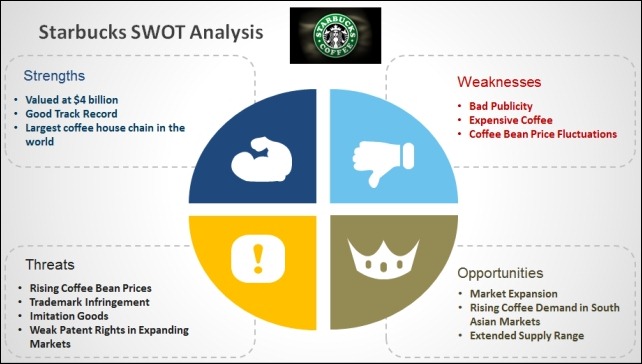 Looking for more business presentation templates? Check out our collection of the Best Business Plan Templates For PowerPoint.
Conclusions
Conducting a SWOT analysis provides a comprehensive understanding of the internal strengths and weaknesses, as well as external opportunities and threats of a business or venture. These factors can be efficiently communicated through a SWOT analysis presentation to stakeholders, using SWOT Analysis templates for presentations, to ensure professionalism and clarity.
Ranging from simple to complex, in this article we showcases some of the best SWOT analysis templates serve to both streamline the analysis process and enhance the presentation of results, aiding in informed decision-making and strategic planning.
To illustrate the flexibility and applicability of these templates, examples of analyses conducted on prominent companies like Microsoft, Walt Disney, Apple, Coca Cola, and Starbucks were provided. Regardless of the complexity of the business scenario or the level of detail required, there is a SWOT template that can effectively cater to the needs of every business.