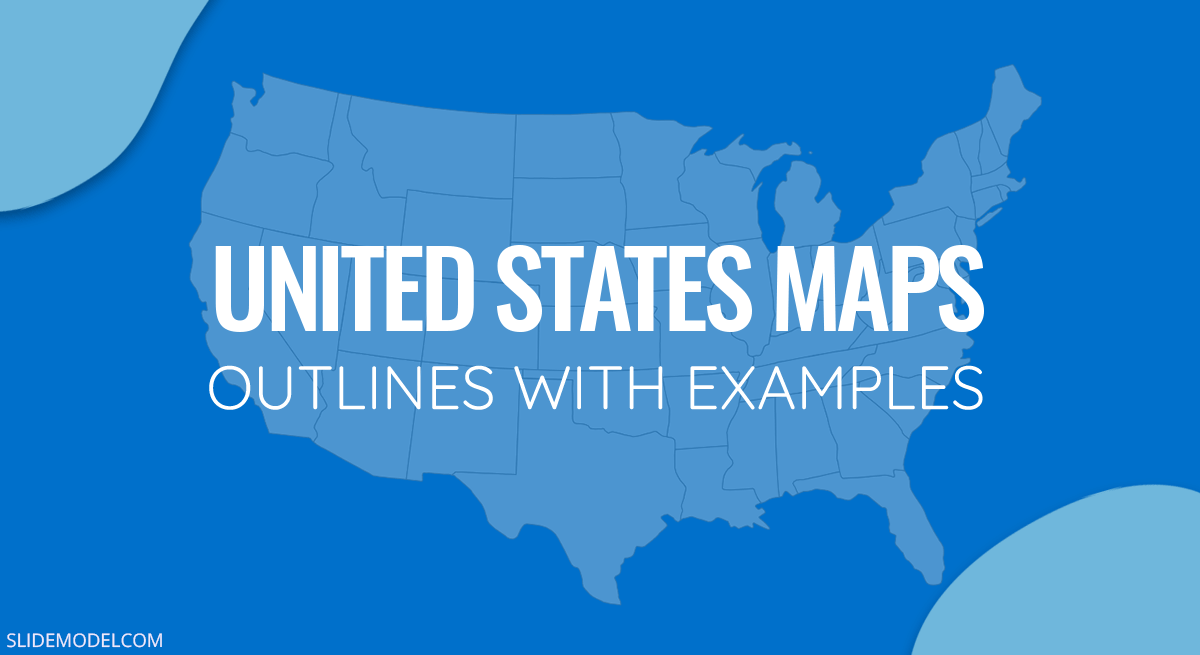 Maps are profoundly useful tools regardless if you are telling a story or pitching a business idea. Building a presentation with maps can dramatically improve the way a message is delivered and the result.
When seeking to build a presentation based on one of the United States outlines, one can have the daunting question of the best way to allocate the information. It's easy to think that a simple county outline map can be a solution to the data. However, it's also possible to explore facts more thoroughly.
Facing the challenge brings a secondary question of deciding what the design should be: how to select colors, add icons, references, or text. This article explores creative and data-driven ways to showcase information in maps, taking 10 of the Top US States as examples in different areas.
Texas State Outline
Texas is famous for its size as it's the second-largest state after Alaska. Favorite cities within the state of Texas are Dallas, Houston, and San Antonio. Its vast extension houses large land allocations with fossil fuels.
If you're seeking to create a striking presentation about Texas, you might find it helpful to use a Texas State map that explains characteristics that resonate with local production volumes.
For example, you can generate a heat map to demonstrate oil values in this state's case. In a Texas County map outline like this one, you can create a color scheme that will present the most critical sections with great visual understanding.
Another interesting usage can be generating a map of Texas Cities using different colors to point out its influence. Check out this heatmap example for oil barrel production.
Map of Washington State
Anyone who has read any US history recognizes George Washington as one of today's United States' founding pioneers. Therefore, this state that carries its name is important and relevant and crucial to the US economy because of its extensive services offering.
Currently, Washington is one of the most relevant states as it is home to some of the biggest dotcom (.com) companies. A Washington State Outline can help display locations for main business hubs or cities like Seattle, which are pretty influential.
Having all this business on its ground, Washington, and especially cities like Seattle, have become relevant aviation hubs. Therefore, another interesting example for a presentation, including a Washington state map, is showcasing this state's main airports.
The Washington Outline State PowerPoint Template works perfectly to display major airports' locations in the Washington State area. Include icons from our varied collections of transport, including planes, trains, and automobiles.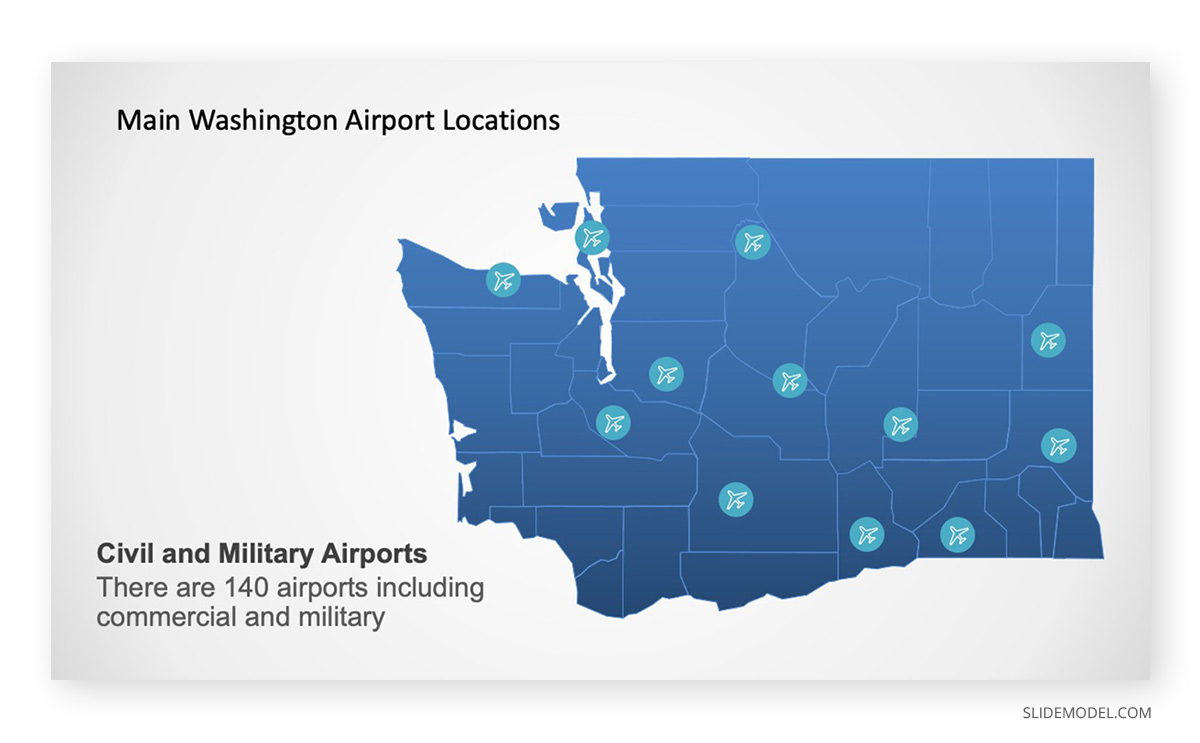 California Skyline
California is often referred to as the Golden State and includes some of its most exciting destinations in the US, full of lush natural locations and human-built landmarks. When seeking to understand the California Map, you can come across unusual segmentations as per county or central cities.
Considering some of the natural phenomena in this state, using the California County Map to showcase wildfire behaviors and consequences is an interesting approach. Creating a presentation for this state can help create a California Fire Map where it's easy to understand how fires affect the general landscape.
Silicon Valley, also located in California State, is a vital destination for innovative companies seeking a tech approach. In this case, you can also take advantage of skyline templates' infographic capabilities or even California County Map to showcase the main business points.
Suppose you want to showcase data directly from a company located in this state, besides using a California State Outline. In that case, you can also use our Los Angeles PowerPoint Template to display data with the LA Skyline.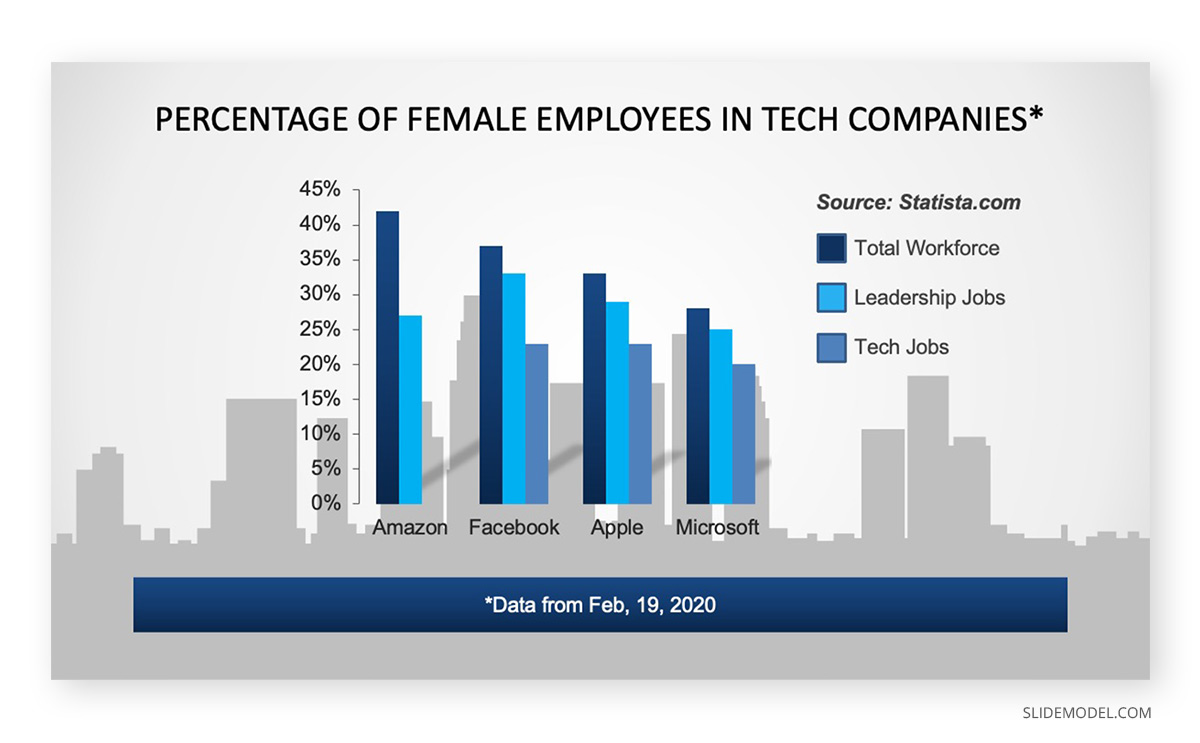 New York State Outline
When you think about the big city, also one thinks about buildings and bright lights. Several images like the skyline, the statue of liberty, the Niagara waterfalls, and the New York Subway Map are also images that can be a part of any effective presentation of this state.
NY also is recognized through a New York State Map with Cities including the 5 different boroughs: Bronx, Manhattan, Queens, Brooklyn, Staten Island. This type of segmentation helps present the other activities and cultural variety that happen in this broad state.
The New York State Outline will represent many different and exciting references, either the adventures to experience or the natural locations to visit. An advantageous way to have a great understanding of New York City is the subway, as you can go anywhere quickly in an inexpensive way. When creating a presentation about NY, it can be helpful to join the New York County Map with the subway map infographic to illustrate the relation with New York City further.
Georgia County Map
Anyone interested in the birth of some of the most successful franchises in the world would be curious to learn more about cities like Atlanta, Georgia. Housing headquarters of companies like Coca-Cola and CNN and outstanding agricultural production, Georgia is a go-to-state for the United States economy's fulfillment.
When considering the Map of Georgia, it's also interesting to analyze in any presentation some relevant characteristics of this state. For example, agricultural production has been of great relevance in this state, leading to a varied output of nuts, fruits, and even fabric's prime matter.
In a detailed Georgia County Map, for example, you are able to define which are the primary agricultural products in each area of this state. Here we also used the SlideModel farm icons to illustrate the outputs that are produced.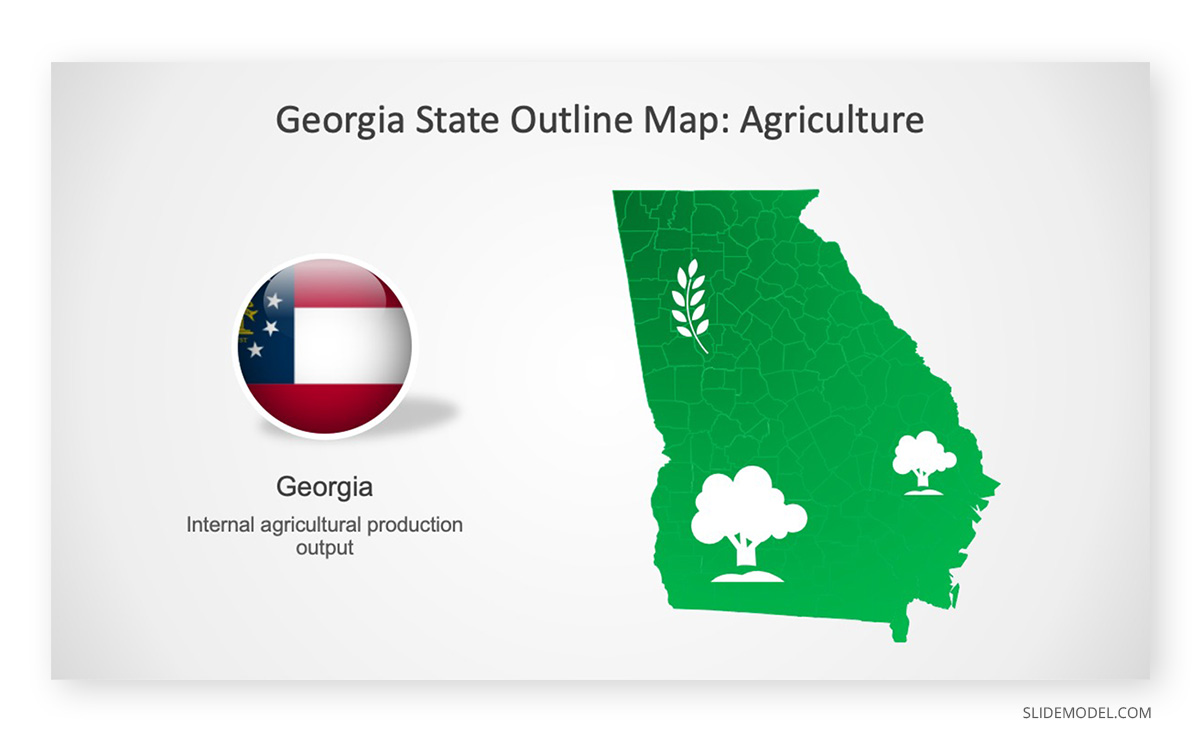 Map of Arizona Cities
The map of Arizona shows many interesting natural locations many have historically sought out. This comes in contrast to the vast natural beauties in all the parks' extensions located in this state.
Located in a privileged section of the United States, it presents warm weather and a mixture of Latino and North American cultures. When working on a presentation for the Arizona County Map, you can showcase specific areas using Arizona either State Parks Map or share data about the population density with a Map of Arizona Cities. 
In this example, we have modified the Arizona State Map into a Map of Arizona Cities, displaying the most populated cities points: Phoenix and Tucson.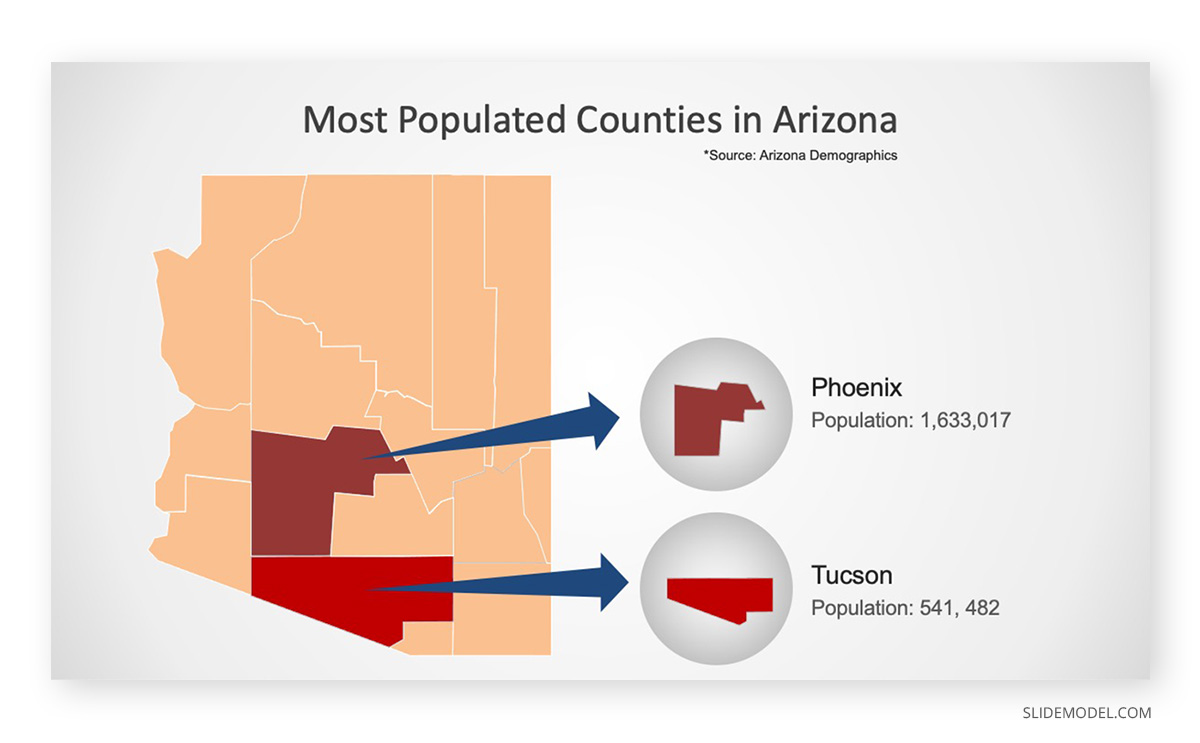 Map of Florida Beaches
When you imagine the Map of Florida, it's easy to think of sunny beaches, outstanding resorts, family vacations, or just a casual shopping spree. Known for its broad touristic offer, Florida has to give everything from huge malls to walk around, art, gastronomy, and of course, beaches for days. Many travels to several Florida cities to visit landmarks like Disney o Miami Beach and Key West.
Florida State also has some of the most beautiful weather. Therefore it's a preferred place not only for all-around-the-year travelers but also a relocation place for retirees. Cities like Fort Lauderdale, Hialeah, and Orlando are great locations to spend the retired times.
In this example, we have created a Map of Florida Beaches combining the Miami Powerpoint Template combined with the Florida State PowerPoint Map to showcase some of the best beach-and-city locations.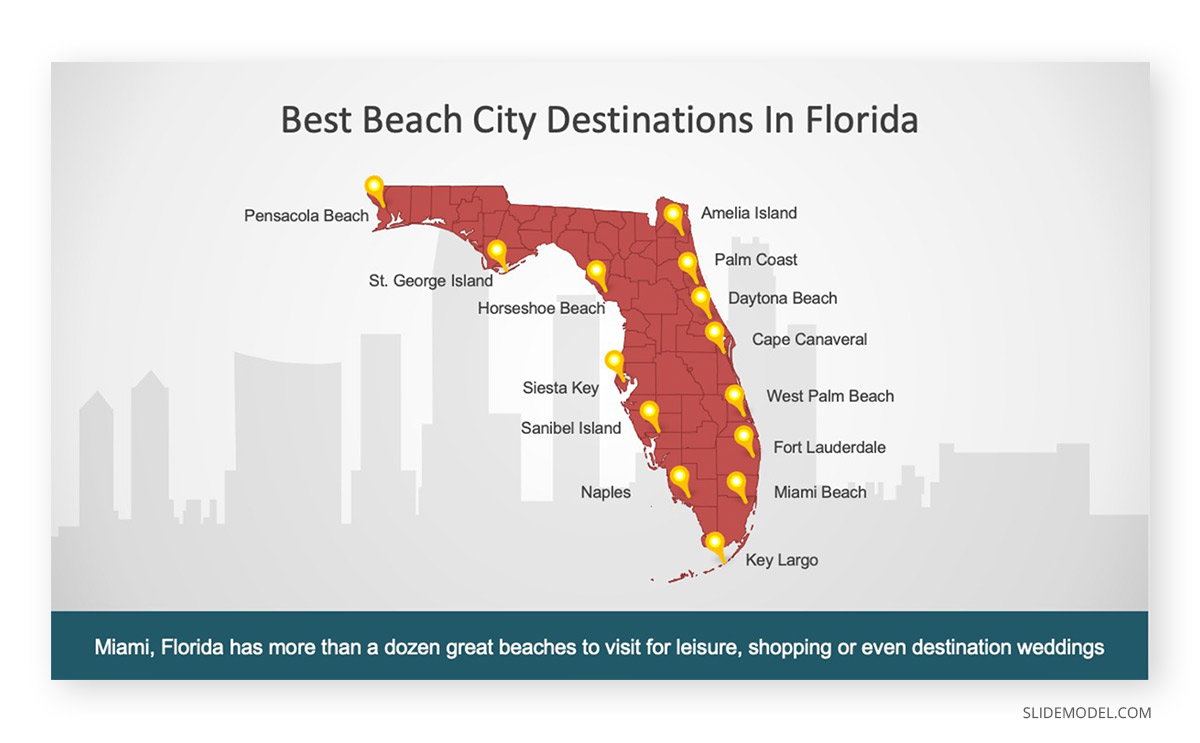 North Carolina Map
One of the most interesting up-and-coming states is North Carolina, presenting a growing corporation landscape that includes some top banking companies in the United States. People from all over the country have begun moving towards this city as it offers excellent opportunities and is developing quickly into a fascinating place to live.
Currently rated as one of the Top Places to Live in the United States, North Carolina has become a technology hub, still sharing the charm of a friendly small-town community. Companies with significant headquarters and operations in the area are super hardware Lowe's, telecom AT&T, Lowe's, and Bank of America.
Currently North Carolina has 15 counties and 553 cities where there can be found an extension of urban areas, national parks, and charming small towns. In a North Carolina State Outline detailed map like the one you see below, you can see all the location names and add some interesting data about the state.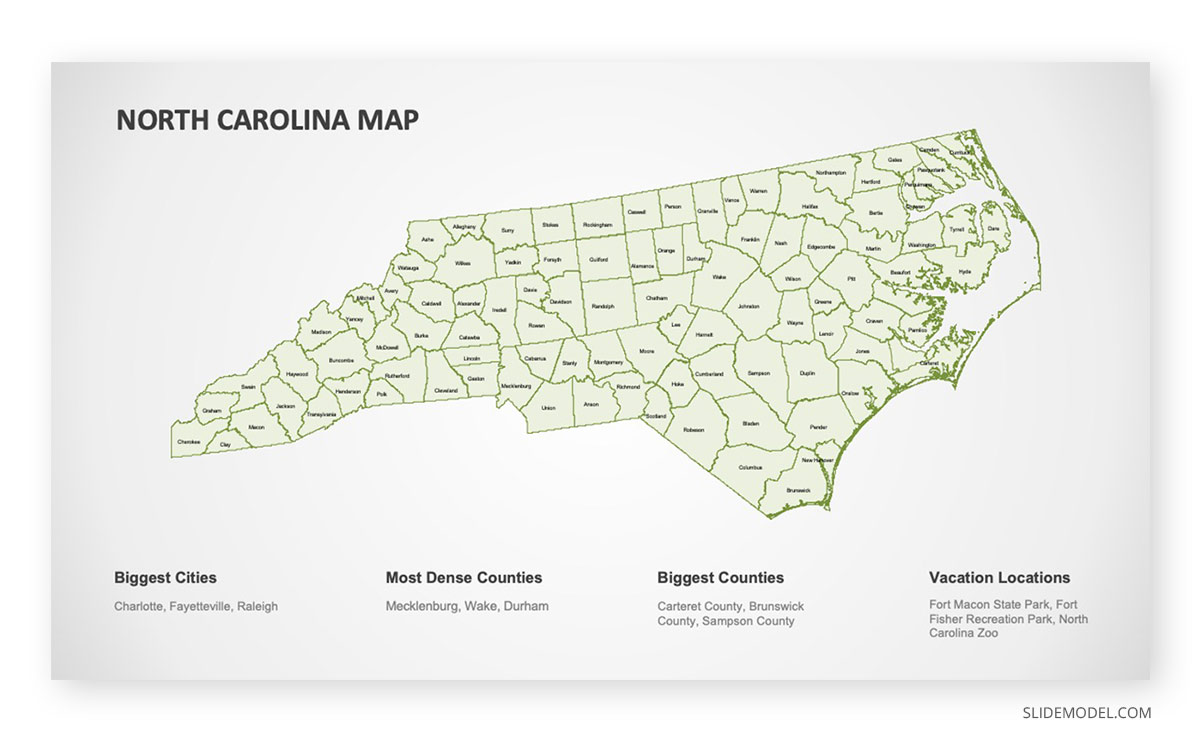 Alabama State Outline
Located in the south of the country, Alabama is a historical spot that carries many stories that have shaped the United States. It's known that the civil rights movement began in this state, mobilizing thousands of people fighting for equality.
Not only have civil rights been an essential part of Alabama history, but it's also relevant to mention how this state has played a vital role in many cultural events historically. It's recognized by its universities, state parks, and even the US Space and Rocket Center.
The US Outline Map allows you to create a presentation where you can provide a lot of information, including the Alabama State Outline and it's near borders. This template includes a Map of Alabama that can be used to define specific locations where historical events happened.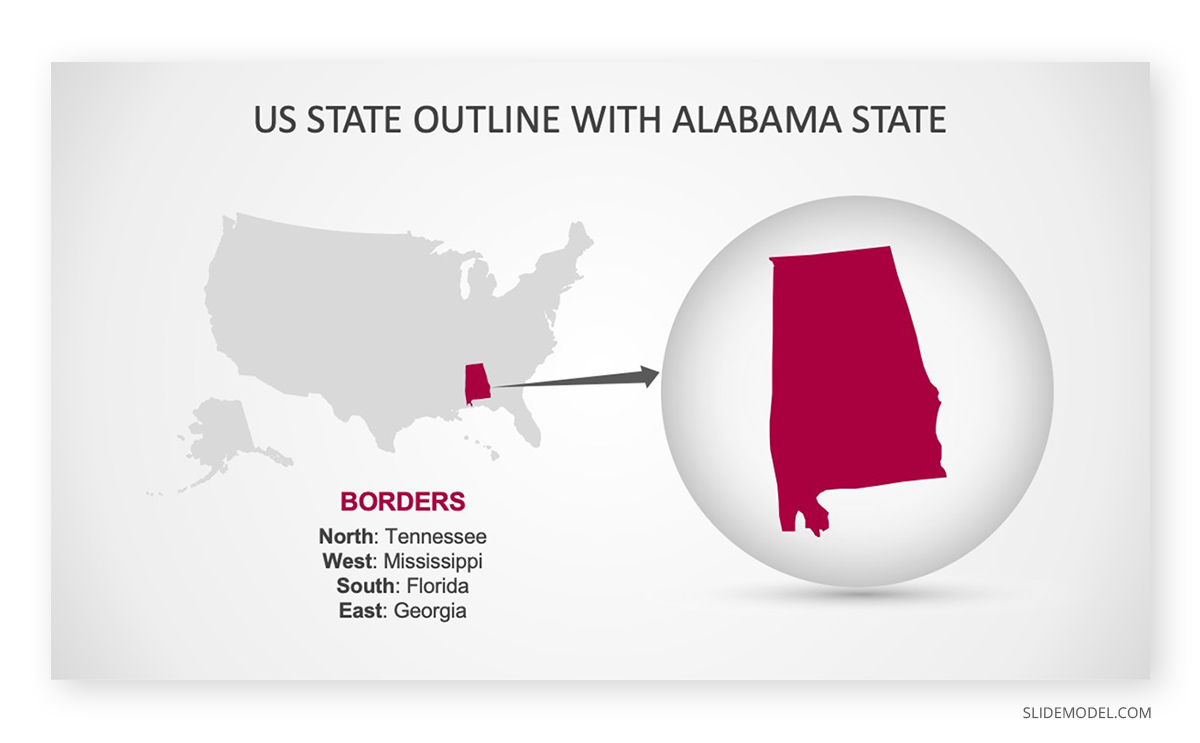 Michigan State Map
Michigan is one of the essential economic assets of the 20th Century in the US. One of the key players in the automotive industry, Michigan, led the country's automotive manufacturing activities. Even though it suffered deeply in the 2008 crash, Michigan has been one of the leading states in the production of all times.
Also one of its more relevant cities, Detroit, has been deeply relevant for urban culture. With the birth of many creative movements in music, art and fashion shaping entire generations, its legacy is a powerful one.
Here, we have used the Michigan US State With Counties PowerPoint Map to show the location of the 8 Michigan Regions, including their names and the state emblem.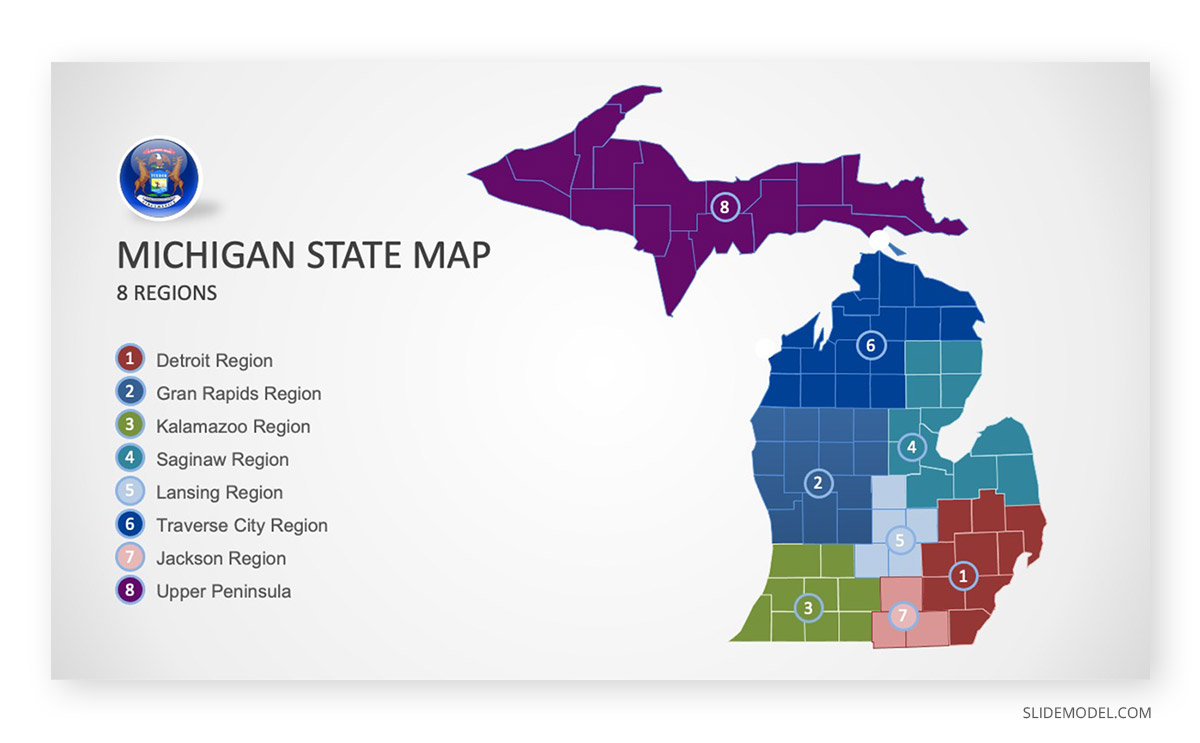 Final Words
Regardless of your style or the needs, you're facing when building a map, the most important thing to remember is what information needs to be issued.
We want to share some tips to make your map presentations easier to build:
Select a template that includes the info required, including counties, names, flags, symbols, etc.
Add interesting data that will make any map stand out, include statistics, location points, or even icons to point to specific information.
Don't be afraid to use color, gradients, and text to make every piece of information valuable.
Last, make sure that you are not shy about linking information in your maps. Each slide can be simple and to the point or have eye-catching imagery that comes from combining templates. The most important piece of advice is not to be afraid of making your map outlines stand out.