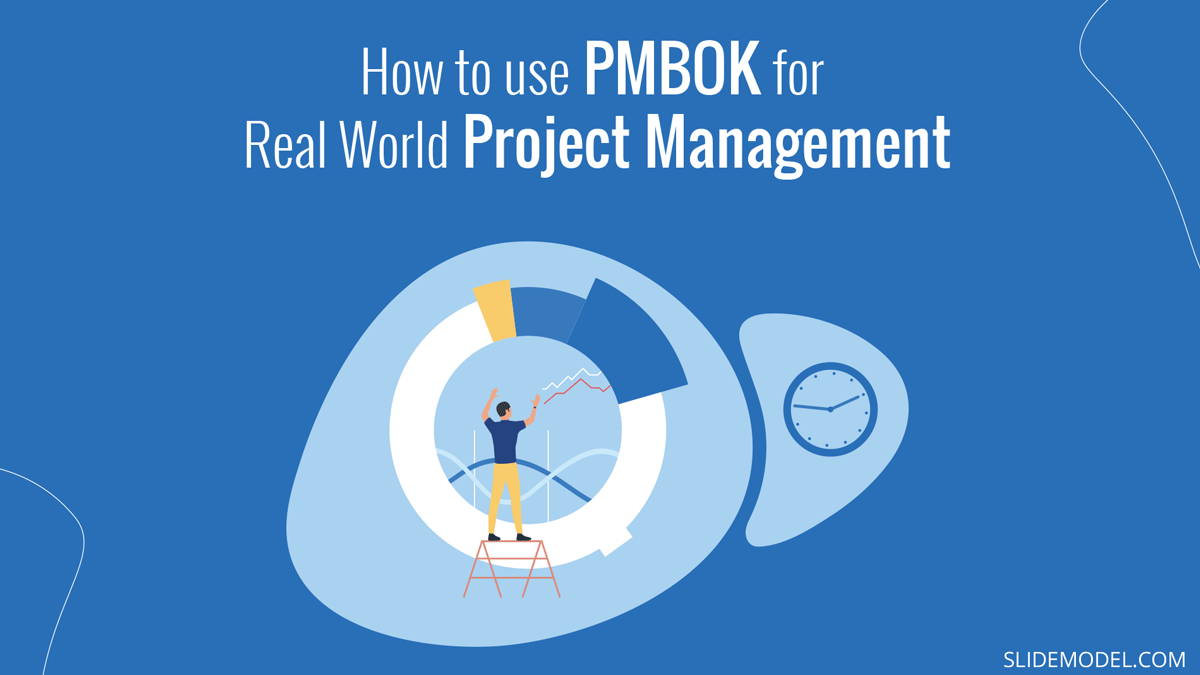 Project management has become an incredibly popular management style, career, and research area. Sometimes it's easy to forget it isn't just "the management of projects", but rather a specific group of management processes. According to the Project Management Institute (PMI), it "is the application of knowledge, skills, tools, and techniques to project activities to meet the project requirements." Where can you find these knowledge and tools? In the PMBOK Guide.
What is PMBOK?
PMBOK stands for Project Management Body of Knowledge. The PMBOK Guide includes terminologies, guidelines, and processes that the PMI considers best practices for managing projects.
What is the Difference Between the PMBOK Guide and Other Project Management Methodologies?
What makes the PMBOK methodology areas so valuable are the standardized processes. These are the heart of PMBOK.

This list includes almost every single action needed to manage a project effectively and efficiently. What makes the PMBOK Guide uniquely valuable is how each of these processes are created with best practices, expertly guided, consistently proven, and standardized across all project management.
However, something profoundly relevant to consider is how to communicate with your team because every macro process has a minor process that helps the final result. Therefore, every project manager or lead must assess the best way to generate this information distribution taking into account the most valuable and efficient tools, including huddles (virtual or live), PowerPoint presentations, or handouts.
In the following sections, we will be sharing how PMBOK functions as a whole system and best practices in generating the clarity your team needs to succeed, and a bonus on how you can use PowerPoint Templates to provide a precise path towards your end goal.
Who Can Use the PMBOK Guide?
In reality, anyone who has a copy of the latest publication of the PMBOK Guide can use it to improve their project management skills and tools. However, the guide was created with PMPs in mind. What is the difference between a PMP and PMBOK? The PMP, or project management professional, is the person whose job it is to manage projects. The PMBOK is the body of knowledge that person is an expert in.
How is the PMBOK Guide Practical for Real-Life Project Management?
Project managers and executives around the world acknowledge that the PMBOK Guide is project management best practices. Since thousands of PMPs around the world use these exact methodologies, they're constantly being tested and improved. While not every process will be needed in every project, you can rest assured that every single project can benefit from the PMBOK processes and guidelines.
This is not just a theory to learn about and reject once you get to the real world. It's a road map to successfully managing projects.
What Are the 10 PMBOK Methodology Areas
In order to manage each of the 5 phases of a project, you'll need a solid understanding of these 10 knowledge areas, all of which can be found in the PMBOK Guide.
1. Integration Management
This is about bringing the many pieces of a project together so that you're managing one integrated project, as opposed to several disparate pieces. This is an ongoing process aimed at defining and managing the project goals and deliverables.
2. Scope Management
The essence of scope management is defining and managing what work needs to get done in the project. More specifically, it's about making sure all stakeholders understand what the main objectives and deliverables are. The main goal of this PMBOK knowledge area is to keep the project from getting out of hand via additional requests or changes to the objectives.
3. Time Management
Time management is less about trying to keep everything on time and more about connecting constantly with your team and stakeholders to maintain a realistic schedule. Delays are often inevitable during a project. A clear understanding of the activities of the project, accurate time estimations, and knowledge of what schedules can and cannot be adjusted are all necessary skills for good time management.
4. Cost Management
There are three key factors to cost management: knowing how much it's going to realistically take to complete the project, figuring out how much budget to request, and anticipating the value or ROI the project will generate. Of course, cost management doesn't just occur at the beginning of the project, but is evaluated, and potentially adjusted, throughout to avoid surprises at the end.
5. Quality Management
The processes involved in quality management are about preparing how to evaluate quality throughout, executing this ongoing evaluation, and controlling the quality. If the project manager notices a drop in deliverable quality, they'll take the appropriate measures to bring it back up to par, ensuring customer expectations are met.
6. Human Resource Management
The main function of human resource management is team management. The processes here are about building and encouraging a team that will work well together. Team building and individual skill growth are both responsibilities of the project manager. Knowing your team members and knowing what they are capable of as individuals and as a team are crucial for effective human resource management according to the PMBOK Guide.
7. Communications Management
Project managers are the main communicators about the project. This skill area prepares them to know how much to communicate, when to communicate, and to whom.
8. Risk Management
Risk management is both about identifying risks before they happen, as well as assessing risks as they appear during the problem. Planning and implementing risk management and response protocols will help project managers and their teams deal with challenges throughout the project. It's necessary since it's virtually impossible to prevent every single potential hitch.
9. Procurement Management
Not all projects will require the processes in this knowledge area, but many will. These processes prepare a project manager to plan purchases and external contractors, including legal paperwork, contract administration, monitoring and control.
10. Stakeholder Management
At the end of the day, your project is going to be analyzed, monitored, and ultimately received by its stakeholders. Good stakeholder management involves identifying who these stakeholders are, what their priorities and expectations are, and how to maintain their engagement.
Why does the PMBOK Guide have you initiate a project by identifying stakeholders? Because each of these folks will have their own priorities and objectives. As client-facing and stakeholder-facing, the project manager needs to know what everyone wants in order to keep them informed and on board throughout the project.
A Practical Guide to the PMBOK Process Groups
The PMBOK process groups can also be considered the 5 phases of project management lifecycle.
Many of the 49 processes detailed in the PMBOK guide will need to be presented to stakeholders throughout the project. Since processes are standardized across the whole PMBOK guide, you can find presentation PowerPoint templates created specifically for many of them.
PMBOK slides make your stakeholder presentations easier to create, easier to understand, and more engaging.
Use this multi-use template pack for a variety of PMBOK processes and meetings, including presenting project scope, escalations, team, and stakeholders. It can also help you create and present your issue tracker, action tracker, communication matrix, and meeting notes.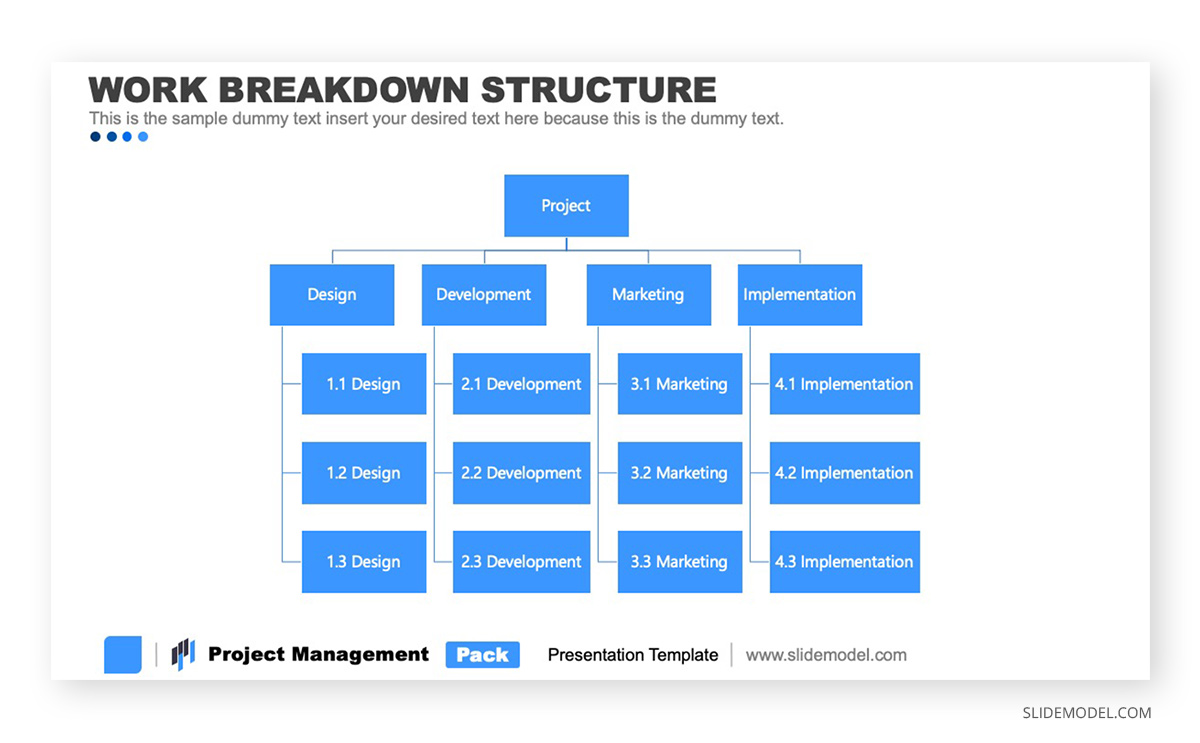 1. Initiating
According to the PMBOK Guide, you start by defining the project in a project charter. The project charter is a summary of what needs to be done, who's responsible, the timeline for each stage, and the resources allocated to the project.
Use this presentation template to show the project charter to stakeholders. A clear, well-organized project charter PowerPoint presentation will make sure stakeholders understand the scope, timeline, and resources needed for your project.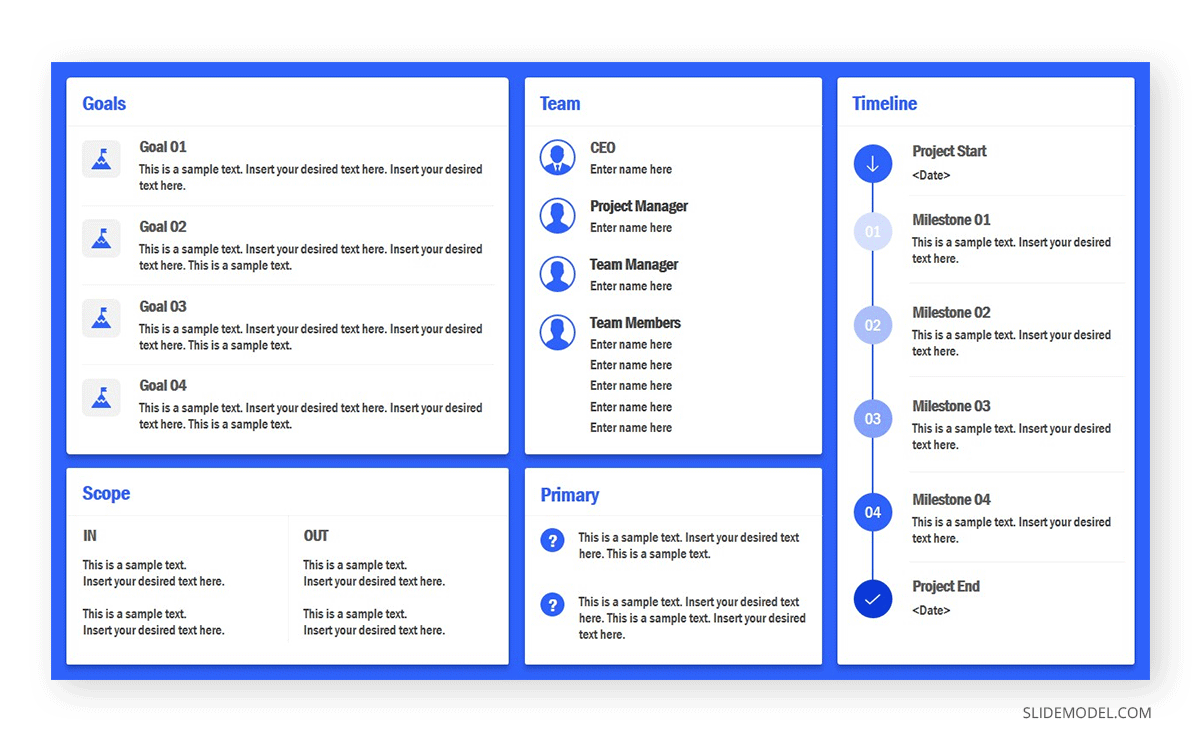 A more detailed work breakdown structure can be created using the Work Breakdown Structure.
The initiating step is also where stakeholders are identified. This basically means identifying who is going to be directly and indirectly involved in the project, as well as who is going to be positively or negatively affected by the project.
Also, the Stakeholders Analysis Slides, will help you organize your analysis of the different stakeholders and their priorities. Figuring out which stakeholder priorities to turn into objectives of the project is a challenging, yet crucial part of initiating a project.
2. Planning
Once the project charter is defined and stakeholders are identified, the project moves on to active planning. If a project is not planned well, one of two things will happen. It will fall apart midway or it will finish without generating satisfactory results. Project managers will go into more detail about the real project goals and expectations. Project scope, potential risks, milestones, budget, costs, procurement, and stakeholder management are also defined in the planning stage.
Considering the complexity of risk mitigation planning, a template like this can help identify potential risk, organize a plan to prevent risks, and present the plan to stakeholders.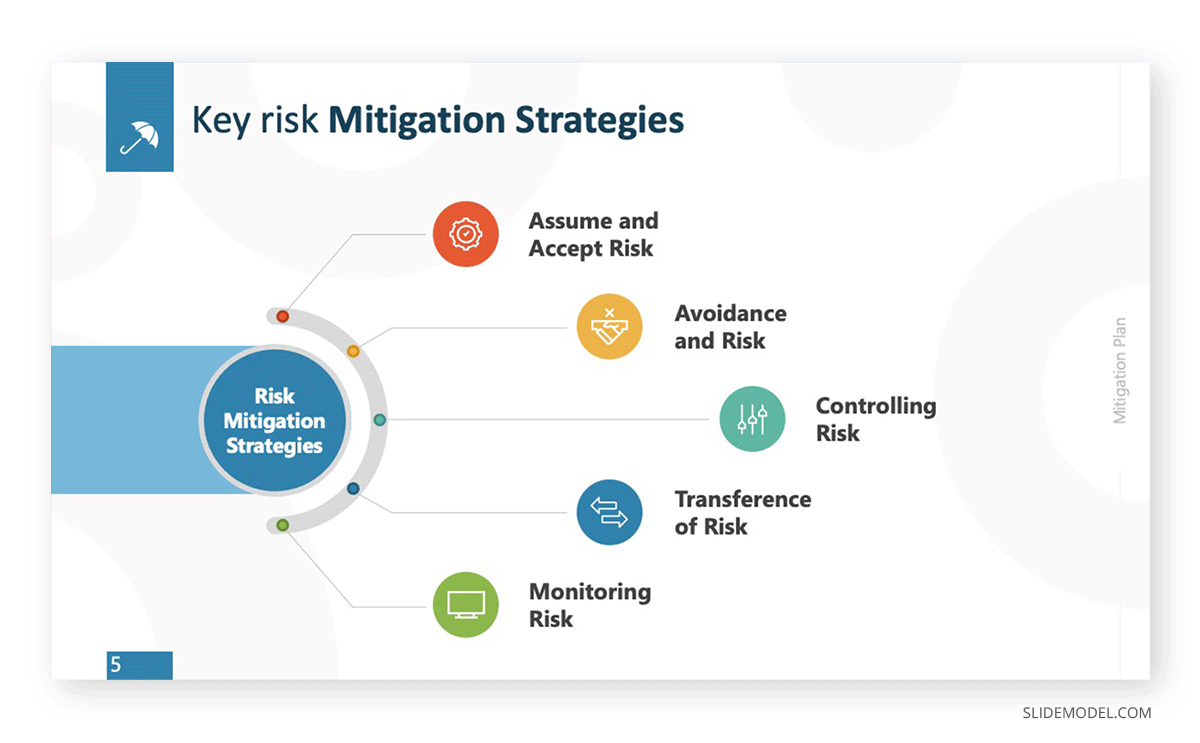 Additionally, project managers will work with the development team to establish the execution plan. What this looks like depends on the chosen development methodology. The PMBOK project life cycle works well with common methodologies, such as agile, kanban, and waterfall.
A lot of project managers choose Gantt Charts to plan activity schedules, durations, and resources for being straight-forward and easy-to-understand at a glance.
3. Executing
Once the plan is approved, the team gets started developing. The processes involved in this phase guide the project manager through ensuring timeline and budget are respected, resources are required, teams are working together effectively, stakeholders are involved and satisfied, and problems that arise are dealt with appropriately and in a timely manner.
Project managers follow the execution processes outlined in the PMBOK Guide because it's the best way to deal with the many complicated factors on their plate. In this phase, you'll see how good your plan was. The better the plan, the smoother the execution.
Create a presentation for stakeholders with project milestones, as they appear and are anticipated throughout project planning and execution.
4. Monitoring and Controlling
Every project manager will tell you that there situations arise that are completely out of control. This is where the previously established risk mitigation plan comes into play to help the PM and team solve problems and continue moving forward. The monitoring and controlling phase is not always about avoiding complications, but being ready to deal with them as they come.
Additionally, the PM will have to manage change requests. As stakeholders see progress or change their priorities, they'll request changes to the project. Of course, there are forms for this and processes to follow to make sure changes don't derail the project.
Note that the monitoring and controlling phase involves processes that happen throughout the execution phase.
Project work, scope, schedule, costs, quality, resources, communication, risks, procurement, and stakeholders are controlled constantly. During this part of the process, take into account that you can create slides to track down and collaborate with your team to generate accountability and shared responsibility.
5. Closing
Successfully closing a project means completing the project on time and within budget. While there are not many processes involved in the closing phase, it is where you can tell if the project manager was using best practices or not. Every part of the PMBOK Guide leads project managers to closing successfully.
The closing phase isn't just about finishing the project, but learning from the process. A good PM will close the project, respecting timeline and budget. A great PM will learn everything they can in order to manage the next project even better.
How to Know Which Knowledge Areas and Processes to Utilize When Managing a Project
Deciding which processes to use and knowing how to execute them best is one of the main objectives of PMP courses, degrees and certification. If you want a career in project management, then this route is recommended along with many other project management tools and techniques. Otherwise, study each process and decide what makes the most sense for your project and what will bring value to your project.
At the end of the day, all knowledge is worth having. As a project manager, it's up to you to decide how to best manage your project. The PMBOK Guide offers practical guidance for doing so successfully.
Consider the options. You can wing it and deal with the different factors, situations, and pieces of your project as they come up. Or you can follow a well documented, consistently proven method like the PMBOK Guide. The choice is yours.