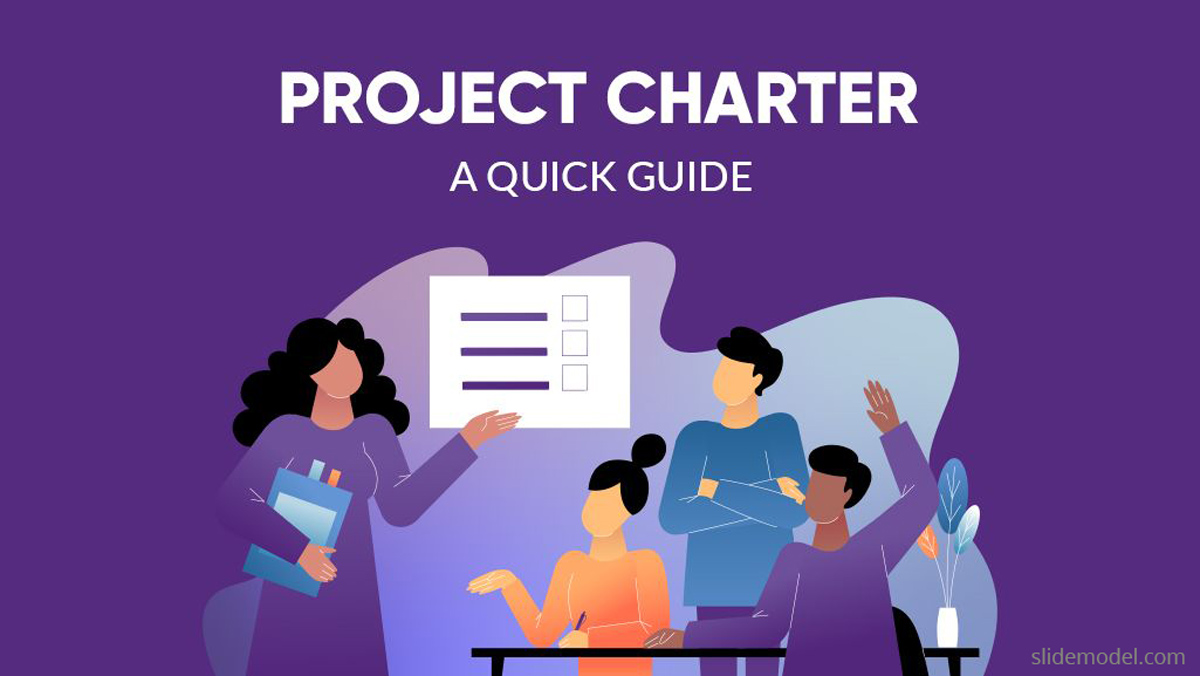 Initiation is one of the most crucial stages of every project. If you fail to gain sufficient support for a planned endeavor, it will never see the light of day. A project charter is a document (and planning tool), designed to help managers secure support for a new project, plus shape its overall trajectory. After reading this post, you too will be able to develop a project charter and effectively "sell" it to sponsors during a presentation.
What is a Project Charter?
The PMBOK® Guide gives the following definition of project charter in project management:
A project charter is a document issued by the project initiator or sponsor that formally authorizes the existence of a project, and provides the project manager with the authority to apply organizational resources to project activities.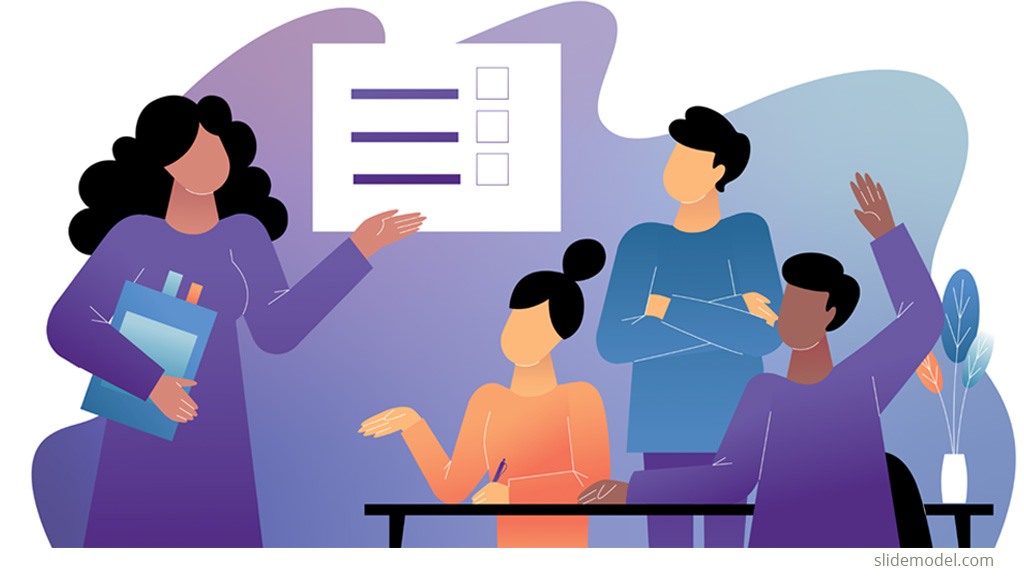 In layman's terms, a project charter sets the scene for an upcoming execution by specifying:
What needs to be done
Who's responsible for which objective
What timeline and resources should be allocated.
Who creates the project charter? Typically, that's the job of the project initiator — a project leader, manager, or another stakeholder who's going to be in charge of the initiative. This is an overview document, worth creating at the early phase of the project management lifecycle to ensure better alignment between all the parties involved.
The main elements of the project charter include:
Requirements — a succinct overview of jobs-to-be-done and main deliverables to be completed.
Business needs — a summary of the reasoning behind the project, a short business/use case.
Summary schedule — a timeline for when all the planned items will be done and the set results reached.
Assumptions and constraints — an acknowledgment of the risks/blockers that can derail the project from the proposed track.
Results or Return on Investment — a list of outcomes, obtained after successful project completion.
A simple project charter runs 1-2 pages long and provides a bird-eye overview, rather than an exhaustive list of details. For complex, long-term initiatives managers usually create a set of supporting documents such as the scope of work (SOW), workload breakdown structure, project communication matrix, and so on.
Helpful template: Project Management Pack PowerPoint Templates
The Purpose of a Project Charter
Depending on the project size and the company's project management (PM) practices, a project charter can be treated as either:
A formal document that's a part of a more comprehensive project management plan.
A self-contained informal document used internally as a reference.
In either case, the main purpose of the project charter document is to formalize the planned endeavor, plus gain authorization for it from senior stakeholders/sponsors for execution.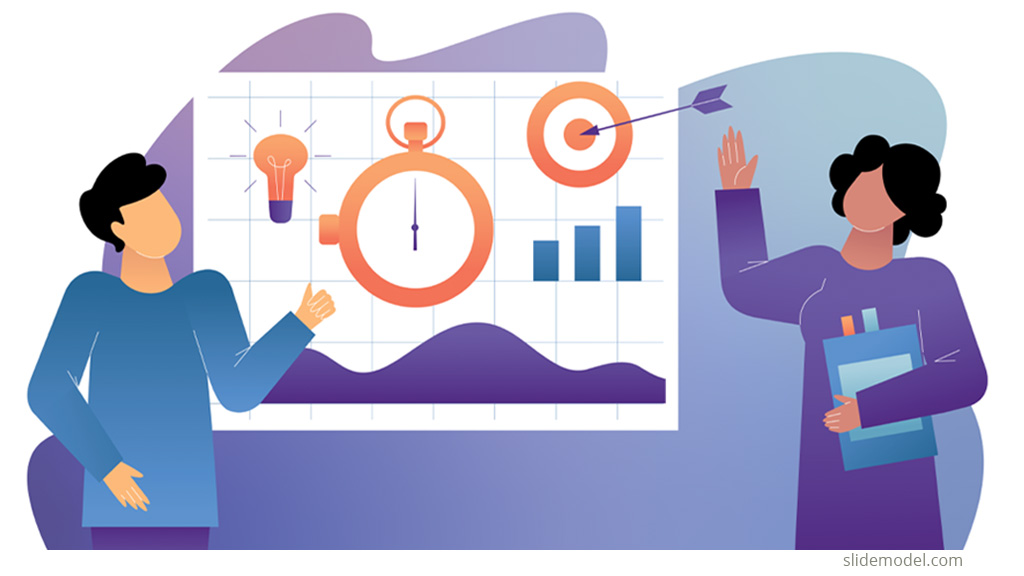 In that sense, the key components of the project charter serve as a 'sales' document for promoting the suggested project. Your goal is to persuade others that there's a strong need for pursuing it and justify the provisioning of requested resources. PMI research found that projects with highly engaged sponsors are 40% more likely to be successful. Additionally, one in four companies reports that inadequate sponsorship is the primary reason for project failures. A project charter helps prevent low engagement scenarios. 
Also, a project management charter is a great place to "connect the dots" between the project scope and wider organizational strategy. For example, when writing a project charter for implementing a new MarTech platform, you can reference the company's go-to-market strategy and explain how the new tool can help drive greater brand awareness in the new market.
Thirdly, the project charter serves as the underlying reference document for planning subsequent steps in the project lifecycle. It helps ensure that your project:
Stays within scope
Remains on budget
Is sufficiently stuffed
To sum up, the importance of project charter is manifold. First, this document helps secure sufficient sponsorship for your project (from top-to-bottom). Engaged stakeholders are more likely to facilitate the project execution by removing roadblocks, assisting with change management, and provisioning extra resources should the need arise. Well-aligned grassroots teams, in turn, are less likely to lose focus or become disengaged/derailed by slow approvals or issue resolutions from the top.
Project Charter Example + Project Charter Template
To provide you with a working example, we'll use our project charter template (PPT) as a reference point for writing: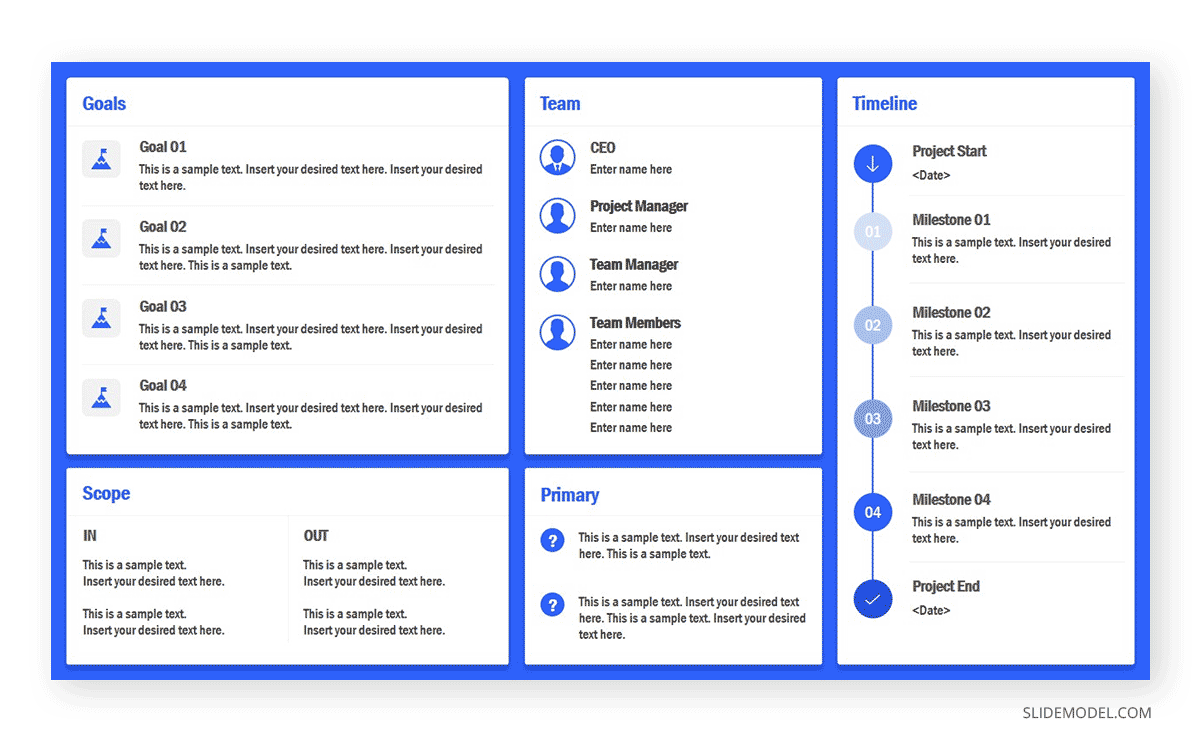 Here's how a sample project charter can look launching a new workplace mentorship program.
Project Goals
Formalize the scope and format of mentorship engagements.
Enlist 10 department heads and c-suits for participation.
Conduct at least 5 group mentorship sessions and 15 private ones in 6 months.
Scope
Objective 1: Collect employee feedback on the training & mentorship format they'd like to receive.
Result: Determine the optimal session format and preliminary program structure.
Objective 2: Develop an internal mechanism for matching mentors with mentees.
Result: Introduce a formal assessment process for match-making mentorship tandems.
Objective 3: Prepare supporting resources for facilitating meeting sessions.
Result: Deliver a set of the syllabus of sessions, meeting agendas, and extra training materials.
Team:
Project Manager: Sarah Tompson
Mentorship Coordinator: Jim Robins
Confirmed Executive Participants: Loty Johns, Samuel Lorry, Mitchel Walles, Suzan Morris, Patric Delon, Kiki Liu.
Unconfirmed participants: Jamal Singh, Katie Cardozo, Amanda Leeds, Jeffrey Chong.
Results:
Create a 6-month mentorship program (with regular group and 1:1 sessions)
Improve employee engagement by 5%.
Timeline:
Project start date: March, 15th
Milestone 1: Employee survey launch: March, 18th
Milestone 2: Results analysis and reporting on findings: March, 23rd
Milestone 3: Program presentation to mentors confirmation of participation: March 27th.
Milestone 4: Match-making assessment development and presentation: March, 30th.
Milestone 5: Company-wide announcement of the program: April, 1st.
Milestone 6: Finalization of syllabus and agendas: April, 3rd.
Project End: First group mentorship session launch: April, 5th.
How to Write a Project Charter: Best Practices
The above example provides a general overview of the information that should be highlighted in your project charter. Now let's zoom in on how you should approach data collection and structuring as you develop a project charter for your initiative.
Formalize Your Project Vision, Goals, and Key Objectives
To "sell" the idea both to the stakeholders and other project participants, you need to clearly articulate the 'why' behind your project.
To arrive at that ideal wording, seek input from your team first. Ask their opinion on the main opportunities, values, and possible risks they see within this project. Going back to the above example, a workplace mentorship program may flop if not enough mentors will want to participate. Thus, you may want to enlist some of your team members to help with conveying the value of the program to them. Check out our Team Charter guide to learn more.
Also, take into account wider market implications and corporate environment and connect your project goals with them. For example, you know that the company struggles with hiring for certain roles. When presenting your project charter, you can focus on how mentorship can help with upskilling certain employers and positioning them as better candidates for an internal promotion.
Define The Scope of Work (SOW)
Provide a preliminary overview of the objectives your project will pursue. Clearly explain what issues you plan to solve and which ones to leave out. To ensure the project's ability to deliver on its promised goals, set project boundaries via the SOW.
To create a solid SOW statement for a project charter, do the following:
Identify the main deliverables first
Determine which tasks support their successful delivery
Indicate project charter roles and responsibilities for parties who'll complete those tasks
Set a timeline for completing different tasks (milestones)
Provide any extra information for associated payment costs, terms, and deadlines
Specify if any extra work resources, software, or equipment will be needed
Spell out the criteria you'll use to determine which deliverables are acceptable
While not all of the above information should go into a less formal project charter, it's still important to produce for your internal reference and subsequent reporting to stakeholders.
Determine the Project Organization Structure
Based on the scope of work, list the roles you'll need for the project, including stakeholders (internal and external), and the execution project team. If you plan to rely on extra resources (e.g. subcontractors or freelancers), specify this too.
To effectively determine who should be on your project team and what they should be responsible for, use a RACI matrix.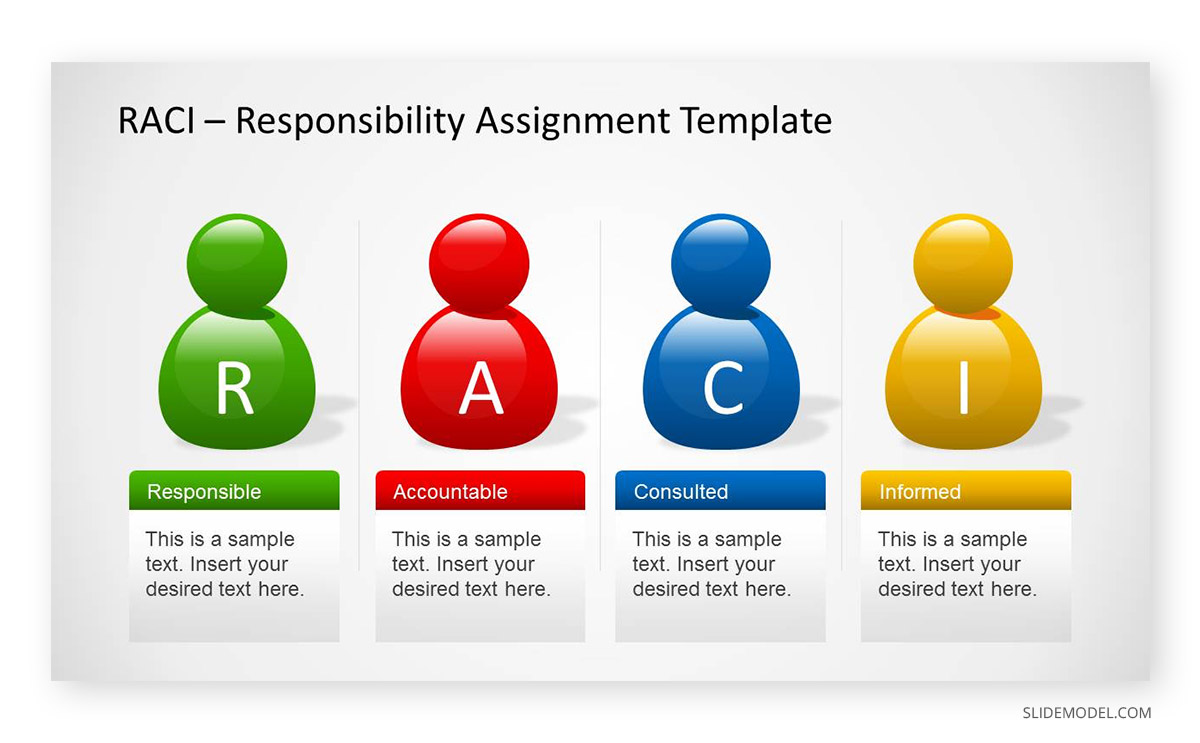 Pro tip: You can also add a RACI slide to your project charter persuasion to provide a quick overview of the main roles and responsibilities of the project.
Map Out an Implementation Timeline
Break down your SOW into specific milestones with fixed dates. Then set a proposed start and end date for the projects. It's okay to use preliminary dates in an Agile project charter, as long as you have the capabilities to make rapid adjustments.
Recommended article: How to Kick off a project with a Project Kick off meeting
Also, map the dependencies between different tasks on the timeline to ensure that you'd be pursuing the right course of action at the right time.
Mention The Project Risks
Show the stakeholders that you are being realistic with your plans by referencing potential blockers and disruptors. Briefly, specify what can jeopardize the project's success. On top, provide a brief walkthrough over how you plan to mitigate those risks and what plans you have put in place to prevent them.
You can borrow a few slides from this risk mitigation template from SlideModel to better communicate your ideas to other stakeholders.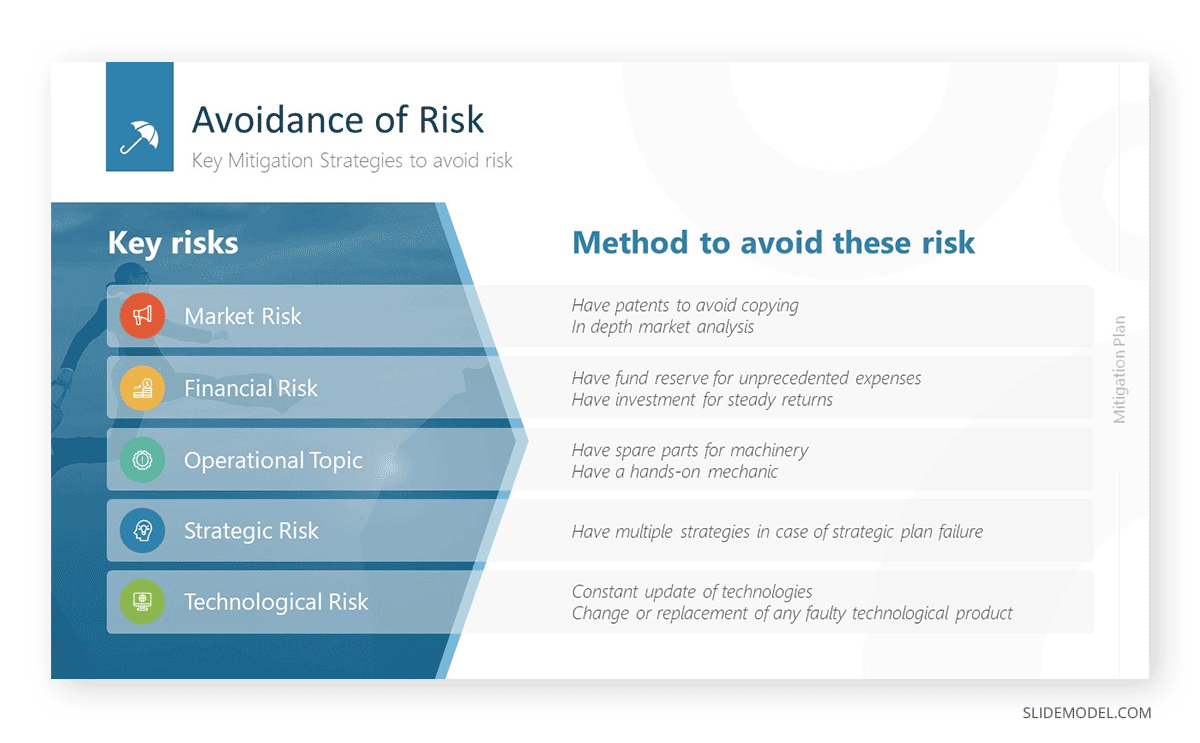 Final Tip: Presenting Your Project Charter
Given the current circumstances, you'd be most likely doing so remotely, rather than in-person. So be sure that your PowerPoint presentation looks good in digital format. In particular:
Ensure that the font sizes will work for different screen sizes
Avoid using animations as these may not look great during screencasting if someone's connection is slow
Provide enough white space to make the on-screen reading experience easier.
Also, when doing your virtual project charter presentation, always look directly at the camera (viewers), rather than at your slides. Maintaining eye contact is important for making such interactions more personable and delightful!
Finally, remember that a project charter should be short and snappy. It has to succinctly summarize the main points of your initiative, rather than provide a complete walkthrough over the entire project life cycle.You can always email supporting project documents to those interested in more details!