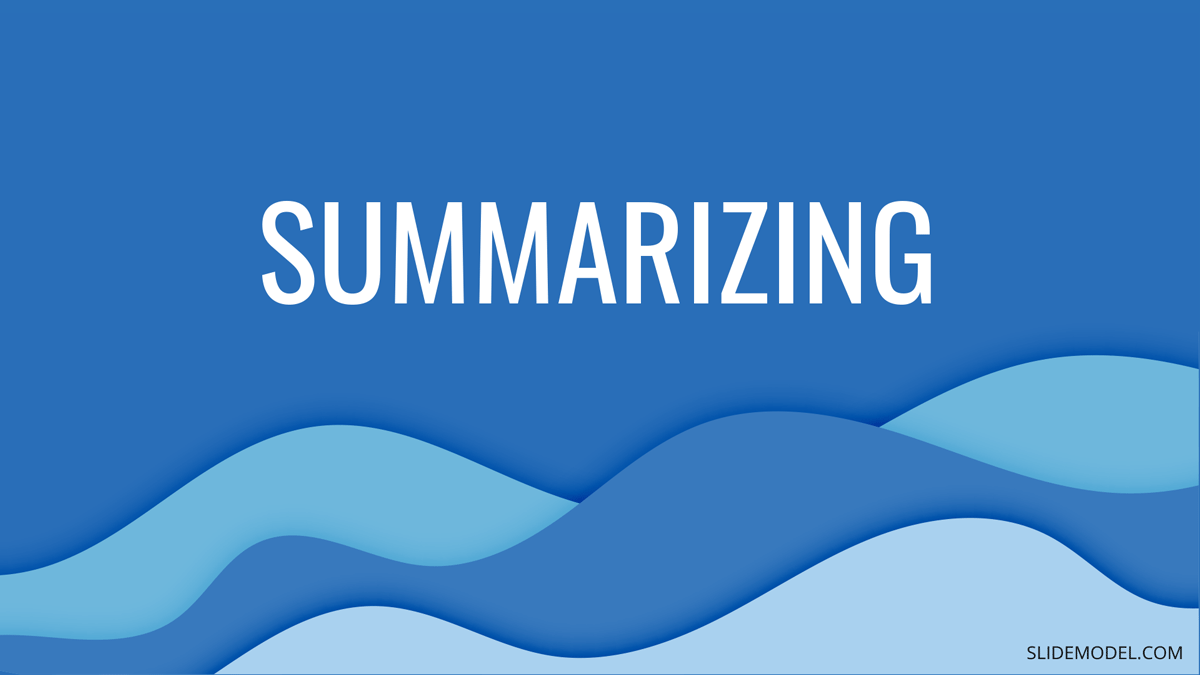 Two things are the easiest to lose when delivering business presentations. The first is the context and the second that follows very closely, to that is the interest of your audience. The best way to avoid death by PowerPoint during a business presentation is to summarize your content smartly, in what we call a presentation summary. This article will explain some of the best ways for summarizing business presentations using several methods.
Why Should You Summarize Business Presentations?
Summarizing presentations, especially business presentations, can be a great way to connect with your audience by sticking to what matters and avoiding losing the translation context. Summarizing presentations can also have many other benefits that can really help you shine as a presenter and take off some of that public speaking anxiety. Below are a few reasons why you should summarize your business presentations.
To Make Content Easier to Explain
Every now and then, we see a presenter who likes to create text-heavy slides and a confusing monotone. Summarizing a presentation can help prevent some of these issues. While some people might have issues due to fear of public speaking, making things easier to explain can't hurt your chances of delivering a presentation without alienating your audience.
To Make Content Easier to Follow
When a topic is too complex for an audience, it does not help use jargon outside their area of expertise. This happens more often during business presentations than presenters tend to realize. For example, a presentation discussing a new production process might not be easy to understand for people from the finance or sales department. To make the presentation easy to follow for everyone, a diagram or summary of the process might be easier to explain.
Summarizing business presentations, be it in the form of bullet lists, highlighted keywords in small paragraphs, or focus on visual aids, can be a great way to make your content easier to follow for your audience. To make your presentation have the required impact, such a summary might actually be necessary rather than an option. Otherwise, you may end up with death by PowerPoint.
To Avoid the Context from Getting Lost in Translation
It is arguably easier to follow a summarized version of the context rather than information that might be too much to handle for an audience. Something that many presenters can tend to forget is the attention span of the audience. Research suggests that the average audience attention span has greatly reduced over the past few years amidst a digitized world. A 2015 research by Microsoft highlighted how the audience could lose interest as quickly as 8 seconds. A second less than the goldfish! More recent researches have produced similar results, blaming social media for declining attention spans.
Understanding the need to keep your audience interested can help a presenter summarize their slides to avoid losing the context. This is not necessarily linked only to attention spans, as presentations that are lengthy, dull, and lack stimulation can produce the same negative result. Therefore, it is necessary to summarize your context and keep your audience interested using eye-catching visuals, interactive presentation sessions, and at times, short breaks.
How to Summarize Business Presentations
Now that you know why let's take a look at how to summarize business presentations in a manner that can help keep your audience interested. To create a presentation summary, you can:
Create an Outline
It is best to start by collecting your thoughts and outlining what you intend to present. You can take notes and create a sequence that best suits your presentation context. This will also make it easy for you to make your presentation. Starting from the basics to the conclusion.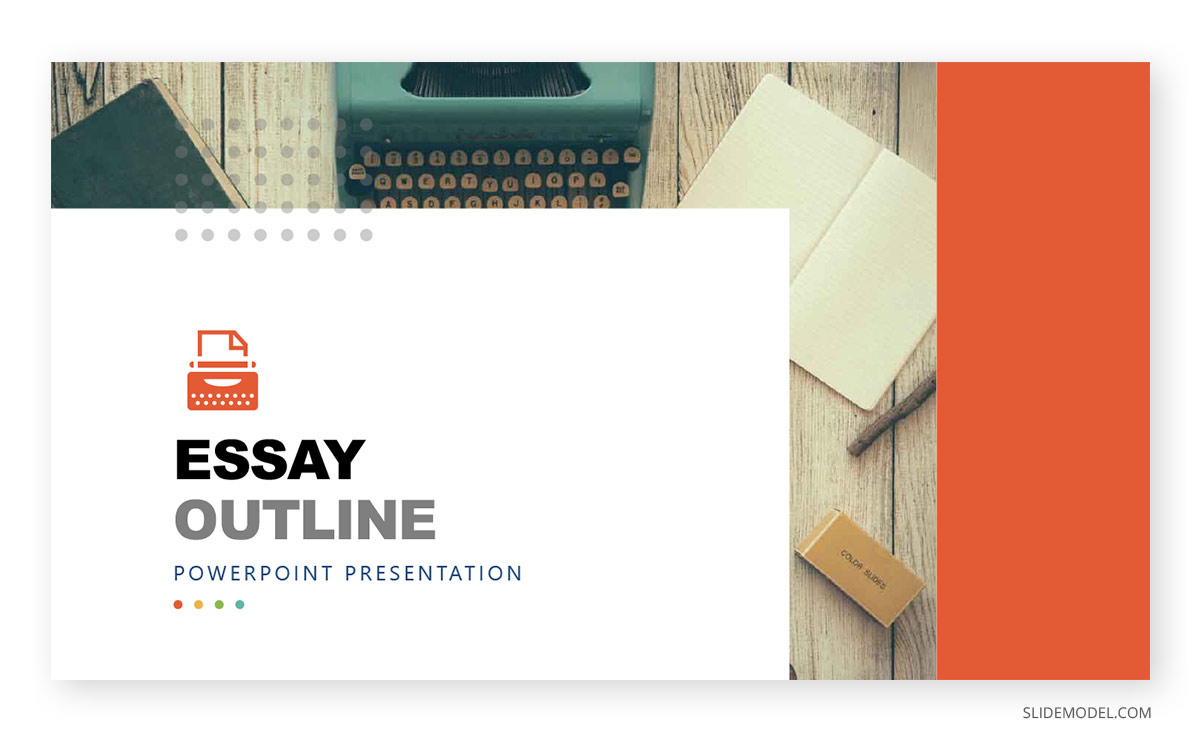 Use Key Highlights in Slides
If you are confused about what content to include in your presentation summary slides, you can pick the key highlights of your presentation. For example, when discussing a business forecast, you can discuss the key trends briefly in your slides. A chart, diagram, or table with basic information can help explain the context quickly and easily.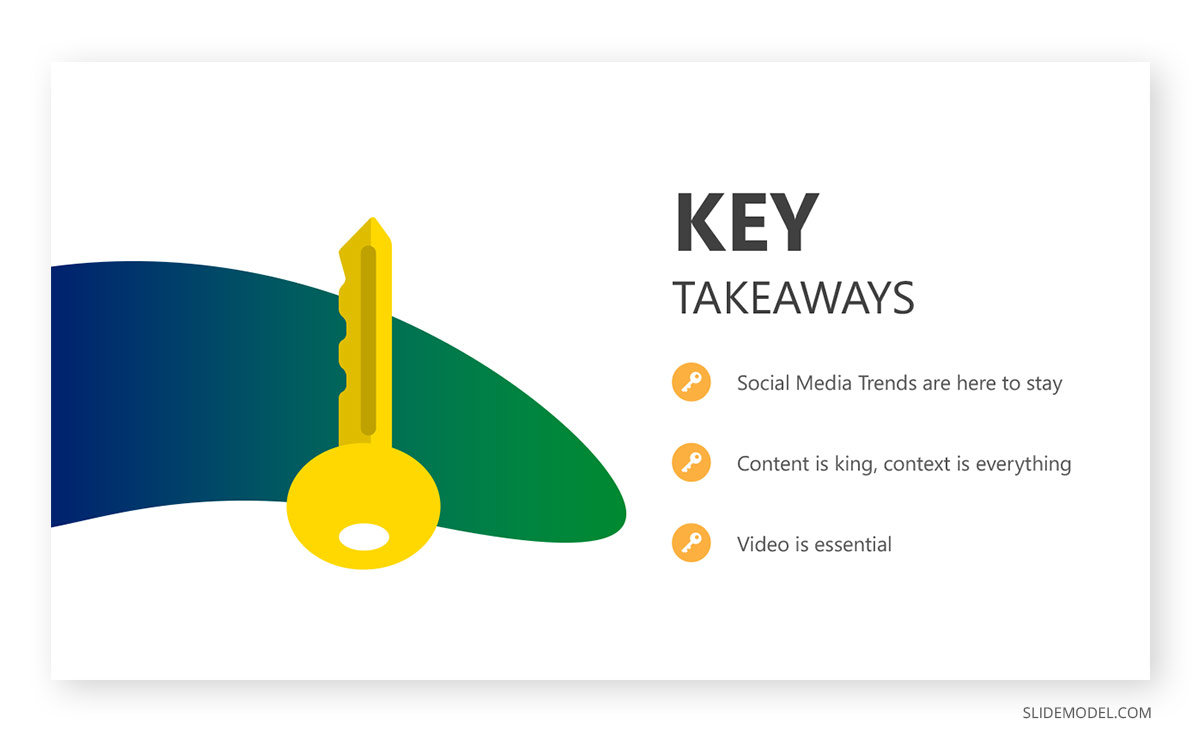 Emphasize on Important Bits of Data, Trends & Analysis
There are some ways you can highlight key aspects of your slides. This can include bullet lists, diagrams, or using a different color for important bits of text. For the latter, you can highlight the names of areas, important financial figures, or other important keywords or phrases to make it easy to present and explain your context. Doing so can also help you quickly recall important information and focus on it, without the need to read your slide to remember where to discuss next.
Use Self-Explanatory Visuals
In economics, students are taught the fundamental concept of unlimited wants and limited resources, often by visualizations. You might see a sketch of a dragon about to eat the whole planet in his hands, with the dragon labeled as 'wants' and the planet labeled as 'resources.'  Visuals like these can help explain complex ideas in a single image. Presenters can use similar visualizations with the help of visual slides or infographics. Not only can such images be downloaded from various websites offering stock images, but you can also use readymade PowerPoint templates to edit and create something similar by labeling infographics and diagram slides.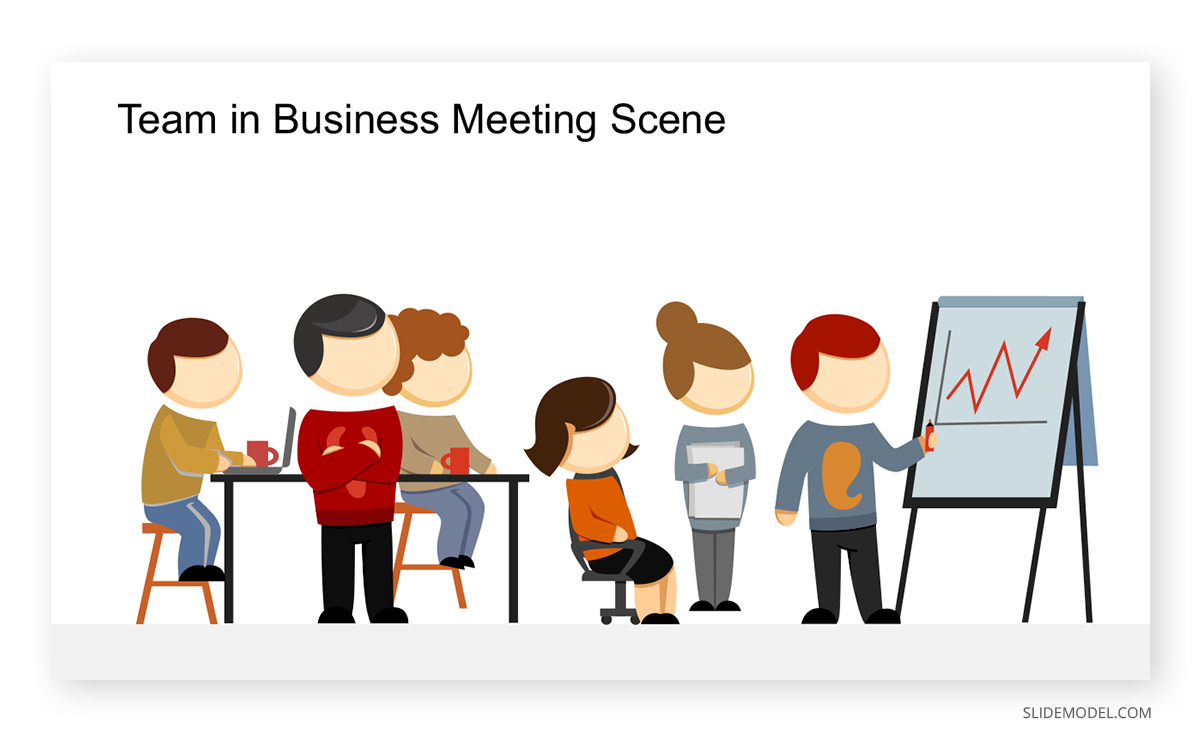 Use Appropriate Layouts that Support Your Content
A presentation discussing critical issues, losses and failure can fall on deaf ears if the severity of the issue isn't explained with a bit of emphasis. Not only does the presenter need to ensure this in his/her tone but also visuals. Using layouts with colors in red or graphics indicating danger or loss can be a way to edge the message in your audience's minds visually. Similarly, when discussing rosy prospects, a layout that gives calming visuals can be effective.
Many presentations related to improving the environment and reducing pollution use green layouts to encourage the audience to adopt something visually depicted as desirable and healthy. Similarly, presentations about vacations and tourism often have visuals of sandy beaches, water bodies, and people having fun. The use of relevant visuals and layouts can help support your context without saying too much.
Use Speaker Notes to Support Your Presentation
If you're worried about losing sight of important information without cramming text in your slides, you can use speaker notes. These are hidden notes that the presenter can see when presenting their presentation. You can learn more about using this feature from our guide about using and printing speaker notes in PowerPoint.
Methods of Summarizing Different Types of Presentations
There are a number of methods to cut down on text to summarize your slides. Different types of presentations might need various techniques to do this effectively. Here are a few suggestions to help you summarize different types of presentations using various methods.
Dashboards for Data-driven Presentations
A little-known gem for presenters is the use of Dashboard slides. With Dashboard PowerPoint Templates, you can design data-driven presentations by adding various bits of information in a single slide. This might include tables, charts, diagrams, and clipart in a single slide, divided into various sections.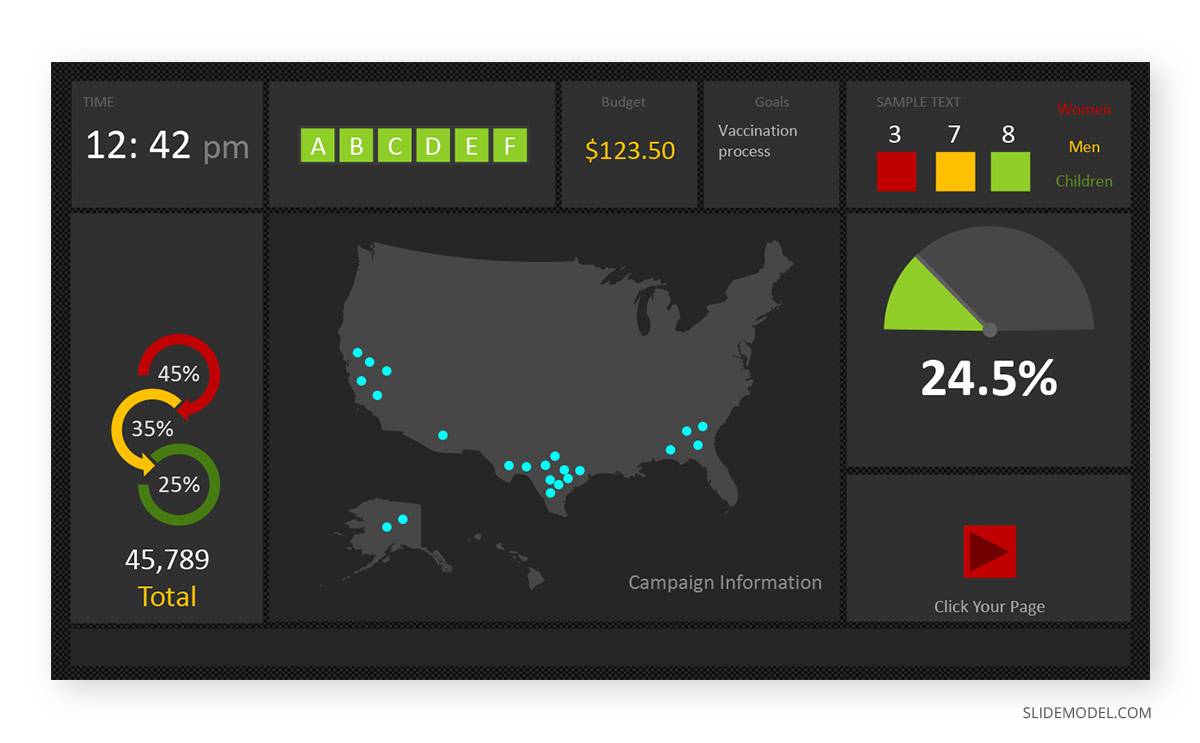 Quizzes for Informative Presentations
Making your context memorable for an audience can be easier using interactive sessions. If you're a teacher, trainer, coach, or giving a product demo, looking to help your audience remember important parts of information, you can use quizzes. The use of quizzes can also help keep your audience attentive and make the session fun for them.
Infographics for Depicting Trends and Complex Data
Infographics can help sum up complex information with visual aids. A diagram about user preferences over the past decade in the form of stats might seem boring. However, the same presentation summed up using infographics can help explain the trends easily. For this purpose, a PowerPoint Template with Infographics can be a great way of quickly designing slides with relevant information.
Timelines and Roadmaps
Timelines and roadmaps are often used to discuss project progress, historical context, and forecasts. Using them can be a good way to summarize lengthy details in the form of a few milestones, dates, and labels.
Business Diagrams that can Help Summarize your Slides.
Business diagrams can be another tool to summarize your presentation. Be it a SWOT or PESTEL analysis, sales funnel, or other business diagrams, you can easily incorporate the entire analysis or discussion using a single visualization.
Making Content Memorable
In a previous article about presentation tips, we mentioned the rule of three. This is an age-old rule implying that anything used three times is 'perfect' or memorable. You can use this rule by mentioning key highlights at the start in the middle and the end of your presentation. Such as perhaps something that triggers a call to action. Similarly, you can repeat a word or phrase three times to make it memorable for your audience. Other techniques that you can use include the use of Rhetorical Triangle and the Zeigarnik Effect.
Final Words
When summarizing presentations, it's good to consider what questions to raise or what pattern to follow to make your presentation sequential and memorable. You can look at the potential good questions to ask, paraphrase to summarize content while using relevant visualizations and layouts. Whether you're someone afraid of public speaking or an experienced presenter, knowing that your presentations are brief and to the point can give you a sense of calm. It can also help boost your confidence as you look to grab that valuable attention of your audience while keeping them awake amidst short attention spans and critical details tied to what you are presenting.