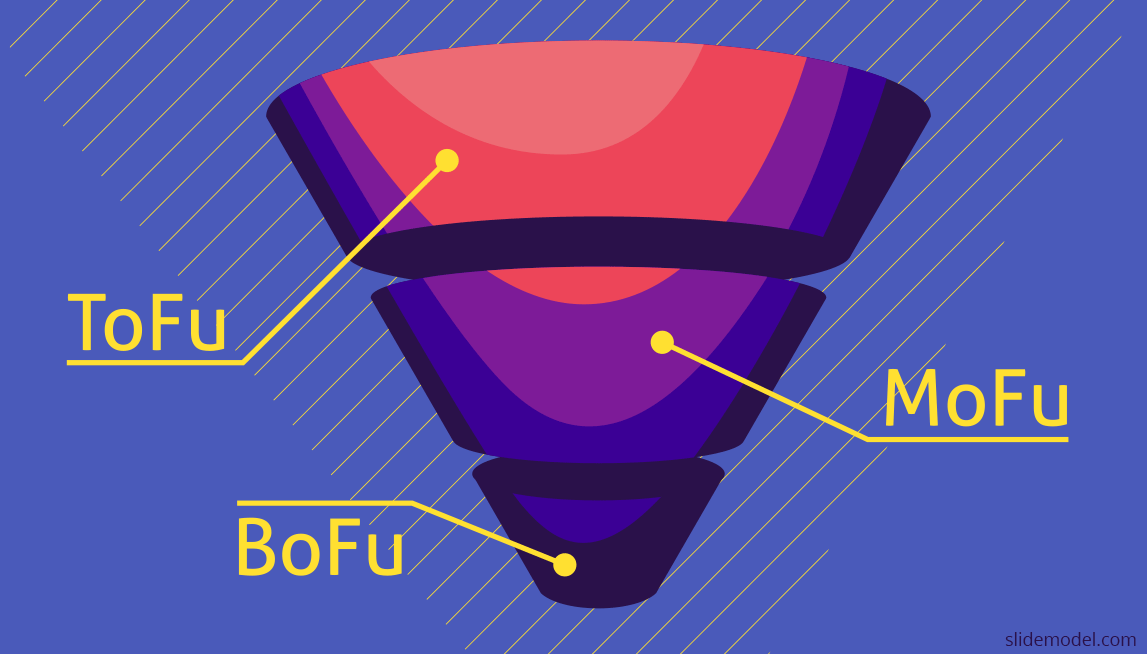 When a customer makes a purchase, it can be looked at as a journey. Be it a planned or an apparent random purchase, the customer goes through various hoops before it chooses to buy a product or opts for a service.
In marketing, this journey and its relationship with the marketing efforts is modeled as a funnel, also known as the marketing funnel. There are also many other names given to this process such as purchase funnel, sales funnel or even conversion funnel.
The main objective of this funnel is to model how marketing efforts attract prospects, convert them into leads, and how those leads react to marketing effort until they are converted into customers.
Think the funnel as a timeline (from top to bottom) with "qualified leads" moving from top to bottom. The efforts are executed depending the stage of the funnel where the "qualified lead" is placed. In order to map regions of the funnel, marketers had came up with the names ToFu, MoFu and BoFu. In this article, from a digital marketing point of view, we will discuss the three stages, and which marketing efforts are placed on each of them to attract, retain and convert leads.
What is ToFu, MoFu and BoFu?
ToFu, MoFu and BoFu are a lingo to describe three stages of a marketing funnel. The three stages track the consumer via advertisement, customer searches, website navigation and other efforts, until it reaches the conversion or purchase of a product or service. ToFu (or Top of the Funnel) is the first stage of the process, which consists of consumer awareness regarding the product or service. This is followed by the Middle of the Funnel or MoFu, which is the stage where the consumer considers making a purchase. The final stage is the Bottom of the Funnel or BoFu, where the purchase decision is finally made by the consumer.
The Content Lifecycle
The Content Lifecycle, in the context of the marketing funnel of digital marketing, references which kind/type of content should be served to the lead at each step of the funnel to retain it in the step for further marketing actions or to help it move downward in the funnel to reach the next steps.
The following sections describe some marketing actions applied in each stage of the funnel to help the reader understand the kind/type of actions used and their purpose.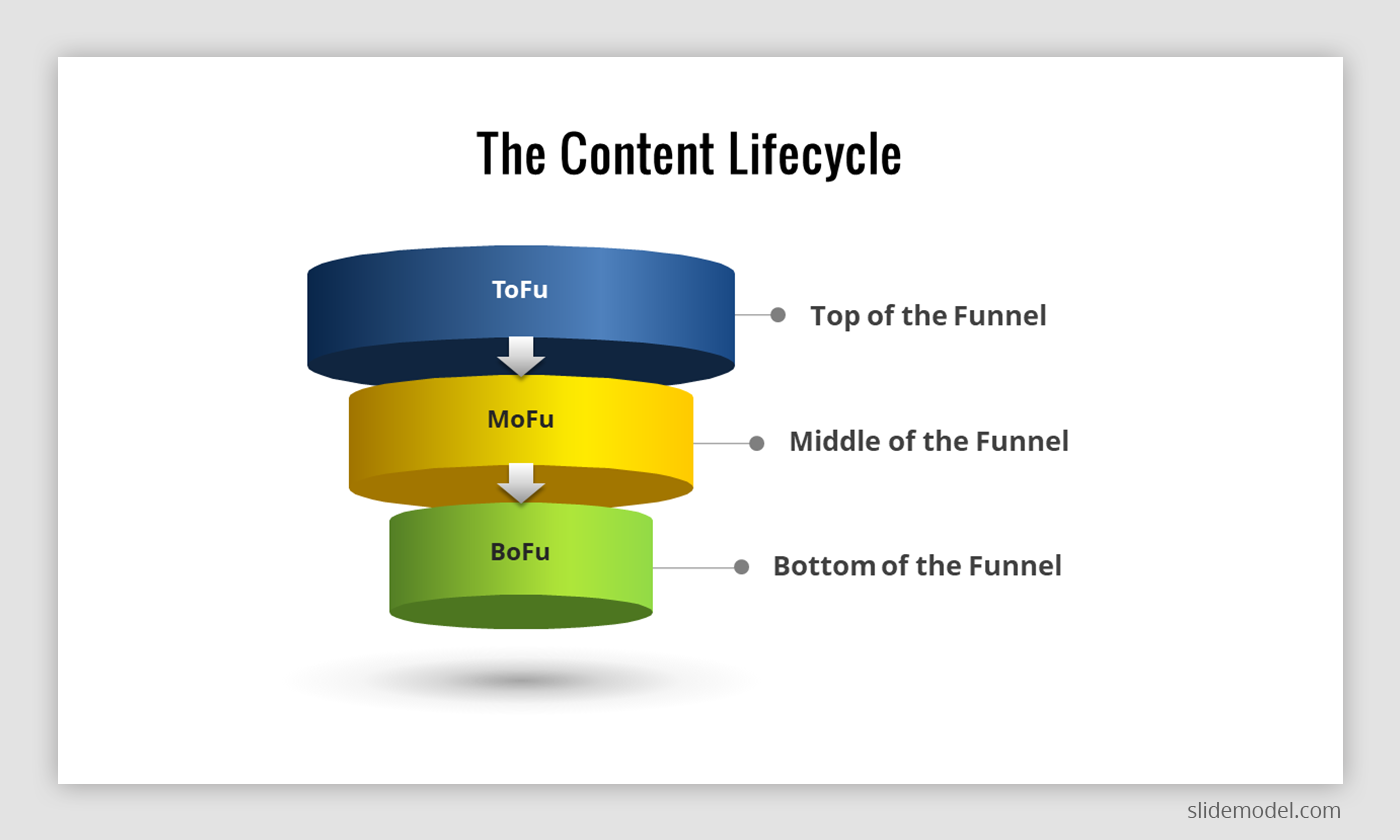 Source: ToFu MoFu BoFu representation created with the 3-Step Funnel PowerPoint diagram by SlideModel.com
ToFu (Top of the Funnel)
Lets place the example scenario that you need to buy a pair of shoes. Now imagine searching for the type of shoes online. Be it due to COVID-19, the changing habits of consumers or the lack of availability of a product in nearby shops, there are a number of reasons consumers are turning to e-commerce portals for shopping. The ToFu stage is all about reaching out to these consumers and to attract them towards what you're selling.
What is ToFu Stage About?
Individuals looking for a product or service online typically search for the product on the Internet. They might do this via a search engine like Google or Bing, via an app, look through suggestions via online forums or listening for influencers suggestions before widening their search for what they need. These people are in the ToFu stage or at the Top of the Funnel. When consumers like these are looking for a product, you would want them to find what you're selling. Redirecting relevant consumers to what your selling is hence the ToFu stage.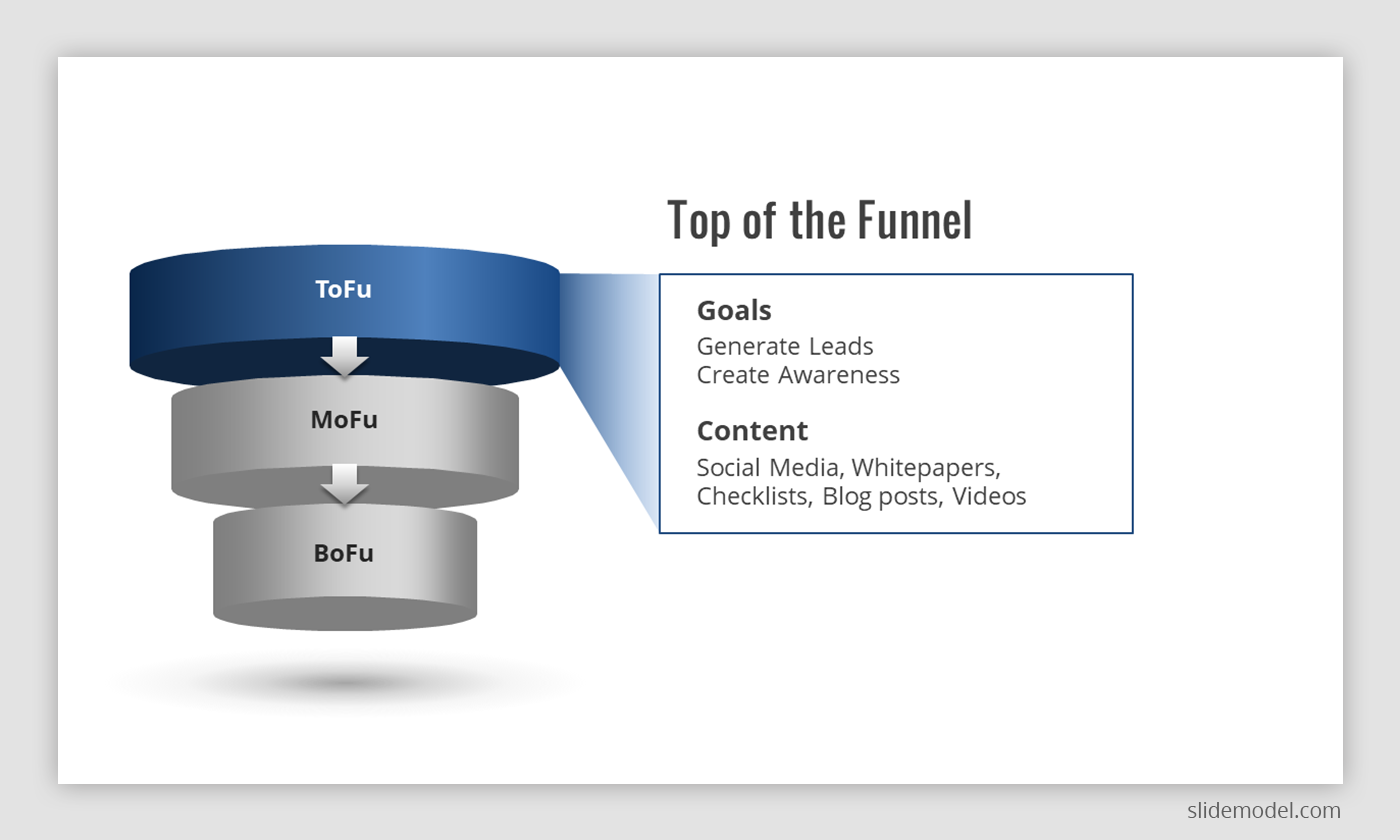 Source: Top of the Funnel image created with 3-Step Funnel PowerPoint diagram by SlideModel.com
Top of The Funnel Campaign Objectives
Your campaign objective for a ToFu stage should be to target a relevant audience. Your objectives will depend upon the type of product or services you're promoting. For online retailers, the objective defined by digital marketers could be to use keywords to target customers by showing them the most accurate results based on their past searches, searched keywords, demographics, etc. They use a number of methods for this purpose which are explained in the next section. If you're selling a product online, you would want your objective to be to direct the customer towards the page to make the purchase. However, this is not possible for services that require legal contacts and more in-depth customer engagement.
For example, anyone selling a house would need the customer's contact information or a call from the customer to further discuss the prospects of the purchase. However, a company selling groceries online would only need the customer to make a purchase online for the delivery of the product. The customer goes through various hoops and stages of sales engagement before it chooses to complete the transaction.
Possible Ways to Accomplish ToFu Objectives
Businesses use a number of ways to accomplish ToFu objectives with an inbound marketing strategy, such as via the use of SEO, Blog posts, social media marketing, influencer marketing, online advertisement through banner ads, in-text advertisements, etc.
Keyword Analysis: A keyword research analysis is performed prior to the optimization process to understand what keywords have high search value. Some keywords have high value and high competition, some have low value and low competition, some might have medium value or medium competition, whereas there can also be other keyword categories such as high value and low competition or low value and high competition (which is less likely).
SEO: Search Engine Optimization or SEO is used to use relevant keywords for your product page and through the targeted placement of your ads online. SEO agencies try to target keywords which either are high value and high competition or are high value with low competition. The term value implies the number of searches of the term (e.g. 100,000 per month), whereas 'competition' implies the number of competitors looking to position themselves against the keyword. The more the competitors, the higher the competition and marketing cost. There are many keywords which have little to no competition but are widely searched. Such a term or keyword might be for example, 'Hiking Boots', 'Hiking Boots in London' or 'Best Hiking Boots'. Several tools online offers market intelligence insights and allows to perform this kind of analysis for Search Engine Positioning (SERP) and SEO optimization, a few examples of these tools are SEMrush and Ahrefs.
Optimizing your Website: Based on the best keywords, you might want to start by optimizing your website to help rank it better using relevant keywords on the Home and product pages. The higher the page rank (in the case of Google), the better your website ranks for your keywords. To circumvent a low page rank and boost sales, businesses use online advertisement. Businesses which are able to rank their websites against certain keywords can benefit from low advertisement costs and high ratio of leads due to their website showing up against relevant high-value keywords at the top of Google's search results. Optimizing your site for speed and mobile can help you to get your pages rank first, Core Web Vitals are a set of essential metrics that will help to quantify the experience of your site and identify opportunities to improve and optimize it.
Online Advertisement: Another way of attracting customers during the ToFu stage can be to place your ads online on websites and search engines. Google Ads are quite famous for online advertisement, where companies position their online products through targeted advertisement. Many times, when you're searching for something, Google Ads shows you relevant ads based on your location, search history, gender and other information gathered through tracking cookies and other information obtainable via your online trail. This is then used to show you the best products.
Millions of websites have Google AdSense placed on their webpages, where the ads code dynamically shows each visitor banner ads based on what the algorithm deems as a good fit for them. The advertisers get value for money, whereas the visitor is shown products and services they might be interested in. Google Ads are shown to not only website visitors but also across mobile and desktop apps which use the service for revenue generation, as well as Google products.
Google Ads is also used for awareness campaigns, public service messages and behavior change communication initiatives. There are also a number of other ways to place online ads, such as by offering ads placement on a website with a good traffic or visitors which might find your product useful or via other ad services.
With the help of Remarketing Ads (be it in Google Ads or Facebook Ads), digital marketers can reach potential leads based on the previous visits received on their websites. Combined with specific tactics, the online campaigns can target the audience who already visit specific pages on your site or took specific actions and then move them to the next stage of the sales funnel.
Social Media Marketing: Many social media websites such as Facebook and Twitter allow placing ads for gaining followers and likes for your page or account, as well as to sell products, conduct awareness campaigns, or to generate leads. During advertisement you can choose from a number of options such as the type of campaign you need to run (e.g. a campaign to generate sales leads), demographics (age, gender, location, etc) and interests (using relevant keywords). Different kind of ad formats are also available, from Video ads to promoted posts or other kind of banners.
Blogs: Many advertisers use guest posts, paid blog posts and even have their own blogs for targeting customers through relevant keywords, interesting articles and ads placed within engaging content.
Online Videos: Another particularly good way of attracting customers is by creating online videos on YouTube, Vimeo or other famous platforms using relevant keywords, catchy titles and sales pitches within video content. Many such videos also have links in the description redirecting to different products. Similarly, brands also pay influencers for posting their ads in their content.
Other Channels: There are also a number of other mediums such as start a podcast, newsletters, white papers, email marketing campaigns, eBooks and informative infographics used for targeting customers towards what you're selling.
ToFu Metrics
Using metrics can help you better understand what is leading your customers towards your product. You might want to use different tools such as Google Analytics to analyze your website's performance such as the bounce rate, which measures retention of your website or app users. Analytics will also enable you to understand engagement from the best demography, location, gender, etc.
You can also view analytics from your online and social media marketing campaigns to understand the best mechanism for generating future sales leads by looking at impressions, click-through, the demography of leads and engagements, comments (if applicable), visitor retention, source of your leads, etc. You can even perform a cohort analysis to find the best combination for your sales. For example, such a website analysis might reveal that 40% of people who bought hiking boots from your website also purchased socks, allowing you to show socks as a suggested item to people visiting your product pages for hiking boots to boost sales of related items like socks.
MoFu (Middle of the Funnel)
This is an uncertain stage in the sales funnel. After all your effort in placing your product through various mediums, your lead can either fizzle out or lead to a purchase. Sometimes, even when leads are converting, you might not have value for money due to the low conversion rate, leading to a reevaluation of your strategy.
What Is MoFu Stage About?
This stage is all about turning your prospect customers into leads. Using the ToFu metrics described above, you can analyze the best ways to retain customers and to plan ahead to make good use of engagement for incoming visitors, as well as to plan to engage interested customers further.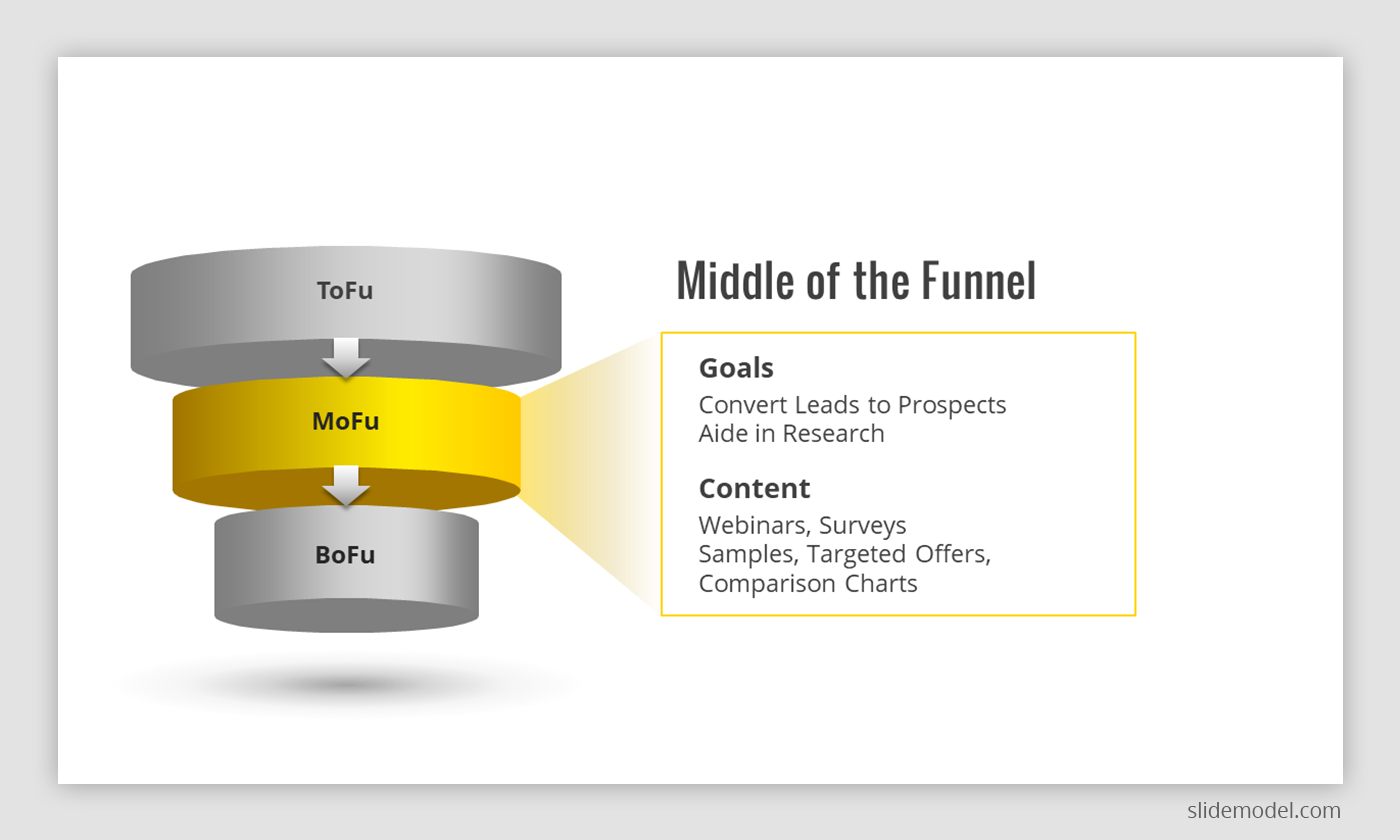 Source: Middle of the Funnel image created with 3-Step Funnel PowerPoint diagram by SlideModel.com
Middle of the Funnel campaign objectives
Let's assume that you have some customers engaged and now need to look for ways to retain them. How would you do that? You are now in the Middle of the Funnel and need to ensure your leads stick! Be it people who have signed up for your newsletter, have visited your product page or are engaged through other mediums such as webinars or free surveys or software downloads for a trial version.
Possible ways to accomplish MoFu Objectives
MoFu is all about retaining your leads and convincing them to reach the final stage (BoFu) to make a purchase. Here are a few ways you can accomplish your MoFu objectives.
Educational Resources & Comparison Charts: Many times, a consumer would want more information regarding a product than just an ad. How does the product compare to its rivals? Is it healthy to use the product? Will it have any side effects? The customer can have any questions regarding the product, the shipment process, available discounts, etc.
You can provide the user with educational resources such as videos, comparison charts, relevant information listed on the product page and even Live Chat to encourage the customer to acquire the required information to persuade him/her to make a purchase. You can even run online slideshows, similar to a PowerPoint presentation to attract your customers.
Webinars: Webinars are great for engaging customers to know more about a product, ask questions and let their concerns and suggestions be heard. Webinars can not only help engage new customers but also remind old customers to make another purchase or recommend the product further.
Downloads: Allowing customers to download relevant information or giving them a free trial can be a good way of engaging customers to enable them to better understand what the product offers before they make a purchase. Similarly, free samples or a limited-service of some type can also be helpful. For example, if you're selling software, which fixes corrupt PowerPoint files, you can allow the lead to fix one file for free before making a purchase.
Surveys: Through surveys you can gather customer feedback, ask for suggestions for additional product improvements and make them feel that they are a part of the process. Since MoFu is about the retention of customers and building a relationship, surveys can be a great way of doing this, especially if they come with discounts for people completing the survey.
Targeted Offers: You can offer customers with discounts for a specific type of purchase (e.g. 10% discount for purchase above $100) or show different customers offers based on their past purchase, engagement and the value of the product. Setting targeted offers is now easier than ever before, using shopping cart and e-commerce website templates.
MoFu Metrics
MoFu metrics can include a number of comparisons and in-depth analysis of consumer behavior such as new vs returning visitors, average user engagement, click-through rates, social media sharing of products, referral traffic, email sign-ups, downloads, participants in your webinar, etc.
BoFu (Bottom of the Funnel)
After attracting leads (ToFu), retaining their interest (MoFu) it is now time to sell your product (BoFu). But this stage is not to be taken lightly.
What is BoFu Stage about?
BoFu is the stage where the customer is ready to commit and make a purchase after going through the initial two stages. According to Forbes, 60% leads go halfway before even talking to a sales representative. BoFu is not a stage to be taken lightly, as the future of your business hinges on what comes next!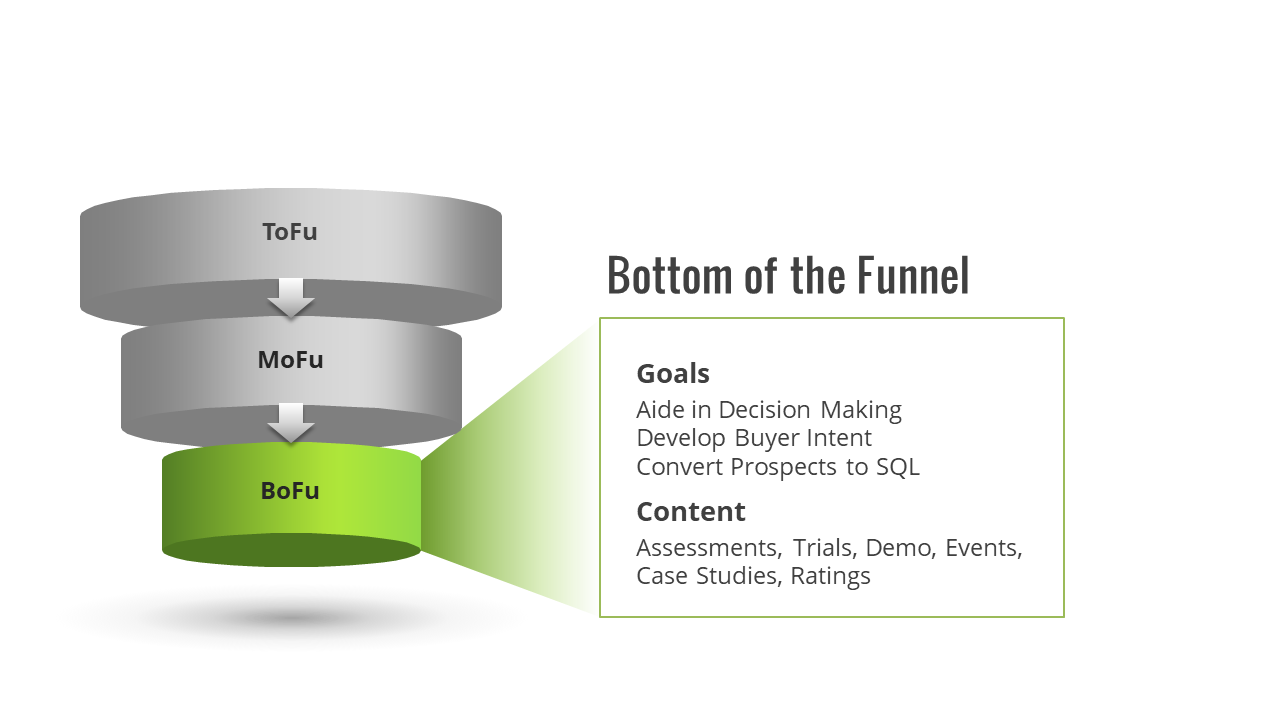 Source: Bottom of the Funnel image created with 3-Step Funnel PowerPoint diagram by SlideModel.com
Bottom of the Funnel Campaign Objectives
Once a customer purchases your product, he/she will either return or suggest your product to others or would feel unsatisfied and might even try to convince others to not use your product. Selling a product to a buyer is not just a transaction but the stage where you build a relationship. Your campaign objectives should align accordingly by looking to give the customer a good experience. There is in fact an entire concept behind the very term. You can learn more here about CX or Customer Experience.
Possible Ways to Accomplish BoFu Objectives
The closing stage BoFu is where marketers or salespersons close the sale. The content for accomplishing BoFu objectives might include case studies, trials, demos, etc.
Live Demos: Let's assume you're a customer who has decided to purchase a chopper. You are convinced it's a good product and just what you're looking for under your budget. However, you're a bit confused about some of its functions and want to learn how to best use it. You might ask for a Live demo to have a better understanding of the product. Live demos can be helpful in not only aiding the customer to learn about the product and alleviating any final concerns but also for building a good relationship which might lead to future purchases and referrals.
Consultations: Now let's assume that you have to choose between not one but two choppers. Both are within your budget but you're not sure which one to buy. During this stage, you might want to consult the sales representative to understand which chopper is best suited for your kitchen. Customers are likely to have a lot of questions and businesses should invest some time and money in educating their sales representatives or hiring people with good knowledge regarding the product or industry. Many people might want to learn more via Live Chat, a phone call or via email before they add the product to their car to hit the Buy button.
Events: Businesses can conduct various events to showcase their products, take advance bookings and to sell products during the event. Some events might simply be to give customers a taste of your product to allow them to ask for more. A customer who regularly orders Chinese food online might like your restaurant's food after trying it out during a food festival or event conducted by your restaurant, making him/her your new regular customer.
Case Studies & Ratings: Customers who share their experience, be it via case studies, online ratings or by leaving a review for your business on Yelp can be a great indicator for where your business is headed. You can encourage case studies, ratings, feedback and reviews to help acquire positive feedback from customers purchasing your products and try to build a long-term relationship.
BoFu Metrics
The BoFu metrics would include details of sales, repeat purchases, demo requests, lead conversions and transactions to better understand how to improve sales and revenue, as well as to understand if the customers are satisfied or have concerns that need to be alleviated.
Digital Marketing Platforms for ToFu, MoFu and BoFu
There are a number of digital marketing platforms that you can use to automate and manage sales through all three stages of ToFu, MoFu and BoFu. Below are a few suggestions and examples to get you started.
CRM Software
Many businesses use CRM (Customer Relationship Management) software for managing customers and even automating tasks for ToFu, MoFu and BoFu. You can engage customers, send automated responses, close sales and get customer feedback all within integrated CRM platforms, with little or no human contact with the customer. There are a number of famous CRM platforms like Salesforce, Zoho CRM, HubSpot CRM, EngageBay, and Microsoft Dynamics 365 Sales which are used for this purpose. You can learn more here about our guide to marketing automation.
Email Marketing Services
If you were to use your regular email address for sending emails to hundreds or thousands of customers, it might start ending up in their junk mail. Not to mention, your domain name might take a hit, as search engines might start considering it as a website spreading spam. To avoid this conundrum, you can use mass emailing services to send out bulk emails, avoid mails server daily limitations for sending out emails and to use attractive marketing templates to entice customers. A few famous email marketing platforms include MailChimp, ActiveCampaign, SendinBlue and AWeber.
VOIP Software
Calling customers can be expensive, especially if you're making calls overseas. Many call centers and offshore businesses use VOIP software from companies located in countries where they need to make the most calls. This enables them to avoid hefty phone bills, which can easily be much higher than your revenue if you don't manage your bills. You can also use software for Live Chat and integrate commonly used chat services like Zoom for your sales platform.
Social Media
Facebook is not only used for social networking but now offers a variety of sales-related services including the ability to directly sell products, give automated responses to clients through Facebook messenger and to automatically advertise certain types of content. Similarly, businesses are effectively using Twitter, Instagram and YouTube to reach out to customers and boost sales. Social media accounts are hence not only essential for online presence and customer engagement but also to sell products and services.
Analytical Tools
There are a number of digital marketing analysis tools that can help you extract metrics for ToFu, MoFu and BoFu. Not only do online ads and social media marketing campaigns come with detailed metrics but integrating tools like Google Analytics, Google Search Console, Bing Webmaster Tools. Other tools like KissMetrics, MixPanel, Heap Analytics can provide you with detailed metrics. These can be used for each stage of the sales funnel and to create buyer personas.
Additionally, you can use software like Google Analytics 360 or Adobe Analytics can be helpful, although their pricing can be prohibitive for small and medium businesses. Marketers can also use SaaS reporting tools and export features to open the reports directly in Microsoft Excel or Google Sheets and dig deep into the sales funnel to find the best way to attract, retain and sell additional products to your customers.
Final Words
ToFu, MoFu and BoFu, when used effectively will allow businesses to attract leads, retain customer interest and sell products. Moreover, the business must focus on customer satisfaction, product improvement and the overall Customer Experience (CX). With the availability of digital platforms, businesses can easily reach a global audience. A small fee paid via courier service can help avoid what would have been hefty export duties or associated costs for doing business overseas. Moreover, software and online services have an ever-expanding market.
Businesses can tap into online advertising platforms, which through their giant clusters of thousands of servers do the math for your business to find the most suited customer for your product through targeted online placement. The only thing businesses now need to do is to use these tools in a smart way against verifiable, time-bound and realistic objectives to expand their outreach and build a long-term relationship with their customers.