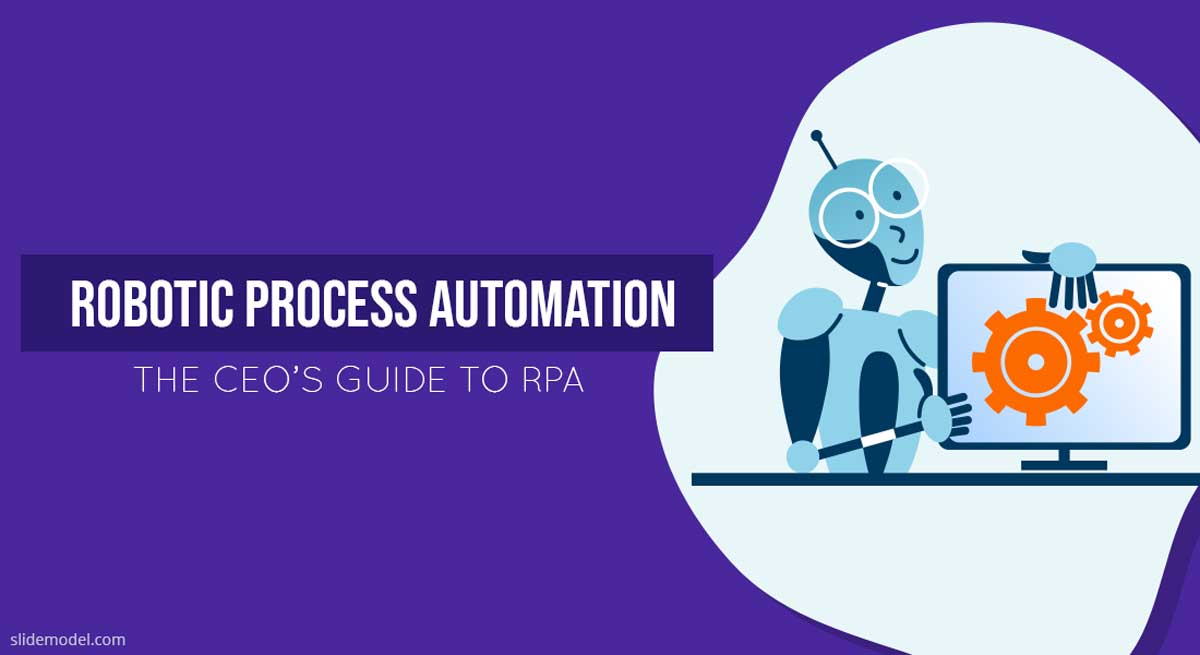 Robotic process automation (RPA) is a top-of-mind agenda for companies across industries. Last year, Gartner identified robotic process automation as the fastest-growing tech segment of the enterprise software market: the software revenue grew by 63% and reached $848 in 2018. Despite the global market slowdown, RPA investments still remain a priority for most companies. So much so that by 2020, the global spending on RPA is expected to $2.4 billion as nearly 85% of enterprise-sized organizations plan to deploy at least some form of RPA technology by then.
The data emphasizes the significance of this technological investment, but what do executives need to know prior to adoption? Before we dive into the nitty-gritty, let's quickly recap what RPA software can and cannot accomplish.
What is RPA?
The Gartner Glossary offers the following definition:
Robotic process automation is a productivity tool that allows a user to configure one or more scripts (which some vendors refer to as "bots") to activate specific keystrokes in an automated fashion. The result is that the bots can be used to mimic or emulate selected tasks (transaction steps) within an overall business or IT process.
In essence, RPA tech enables businesses to automate low-value, repetitive business processes, and save tremendously on data entry. The newer generation of Intelligent Process Automation (IPA) solutions, powered by machine learning (ML) algorithms and AI, go a step further and promise to automate even more complex cognitive tasks such as image/digit recognition and voice recognition.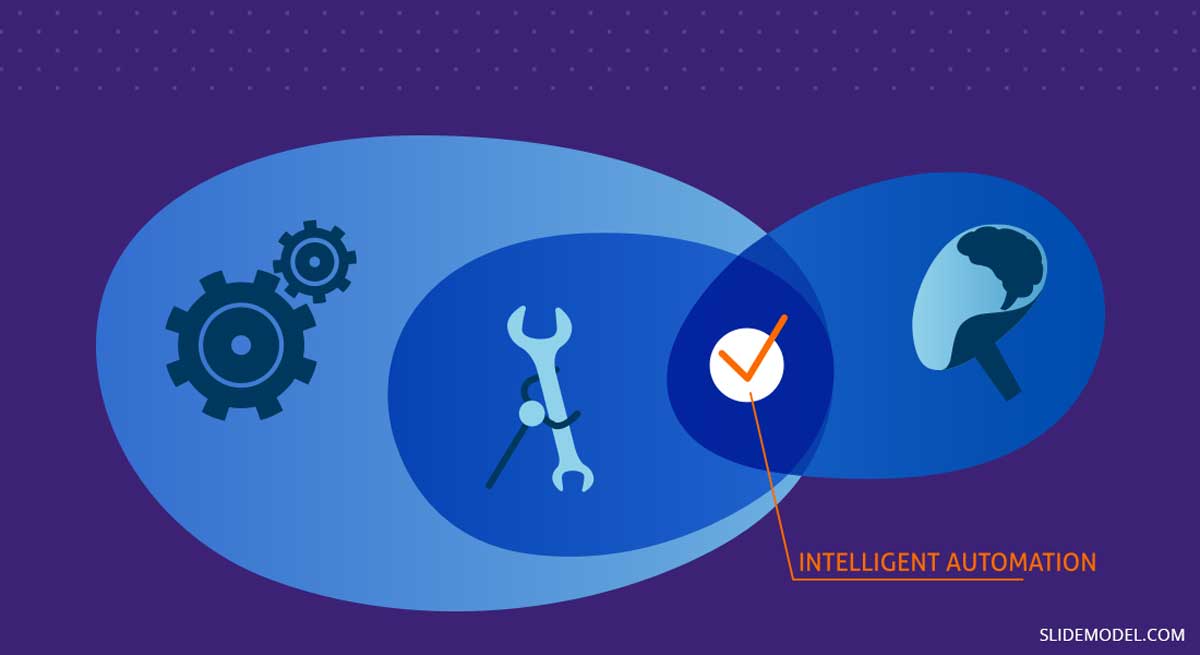 Considering that RPA is a rather novel technology, it's also prone to some common misconceptions. To better understand how robotic process automation works, let's do some myth-busting first.
RPA isn't "digital workforce" or robots at least not in a traditional sense of robotics. RPA is software robotics or algorithms that can automate certain actions and workflows such as data collection, form pre-filling, invoicing, data management, and more. An RPA extractor, for example, can help your team scrape data from the web faster and auto place it in the table. However, such algorithms cannot fully replace a human analyst, further responsible for taking action based on the collected data.
RPA is not suitable for long-running business processes automation. Such software is best suited for automating liner, step-by-step, deterministic tasks. For example, verifying that all forms are filled in an invoice, matching the invoice to a respective transaction in the system, and auto-changing the invoice status to "paid". Intelligent process automation tools can also recognize written characters (e.g. from a photo receipt) and input them into your system. However, even the most advanced IPA solutions cannot effectively automate long-running, multi-step processes such as handling the entire procurement cycle from start to finish.
Low code development and RPA are not the same things. Also going by the name of no-code development, low code development platforms such as Microsoft Power Apps and ServiceNow among others allow you to build new business apps, data integrations, and workflow automation using drag & drop interfaces and reusable code snippets. In essence, their goal is to reduce the pressure on your IT development team, so that they could assemble new custom software for your teams faster. RPA tools can be coded in-house too. However, their primary purpose is to tackle business automation tasks, whereas no/low-code apps can be configured for any other need and contain more complex functionality.
Lastly, it's important to note that robotic process automation is not the same thing as business process management (BPM).
The goal of BPM is to improve your existing process performance by removing redundant processes, resolving common operational bottlenecks, and streamlining some business processes (with or without automation). The ultimate end-goal of BPM is to shorten cycle times.
RPA, in turn, provides surface-level fixes to low-value processes, replacing human actions with automation software when possible. RPA alone cannot optimize an ineffective process, but it can make them more efficient by getting human labor out of the equation.
The Business Benefits of Incorporating RPA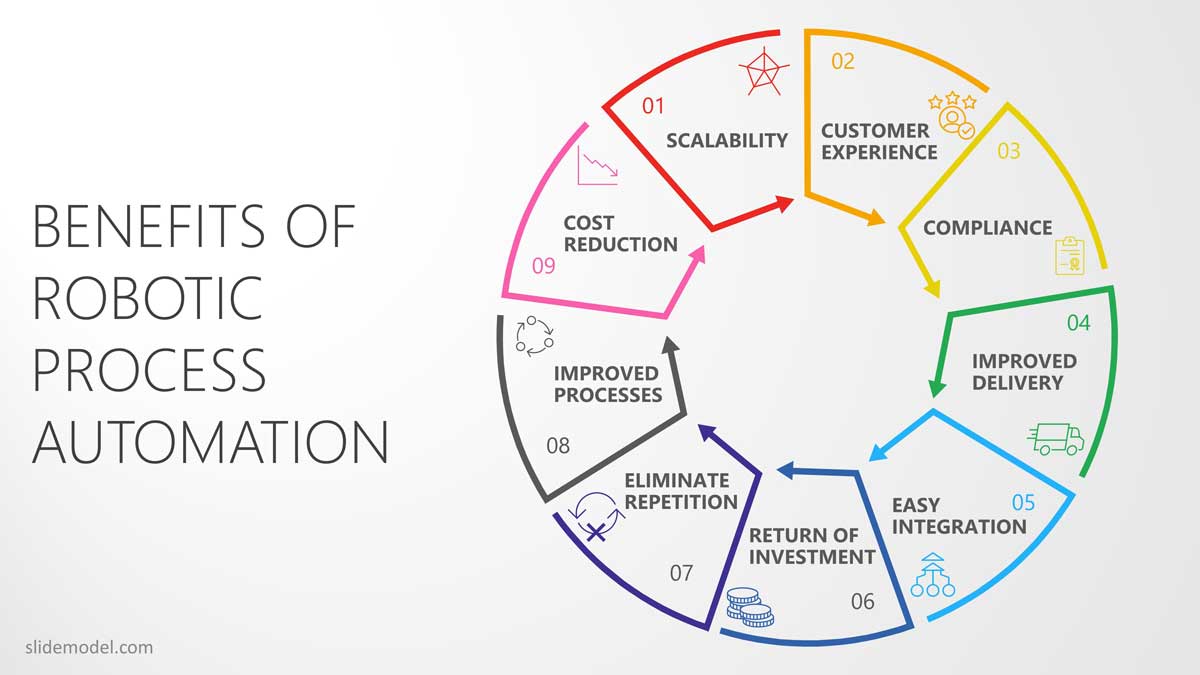 RPA can be game-changing for process automation in industries dealing with large volumes of data and having process-heavy SOPs (standard operating procedures). In such cases, the companies are quick to gain the following benefits:
Increased staff productivity. Since RPA eliminates manual and repetitive chores, post-adoption companies can achieve an up to 55% increase in staff productivity as one bank did.
Short-term, measurable ROI. Non-invasive in nature, RPA software can be incorporated rapidly into any tech setup and start bringing as much as 200% ROI within the first year of adoption, per McKinsey.
Operational savings: Increased productivity and elimination of low-value work directly translates into major operational savings. By 2025, businesses will save between $5-$7 trillion thanks to RPA implementations.
RPA Use Cases Across Functions and Industries
While some RPA companies make a big promise of 'automation anywhere', in reality, intelligent process automation yields the best results across many (but not all) business functions and industries.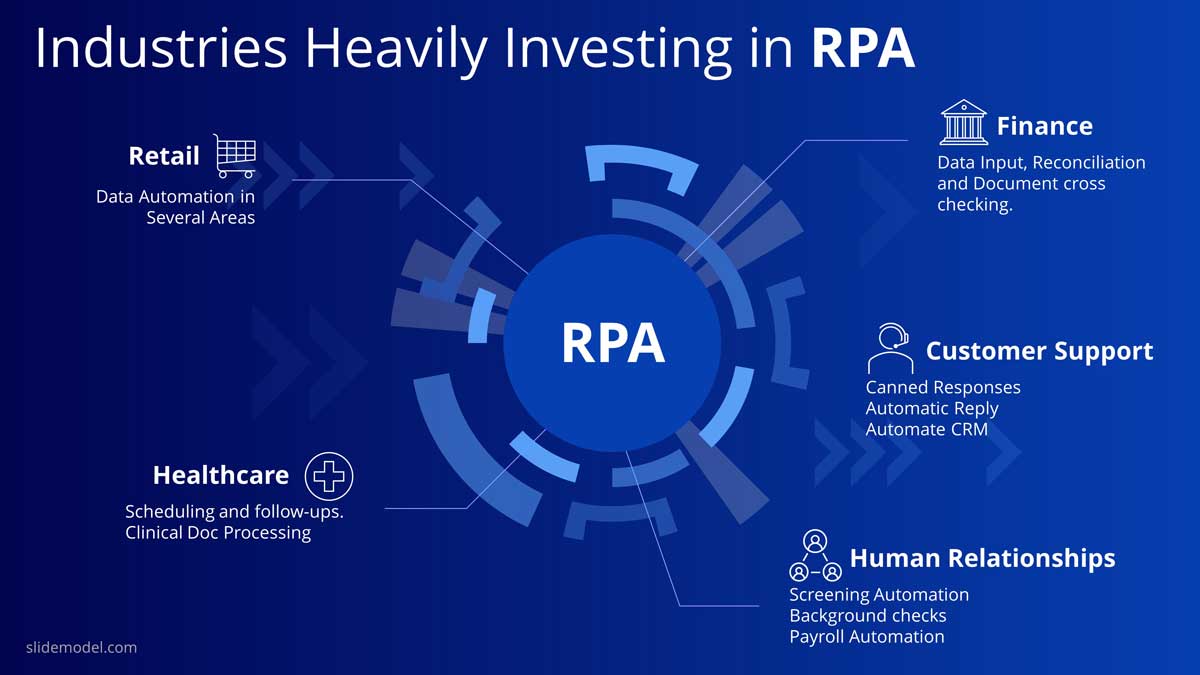 Retail
The retail sector has a lot of laborious tasks, driving down operational efficiency, making it a ripe industry for RPA innovations.
One of the strongest use cases of RPA in retail is data automation. Daily, retail teams need to constantly update customer records in regards to shipping, invoicing, and return processing. Considering that most of that comes from multiple sources, obtaining and consolidating it requires quite a lot of time that could be better spent. Also, errors can occur frequently. RPA can be game-changing, in this case, as the algorithms can perform the same tasks at a fraction of human specialists' time and cost. UI Path, a popular RPA solutions provider, mentioned a robotic process automation example where a global retailer could achieve a 98.75% reduction in time spent processing records after implementing RPA.
Other areas, well-suited for RPA in retail, include:
Product categorization
Procurement
Supplier payments and invoicing
Customer relationship management
Inventory management
Trade promotions
Finance
Financial institutions are regularly dealing with large volumes of sensitive customer data too. Such operations can be tedious since a minor error can result in major non-compliance fines or grave financial mistakes.
RPA bots can be configured to assist financial specialists with a variety of data verification, accounting, and task organization chores including:
Finance data management
Payment data reconciliation
Financial and regulatory reporting
Document cross-checking
Mortgage/lending applications
Sales ordering and invoicing
Fixed asset management
Financial statement closing
EY further reports that financial institution can capture the following benefits after RPA adoption for several of the aforementioned processes:
60%-80% cost reduction for all processes associated with data input
40%-60% cost reduction for reconciliation tasks
60%-80% improvement in data quality control and management
Healthcare
With vaster adoption of EHR/EMR systems and digitization, healthcare providers are now forced to deal with a larger volume of highly-sensitive data, stored and exchanged with other institutions. In most cases, this task falls on the medical personnel, whose time could be better spent on improving patient care levels.
RPA technology can be assigned to deal with a variety of patient data management tasks, including those related to billing and claims management. Beyond that, healthcare institutions can reclaim lost productivity hours (and costs) by automating processes associated with:
Patient appointment scheduling and follow-ups
Enrollment and patient eligibility
Clinical documentation processing (especially if using NLP-based solutions)
Regulatory compliance
Accounts receivable management and denial recovery.
HR
Human relationships (HR) departments regularly deal with a set of standard operating procedures related to talent sourcing, interviewing, onboarding, and payroll management among others. Incorporating a larger extent of RPA automation to this function can result in 10%-20% cost savings as Deloitte reports.
Just what HR processes are worth automating with RPA? Here are some ideas:
Candidate pre-screening and shortlisting
Background checks
Employee onboarding
Payroll administration
Corporate policy management and enforcement
Corporate travel and expenses management
Employee analytics
Employee engagement management
Customer Support
Customer support functions often get bogged due to insufficient staffing and lack of standardization. This, in turn, undermines the levels of customer experience your company can deliver. While robotic process automation cannot fully replace a human CS team, this technology can majorly improve their capacity to handle a large volume of repetitive customer requests and deliver superior service levels.
Forrester identified that RPA can bring the most value in the following ways:
Replace several "swivel chair" tasks that agents do manually such as copy-pasting data, launching apps, basic calculations, and more.
Reduce the level of errors and miscommunication by pre-suggesting the right data to the agents faster.
Intelligent predictive algorithms can also pitch pre-suggested replies to the agents, based on the customer's query, to improve reply speed.
Suggest personalized discounts, promotions, and upsells to the supported customer.
Auto-ensure compliance with standardized procedures and corporate policies.
Collect relevant voice of customer data and save it to your CRM systems for further analysis.
Of course, your CS team will require a certain degree of initial robotic process automation training to get to the maximum levels of productivity. However, the post-adoption benefits are well-worth investing in upskilling.
Getting to Action: How to Measure The Success Of Your RPA Initiative
From a tech standpoint, RPA is relatively easy to implement, compared to more advanced digital innovation strategies (such as predictive analytics or IoT implementations). Yet, it's still easy to get side-tracked during the execution stage. To avoid such scenarios, follow the next golden rules of RPA automation, suggested by Forrester:
Ensure that your existing processes, governance, and culture are mature enough for RPA.
Secure sufficient stakeholder engagement as an RPA implementation requires attention, time, and resources (even post-adoption).
New RPA algorithms should be treated with zero-trust at first to ensure complete data security.
The more time you take to line up the best process candidates for automation the more successful your initiative will be. Strong business cases for adoption are crucial.
Make employee experience (EX) a critical success factor. If your team resists the adoption, your efforts (and budgets) will go to waste.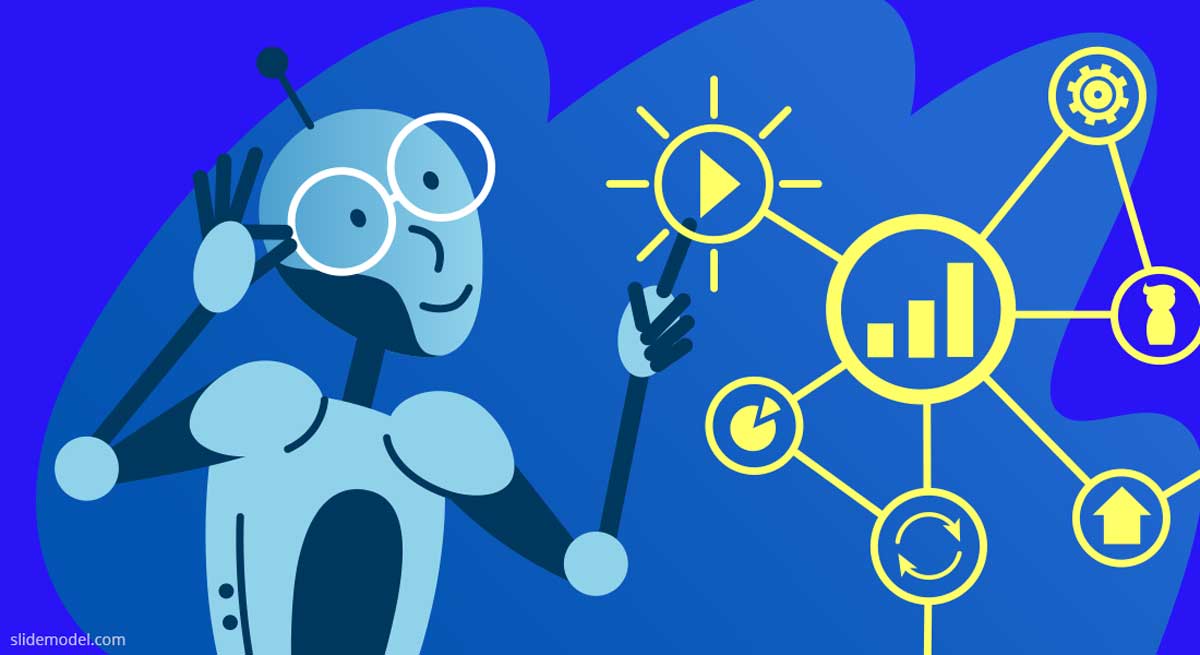 To further assess the effectiveness and ROI of your new RPA solution, also pay attention to the following metrics:
Productivity
Accuracy
Mean time to implementation
Reliability
Compliance
Employee satisfaction
To Conclude
Robotic process automation has already moved from the tech margins to mainstream adoptions cross-industry. With proven, short-term ROI, nearly universal compatibility with different systems (including legacy ones), RPA is one of the digital transformation initiatives that are hard to pass on even amidst the uncertain business climate!