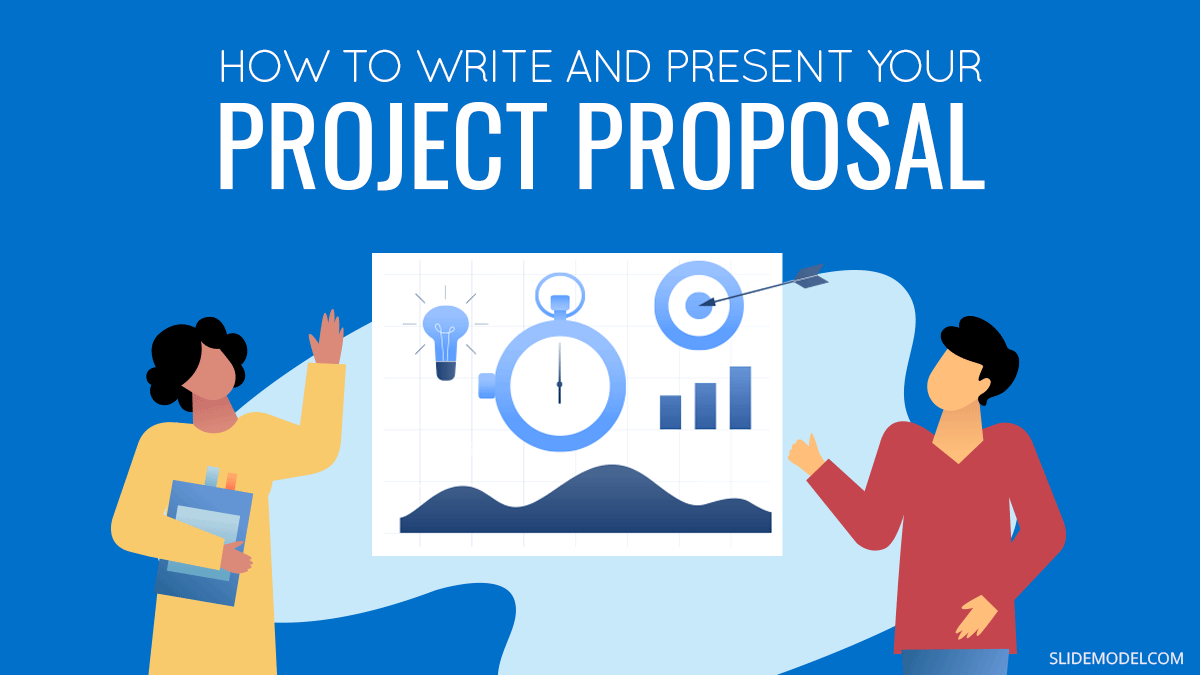 Every manager or executive has at some point of their career the need to create a project proposal (or initiative, we will use both terms instinctively in this post). In this opportunity we will briefly define the concept, how to write it and more importantly how to present it to an audience. Persuasion is key. Being able to transmit the right message behind the proposal will help you engage your audience with your ideas.
What Is a Project Proposal?
A project proposal is a document that details a new project idea. Its main objective is to communicate the idea, and what is needed to make it happen. In its most basic form, it contains a title, initial and end dates, objectives, goals and the overall main achievement pursued at completion of the project.
Formal project proposals have clear sections that have been proven to effectively communicate a project idea. The basics include context about the problem or pain trying to solve, a high level action plan, and the required resources to execute it. We'll give you more detail into how to write project proposal categories later on in this article.
Note that a business project proposal is not the same thing as a complete project plan, in terms of project management. The project proposal includes a lot of details in many of the same categories as a project charter or a complete project plan. However, it is not the same document. The project proposal is not a detailed execution plan. There are lots of details that may change between the proposal presentation and the final, approved project plan.
Types of Project Proposals
There are many different kinds of project proposals, since there are many different kinds of projects. For the sake of keeping the article with a reasonable length, we will exemplify Business Project Proposals.
Business project proposals range from formal to informal and vary greatly depending on the industry and company where they are defined. This article focuses on business project proposals, though a lot of the basics and recommendations also apply to different categories.
Situations that Require to Write a Business Project Proposal
Projects intake vary depending on the management frameworks applied by every organization. But there are common management practices that trigger the need for project proposals.
The most common place for project definitions and ideation is during Corporate Planning. Independently of the size of the organization, planning is a practice that every professional organization carries out. Could be defined as Corporate Planning, or just Growth planning, but the time of the year where executives prepare their forecast and plan for the future is the main event where initiatives are defined. In order to evaluate them objectively, project proposals are created. Based on the proposals, the executives decide which projects they will sponsor. With this in mind, it is important that the document is formal, informative, but also persuasive.
How to Write a Project Proposal
The following paragraphs describe the common sections of a professional project proposal document. Keep in mind that this guide does not pretend to be exhaustive and is understood that you'll need to evaluate adjustments to this outline in order to make it work for your industry, field, and department.
Step One: Define the Purpose around a Problem or Pain
No executive team will approve or fund a project if it's not solving a realistic problem, situation. While it may sound negative, in business a lot of decisions are made around addressing pains, both organizational and client-facing. This step aims to show stakeholders why your project is important and what are the stakes if they don't approve it.
Since your problem statement is the very first section of your project proposal, it has to be strong. If you don't make your audience start believing in the need for a new initiative at this point, it will be very hard to change their minds later on. Don't exaggerate the problem, since that is easy to discover later on, but be emphatic about why this is a problem that needs fixing. Backup your claims with facts, figures, and business cases. The cost of "not doing" is also a strong argument.
Here are some questions to consider when defining the problem: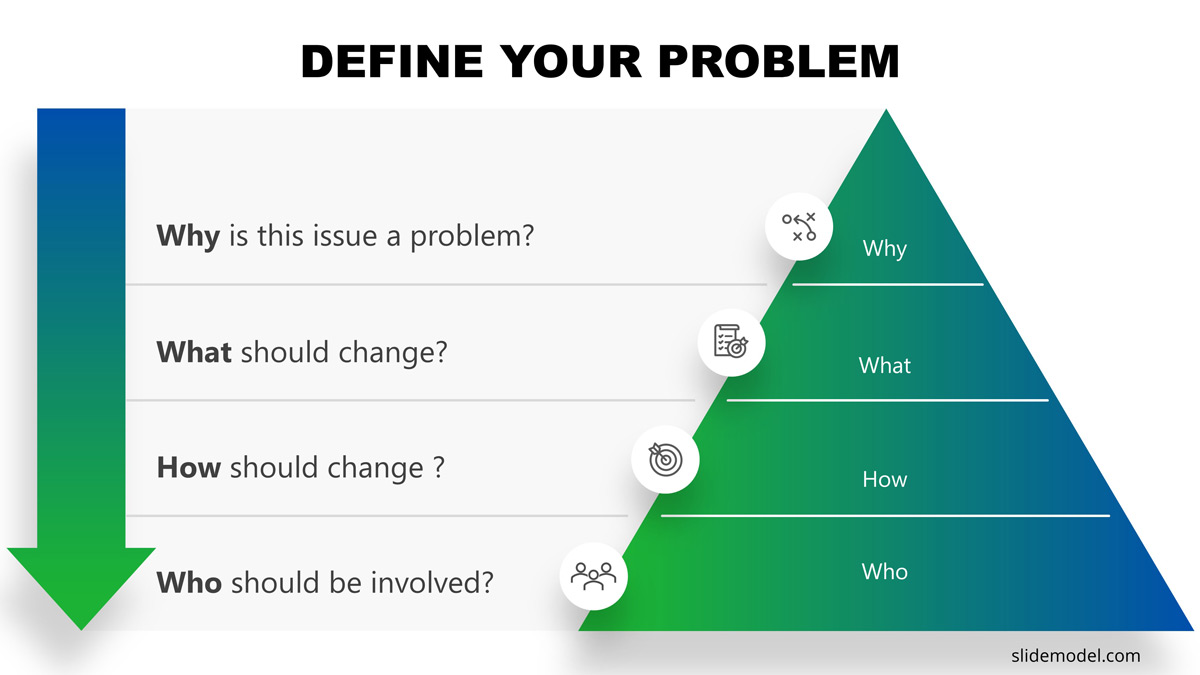 Step Two: Introduce The Solution
Now that you've hopefully convinced your audience of the existence of a problem, you now have to introduce the proposed solution. The next several steps will help you specify some of the more tangible components of the "how". On this step, however, you're still at the dazzling and inspiring stage.
That means your introduction to the plan should focus on its benefits.
How is this going to address the problem and what is your organization going to get out of it? Think increased profits, lowered costs, new products on the market, more satisfied clients, increased brand awareness, etc.
What is the anticipated impact of your project or idea? Focus on wide-ranging effects for a more impressive presentation.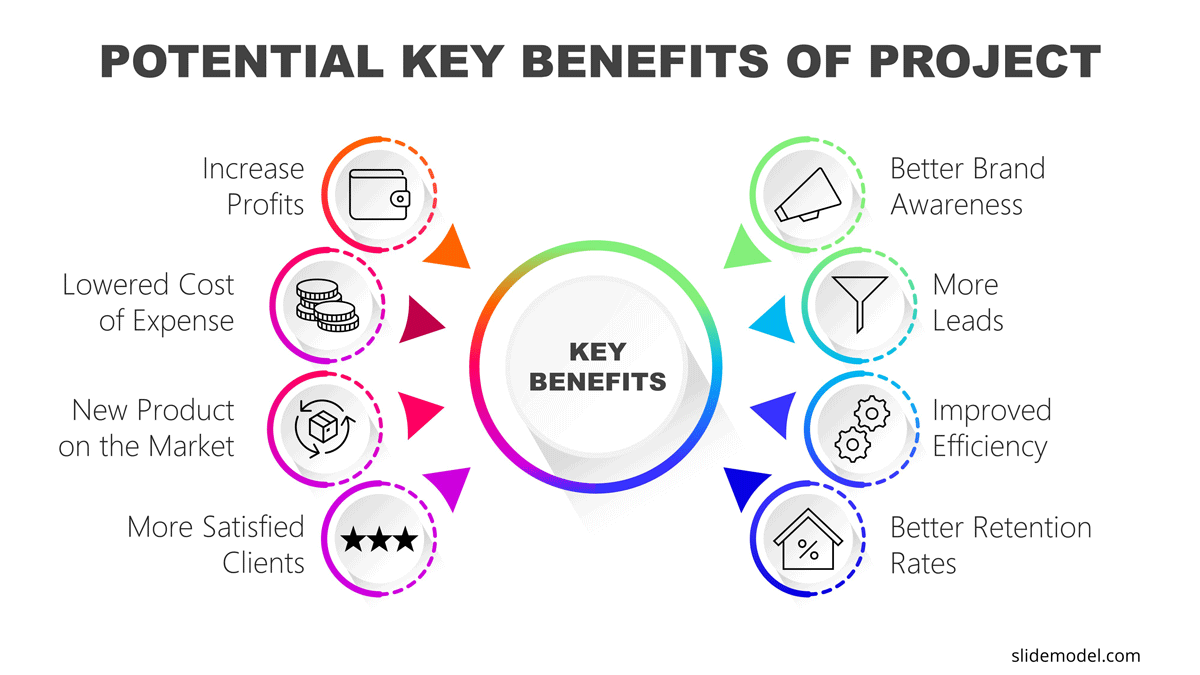 Step Three: Specify Deliverables and Success Criteria
Deliverables are the results of your project. Think about it as the components, both tangible and intangible, that you'll be delivering. Include the functions and characteristics of each deliverable, such as what it will do, how it will work, and what benefit it will have. Include details such as due date and key tasks required to successfully carry out each deliverable.
Alongside the definition of deliverables are the success criteria. It's important to specify how you'll know if each deliverable has been successfully created, as well as the project as a whole. Whenever you're presenting objectives or criteria for evaluating success, use the SMART goals approach. SMART stands for specific, measurable, achievable, realistic, and time-bound. You can try using a roadmap template to visualize these deliverables and delivery dates.
Step Four: Outline Project Resources
In order to execute a project, you will require resources. Generally in a project proposal you will divide this definition in two. First, an overall estimation of resources in a common language , financial. So you will translate every resource into budgeting terms and define an investment number. Then, you will break down these financials into: assets (i.e.: technology, infrastructure), human resources, services (i.e.: advertisement, consultancy).
Step Five: Outline your Schedule
In this section you will combine deliverables and resources to generate a high level roadmap. Main points to highlight are start and end of the project, delivery dates and resources usage times. In this way you will materialize the proposal in high level activities.
Step Six: Executive Summary
Once the detailed version of your project proposal is complete, it's time to summarize it into an executive summary. This summary will include a high-level list of each key element of your proposal. The idea of the executive summary is to be able to summarize in one page all the proposal, in a way an executive can grasp the overall scope.
How to Present a Project Proposal to Stakeholders
Your project presentation will follow the basic steps detailed above. Here is a project proposal example structure using project proposal templates to help you get started on your presentation.
Slide 1: Cover Slide with Project Name
Like in all presentations, you don't dive into the main part of the presentation without introducing the name of the project and yourself as presenter. Covers slides provide some visual stationary previous the presentation kick off. As a recommendation, set a project name that will make it memorable.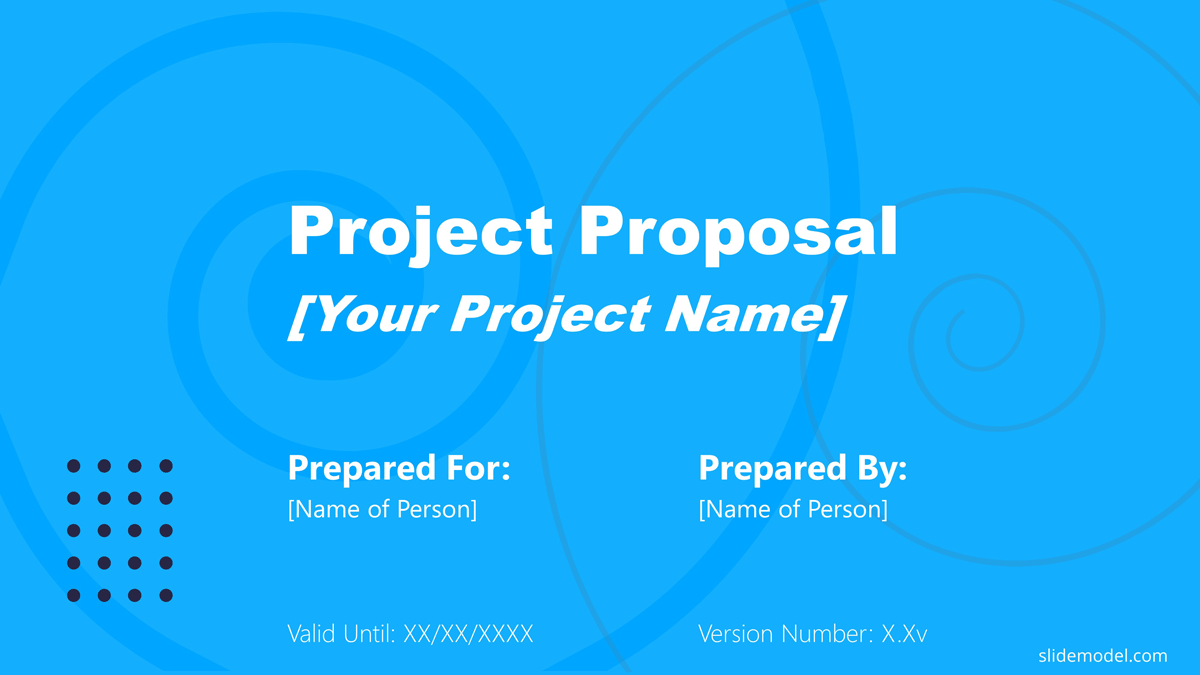 Slide 2: Table of Contents
Audience members will have an easier time paying attention if they know what to expect from your proposal presentation. See the following slide for a common project proposal table of contents format. When presenting it, do not dive into details. The agenda slide is aimed to set a mental state in the audience on the structure of the information will follow. It is a presentation best practice to prepare the audience.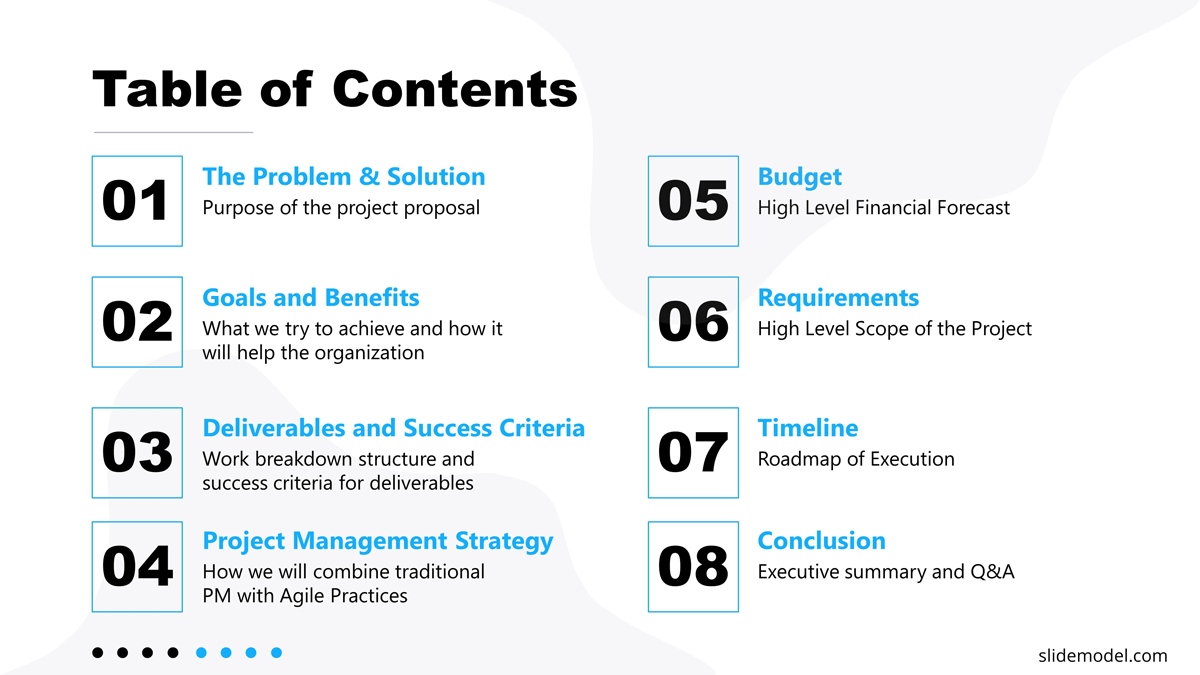 Slide 3: The Problem
Summarize your problem statement in one or two sentences. Be BOLD. When creating this problem summary, make sure to touch upon what the problem is, why it is a problem, how this problem manifests, who this problem affects, and what is the fallout of this problem. Make sure your message is directed to the real pain to solve. Avoid repeating the detailed problem definition; the audience can drill down in the documentation for the facts behind your statements.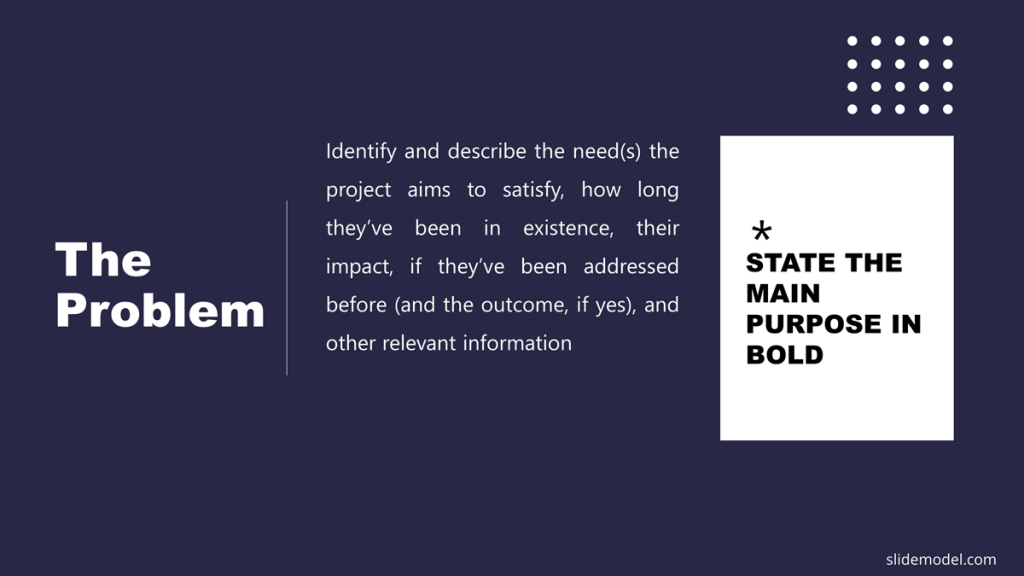 Slide 4: The Solution
As the first slide that formally introduces your projects proposal, this slide should briefly communicate what it is you are proposing to do. You can frame this slide in terms of the solution to the previously mentioned problem or you can introduce it as your plan. Either way, make sure this project introduction is no more than 1-3 sentences long. You'll have time to specify other details in later slides. At this point of the presentation, your audience curiosity starts to peak, and you need to build your persuasive speech.
Slide 5: Goals and Benefits
For this slide, you want to briefly list the main goals for what you want to achieve with your project, as well as the top benefits your project will generate for the organization. While there may be a much larger list of these two components in your project proposal document, you'll want to present the most important/relevant here. Try to group goals and benefits into categories. Remember that what you put on your PowerPoint slides is only the tip of the iceberg when it comes to your presentation. You can and should give more details in the spoken part of your proposal presentation.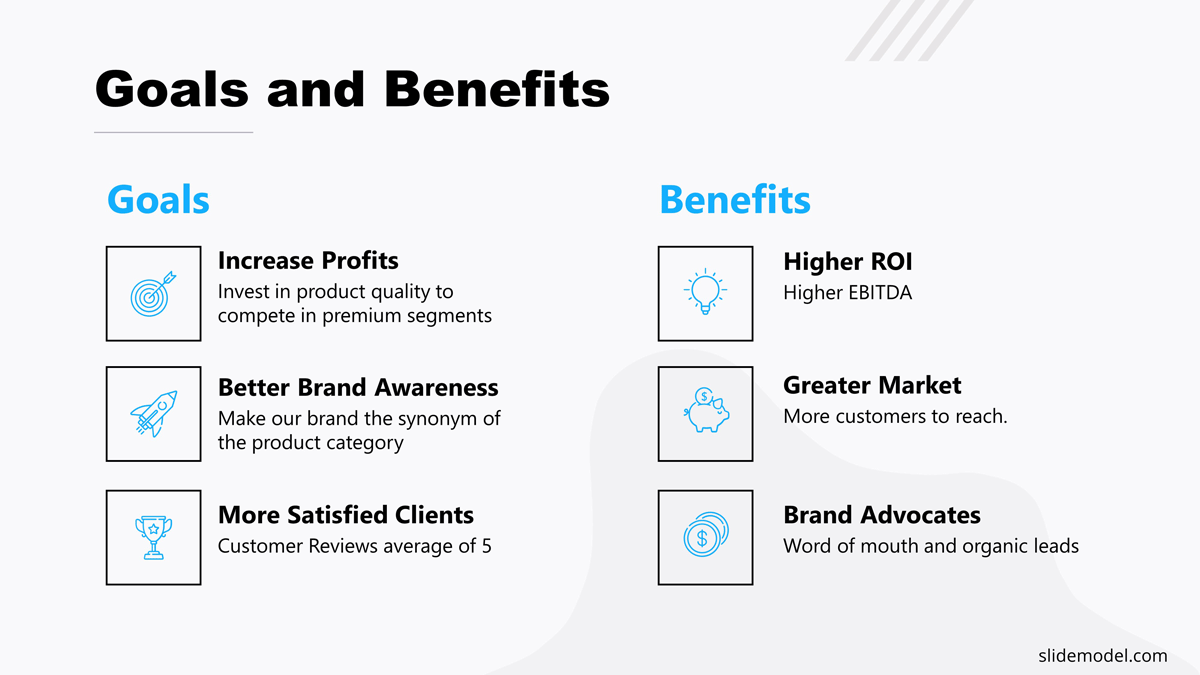 Slide 6: Deliverables and Success Criteria
Without going into too much detail, list deliverables, due dates, and criteria for acceptance for your main deliverables.
Slide 7: Project Management Strategy
State the project management strategy you're planning to use to manage the project. You can't assume everyone in your audience will understand what each project management strategy entails, so you should also provide a brief description of your choice. These templates detailing the Scrum, Kanban, and Waterfall methodologies can give you ideas of how to summarize your chosen methodology.
Slide 8: Budget
The budget slide remains pretty simple. Report both the total budget you anticipate for the project as well as a general breakdown of the budget into the main categories. Providing the percentage of each category of the budget is helpful for stakeholders to conceptualize it. In the Project Proposal Presentation template we have included a project budget slide (in slide #9) with a data table that can be used to present the Budget information.
Slide 9: Project Requirements
Other than budget, what's needed in order to complete your project? Will you need human resources, specific software, equipment, or a special location in order to execute your project? Add a simplified list here of the main requirements.
Slide 10: Project Proposal Timeline
You will not be able to present the entire project timeline in a simple project proposal presentation. However, you should present an overview of the timeline, including major phases and deliverables. Instead of presenting a simple chart with deliverables and dates, we recommend placing your timeline of deliverables and phases in an actual calendar. This puts your timeline in a visual context of quarters, months, or weeks, allowing audience members to have a clearer concept of how long this project will take.
Slide 11: Conclusion
Close your project proposal with a very short summary of the project, similar to what you wrote previously when introducing your solution. The point of this is to remind your audience of the overarching reason for this presentation, especially after going over potentially less-than-inspiring details like budget and requirements.
Slide 12: Thank You Slide
Don't forget to thank your audience for listening to your project proposal. Add your contact information in case this project proposal is sent over email and reviewed individually.
Final Words
In this article we had reviewed the definition of project proposal, its main structure and a guide on how to present it to your stakeholders. For further reading about presentations skills , here is a guide to improving your public speaking skills that will help you present your project proposal even more effectively. Hope you had enjoyed the reading.