Among the different PowerPoint templates at Slide Model, the Balanced Scorecard PowerPoint Template is quite exceptional, as it provides the necessary blueprint for making a Balanced Scorecard for your organization.
What is Balanced Scorecard?
BSC or Balanced Scorecard is a report used for performance management. This strategic planning and management tool is not just used by businesses, but also by government and non-profit organizations for enhance communication (internal and external), as well as to monitor organizational performance set against specified goals.
Balanced Scorecard Template For PowerPoint
This is a PowerPoint Template which can not only help you create a presentation to display your organization's Balanced Scorecard but also enables creating one from scratch, with the aid of helpful, editable slides. The Balanced Scorecard PowerPoint Template comes loaded with different sample slides which can help you create a professional looking scorecard with great ease.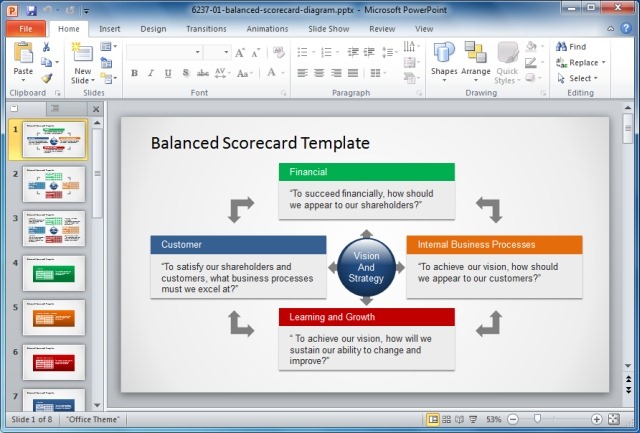 Helpful Slides For Making A Balanced Scorecard For Your Organization
As Balanced Scorecards are no longer just used for just performance measurement, you can make use of this template to create a comprehensive framework for the strategic planning and management of your organization, by displaying financial and non-financial measures, in relation to the targets set against them.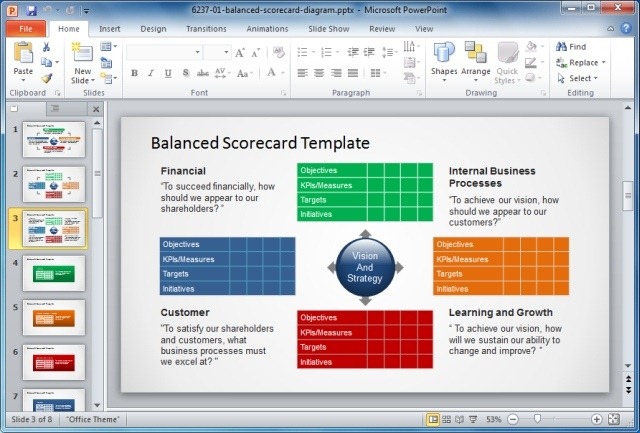 Other than displaying your complete scorecard, you can also use the individual sample slides to create a comprehensive slide for displaying in-depth details regarding each aspect of your scorecard (e.g. financial, internal, customer or growth related).
Related: Like the Balanced Scorecard, there are also a number of other types of business related templates that you can find from our previous posts, these include: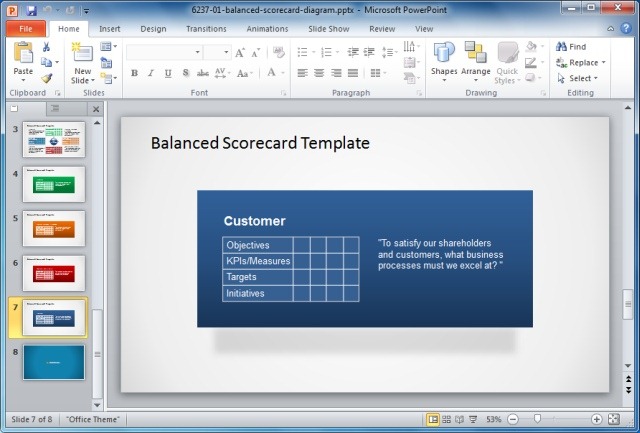 You can download the Balanced Scorecard Template for PowerPoint from the link given below.