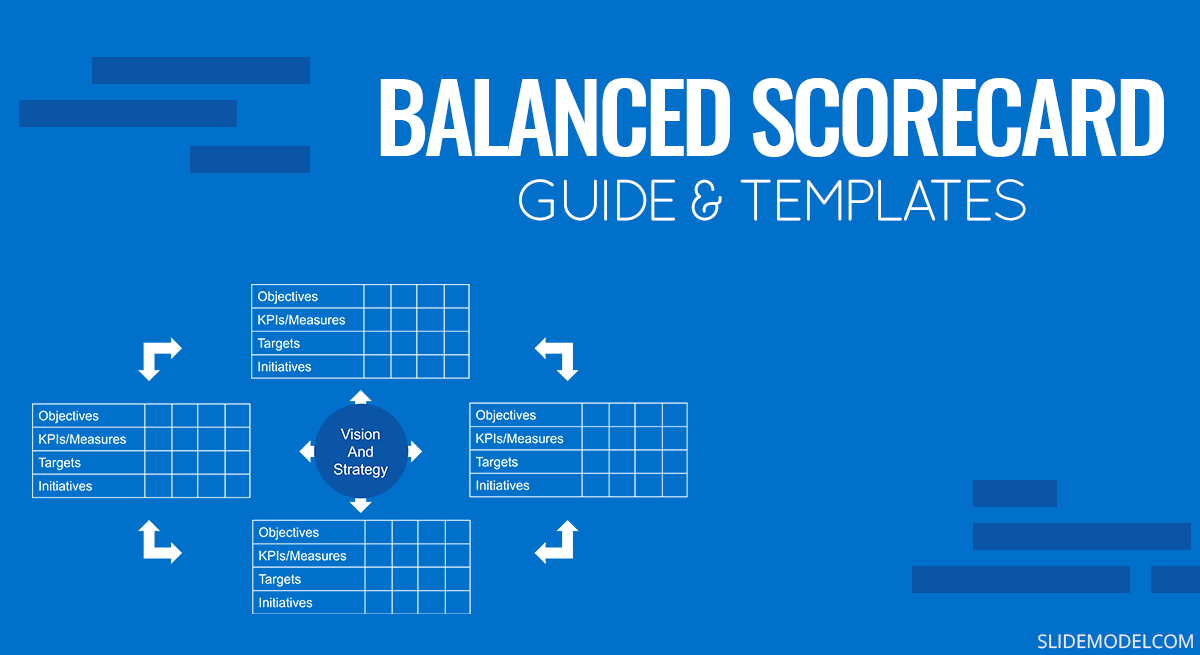 Every company needs structure to move forward, achieve goals and grow. Without a solid structure, a measurement system, and clear communication with every member of the organization, not only money can be wasted, but also time and energy. But how can a company develop a system with a solid structure and an integral goal-focused strategy? A Balanced Scorecard might be the right answer.
A Balanced Scorecard is the third most popular management tool according to the Bain Management Tools & Trends survey. This strategic work-frame has raised attention in the past few years and well-known companies and organizations in the private and public sectors—such as the Federal Bureau of Investigations (FBI), University of Virginia, Volkswagen, Philips, and Apple— have been applying it to improve performance and increase efficiency.
What is a Balanced Scorecard?
A Balanced Scorecard (BSC) is a powerful planning methodology and a strategic management performance metric that allows companies and organizations to define activities, reach goals, and keep track of their results. It is usually created and presented to team members or executives by managers—deeply involved with the organization— as a structured report every quarter.
What makes a BSC compelling is that this approach combines financial measures, internal business functions and activities, and the company's values, vision, and mission. This integral management tool was developed by Dr. Robert Kaplan of Harvard University and Dr. David Norton. It was first shared as a paper for Harvard Business Review in 1992.
"Managers should not have to choose between financial and operational measures. In observing and working with many companies, we have found that senior executives do not rely on one set of measures to the exclusion of the other. They realize that no single measure can provide a clear performance target or focus attention on the critical areas of the business. Managers want a balanced presentation of both financial and operational measures".
-Robert S. Kaplan and David P. Norton

After years of successfully applying this management strategy for different businesses, they also published a book in 1996 to explain in detail the methodology.
The Four Balanced Scorecard Perspectives
To create a successful and organized strategy, the Balanced Scorecard methodology proposes that businesses consider four main perspectives that will become the pillars of the measurement structure: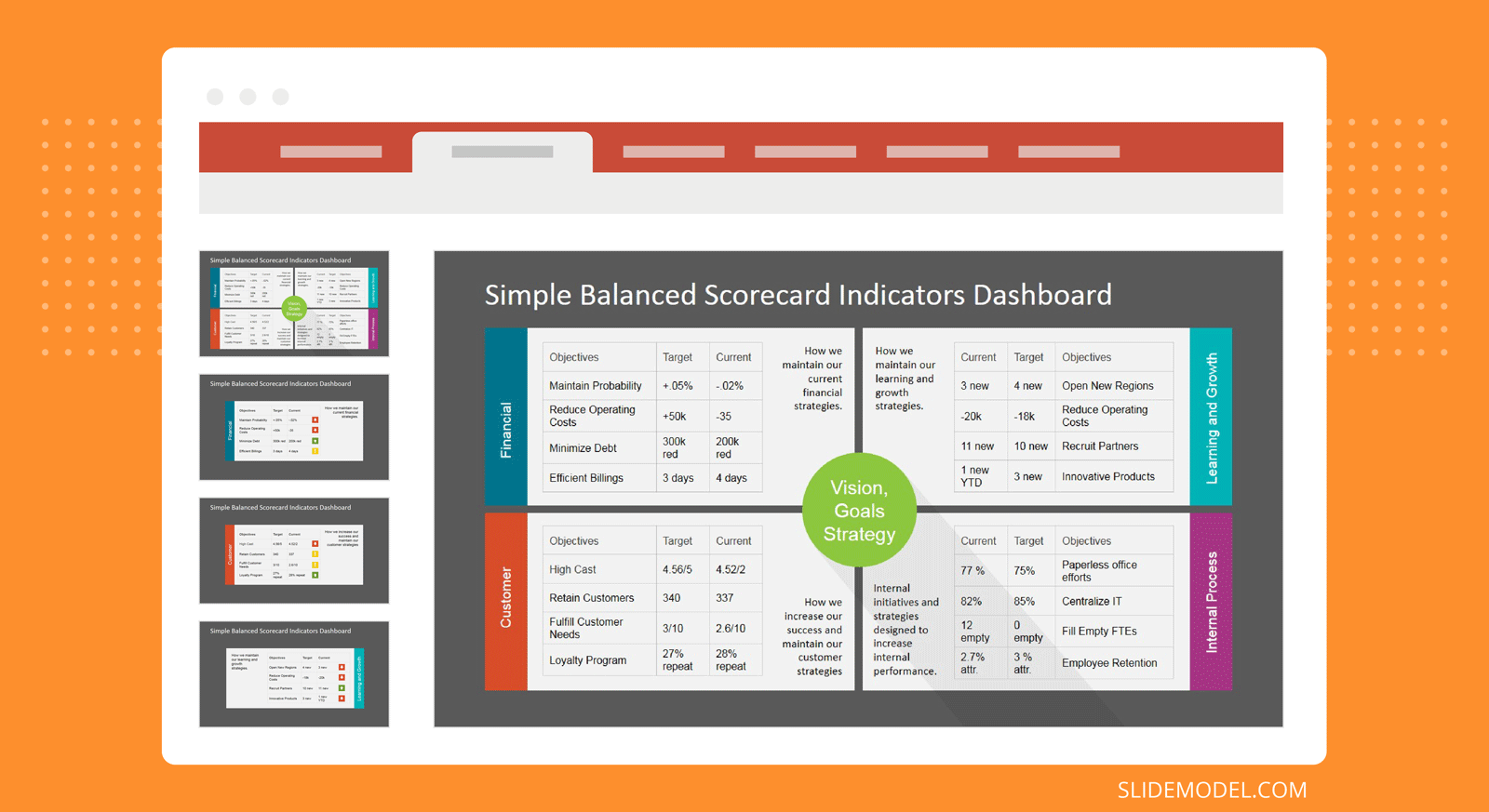 Financial Perspective
The analysis of the financial performance is crucial for every business and it is usually every profitable organization's main measure. This pillar must answer how the company looks to stakeholders and usually, the key performance indicators (KPIs) are: income, expenses, revenue growth, return on investment, financial goals, net income, and others.
Internal Business Perspective
Efficiency is essential for every organization and usually there are several activities, technologies, and strategies that can be improved. Business managers should answer the main question: What must the company excel at? Considering this aspect helps organizations align with internal goals, performance, and product or services quality. The common KPIs for this perspective are: Inventory, quality control, and production lead time.
Innovation and Learning Perspective
This angle analyses the human capital, the company culture, and the infrastructure and technology in use. The main focus is improvement, this includes finding solutions to how it can be done. Among the usual KPIs that managers acknowledge for this category are: employees' skills, satisfaction, training, and education.
Customer Perspective
This perspective seeks to answer how customers see the company. For this pillar, managers must find different strategies to compare to the competition and understand the client's perspective. To measure the common KPIs —customer satisfaction and customer retention— different strategies and measures apply: surveys, interviews, feedback, and customer growth.
Why Is a Balanced Scorecard Useful and Valuable for Any Business?
One of the main advantages of applying a Balanced Scorecard as a strategic management performance metric is that it considers the company as an ecosystem and it involves all the main aspects and perspectives that will help a business thrive.
It's an all-in-one methodology that provides valuable analysis for managers and executives. When the report is presented adequately, with compelling information and high-quality visual references, this method helps integrate teams and activities, and directs the company towards achieving goals and results in a productive and efficient manner.
Another advantage of the BSC is that it can also implement or coexist with other tools and planning methods. For example, a Balanced Scorecard report can include and integrate an Objectives and Key Result (OKR) framework to provide a deeper analysis of operational areas.
The remarkable results and recognized success achieved by this methodology have increased its popularity among large companies worldwide.
How Is a Balanced Scorecard Created?
When it comes to the creation of a Balanced Scorecard report, there are no specific rules and there are different strategies that can be used to apply this method. The management tool framework provides the main perspectives and analysis that should be included, but every company or organization can create its own personalized version considering its own needs.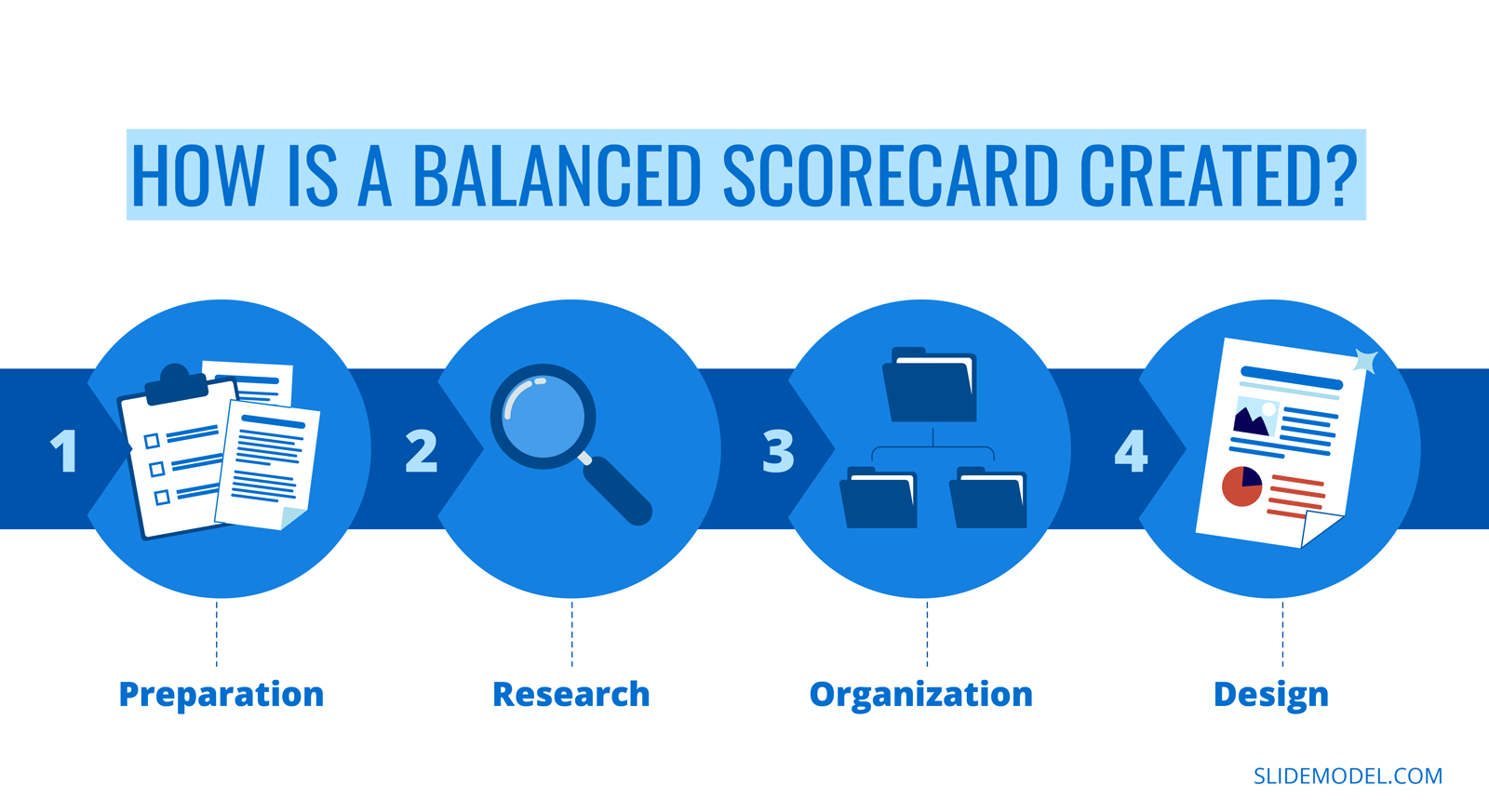 In order to design a BSC framework, there are a few aspects and requirements that every company should evaluate before choosing a balanced scorecard template:
Preparation
It's a crucial part of the process. The person in charge of creating a Balanced Scorecard must first review and study the company's values, mission, and vision to then start creating actionable steps.
Research
To truly understand where a company is standing on the 4 pillars of the structure, every business must decide on the best way to gather data. For the report, some companies conduct surveys to understand customer satisfaction, interview employees or customers, create special workshops for BSC purposes, and more.
Organization
After gathering all data, the most relevant information must be classified, simplified, and organized. Analyzing, creating, and integrating all data into a Balanced Scorecard structure considering the company's mission, vision, and goals is central.
Design
Depending on the measures considered, managers must determine where they want their team's attention and create the BSC report or presentation accordingly. Creating visually appealing maps, diagrams and graphics will help executives and team members understand the strategy and measurement connections.
The next thing would be to implement the strategy and then measure and compare achievements. Experts recommend periodic reviews. Balanced Scorecard metrics should be revisited at least annually and a business report on the BSC should be studied by managers each quarter or month.
Balanced Scorecard example: Rockwater
Since a company's Balanced Scorecard represents private data and personalized internal communication, reports are usually restricted to the public. However, Robert S. Kaplan and David P. Norton shared valuable information from their studies with different companies. One of their main case of study was an underwater engineering and construction firm: Rockwater.
After working with Rockwater, the experts shared relevant and simple conclusions that will help managers have a basic idea of how a Balanced Scorecard framework should be considered.
The company's CEO Norman Chambers and his senior management team studied the changes the industry was going through in 1989, and decided to design a strategy based on the context, the company's situation, and the Balanced Scorecard principles. Rockwater considered 5 strategic objectives:
Services that surpass customers' expectations and needs.
High levels of customer satisfaction.
Continuous improvement of safety, equipment reliability, responsiveness, and cost-effectiveness.
High-quality employees.
Realization of shareholder expectations.
To translate them into tangible goals and actions they developed this BSC structure considering the 4 perspectives:
Financial: Decided to focus on return on capital and cash flow for short-term results, and reduce uncertainty by studying profitability, sales backlog, and performance.
Customer: They divided customers into Tier I and Tier II and conducted an annual survey and asked for monthly satisfaction and performance ratings.
Internal: Rockwater defined the life cycle of a project and studied how they fulfilled needs on each step of the process. After this, the company decided to make changes and integrate processes, increasing safety and reducing accidents.
Innovation and improvement: part of the innovation was the new internal work process but also new changes to products and services, and market expansion; measured by revenues and a staff attitude survey.
By applying a Balanced Scorecard framework, Rockwater found a powerful tool and later became the number one company in the industry.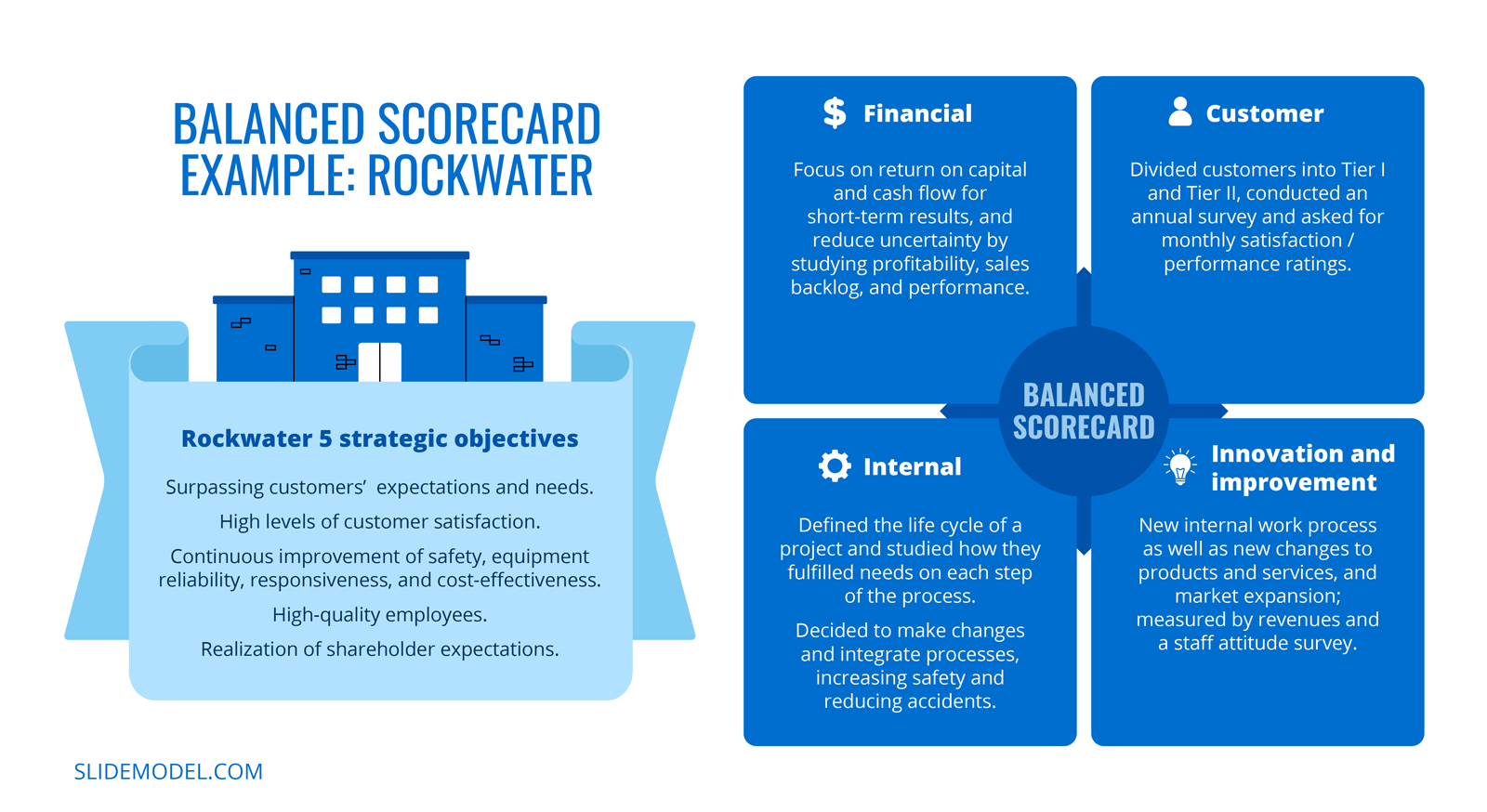 What is the best way to present a Balanced Scorecard?
Given the popularity and success of this system, there are many tools and software available in the market. Managers and executives can choose from a great variety of solutions. However, Office remains at the top of the most popular software to create Balance Scorecard reports: 38% of the companies on the 2020 Balanced Scorecard Usage Survey prefer this tool.
A Balanced scorecard report can be presented in different types of documents, but one of the most efficient ways to present all data is through Presentation Slides. Creating visually attractive and engaging slides is also part of the strategy many managers use to integrate teams and help employees understand their role and encourage focus and prioritization.
Studying a Balanced Scorecard example or management systems previously used at the company can help managers and business owners find better opportunities for improvement and decide on the best structure for their company needs. 
Final Thoughts About Balanced Scorecard
The Balanced Scorecard planning methodology stands out because of its powerful business ecosystem integration. It not only includes financial measures, but also day-to-day activities and an overall strategy that involves the company's mission, vision, and goals.
Including internal and external perspectives allows companies to visualize their health and functioning in a specific environment. All four pillars of this strategic management performance metric are key to interpreting and determining the best follow-up strategy for the organization.
The secret to a great BSC report is having a clear understanding of what is a Balanced Scorecard, a deep knowledge of the business' situation and projection, choosing the most relevant KPIs for the company, and properly adapting data. And, of course, creating an engaging and visually appealing report presentation is always a smart plan of action.
Choose the right Balanced Scorecard Template for your Strategy Presentation
Depending on the information the managers and BSC creators have decided to include in the report presentation, there are different alternatives and visual structures that can be used.
High-quality templates save time and money. These are specifically designed to show data in a simple and engaging way and to help businesses organize a comprehensive structure. The colors, the typography, and the arrangement of the diagrams have been designed and structured to fulfill their purpose, but the content can always be adapted and personalized to the business needs.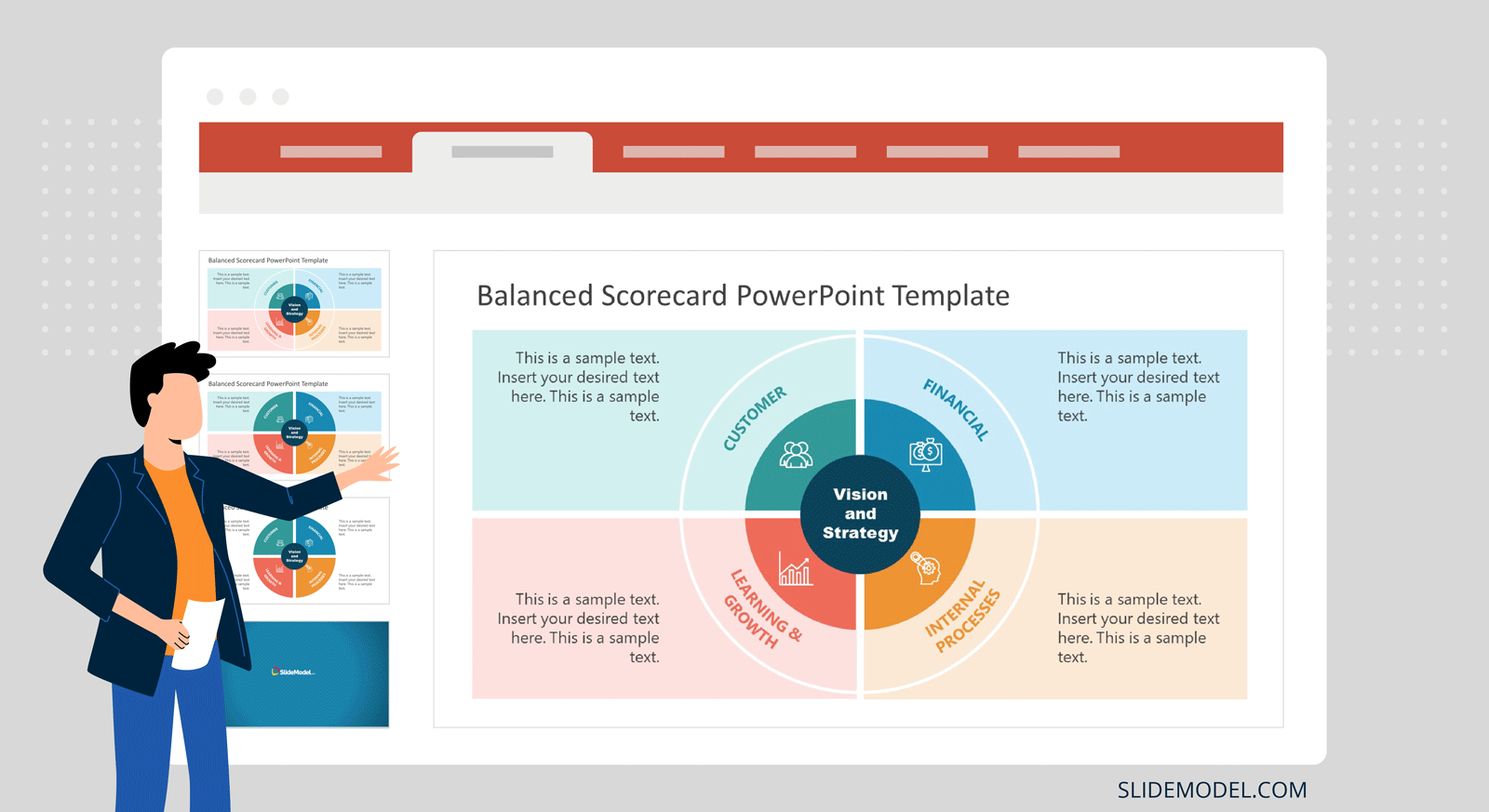 Popular Balanced Scorecard Templates From SlideModel
SlideModel offers great presentation slides options for managers and business executives preparing Balanced Scorecard reports. You can check the Balanced Scorecard Templates gallery for a full navigation. The following are our pick for specific purposes when working with BSC.