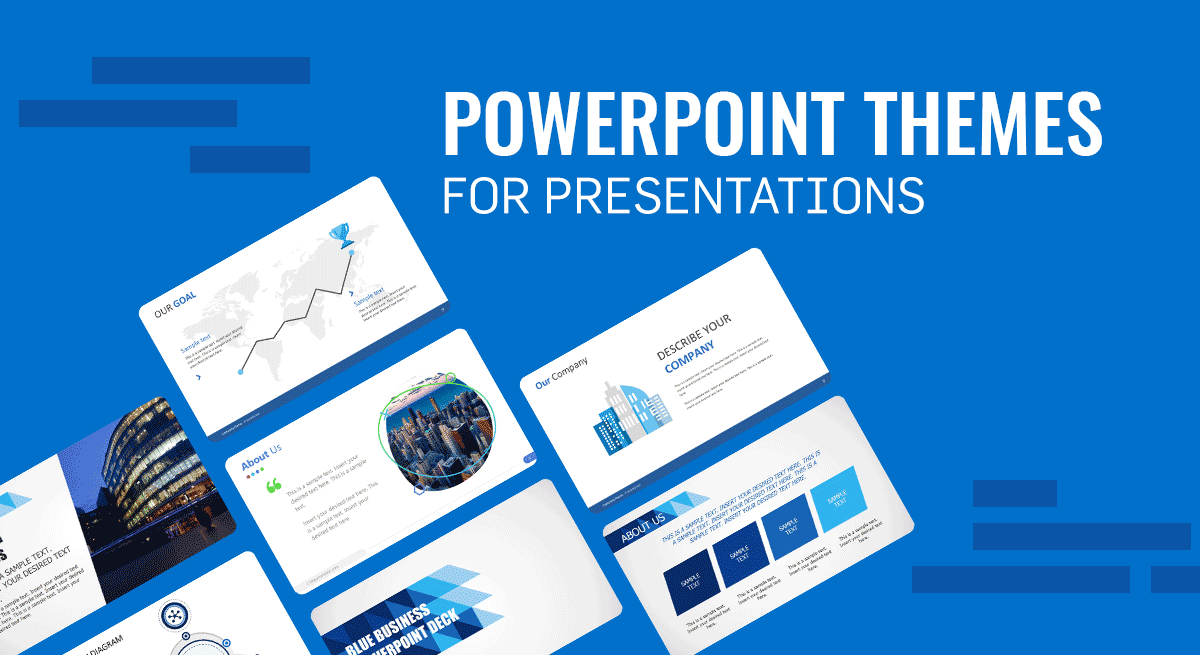 As a presenter, leaving a lasting impact on your audience requires a number of things. You need a good presentation design, cohesively designed slides, public speaking skills and a topic that resonates with the audience. You can get half your job done with a good design alone, since a well-crafted presentation deck can also enable you to make your content more engaging. If you're looking for PowerPoint themes that can help you leave a call-to-action impact at the end of your presentation, we have a list of suitable templates to make you stand out. But before reviewing this list of templates, let´'s understand more about what a PowerPoint theme is.
What is a PowerPoint theme?
A PowerPoint theme is a predefined set of visual slides, fonts, colors, and layouts that you can apply to your presentation slides to produce a unified and professional looking presentation design.
By using a presentation theme for PowerPoint, you can achieve a harmonious appearance without hassle. Depending on your industry or the purpose of your presentation, the PowerPoint theme might contain different layouts and slides relevant to the specific niche.
A good benefit of using PowerPoint themes, is that whey you add new graphics, text, tables and shapes to your slides, PowerPoint will apply the Theme Colors in a consistent way, uniforming the look and feel.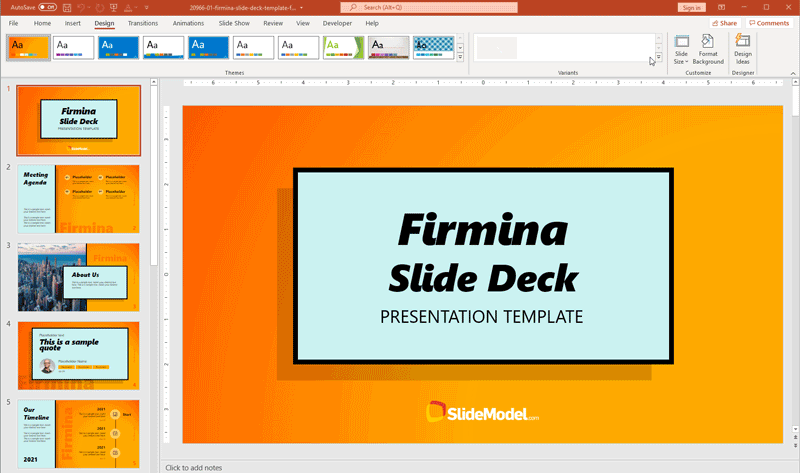 Here is a list of presentation themes that you can use in PowerPoint to make your presentations more impactful.
1. Emerge PowerPoint Template

Emerge PowerPoint Theme is a corporate presentation deck that provides layouts to help you design professional looking presentations. The presentation theme is designed to give a positive outlook to added content. The theme design uses vibrant colors and placeholders that give the impression of success and growth. This makes the template particularly suitable for pitch decks and presentations made to attract investment.
The default slides have been designed to enable presenters to create a sequence where they can introduce the company, present the agenda, team, project, share mockups and show timelines. Sample slides are also easy to customize to match your needs.
2. Business Presentation Theme

Sometimes you have a lot of data and no idea how to present it in a clean matter. This business-themed presentation template makes perfect use of whitespace to deliver sample layouts that can be easy to understand for your audience. There are various slides that can be used for making comparisons, tables, inserting charts, etc. Also, you can pinpoint locations in a US map.
The blue and white theme has been designed so that the text and imagery can be easily highlighted while allowing the presenter to ad a lot of information in a single slide. If you are looking for PowerPoint themes, this is the right business presentation background template to present trends, forecasts, and analysis in an impactful way.
3. Blue Business PowerPoint Theme

Most presentation templates have a handful of slides that can make it harder for the presenter to customize them when making a presentation during a short deadline. Furthermore, it can be great to have more choice when it comes to selecting layouts that you can quickly pick and choose from, instead of customizing or duplicating a sample slide spending several minutes. This Blue Business PowerPoint theme and presentation template provides more than four dozen slides to give you enough choice to make it your go-to template for business presentations.
There are multiple layouts for making slides to introduce yourself or your company, services, team, portfolio, analysis, project, and timelines. PowerPoint themes like the Blue Business slide deck also include slides such as About Us slides, services slides, Our Team slides, slides to showcase your portfolio and your clients with logos, multi-layer layouts and Contact Us slides. All you need to do is to pick the slides and make a presentation in a matter of minutes with a map of everything laid out in front of you.
4. MBA Presentation Theme for PowerPoint

The MBA Presentation Theme for PowerPoint is geared towards students who are presenting their case studies or other academic presentations. For students, it can be a bit overwhelming to decide how to go about making a suitable presentation to present academic findings. This MBA template gives dozens of slides with a suggested sequence to help students of a Master of Business Administration degree, design their slides with a head start.
While the sample slides are generic for ease of editing, you can use them to present everything from a brief introduction and key challenges to infographics, analytical information, comparisons, solutions, and entire industry analysis in just a few slides.
5. Company Presentation PowerPoint Theme

The Company Presentation PowerPoint Theme is meant to help create awesome business presentations with a visually pleasing outlook. The infographics and clipart in the template can help enforce positive messaging through content that depicts success with neat-looking slides.
PowerPoint themes like the Company Presentation slide-deck contains slides to present your company's Vision and Mission, company background, business goals, your Unique Selling Point and your team values and competences.
You can also get some cues from the way the sample slides are designed to insert your own imagery of smiling faces and growth-oriented illustrations to make your business presentations impactful.
6. Excellence Theme for PowerPoint Presentations

While a company might have a vibrant corporate culture, strong management, and best practices in place. Selling your company's expertise can often end up in the form of a presentation deck. This template can help presenters emphasize Business Excellence (BE) and what makes their company worth the money.
The 12 sample slides are meant to help you make an impact on your audience. With a few simple slides that can cohesively help pitch a business.
7. Business Proposal PowerPoint Theme

The difference between winning a contract or making a business proposal that falls on deaf ears is often associated with how well you read the Request for Proposal (RFP), and if everything was properly covered in your presentation. The other aspect is if your slides are legible and come with information in a palatable format.
Remote meetings and work from home make it essential to have a slide deck that is good enough for cross-platform meeting applications and does not make your content look embarrassingly vague. This Business Proposal PowerPoint Template focuses on the concept of 'less is more'. Providing slides that can be simple enough in terms of their layout and can help you incorporate and present information across various tools, apps and projectors by highlighting key details.
8. Healthcare Center Presentation Theme for PowerPoint

The healthcare industry is one of the largest global industries, with a value that is estimated in trillions of dollars each year. Many healthcare professionals use PowerPoint presentations and compelling Microsoft PowerPoint themes to discuss the health of patients, to present their progress and discoveries to local and international organizations, and to patients follow suitable plans for recovery and better health. Furthermore, healthcare service providers also make slide decks to market their services.
This PowerPoint theme & presentation template for healthcare gives a complete sample deck to help you design a presentation that explains the services offered by a healthcare center. The PPT template can also be edited to cater for the needs of individual clients. Be it patients or potential clients looking to hire your services for their staff or a group of people.
9. Social Media Report PowerPoint Theme

Social media reports are nowadays also presented periodically to show the trends for the social media presence of an organization. Be it small or medium-size businesses or large organizations, everyone is looking to have an impact through their social media presence. The COVID-19 pandemic has made social media websites even more important for reaching out to customers, such as pitching your strong social media presence to attract paid content. Many times, social media reports also have some type of monetary value.
Useful but simple PowerPoint themes like this Social Media report template can help you create comprehensive social media reports. Whether you need to present a weekly, monthly, quarterly or annual report, this presentation theme can be a good pick to showcase trends for an impact. While there is a premium social media PowerPoint theme available to download, you can also download the free PowerPoint theme for social media reports.
10. Company PowerPoint Theme

The Company PowerPoint Theme, unlike conventional themes, is meant for formal company profiles that are accompanied by project proposals and pitch decks. You can use Microsoft PowerPoint themes like the Corporate template to present your company profile and keep it handy for an impromptu presentation where you might need to show your company profile with fine details related to what makes you stand out from the rest.
Alternatively, you can combine this presentation design with other of our professionally-designed PowerPoint templates and slides for presentations available at SlideModel.
11. Pegasus Pitch Deck PowerPoint Theme

If you need something to complement your business profile submitted with a proposal or require a pitch deck slide deck. The Pegasus Pitch Deck PowerPoint theme can be a visually appealing option to make an impact before a potential investor. This Microsoft PowerPoint theme gives a stencil for making your pitch deck with an imaginary company depicted throughout the slides. You can replace the sample logos and add relevant information to quickly create a pitch deck that can represent your company.
What you might find very useful about this template are the graphical elements that are quite eye-catching. Furthermore, since this is a sample pitch deck, it is 100% editable, so you can use it to make a presentable deck in a matter of minutes.
12. Purposeful PowerPoint Theme

Presentations can often be lost in translation due to a lack of purpose behind the slides. This template aims to tackle the redundancy of unwanted slides that can cause ¨death by PowerPoint¨. With a few minimalist slides and a simple layout, this template might just be what you need to make an impact. Minus the unwanted slides with information, your audience might not find very useful.
The template is suitable for making focused business presentations. To make an impact using relevant details, concise information, followed by call-to-action.
Final Words
Presenters who have suitably designed slides at their disposal can even mitigate some of the shortcomings of their presentation skills. Palatable visuals in the form of infographics, photo slides, data-driven charts, tables, and timelines can be great to make an impact on your audience. However, designing these can be tricky for the average presenter. Hence, making it possible to fill the gap in presentation skills or the time needed to design slides with readymade templates.
People nowadays often find it easy to sift through smaller bits of information online due to a low attention span, which can be diminished by relevant images that can help them grasp the basic concept. Microsoft PowerPoint themes listed above can help you do all that. While allowing you to leave an impact with a presentation that can visually stand out.