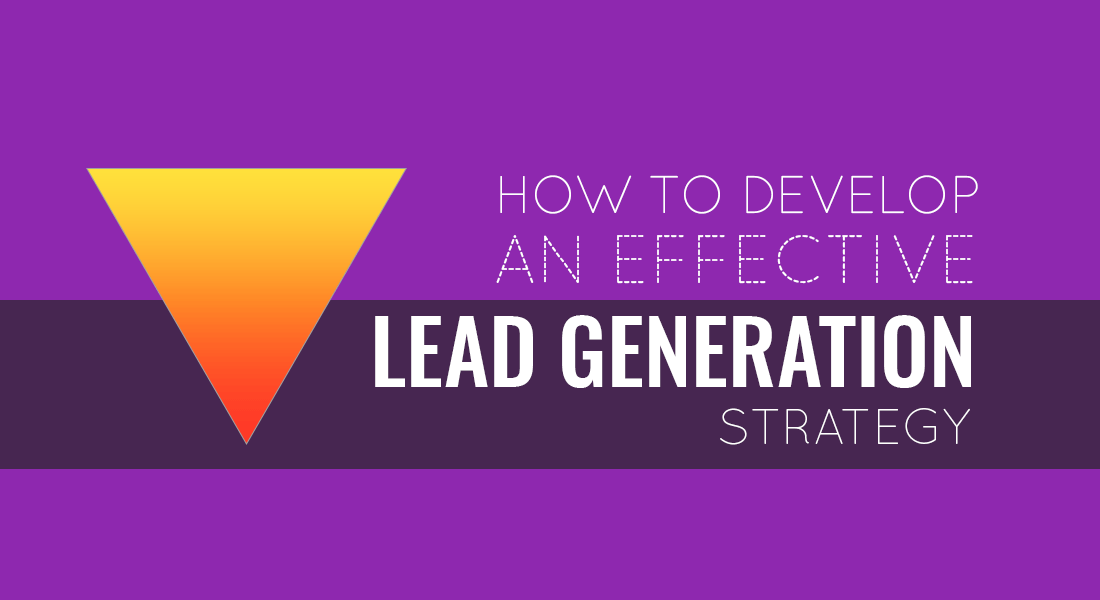 Getting plenty of traffic does not automatically equals sales and profits. Most people need time to shop around and make up their mind, especially in the B2B niche. Case in point: cross-industry only 3% of your target audience is actively buying, 56% are not ready and 40% are at the awareness/consideration stage of their buying journey, per Vorsight.
Clearly, those three distinctive groups of buyers will need different "treatment". And the methods you will use for turning those visitors into customers comprise your lead generation strategy.
What is Lead Generation?
Leads are people who have shown interested in your company's product or services in some way e.g. signed up for your newsletter, requested a call, left their contact information or asked for a demo. They have already moved to the bottom half of your sales funnel, and care to know more about your line of business.
Lead generation is the process of drawing in those warm prospects and gauging their interest in your offerings. The template below further illustrates the standard lead generation process: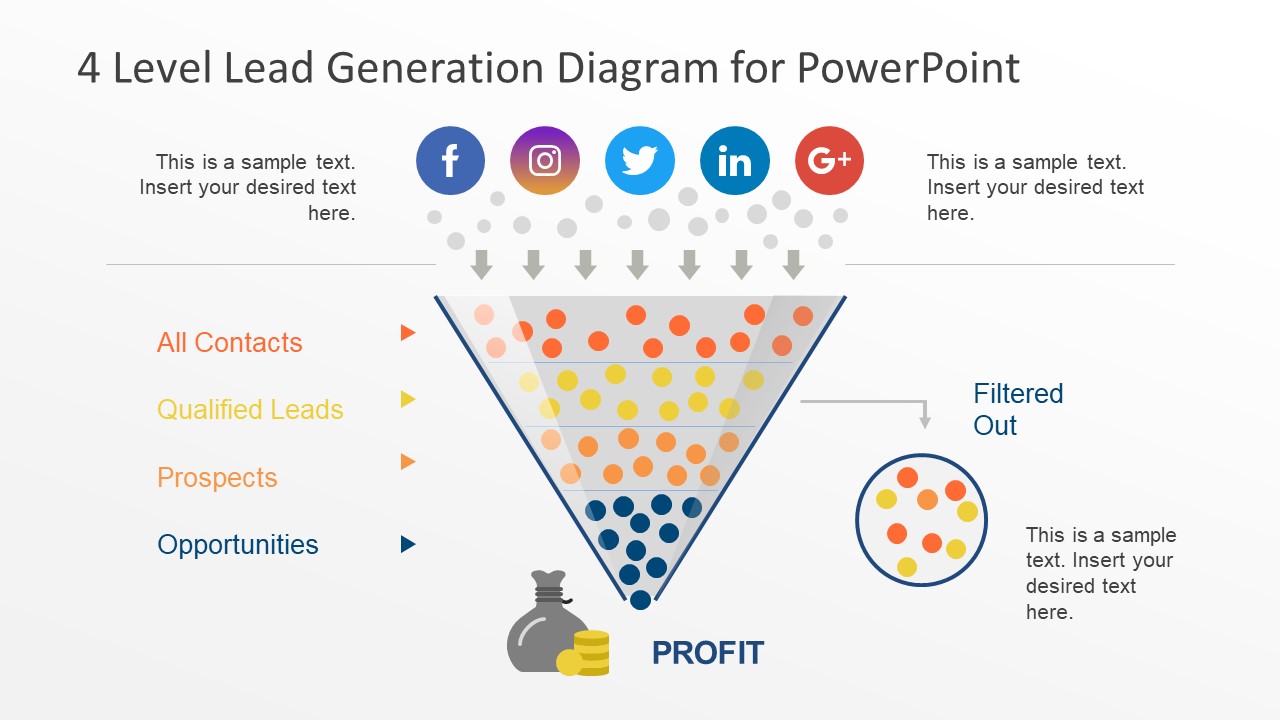 In essence, lead generation stands for finding unique methods for attracting people to your business and providing them with incentives that prompt them to show further interest in your business and reach out to you in some way.
How to Create a Winning Lead Generation Strategy
Let's quickly recap how most purchase journeys happen these days. First, a person discovers your business through one of your marketing channels e.g. your blog, social media ad or a referral link.
That visitor browses around and clicks on one of your call-to-actions (CTAs) – a button to download an eBook; a contact form to request a demo and so on. They are asked to provide their contact information for further communication. For conversion optimization, your CTA may lead the visitor to a dedicated landing page, featuring some "offer" that will be given to them in exchange for their personal information. An "offer" can be anything from a free whitepaper, report, eBook, to an industry survey, free assessment report or a service brochure and so on. Finally, when the person has left their details in exchange for your insensitive, you have captured a lead, congrats!
But there's a wrinkle: most of the people requesting information on your business today will not purchase for at least 3 months. Also, not every lead clicking on your CTA and agreeing to receive further communication will be a "qualified lead" – someone indeed planning to make a purchase. And that's where you will need to apply lead generation best practices to enhance your process of identifying, capturing and engaging only with those prospects, who are clearly ready to buy from you.
To create an effective lead generation strategy for your business, you will need to optimize different facets of your marketing setup. Here's how it's done, step-by-step.
1. Decide on your lead capturing method(s)
First, you will need to decide on the best traffic generation methods for attracting qualified leads. You will want to pursue only a specific group of prospects that match your buyers' personas.
You have two routes to pursue: inbound marketing and outbound marketing for lead gen. Both options have their pros and cons and may be more suitable for different types of businesses.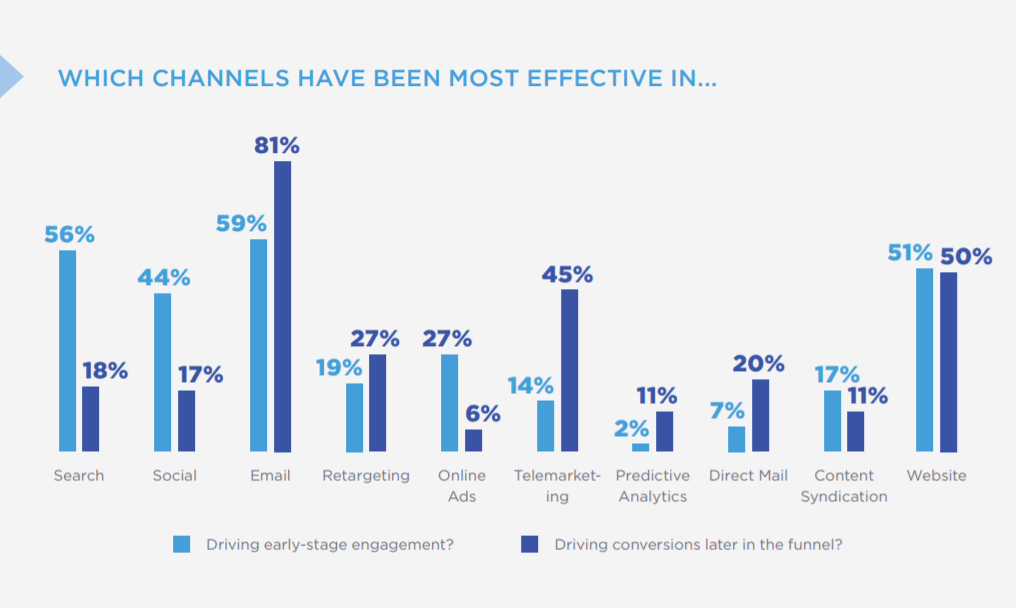 Inbound Marketing Lead Generation Strategies
Content marketing. As you can see from the chart above, website and search optimization generate a lot of lead opportunities for businesses. Creating and distributing relevant content is the first pillar of organically capturing early stage leads and moving them further down the sales funnel. For instance, 65% of IT prospects need at least 4 pieces of content to shortlist a vendor.
The particular appeal of content marketing for lead generation is that it's incredibly versatile. You can create multiple types of assets to pitch to your leads at different stages of their journey:
Blog posts. B2B companies blogging consistently generate 67% more leads.
Thought-leadership articles, published on other media resources, drive the buzz around your brand and bring in referral traffic.
Case studies and customer success stories. 71% of B2B buyers in the awareness stage and 77% in the evaluation name case studies and testimonials as the most influential types of content.
Visual marketing assets – infographics, presentations, templates – also do the trick of activating more prospects.
eBooks, reference checklists, kits, guides and white papers are powerful "baits" to add to a lead generation landing page for higher conversions.
Read next about how to create a content marketing plan in PowerPoint.
Email marketing. After you have captured the prospect's contact details, it's time to follow-up with them via email – heads up, the most powerful method for nurturing leads. It's much easier to prompt action since the person has already engaged with your brand. Use clear CTAs and a compelling copy that clearly communicates what you are offering to capture the reader's' attention.
Facebook Lead Generation and LinkedIn Lead Generation. Both activities are high on the marketers' to-do lists. Using LinkedIn for lead gen has proven to be successful for 65% of B2B companies. Facebook is more of a B2C avenue, though B2B companies in the SaaS space are also seeing success on this platform, in particular when using Lead Ads format.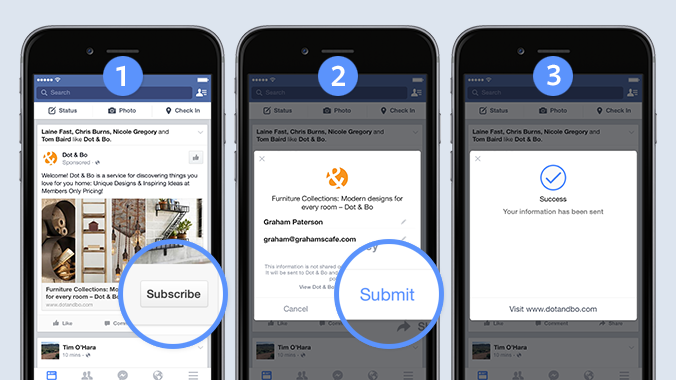 Outbound Marketing Lead Generation Strategies
Direct mail (cold emails). Personalized direct email lead generation can bring in new opportunities for your business. In the B2B space, cold emails have a 4.4% response rate on average. For comparison, the average response rate to email marketing dispatches is only 0.12%. There are several pillars to succeeding with direct emails:
Advanced list segmentation: send different personalized offers to different types of buyers, based on their background and past interactions with your brand.
Personalized messages, again, based on what you already know/or researched about your prospect.
PURLs. Use URLs with custom tags to track the effectiveness of your outreach.
Following up. You should follow-up 6 times before giving up. 95% of all converted leads are reached within six call attempts.
Events and tradeshows present a lot of opportunities for networking and outreach. From giving away good old sales brochures to capturing prospects' data using in-booth tablets and mobile surveys, sales lead generation opportunities are plentiful.
PPC and display advertising. PPC lead generation works best for businesses that:
Offer trial periods
Have long sales cycles due to the complex nature of product/service
Give custom price quotes per project.
Bonus point: unlike other strategies, PPC allows you to track the ROI of your lead gen campaigns up to a penny.
Step 2: Create Lead Magnets
Now that you have figured out your method for attracting leads/traffic let's work further on encouraging those prospects to take action. That's when you need to design a lead magnet – a strategic lever that will "pull" prospects further into your sales funnel.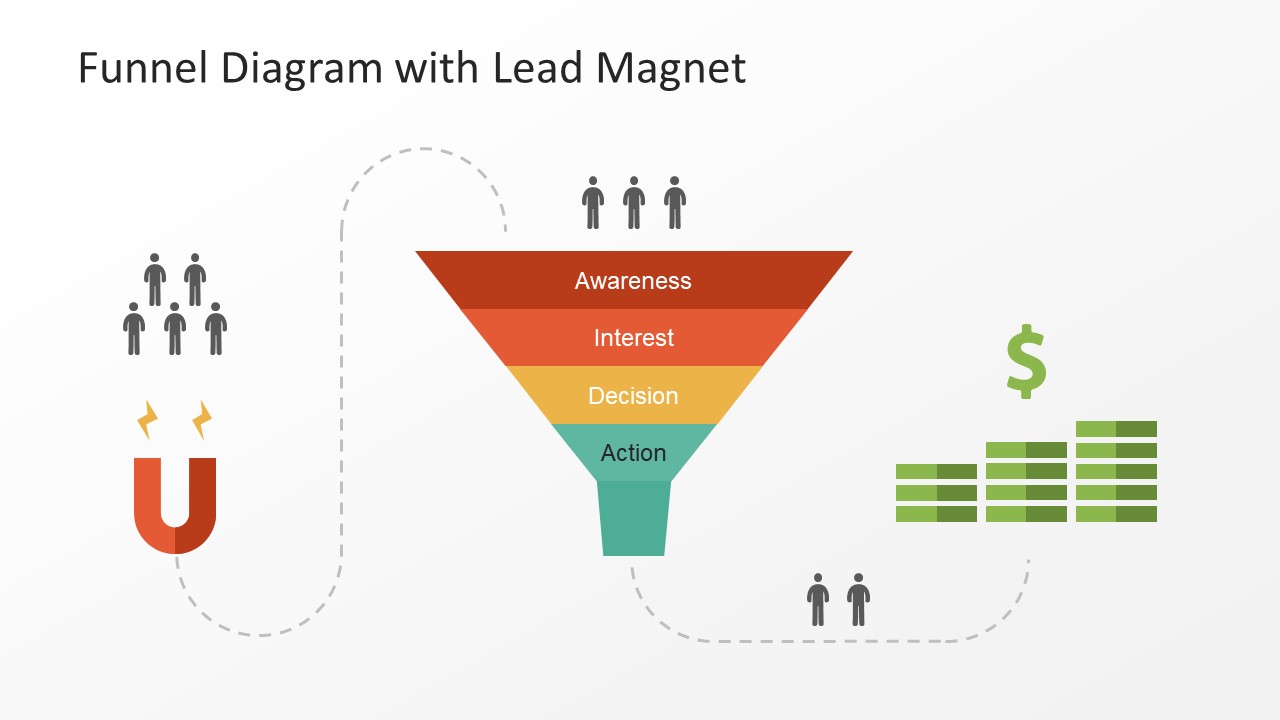 Funnel Diagram Template by SlideModel
A lead magnet is an incentive you offer visitors in exchange for their contact information. There are several types of lead magnets you can use such as:
Gated content: eBook, guide, report, whitepaper, checklists. This can be any type of downloadable asset that a prospect will deem valuable and relevant.
Access to gated resources: for instance, a short e-course, webinar or masterclass recording.
Free trial/demo. "X-day, no-credit card required" trials do the trick of capturing a lot of leads.
Discount, coupon, free "something" offer. Everyone loves a freebie.
Quiz/Survey results. A more creative approach to learning more about your prospect while delivering value to them e.g. helping them learn something new about themselves.
Here's what makes a good magnet for lead generation marketing:
It's easy to consume. Lead magnets should be short and sweet, offering immediate value e.g. a solution to one of the buyer's pain problems.
It's easy-to-apply. Your lead magnet provides either a tool/skillset or useful information the prospect can start applying instantly.
It's relevant. The best option is to create several lead magnets for different types of interactions.
It's free. Foster reciprocity. You give out something for free, and the person, on the other hand, feels more inclined to "return the favor" in some way.
It's instant. It should be delivered to the prospect right after they did their part and left their contact details.
Step 3: Design landing pages
Landing pages create a distraction-free environment for interacting with a prospect. They are designed to do one thing well – lead the visitor towards the desired action (conversion). How many landing pages do you need? The answer depends on your line of business. On average, companies witness a 55% increase in leads after they increase the number of landing pages from 10 to 15.
Take a closer look at your sales funnel to identify at what stages a landing page will make the most impact. As a rule of thumb, you should create a dedicated landing page for different advertising campaigns; promo offers and lead magnets you are using.
Step 4: Implement Lead Scoring
As mentioned earlier, not every lead captured into your funnel will become a paying customer. The goal of lead scoring is to identify a series of behaviors that indicate where a prospect may be in their buying journey and when/how it's appropriate to reach out to them.
An example model can look like this:
Shared a blog post: +1 point.
Downloaded a checklist: +5 points.
Subscribed to an email list: +3 points.
Filled in demo request form: +15 points.
Unsubscribed from email newsletter: -7 points.
A lot of tools can help you automate lead scoring. The new gen solutions, powered by AI, are now capable to create data-rich lead profiles and identify the top 5% of leads worth pursuing if you want to achieve a specific sales goal. Compare different vendors to determine which option works best for you.
To sum it up, an effective lead generation strategy clearly documents how you will interact with different groups of prospects at different stages of their buying journey. It is based on four key premises: effective lead generation marketing channels, lead magnets, landing pages and lead scoring. Each of them requires careful optimization and testing to eliminate friction and make the processes of conversion seamless and delightful for your customers.