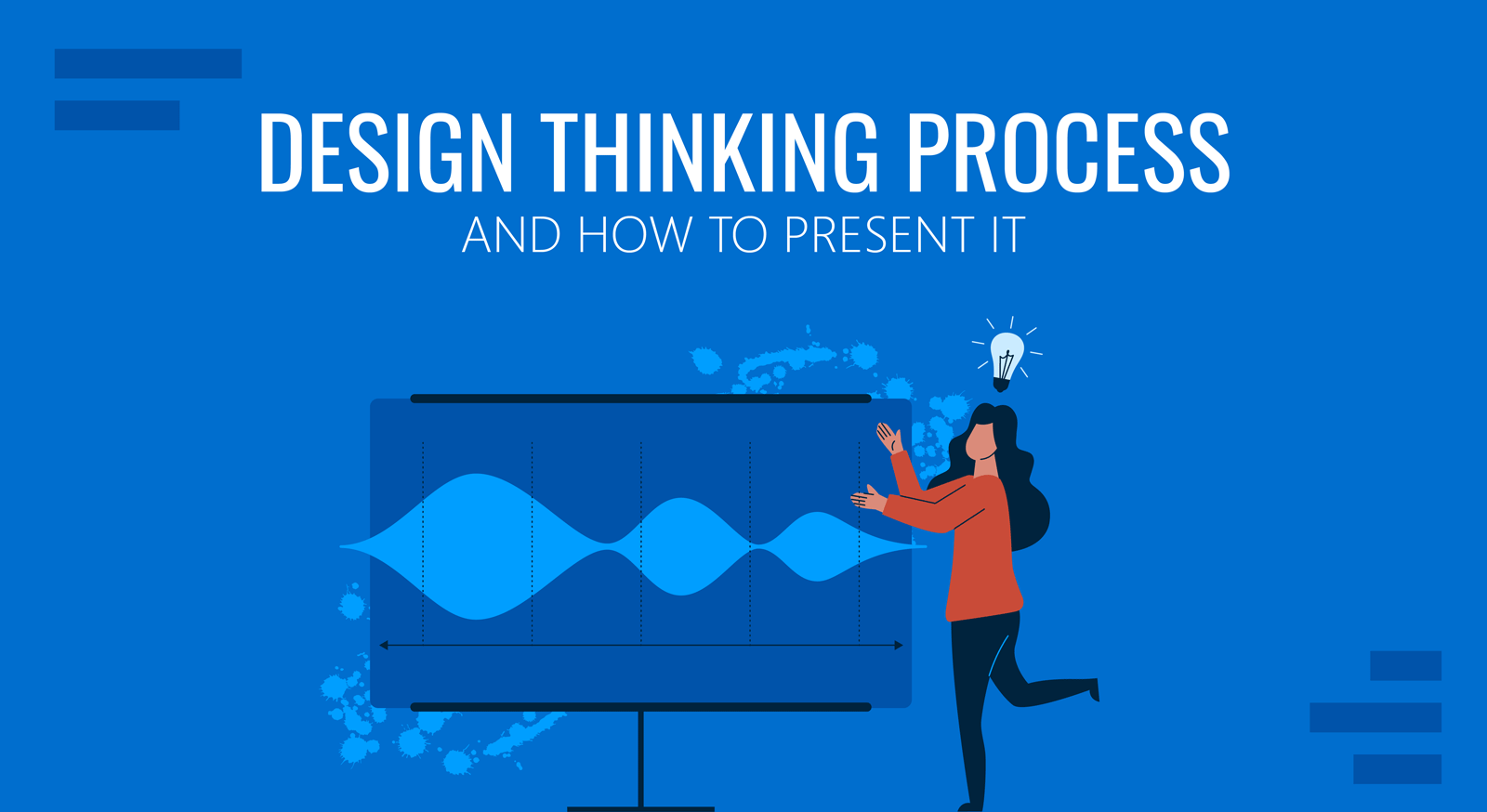 Just as the title suggests, Design Thinking or DT (how we'll abbreviate it at times throughout this article) is a process that can also be referenced as an ideology, a methodology, and even a framework. By the end of this article, these facts will be more precise. 
This article includes a definition of design thinking, its main advantages and disadvantages, the necessary steps to present design thinking process results to your coworkers, and even a couple of case studies for real-life application. At the bottom section of this article, you can find a selection of slide templates tailored for presenting design thinking processes.
Table of Contents
What is Design Thinking?
Design thinking is a user-centric approach whereby the people executing it look for "alternative solutions to various problems." These are truly complex issues.
Still referencing our previously-linked definition, DT looks for "a deep understanding of the user, challenging the ongoing assumptions, and redefining problems." As Berlin-based CareerFoundry says, DT is "all about solving complex problems in a user-centric way."
A design thinking process in the case of a corporation, especially, allows a company to work on complex issues. They do so by "taking the processes and approaches that designers use and applying them to problems that designers don't typically encounter," says Camren Browne for CareerFoundry.
A design thinking methodology can bring great results to a company by effectively dealing with problems that seem impossible or truly difficult to solve.
Advantages and disadvantages of applying a design thinking process
The first clear advantage of applying a Design Thinking process is how effective and innovatively a problem can be solved. That also spreads out to the creation of an innovative culture. This can mean a significant competitive advantage for any company or a standing-out point for any group. Take into account all the benefits of a bottom-up approach as part of these advantages.
Since this methodology is user-centric, another primary benefit is how well it tends to end-users.
As for the cons, time constraints might be worth mentioning. This method can take months to implement. And the need for user input must also be counted. As for a last-third disadvantage, consider how this innovative, user-centric ideology can clash with other beliefs or strategies. It can impact other systems or measures already in place within an organization or culture.
How to create a Design Thinking Process Presentation Step-by-Step
As we mentioned, follow the steps below to present design thinking process results to your coworkers.
Step 1 – First, think about the precise content you'll need to include
For this, consider the 5 stages of design thinking, which are:

Consider each step carefully.
For the empathy stage, talk to your users. Get to know them. Then carefully consider everything they tell you. You're looking to empathize with them here to truly grasp what they need, how they feel, their concerns, likes, and dislikes.
What insight can you get from observing them? You'll need to include your findings first in your presentation.
Accompany the above with due research. What you find on the side is also essential to your design thinking methodology.
Bear in mind you'll also need to signal a problem you've chosen as your primary area for improvement. We'll get to that point next, but contemplate how you'll need to express your ideas clearly, every single thought around solving the specific problem you chose. A prototype will also be required, mentioning its respective testing. We say this so you can prepare for all the content you'll need to include in your presentation. Once you've gathered everything related, it's time to think about the second step.
Step 2 – State the need being solved
Clearly state what it is you're solving. You're on the definition stage here for phase two. For it, be precise on what ultimate problem you defined as the main one to solve. Expand on the exact necessity for which you require a solution. This can also be seen as your problem statement. Center on your core trouble here.
If it helps, come up with personas in this process. Doing so can help stay centered on the user experience.
Step 3 – The process that led to defining the problem as such
As you express your choice, you'll need to elaborate on how you reached that conclusion. Elaborate on the exact process that made you decide on a specific problem as the one requiring your attention. Include your reasoning, the roadblocks or obstacles you noted, and how you think this main problem will be the one addressing a broader complexity worth solving.
Step 4 – The ideation phase
Now that you've defined exactly what the work ahead is, it's time to start asking questions. This is what we call the ideation stage. The goal is to develop new ideas, so throw the ball around! For that, focus on the problem at hand and ponder about it. Seek to change your perspectives as you do so. You can also look for different ideation techniques to help you out here. Our creative thinking article can be of help.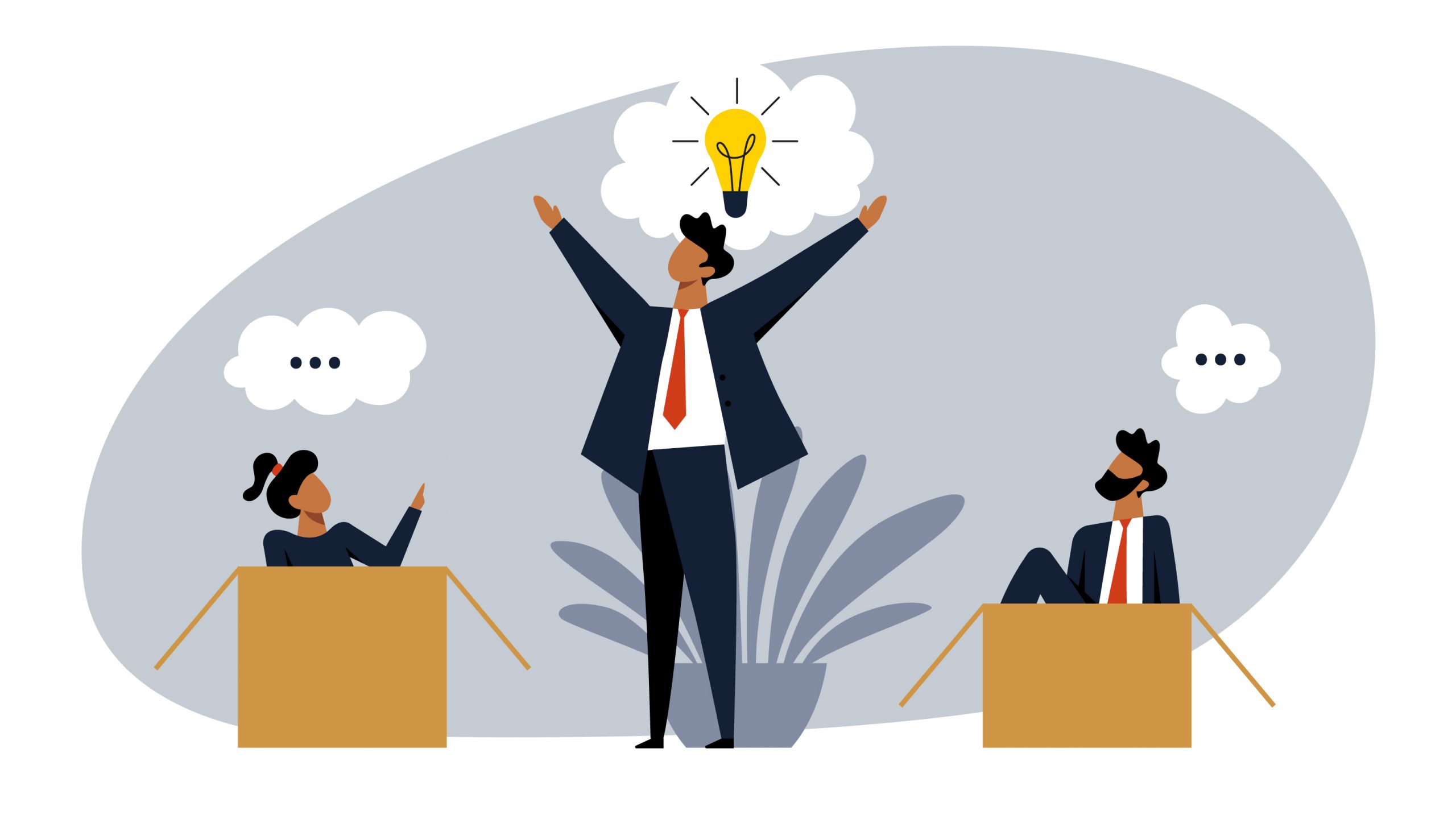 However you go about it, let yourself think freely on this step. Group and foster free-thinking. You're looking for innovative approaches and thinking outside the box. No thought is ever too silly to consider in this process.
On the contrary, stimulate wild thinking, especially by clearing the most senseless solutions out of the way early. Once you've brainstormed and considered all possible solutions, decide on the best new thoughts you have on the matter. Portray those in your presentation.
Step 5 – Getting feedback from your coworkers
Then, take your analysis outside your group to get further feedback from your peers. Get as much insight into your proposed ideas as possible. Be open to this criticism; you want everything anyone has to so you can continue thinking about your proposed problem and solution.
Take out of this session what seem to be the best thoughts and work with these on a prototype, which you'll present next.
Step 6 – Presenting the prototype
Bring this forth as engagingly as possible. You can present a prototype, and have it function in front of your audience, present a demo, show pictures, or create images…be as compelling as possible as you bring your work forth. Avoid using buzzwords and communicate clearly.
Note that your solutions should act clearly in what you present here as a prototype. And, just in case, consider how this is still part of a very early stage in your entire development process, so keep costs as manageable within your budget as possible. You can do imaging or paperwork on this to get to a cost-effective prototype that will allow your design process to evolve.
Step 7 – Testing results
For prototyping, of course, you'll have engaged in the last of the five design process steps: comprehensive testing. Bear that in mind; you're still testing ideas and results.
For your presentation, consider how to best present the data you've gathered so far and everything you've been able to determine based on your testing. For your slide presentation, also cover how you'll apply any corrections that may be needed on your intended product or service. Make sure you do that based on research, as well.
Step 8 – Debating the experience
And then open the room up for discussion. As you did for the feedback stage, be open and seek critical evaluations. Conduct this debate to lead you to specific, actionable items. Group suggestions to allow you to move seamlessly through your design thinking cycle. Remember, this is a process, a methodology, and, as such, it isn't static.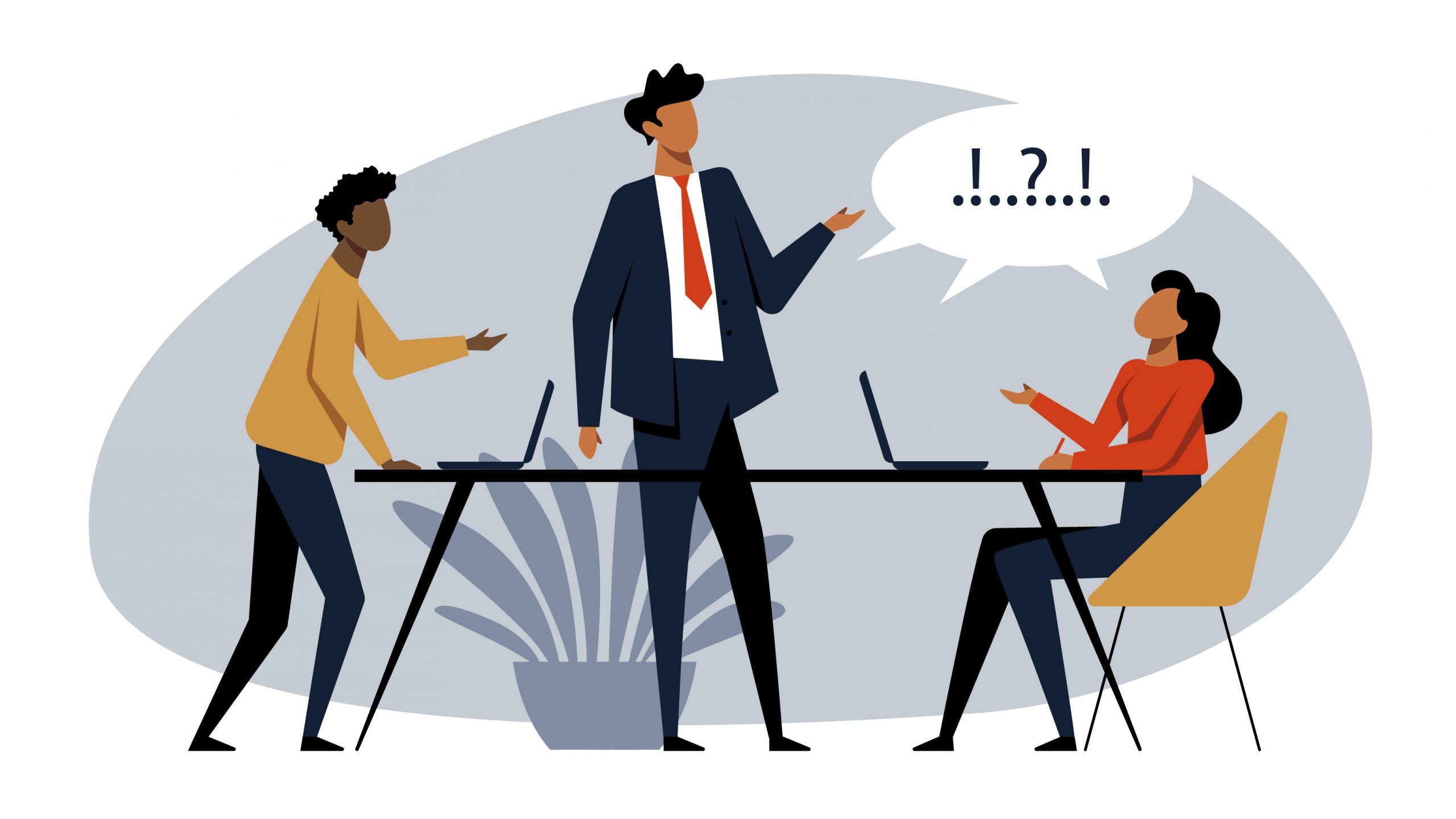 On the contrary, you're looking to test your chosen problems and allow yourself to move back and forth between stages to make improvements. You're expected to need alterations and to go back to a particular stage to refine your process. As a thought process, the main goal is to provide alternative solutions based on your continuing findings. Be flexible in this approach. You might also find our Critical thinking to achieve business goals article to be of help.
Case Studies: Hands-on examples of design thinking processes
Below you can see two case studies where we consider how to apply design thinking process presentations for excellent results.
Case 1: Developers creating a banking app with an easier-to-navigate UI than current competitors
Imagine you have a group of developers working on a new app in the banking industry. Pleasing users, especially millennials, will require much work understanding their needs. Yet, an excellent job at a more engaging and fulfilling user experience with this app can quickly generate a competitor advantage in a very competitive field. Banking needs to modernize, and the latest tech is here to help. But, for that, a lot of outside-the-box thinking is required.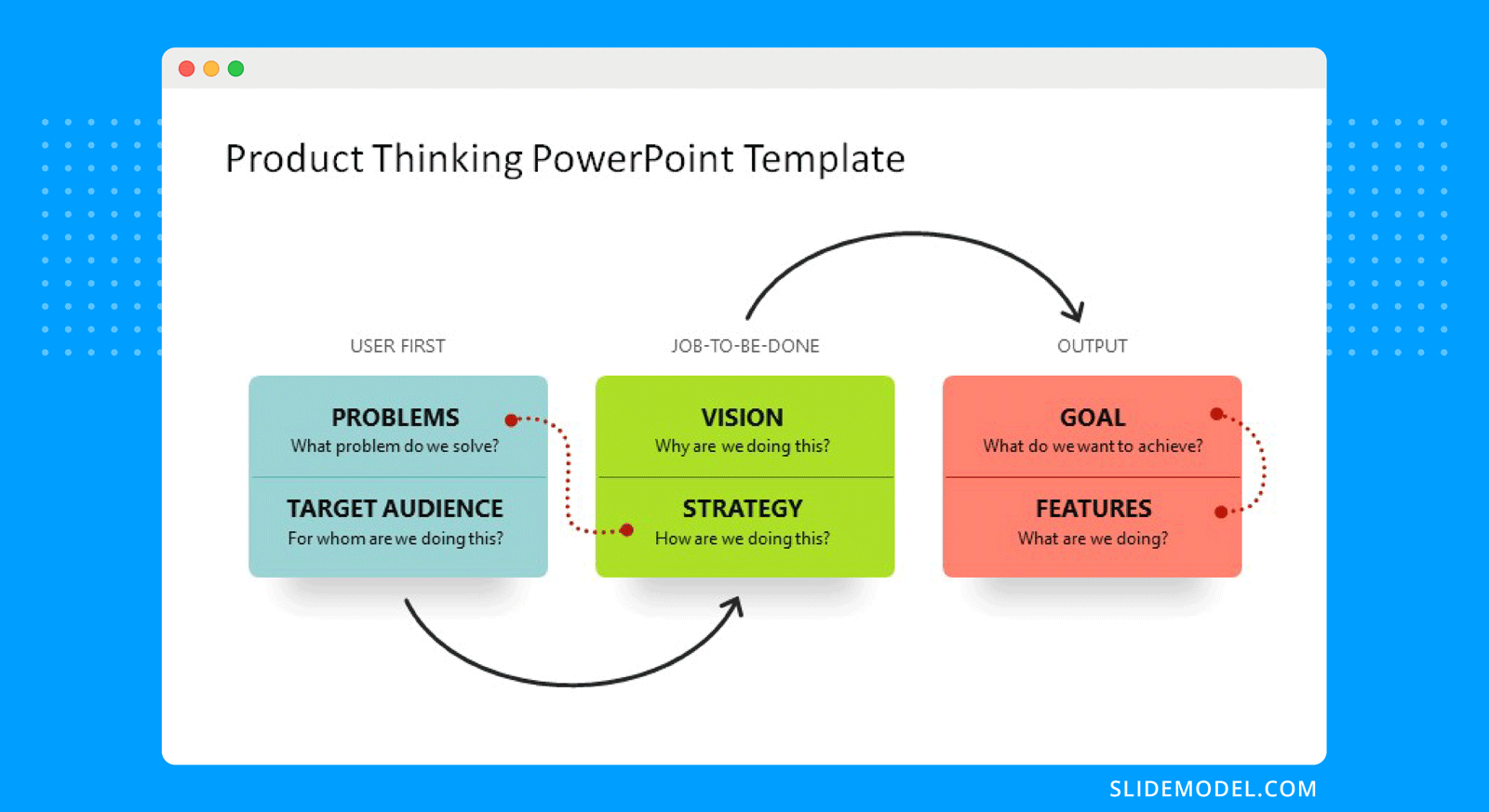 Product thinking as a problem-solving technique can help designers during product planning. In this case, the design thinking process needs to center on users and how the product, along with all its features, will be developed to excel at meeting user needs.
Step 1 – Think about the content to include
In this case, a product-thinking PowerPoint template can help. The material is suited with a creative process flow diagram, for example, to make the visualization of the DT process easier to see. It should ease how you collectively look at the bigger picture. You can also edit the template to suit your design preference with the tools you find in the world of procreate brushes. This presentation would focus not only on the target audience, answering clearly who exactly needs the product, but it also integrates how you'll get it working as you present your proposed solution. As a third critical step, the template is ready to state expected outcomes, which will act as the groundwork for new feature development.
Step 2 – State the need being solved
Consider the current state of the banking website's platform. How does it help customers to solve their needs, and how many services does it offer (paying utility bills, investments, etc.).
Observe what your competitors are doing and what your customers require to improve their lives.
Step 3 – The process that led to defining the problem as such
This step should start by auditing your current performance on digital platforms, how much time the average user spends online, errors reported, etc.
Document each element that gives extra information on the issue to solve. It will support your project as a reference on why you took a decision or not.
Step 4 – The Ideation Phase
Let's assume the team of developers behind the app project offer the bank three different mockups of what the app would look like. The mockup idea comes after a brainstorming session with the banking team, where these points were covered:
Color scheme to meet the institutional design
Loading time for the app
Security stages for login
Validation methods for the transactions processed
Information to display on the home screen
Troubleshooting screens and how to contact support
Menu designs
Step 5 – Getting feedback from your coworkers
After two tentative versions of the app are created for a test environment, it's time to submit the app to an extended group of workers at the bank institution. They will test the app and give the developers and product managers feedback.
Step 6 – Presenting the prototype
A meeting between the different departments involved has to happen, with a presentation to brief on the initial findings. After there's consensus on which version to go for, then the developers will release a test version to a selected group of "potential customers" – people that will experience the app as end users, without revealing sensitive data to competitors.
Step 7 – Testing results
The "potential customers" will perform extensive tests on this app, reporting their findings to the developers and any user experience feeling to the product managers from the bank.
This ensures that customers get an interactive experience when using the app, with a product tailored to their needs.
Step 8 – Debating the experience
With the conclusion from the testing team, it's time for the bank to review its experience with this app creation process. Not just the end-result product, but also which areas of this process could be improved, what key points can affect other processes, etc.
It's a rich experience to help the team grow, think outside the box, and come up with new, creative results for the organization.
Case 2: Teachers releasing a new online course based on previous student experiences
Moving from the corporate world into the classroom, we're considering all those webinars we could've created for an online audience. They probably work wonders as online courses students can take at any point! Yet, prior experiences with our students sometimes shape our new content, making it more ideal for our classrooms with every iteration. In those cases, we can easily make those processes visible.
Step 1 – Think about the content to include
For that, consider this design thinking PowerPoint template. The slide template is filled with fully-editable PowerPoint vectors and focused on a process whereby you understand, create, and deliver.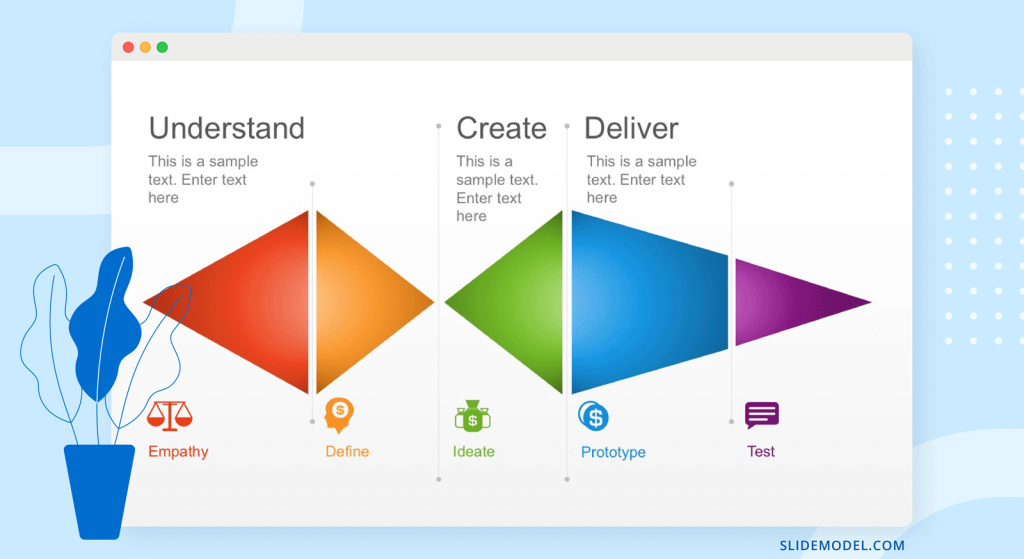 There are ten professional slides to allow teachers to fully convey the iterative and cyclical steps that have taken their material to what it is today, rather than seeing content production as a linear sequence. The diverse and differently-colored graphs are a great guide to display your material, aside from being a compelling design that accurately portrays the movement in the design thinking process that has led to all of your new online course material.
Step 2 – State the need being solved
For this group of teachers, their need is to attend to those students that cannot be present for a live course. This could be either because of health-related issues, work schedules, or even students from far distant places from the University.
Step 3 – The process that led to defining the problem as such
The process of defining this problem can be tackled from these points:
Surveys led by the University to gather data on students' work situation, living conditions, health conditions, etc.
Surveys led by the University on the quality of the courses being taught. This also implies which areas could be improved for those courses.
Requests made by students in the past 3 years about changing an evaluation date, or schedule for the course and similar adducing conflicts with their work situation.
Step 4 – The Ideation Phase
Multiple ideas can come up from this need. For starters, the teachers can opt to make a course out of recorded webinar sessions pertinent to a course being taught at the moment. Like an in-depth session for those students who wish to know more about the subject.
Another option could be to record the lessons while giving the live lecture as usual, which involves adapting the classroom to fit cameras, microphones, sound-insulation for better audio quality, etc.
And finally, they can opt to work twice as hard, giving the face-to-face course as usual, plus record the entire course in a dedicated room tailored for video production, with a whiteboard or similar nearby.
Step 5 – Getting feedback from your coworkers
The teachers opted to gather in a meeting to discuss the potential of this project. Some teachers could raise questions about working extra hours to produce the content. Others may feel there are areas lacking attention, such as how to respond to the questions raised by students.
Step 6 – Presenting the prototype
Finally, the teaching crew of the University voted for the webinar-into-course option, since it's already recorded material and would only require minor editing sessions to put the material together into a landing page.
A meeting is held to present the potential platform for the students, how to log in, how to interact with teachers/other students for tasks or questions, and how to browse the video lessons.
Step 7 – Testing results
A selected group of students will test the platform for a three-week period. After that, they will report the experience based on these key points:
Platform's usability
Errors and bugs to report
Video & audio quality
Content quality
If the online learning process enriched their education or not
Step 8 – Debating the experience
With the test results shown in a report presentation, teachers can now debate the quality of the end-product created, the process that created the course, and how to improve it for future instances.
Suggested design thinking templates at SlideModel
Design thinking is a process that teams can use to understand their users, challenge assumptions, redefine problems and create innovative solutions to prototype and test. The process involves five phases: Empathize, Define, Ideate, Prototype and Test. At SlideModel, we don't just have a single design thinking template. We have a wide offer of diverse design thinking presentation templates with different design thinking slide designs. We offer different kinds of design thinking PowerPoint backgrounds, as well. Look for the design thinking PowerPoint template that best suits your precise needs.