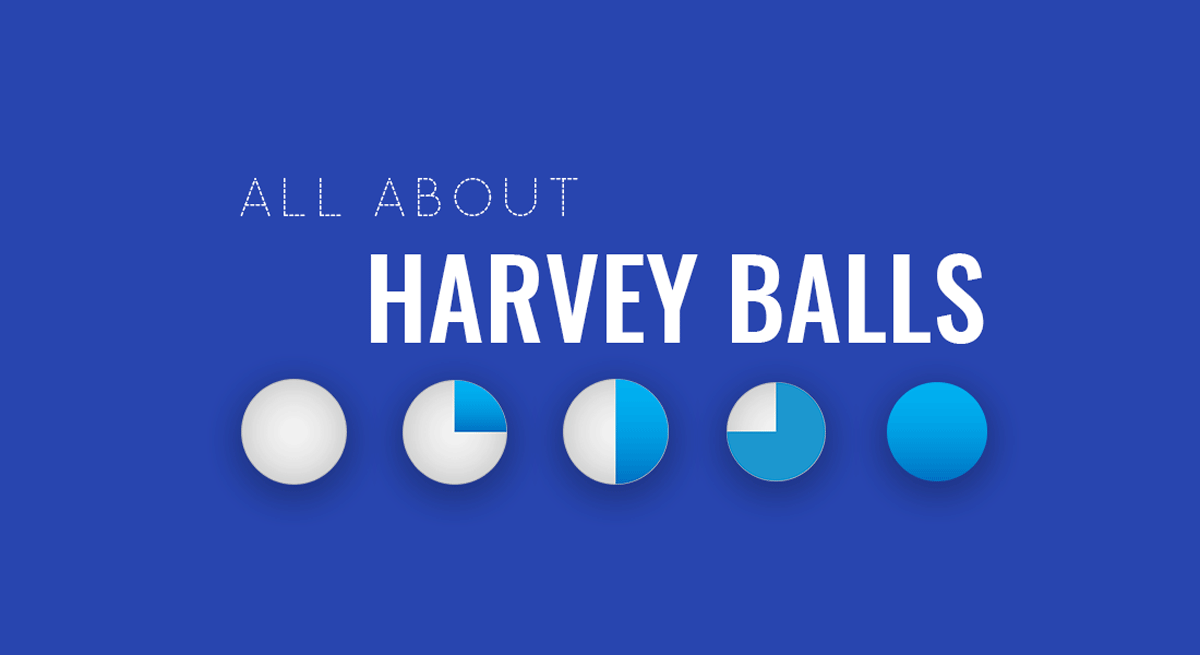 Amidst chunks of data, lengthy bits of text and complex business jargon what saves presenters from making a complete mockery out of their slide decks are visuals. With visual presentations you explain complex ideas and bits of data and make it all easy enough to grasp by your audience. Among the many tools in the arsenal of the modern presenter, Harvey Balls have a special place! In this post we will tell you all about using Harvey Balls in PowerPoint.
What are Harvey Balls?
Harvey Balls are a type of state indicator commonly used for comparison in presentations and reports. These are ideograms for visual communication and representation of qualitative information. For example, Harvey Balls can be used to depict as to what degree a specific item may meet the requirements of a criterion. You might find Harvey Balls in a number of comparison types such as; a comparison of a product by price, weight, quality, taste, safety, etc.
History of Harvey Balls
Harvey balls were the brainchild of Harvey L. Poppel. He is credited with inventing the ideograms during the 1970s. He was an IT investor and also served as the M.D. for an IT Mergers and Acquisitions firm by the name of Broadview Associates. Furthermore, he also worked at Booz, Allen and Hamilton, Inc (among his portfolio with other prestigious organizations). In turn, thanks to his time at Booz, Harvey Balls are also known as Booz Balls, a synonym that is very often used to refer to this type of ideograms.
Poppel developed the business use of Harvey Balls to prioritize and compare alternative sets. Over the years, Harvey balls have found their way in PowerPoint presentations in the form of clipart and tables offering a great visualization tool to better explain comparisons and trends.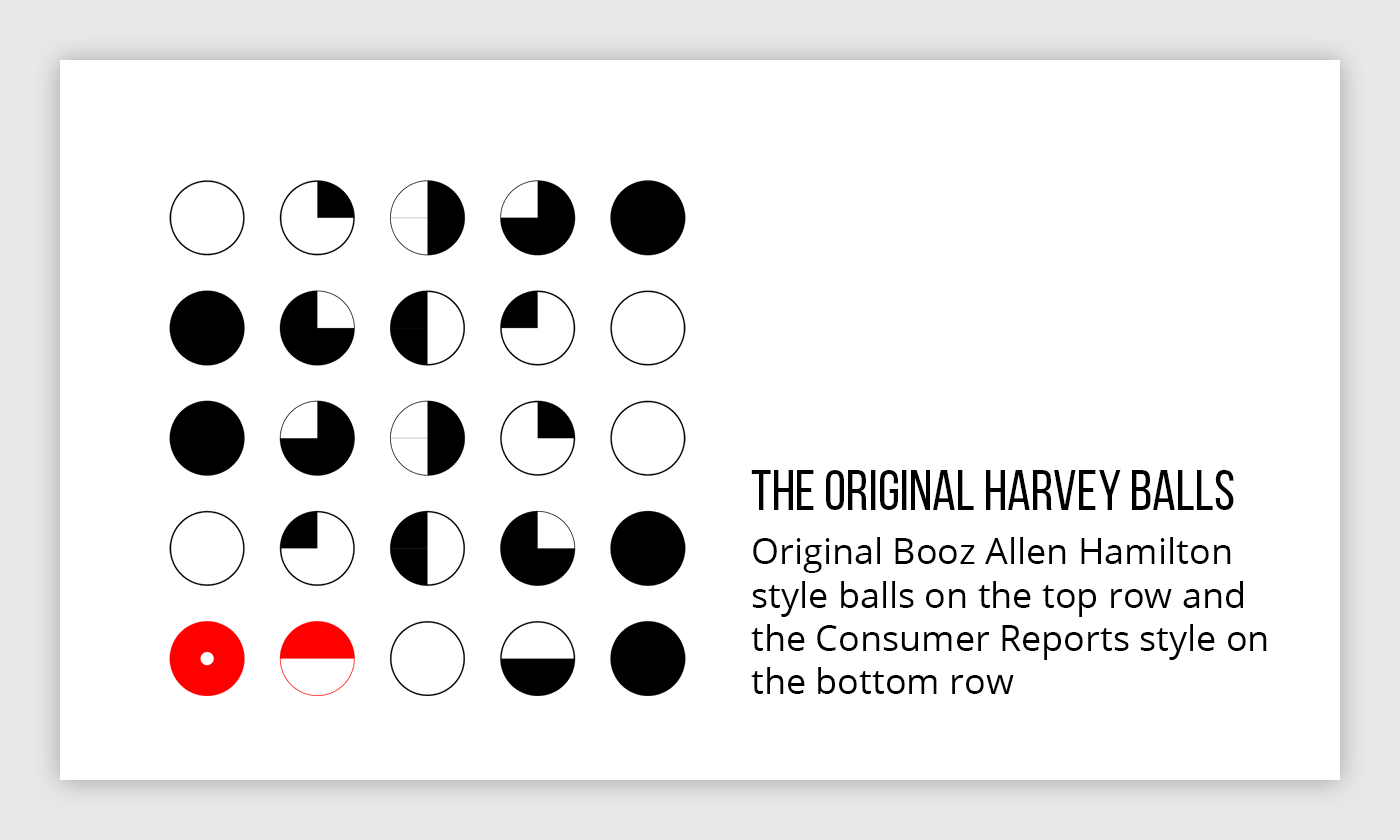 Source: Wikipedia – Showing original version of Harvey balls: Booz Allen Hamilton style balls on the top row and the Consumer Reports style on the bottom row. The middle rows contain alternative versions.
Harvey Balls and Visual Communication
Harvey Balls (a.k.a. Booz Balls) serve as a means for visual communication which is not just limited to business presentations but also has uses in other fields such as; Astronomy, Meteorology and Cartography. Harvey Balls are used for depicting visualizations related to the moon cycles and the weather. Of course, Harvey Balls have also evolved into various other uses. For example, IBM used Harvey Balls in its Lotus Notes software to show whether the recipient was copied, a sole recipient, etc.
With Booz Balls in your presentations, the audience can get a quick update at a glance, and then, if needed, go deeper to understand what is the exact value behind the visual representation.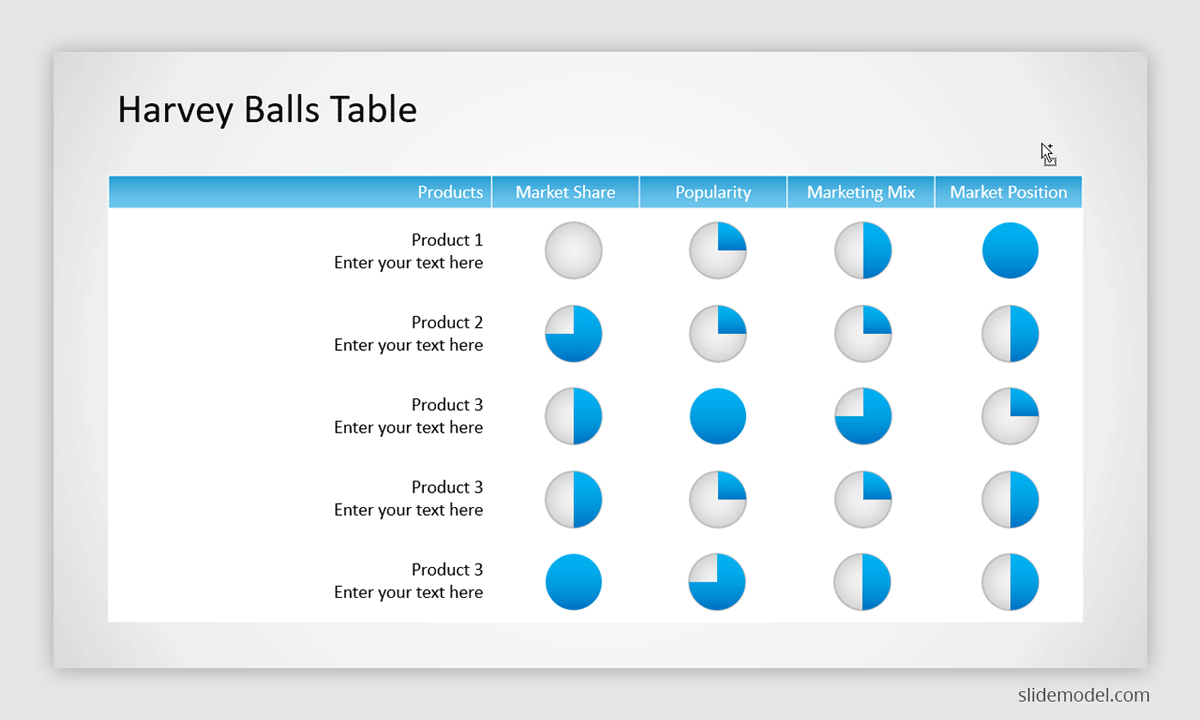 Harvey Balls Table – Source: Harvey Balls Shapes for PowerPoint
Pros and Cons of Using Harvey Balls
There can be many advantages and disadvantages of using Harvey Balls in PowerPoint Presentations and other types of documentation. Let's take a look at some of the pros and cons of using Harvey Balls.
Pros
Harvey Balls can Help Depict Qualitative Information: Harvey balls can be good for depicting qualitative information. Shaded Harvey balls can be easy to grasp for an audience when presenting how much or how less of an item is to be considered against another. Similarly, using images instead of digits can be helpful for an audience, who might find large chunks of information confusing.
Harvey Balls can Save Space on a Slide: Instead of using large chunks of data, you can shrink the information by using Harvey Balls. For example, if you intend to compare two items in terms of safety, quality or market share, you can simply use Harvey Balls for a quick visual scan in the form of a Harvey Balls table. This can save space on a slide, which otherwise might require bits of detailed information and trends associated with the products in question. Instead of going into too many details, a Harvey Balls table can present a more concise comparison.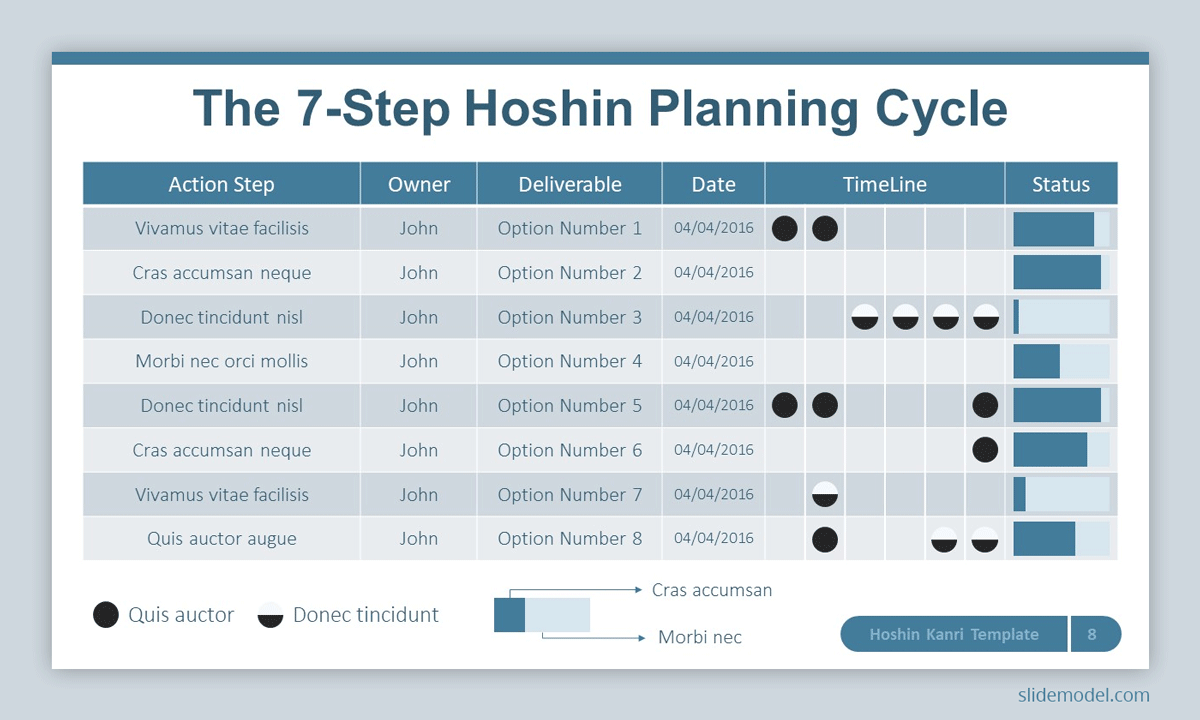 Source: 7-Step Hoshin Planning Cycle PowerPoint Template – Example on how Harvey Balls can save space on a slide.
Harvey Balls can be useful in Reports: Other than presentations, you can also incorporate Harvey Balls in your reports to present qualitative information.
Useful for Project Tracking and Other Purposes: Harvey Balls are also used for project tracking in project management, as well as in value-stream mapping, lean manufacturing, Astronomy, Meteorology and Cartography. You can also use Harvey Balls for various other purposes that you can think of by incorporating them in desktop and mobile applications, games and on websites.
Cons
Not very Commonly Used: Unlike some other famous symbols such as emojis, stars (used for in ratings), the infamous question mark or other famous visualizations, Harvey Balls are not as universal as one might think. Across different cultures, especially ones not influenced by a lot of western symbols; Harvey Balls might be less known and therefore, might be counterproductive to use in presentations, reports, etc.
Can be Visually Overpowering: While Harvey Balls can be easy to grasp for many people, some will always find them confusing and even visually overpowering. This is especially when you might use them with various colors in the same visualization. For example, a table with colorful Harvey Balls can be confusing, unlike a simple pie chart that might be easier to grasp based on the key given for the chart.
Other Universal Symbols Might be Easier to Understand: You might create a table with Harvey Balls depicting the quality of a product or might simply use a 5-star rating mechanism by which two products are given stars based on their quality. The latter for some might be easier to grasp instead of a shaded ball. For example, it can be easy to understand that Product A with a 4-star rating is better in quality than Product B with a 2-star rating. This, when compared to shaded Harvey Balls, would be far easier to understand.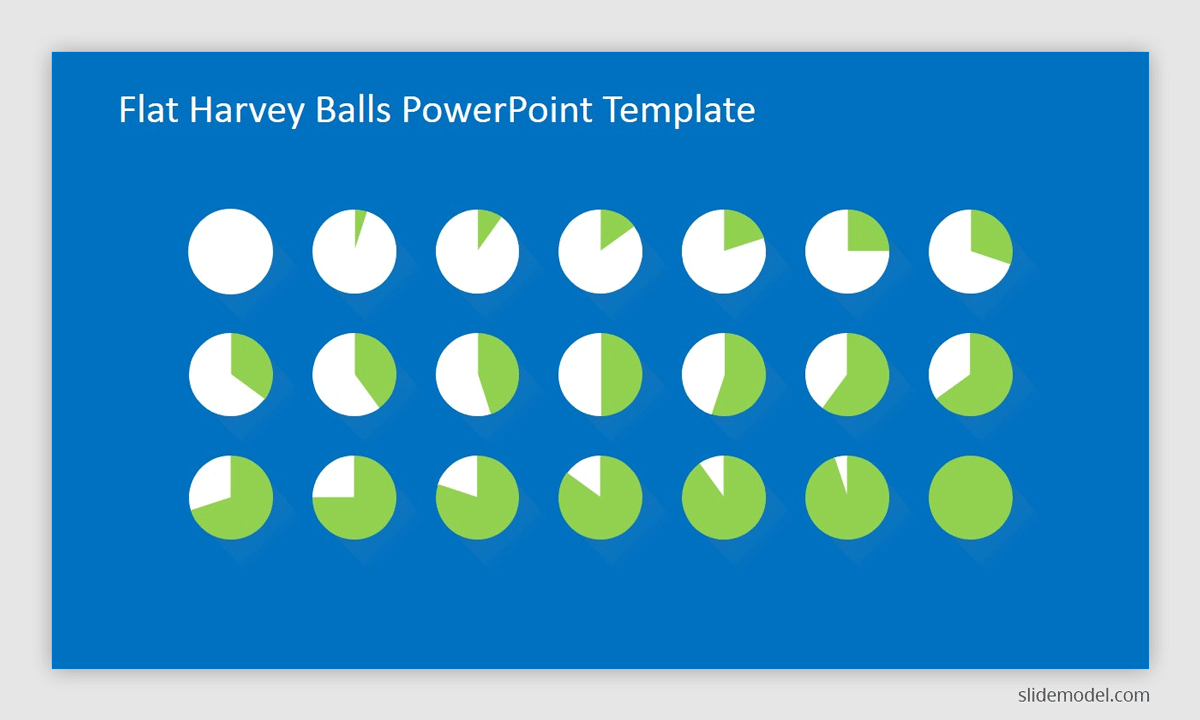 Source: Flat Harvey Ball PowerPoint Template – SlideModel
How to create Harvey Balls in PowerPoint?
In this mini-tutorial, we will give you step-by-step instructions on how to create and customize your own Harvey Balls. This way, you can use them to make professional and impactful presentation infographics, reports and dashboards.
Step 1 – Create the Shapes
In the main menu, locate the option: Insert > Shapes > Basic Shapes > Oval Shape. You must press CTRL + Shift to create an asymmetric circle of the size you need. Once you have created it you can duplicate (CTRL-D) it to create several Harvey Balls at once.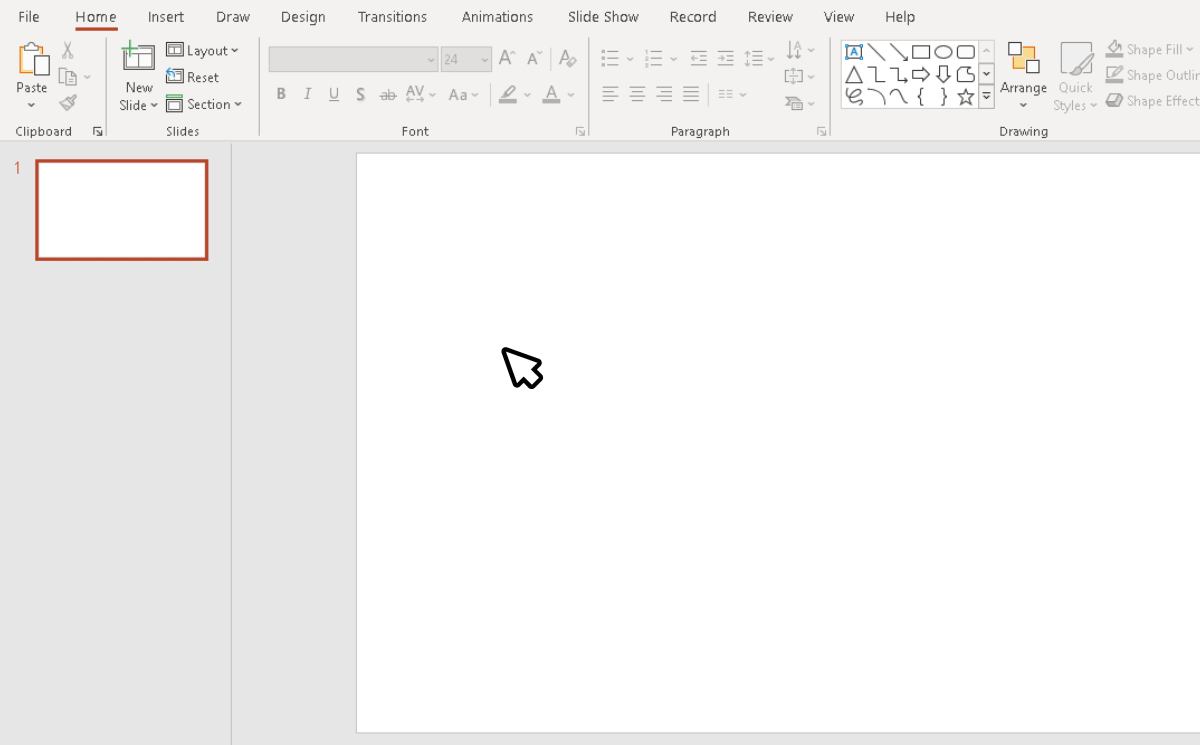 Step 2 – Cut out the circles
Once you have created your circle shapes in your presentation, you must cut them out to shape them into Harvey Balls. Select the shape and click on Format tab > Edit Shapes > Change Shape > Pie chart.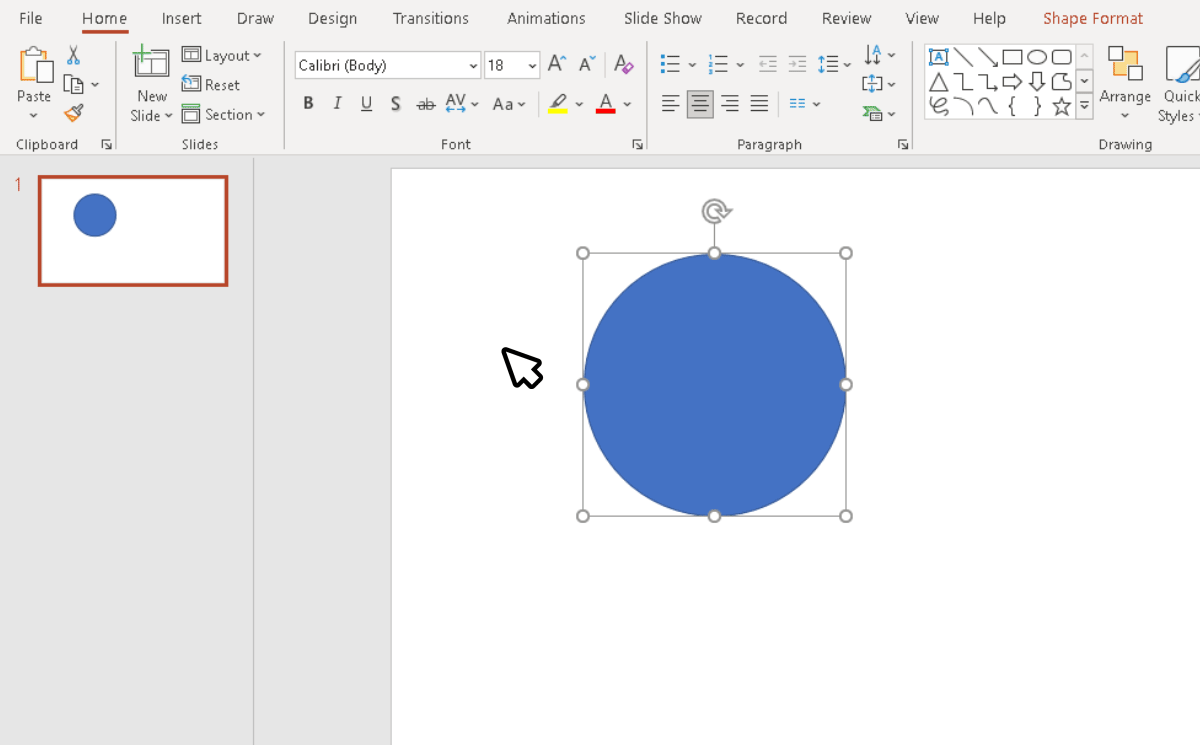 Step 3 – Shaping the Harvey Balls
Once you have the Pie Chart shape ready, if you left click on the shape you can modify its angle, in order to create the different Harvey Balls shapes.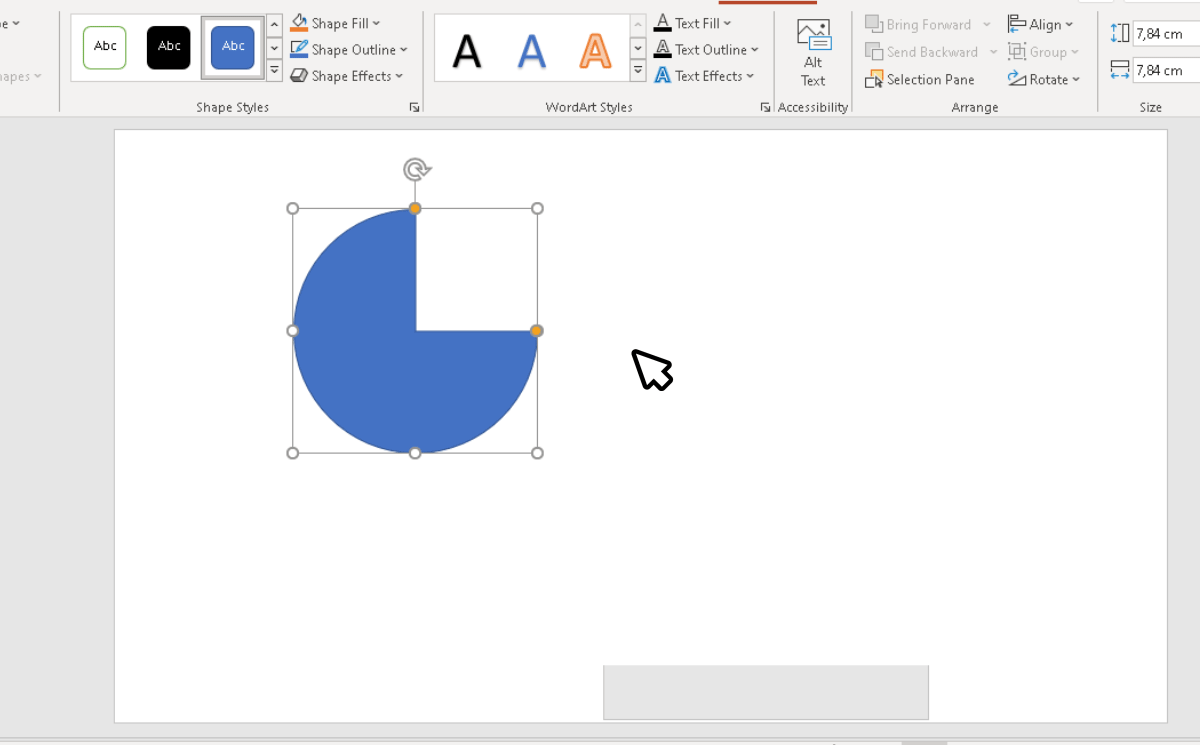 Step 4 – Customize the Harvey Balls
Right click on the shape and select "Fill" or "No Fill", this way you can color the shape as per your needs.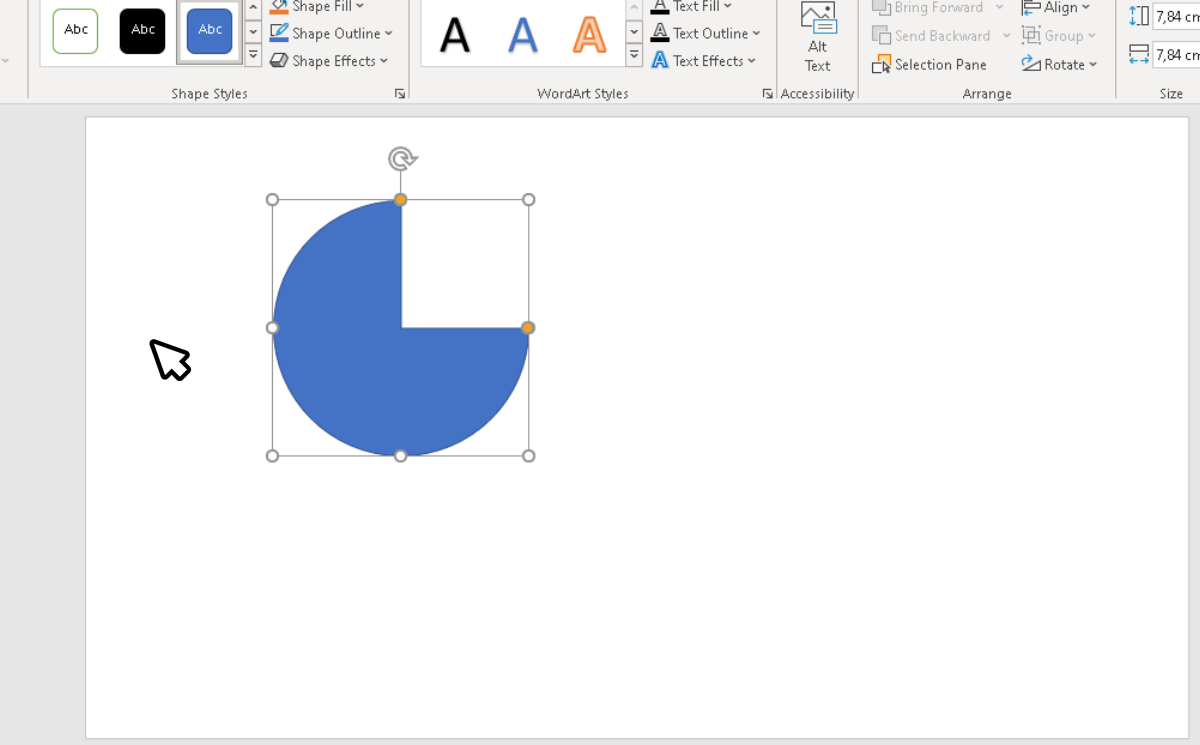 Congratulations. Following these steps, we have created the first Harvey Balls and now we can use them in PowerPoint presentations (or even in Google Slides) to present reports and provide qualitative information in a quantitative way.
If you don't have the time to create a Harvey Ball graphic from scratch, you can reuse some of our pre-designed Harvey Balls templates, which are ready for Microsoft PowerPoint and Google Slides. We recommend using pre-designed Harvey Balls PowerPoint templates if you want to reduce the effort and time involved in creating a presentation from scratch.
Harvey Ball PowerPoint Templates
If you want to create presentations with Harvey Balls minus all the effort of creating them from scratch, we have some awesome templates that can help you create tables, infographics and other types of visualizations using Harvey Balls.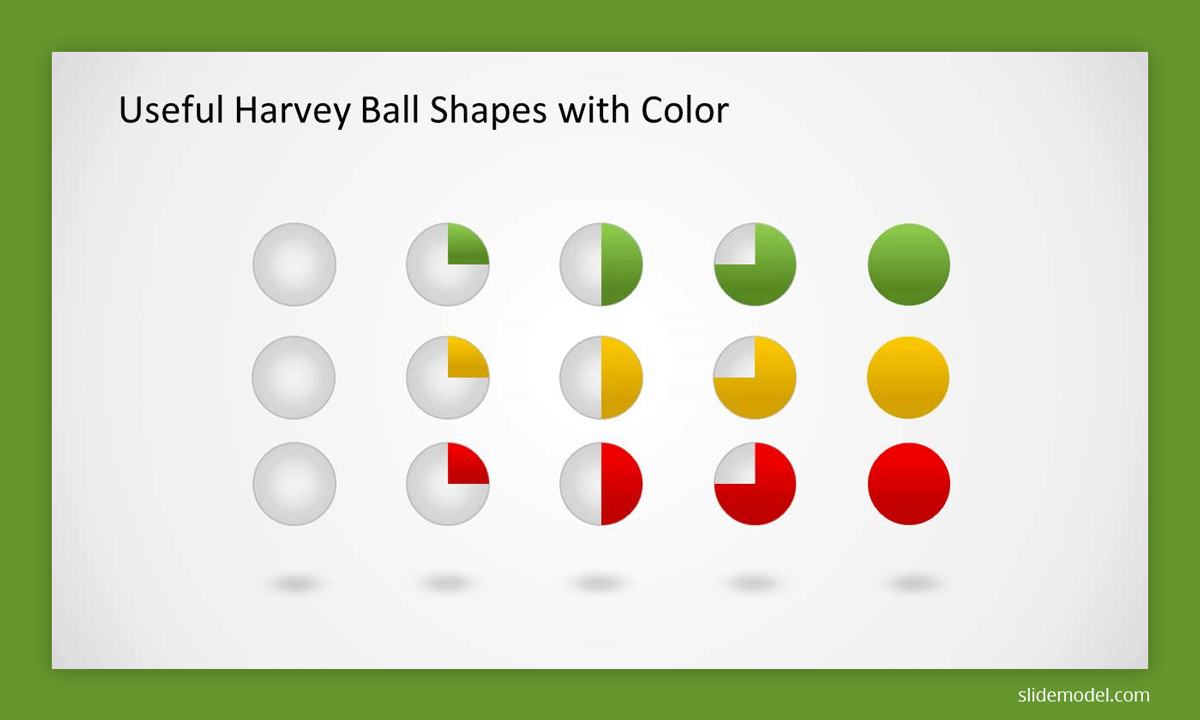 Source: Colorful Harvey Balls PowerPoint Template – SlideModel
Inserting Harvey Balls in PowerPoint
A possible option to insert Harvey Balls in PowerPoint is reusing our Harvey Balls PowerPoint templates. As a subscriber, you will get access to our entire catalog of PowerPoint templates where you can download the pre-designed Harvey Balls.
But another option to insert Harvey Balls in PowerPoint is using the character map dialog to insert a Symbol. This can be inserted in a text shape or a table cell so having the cursor in any of these placements, go to Insert -> Symbol, then choose Segoe UI Symbol and look for the Harvey Ball symbols as shown in the screenshot below. The same approach works if you need to insert Harvey Balls in a Microsoft Excel spreadsheet.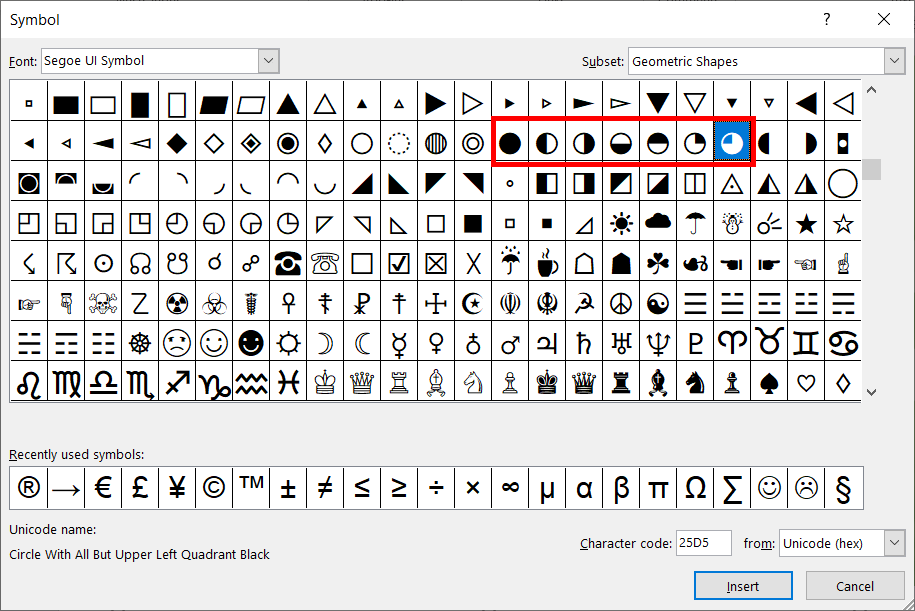 Symbol dialog box showing Harvey Balls symbols in Microsoft PowerPoint
Harvey Balls Alternatives for Presenters
If you're looking for an alternative to Harvey Balls, here are a few ideas for your next PowerPoint presentation.
PowerPoint Charts
While Harvey Balls can be quite useful for visually representing information, sometimes it is easier to simply use a PowerPoint Chart. A simple pie or bar chart might be easier to understand for an audience than a number of shaded balls in the form of a table. Moreover, reading through a color-coded key for a chart can be easier as compared to colored Harvey Balls. If you're looking for an alternative to Harvey Balls, why not simply use a good old PowerPoint chart? If the requirement is to reduce space and want to show a trend over a period of time, the Tufte's sparkline charts can be useful. Another option could be to use bullet graphs.
SmartArt Graphics
SmartArt Graphics is a smart way of creating visualizations in PowerPoint. With the aid of easy to edit layouts, you can create anything from a list, process, cycle, comparison to a hierarchy, matrix, pyramid, etc.
PowerPoint Shapes
You can get a little creative and use PowerPoint Shapes instead of Harvey balls by shading them using tools from the Draw tab in PowerPoint. You can shade various shapes such as triangles, squares, rectangles, etc. Alternatively, you can also use clipart and images for the purpose. Another idea would be to use spots and rings in tables.
PowerPoint Icons
If you're an office 365 user, you can also use PowerPoint Icons via the Insert tab to include a plethora of icons for creating anything from tables, infographics to complex PowerPoint layouts. These icons are available as Scalable Vector Graphics (SVG) files, which means that you can use these icons without worrying about loss of quality. You can expand or contract these icons using drag and drop, as well as use different colors and adjust them across your PowerPoint layouts with ease. The icons set offered by Office 365 contain various universally recognized symbols, which can help you make use of icons for explaining data, trends, ideas and concepts. The icons come in various categories including; accessibility, analytics, animals, apparel, arrows, arts, body parts, bugs, business, celebration, commerce, signs and symbols, sports, technology and electronics, tools and building, vehicles, weather and seasons, etc.
Infographic PowerPoint Templates
You can also use Infographic PowerPoint Templates which are meant for creating infographics with the help of ready-made layouts. We have singled out a few such templates for you that you can use to easily create infographics in PowerPoint.
Final Words
Harvey Balls are an excellent resource for making visualizations in PowerPoint, for tracking projects, lean manufacturing, Astronomy, Meteorology, Cartography and even official reports. You can also find various creative uses for Harvey Balls in your day to day projects, whether they are related to your office, school or an independent project that you may be working on. Whether you're a software developer, business professional or someone looking to create a presentation to show data and trends, Harvey Balls can help make your job easier, as well as add some visual appeal to your presentations. However, when using Harvey Balls, it is recommended not to overuse them or mix them with too many icons and symbols.
What makes Harvey Balls easy to understand is arguably their simplicity of representing qualitative information. You wouldn't want to defeat that very purpose by using Harvey Balls to create a confusing slide deck which might leave an audience confused and unable to grasp the very content you are trying to explain within a short period of time. If you believe you are not very good at using colors in visualizations, you can use professionally made presentation templates with Harvey Balls to ensure that the colors are well-matched, suitable for explaining the content that you're looking to address. You can also opt for a single or two colors for your layouts made up of Harvey Balls.