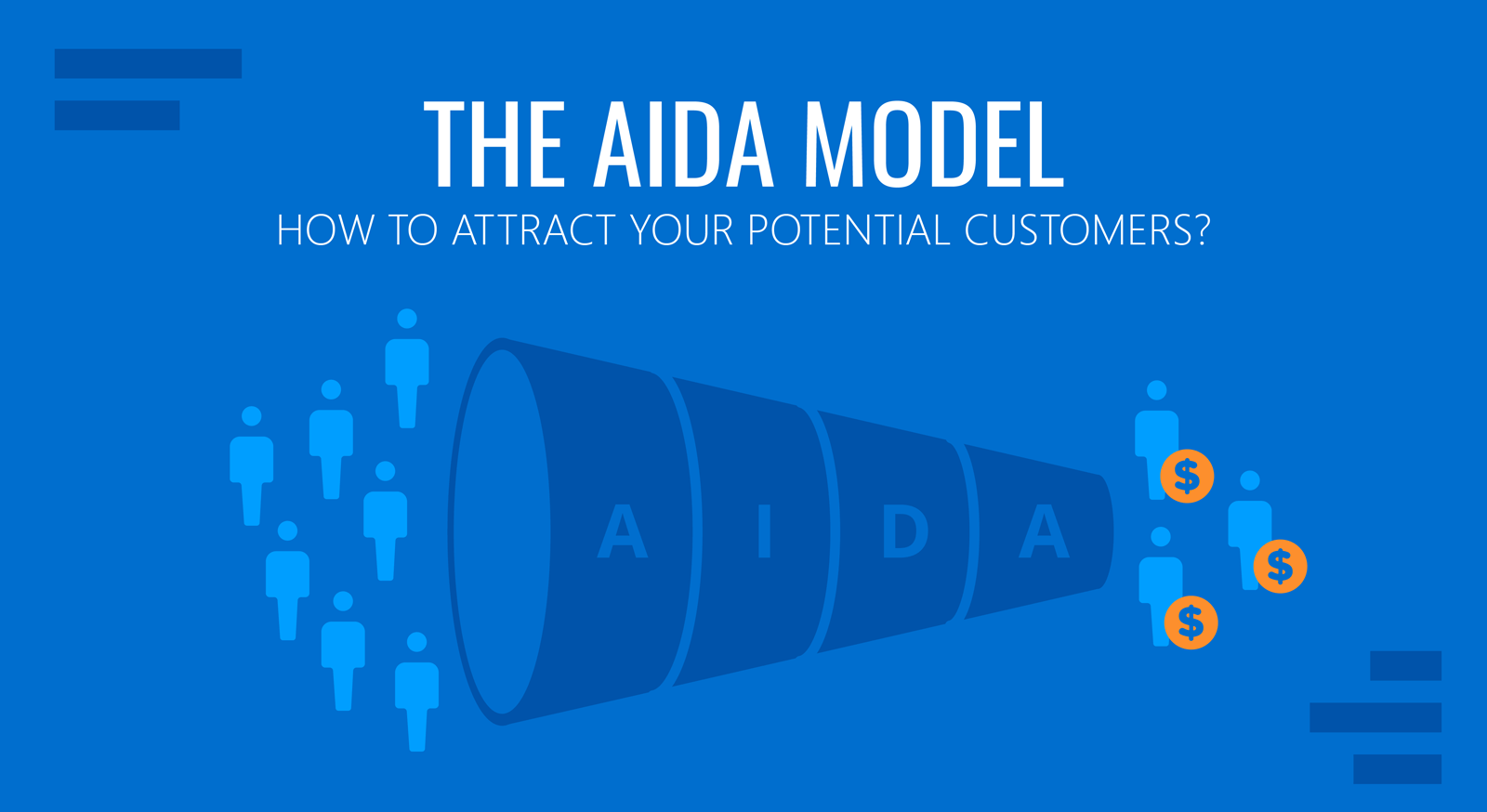 In retail and e-commerce, the customer buying process boils down to a simple decision to add an item to their shopping basket; however, that's only the beginning. A lot is going on in the background. Typically, a lot of thinking and effort goes into that selection to attract customers to make a purchase. Want to know how you go about making the selection?
It all starts with a thorough awareness of the entire customer purchasing process. You must be familiar with the various stages that customers go through in their shopping spree. Based on this information, you develop strategies to engage them as they progress from one to the next.
The AIDA model is one of the many effective models that can be used to analyze the customer buying process. In this article, we will explain how you can attract a stranger into a potential customer using the AIDA Model.
What is the AIDA Model?
The AIDA Model (Attention, Interest, Desire, and Action) is a model that outlines the stages that a consumer goes through while buying a product or service. Digital marketing, sales techniques, and public relations efforts frequently employ the AIDA model.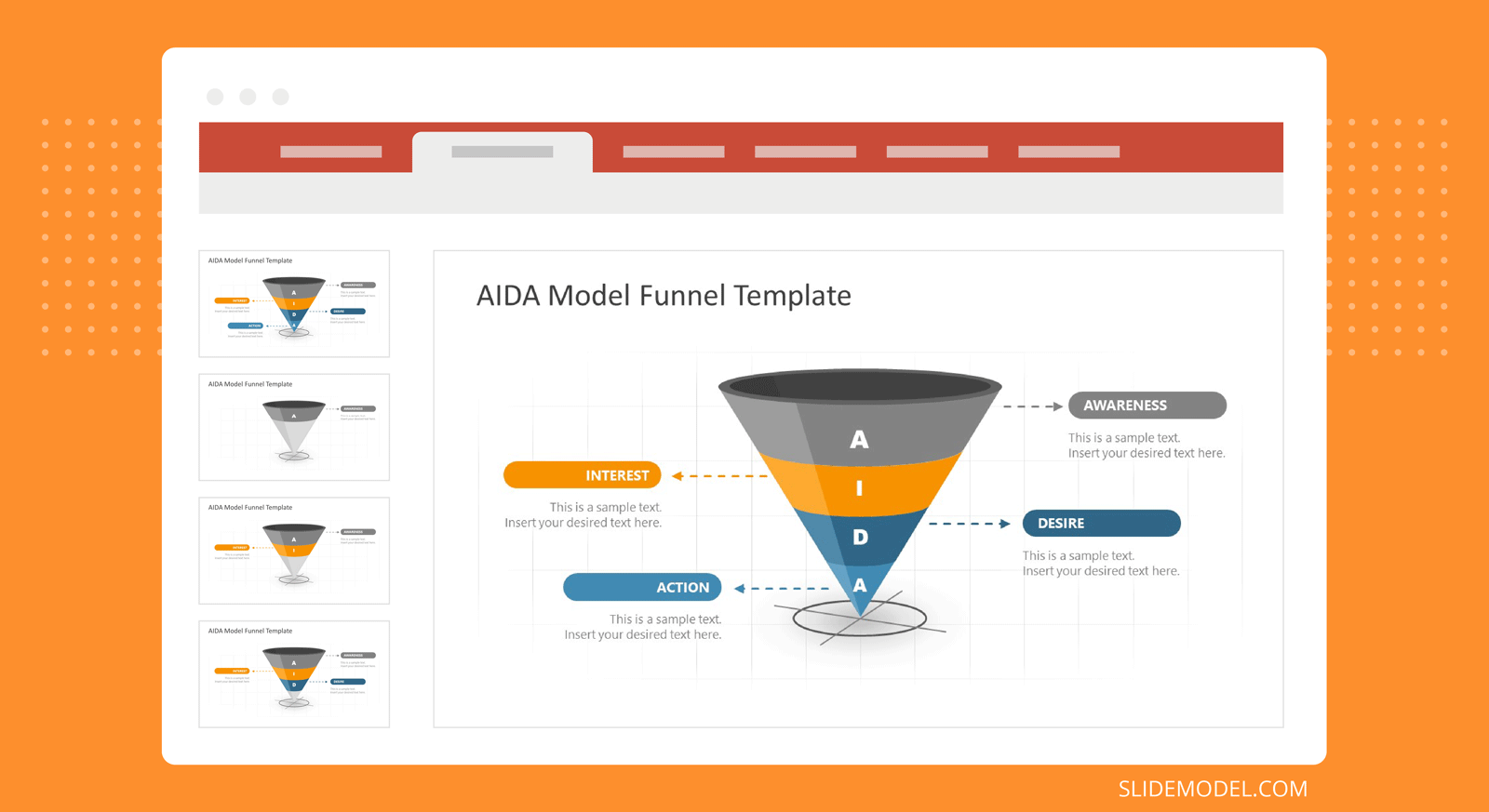 E. St. Elmo Lewis, an American businessman, created the AIDA model in 1898 with an initial goal to improve sales calls, specifically the conversation between the vendor and the consumer about the product.
The AIDA Model Hierarchy or The Different Stages of AIDA Funnel
Now that we have a fair idea about the AIDA model let's discuss the acronym AIDA (Attention, Interest, Desire, and Action) step by step, in detail and know-how each term represents a stage of a consumer's buying journey.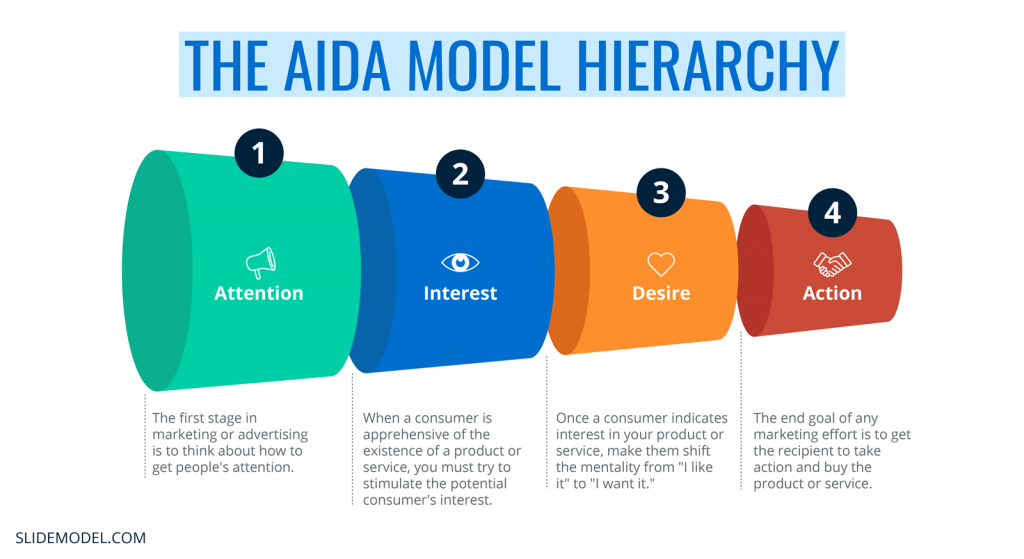 The AIDA model hierarchy comprises the following stages:
Attention: The first stage in marketing or advertising is to think about how to get people's attention.
Interest: When a consumer is apprehensive of the existence of a product or service, you must try to stimulate the potential consumer's interest. Disney, for example, generates excitement for upcoming tours by revealing the celebrities who will be performing on tour.
Desire: Once a consumer indicates interest in your product or service, make it a point to make them want it, shifting their mentality from "I like it" to "I want it." For example, if the Disney stars for the impending tour tell the potential consumers how fantastic the show will be, those people will be more inclined to go.
Action: The end goal of any marketing effort is to get the recipient to take action and buy the product or service.
As a result, according to the AIDA model, Awareness leads to Interest, which leads to Desire, which further leads to Action.
Why is AIDA Important?
To know its appropriate application, you will need to understand the importance of the AIDA model. Out of many reasons that affirm this model's importance, few are mentioned below. Let us go through them.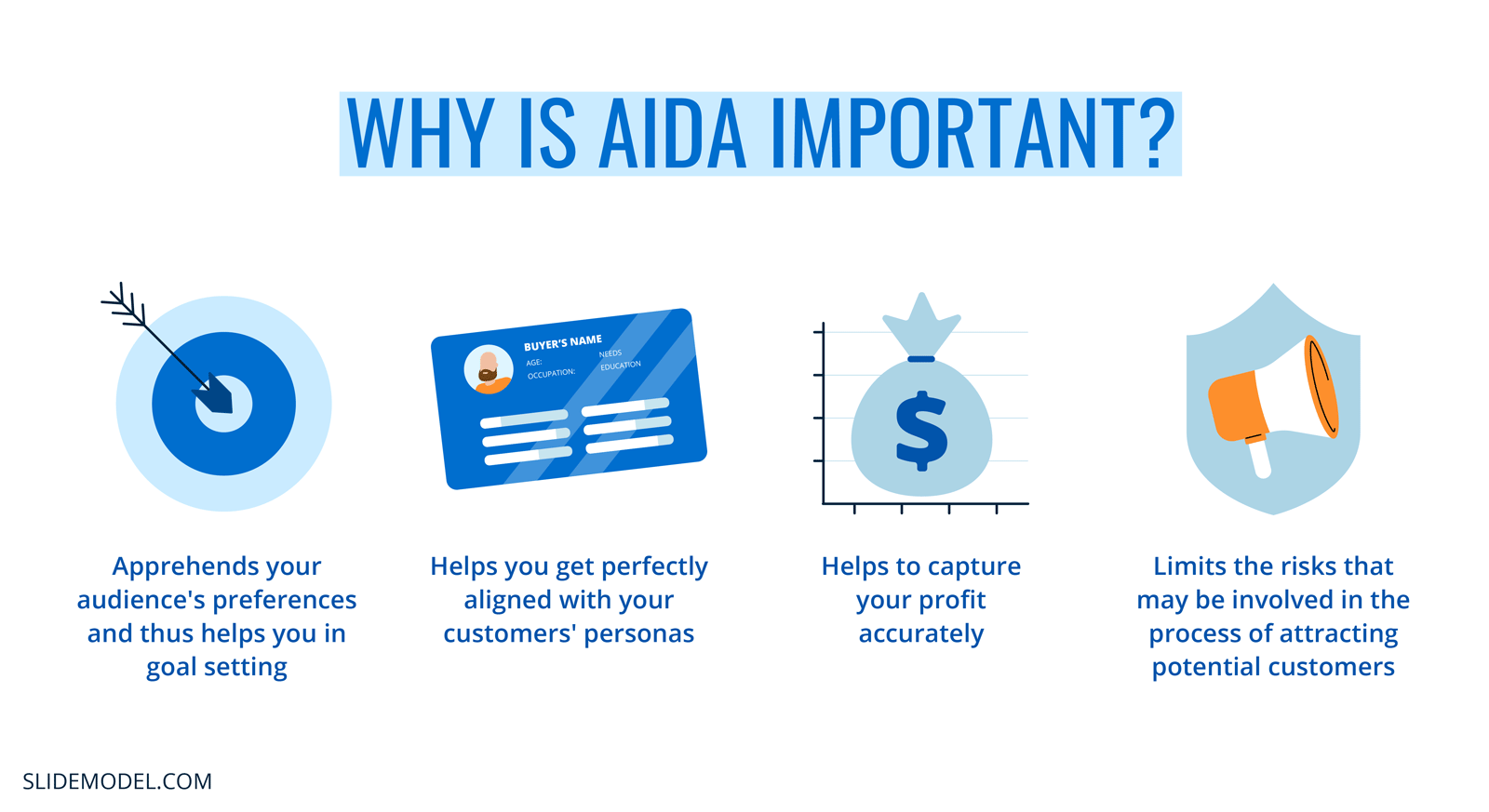 The AIDA model plays an important role in apprehending your audience's preferences and thus helps you in goal setting.
By making you understand your audience's interests, this model helps you get perfectly aligned with your customers' personas.
Additionally, The AIDA model helps to capture your profit accurately.
Another important factor that indicates the importance of the AIDA model is that it limits the risks that may be involved in the process of attracting potential customers.
What is the role of the AIDA Model in Marketing?
As discussed, the AIDA Model acts as a layout to describe the stages of the consumer buying process; therefore, it plays a vital role in the marketing process. Many studies declare that this model fits well in the context of digital marketing. This model is widely applied in marketing activities such as promotions, advertising, sales techniques, sponsorship, and business through websites.
How to apply AIDA to Model marketing? A Practical Example
To apply the AIDA model correctly into marketing activities, you need to ask yourself some key questions throughout the stages. Read these key questions below:
Awareness: How can we make potential customers acquainted with our products or services? What is our plan for reaching out to the public? What technologies and platforms do we employ?
Interest: What will we do to stimulate their interest? What is the content strategy for our company? How and where will this information be made accessible?
Desire: What helps make our product or service appealing to customers? Do you want to share some suggestions and tips?
Action: Consider which marketing channels/platforms you're utilizing and how you're engaging with them, such as email messages, internet sites, landing pages, inbound phone calls, etc.
Retention: What is the pitch for sustaining customer retention?
Applications of AIDA
The AIDA model finds its application in many companies as it examines the purchasing process from the consumer's perspective rather than from communications. Applying this model in the business has helped many companies like Coca Cola and Apple in increasing sales, brand awareness, lead generation, and creating long-term customer relationships.
Let's throw some light on various platforms where AIDA has been used:
AIDA and Social Media Marketing
Let us see how to incorporate the AIDA model concept into social media marketing strategies.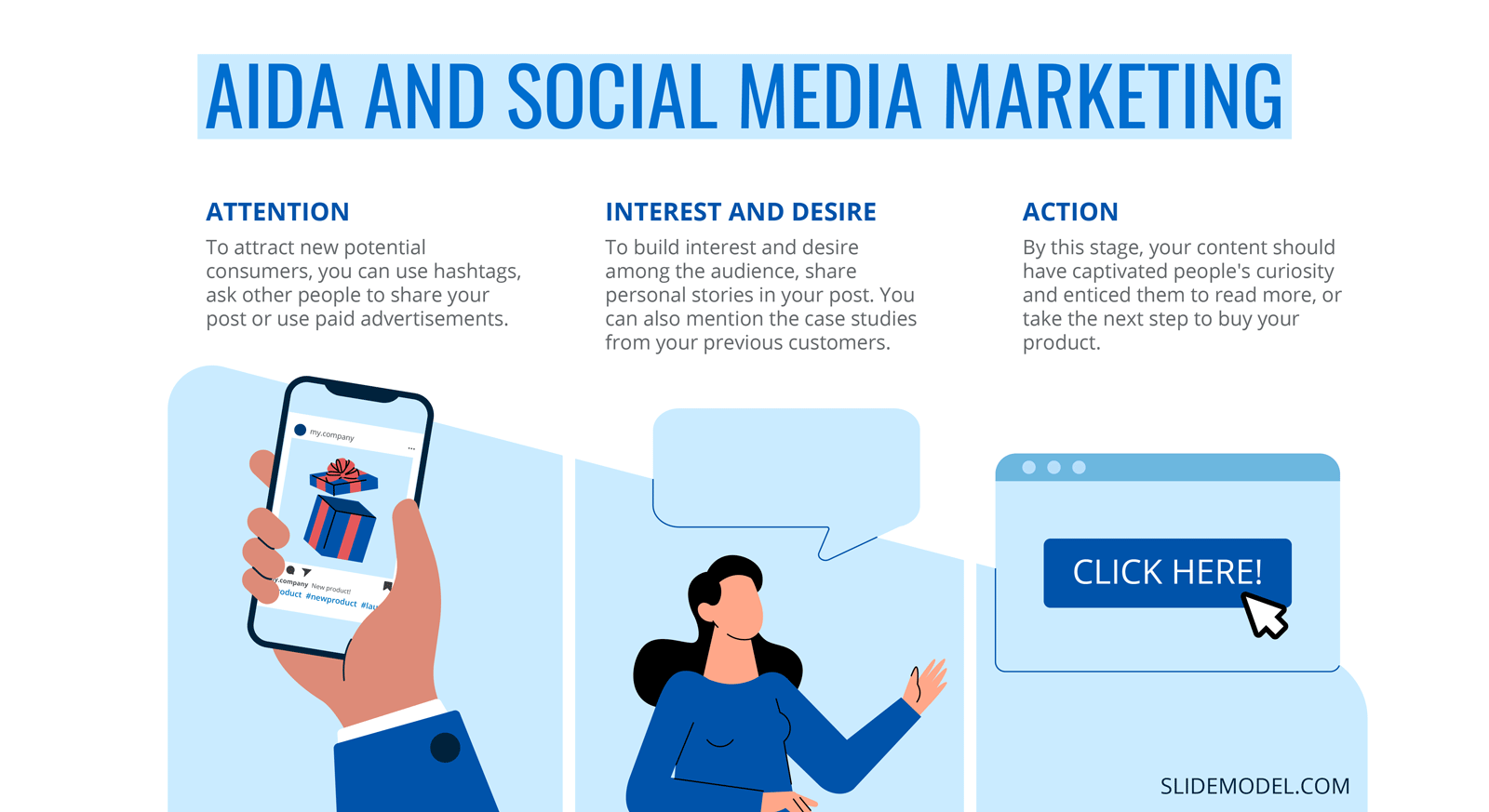 ATTENTION: This social media marketing strategy step focuses on making new people aware of your presence. To attract new potential consumers through this, you can use hashtags, ask other people to share your post or use paid advertisements.
INTEREST AND DESIRE: To build interest and desire among the audience, share personal stories in your post. You can also mention the case studies from your previous customers.
ACTION: This last step in your social media marketing plan should encourage individuals to take action. By this stage, your content should have captivated people's curiosity and enticed them to read more, or at the very least take the next step to buy your product.
Furthermore, based on the AIDA model, this research provides a method for leveraging social media as an effective strategy for small businesses. The study results suggest that the model may be used to plan out how to use social media for marketing reasons.
AIDA and Mobile and Email Marketing
You can enhance sales by using mobile marketing accompanied by email marketing. Write compelling email content using the AIDA Model.
AWARENESS: Promotional offers sent via mobile marketing and email marketing generate awareness among the audience.
INTEREST AND DESIRE: Through mobile marketing, customers have positive opinions of the advertiser's messages and exhibit interest in them.
ACTION: Both Mobile marketing and email marketing have helped with business growth. Mobile marketing has specifically enabled customers to use their phones to snap barcode images and compare them to branded competitors.
However, according to the study (A Comparative Analysis of Mobile and Email Marketing Using AIDA Model), mobile marketing is more effective than email marketing when analyzed using the AIDA model.  It can also be the case that the email never reaches the recipient in the first place, so we also recommend you use an SPF record checker so your company's domain is kept safe.
AIDA for Advergames
In the case of advergames, unique promotional strategies such as direct download from the brand website, direct email displaying the advergame, and educational commercials are used to raise awareness and incite interest. A consumer-pleasing advertisement can generate desire and favorable response and viral sharing of the game experience, which could lead to actual purchases.
How does the Marketing Mix influence the AIDA model?
Marketing is a company's strategy for building value and developing a collaborative relationship with its customers. It is also a way of accomplishing an organization's or company's objective; as a result, they must be more functional and better than the competitors in terms of creating, delivering, and communicating the value of customers to the target market.
You would need a practical marketing strategy for meeting client wants and driving sales to boost total profit. Here comes the role of the marketing mix into play. A marketing mix is a company's marketing portfolio that includes the significant variables required for the company's proper positioning. It impacts the AIDA model so that by applying a marketing mix concept to the model, the process of determining the interest of the customers becomes effortless. It also helps in gaining the attention of potential customers. Therefore, we can state that the marketing mix and the AIDA model influence consumers' purchasing decisions.
Drawbacks of the AIDA Model
In addition to its advantages, the AIDA model has certain drawbacks. Refer to the AIDA specifications mentioned below to handle them properly without compromising the business's mission.
The AIDA model outlines the consumer's linear buying decision process. It ignores the non-linear buyers' approach.
This model is too simplistic to accurately describe a customer's shopping experience on a big scale, especially when there are numerous detailed evaluations.
It does not consider other factors like different points at which sales occur.
New Developments in the AIDA Model / AIDA Variants
Many people believe that the AIDA model is plausible. The AIDA model, for example, does not account for several alternative solutions of purchase. A customer viewing an online store will have a completely different marketing experience than a customer buying at a showroom. As a result, there are numerous versions of the AIDA model, including:
1. AIDAS model (Action, Interest, Desire, Action, Satisfaction)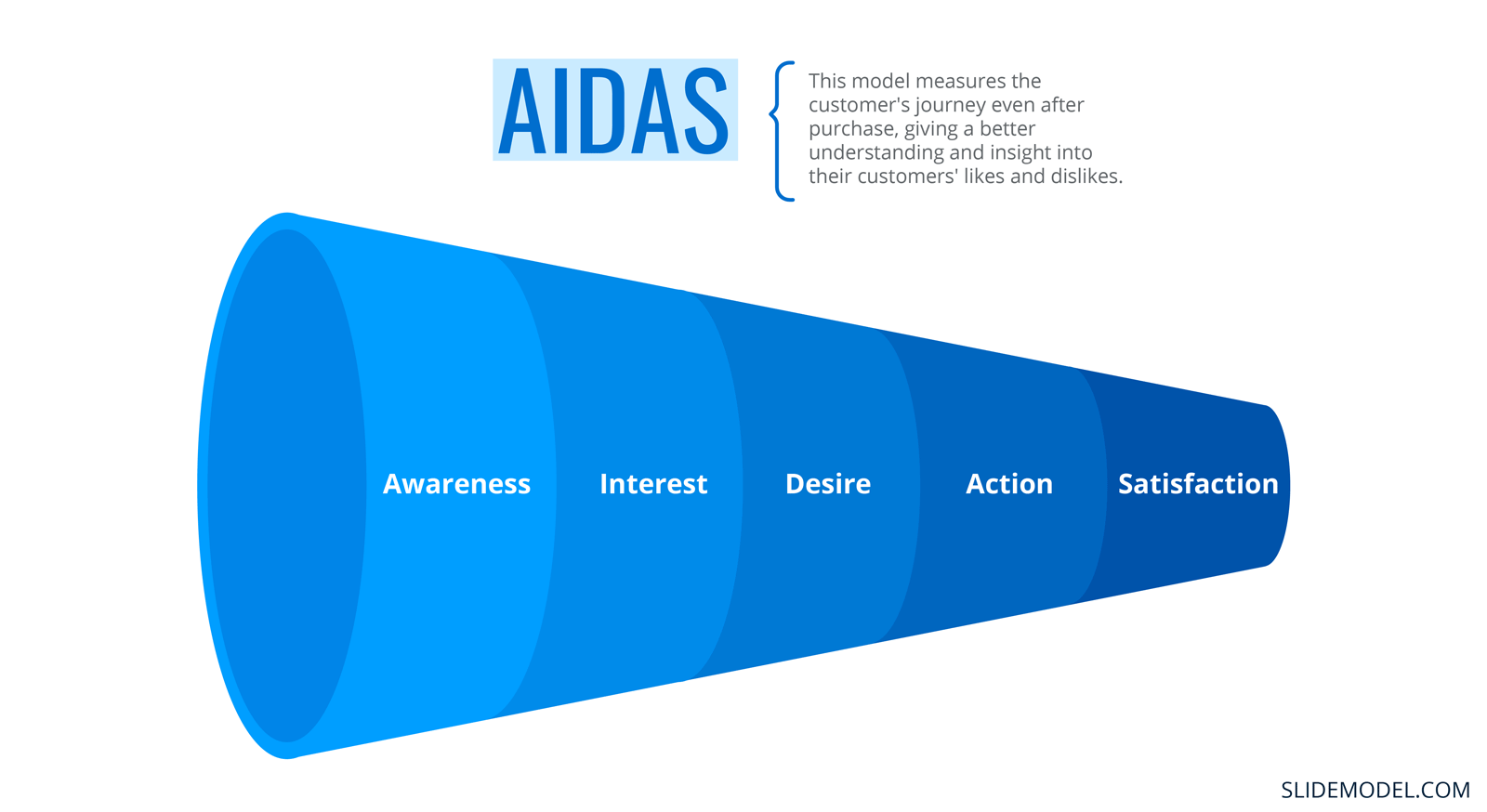 Along with the four stages of the AIDA model, this model additionally gauges the customer's satisfaction level. It intends to measure the customer's journey even after purchase. This gives a better understanding and insight into their customers' likes and dislikes.
2. AIDAL model: Action, Interest, Desire, Action, Loyalty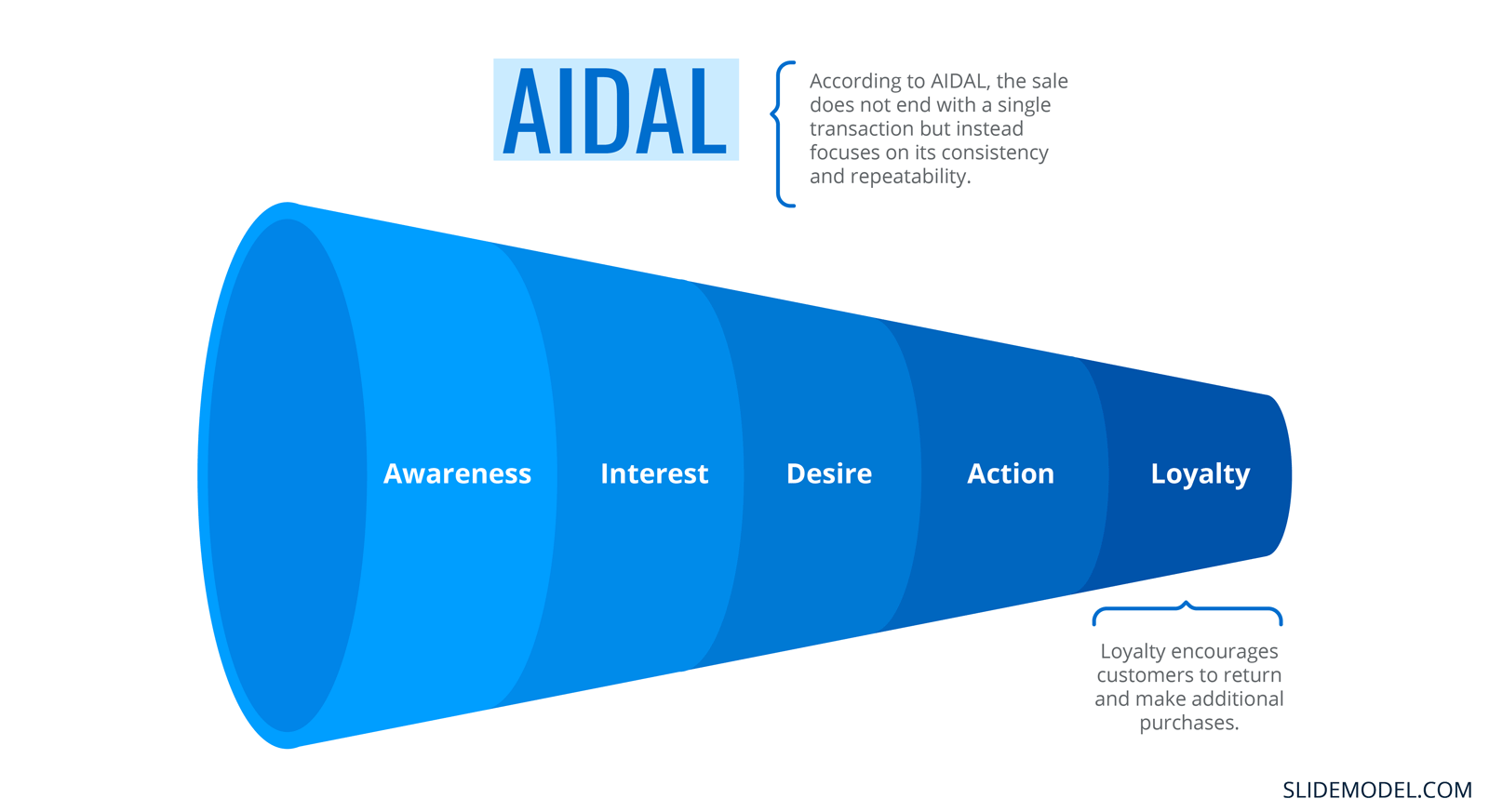 According to this method, the sale does not end with a single transaction but instead focuses on its consistency and repeatability. This is where loyalty comes in handy, encouraging customers to return and make additional purchases.
The following are two other Modifications of AIDA that rely on consumers to become brand advocates and loyal users:
3. AIDAR model: Action, Interest, Desire, Action, Retention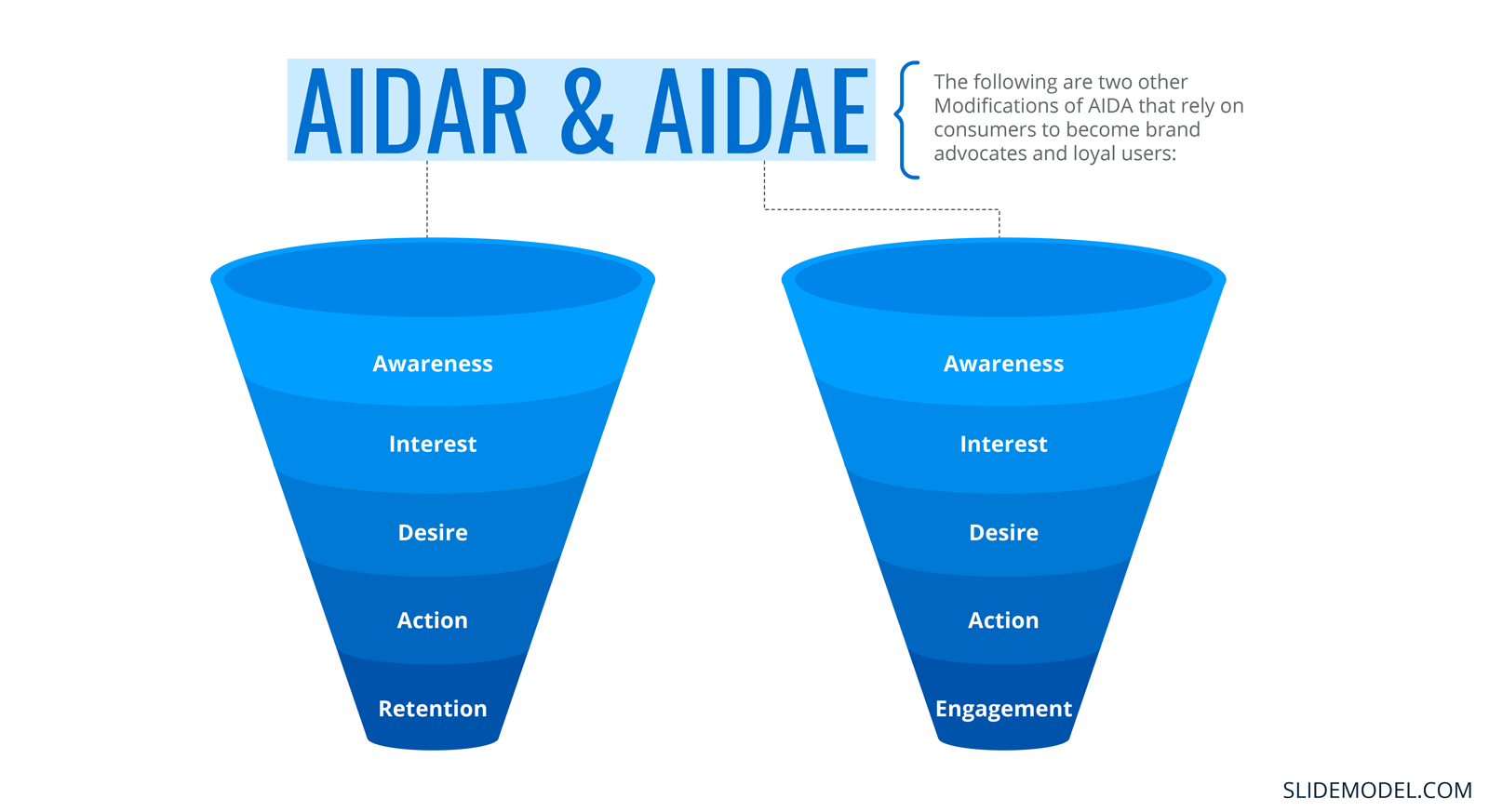 Adding Retention to the AIDA model meant the last stage was meant to measure the reordering capacity and retention of the customers. This is considered to be the concluding stage which gauges if the set endeavors are achieved.
4. AIDAE model: Action, Interest, Desire, Action, Engagement
By adding E or Engagement to the AIDA model, it was focused to read the signs of consumer engagement and act accordingly. This model can help in determining the different stages of consumer engagement more aptly than AIDA.
These two models, AIDAR and AIDAE are the Modifications of AIDA that solely rely on consumers to become brand advocates and loyal users
5. REAN model: Reach, Engage, Activate, and Nurture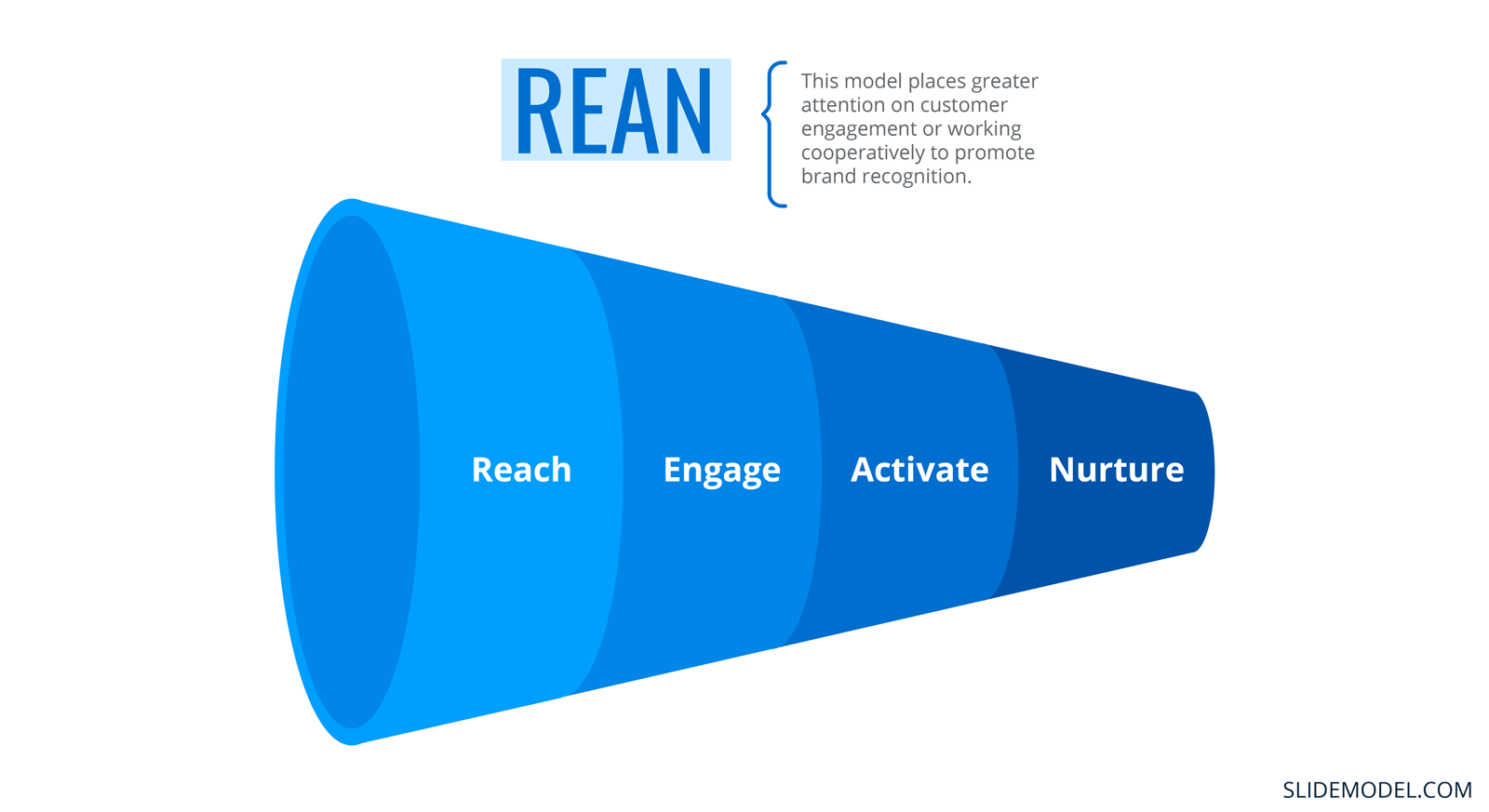 Fundamentally, this model continues to be based on the principles (Attention, Interest, Desire, and Action) of the AIDA Model. Still, recent advances tend to place greater attention on customer engagement or working cooperatively to promote brand recognition.
6. AISDAL model: Attention, Care, Desire, Action, Like/Dislike, Share, Love/Hate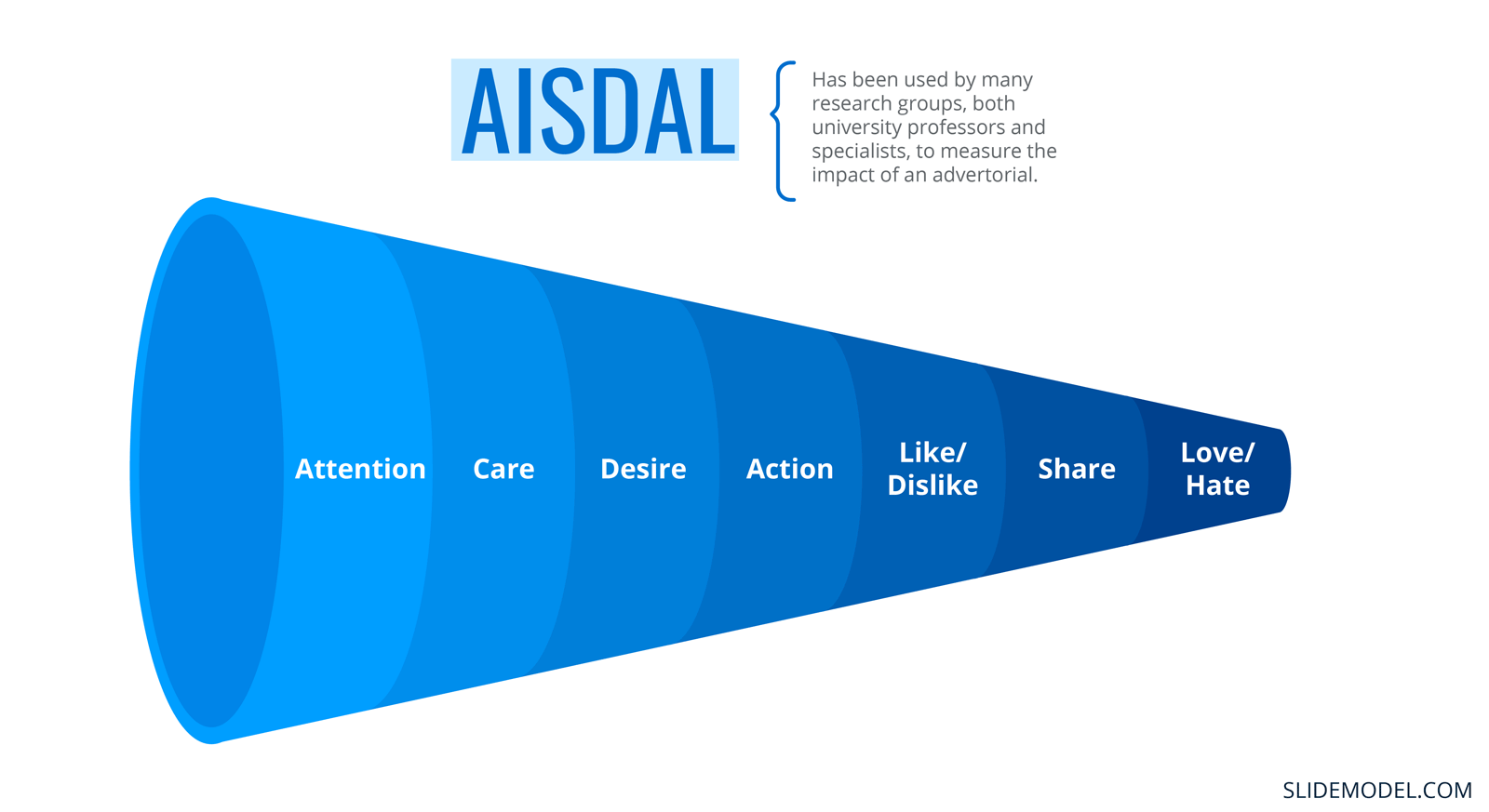 AISDAL is a hierarchy of modelling techniques in marketing adapted from AIDA's hierarchy of effects model that has been used by many research groups, both university professors and specialists, to measure the impact of an advertorial.
7. NAITDASE model: Need, Attention, and Interest; Trust, Design, and Action; Satisfaction and Evaluation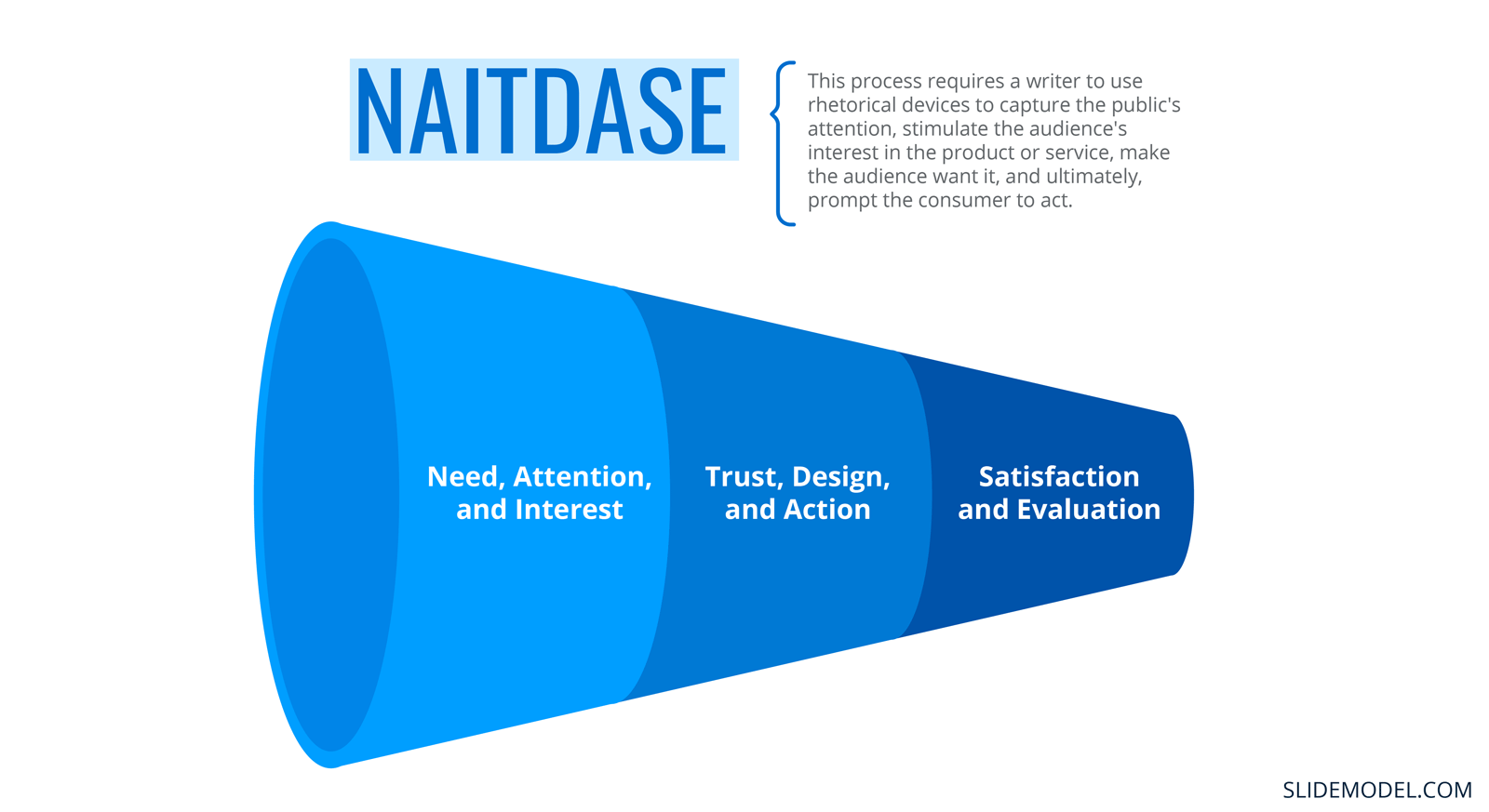 With the NAITDASE model, you can write better copy and use the fundamentals of the AIDA model. The process requires a writer to use rhetorical devices to capture the public's attention, stimulate the audience's interest in the associated product or service, make the audience want the product or service, and ultimately, prompt the consumer to act.
8. AIDCAS model: Action, Interest, Desire, Confidence, Action, Satisfaction
The AIDCAS Model is a valuable tool to connect the priority of marketing and sales tasks. Marketing is in care of AID, while Sales is in charge of the essential CAS. Certainly, there is some redundancy, but it's crucial to categorize and know who does what when there's a discussion.
9. McGuire's model: Present, Pay Attention, Understand, Give, Retain, Behavior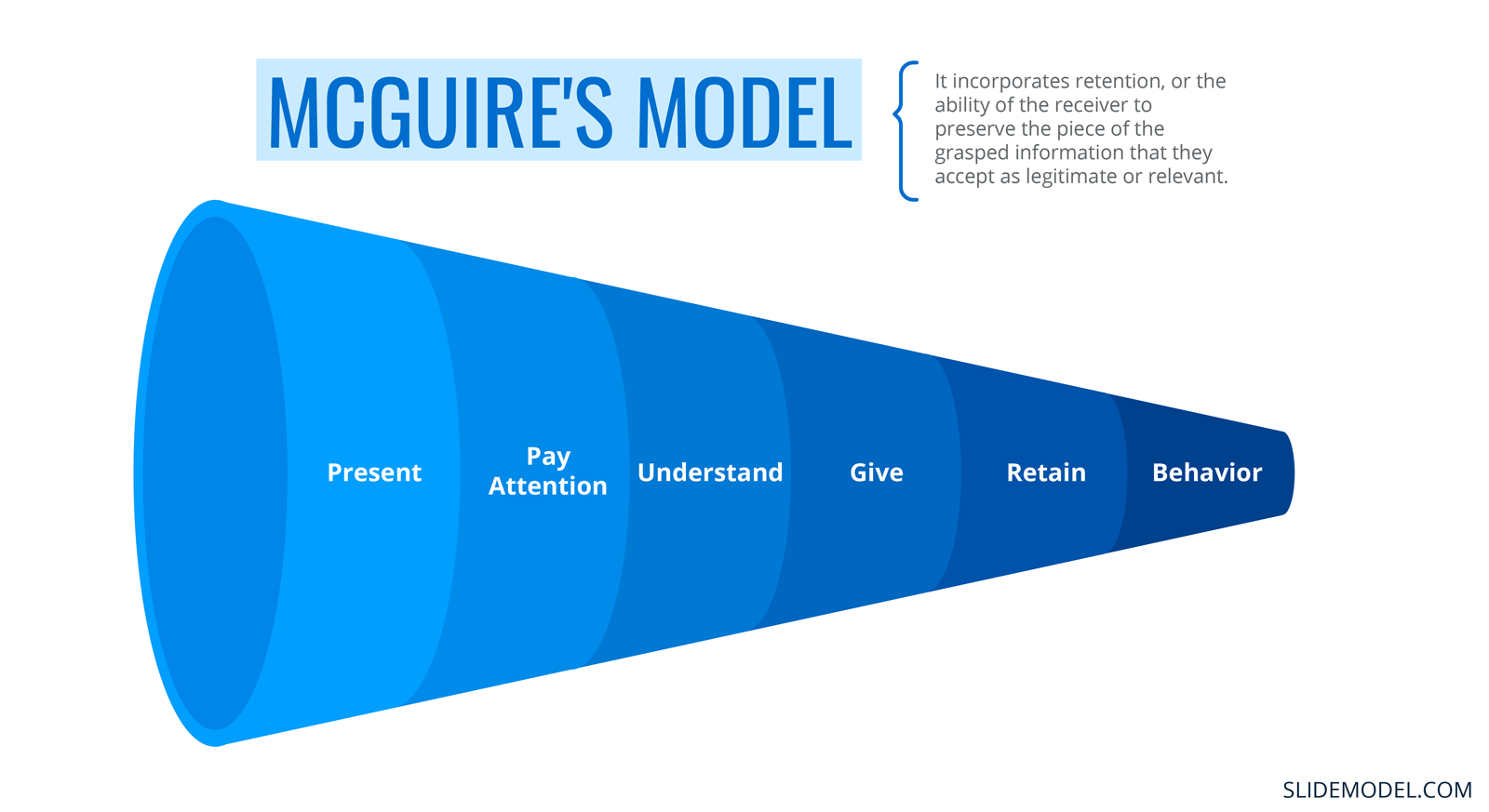 McGuire's model incorporates a stage not present in the other models: retention, or the ability of the receiver to preserve the piece of the grasped information that they accept as legitimate or relevant.
10. Lavidge et al.'s Hierarchy of Effects: Awareness, Knowledge, Liking, Preference, Conviction, Purchase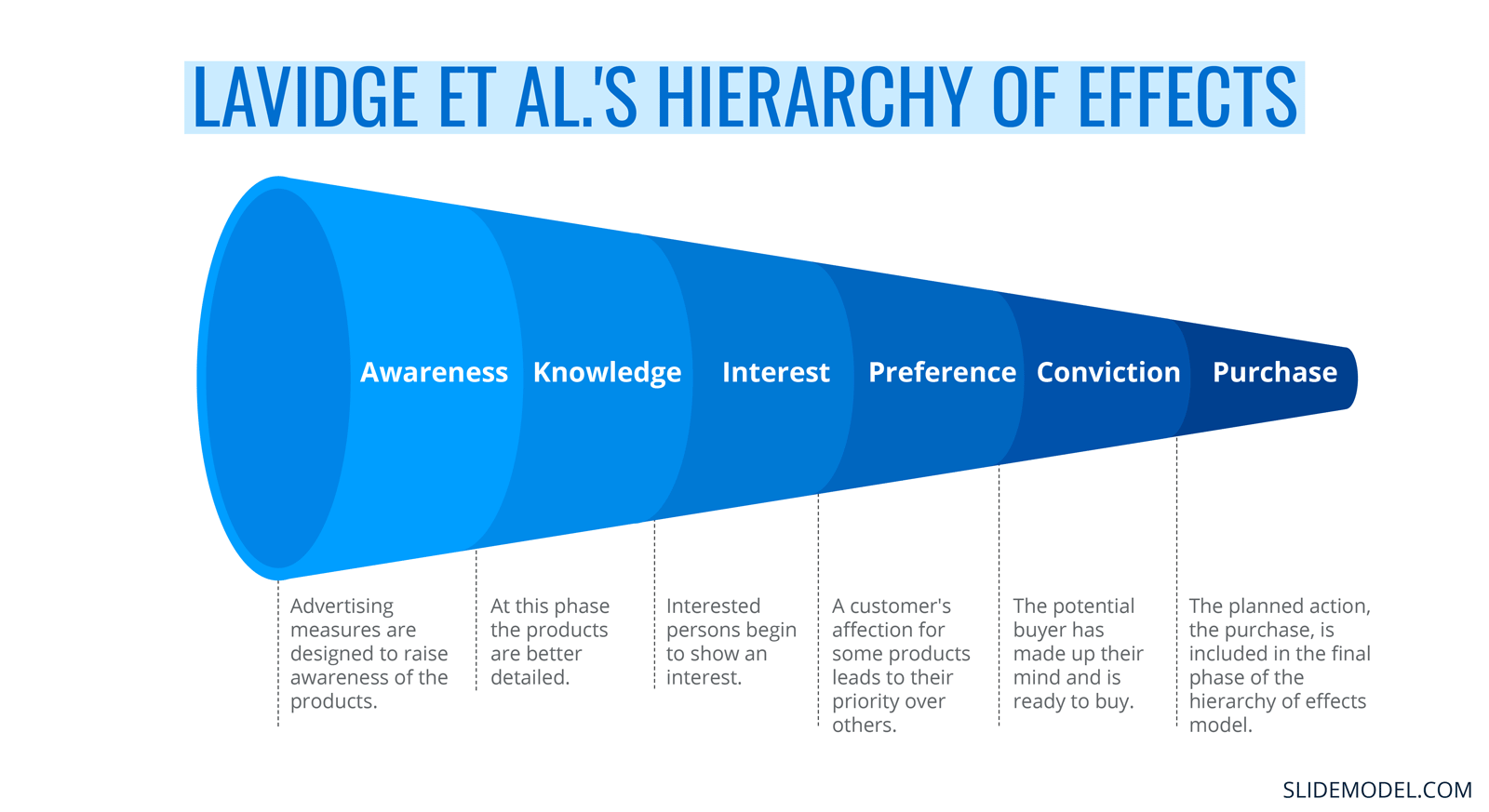 The Lavidge and Steiner hierarchy of effects model is made up of a hierarchical series of diverse advertising effects that divides the purchase decision-making process into six stages:
Awareness: Advertising measures are designed to raise awareness of advertised products among potential clients.
Knowledge: After the awareness phase, the products are better detailed in the knowledge phase.
Interest: Interested persons should begin to show an interest in the promoted products.
Preference: A customer's affection for some products leads to their priority over others.
Conviction: The potential buyer has made up their mind and is ready to buy the product.
Purchase: The planned action, the purchase, is included in the final phase of the hierarchy of effects model.
DAGMAR Formula: Awareness, Comprehension, Conviction, Action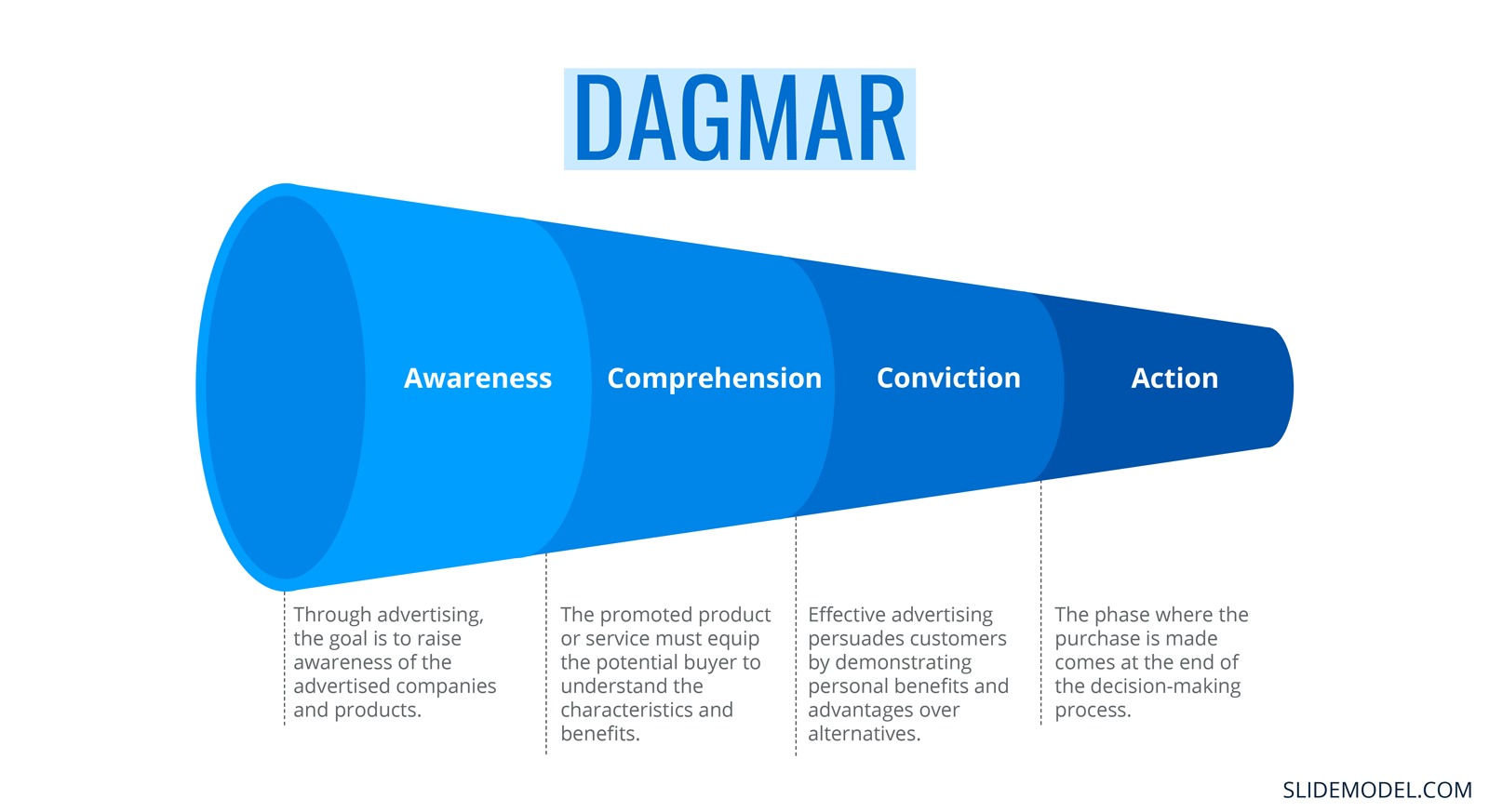 Russell H. Colley, an American advertising researcher, published the so-called DAGMAR formula in 1961, based on the AIDA model.
Each purchase prospect, according to DAGMAR, goes through four stages:
Awareness: Through advertising, the goal is to raise awareness of the advertised companies and products.
Comprehension: The promoted product or service must equip the potential buyer to understand the characteristics and benefits.
Conviction: Effective advertising persuades customers by demonstrating personal benefits and advantages over alternatives.
Action: The phase where the purchase is made comes at the end of the decision-making process.
You need to appropriately grasp the qualities of AIDA variants to capture AIDA's functionalities with precision and efficiency. These modifications have the benefit of rectifying some of the model's flaws. It's also essential to improve the AIDA model by renewing or updating it.
Conclusion
In a nutshell, with the AIDA Model, you can interact, convince, and turn your audience into paying consumers constantly. This model acts as an essential marketing model for business growth. It is one of the most effective marketing strategies a company can use. By correctly using this model, you can call attention to the consumer's thinking, effectively leading them through the steps of the AIDA model and toward a buying decision.
If you need to present AIDA model to an audience in a presentation, we recommend checkout out the AIDA model slides for PowerPoint and Google Slides.