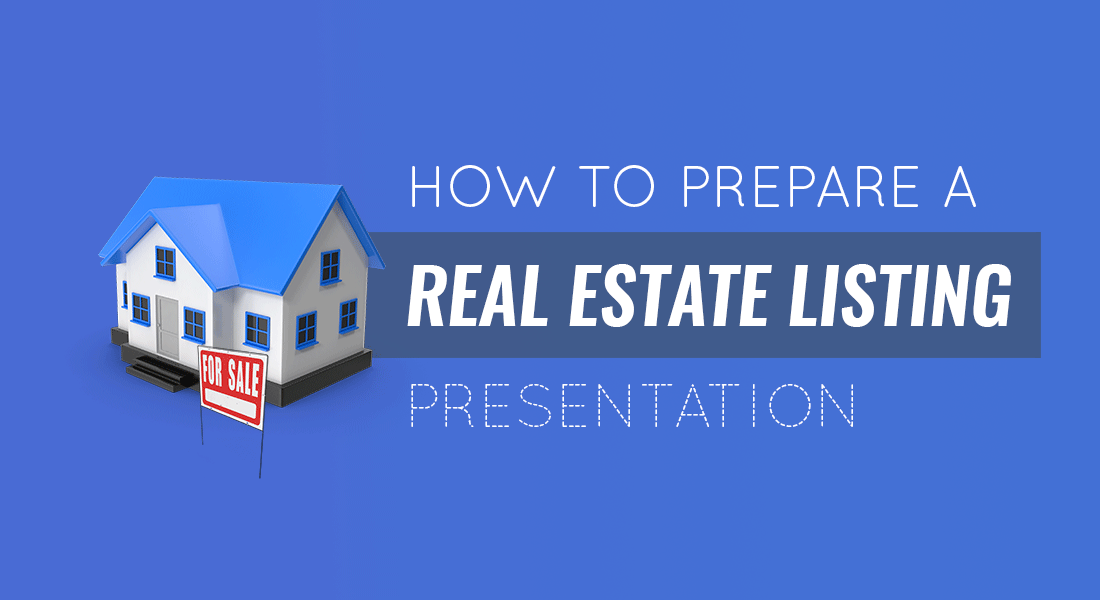 Do you want to close more leads on a regular basis?
In that case, you may need to level up your communication skills. To win more listings, move on from having a polite "pre-sales" chit chat with prospects to doing full-scale presentations of your services.
What is a Real Estate Listing Presentation?
A listing presentation is your pitch to a prospective seller to represent them in a Real Estate transaction. Succeeding with your presentation means that you will sign on a new client and receive a bigger commission this month.
But of course, there will be other agents knocking on the seller's door, offering their services. In fact, 55% of sellers interview two or three agents before making the decision. So how do you get chosen among the sea of other agents? Wrong, if you thought that most prospects will stick with someone offering the highest listing price and asking for the lowest commission.
When putting up their homes for sale, most people want to partner with a competent, forthcoming and proactive agent, capable to broker the best arrangement for them. Obviously, the best Real Estate agents are rarely those charging the lowest commission.
In fact, the main goal of conducting a full-scale, deck-ready listing presentation is to persuade the prospect that you are their optimal choice.
The best listing presentation isn't a brief oral interview on the porch; it's a carefully staged, full-scale demo of your professional capabilities. Keep in mind that creating a listing presentation isn't the only way to market effectively in your industry. There are dozens of other Real Estate marketing ideas that can help you beat out the competition and stand out from the pack. For example, if you can't make time for an in-person listing presentation, consider recording a seminar and linking it to your email subscribers.
How to Prepare for a Listing Presentation: 7 Key Steps
Building a rapport with a new prospect is never easy. But there are a few quick neuroscience tricks you can leverage to appear instantly more likable to prospects, even before you pull out your Real Estate brochures and other collateral.
Give a firm handshake. Scientists proved that a handshake preceding any social interaction has a strong positive impact on how the recipient will further evaluate this social interaction.
Have some brew ready. Pleasant smells like those of fresh coffee make us act nicer to one another and be more cooperative.
Appear interested and ask questions. Again, science proves that people are more willing to engage with an interlocutor, eagerly posing questions, and also act in a more receptive manner.
Now with a few neat physiological tricks in your sleeve, let's move on to how you should approach listing presentation design.
1. Open with a Brief Introduction
A Real Estate listing presentations can start with a short overview, recapping who you are, what you do and what's your success record.
To save you time on design, we have lined up a few short Real Estate bio templates you can grab and customize.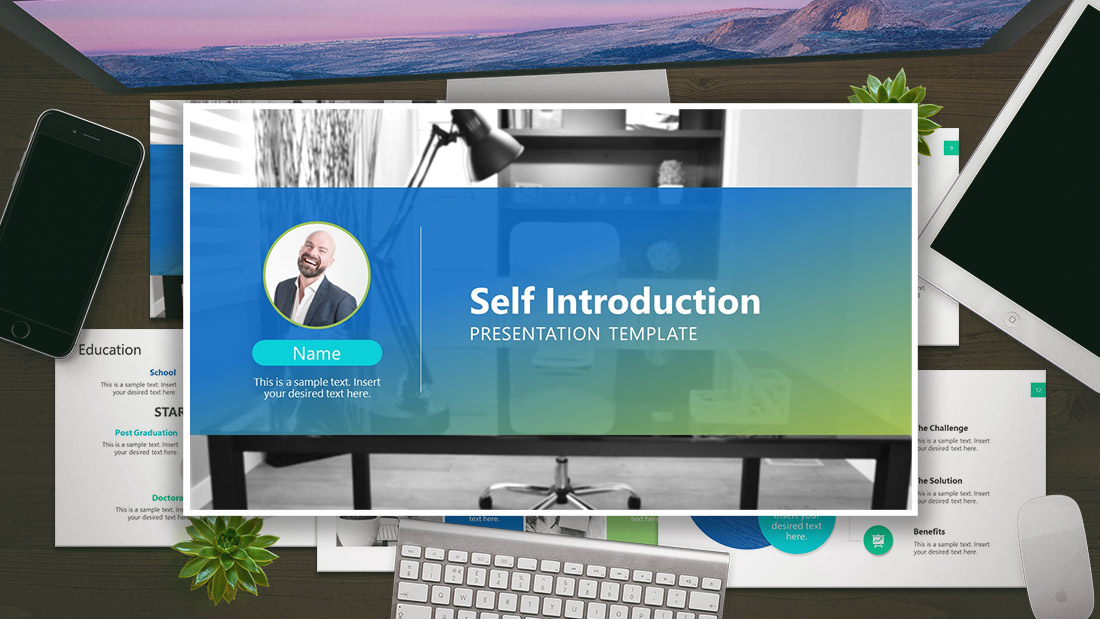 Source: Self Introduction PowerPoint template
Sellers want to be reassured that you can close the deal fast and secure them a fair price. They want someone confident in their abilities and capable to back up their skills with examples and data.
Here's listing presentation sample questionnaire you can answer to fill in your first few slides:
What are your top skills? Are you a Real Estate marketing guru? Do you have exceptional graphic design skills and can create for sale by owner flyers that stand out from the crowd? Do you have a photography background and can shoot professionals photos without hiring any external help? Show exactly what you can do. Bonus point if you manage to align your key skills with your buyer's needs.
How many houses have you sold in this area? It's best to line up some fresh data e.g. the past 12 months. Specifically, mention what types of properties have you sold and whether any were similar to this particular buyer's estate.
Now comes the tricky part: offer some numbers comparing the original list price versus the final sales numbers (if the latter are more favorable) and the average day on the market (DOM) numbers for the property.
Such numbers will also help you justify higher commission rates. Of course, every sane buyer would rather stick with an agent charging a higher rate (e.g. 6% commission for houses for sale), but who also secures them a higher sales price due to better marketing experience.
2. Toss in Some Social Proof
People are social creatures and thus, we are extremely prone to opinions shared by others. To learn what's good, we observe what others are doing and this extends to our purchase decision making: 92% of consumers state that word-of-mouth recommendations carry the most value to them.
You shouldn't hard-sell your services. Instead, just show that "others" already think you are that good. There are a few ways you can use "social proof" as a Real Estate agent:
Ask past sellers to provide quick testimonials (with photos) and use them in during your presentation. Here's a quick example from one of our PowerPoint templates: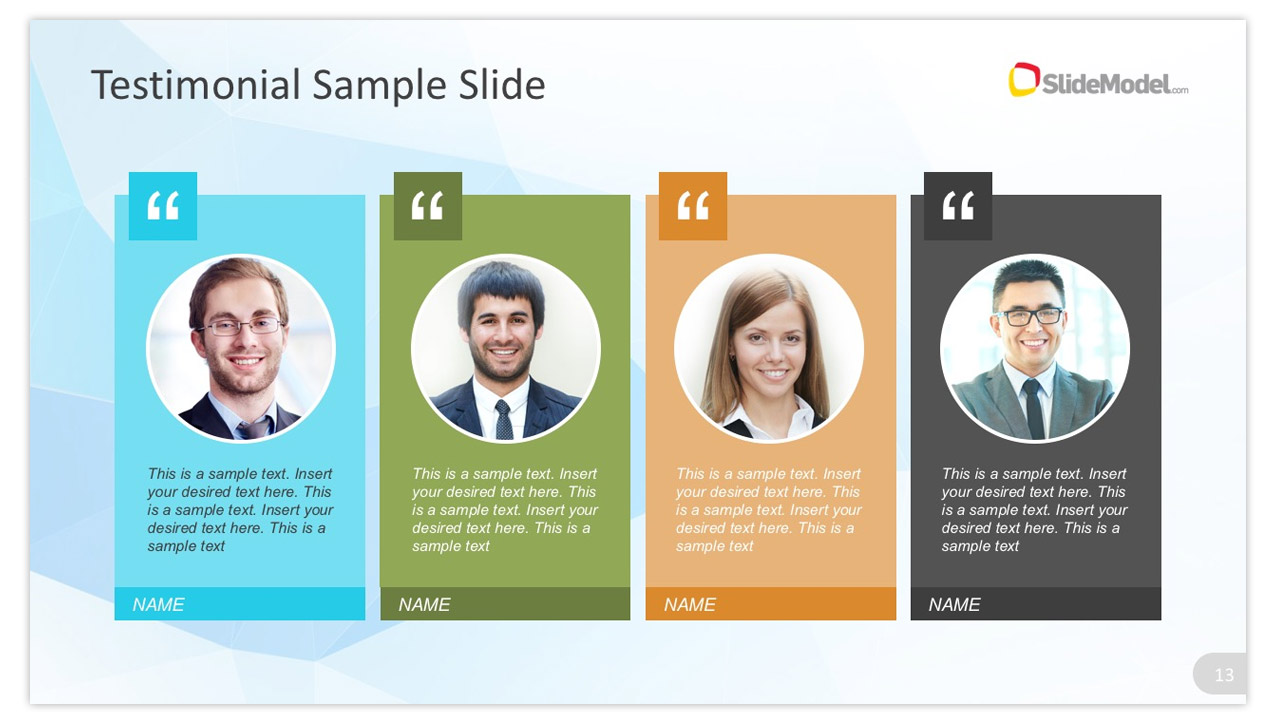 Add a separate slide highlighting your key achievements up-to-date (personal or agency-wide). The good "boasting" figures to include are:
Total number and value of properties sold.
Total number of clients you have worked with.
Average time to close a deal.
Average customer satisfaction rate.
Optional:
"Big name" corporate clients and partners.
Professional organizations you are part of e.g. National Association of Realtors.
Gather and display reviews online. Of course, prospects will google you post-presentation. Your job is to ensure that they'll find only positive stuff, rather than nothing at all. You can set up a dedicated profile on popular review services or display ratings directly on your website.
3. List The Benefits of Your Brokerage
Keep this one succinct and on-point. Most buyers are interested in just three things:
Receiving a fair price for their property.
Getting it sold off fast.
Avoiding the associated sales hassle as much as possible.
Your Real Estate presentation should address how you will deliver them just that. You can also sweeten the deal here by including a few "promos" e.g. list special circumstances for when you will accept a lower commission or pitch them with some bundled promos your agency currently runs.
At this point, you should also explain how that communication will occur: what types of updates they can expect and when.
4. Walk The Prospect Through The Home Sales Process
Not everyone is experienced in flipping property. So be sure to customize your listing presentation template so that includes this optional slide – for when you are presenting to first-time buyers.
There's no need to go into many details at this point. Just briefly mention the overall timeline, key milestones and what kind of actions we'll be required from them. All of this can be neatly packed into one slide like this one: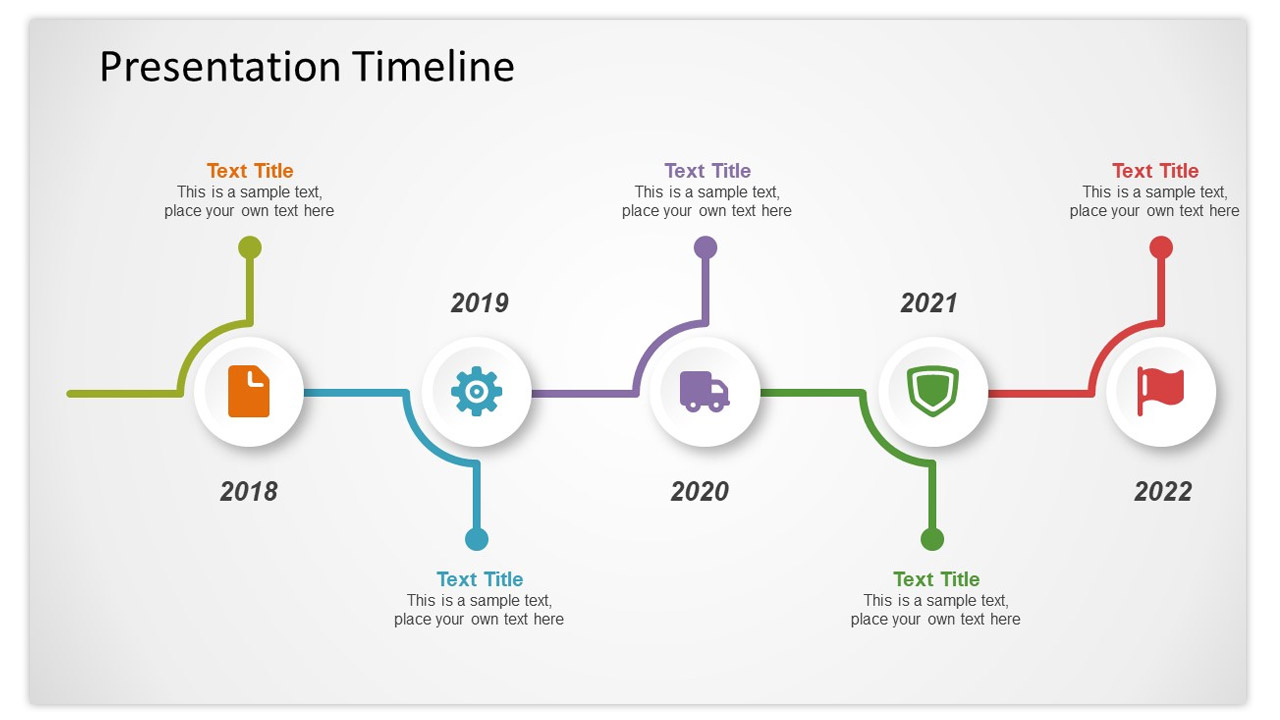 If needed you can separately walk them through the home inspection and appraisal processes; Real Estate presentations to the buyers; negotiations and closing process.
5. Present a Comparative Market Analysis for a List Price Range
Comparative Market Analysis (CMA) is another nugget to persuade the client that you know your deal.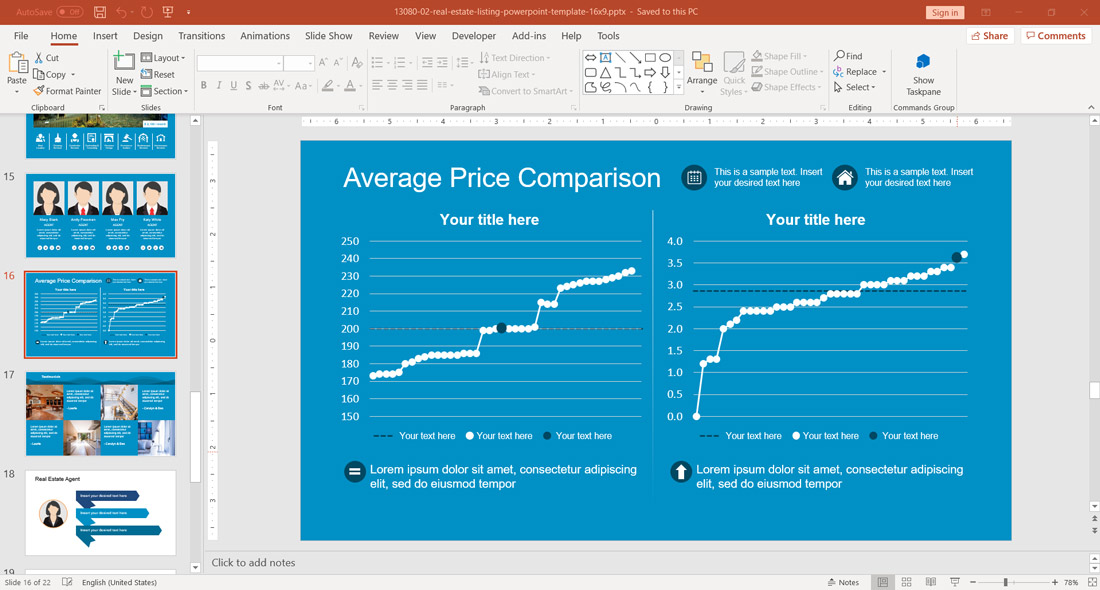 The wrinkle, however, is that it's not always easy to come up with good numbers if you are yet to see the property in person. That's why most agents will do two CMAs. First, one using the comps and their educated guesses based on prices for similar homes. And the second, more refined CMA after seeing the property, talking to the owners and digging further into the data.
6. Explain Your Marketing Strategy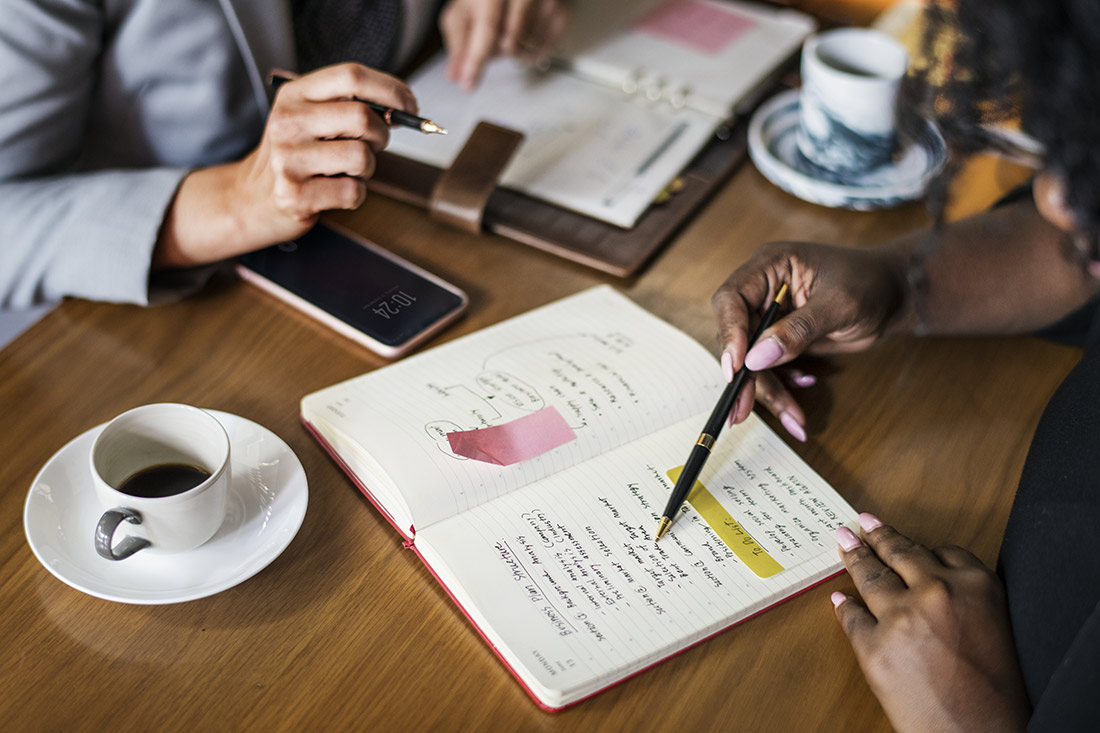 Image Source: StockSnap
What channels do you plan to leverage – digital, offline or a mix of both? Give the clients some general insights and explain why your approach works. They certainly don't want to know all the nitty-gritty, but we'll appreciate some general insights.
Show them a few video demos you have created; your standard property templates for websites; copywriting and other marketing collateral you plan to use and distribute during open house visits.
7. Wrap It Up with a Killer Case Study
The best listing presentation examples we have ever seen always included case studies. They are another form of "social proof", and a direct illustration of your professional abilities.
You don't need to make this one lengthy though. Just stick to a simple copywriting formula:
Customer background (e.g. a mid-aged couple just like you based in NYC).
Challenge: what kind of a problem those former customers had? (e.g. needed to sell a house in 1.5 months in an unpopular neighborhood).
Solution: how your agency helped them?
Results: some quick numbers illustrative the positive outcome you have helped them achieve e.g. house sold in 35 days for 5% higher than the initial listing price.
This way you are finishing your listing presentation with a bang, and encourage the prospects to take further action.
Listing Presentation Templates for Real Estate Pros
To ease up the processes of preparing for your listing presentation, our team has lined up a few neat templates you can download and customize in PowerPoint to match your current needs.