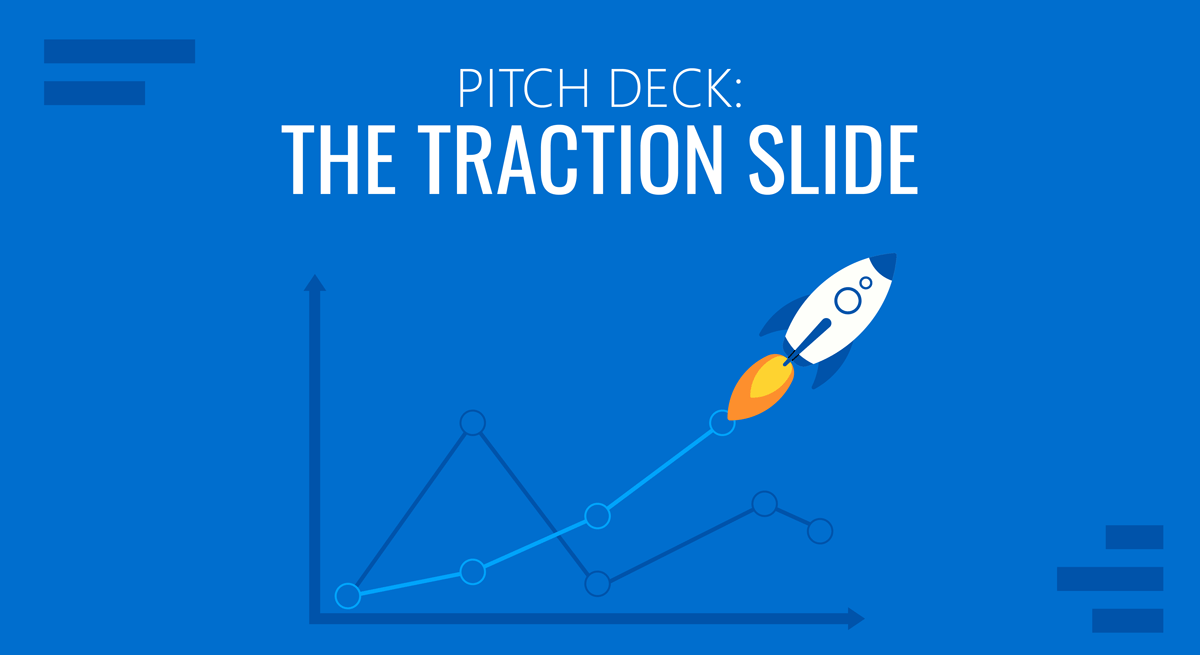 When pitching a startup idea to angel investors and venture capitalists, the pitch deck should be convincing enough to help the investors make the decision to invest in the business. Investors need to know that the business has a potential for high growth in the coming months and a low risk of failure.
This is where the Traction Slide, comes in. In this article, we will be explaining what traction means, the purpose of having a traction slide, its benefits, what to include, and how to present it.
In the end, we also discuss a few examples of successful traction slides by renowned startups.
What is Traction?
Traction basically means the progress and momentum of a start-up. It displays that the business is gaining attention and has the potential of getting somewhere. There are several ways of measuring growth and a wide range of indicators that show the traction of a startup.
From sharing sales, and revenue, to displaying endorsements and strategic partnerships acquired, traction metrics can be anything that proves to investors that the business is worth investing in.
The Purpose of Having a Traction Slide in a Pitch Deck
The purpose of having a traction slide in a start-up deck is to give investors the confidence to invest their funds in the business. It is an essential slide in every pitch deck presentations.
The failure rate of startups in the US makes investors skeptical of trusting small businesses with their hard-earned money, as they fear the risk of losing it all. Studies have shown that 2 out of 10 new companies fail in the first year of operations (source: Bureau of Labor)., while 50% of businesses die down in their fifth year.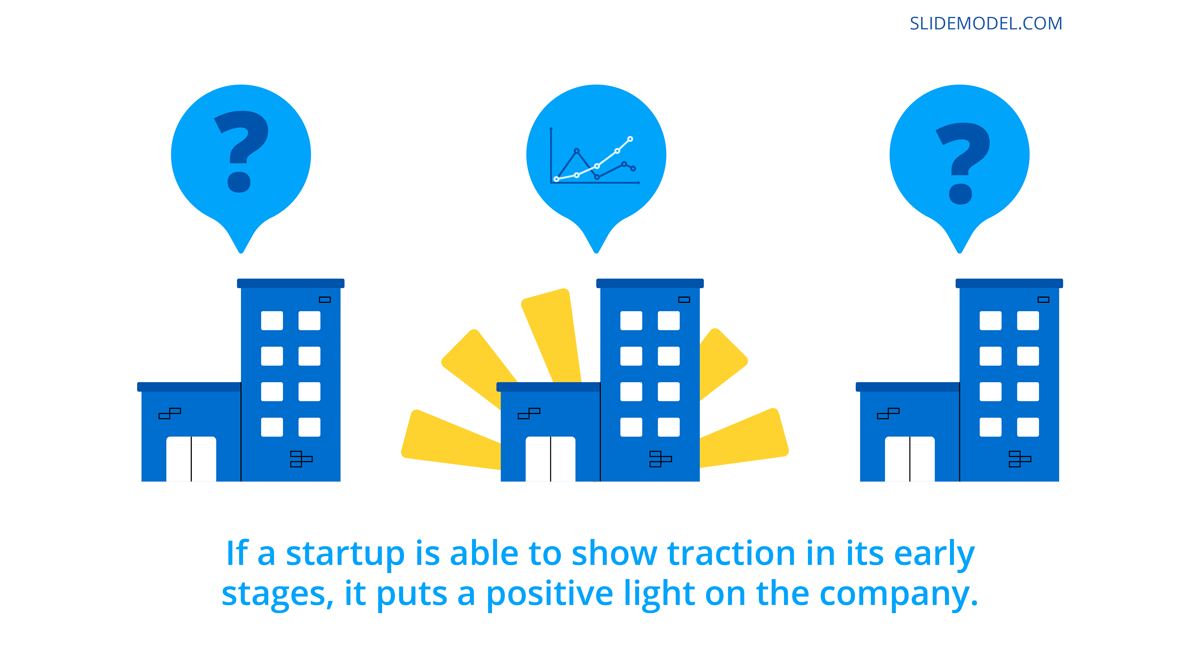 These figures are enough to make investors question the profitability and potential of any start-up. But with the right data presented in a traction slide, investors can be convinced. The traction slide provides proof to investors that the start-up has validation in the current market and growth potential.
If the business is up and running, growing revenue is best for convincing investors.
However, if the startup is still in its initial stages and has yet to generate sales, other metrics, such as website traffic, active users, sign-ups, and other conveying achievements of the business to date, can be presented in a traction slide.
The metrics will make investors realize that the business will be successful in the coming months and even years, helping them ensure that their investment will be in safe hands.
What are the Benefits of Presenting a Traction Slide in a Pitch Deck?
A traction slide shows investors that the business is taking off. It lets them know how far the company has come, gives them a validation/roadmap, and minimizes their investment risk.
If a startup can show traction in its early stages, it puts a positive light on the company. Key milestones and achievements can be highlighted in a traction slide which shows that the business will grow in the future and prove to be profitable.
A startup's traction builds the ground for the ask slide that comes later on in the pitch deck. It lets investors know how much funds the startup is planning to raise, how they will use it, and what they will achieve with the accumulated investments.
Early traction is important for every startup, and it can be gained through proper branding, a product, a great product or service (see Product-Led Growth), partnering up with influential and strategic individuals and businesses.
New startups can launch test products and analyze customer feedback, showcase their product, and even think out of the box and do something out of the ordinary that shows the potential of success can accelerate early traction for the startup.
Soft Traction vs. Hard Traction
Hard traction is when the business is growing rapidly, generating a good amount of sales, and has a profitable pipeline in place for earning revenue. Other than that, it can be renowned brand names and clients that the company has worked for and received positive results and feedback.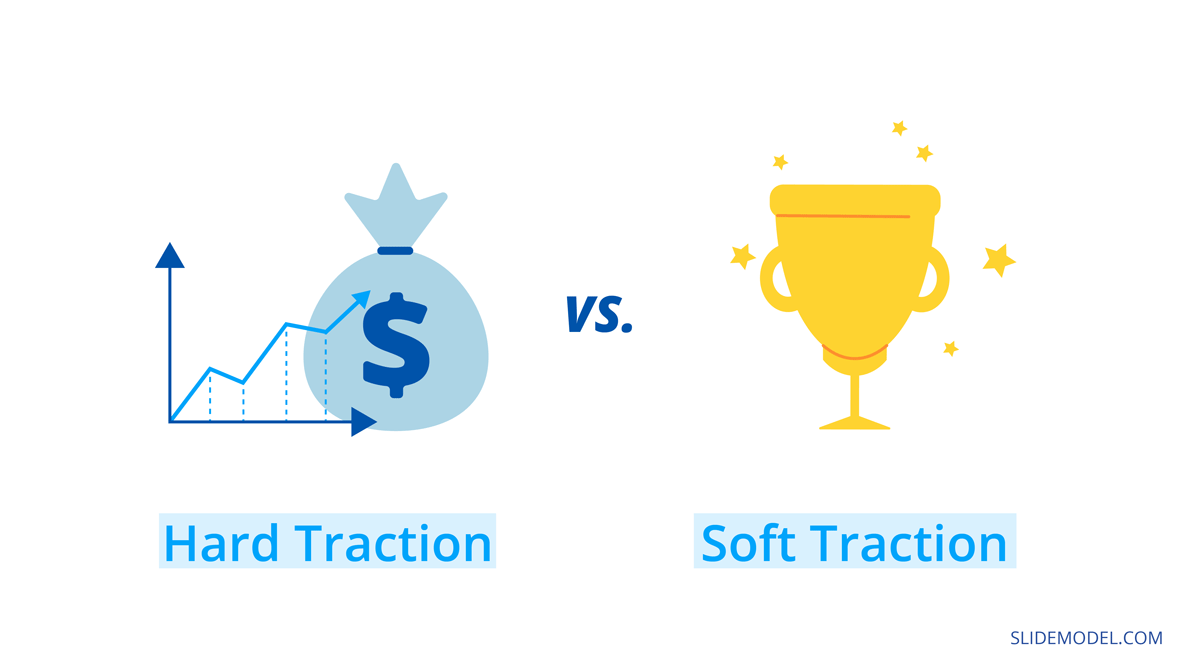 While soft traction could be any awards and accolades that the startup members have acquired, which shows their potential of succeeding in business. It could be endorsements and articles in the press that show the company's credibility.
Soft traction does help get the investors' attention. But hard traction, which could be the number of customers, increasing revenues, decreasing costs, and other quantitative metrics, can leave a great impression on the investors help them make the decision of funding the startup. 
Pre-Revenue Traction Slide: How to Show Traction When a Startup is Pre-Revenue?
Not every startup can easily generate revenue in its early stages, but that does not mean that a traction slide cannot be presented in the pitch deck.
Traction can be anything that shows activity with customers, engagements with profitable prospects, and even simply gaining the attention of the prospective target audience that the business aims to sell their product or service to in the future.
Pre-revenue startups can discuss potential customers with investors, which shows that the startup has the potential to gain hard traction and is working towards generating revenue.
Beta tests, pilot studies, minimum viable product (MVP) usage, cost of acquiring customers (CAC) can help determine how customers react to the product and if the startup will be profitable.
The investors need to know that the startup can generate revenue repeatedly and has a proper sales funnel in place for getting recurring sales.
What To Include in a Traction Slide?
The traction slide should show investors how the product or service is gaining momentum and showing its value.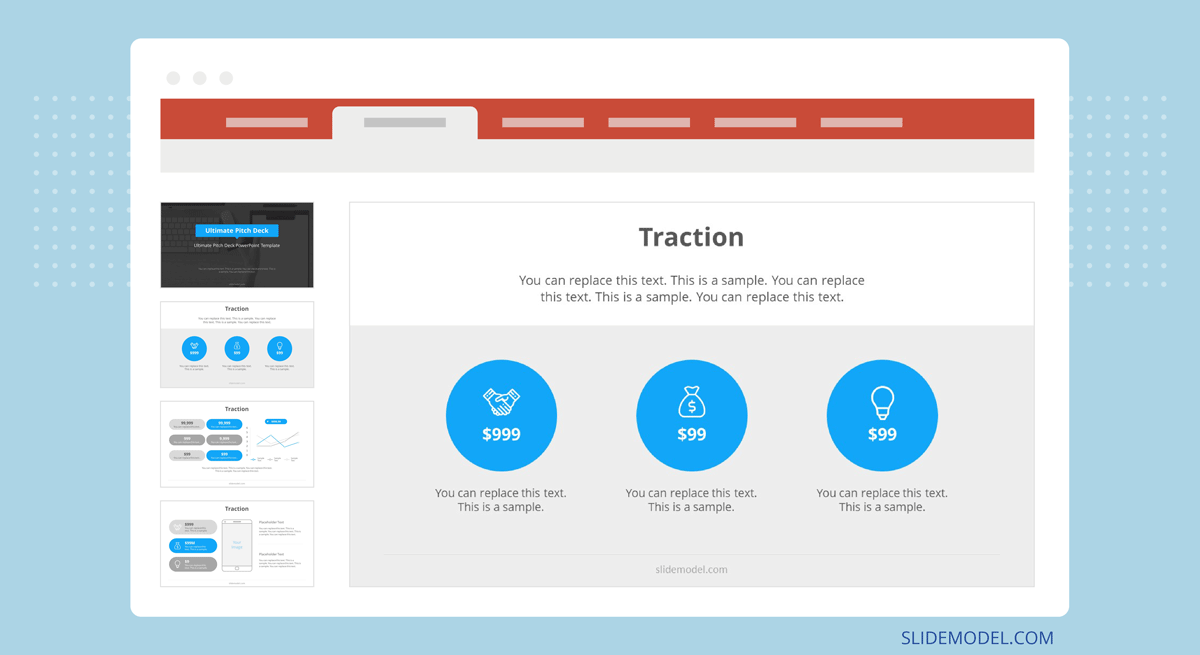 1. Recurring Sales/Revenue
While many factors can determine a startup's traction, a basic traction slide can show the revenue, sales, and profits gained in the early months of the startup's operation. Especially for Software as a Service (SAAS) businesses, Monthly Recurring Revenue (MRR) and Annual Recurring Revenue (ARR) can hold great value in the eyes of investors.
How to Present Recurring Sales/Revenue in a Traction Slide?
Here is one example of presenting sales and revenue in a traction slide. This free pitch deck template coves all slides of a pitch deck and discusses traction in simple numerical data plus graphical data charts, making it clear and concise for investors to analyze the business growth.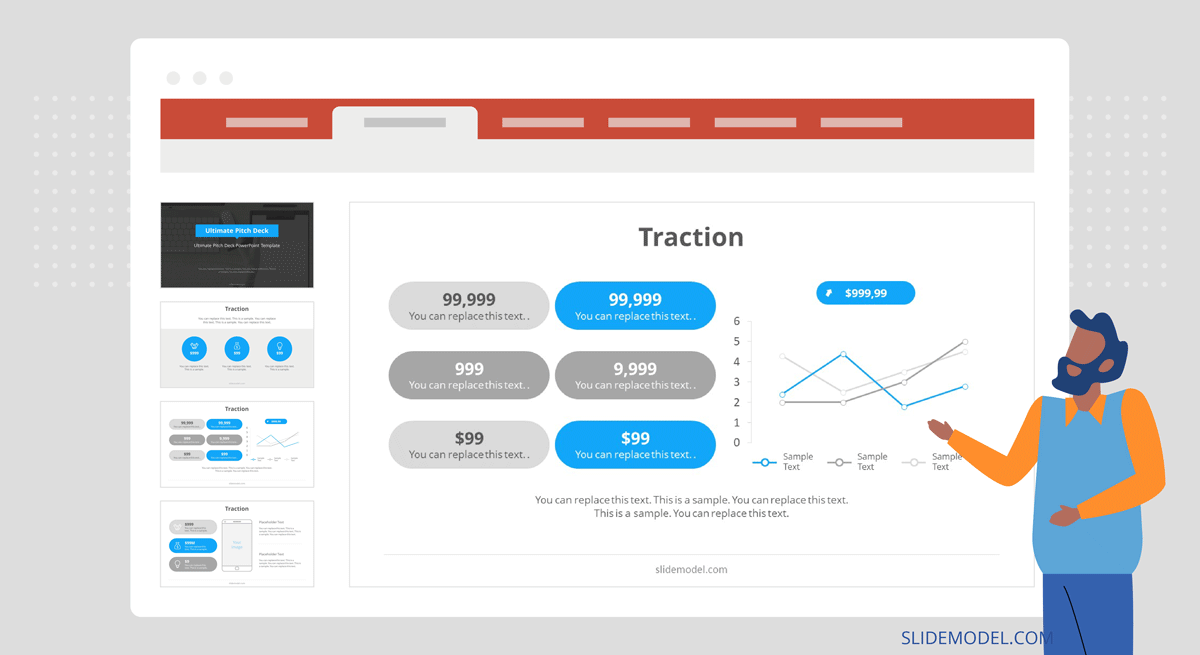 At SlideModel, you can browse a complete collection of pitch deck designs and find traction slides and traction templates as part of other slide deck presentation templates.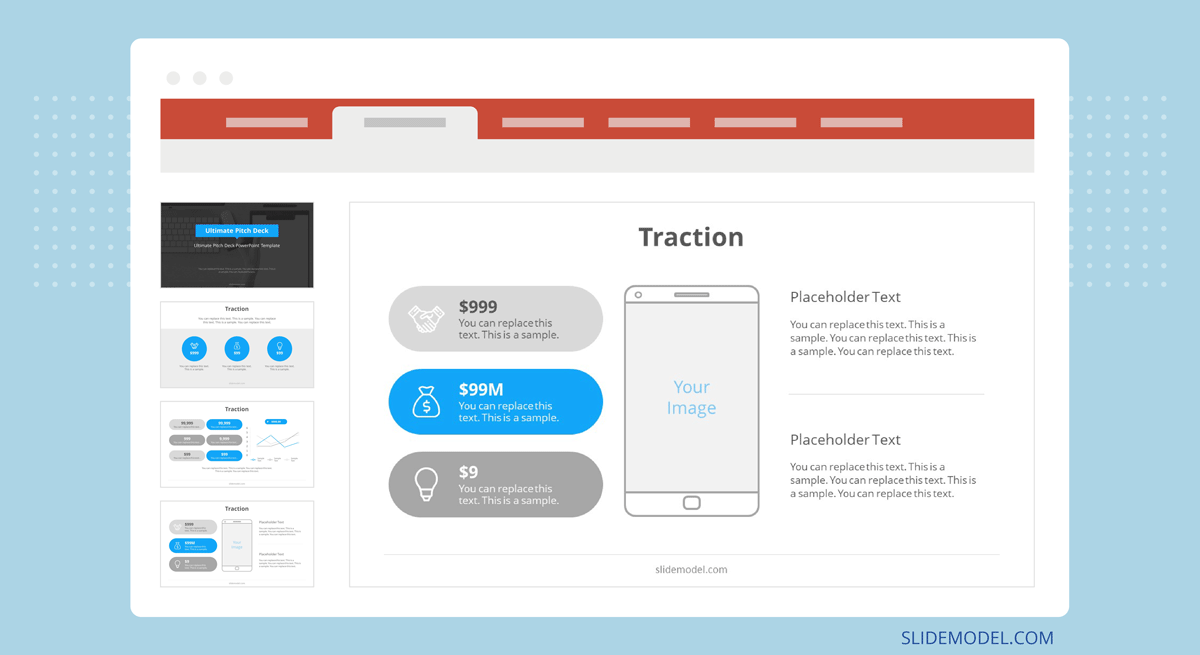 Another way of presenting revenue and sales generated by a startup is through a month-by-month graph that represents the growth of a startup. The positive acceleration of sales and revenue and reduction of costs per customer can be displayed, which will help investors decide if the startup is worth investing in.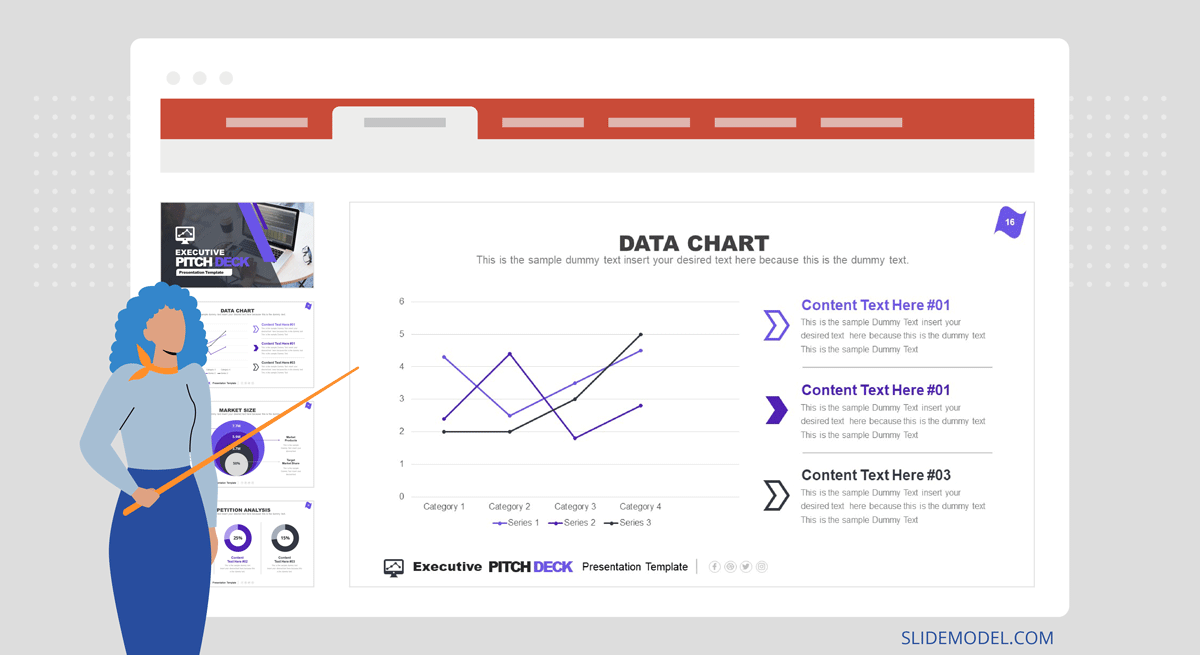 2. Marketing Metrics
Besides sales and revenue, other marketing metrics, such as the conversion rate, total number of conversions, reach and engagement levels, cost per sale, return on investment, Net Promoter Score (NPS), and others can help determine the value of the startup's product offering or service.
How to Present Marketing Metrics in a Traction Slide?
Marketing metrics, such as top-line growth, user acquisition rates, and others, can be presented in SlideModel's Open Startup Dashboard PowerPoint Template. This dashboard template has appealing graphs and data charts to show investors the business growth. Alternatively, you can use other editable pitch deck templates and combine multiple slides to show your traction data.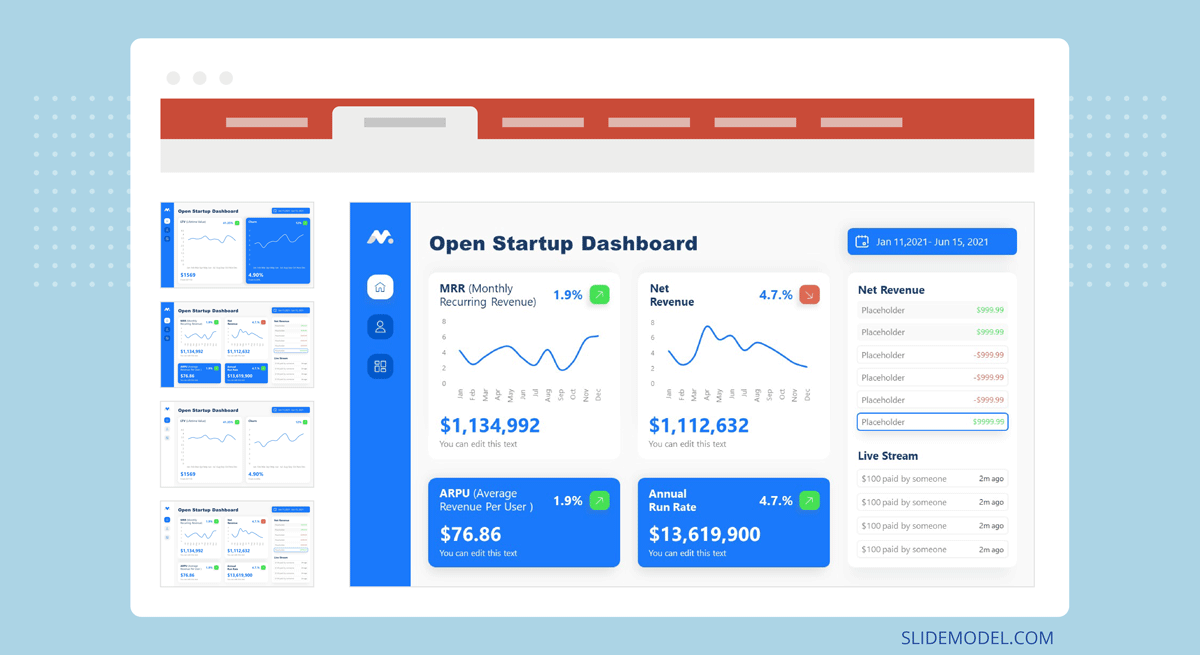 Customer traction can be represented in a graph showing customer engagement, turnover, and other activity metrics in this professionally designed Video Game Pitch Deck.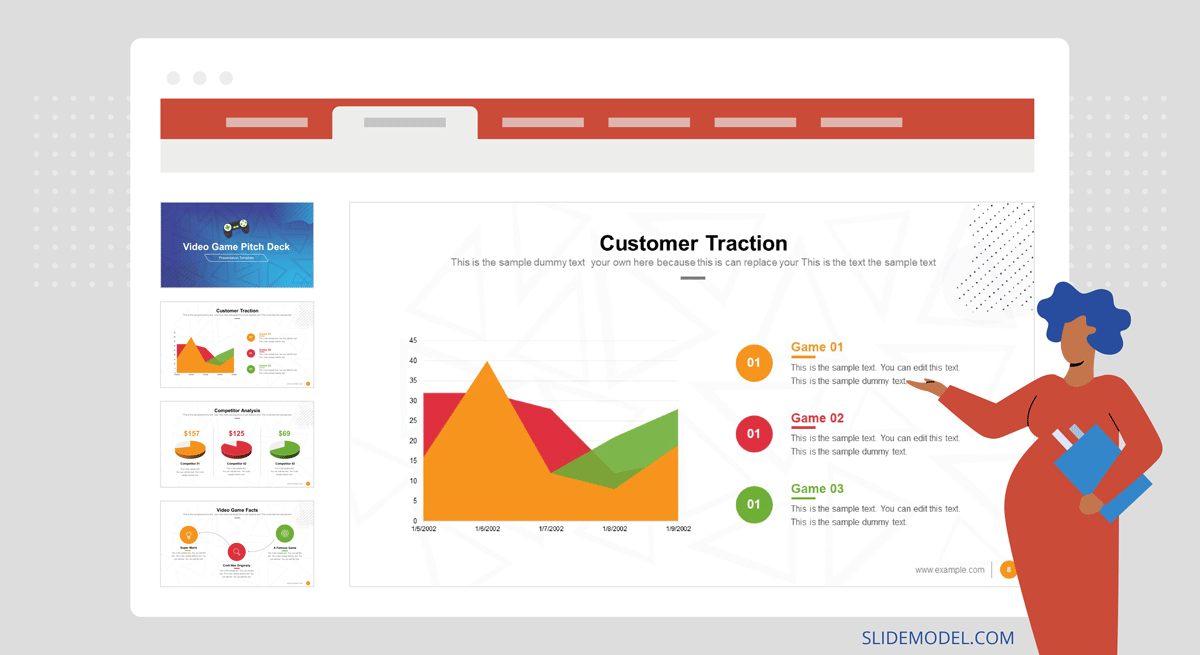 For presenting the NPS of the startup, this Net Promoter Score PowerPoint Template is good for showing customer experience. The NPS template includes cliparts, illustrations, infographics, and speedometer icons.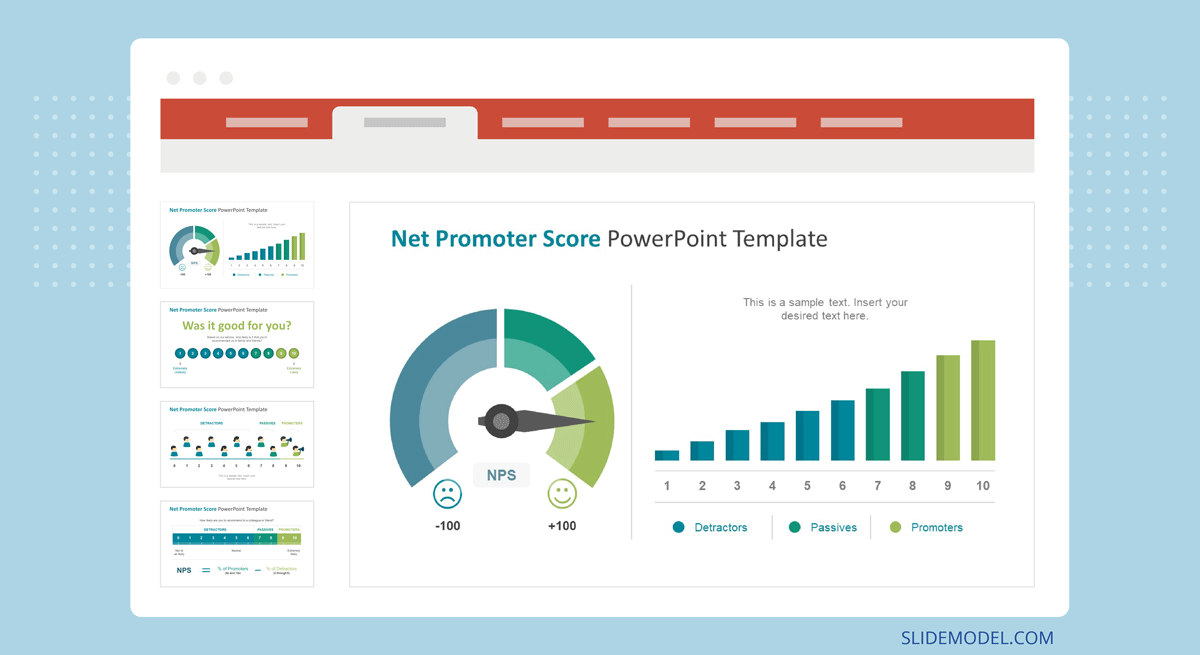 3. Test User / Customer Feedback
Product usability tests and service feedback can show the real response of customers and garner their feedback. Startups can analyze the feedback to improve their offering and let investors know how valuable their concept is, thus determining its profitability.
How to Present Test User / Customer Feedback in a Traction Slide?
Testimonials and customer feedback from test users can be presented in a traction slide to show traction in its pre-launch stage. The Business Pitch Deck PowerPoint Template has a creative design to highlight customer feedback and testimonials from previous clients.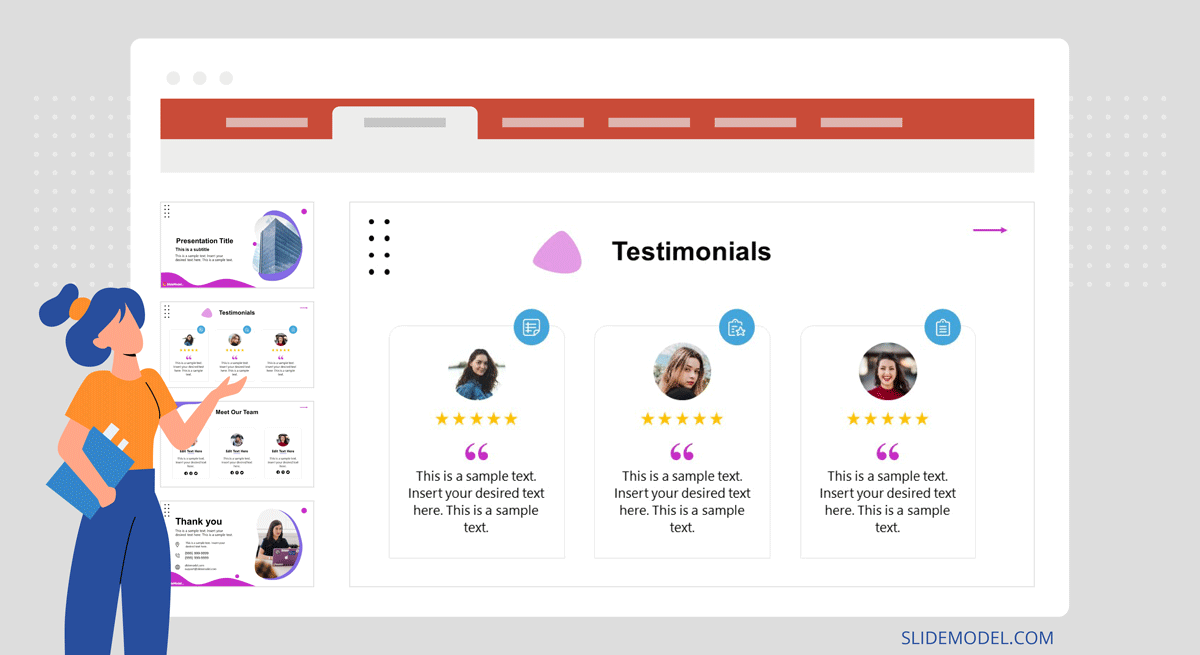 4. Strategic Partnerships and Endorsements
Presenting strategic partnerships, endorsements, and alliances with popular individuals and brands can help display a positive image of the startup. Investors can acknowledge how far the startup has acquired the endorsements, thus reducing risk and increasing their trust in the business.
How to Present Strategic Partnerships and Endorsements in a Traction Slide?
Highlighting strategic partnerships and endorsements received from renowned brands in a table can show investors that it is safe to invest in the startup.
5. Pilot Studies and Pre-Orders
Pilot Studies are a great way to show positive validation to investors. The pilot study's results will help investors determine if their investment will be profitable and if the business can be operated on a large scale. The preorders will show investors that it is a potentially profitable business that will grow in the coming future.
How to Present Pilot Studies and Pre-Orders in a Traction Slide?
Data collected from pilot studies and preorders can be presented in the pitch deck in several ways. Customer satisfaction and other metrics can be represented in pictorial graphs and icons, such as shown in the slide below, taken from SlideModel's Startup PowerPoint Template.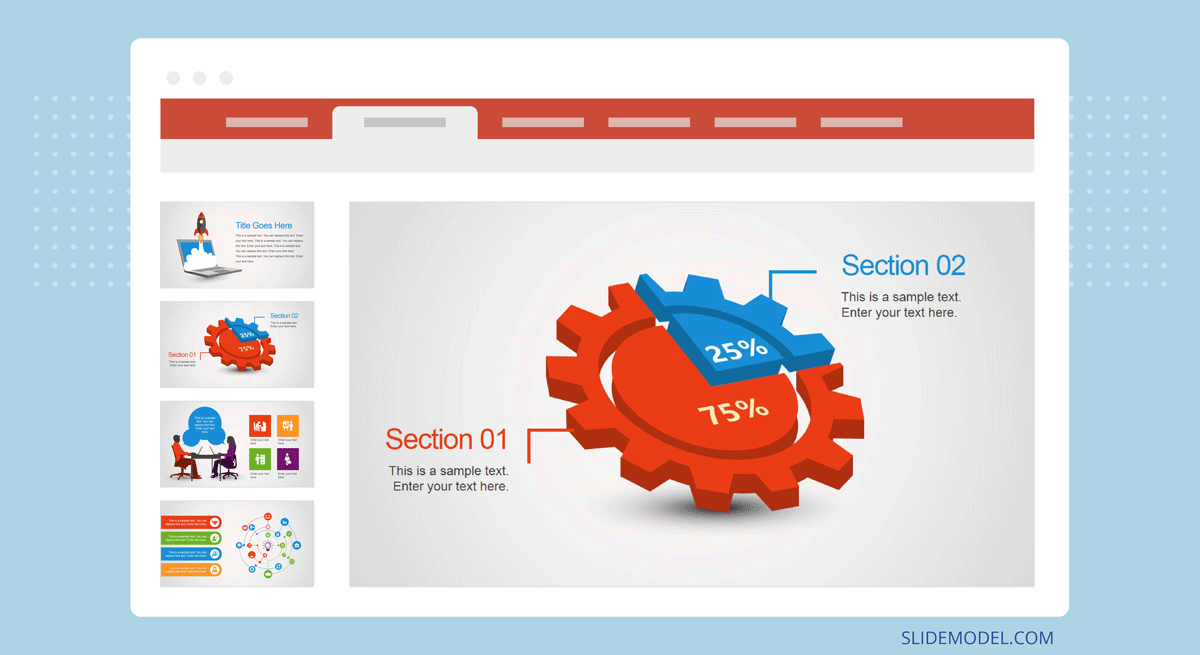 6. Press and Accolades
If the startup has obtained positive press attention, it can be shown in a traction slide. Any recognitions, awards, and accolades can also develop a favorable image in the eyes of investors, which can increase the chances of them funding the startup.
How to Present Press and Accolades in a Traction Slide?
Any press coverage and accolades can be presented to pitch investors and show the startup's recognition. As shown in the slide below, mentions by the press can be highlighted, while awards and accolades obtained by the startup and its founders can be presented to build trust.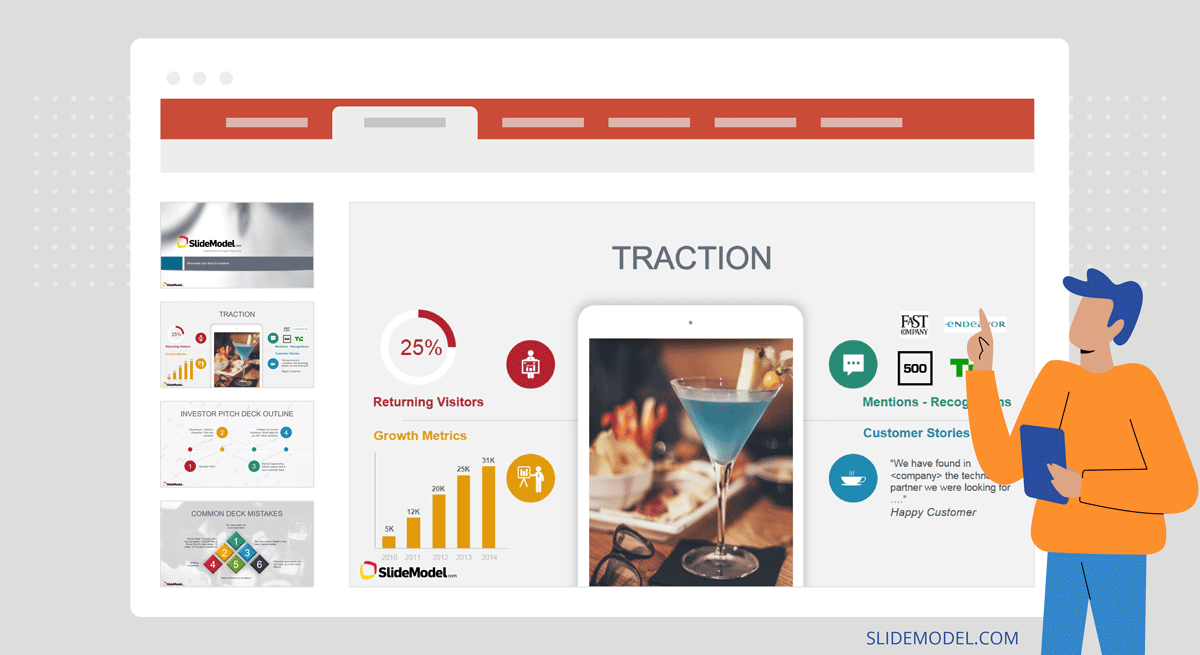 Real Examples of Traction Slide
1. Buffer
Buffer's traction slide took their important metrics, including their revenue run rate, number of paying users, margins, and their growth rate per month.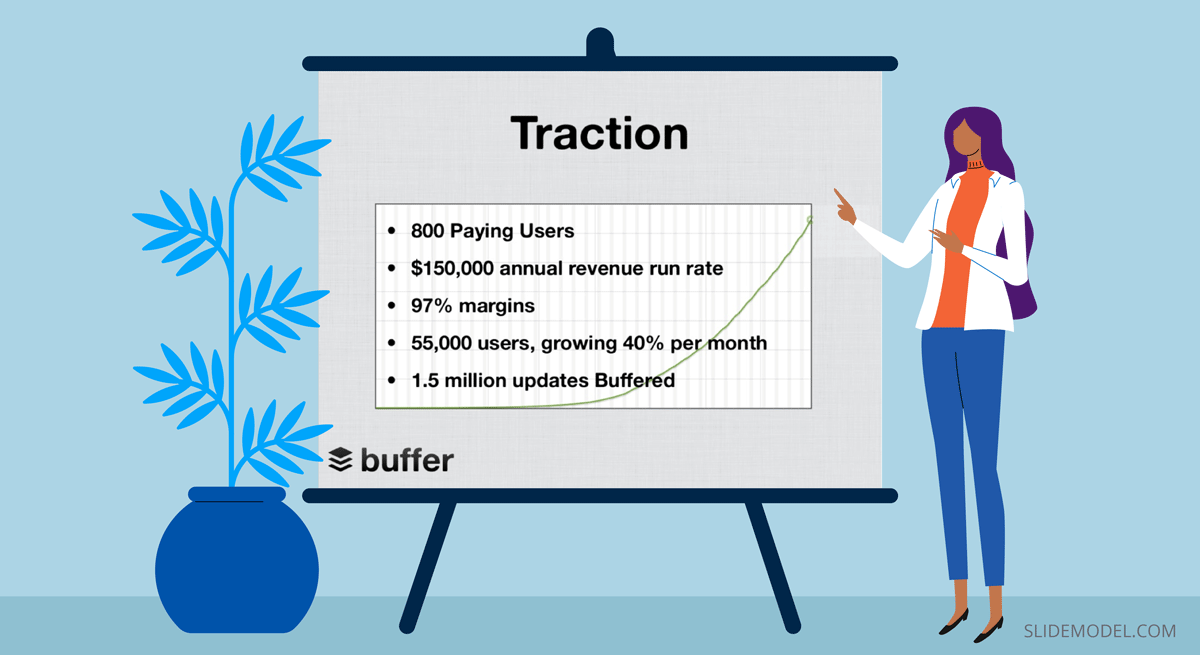 The metrics show real progress that Buffer has made through its initial stage. Investors are more likely to invest in a business that shows how customers are excited about the offered service.
Hence, Buffer was able to build their startup's credibility and trust, which in turn helped them raise half a million dollars.
Uber's pitch deck's traction slide has information about strategic partners and clients that they have acquired to date.
They also highlight other essential milestones that could potentially help launch the business successfully and provide information for their next steps with the deadline.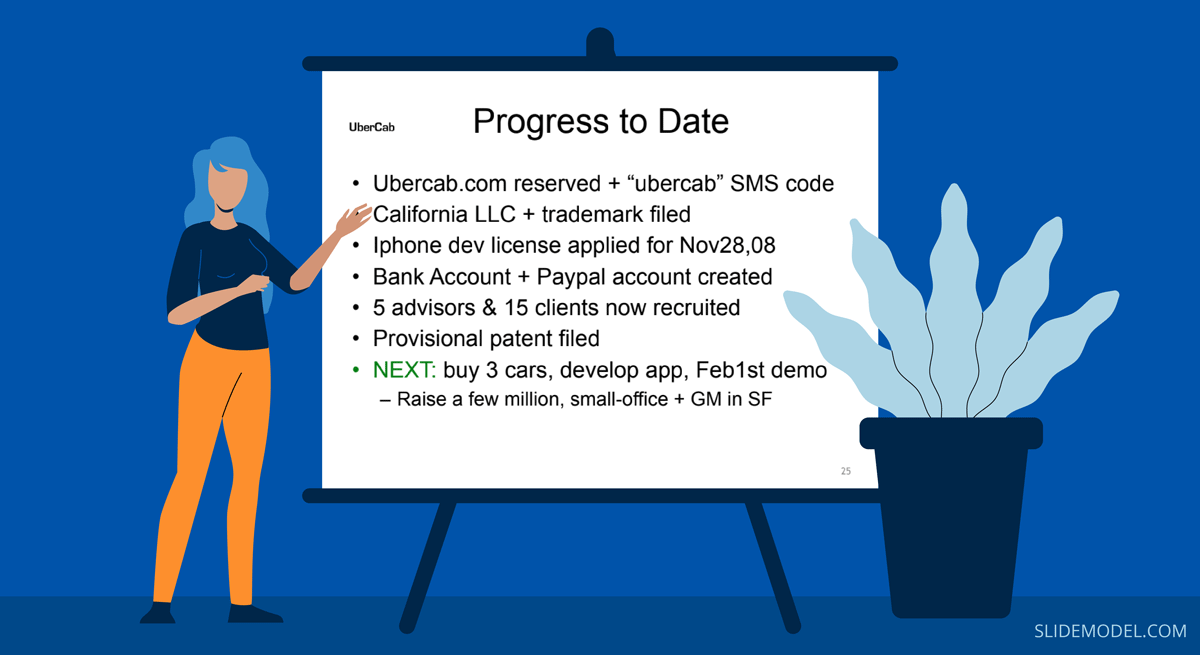 This builds the investor's confidence in Uber's team members, showing that they are actively working and how far they have come along in their pre-launch stage.
Conclusion
While a traction slide may not be ideal for all sorts of startups, it does significantly help gain the trust and confidence of investors.
A startup at the pre-launch stage can show traction in terms of customer engagement and activity.
While a post-revenue startup can show hard traction metrics, including monthly sales and revenue, that will persuade investors to fund the startup as it has a proven track of recurring profits.