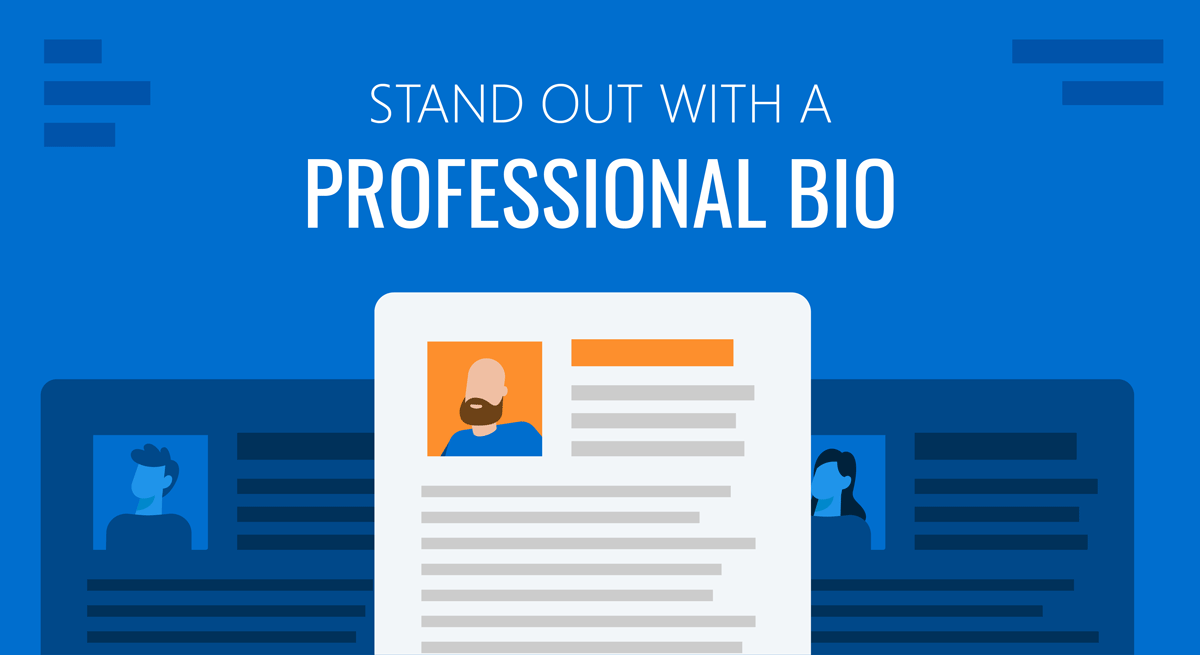 Entrepreneurs and professionals need a solid description to attract potential employers, clients, and investors. A bio should demonstrate one's strengths and motivations and portray them as experts in their field, all without making it too long where the prospect may find it boring to listen to or read further.
You might be familiar with short bios used in social media profiles to describe one's interests, career, and other things. However, a Professional biography goes way beyond that and is used to attract potential leads resulting in better job opportunities, more clients, and profitable connections.
Why Is a Bio Important for Professionals and Entrepreneurs?
A bio briefly describes a professional's work experience, skill set, qualifications, and the accomplishments that they have achieved in their field.
It serves as an introduction to a specific audience, highlights an entrepreneur's and professional's intriguing qualities, and enables prospects to reach out for future investment and job opportunities.
Read on more to find out the importance of a professional business bio,
1. Builds Credibility Among Your Professional Network
For building your personal brand, a professional bio is one of the key elements that identify who you are, what you do, and what you can do for your prospects. It enhances credibility among your professional network and strengthens your reputation.
2. Enables You to Tell Your Story
What sets you apart from the competition is your own story that you can tell using your professional bio. It enables you to outline your journey to where you are now and what makes you an expert at what you do.
3. Helps You Stand Apart from the Competition
A professional bio is a part of your brand that helps you stand apart from the crowd. Everyone sends the typical resumes to introduce themselves to potential prospects.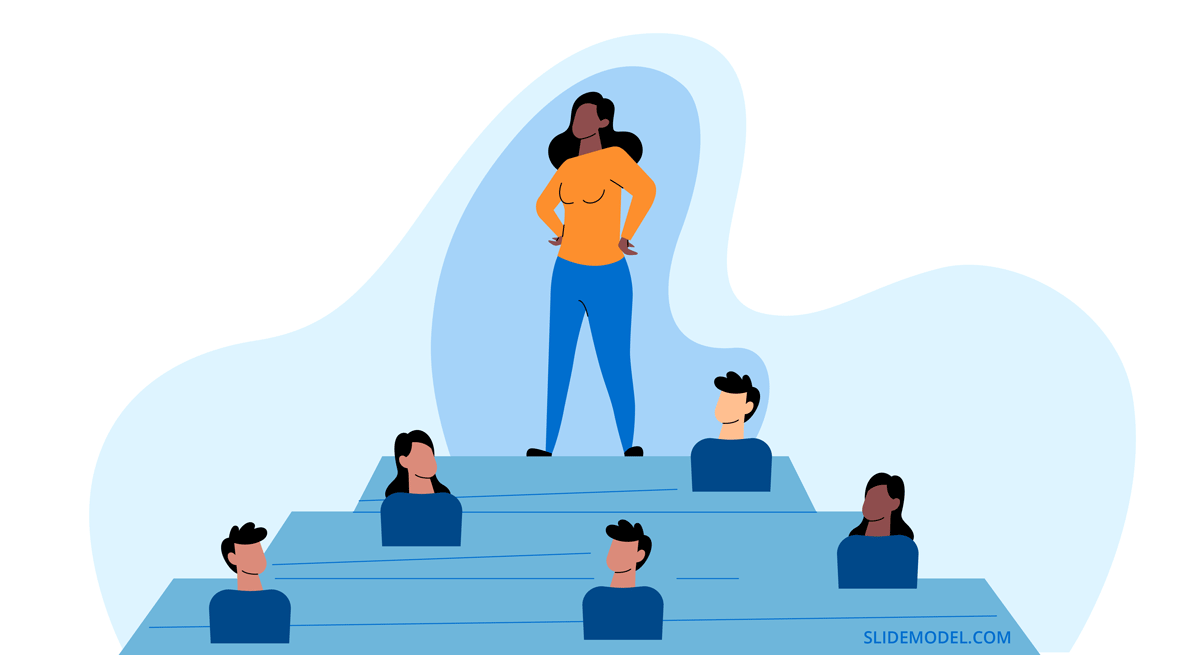 But to set yourself apart, you can send a sharp one-page bio during the introduction phase. It will leave a positive impression and significantly increase your chances of landing the job or closing the business deal.
4. Attracts Potential Leads and Prospects
Professional bios play a significant role in attracting new job opportunities, enhancing customer base, gaining investors, and obtaining clients for your business. It is a valuable resource that employers and investors look at, first and foremost, to determine expertise. A strong bio will impress your prospects and motivate them to learn more about you.
5. Can Be Used for Media Profiling
A professional bio can be used for media profiling and is useful for journalists and other media personnel when covering a story related to your business's or professional career's achievements.
This is why a professional bio is an essential part of your brand's overall press kit and enables media professionals to reach out when they are looking for an expert to speak on a specific topic.
Tips for Writing an Effective Professional Bio
When writing a professional bio, the first draft can be challenging as there are so many things you want your audience to know about you. It becomes challenging to cram all information and write a compelling professional bio for the company website, a bio for your business profile, or even a startup founder bio to attract potential leads.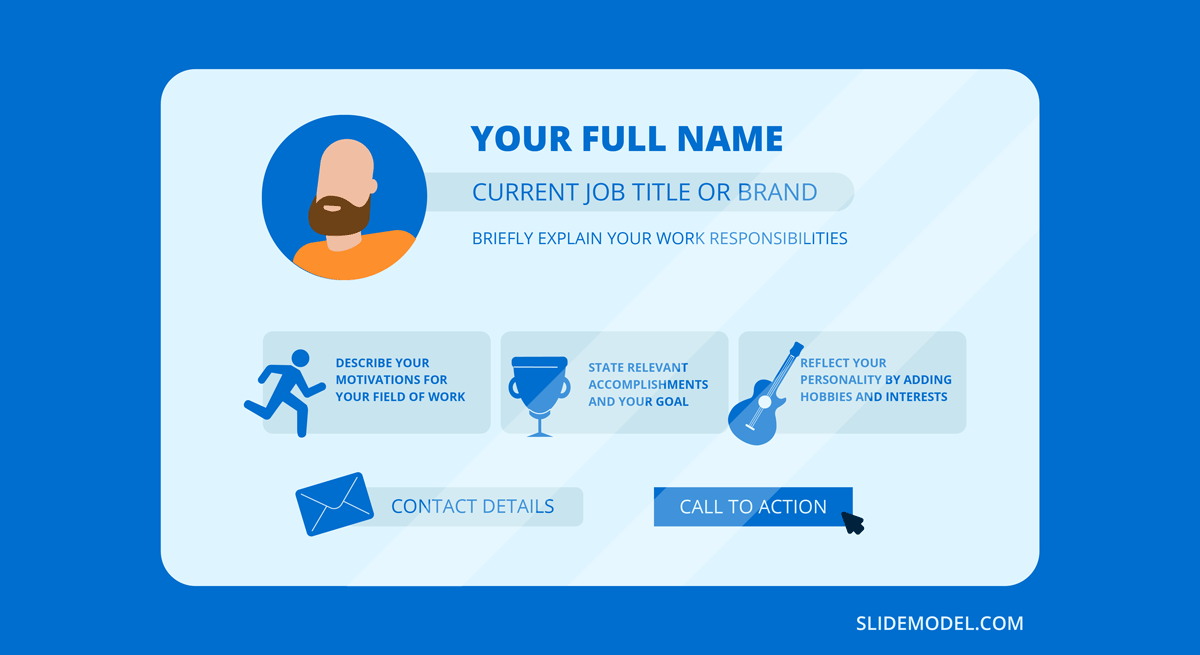 So, here are some tips to help you write a professional bio for yourself to enable you to draft a compelling bio for multiple uses.
1. Introduce Yourself as a Third Person
Introducing yourself as a third person is essential for writing a professional bio. Start with your first name and surname, then proceed to enter your details from a third person's perspective, which gives your bio a formal feel that is good for business.
2. Keep Your Bio Concise and to the Point
Consider your audience and the purpose of your professional bio to determine which facts are relevant to keep your bio concise and to the point. Your potential prospects want to know why they should hire you, invest in you, or buy your services.
Stating relevant accomplishments without exaggerating will help them know what makes you an expert and if you are worth their time and money.
3. Update Your Bio as You Progress in Your Career
Occasionally update your professional bio to keep your audience updated on your career progress, current projects, and whereabouts.
Keep them informed on what your upcoming goals are as well, so they can reach out to assist you, invest in your business, or connect you with potential employers that could land you your dream job.
4. Don't Forget to Add a Call to Action (CTA)
Ending with a Call to Action (CTA) will prompt your audience to reach out for further information about you. It will help you build your network and get your name out there for relevant opportunities.
State your contact details, such as a primary business email, and stay responsive to your audience to build credibility and trust. 
What to Avoid When Writing a Professional Bio?
A professional bio can contain facts about your career and your business, but keep in mind that some things are better to be left off of your bio.
Here are the top things you should avoid writing in your bio,
1. Starting With Your First Job
Starting chronologically with your first job is not a good idea when writing a professional bio. Employers and business investors are not interested in what you did a few years back, but rather they want to know what you are doing now, what position you hold, and what your goal is for the future.
2. Family Information
Describing your family history and background will not pique the interest of your potential prospects. Family information is best kept off of the professional bio unless it is somehow related to your business.
3. Dates to Describe Your Career
Your audience does not care about the dates that describe your job promotions or specific business events. With many industries having ageism rampant, writing dates in your bio will cause more harm than good.
4. Hyperbole
Hyperbole refers to exaggerated claims or phrases that are not meant to be taken literally. Adding hyperbole to your resume will make you appear unprofessional and might even put off potential prospects from reaching out to you,
5. Exaggerating Achievements
Exaggerated, false, and fabricated achievements should never be a part of your professional bio. In today's digital age, false statements are caught instantly, and the fallout for claiming something fabricated will stay with you for a long time.
6. Modesty
In contrast, you should not downplay your accomplishments and highlight essential achievements that will attract potential employers and business investors. Add professional awards you have received in your field to let your clients know that you are worth their investment.
Professional Bio Template to Write Your Bio
You can use a professional bio template to write your short bio by compiling your career facts and achievements. This work bio template can be used to present your professional skills, motivations, personality, goals and frustrations.
What does a professional bio look like? Here is the template that you can use to create your own strong business bio: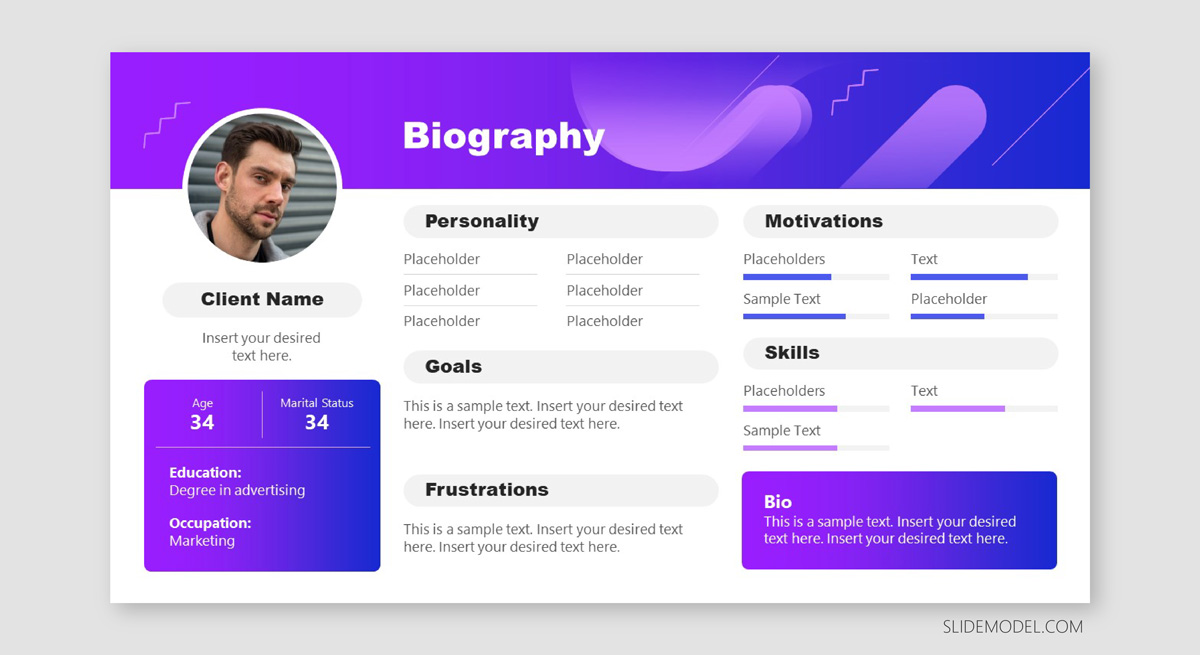 Start With Your Full Name
To write a professional bio, you should first start with your full name and describe your professional journey from a third-person's perspective in a few words.
Add Your Current Job Title or Brand
After that, you should add your current job title or brand that you are associated with to let your target audience know what you are working on currently.
Briefly Explain Your Work Responsibilities
Next, you should explain work responsibilities in a way that defines your expertise and portrays the skill set.
Describe Your Motivations for Your Field of Work
Define what motivates you to do your job or business and why you are passionate about progressing in the field.
State Relevant Accomplishments and Your Goal
Next, you should explain relevant accomplishments and state your goal for the future by possibly associating them with your career journey in a way that describes how you will reach your goal.
Reflect Your Personality by Adding Hobbies and Interests
Personality is an integral part of a professional bio and can be reflected by adding your hobbies and interests. This makes you relatable to your target audience and builds your network based on relevance.
Contact Details and Call to Action
Lastly, adding the call to action and active contact details will prompt prospects to reach out for business opportunities and job offers.
How to Present a Professional Bio?
Professional Bios can be presented in several ways.
A bio can be used to gain the attention of visitors on a personal, brand's, or even a business company's website.
It can be used in presentations at speaker events, webinars, during the introduction phase, and even when presenting a business proposal to obtain investments.
You can browse our collection of 100% editable PowerPoint templates to create your business presentations, insert your professional bio in a way that captures your client's attention, and deliver your message by using captivating graphics and reports.
Other than that, professional bios can also be used on social media profiles, specifically LinkedIn, where like-minded professionals and entrepreneurs can learn more about you, connect you with the right audience, and help you reach your goals.
Professional Bio Examples for Inspiration in Multiple Contexts
Here are a few sample bios for you to take inspiration from and use in multiple contexts to attract potential prospects,
Professional Bio for Website or Portfolio
Here is an example of professional bio for a business biography case.
Josh Daniel is the founder and current CEO of Boundless, a traveling company specializing in creating customized travel plans and tours for solo travelers, family trips, and vacations so people can enjoy their travels to the fullest.
Being an avid traveler himself, Josh wanted to create an application that could help people travel without worries, save time and money by quickly finding tour packages that fit their lifestyle and interests, and plan their traveling journey conveniently from their smartphone.
He launched Boundless in 2018 after graduating from Yale University, and since then, the application has been downloaded over 1.5 million times, has served about 90,000 users to create their specialized tour plans, and has helped people make memories that last a lifetime.
Currently, the company has over 120 employees on board and was named "Top Traveling Application of the Year 2020" in Travel Unlimited Magazine.
Josh lives in Chicago, Illinois, spends free time with his family of two, enjoys traveling and working remotely. He plans to expand the company by offering a specialized program for digital nomads to find affordable travel destinations to enjoy working remotely.
Reach out to Josh via contact form or email at joshemail at gmail.com
Professional Bio for LinkedIn
Meet Ryan Chase, a Digital Marketing Executive who surpassed over a Million Followers on social media and drove advertisement sales for several brands by 50%.
Currently working for Vibe Media Company, Ryan has been working in the digital marketing field for over five years. His professional duties involve developing digital marketing strategies, launching social media campaigns for different brands, and analyzing outcomes.
Ryan's interest in digital media marketing increased when he was still in college studying business and psychology. His understanding of business growth and human psychology has led to him successfully launching campaigns that attract the right audience, boost ROI, and develop a positive brand image.
He was awarded "Best Digital Marketer of 2020" by Vibe Media company as his campaigns broke the company's previous records.
Ryan enjoys reading books, cooking, and traveling in his spare time. He lives in Manhattan with his pet dog named Jasper.
Reach out to Ryan via DMs, and he will get back to you shortly!
Professional Bio for Using in Presentations
When using a professional bio to present yourself during a meeting, there is a thin line where you can either captivate the audience or make them bored. To avoid making the audience bored with your presentation, make sure you use a captivating bio template.
SlideModel has several editable bio templates that you can use to create your own professional bio. Their presentation bio templates will help you save time and create a professional bio within minutes!
Check out the Biography PowerPoint Template, for example. Here you can enter your name, your designation, and other facts you need the audience to know about you. You can end with a quote to make it even more interesting and let the audience know you. In summary, you can showcase a short bio and include a photo of yourself.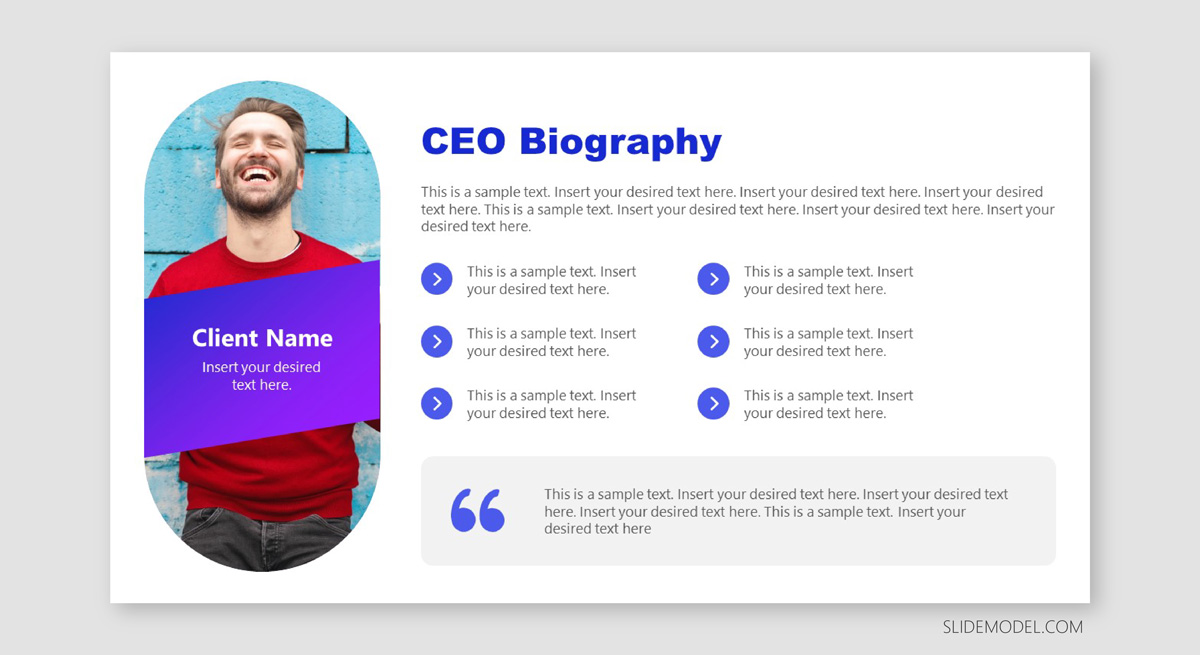 Another great example is the Self Introduction PowerPoint Template, which has a simple and professional design. You can simply add your professional bio to the presentation and have an attractive bio slide without wasting your precious time.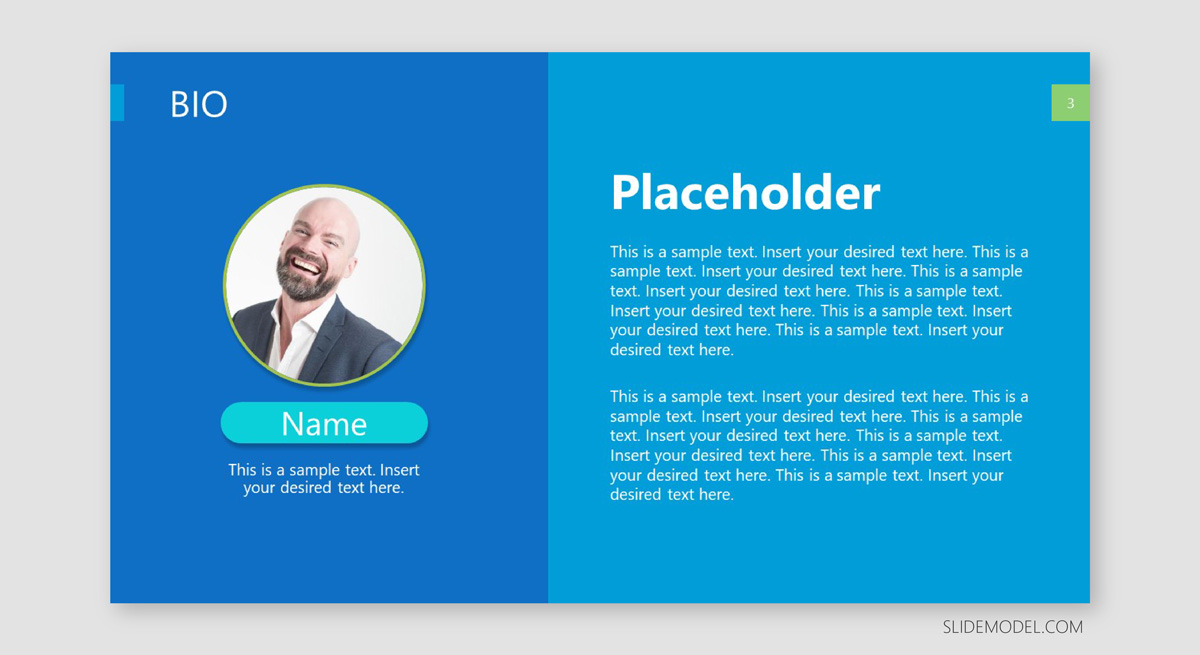 Conclusion
Your professional bio should evolve as you do in your business and professional career. A bio should reflect your best professional version so people will know about your achievements before they meet you.
Even if you use the conventional structure for writing your bio, your unique accomplishments will make it stand out and help your audience determine the value you provide.
The best bios are written with the audience, purpose, and context in mind. They are crafted with the intention to attract clients and customers. It is not something that you should leave to the last minute, but it should be written carefully and thoughtfully used in each context.