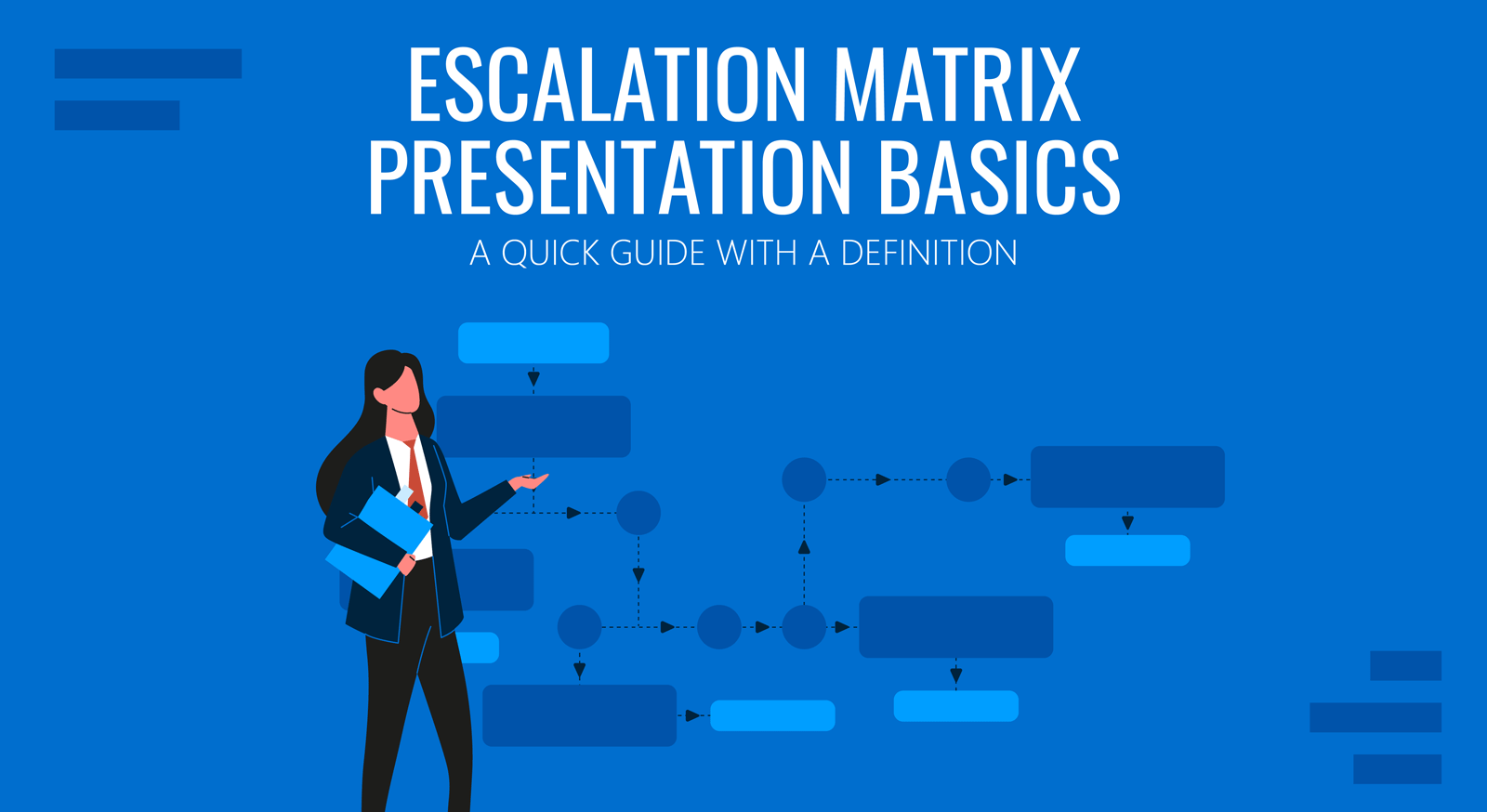 Those who work in customer support know that a single incident can trigger several consequences. From dissatisfied customers to a need for better training for our talent, these issues must be a priority for our teams to handle as best as possible.
Since time is a vital resource for businesses, a proper escalation matrix model is a gamechanger. It's not only capable of lowering uncertainty or stress for our members, but it can also cut back on customer dissatisfaction rates and its related churn as it standardizes relevant processes.
Escalation matrix templates for PowerPoint can be powerful catalyst tools to help our organizations come to quick, possible resolutions in a way that effectively solves common problems with a unified understanding of our daily endeavors.
Let's get started on an escalation matrix, when to use one, examples of them, and ways to present them.
What is an escalation matrix
An escalation matrix can be considered a self-explanatory guide and roadmap to best handle requests, complaints, and other needs a company receives to be solved internally beyond our first point of client contact. This can be a document or a system which states how an escalation should occur, when it should do so, and which parties it involves.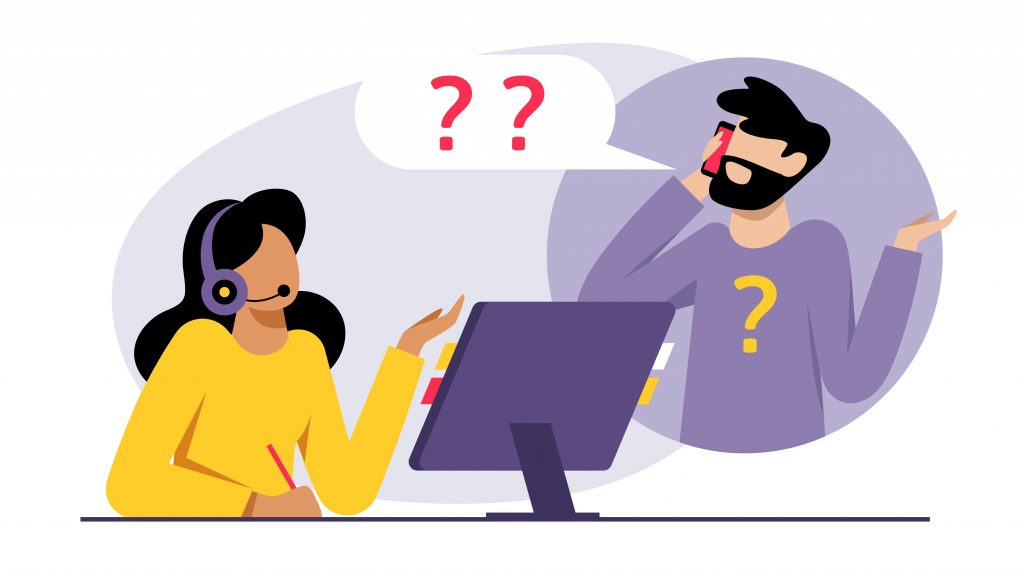 An escalation matrix template sets a base of all the different levels of contact we can set up to progressively solve conflicts by taking specifically-defined actions on any pending and client-facing matters.
When to use an escalation matrix
Use an escalation matrix to establish internal processes for when team members should escalate problems or get guidance on when, where, and how to move actionable items to any third party, whether internal or external.
Different escalation types
There's one particular case of escalation that's called an incident escalation. The term defines what happens when a staff member can't come to an incident resolution independently. We call that incident escalation management whenever a talent needs to send a task to someone who specializes in a given area.
An internal escalation is the same as above yet restricts itself to in-company members for resolution. There is no need to reach for external help in these situations.
Additionally, whenever we have entire teams dealing with those issues or items that need escalating, we rely on an escalation team to direct our process workflow.
In a hierarchical escalation, however, an incident is being directed to someone who quite bluntly holds higher seniority within a company. Sometimes that's demanded at customer request, too.
On the other hand, a functional escalation has to do with an issue that's simply passed on to an expert who can best deal with a given problem. Rather than depending on a particular seniority, the actionable item is moved along based on a skill or knowledge needed to get to a satisfactory resolution.
As the last definition of the vital terms for an escalation matrix, an automatic escalation simply occurs when a company relies on help desk platforms to automate these processes.
Escalation matrix advantages and disadvantages
The main advantages of an escalation matrix are guidance, high customer satisfaction, and an increased retention rate.
As this process defines options and requires hierarchies or functions to be transparent within organizations, team members quickly know how to best deal with incoming incidents. In turn, the company perceives benefits in numerous ways, such as increased client loyalty, more accessible internal workgroup and process flow, cut-back response times, and on-point expert assistance. Thanks to the application of an escalation matrix, a company obtains positive customer feedback and referrals.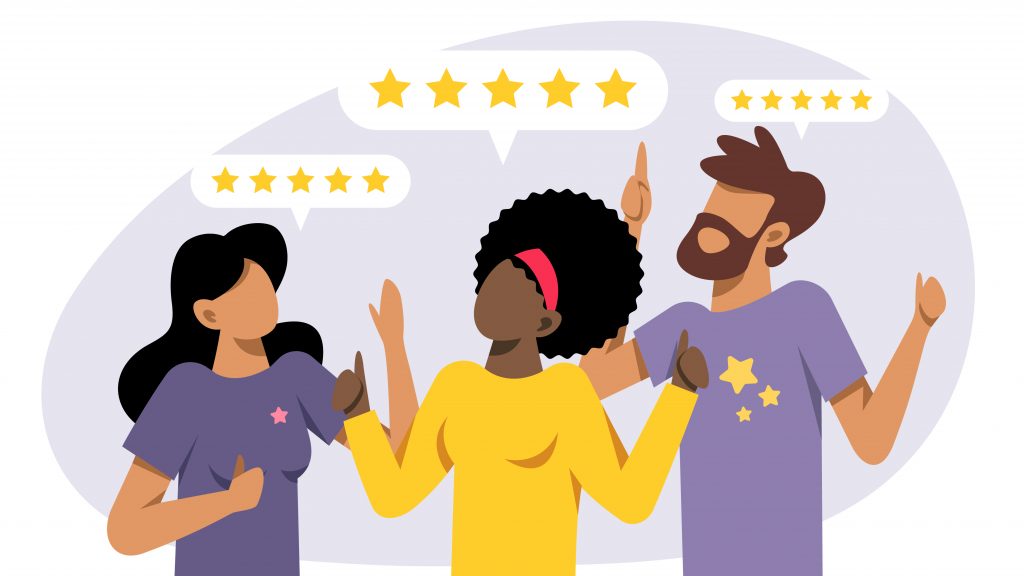 Escalation matrix disadvantages can be seen in how people stick to these processes by the book rather than as helpful tools. When an escalation matrix is taken as set in stone, processes can be rigid, and customer complaints can take longer to resolve or even lead to new issues.
But with a tool as handy as a professional PowerPoint presentation, for instance, it allows the presentation of process improvement and guidelines to an entire company base or specific teams with little effort, high efficiency, and little time consumption.
Study cases
An escalation matrix can help in many different industries.
From a human resources standpoint, an escalation matrix can help considerably with internal issue handling. DevOps and IT teams can also use an escalation matrix to let engineers, scientists, programmers, and other professionals in the field know when, how, and to whom to bring an incident's attention.
Here's what a diagram of that nature can look like: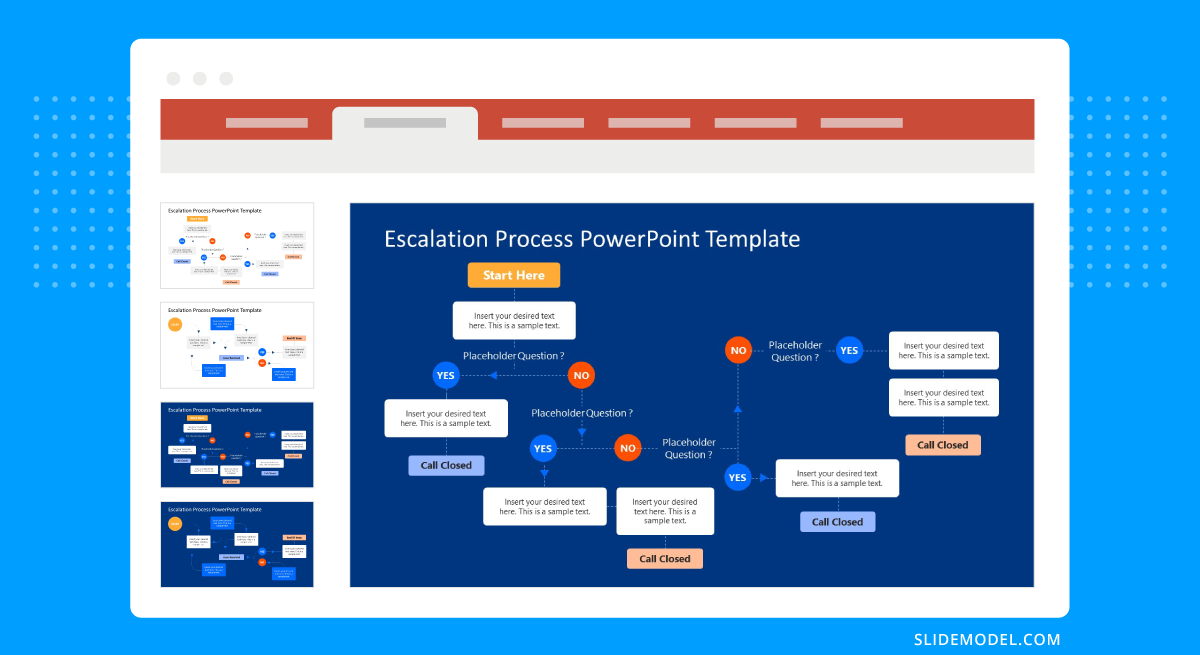 This resource can also be beneficial for a customer support or inbound call center. In that case, all customer support representatives can be easily guided, from the start, on how to best direct customer needs and concerns via internal channels. They can keep a process workflow handy, clearly defining any exceptional guidance needed in particular scenarios and ways of handling diverse client needs. These documents also help signal which items to move over to floor or area supervisors, which to send over to a team lead, and when to directly call a first or second-line manager, for example. Some concerns might need to go directly to a technical team, perhaps even simply forwarded to a marketing or inside sales representative, and so forth. As every organization is structured uniquely, the workflows may vary but are easily adaptable to any setting, industry, company, or workgroup.
How to present an escalation matrix
Bear in mind we do have a set of escalation matrix PowerPoint templates and presentation slides to help you present an escalation matrix. Use them to get you started as they offer a solid design and content base to guide you through presenting a thorough escalation process. Our escalation matrix template is 100% editable and can come in quite handy for your next presentation on escalation processes.
Regardless of the method you choose to put your presentation together, you'll need to present the necessary steps a person in your organization can take to arrive at a particular decision. Include all hierarchical steps that need to be taken at different points of the cycle.
Take a look at our simple escalation process PowerPoint diagram, for example. It's based on a flow diagram, as you can see below. We have two different slides with different escalation flow diagrams available for you. Use either model to put forth a scheme on how to escalate an issue, especially one that was unresolved at an initial level.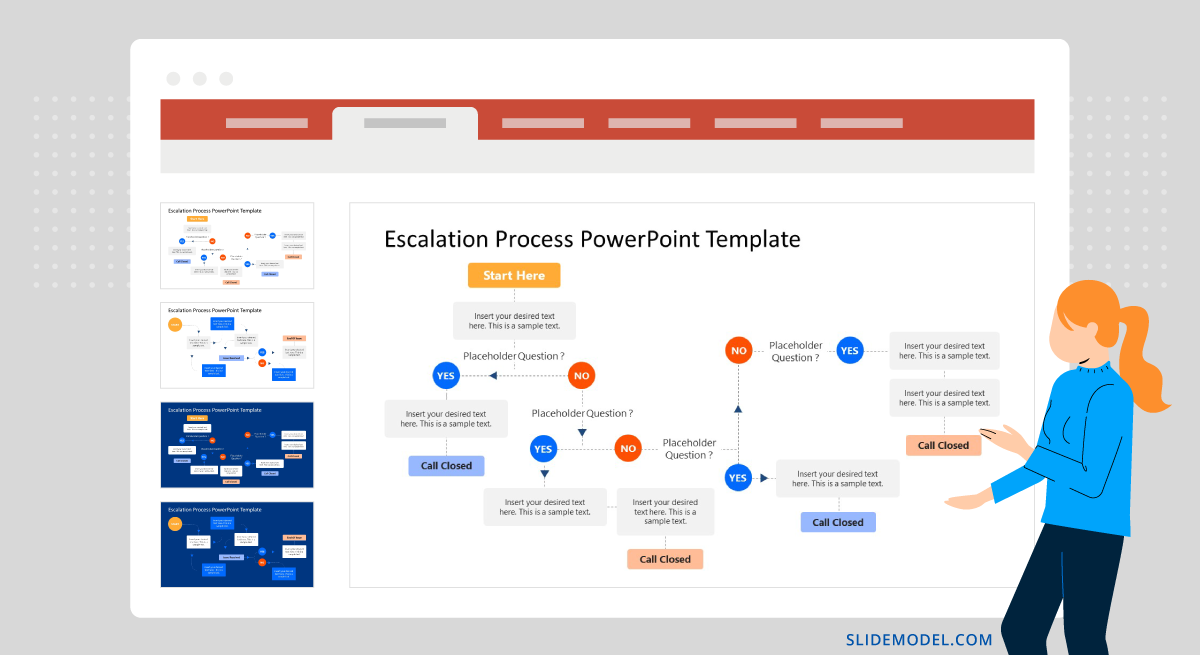 To present an escalation matrix, give an overall view of your entire escalation process. Go over each step to complete a full picture of your escalation process as a whole for all parties involved.
To achieve the above, use a combination of verbal and visual content that makes the process straightforward. This is where slides become especially useful. Make them a powerful resource working to your advantage.
Begin each chart from a given start point to then lead viewers through your various milestones or checkpoints. You can decide on the format here, whether you'll use queries that, when answered yes or no, move your action forward or make it come to an end. You can otherwise just use blocks and arrows to guide your audience through the diverse parts of a given process. Again, either way, if you decide to format this, make hierarchies clear.
In the process, include and mention every foreseeable conclusion and how to handle any roadblocks. Define your points of contact with the role or position. Also, include team member names if your teams are already at that level of confidence in working together so that you can delegate tasks and escalations personally.
We recommend using a slide such as the first one in our Support Case Escalation PowerPoint Template to demonstrate which team members will be acting as what part of the communication chain.
Our clipart icons can help you display your ideal communication structure. Display processes through them, showing how items will move from one party to another. Examples include tickets that need to move from the technician team to the shift in-charge and manager.
Don't forget to establish how resolved matters will be accounted for at every stage and to the very end. Our main goal throughout this escalation matrix is to resolve pending items satisfactorily for all parties involved.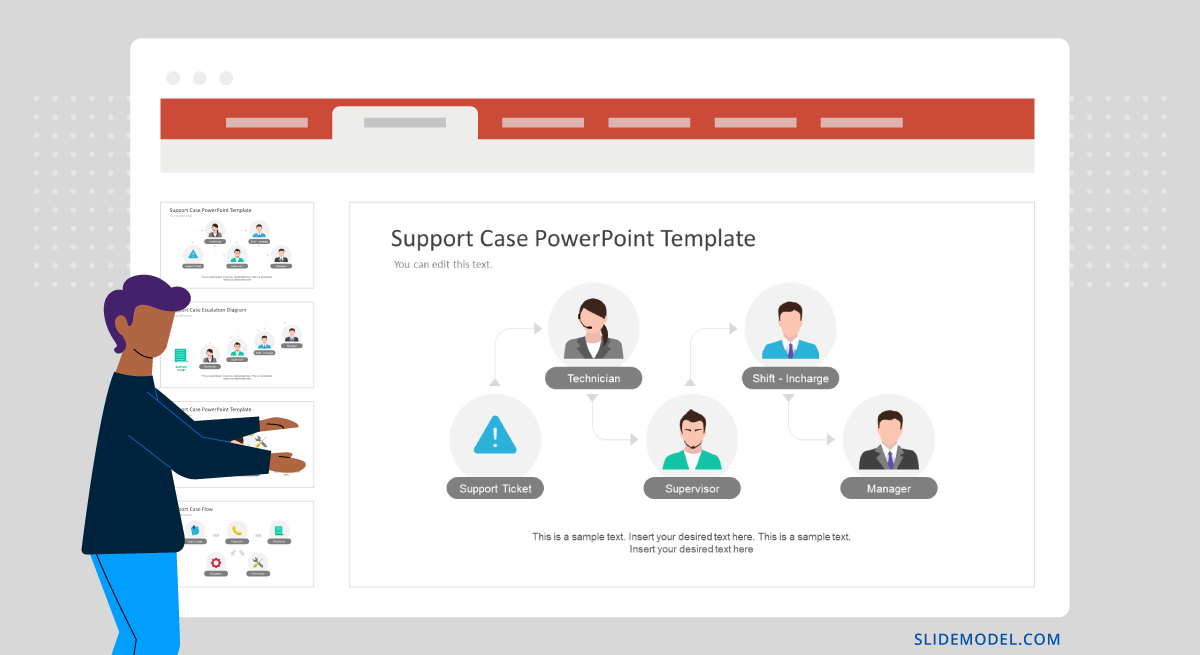 Also, seek to incorporate process flow diagrams whenever suitable, as this help visualize your proposed structure.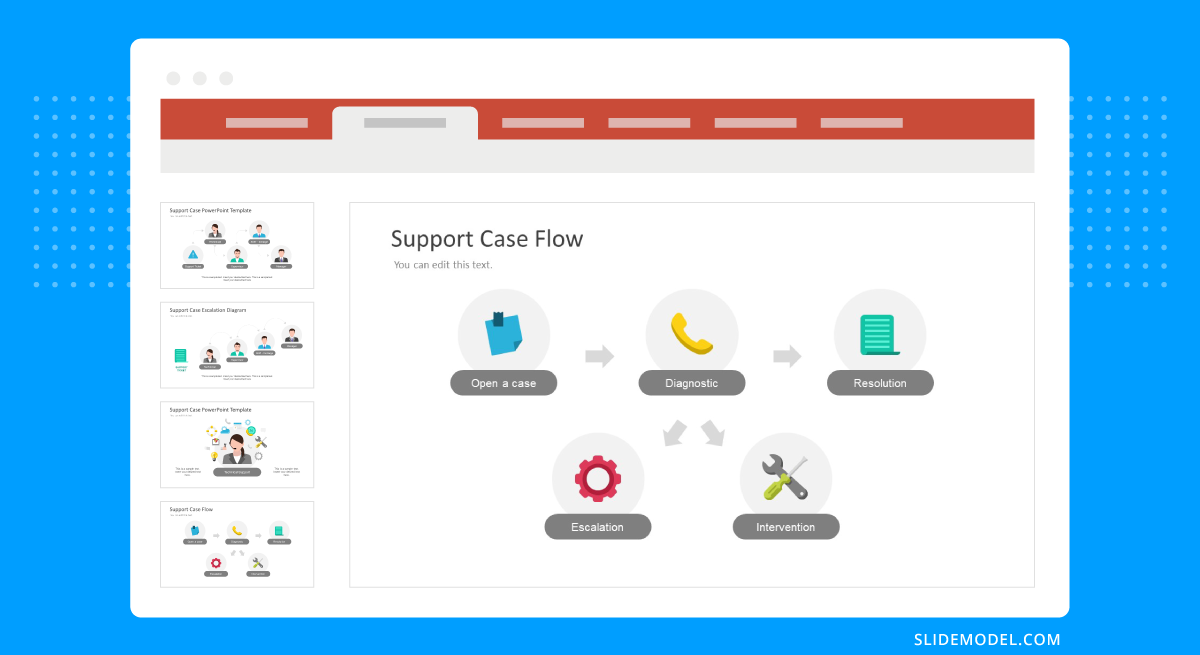 All in all, seek to clarify which items need to be escalated to which parties. Explain under which circumstances to make your escalation matrix a success.
We hope this information has been of help. Yet, as usual, let us know if there are any queries or recommendations we can help address for you.