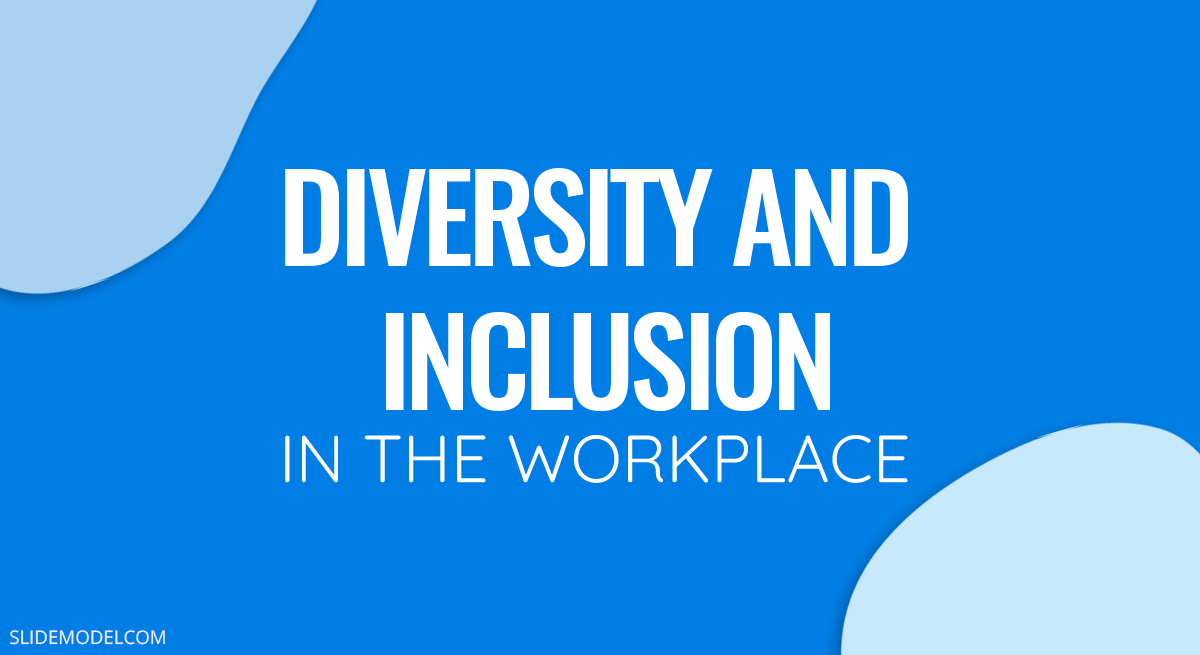 Diversity and Inclusion in the workplace is important. We've heard it before, sure, but probably we have not emphasized its power enough. Diversity and Inclusion is something more than a new concept that your HR team needs to understand. Actually, it is a culture change that will bring your company to a new era.
Diversity and Inclusion involves adapting to a new culture of thinking, working, creating, relating, and making decisions.  More of it, we will together conclude that it is the silent elephant in the room that your workforce will require to stay with you. 
Creating a new culture within an Organization requires the effort of every member; however leaders need to guide through the use of tools and best practices . HR and communication managers, as well as C level executives need to be onboard with the change in order to trigger and advise new initiatives to the rest of the company. It will require effective drivers to transform your corporate culture from several rounds of one-on-one meetings, team huddles to organization wide presentations.
What is Diversity & Inclusion?
People are different from each other, diverse and unique. Also, everyone in a company likes when they are respected, listened, empowered and trusted to be made feel equal and included. Capturing our diversity and enhancing it with inclusion is a key factor to success, because companies with diverse people can think collectively better and are able to capture needs from a broader audience. A Harvard Business Review study confirms that companies that follow diversity are 70% likely to gain a wider market share as well as a 2,3 times higher cash flow.
The synergy between both smart D+I policies with a strong understanding of your people is the big game changer.
Importance and benefits
Day to Day Employee Engagement
Companies in general seek to maximize the potential of their teams talent, performance, and group innovation.  When a workplace conveys diversity, employees feel both included and confident in their employer.
According to this Glassdoor study, diversity helps people experience trust and increased engagement:
67% of job seekers shared that a diverse workforce is important and searched for companies who share that value.
Women are more likely to seek employment in organizations where other women are positioned in top management positions.
57% of the respondents thought that their company's high management and HR roles should be taking initiatives to increase and communicate diversity and inclusion actions among its employees.
An interesting research of the Randstad US survey, concluded that 81% of the interviewees enjoyed and felt comfortable working with people from different cultures. Overall, employees prefer workplaces that take in consideration unique capabilities that come from the variability of age, gender, ethnicity and other heterogeneity indicators.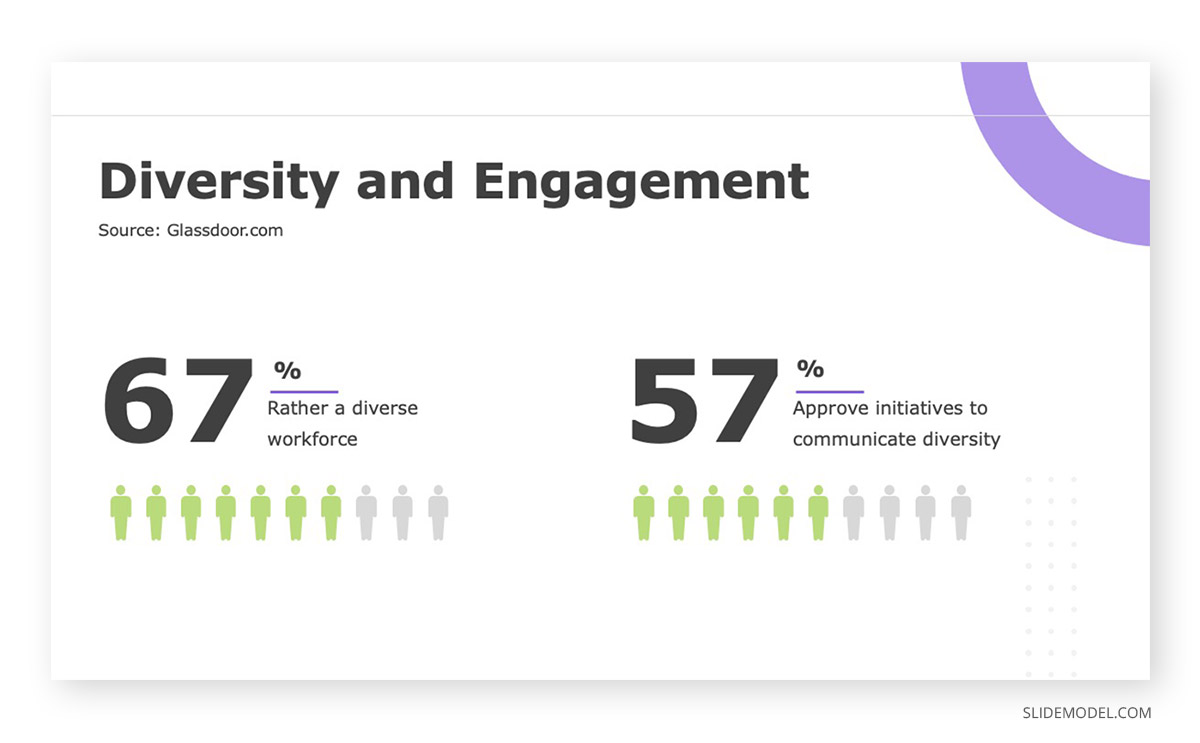 Impacts on corporate communication
Community Reputation
According to Catalyst, 57.8% of the organizations conveying a diverse environment are more likely to have a higher reputation in the local ecosystem. Employees, families and brand consumers are more likely to purchase their products, hence resulting in overall revenue. 
Many of us have a digital footprint and so do companies. Have you Googled a company before? Sure, you have. A negative digital presence can hurt corporate reputation if the wrong tone of communication is published, This will definitely affect how your consumers and the community perceive the company. So, those who have not addressed workplace gender and cultural diversity may realize it's time to do so. 
Getting Ahead in Performance
Workplace equality drives employee engagement and increases overall productivity. A strong, 59.1% of assessed companies experienced an increase in creativity, innovation, and openness of its people, while 37.9% of them had the tools for a better assessment of consumer interest and understanding or their demand curve.   
The Boston Consulting Group, studied 171 companies across central Europe. Interviewees described the positive correlation in diversity management and revenue from innovation as " statistically significant". In other words, if the company's diversity index is higher, it's revenue will also grow.
Another interesting finding is that there is another positive correlation between innovation and the diversity of high management. It states that companies whose board members are of different industry background, country of origin, career path and gender will likely have higher revenue on innovation.
We can conclude that a team's decision making has been redefined, diversity allows more leverage, includes different perspectives and opinions. This generates profound discussion and better decision making, reduced by including conflict, bad interpretations and solving problems in a respectful manner.
Impact on Revenue
A recent Mckinsey study shows how women involved in board decisions will benefit the organization 28% in outperforming their competition. Having a gender diverse board is a good thing, but having a gender and racial diverse executive team is way better. The following diagram shows it all.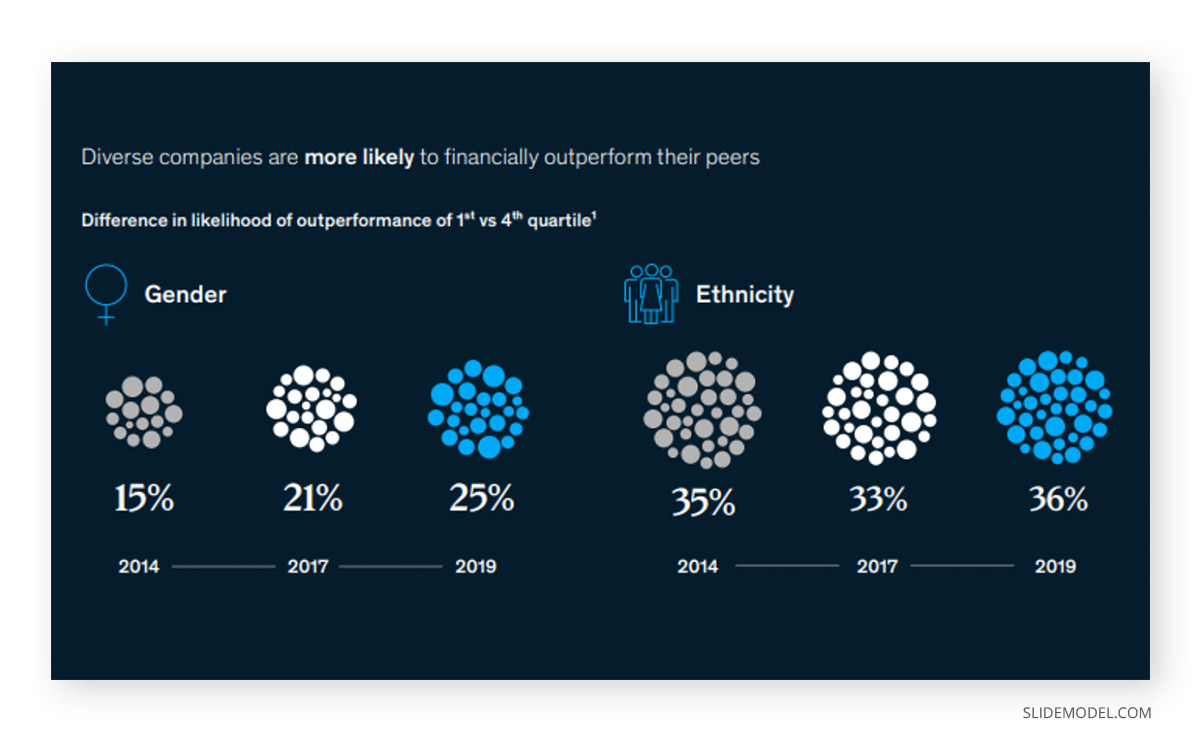 Finally, another study referring to the American Sociological Review also states that companies who include diversity will have higher sales, more customers and profitability than similar competitor companies. A gender diverse board with a minimum representation of women of 30% respectively will generate about 34% of their revenue from innovation.
Are we doing it right?
Companies might want to start including practices, yet CEOs might feel unsure on where to start. Sometimes, managers have already rolled out a few policies and they might not feel the results? A good thing is that there are several tools we can use to measure the efficiency of our initiatives. Metrics help us identify gaps, risk areas, assign specific roles for controlling those measures, getting on the market benchmark, etc.
In a nutshell, we want to share some best practices , and a primer guide on how to go about these statistics.:
Commit to diversity. Understand the employees, listen to them, learn what matters to them, their concerns and plan ahead; target future employees accordingly.
Choose communications and HR people carefully. They are the first ambassadors of a company's brand, culture, mission, and values, inside and outside. A hint: anthropologists, sociologists and philosophers are great for coalescence.
Formal corporate communications, ads, job posts, blog posts, memos and social media must adapt and convey the actions and initiatives a company is taking and how well it's employees are doing with it.
Implement flexibility. Providing the right balance between commuting and doing home office on a flexible shift is crucial. Single and nursing mothers will require it and be grateful with it; new millennials won't take no for an answer.
Lead by the example. Leaders must provide the needful and behave accordingly. They could invest in making people comfortable so they can speak out freely, and clearly. Unlock ideas by providing confidence, security and privacy for those introverted. Make employees feel safe to propose. Provide feedback, share the credit and work harder.
Get the people to talk to each other, foster frequent interpersonal communication, whether formal or informal coffee breaks. Dialogue between people of different backgrounds will eventually spark and bolster.
Acknowledge holidays from all religions and cultures. The company's chat or intranet is a great channel to capture important dates from your staff and reach out to them in case they require some flexibility from work to comply.
Get feedback from your employees frequently. Deploy surveys, host focus groups, offer them a safe place to share concerns, maybe some snacks and integration games to kick start a meeting.
Final Words
As an aftermath, Diversity and Inclusion is essential in the workplace. The Positive correlations between revenue and the implementation of D&I policies and measures make it an obvious choice for companies. However, looking for cold hard increasing numbers from one period into the next should not be the focus for high management. A culture change takes time, overnight changes may not last long, so be prepared to gather data, check results, and maybe change plans along the way.
Bring in and build a diverse environment, and continue with inclusive measures. Create a culture that's attractive for talented job seekers and insightful employees. Your people's thoughts and actions are the drivers of adaptation of your business to a new society that is yelling for equality, respectfulness and openness in everyday life.