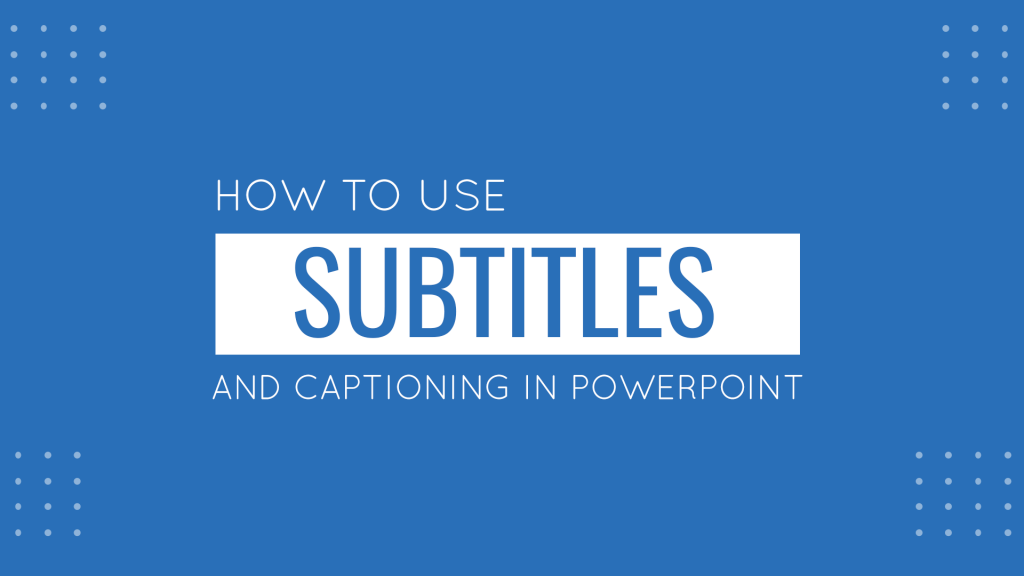 Businesses around the world are looking at methods to transcend language and geographical barriers to expand their operations and reach out to a global niche of customers. While remote meetings can help circumvent the need to be physically present for meetings in different countries, the language barrier is harder to overcome. However, with the use of methods such as enabling subtitles and captioning for Live presentations, you can present your PowerPoint presentations to different audiences, regardless of a language barrier.
Live Captions and Subtitles in PowerPoint
Live Captions and Subtitles in PowerPoint is an AI-powered feature that can be used to display on-screen captions or subtitles for one of more than 60 languages. It can be used for instantly translating the presentation during a Live session. This feature is not only useful to reach out to audience who speak different languages but is also meant to facilitate persons with disabilities (PWDs). In fact, Microsoft launched this feature on December 3rd, 2018, in honor of the International Day of Persons with Disabilities (IDPD).
How to Enable Subtitles and Captioning in PowerPoint
You can enable Live Captions and Subtitles in PowerPoint by following the simple instructions given below. Before you present your presentation, we recommend that you should test the feature to ensure that your presentation does not contain any typos or grammatical errors to ensure the captions and subtitles work properly, especially when translated.

Compatibility
The Live Captions and Subtitles in PowerPoint feature works with Microsoft 365 subscribers or PowerPoint for the web.
This feature does not work with older versions like PowerPoint 2019, 2016, 2013, etc.
Enabling Live Captions and Subtitles in PowerPoint
Enabling Live Captions and Subtitles is a great way to create accessible presentations. In the following section, you can learn step-by-step how to enable Live Captions and Subtitles in PowerPoint.
Step 1 – Configure Always Use Subtitles option
To get started go to the Slide Show tab in the PowerPoint Ribbon and ensure that the Always use Subtitles option is enabled.

Step 2 – Check the Subtitle Settings
Check the subtitle settings to ensure they are in line with your requirements from the Subtitle Settings drop down menu.
From here, you can select the position of the spoken language, subtitle language, position of the subtitles, microphone settings, and system settings.
For the purpose of this post, we are using English as the spoken language and English as the (translated) on-screen language to be displayed in subtitles, but you can choose any of the available target languages. For example, if you are speaking in English and you want to show subtitles in Spanish, then the Subtitle Language must be set to Spanish.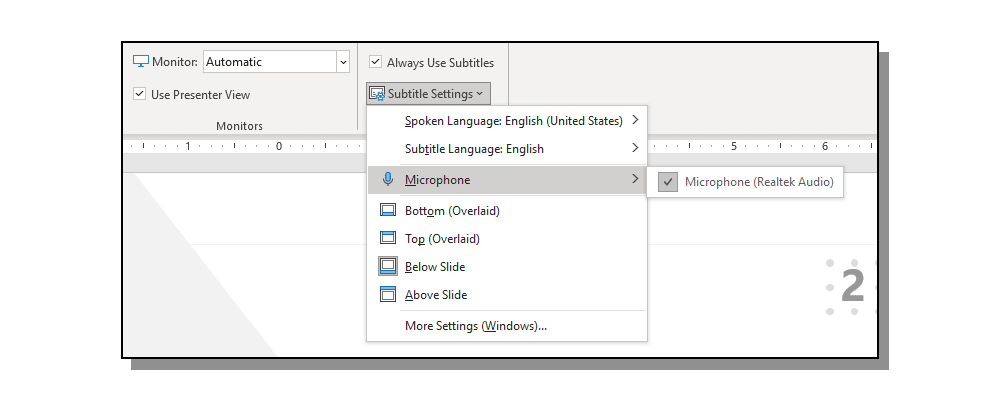 If you intend to edit the settings for closed captions including the color, transparency, style, caption background, and other related settings, the Windows Settings option can be used to adjust these options. If you are a Mac user, you will see a similar option for System Preference Settings in the same menu.
Step 3 – Start the PowerPoint Slide Show
Once subtitles are enabled, start the Slide Show to begin presenting the PowerPoint presentation with Live captions and subtitles.
Step 4 – Check Captions & Subtitles Settings
You will come across various settings that can be reviewed for making the most out of subtitles and captions. A pop-up will guide you through the use of subtitles and captions and the best practices that can help you get the most out of this feature. You can either click 'Got it' to proceed or click 'Check Settings' to change settings. These are the same settings shown in Step 2. In case you forgot to change them or wish to review them again, you can also change them just before initiating your Live session.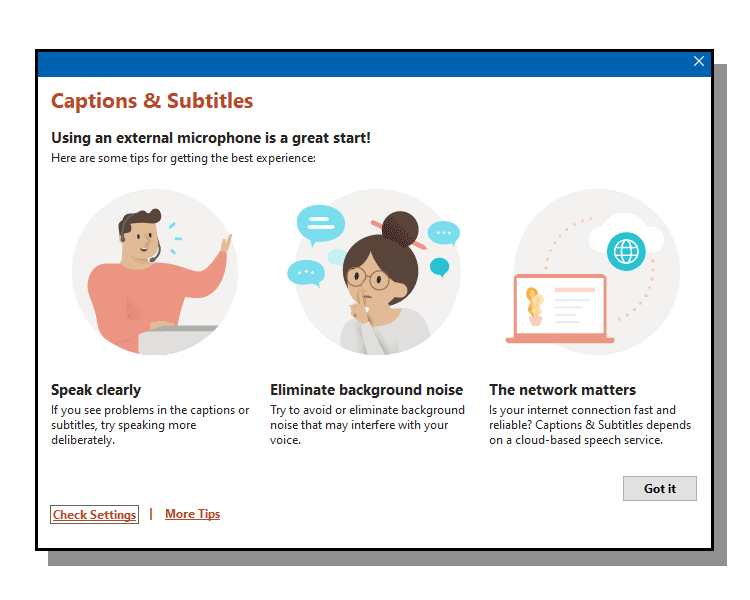 Recommendations for Best Output: Microsoft recommends using an external microphone, speak clearly, eliminate background noise and ensure that you have a fast and stable Internet connection. This is to ensure that you are able to display the correct and most updated subtitles in line with what the presenter is saying.
Step 5 – Initiate the Presentation Session with Live Subtitles
Start speaking into the Microphone in the selected spoken language to initiate the presentation session with the Live subtitles. The below image shows how subtitles during a Live presentation session appear as the presenter speaks. Also, we can see that the Presenter View also offers Subtitles Settings letting the presenter to re-locate the position where the Subtitles will appear during the slideshow.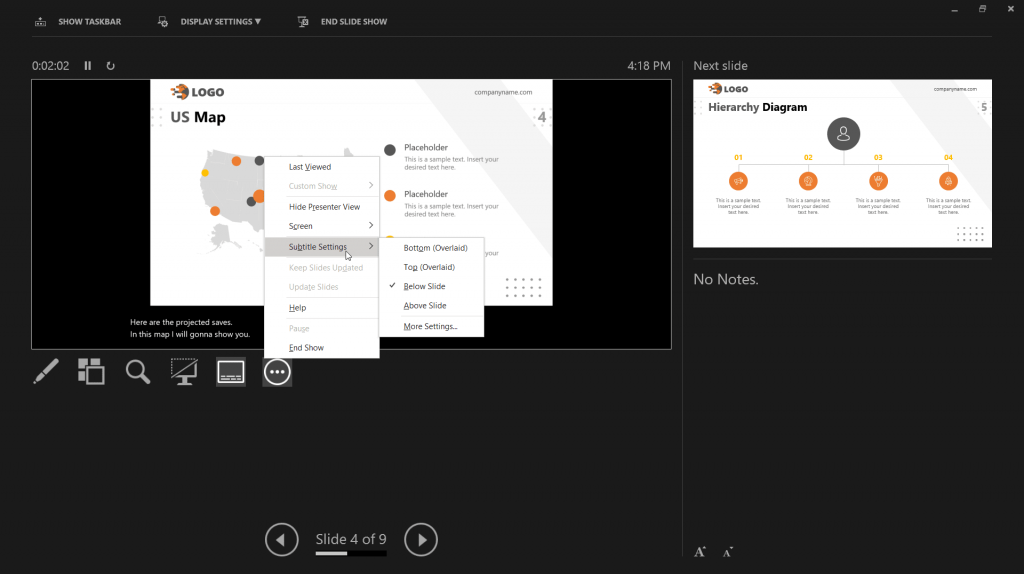 Walkthrough – Using Subtitles and Captions in PowerPoint
You can see the following video by Microsoft to get a walkthrough of how to use subtitles and captions in PowerPoint.
Benefits of Using Live Subtitles and Captions Feature in PowerPoint
Using the Live subtitles and captions in PowerPoint can have multiple advantages for presenters. Whether you are presenting a pitch deck, an annual report, quarterly trends or need to present a timeline or business model, subtitles in your native language, or with a translation in another language can do wonders for you as a presenter.
Ability to Communicate in Multiple Languages
The translation feature provided by Microsoft serves as a good way to ensure that you are able to reach out to your audience using a foreign language. This can be very useful if your audience don't speak your native language or are unable to properly communicate in English. Furthermore, seeing subtitles in your own language can please your audience, as they might find your presentation familiar and likeable due to the representation of their native language.
Helps Communicate with Audience from Different Countries
Be it a business presentation, a session for a global conference or a freelance assignment where you want to present a PowerPoint presentation with a native touch for a foreign audience, you can use subtitles in PowerPoint in a foreign language to win hearts and minds during a session for a foreign audience.
Helps Communicate and Pitch Ideas to Potential Clients
Businesses are no longer confined to geographical boundaries. Even small and medium size businesses can now sell their products and services globally using e-commerce platforms. However, reaching out to clients globally requires a global approach and accounting for language and cultural barriers. Most people try to communicate their pitch decks in English, which isn't always understood as well as one might hope. This is where you can communicate your ideas to foreign clients with more clarity using subtitles in a foreign language. Moreover, you can also benefit from this feature if you're a non-native English speaker who might be comfortable presenting in your native language. In the following example, we have created an hypothetical presentation based on the Executive Business PPT template.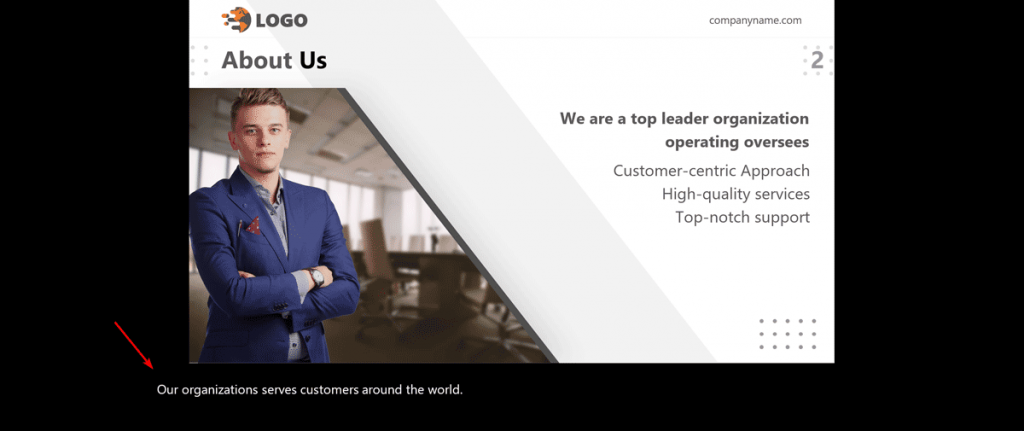 Presenters can Leverage AI Technology
It's not just the language but the technology itself that can help presenters better communicate complex ideas with the help of Live subtitles. You can position and customize the subtitles as per your convenience and leverage AI technology to help better communicate ideas, concepts, models, and other bits of important information without worrying about translation.
Easy Customization of Captions than Text-heavy Slides
The ability to customize the way captions appear during a Live presentation session can help you avoid text-heavy slides. This is because the AI powered feature automatically converts speech to text. For example, if you are presenting in English and want English subtitles, you can avoid text-heavy slides as everything you say will be automatically presented in the form of subtitles.
If you are a presenter making a presentation deck in multiple languages, using translations for your subtitles can also help you avoid the extra work and confusing text-heavy slides with text in multiple languages. Such presentations without the subtitles feature in PowerPoint can be even harder to create if you're using languages with left-handed and right-handed text in the same slide (e.g. English and Arabic).
Ease of Access for Persons with Disabilities
With subtitles, you can facilitate people in your audience who might suffer from a hearing disability, and make your presentations more accessible. The feature serves as an important ease of access feature in PowerPoint, enabling presenters to facilitate people in the audience who might find it difficult or impossible to listen to a presentation due to a hearing disability.
Helps Improve Inclusivity
Inclusivity is a principle that in recent years has been included in the motto, planning, and design of different organizational operations. Both businesses and non-profit organizations have been looking to cater for the needs of a diverse group of people including minorities, persons with disabilities, refugees, etc. Being able to cater for the needs of persons with disabilities and to help improve inclusivity with the aid of AI powered translations can also help organizations use PowerPoint to ensure inclusivity, even as their representatives present a PowerPoint presentation.
Final Words
The use of Live captions and subtitles in PowerPoint is one of many AI powered features provided by Microsoft to make your slides easier to present before an audience. Other features such as PowerPoint Designer and Presenter Coach allow presenters to seek the help of artificial intelligence to design their presentations and to get presentation tips. The inclusion of subtitles and translations is another way presenters can leverage AI technology to better prepare for their audience, including a foreign audience, to reach out to them using their native language.
Like any AI powered feature, there is always a possibility of glitches. This is why it is best to ensure that you run a mock presentation to see how the translation service and subtitles will appear during a presentation. If you're using subtitles for translation, it might be a good idea to seek help from a native speaker to see if the translated text is appearing correctly or if you need to adjust your speech. This is because some words might not translate well in another language and might even seem out of place. Changing the selection of words might help better communicate your message.
Like any technology, subtitles in PowerPoint offer something useful, which needs to be viewed with a bit of vigilance and homework. Using this feature the right way might help you deliver better pitch decks and business presentations. However, being careless with your words might not translate all that well!