Everyone should be paying more attention to the Direct to To Consumer (DTC) space as it's booming! According to a study by the IAB, two-thirds of customers expect to have direct connectivity with brands. Further, another study suggests that DTC is already responsible for 40% of the sales growth in the consumer packaged goods space.
Clearly, there's no denying that DTC is not only here to stay, but its growth will continue in the foreseeable future. So, how does the DTC business model work?
What is DTC?
Before you can understand the business model, it's helpful to have a clear idea of the DTC meaning.
In essence, a direct-to-consumer firm supplies the products they make directly to the consumer. They don't use traditional retail stores, distributors, or other "middlemen" channels. As a result, DTC companies can pitch their products at lower price points. Further, they can exert control over the entire process of creating, marketing, and distributing the products they sell. They also don't have to concern themselves with competition from other brands at the point of sale.
So far DTC has created a significant amount of flexibility for brands to connect with their ideal buyer persona. They can test out a variety of distribution models such as:
Shipping products directly to consumers
Embracing the 'pop-up' business model
Partnering with a curated list of retailers
Opening flagship storefronts.
What they don't have to do is rely on traditional retailers to connect with customers.

How DTC is different from B2C?
When it comes to D2C vs B2C, there are some key differences. In a traditional business to consumer model, a retailer like Walmart works with a variety of manufacturers and distributors and sells a large selection of products to consumers. With DTC, the maker sells the brand directly to the consumer through e-commerce sites, mail order, or branded retailers.
In short, all DTC brands are B2C since they sell directly to consumers. But not all B2C companies are DTC since most source their products from manufacturers or other retailers.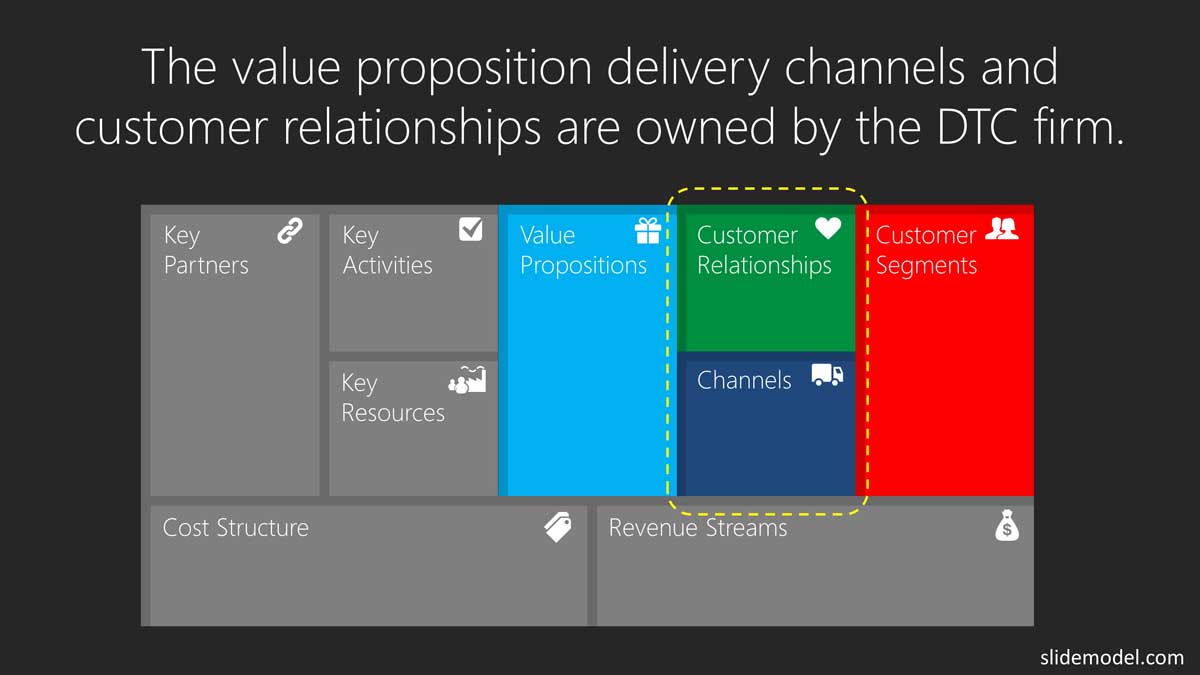 Why DTC is Here to Stay
Here are some additional statistics that act as proof of the growth and sustainability of the DTC business model.
The vast majority of consumers believe they will make at least some of their purchases from direct to consumer companies in the next five years. 40% believe they will make between 40 and 100% of their purchases this way.
A Barclay's survey shows that tech manufacturers that adopted a DTC strategy were in a position to see a £13bn increase in revenue over the next five years. Out of those surveyed, nearly 75% have already embraced direct to consumer trends as part of an overall business strategy. More than 70% believe that the direct to consumer model is beneficial for both manufacturers and customers.
By the fiscal end of the year 2020, Nike anticipates that it will make 16 billion dollars in profits in the direct to consumer niche. This will make a significant dent in their goal to reach a total of 50 billion in sales.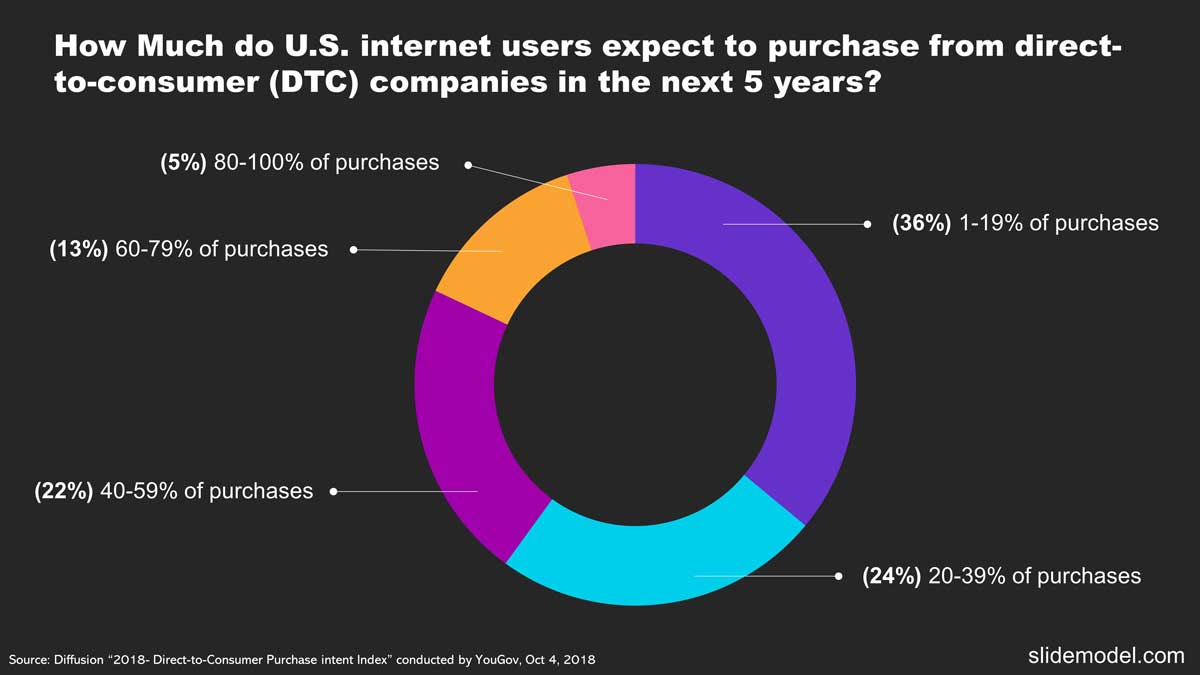 Which Direct to Consumer Brands are Leading The Way
According to data from CB Insights, here are some top direct to consumer brands to watch in the DTC niche:
Glossier – a cosmetics brand valued at $1.2 billion in 2019 – was born out of a popular beauty blog. Emily Weiss, the company's founder, strategically used her audience insights to work out the ideal product formulas, create anticipation and maintain constant buzz around each new product launch. Up till now, the company uses influencers, micro-influencers, and the power of user-generated content to get their products in front of consumers.
Warby Parker – an eyeglass retailer – also leveraged UGC by encouraging customers to share videos of themselves trying on their new glasses on various social media channels. Beyond that, they also removed all the objections people usually had when it came to buying glasses online. So they did that following:

Offered customers to ship 5 different models for an at-home try-on so that they could select one they like most.
Introduced a virtual try-on room that used webcams and imaging software to help with product selection.
Lastly, they streamlined the eye exam process and offered users to have on digitally via an app and then sent results to Warby Parker-contracted doctors who reviewed those and gave a prescription.
Today, Warby Parker is valued at $1.75 billion and they plan to go public this year.
And here's a quick list of direct to consumer companies who are also disrupting the established retail models with new tech and better CX:
The Honest Company: Markets direct to consumer retail products in baby care and beauty niches.
Dollar Shave Club: Sells a monthly box of razors and shaving accessories to members.
Harry's: Another DTC monthly 'loot box' of shaving supplies at discount prices.
Casper Mattress: Sells mattresses and other sleep accessories using UGC, and a well-designed website.
Soylent: Offers a nutritionally complete meal replacement products. Markets to niche audiences, and uses a brand ambassador program.
The Benefits of Direct to Consumer E-commerce
Considering the benefits, it's easy to see why DTC has such widespread adoption.

Ownership of CRM And Other Data
Because DTC firms sell directly to customers, they own all the CRM, sales, and customer support data that goes along with that. This puts them in a significantly better position to use that information to inform business strategy going forward. In fact, data is one of the most important benefits of DTC. Here's why:
DTC brands can better analyze purchasing trends when their sales aren't done through third-parties.
They also retain actual customer demographics data that can be used to personalize loyalty marketing campaigns.
On-site search data provides D2C companies with more insights about the consumer interest and can inform product development.
Faster and Cheaper Go-To-Market
Traditional CPG brands invest significant amounts of money when bringing a product to the market. Many simply cannot afford the risk that goes with innovation. In addition to this, it can take months to bring a single product to market. D2C brands can release products on a smaller scale, targeted to a niche audience.
Read more about creating a viable go to market strategy for your new product.

Product Personalization
A DTC brand like BarkBox relies on personalization to create products that appeal to customers. Dog owners can enter information about their pets to receive a curated list of best-matching products. That level of personalization is simply not possible when control of the sale of a product is given over to a mass retailer.

Higher Profit Margins Due to Improved Control Over Pricing
When retailers are involved, as well as competing for products, brands have less control over the pricing. Because of this, they may not be able to sell niche or high-end products the way they might like. This isn't the case in D2C where you can focus on selling high price point items directly to consumers.
One example of this is Maille, a company that makes mustards, pickles, oils, and vinegar. This company's products can be found at Walmart and other retailers. However, their most premium products are sold only through their website or through other direct to consumer channels. This allows them to market directly to foodies and 'connoisseurs'.

Better Customer Experience
Consumers are demanding better experiences. DTC brands are in a better position to offer a seamless experience as they have more end to end control. CPG companies often don't have any control over how their products are displayed on retailer shelves or websites, for example. They also aren't able to influence how customer service inquiries are handled, or even the delivery of the product. A DTC can customize all of these things, and create the branded experience they want.

The Key Steps to Going DTC
If you'd like to roll DTC into your business strategy, here are four important steps to take.

Understand Your Market and Target Audience Needs
Because you are marketing directly to your target audience, you must have a razor-sharp understanding of those consumers. Specifically, you need to know:
Who needs your product
What problems does it solve
How it stacks against the competitors.
Then you must determine the best way to market to that audience. Several of the companies referenced above have successfully used techniques ranging from personalization to user-generated content to make inroads with their target audience.

Start With One Simple Product Offering That Resonates
If you consider many of the businesses that have mastered DTC, you'll notice that not many of them have diversified. They pick a single product or product category. Then, they make an effort to become a standout in that niche. BarkBox offers direct to consumer products like dog toys and treats. Casper focuses solely on mattresses. This allowed them to be seen as experts and added a sense of prestige to their product.

Use Data to Drive Your Decisions
The data mentioned above is going to be one of your most important assets. Brands that are not in the direct to customer space simply aren't in the enviable position that you would be in as a DTC manufacturer. Simply put, they don't have ownership of much of the sales and customer data related to the sale of their products. When you sell via a third-party retailer, they own a significant amount of the data generated from sales, customer interaction, website browsing, and other sales journey activities. With DTC, all of those activities happen through channels that you own. You don't have to seek that data out. You simply own it.

Build a Great Customer Experience and Personalize Marketing Efforts
When brands work to create seamless, pleasurable customer experiences, they create brand loyalty. They also create a frictionless process that gives customers an incentive to buy their products. Procter & Gamble did this with their Gillette on Demand DTC strategy. Now, instead of placing an order online or going to the store, customers simply order replacement razor blades with a simple text.

Final Thoughts
The success of the brands listed here is proof that customers are increasingly interested in DTC products. From their perspective, patronizing DTC brands means enjoying a better customer experience, receiving products that are more likely to meet their needs, and avoiding retail experiences that are often stressful and unfulfilling. By adopting this business model, you'll be able to reach out to your audience in more personal ways, and better control the purchasing journey.