Comparison charts have become quite famous across social media nowadays. You might have seen comparison charts for battery time of different smartphones, the sales for different tablet models or the market share of various products or services. While such charts may seem novel for many internet users, the need for comparison charts for a business professional is much more than for frivolous purposes and requires great detail and hard work.
Making comparison charts in PowerPoint can be nothing short of a nightmare. You might have to spend hours perfecting the appearance and overall look of the charts. A slight edit can end up messing up hours of work and might need an additional few minutes to make things right. This is why we have compiled a list of some excellent comparison chart templates for PowerPoint that can help you create professional looking charts with great flexibility, without hours of work.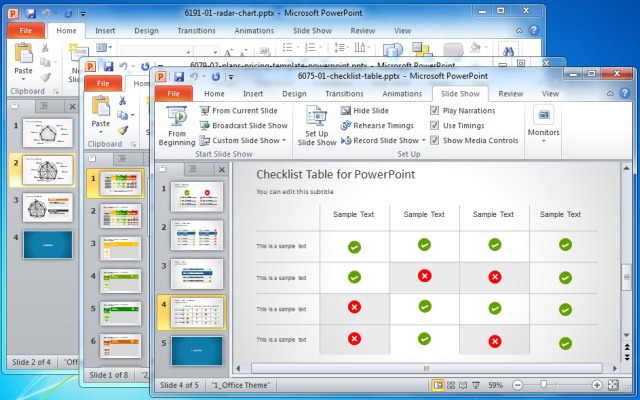 Radar Chart Template For PowerPoint
One of the most interesting types of comparison charts are radar charts. They are not only classy but can also be interesting enough to grab the attention of the audience. Furthermore, a radar chart can be easier to read as compared to a spreadsheet style table, which is a huge bonus for any presenter. This Radar Chart template for PowerPoint provides different types of sample charts that you can edit to create your own professional looking Radar Chart Tables for PowerPoint presentations.
Go to Download Radar Chart Template For PowerPoint
Plans And Pricing Template For PowerPoint
As is evident from the name, you can create plan and pricing comparison charts using this template. These may include price comparisons between the products or services that you are offering or a comparison of your prices and that of your competitors. Such plan and pricing charts are also often seen on websites that offer a service (e.g. cloud storage packages). You can use the price comparison slide templates in PowerPoint and Google Slides, and prepare presentations comparing prices, for example: making printable price and comparison charts for your business, presentations, website banners, etc.
Go to Download Plans And Pricing Template For PowerPoint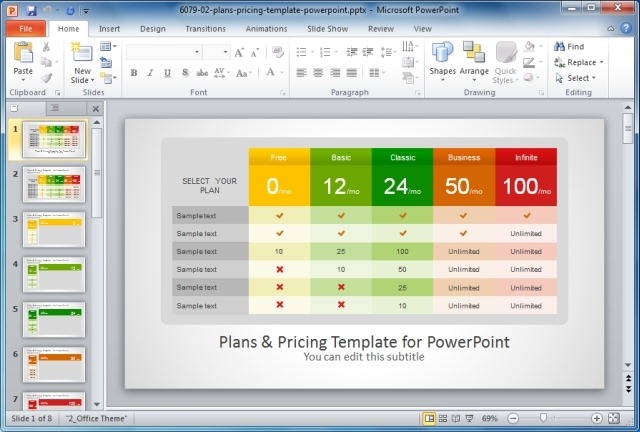 Checklist Tables Template For PowerPoint
This template is suitable for making comparisons of what a specific product, service or package may or may not have. For example, if you are making a comparison chart for the plans offered by your members, you can create a checklist showing what services may be available at which membership level (e.g. service comparison for Bronze, Silver and Gold members). This template provides various sample slides with different types of editable checklist charts that can be used for making a wide range of checklist types.
Go to Download Checklist Tables Template For PowerPoint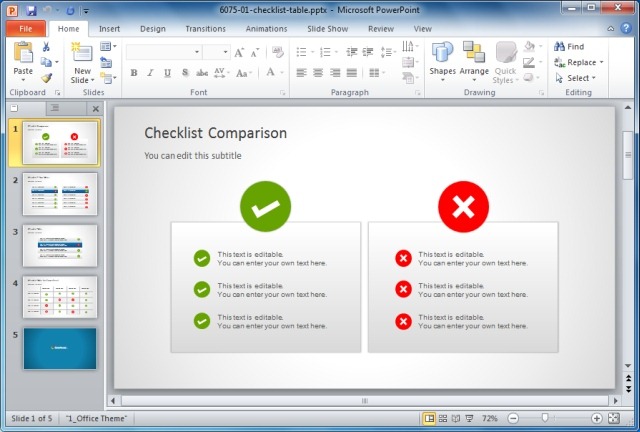 Table Template For PowerPoint
This is quite a simple comparison chart template for PowerPoint that despite its minimalist look provides sample slides with some nice layouts and color combinations. The Table Template For PowerPoint is sufficient for making basic comparison charts with spreadsheet like columns.
Go to Download Table Template For PowerPoint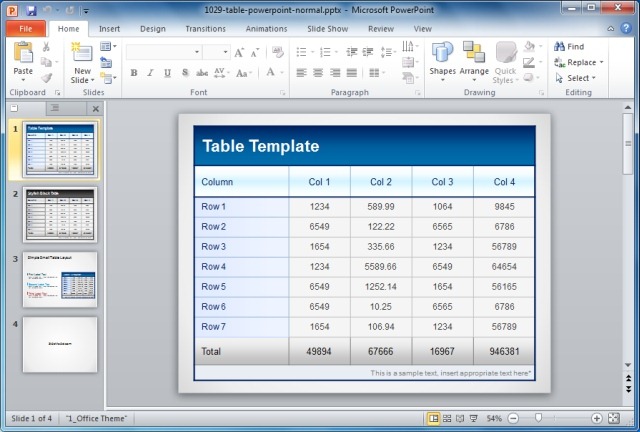 Tables With Arrows Template For PowerPoint
This is another good template for making basic comparison charts, with professionally designed boxes with arrows. The sample slides in this template can be handy in making comparison charts for data which may be in ascending or descending order, starting from a specific level to the other extreme (e.g. from high to low or low to high).
Go to Download Tables with Arrows Template For PowerPoint