You've been called for an interview at your dream firm and spent the entire night rote learning policies, laws, and theories to impress the panel of interviewers with your ability to retain knowledge. However, when the interview presentation begins, contrary to your expectations of being asked to recall the information you've memorized, you are handed a piece of paper, which entails details about a financial embezzlement scandal. You are instructed to analyze the document and provide solutions to the problems mentioned at the end of the document.
The above-mentioned hypothetical situation is an example of a case study interview, often used by professional services firms to assess and hire applicants.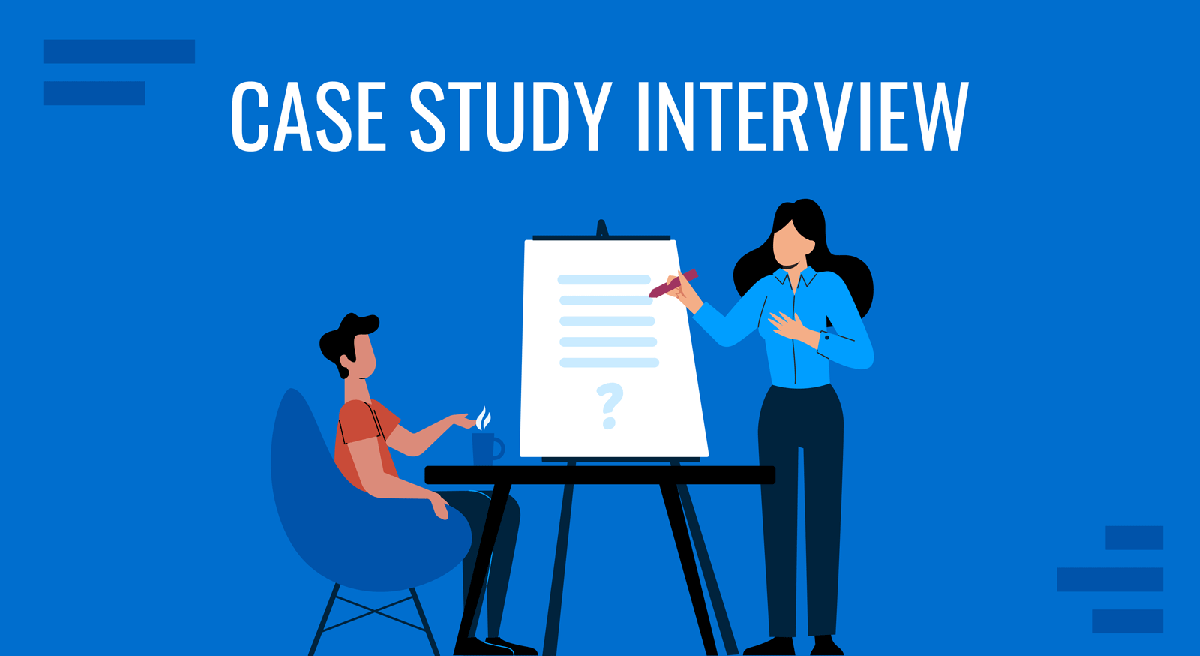 Table of Contents
What is a case study interview?
A case study interview is one in which the candidate is interviewed about a scenario-based business organizational challenge that the company may have experienced. The case interview allows candidates interested in a career in consulting to exhibit their analytical, communication, and reasoning abilities. The case study interviews are constructed in such a way that they aid in identifying key issues in order to develop effective solutions. (LSE)
Why a case study interview?
To gauge a potential employee's ability to apply theoretical knowledge to real-world situations and develop workable answers in a constrained amount of time, interviewers use the case study interview method. Big market players, like McKinsey, Deloitte, or Bain and company, use case studies in their job interviews. The interviewer may measure a candidate's ability not just to grasp technical elements of a real-life problem, but also to come up with creative solutions, by asking case study questions.
Format of a case study interview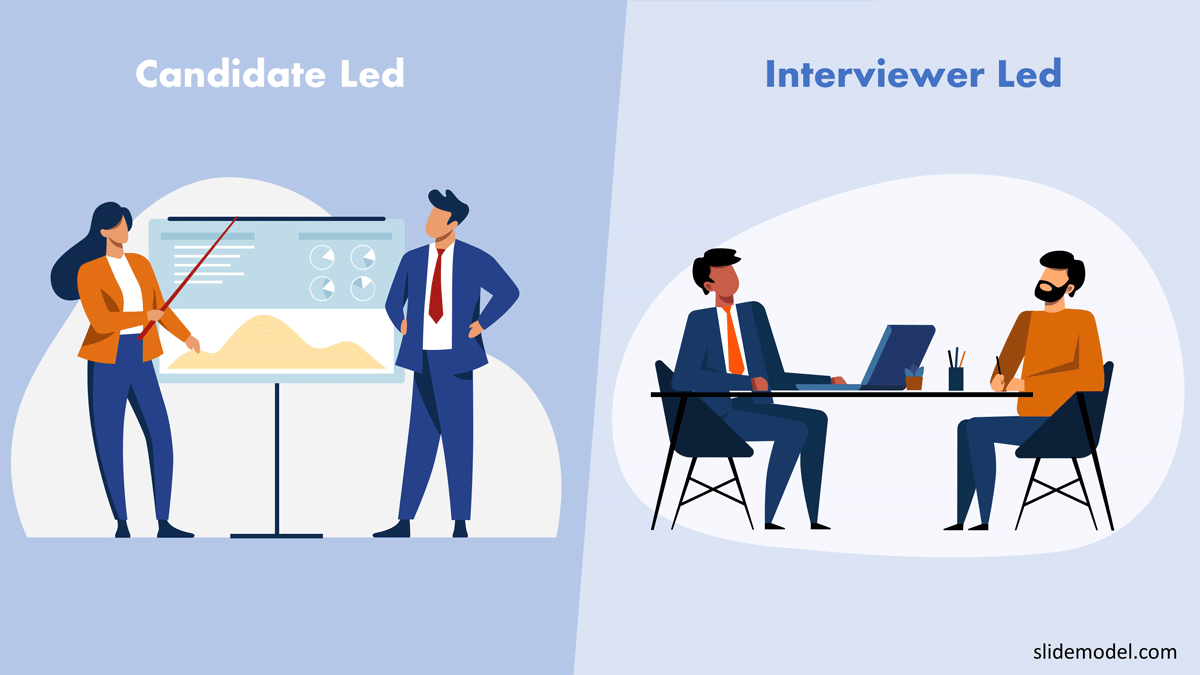 Case study interviews are often carried out in one of two ways, depending on the goals and specifications of the company conducting the interview.
Interviewer-led interview
Candidate led Interview
Interviewer led
During a case study interview, the interviewer is the one who sets the tone, pace, and overall structure. It is a highly structured interview where the candidate should be prepared for a sudden change of style depending on the interviewer. The interviewer continues asking questions they've already prepared regardless of the candidate's answers.
Candidate led
In contrast to an interviewer-led, a candidate-led is less regimented, and the candidate takes the wheel. They are expected to shape the Interview from start to finish. In this case, the candidate's answers determine the line of questions. It is convenient for a firm to assess if an individual can handle situations independently by conducting a candidate-led interview.
In the final section, we've provided candidate- and interviewer-led interview cases in our examples.
Archetypes of Case Study Interviews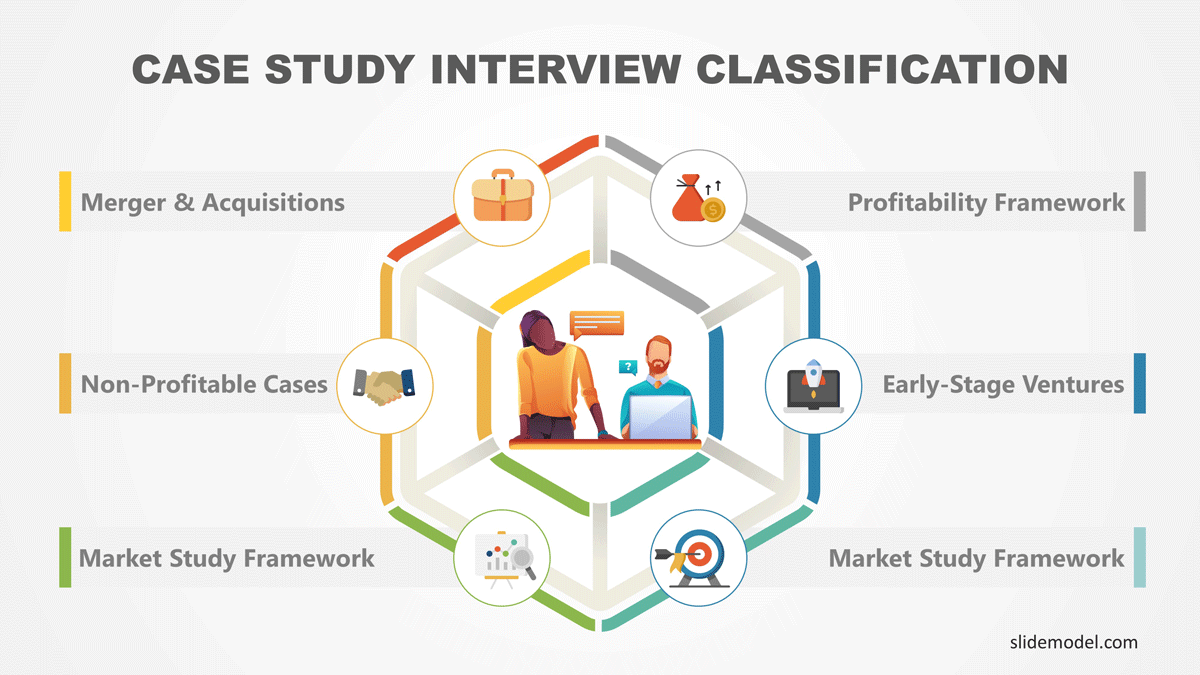 Non-Profitability Cases
Not every case study interview is centered on profit or revenue-generating scenarios. The interviewer may begin with a case of Non-Profitability. The analyzed organization might face a challenge to reach an objective. It requires a situation analysis in order to provide a diagnosis. The candidate will run the analysis, provide a diagnosis, and based on it will define a strategy to overcome the challenge and reach the objective.
During the case interview, the focus is on strategic issues and recommendations for developing an industry's environment while dealing with challenges. Regulations, consumer preferences, and more might all fall under this umbrella. Here, a SWOT analysis is useful in identifying the competitive landscape.
Startup and Early stage ventures
Taking into account the emerging Industrial Revolution 4.0 startup boom. The interviewer will most likely use this as an example in your case study interview. Market entry cases are comparable to startup, and early venture case studies, except the company, is smaller and employs fewer people. One must have a strong product or service in order to have a foothold in the market with significant profit margins.
The case study discussion should focus on the following three areas: the right people, the right problem, and the right solution. A minimum viable product and a well-thought-out business strategy are necessary. Startups are more likely to be agile and successful when these three characteristics are present.
Market Sizing Framework
In a market sizing question, commonly known as 'guesstimate,' the candidate is asked to estimate the size of a market randomly selected by the interviewer with little or no data available. Market size questions should be approached by segmenting data and adapting the MECE technique. In a case study interview, you may also solve market sizing problems by using the issue decision tree.
Case study interview questions can be the following:
Estimate the market size of frozen foods in a suburban area of Melbourne.
How many individuals are currently consuming vitamin water in China?
Profitability Framework
Every firm's ultimate goal is to earn profits; therefore, the profitability framework seeks to identify whether the candidate can correctly assess the cause of decreased profitability or ways of increasing profitability. Candidates are usually provided with names, figures, and facts to answer questions pertaining to different aspects of profitability.
Market Study Framework
A market study framework generally aids in determining an individual's ability to assess market factors like market entry potential, revenue growth, and market share.
In order to construct a framework for a market study in a case interview, the candidate must focus on five components. The market, rivals, customers, your firm, and your product/service are all included. This market analysis methodology necessitates the candidate to ask further clarifying questions on the financial and profitability impact on the company in discussion.
Merger & Acquisition Cases Framework
The merger and acquisition cases framework is considered one of the most accurate judges of the candidate's potential as it deals with all major components of market analysis, including but not limited to market sizing, profitability, and market study factors. These case study interview questions usually deal with whether or not two or more companies should opt for a merger/acquisition.
When addressing an M&A case, three components should be taken into account: the synergies between the two organizations, the integration of talent, technology, and so on, and regulatory approvals.
Case Study Interview Example Scenario 1
Objective: Country X is situated in Asia and has a population of 20 million. It is developing a national action plan to transform its education system. It wants to improve the quality and quantity of children's education. The objective is to advise the client on transforming their education system.
Description: Country X is a developing nation of 20 million residents and has emerged as a free market economy after spending decades under communism. The Country aspires to have an economic action plan for transforming education. The schooling system in Country X is completely public (state managed) and has government-run schools spread throughout the Country. Children are admitted from age 5 to 18. The objective is to evaluate the current state of the education system and how it can meet the aspirations of the Government.
This type of scenario mostly follows an interviewer-led approach. This falls under the Non-Profitability case study example. The primary purpose is to examine the issue from the top-down approach to get a higher-level view. Initially, qualitative analysis is performed.
The interviewer will first ask how you intend to analyze and evaluate the problem's underlying issues.
An approach is to structure the response into three sections. A PowerPoint slide with a clear bifurcation of these three sections can be presented under a separate heading.
The initial section should emphasize some quantitative metrics of education. This encompasses observations such as how age, gender, and geography affect access to education. How many teachers are working in schools around the region? How much is spent on healthcare?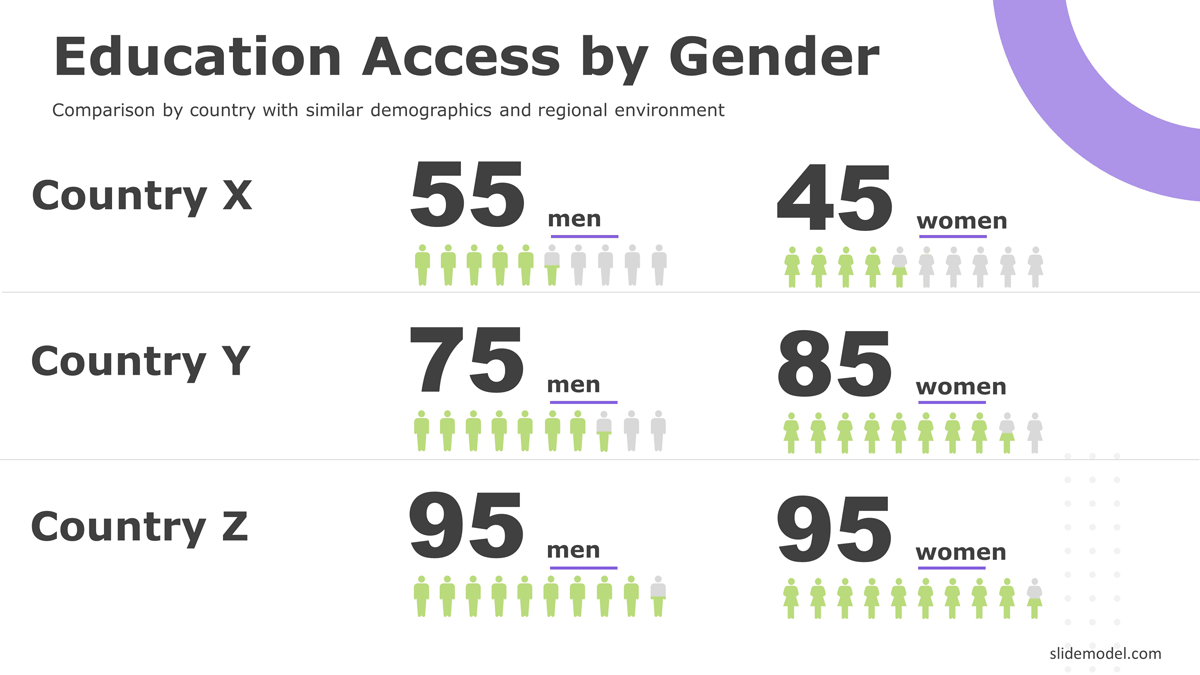 The second component is the quality of education, including the curriculum, teaching methods, etc. The second question is quantitative and requires analysis of a table containing distinct informational values relative to competitor nations.
A third element of the analysis could be to understand the effect of education in Country X's economics objectives.
You will be provided with a table with figures for the number of pupils and teachers, health care expenditure, student-to-teacher ratio, etc. You will be expected to evaluate competitor values in comparison to Country X. Among the observations that can be made are how Country X compared to other nations regarding health care spending and the student-to-teacher ratio. The table values can be interpreted as, e.g., Country X has the highest education expenditure but has the lowest student-to-pupil ratios. All this information can be presented using SlideModel PowerPoint templates.
Comparing the observation to international standards is another way of acquiring a deeper understanding of the provided data. Because only 15 percent of Country X's population is enrolled in school, the question is how many schools should be opened given that Country Y surpasses Country X in an international comparison. To solve such a puzzle, you will use comparable data to compute the number of schools utilizing population and school information from the provided data. This will assist you in determining a solid number to present in the Interview. The final number can be presented as a percentage or an absolute number in a much larger font on the ppt slide. SlideModel has a variety of case study templates you can choose from to showcase your result in a much more engaging manner.
These two approaches for the qualitative and quantitative aspects of the case Interview enable us to cover the fundamentals of a case study interview.
Example Scenario 2
Objective: Client Y is about to launch a new phone and desires to determine the size of the Apple product market. The objective is to determine how many iPhones Apple sells in the United States annually.
Description: Client X seeks an analysis of the current market size of the iPhone, its primary rival in the mobile phone industry. The current population of the United States is 320 million, and iPhone has a very large client base in the Country. The client requests that you calculate a number that provides a reliable estimate of the size of the iPhone market in the United States.
We will use a Three-step technique for a market size example to tackle this problem.
Step 1: Formulate the right question
To define market size, asking appropriate clarifying questions is a must. It is useful to define what the market size is and how to give a proper estimate for the market segment based on the given information.
For example:
Are we concentrating on a single iPhone model or the entire lineup?
Is it simply applicable to the United States, or do we also need to estimate worldwide iPhone sales through the US outlet?
After asking the appropriate clarifying questions, you can formulate a coherent strategy.
Step 2: Building a Framework
There are two sorts of problem-solving strategies for gauging the market questions. The top-down method and the bottom-up method.
The appropriate and easy way to solve this is to utilize top-down methodology and show it via an Issue tree. Using the MECE (Mutually conclusive and Collectively exhaustive) technique, an issue tree is a logical tree that may be depicted graphically to address difficult business challenges. It is quite common in market size questions. On the SlideModel website, you will discover a choice of templates for creating an excellent visual tool, i.e., The Issue/Logic tree.
You might convey it by beginning with the United States 320 million people.
Determine what proportion of phones are iPhones.
Identifying the frequency with which an individual purchases an iPhone each year.
And determine the number of iPhones sold based on the frequency and quantity of iPhone owners.
Step 3: Estimating and making assumptions
The estimated population of the United States is 320 million. Assuming that 75 percent of the United States population possesses a mobile phone and 30% are iPhone users because the number of smartphone users has multiplied in the digital era, we obtain:
75 % x 320 million = 240 million Mobile Phone users.
30 % x 240 million = 72 million iPhone users.
Again, we suppose that each of these 72 million people buys an iPhone every two years. A single client will acquire one iPhone 0.5 times in a year.
Therefore, 0.5 times 72 million is 36 million iPhone sales.
To estimate the size of the iPhone market in the United States, we might assume the average iPhone price is $100.
By calculating the cost by the number of units sold a year, we get:
$100 x 36,000,000 = $3.6 billion USD.
Therefore, the annual market size for apple goods is $3.6 billion.
Calculations and estimations utilizing the said frameworks require practice and findings. SlideModel will assist you in organizing your framework and offer you visual tools to successfully convey your findings to the interviewer.