When a company seeks to continue its steady growth path, transparency and alignment with the organization's strategy are key pillars. In this article, we will explore a communication tool to foster those pillars: All Hands Meetings.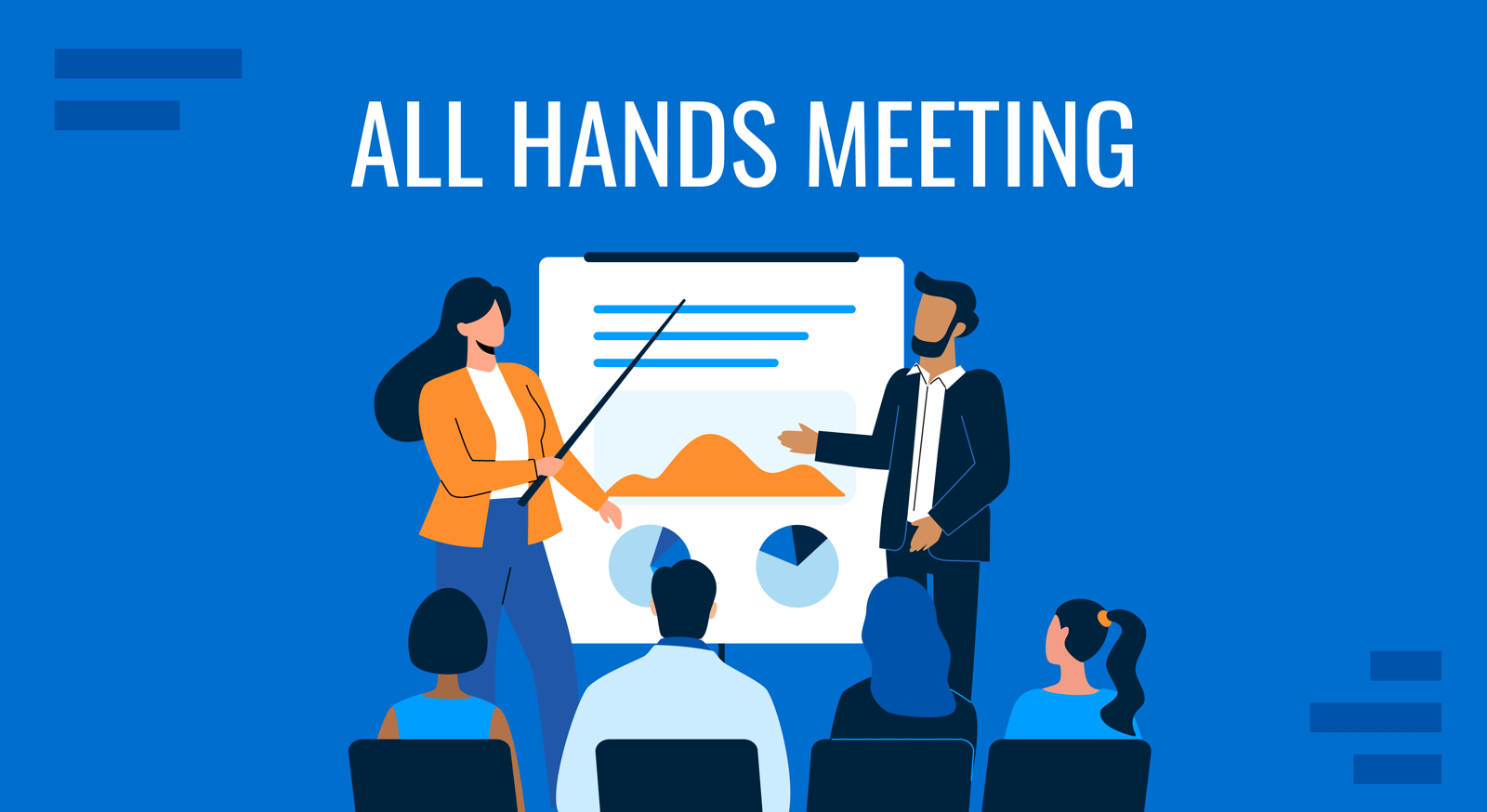 Table of Contents
What is an All Hands Meeting
An All Hands Meeting is the name given to a gathering that invites members of an organization or team to discuss topics relevant to every participant in the pursuit of collective growth. It is a vehicle to cascade information throughout the organization. The naming for this kind of meeting refers to the navy phrase "all hands on deck," a call for all crew members to gather on deck to solve a critical situation.
Also known as "Town Hall Meeting," this communication format calls for team members to discuss a situation, project, or significant value for the organization.
All Hands Meetings Archetypes
To build a proper strategy for an All Hands Meeting, it is necessary to segment based on the following dimensions:
Number of attendants
Topics to be covered
Locations involved
Duration
Corporate Wide
Corporate Wide refers to meetings with more than 500 attendees and involving big organizations with multiple departments that may not even be in touch. Since it's a complex event to manage, corporations rely on the services of Event Planners dedicated to this kind of meeting.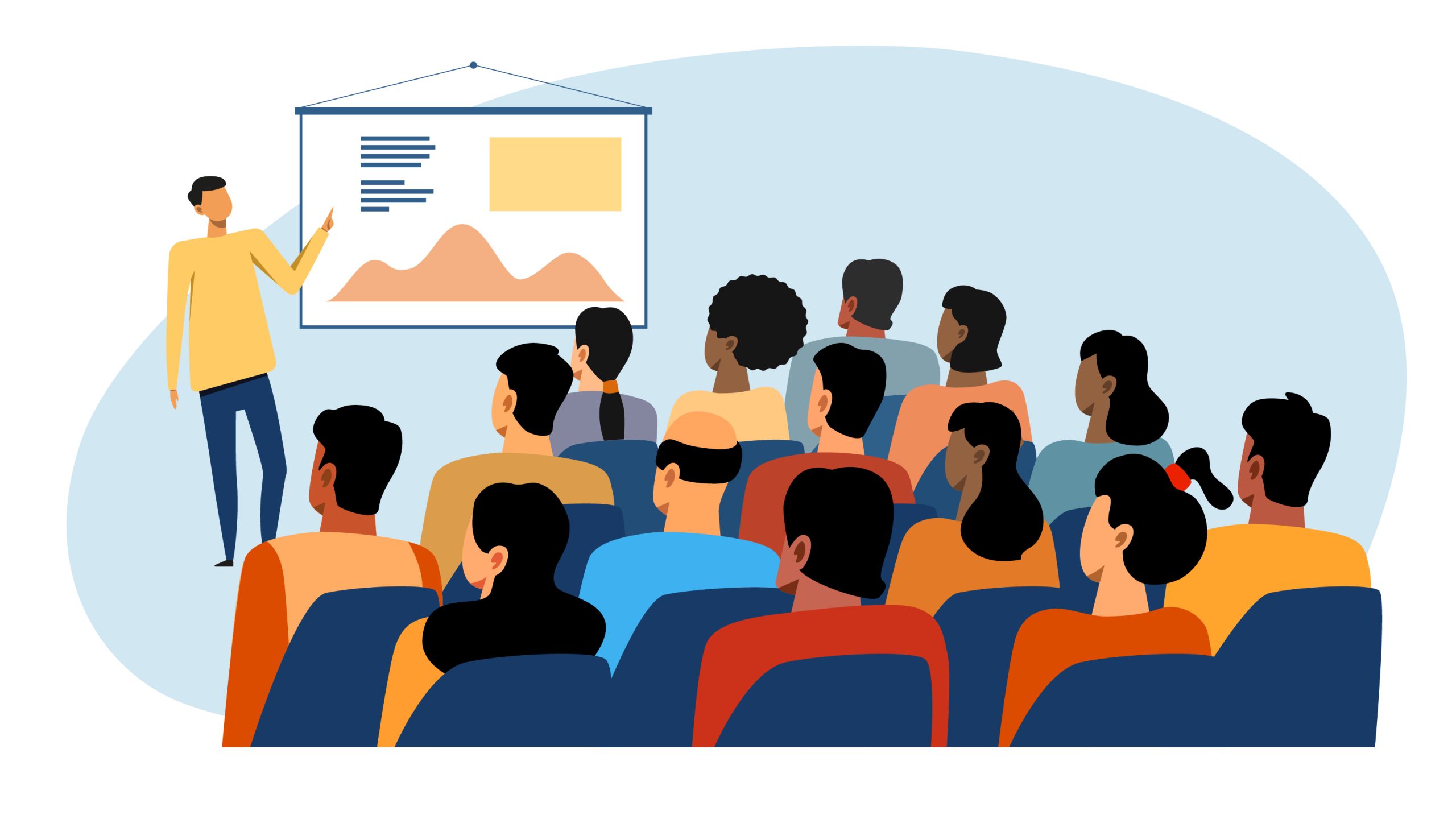 A group of moderators is required for this kind of event, as well as a team exclusively working to guide attendees through the different stages of the event. It's important to structure the agenda with an interactive mindset to avoid monotonous lectures. You can take these tips from Entrepreneur.com on how to make corporate meetings more engaging.
The Corporate Wide archetypes have specific requirements, such as involving multiple locations for simultaneous conferences. Also, Corporate Wide All Hands Meetings appeal to get all corporation members in touch with the milestones achieved during a year or semester.
Team Wide
Contrasting with the Corporate Wide format, these are small gatherings, with no more than 50 people attending, and it targets the goals, mission, and drive of a team to work.
These meetings are usually held in the same work area or a dedicated conference room, with a whiteboard to list ideas and a projector for the presentations.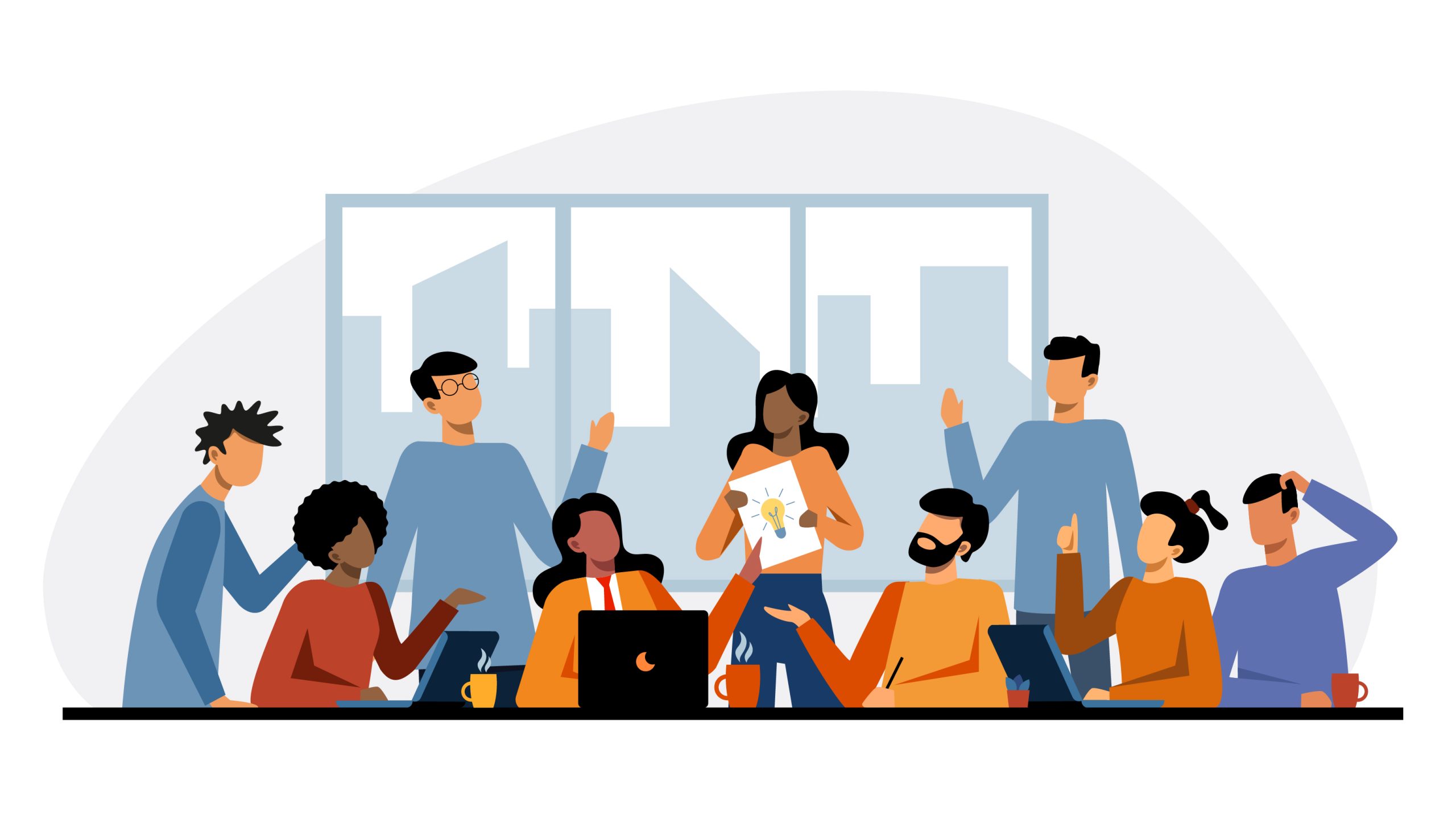 For the meeting dynamics, one moderator is present to conduct the entire meeting. Lectures tend to be introduced only when strictly needed – like for coaching the team on using new technology – as the objective is to build an interactive meeting where all team members have a voice.
Workgroup Wide
The final archetype we define here involves groups of 15 members or less, which usually work in the same office or are strictly in touch if remote working. These meetings help the team to acknowledge the milestones achieved during the previous period, bring innovation to the process, pay attention to obstacles, etc.
There's no need for a moderator, although the group leader usually lays out the agenda and topics to follow during the meeting.
When to hold an All Hands Meeting
When to hold an All Hands Meeting depends on two elements: the archetype for the meeting, and a balance of cost/benefits for when to hold the meeting.
For corporate-wide, All Hands Meetings usually happen once a year. As explained before, they are a big endeavor and involve big costs (logistics + costs of not doing the job). Its purpose is to review the organization's performance against the defined targets and to set new objectives for the upcoming year. These new objectives are based on a strategy that is explained to all the attendees in pursuit of alignment. Team Wide meetings can be organized quarterly – to review the team's strategy – or monthly if a big project is under course. In the case of Workgroup Wide, these meetings are usually held at the end of a sprint.
Although, it is advisable to get your team in touch with your company's core values beforehand. Consider a minimum of 30 days of belonging to the organization for a member to participate.
Considerations about the All Hands Meeting format
The usual goal for an All Hands Meeting is to share updates on business performance for the past month or quarter or to assess the alignment to an organization's strategy. However, these meetings are crucial to developing a growth mindset for the company, so let's explore some of the most relevant advantages, logistic requirements, and obstacles we can find.
All Hands Meetings give room to clarify concerns
One common issue in big corporations is the fear some employees may have of expressing doubts about the tasks to be done, the goals the company works toward, and elements that attain the corporate culture. This may be overlooked by the leadership team since there are multiple levels of management, and often employees are just shy about expressing their insecurities or doubts.
Since the All Hands Meeting format applies transparency as its key pillar, these scenarios encourage team members to stand and raise their concerns to the leadership.
Let's take a Team Wide All Hands Meeting as an example. The team is currently discussing the reach of a recently arrived project, but some of its team members have doubts about how this innovative project aligns with the company's core values. The team members raise their concerns in this face-to-face meeting rather than expressing their concerns via email, which gives room to the team leader to discuss in detail each and every aspect of the project. Also, the team leader exposes a hypothetical case in which a project can collide with the company's values, and how to act in those scenarios. As a result, the meeting will serve as a learning opportunity for both the employee and the leadership team; helping the team members gain independence and trust in their decisions.
Keeping the members updated on the work done by all areas
Since performance and goal revision are common topics for All Hands Meetings, these gatherings help to keep all teams in touch with the work conducted by different departments. This goes beyond the usual in-department meetings as members from outside those workgroups can share their opinions about projects in process, methodologies, results, and so on.
Building company culture through All Hands Meetings
The All Hands Meeting is a perfect opportunity to destroy barriers between coworkers, especially for remote teams that may not feel part of the organization. With the help of online meeting tools such as Zoom or Google Meets, remote workers can interact with other members of their same organization without needing to travel long distances for the event.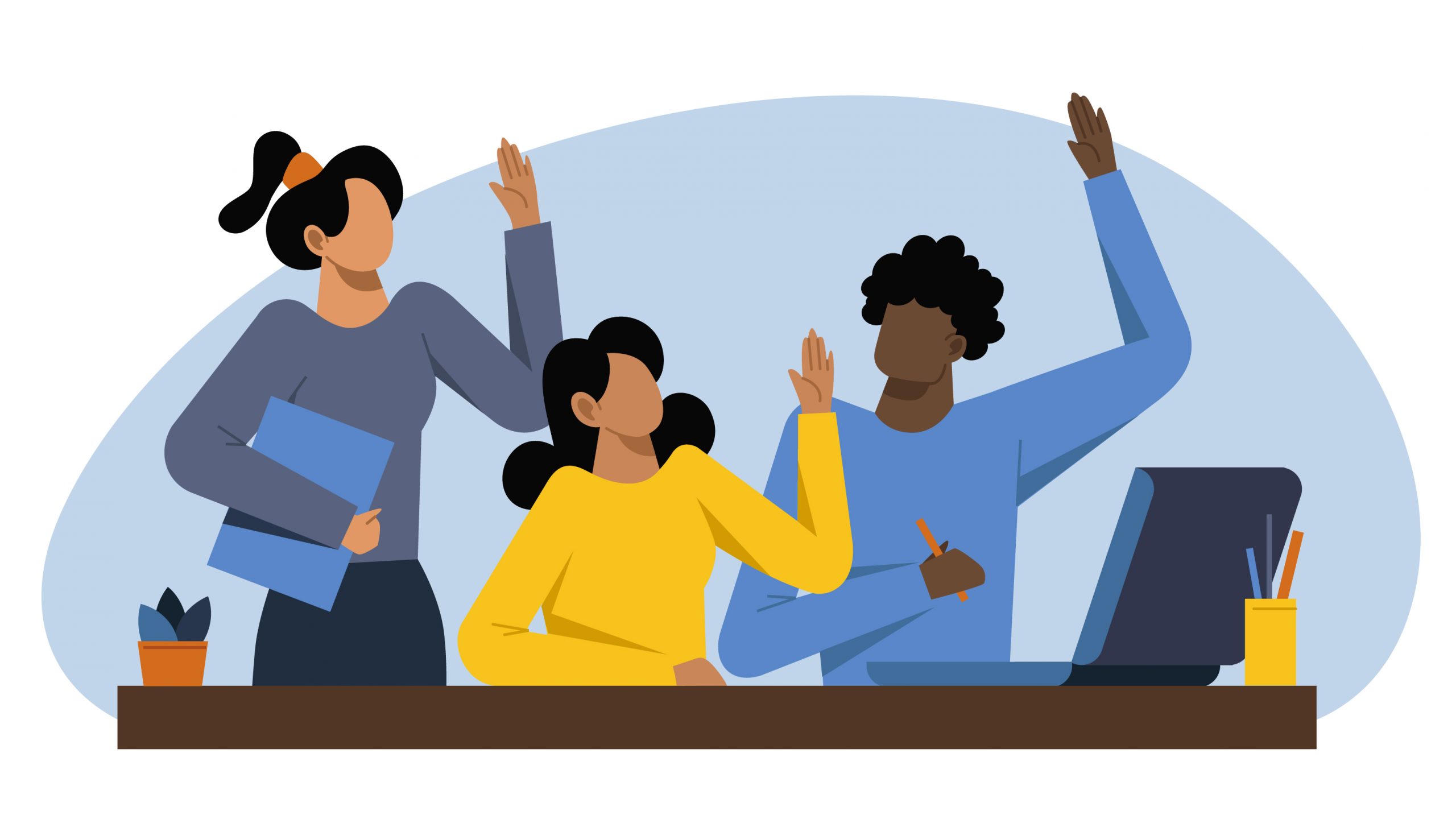 Another important point is that these meetings run around revisiting the company's core values for the business and career-minded. By celebrating the effort of each team member, you give them room to grow as professionals and to consider themselves vital in the company's story.
We can study The Reynolds Team Virtual All Hands Meeting from June 2020, which was also an event for the company May Awards (awards given for work performance). After covering each point of the agenda, the takeaway message by the moderator was: "Stay Positive. Work Hard. Make It Happen". She praised her employees for their efforts and dedication. She took time to deliver a message in a time of uncertainty that they mattered as individuals, that they helped to build the business but so do their families matter (for her 1250 employees). This brings light to the power of All Hands Meetings to boost alignment with the company's values and appraisal of individuals in their career paths.
Logistics of All Hands Meetings
Though digital meetings reduced the issues on this topic, still event planning can be an issue for some companies. We talk about picking the appropriate location, equipment required for streaming content, accommodations for the attendees, catering service, etc.
Depending on the size of the actual meeting, event planners are hired to relieve the HR department of managing all the ins and outs, as they have multiple tasks to attend to simultaneously.
Some key aspects to consider:
Attending format: If fully live, hybrid or remote. Each option has a different impact on the budget, though the tendency these days is to opt for a hybrid since it allows remote workers to participate.
Media outreach: In the case some workers cannot attend, or part of the content shared is conferences, the company has to decide which media outlet will that All Hands Meeting have. Some prefer to distribute the content via in-company mediums so attendees can re-watch the event for educational purposes. Others opt for live broadcasting through platforms such as YouTube or Vimeo since it helps to boost the company's cultural presence (IT companies often opt for this).
Getting the attendees on board: For some people, this meeting format is entirely new. HR crew usually onboards the new employees about the aspects behind an All Hands Meeting, how to raise questions depending on the meeting archetype, and what's the expected outcome of an All Hands Meeting.
Having said this, large companies should balance the budget spent in the event with the outcome they hope to achieve. It's not just the external resources hired but how many hours each department spends producing the required event presentations and attending the event, instead of working for the company.
For contextualizing the logistics an All Hands Meeting event can have, we can analyze Deloitte's 2019 All Hands Meeting at Sentosa, Singapore. Logistics involved booking three hotels for the 1700 attendants, building a conference room + social meeting area at Sentosa Beach, and managing transportation for the different activities.
The branding behind this event tacked every aspect from the entertainment activities to the t-shirts the Deloitte employees wore to identify them as part of the corporation and the event. As a bonus for making the event all about the cultural experience of being part of Deloitte, dinner took part in the beach camping area. Live rock concerts closed each night the activities for the day, and a broad range of games aimed at social interaction was available at the beach location. You can take a look at the resume reel for this Deloitte All Hands Meeting FY2020 here.
Effective Tips for All Hands Meetings
Now it's time to present some tips to kick-start your All Hands Meeting event in style!
Tip #1: Present the new team members
Regardless of the format being virtual or a big live event, it's a huge opportunity to introduce the new members of your organization. It breaks the barrier of corporate formality of email introductions and lets them know they are not the only "new member," as this lessens anxiety.
If we talk about Corporate Wide meetings, a slide greeting the new team members with their photos, and asking them to stand up is a time-efficient idea.
In the case of a Team Wide meeting, start by letting them introduce their name, position, and work department. Graphics can help since employees can list their email or LinkedIn profile to grow their professional network. They can also introduce some ice breakers, such as asking the employee to reveal something personal: favorite dish, last vacation place, pet name, or a hobby they practice.
Tip #2: Consider ice-breakers
Adding fun to the event is the most crucial item you can take from this list. People tend to look down on corporate events as they assume these shall be boring lecture sessions they ought to attend. All Hands Meeting are precisely the opposite, so it's a big chance to bring out common questions in the workplace, such as:
If you could work on a dream project, what would it be?
What's the best thing that happened this week in your personal life?
How do you think working for this company is shaping your personal values?
What training course did you always wish to take but never had the time/money for?
Picture this kind of question in a Workgroup Wide meeting. The team decides to host an All Hands Meeting during a team lunch. The ambiance is more relaxed than the usual workplace dynamics. Hence questions like those strengthen the bonds between the group leader and their co-workers.
Thanks to this question format, leadership can gain insight into which areas to work next, how to tailor projects to include the best talent available, and how to give opportunities for their employees to grow as happy, fulfilled professionals.
Tip #3: Host an "Ask Us Anything" session
Break the ice between management and the workforce by allowing your team to inquire about the leadership team's story, how they saw market opportunities for the niche they work for, how they overcame obstacles in their professional life to reach their current position, etc.
This is the ultimate tool for transparency in an organization. Employees build trust after sessions like this, and it also brings light to some of the managerial decisions about the route the company is taking.
This can be easily applied for both Corporate Wide and Team Wide events, and moderators can assign 30-40 minutes to these sessions in the event's agenda. It's a good practice to ask the attendants to deliver their questions for the event to the Head of the Department. Thanks to that, commonly asked questions rank first, and the leadership can also answer last-minute questions.
Tip #4: Convey the event's message with the extracurricular activities
As we saw in Deloitte's example, All Hands Meetings are not just lectures and conferences. It's about building the company's culture, so leisure activities are a must-have.
For Corporate Wide meetings, the corporation can plan a package of leisure activities to include based on these premises: teamwork, healthy competition, and activities available for all physical conditions. Why the last point? Simple: some employees may feel excluded if all the extracurricular activities are extreme sports intended and they are affected by any physical impairment.
Again, since this is all about building company culture, get your team of designers working for the event to produce cool apparel with the company's logo, mention "All Hands Meeting" + date and location for the event, and why not department name. This can come from t-shirts, bags, hats, bracelets, etc.
For Team Wide and Workgroup Wide, it can be easier to organize as these activities can take part in an All Hands Meeting:
Big lunch/dinner reunion, with tables for 8 people or more.
Live Concerts.
City tours.
Photo sessions.
Workshop for some of your workers' most common hobbies.
Beach party.
Virtual team activities are also an option when hosting a hybrid All Hands Meeting.
Tip #5: Consider hiring a life coach for the event
You would be surprised if you ask your workers how many times they considered hiring a life coach but couldn't afford the fee. In the case of Corporate Wide events, it's a good practice to avoid tedious conferences to include an interactive session.
Life coaches or career coaches bring immense value to a corporation since their expertise is to help people to reach their maximum potential. Getting help in the form of coaching sessions can increase the chances of tackling unknown issues by the management, such as imposter syndrome, social anxiety, etc.
You can't go wrong with hosting a session like this to help employees build their own career development plans. Not to mention the advantages such mentorships can do for time management, productivity, and reducing burnout.