Recently, Microsoft announced that the Office.com Clip Art and image library is no more. For old timers like me who have been using Microsoft Office and its clip art for ages, this is somewhat sad. RIP Microsoft Clipart (1993 – 2014).
What to do Now?
This also raises the big question about alternatives to Microsoft's Clip Art and images, the answer is quite simple, there are a number of alternative methods by which people can (and already have been) substituting clipart since more than a decade. For example, people use images taken from their mobile devices, download images via search engines and also acquire high-quality content from various website. This is also one of the reasons for the closure of the Clip Art and image gallery.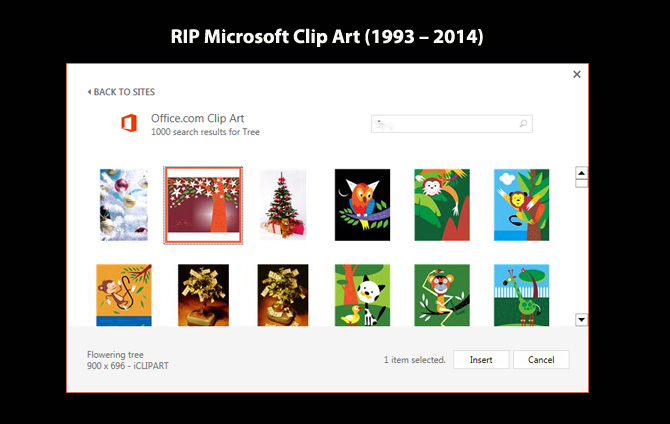 Bing Image Search is the Default Replacement!
Just because Clip Art is gone, doesn't mean Microsoft has left its users high and dry. As many Office 2013 users already know, Bing Image search is already available for inserting online images to Office documents and PowerPoint presentations. It will now be the default replacement for the Image and Clip Art gallery and the good thing is that the images you see are licensed under Creative Commons to allow their commercial use.
Moreover, people can always opt for other websites and online sources for acquiring images and it seems many new players are already in the game, such as Adobe's acquisition of Fotolia, which provides high-quality stock images.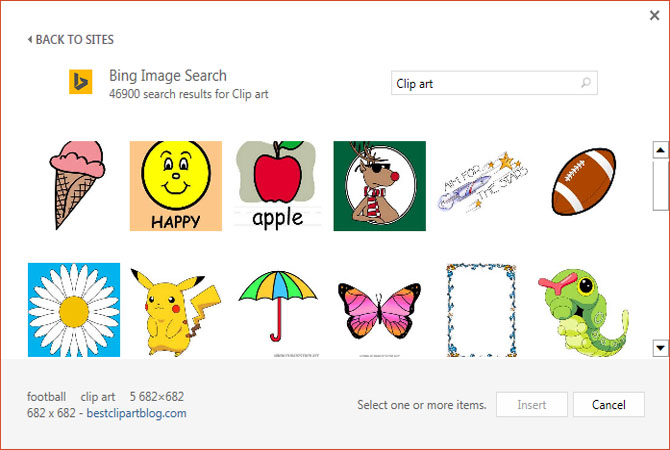 Beware of Copyrights!
While Bing Images might be useful enough, many images downloaded might not be editable like Office clipart used to be. Furthermore, Creative Commons licenses sometimes require attribution and not doing so can even land you in legal trouble or at least something like a DMCA notice if you use them on your website.
Editable Clipart for Your Presentations and Commercial Use
However, we do have some recommendations from our own gallery that you can freely use without any concerns. All you need is a SlideModel package and you're good to go. The downloaded images are editable and you can use them without any restrictions for commercial use.
You can download our high-quality PowerPoint cliparts which can be edited right from within PowerPoint. For example, you can change the shape, color and size of the clipart images, without worrying about loss of quality.  Moreover, the clipart images include icons, sample diagrams with editable characters, maps for countries, continents and world maps, as well as clipart related to education and business processes.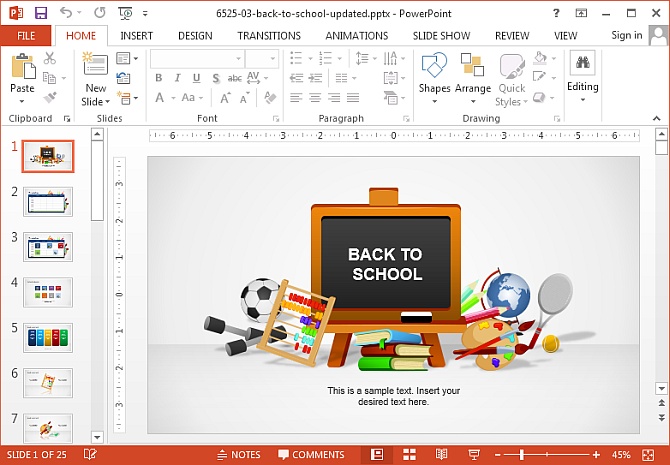 These clipart images can be used for a variety of purposes and depict characters like medical professionals, business professionals, Santa Clause, etc. Many of the images are also generic so they can be used to cover a number of topics.
Having icons at your disposal can be of immense help, this is because they can be used for presenting various topics and sub-topics using visual aid. For example, a Facebook icon can help the viewer easily understand and better comprehend a topic related to social media or Facebook in general. Our icons library contains various templates with editable clipart related to; communication, logistics, social media, business, Google actions, time and date, arrows, environmental icons and more.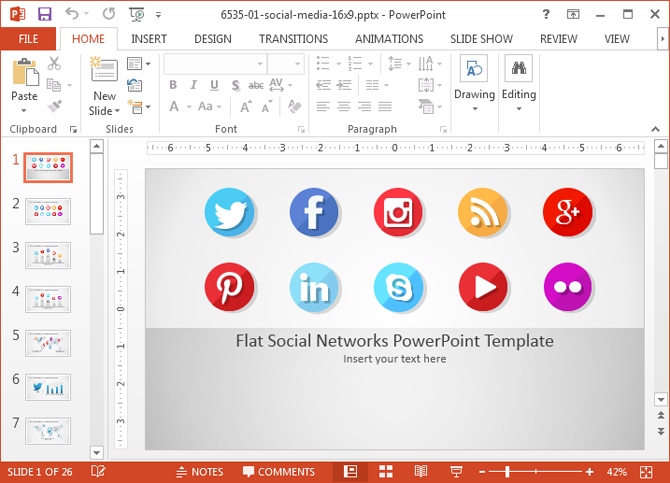 Editing the Clipart Images
You can conveniently edit these clipart images using various options from the Ribbon menu in PowerPoint. As mentioned earlier, these are editable clipart images and you can change anything from the color, shape and size.
The below screenshot shows how we changed the color of the clothing of the 'Mike' character, by picking a different color from 'Shape Fill'.