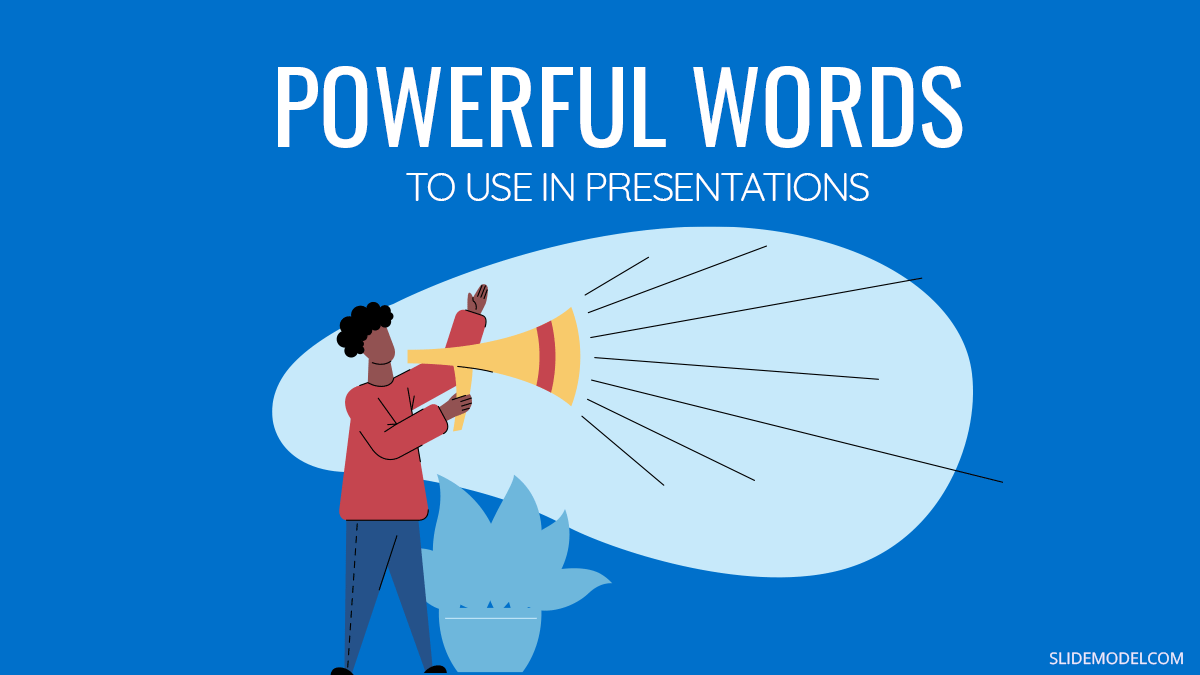 The power of words is immense and palpable when it comes to sharing ideas with others. The way you frame your sentences and cherry-pick specific words will affect how the audience preserves you. Not just that.

Well-selected power words can shape narratives around businesses, distort (positively and negatively) their perception, and impact the listener's decision to purchase. That's why top copywriters and public speakers alike spend a great deal of time brainstorming different word combos and obsessing over their selection of action verbs, adjectives, and linking phrases.
Granted, you no longer need to do that. Just grab a PowerPoint template of your choice and start populating it with our big list of power words!
What are Power Words?
Power words are persuasive words and phrases that evoke a positive or negative emotional response. Our selection of verbs, adjectives, and adverbs can convey different emotions from slight excitement to rightful outrate. That's why public speakers, authors, and copywriters always carefully choose their words to convey the right idea and sentiment.
Power words and phrases can make the same idea sound very different. Let's take Apple's famous slogan as an example: Think different.
You can also convey the same idea using other descriptive words: Don't think like everybody else, think outside the box, be creative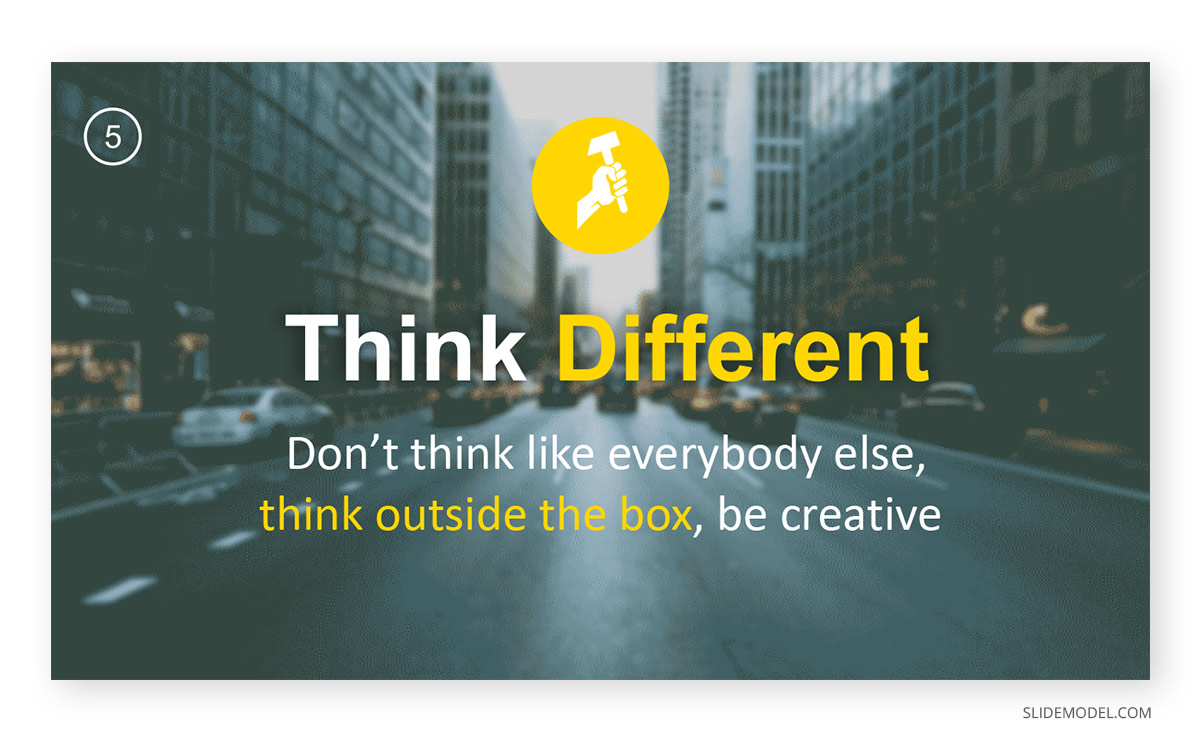 However, each variation has a somewhat different ring to it. Ultimately, your word choice also impacts how others perceive you based on your speech.
Researchers found that word selection can have a massive impact on people, businesses, and society as a whole. Individual word choices can indicate the speaker's mental state and impact the outcomes of a negotiation. Business power words shape customer experience with the brand and affect conversions. Action words, chose by the media, influence public perception of a social issue.
Interestingly a group of researchers from Wilfrid Laurier University in Canada and Wharton in the US also found that word choices impact the song's popularity. By applying text mining analytics to Billboard charts, the group found that songs with somewhat more unique texts performed better than those with pretty standard lyrics. A 16% differentiation in lyrical topics within a song was enough to propel it higher than songs in similar genres.
The takeaway:
Our word choices have a profound impact on how others perceive us, as well as the actions they take afterward. Thus, if you want to be a Rockstar presenter, you need to choose your words carefully and prioritize powerful words!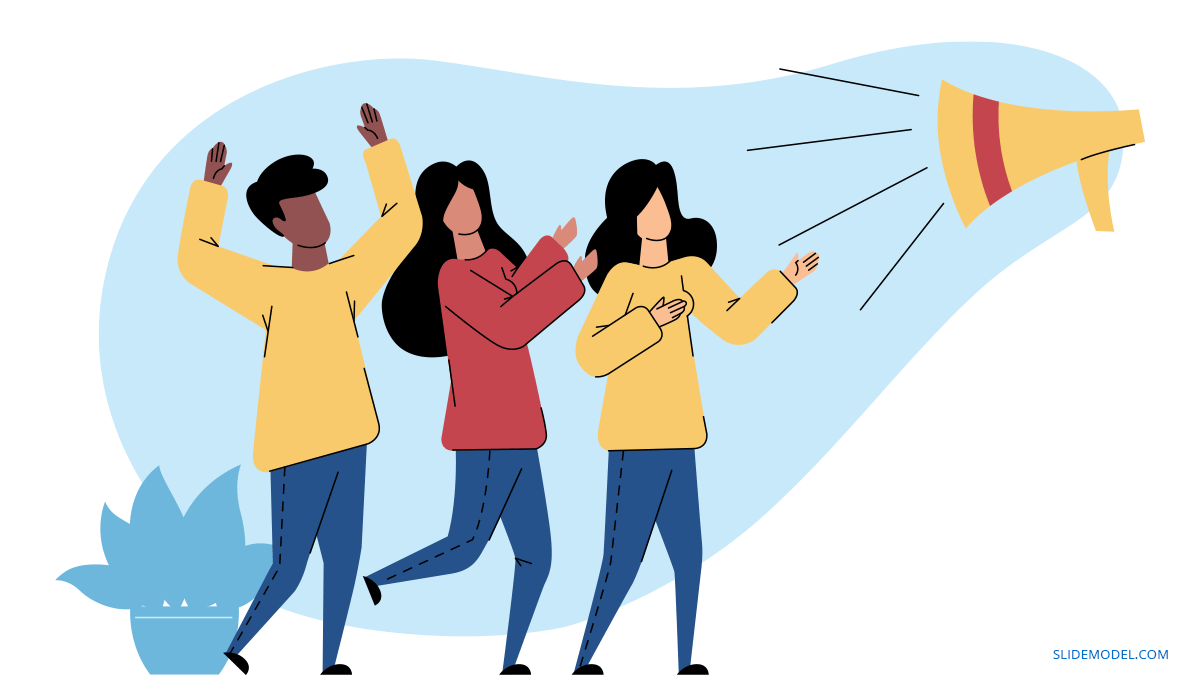 List of Powerful Words to Use in Presentations
The English language has about 170,000 words in use. But an average person has an active vocabulary of 20,000 – 30,000 words. Among them is a smaller range of powerful adjectives and action verbs to make your presentations and speeches more impactful. 
Action Verbs to Use in Your PowerPoint Presentation
As the name implies, action verbs denote some dynamics — state, movement, result, etc. We use action verbs in our everyday speech a lot to describe what and how we do things. As author Elwyn Brooks White suggests:
"Write with nouns and verbs, not with adjectives and adverbs. The adjective hasn't been built that can pull a weak or inaccurate noun out of a tight place."
Strong verbs don't need adverbs to reinforce them. Compare these two statements:
I walked quickly towards the door.
I rushed out of the door.
The first sentence merely states the fact. But the second one better conveys the emotion, the urgency of getting out of the room. It adds color to the narrative and sets the right mood.
In business presentations, action verbs help imply action to the user. They are good to use for both throughout the copy and the closing slide when you describe:
Main action points
Accomplishments
Takeaways
Next steps
Results
As you proofread your slide deck, look for weaker verbs and then replace them with stronger synonyms. Some common offenders include:
State-of-being verbs such as am, does, do, could, might, etc. While they have their merit, oftentimes, you can find a more descriptive alternative, conveying an extra emotion.
Verbs ending in -ing: wishing, planning, forgetting. Be bolder. Use present or past tenses instead.
Verbs in conjunction with an adjective: walked quickly, talked loudly, etc. Again, these can be replaced with snappier one-word alternatives.
List of powerful verbs to make your language more persuasive:
Advance
Accelerate
Aspire
Amplify
Alter
Achieve
Maintain
Encourage
Entice
Intrigue
Believe
Regard
Convince
Boost
Ignite
Unite
Transpire
Surge
Swell
Disrupt
Rejuvenate
Hamper
Sabotage
Jeopardize
Gain
Derive
Act

Smash
Transform
Improve
Soar
Supercharge
Engage
Report
Update
Change
Explore
Refine
Dream
Re-define
Strategize
Inspire
Bolster
Propel
Nudge
Spark
Contend
Fulfill
Actualize
Maximize
Capture
Achieve
Reinforce
Impart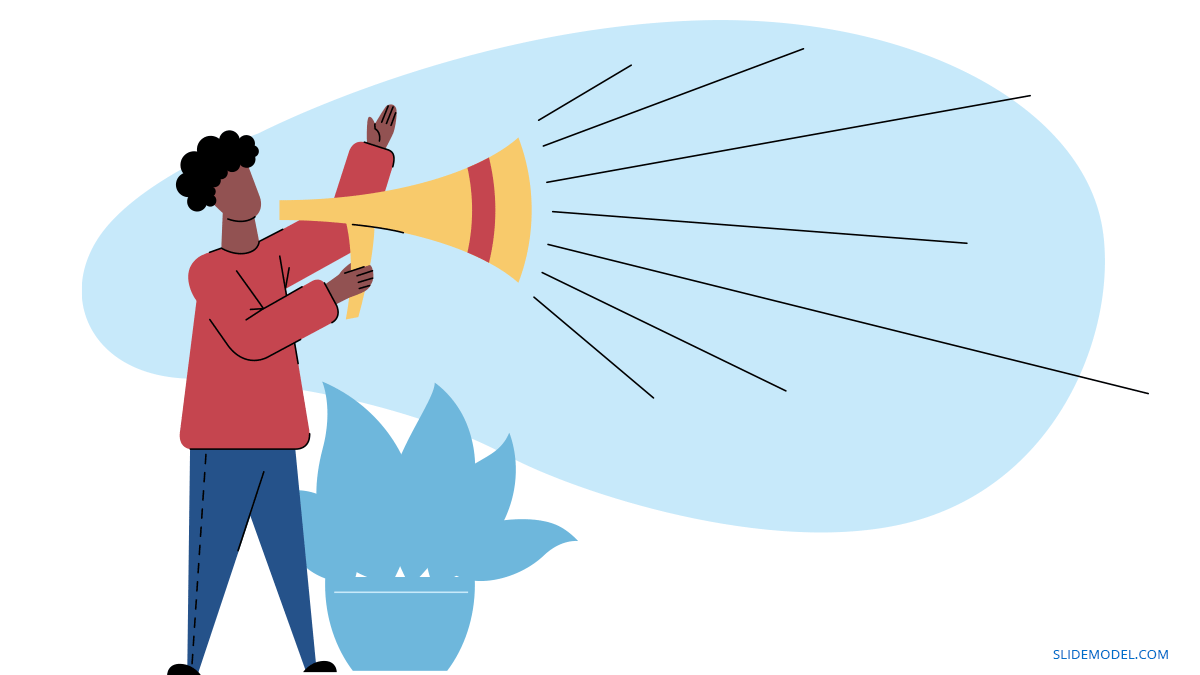 Powerful Adjectives to Use In Your Presentation
The goal of adjectives is to reinforce your nouns and verbs. Use them to convey specific emotions and set the scene for the audience.
But be sparring. You are not writing a novel. Too many adjectives can make your slide deck look cluttered, as you'd have to skim on white space to fit longer sentences. Also, excessive use of adjectives can muddle the main idea behind your key statements.
Below is our quick collection of power adjectives you can use to punch up your presentation:
Power Words for Motivation
Awe-inspiring
Astounding
Rare
Exquisite
Jubilant
Blissful
Brilliant
Dynamic
Burgeoning
Breathtaking
Accomplished
Successful
Ardent
Eager
Livid
Enterprising
Venturesome
Ambitious
Go-getting
Life-changing
Empowering
Encouraging
Rival
Lofty
Daring
Bold
Impressive
Remarkable
Stunning
Baffling
Monumental
Admirable
Sensational
Incredible
Power Words for Sales (Adjectives)
Affordable
Rich
Cost-effective
Exorbitant
Knock-out
Valuable
Attainable
Science-proofed
Bargain
Massive
Discounted
Attractive
Noteworthy
Limited-time
Fully-booked
Refundable
Negotiable
Below market average
Too-good-to-miss
Subsidized
Upscale
Luxurious
Budget-friendly
Optimal
Exclusive
Time-sensitive
Tempting
Efficacious
Economical
Attainable
Sensible
Stylish
Unique
Profitable
Power Adjectives to Persuade
Certified
Verified
Risk-free
Effective
Tested
Proven
Solution-oriented
Vetted
Guaranteed
Non-negotiable
Quality-controlled
Reliable
Legitimate
Lifetime
Expert
Market-tested
No-fail
Foolproof
Flawless
Absolute
Surefire
Steady
Conclusive
Ingenious
Innovative
Advanced
Cutting-edge
Superior
Exceptional
Game-changing
Ground-breaking
Flagship
Warranted
Promised
Protected
Assured
Collateralized
Bankable
Popular
Promising
Painless
Diciest
Tamperproof
Immutable
Coherence Markers
Coherence markers are conversational words and phrases we use to denote logical connections between different ideas. They are not meaningful standalone words. Yet, they play a huge role in making your presentation copy more compelling.
Take a look at these two versions of Dove ad copy:
Your skin's natural oils keep it silky and supple. As you age, it becomes less elastic, and the production of oil slows down. Aging can cause dull, dehydrated skin.
Your skin's natural oils keep it silky and supple. But as you age, your skin becomes less elastic, and the production of oil slows down. That is why aging can cause dull, dehydrated skin.
The bolded coherence markers help digest the claims by establishing logical connections between the ideas. Research shows that adding such links to any copy (or speech) improves clarity and boosts persuasion. Therefore, sprinkle some coherence markers in your presentation to help the reader or lister mentally justify what you are saying.
Coherence Markers to Use in a Presentation
Now do it
So go ahead
Because
Due to
That's why
Given that
Here's the deal:
That's right
Ditto
By contrast
Big news:
Even so
Beyond that
Why?
For starters
Likewise
What's the bottom line?
You might be wondering
By now you should
Better still…
The general conclusion is that
Compound this with
What does this mean for you?
Inferring from above
Just imagine
You've tried everything. But
You start to worry that
Let me guess
Admit it
What's the catch?
Or is it?
I know that's what you're thinking, right?
But one thing's for sure
Let me say this straight
Now consider it this way
It gest better (or worse)
But here's the kicker
As if that's not enough
Best of all
Metaphors
A metaphor is a figure of speech used to represent or symbolize another object or concept. For example, time is the greatest gift given to you.
Writers love using metaphors to act depth and eloquence to their narrative. At the same time, top presenters use these to help the reader picture an intangible concept.
As research found, metaphors help with persuasion by helping the reader or listener form a concrete mental image of the discussed concept. For example, you can say that your printing equipment works fast. But how fast do you mean? A metaphor can help make it more clear, e.g., "Our printing machines an equivalent of Ferrari in terms of speed."
Check our complete guide to using metaphors in presentations for more insights. Or swipe of some of the examples from our list below: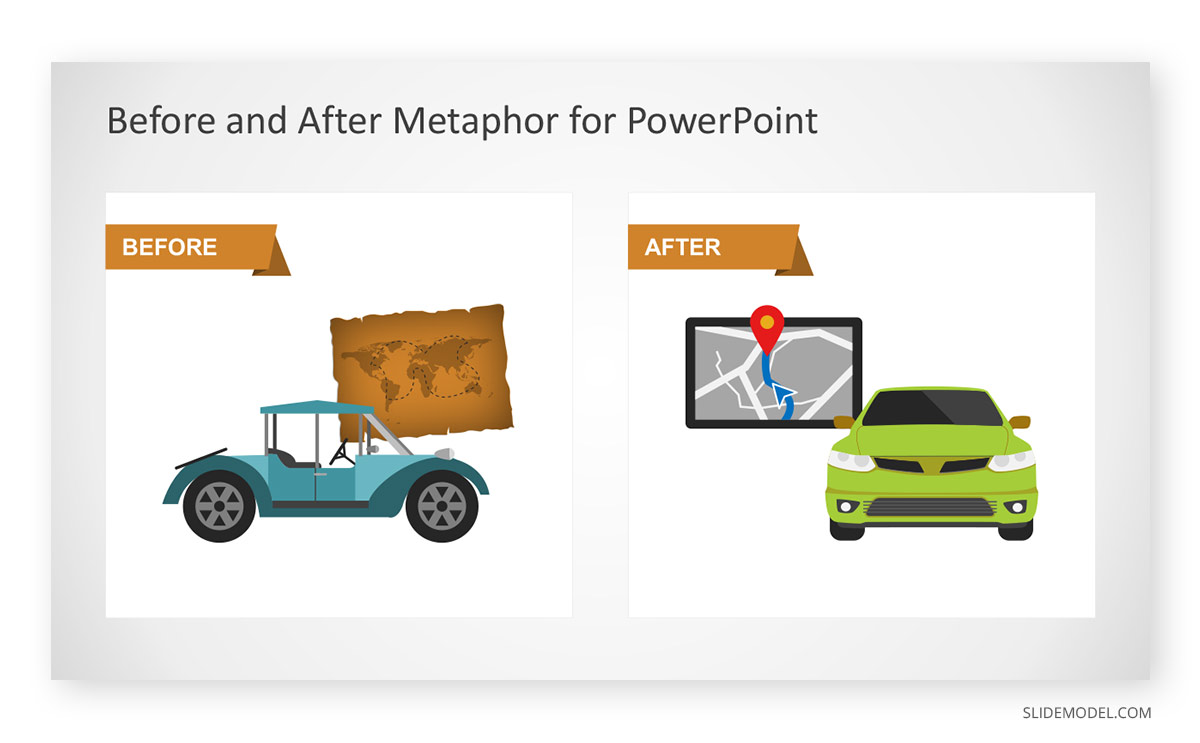 Metaphors for Professional Presentations
Zeus-like
Drag-and-drop interfaces
To be worth waiting for
Glue for the Internet
To stay afloat
Off the shelf
Custom-made
To get up to speed
App-like functionality
blue ocean / red ocean
Bumps on the road
Jump on the bandwagon
Tossed its cap
The veneer on the credenza.
Moonshot project
More complicated than one-color puzzles.
Lion-tamer-sky-diver fun
Pack a punch
At the foothold of new
Buckets of questions
Going against the grain
The epitome of something else
From full throttle to a halt
To Conclude
Positive power words speak straight to the hearts and minds of the audiences. They encourage, inspire, motivate, bring up, and help move on in the right direction. If your goal is to hammer in a clear idea and prompt subsequent desirable action, these words are your best buddies to use all through your presentation slides and during delivery!