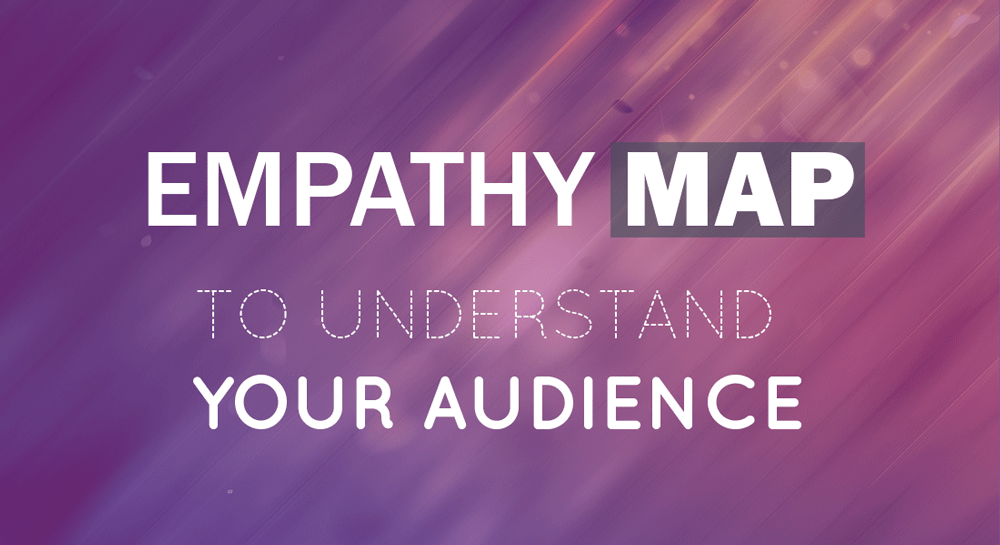 As a presenter, one can tend to focus too much on the final presentation, missing one essential ingredient in the mix, empathy! Many presenters can face the dilemma of not truly understanding their audience, ending up with a presentation which no one is interested in and some might even get offended by. To truly understand your audience, you might want to map out their hopes, and aspirations, and try to keep them in mind when delivering your presentation. In such a case you might want to use an Empathy Map.
What is an Empathy Map?
An empathy map is a tool to gain insight regarding a specific group of people via collaboration. Much like mind mapping or conducting a brainstorming session. While empathy maps are usually used for understanding customers, there is no reason why you can't apply the same method to better understand your audience.
Empathy Map was the brainchild of Dave Gray, the founder of XPLANE. His company which started in 1993, revolves around helping people make better business decisions by understanding the needs of other people. The Empathy Map was meant to be a tool to map customers in order to understand what might work for a business. In 2017, he even uploaded an updated version of his Empathy Map.
Based on the updated version of the Empathy Map by Dave Grey, the following are worth considering to create such a map. The questions given below are explained in more detail in sections ahead.
Who are we empathizing with?
What do they need to do?
What do they see?
What do they say?
What do they do?
What do they hear?
What do they think and feel (Pains and Gains)?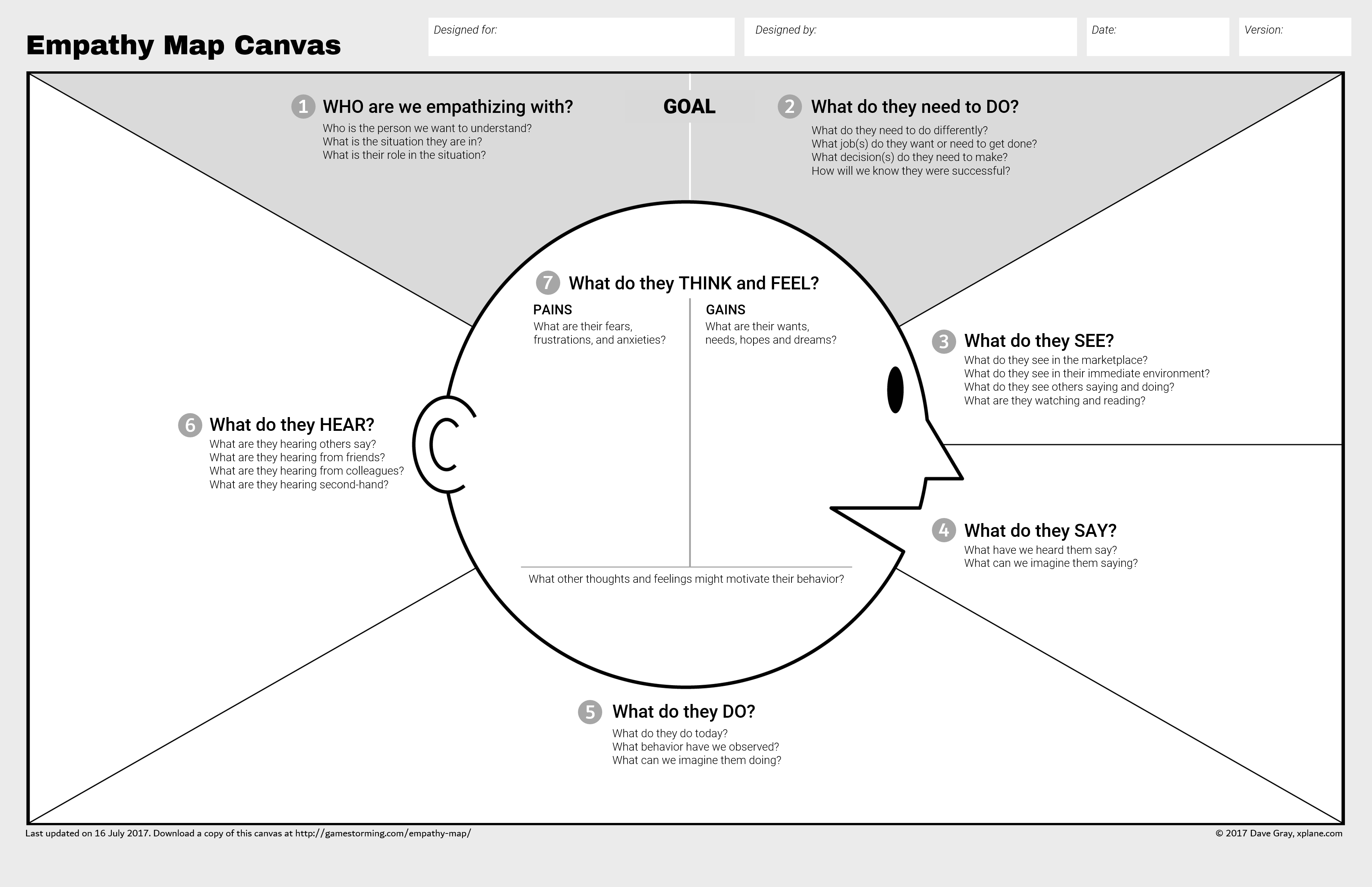 Image courtesy: Dave Gray (gamestorming.com)
Why and How to Use an Empathy Map?
You can use an Empathy Map whenever you think there is a need to understand a segment of people. These might be your customers, such as the specific market segment that you are looking to target or maybe your audience, which you need to better understand to make an impact with your next presentation. Here are a few simple steps that you can use for making your Empathy Map.
a. Define the Purpose for Your Empathy Map
It is important to understand the purpose for your Empathy Map. From a presenter's point of view, it can be to acquire investment by using a pitch deck, to advocate for social change, to present the quarterly results of a business quarter, to influence organizational decision making, etc. Whether you're a business professional or even a student looking to get that A by impressing your classmates or teacher, the Empathy Map can help you do that. But you need to start with your objectives for making your Empathy Map.
b. Use Relevant Research Data
You can't understand your audience just by assumptions. You need something more concrete and in many cases, research data can help you out. You can make use of secondary data to understand your audience or even conduct a short survey. For example, it might not be a bad idea to send your audience a short survey days before your presentation.
You can ask them questions regarding their point of view on specific topics and preferences in order to better understand them. Similarly, if you're a student, you can perform a short survey with your classmates or around the campus, in case you're delivering to students from various classes.
The idea is to look for information that can help you understand your audience, even if it means talking to people connected to your audience. In case you want to conduct short surveys, you can always use tools like Google Forms to make the data gathering process convenient for you.
c. Don't Make an Empathy Map Alone
As mentioned earlier, an Empathy Map is a collaborative tool; this means that you shouldn't try to make it alone. For an individual looking to target a market segment, collaboration would mean discussing key aspects of customer preferences with different colleagues during a brainstorming session, such as representatives from different departments. For a presenter, it can be your friends, colleagues, or people who understand your stakeholders.
Who you collaborate with will depend upon your needs as a presenter and the type of audience you are looking to cater for. For example, if you intend to satisfy an environmental pressure group regarding the best environmental practices of your company, you might want to create an Empathy Map with someone who understands environmental issues. Having a diverse set of collaborators can help enhance your ability to better understand a specific type of audience.
d. Spend Enough Time on Your Map
When making an Empathy Map the one thing you should keep in mind is not to rush it. Take as much time as you need and if needed, you can also make the map in more than one brainstorming session. Furthermore, there is also no harm in going through multiple brainstorming sessions with different people to gain a diverse perspective. This might even include a similar type of experts from a specific field or a homogeneous group of people in separate sessions. This is because even a homogeneous group might have slightly different ideas about the kind of information or views they might offer.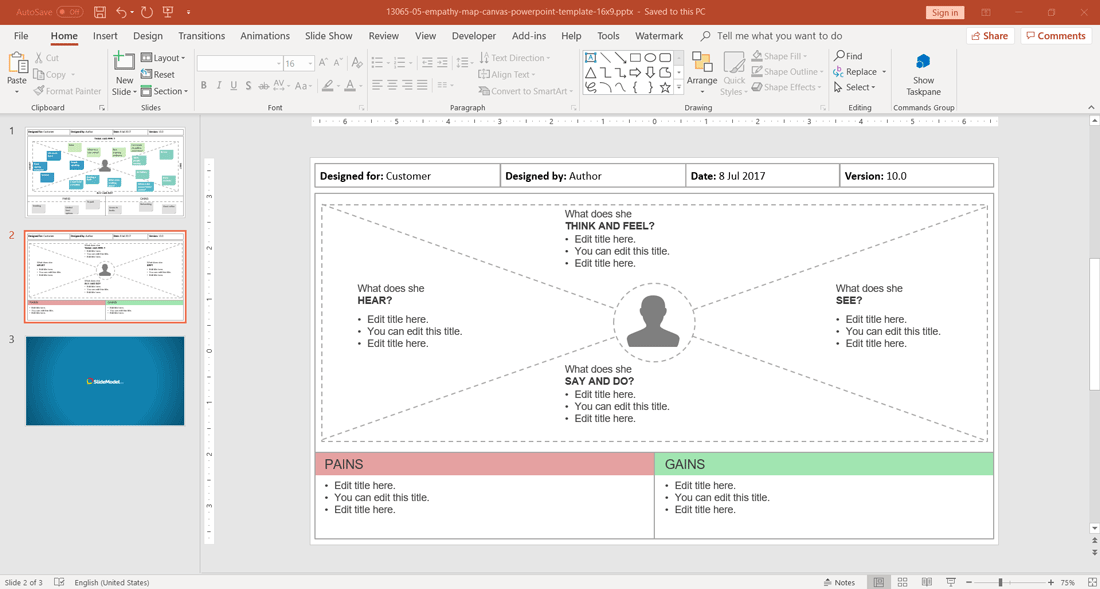 Using your Empathy Map for Presentations
When using an Empathy Map Template for making your presentation, you need to stick to the basics associated with the map. You will require dwelling into the questions an Empathy map offers and fill in the blanks. This information can then help you create a presentation, which can help you effectively target your audience for the desired outcome.
a. Understanding The Type of Audience You're Dealing With
The first question that you need to answer in an Empathy Map is to determine your audience, followed by the identification of the call to action. In other words, who are we empathizing with? and what do they need to do?. This will help you determine your target audience and help understand their traits and to outline the type of outcome you require from your presentation. These two questions are as simple as to determine your audience and to understand how to make them act a certain way, buy a certain product or join a certain cause by persuading them through your presentation.
b. Understanding the Behavior of Your Audience
The next four questions in the Empathy Map deal with the senses and actions of the group of people you are dealing with. This includes what does your audience will see, say, do and hear. This part of the map aims to identify the perspectives of the audience, and how to influence them.
c. Pains and Gains
In the last part of your map, you will require determining what are the pains and gains of your audience, such as what are the issues, hopes, and aspirations associated with your audience. You will have to determine what can your audience gain or lose by what you're offering them as a presenter and how can you pitch your ideas close to their hopes and aspirations or by catering to their needs.
Final Words
An Empathy Map can be a great tool for understanding your audience and determining the way they might react to a certain type of idea presented during a presentation. Such a map can help you, therefore, map your audience and their behavior in order to present your perspective in a manner that they can be receptive to. However, when presenting your presentation you need to leave your bias at the door and empathize with your audience. Your "Empathy Map" will be quite redundant if you leave out "empathy" from the equation.
For presenters, there will always be a segment of the audience that is the most difficult to convince or can be problematic during a presentation. In order to effectively deal with this segment, you might want to see our guidelines regarding the use of the 20/60/20 Rule in presentations.