There are many reasons why you may consider to convert a PowerPoint presentation to High-Definition video, for example if you want to share a presentation online (using Youtube, Vimeo or any other online video platform), create a self-running presentation or save the slide show video to a DVD.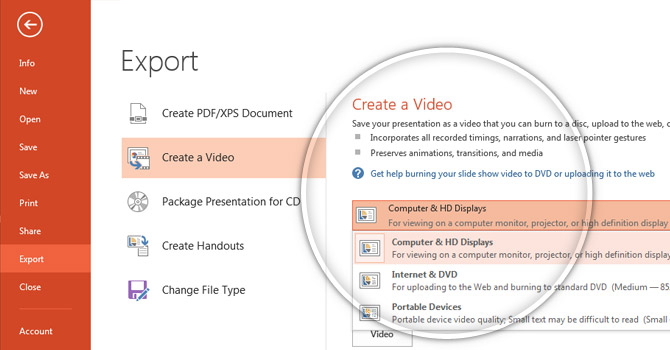 In this article we will guide you on how to convert a PowerPoint presentations to a High Definition video (as an MP4 video file or Windows Media Video .wmv file) using Microsoft PowerPoint.
PowerPoint let you save presentations as video directly from the File -> Save As dialog box, however if you need to choose the output video quality while saving the presentation then it is recommended to use the File -> Export -> Create a Video option.
A presentation in High Definition (HD) or high quality uses a higher resolution (1280×720) to save the video information. It can improve the overall experience while watching a presentation online or playing a PowerPoint slideshow in a kiosk. The main drawback is that the presentation video file size will be bigger and more bandwidth may be required.
How To Convert Slides to High Definition Video in PowerPoint
1. In order to save a PowerPoint presentation as a HD video go to File -> Export and then click Create a Video button.
2. Now, choose Computer & HD Displays (for viewing on a computer monitor, projector or high definition display) using Large 1280×720.
3. Here you can also choose the default time spent on each slide (in seconds) and whether to save the narrations, timings, and gestures. By default, 5.00 seconds are spent on each slide unless you have a different timing recorded for the presentation slideshow.

4. Then click Create Video and choose the destination folder and output file name. Once you confirm wait a few seconds in order the file is being saved in your hard disk. Presentations with lot of slides may require a longer wait.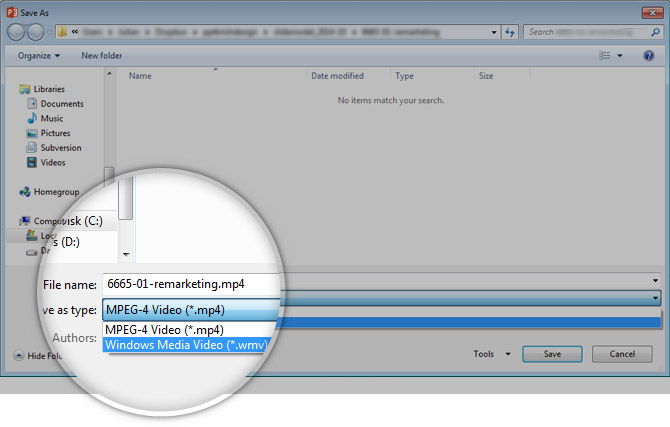 Something good about saving presentations as a video file is that all animations, transitions and media are preserved.
Saving Narrations, Laser Pointer Gestures & Recorded Timings
Aside of saving the presentation as an HD video, you can also save a video file that incorporates all the recorded timings during a rehearsal, narrations and even laser pointer gestures.


Saving videos from PowerPoint can help you at the time you need to share a presentation slideshow online (for example uploading it via Youtube or Vimeo) but you can also use this technique to prepare a PowerPoint presentation for a kiosk, make interactive PowerPoint presentations or create a self-running presentation.