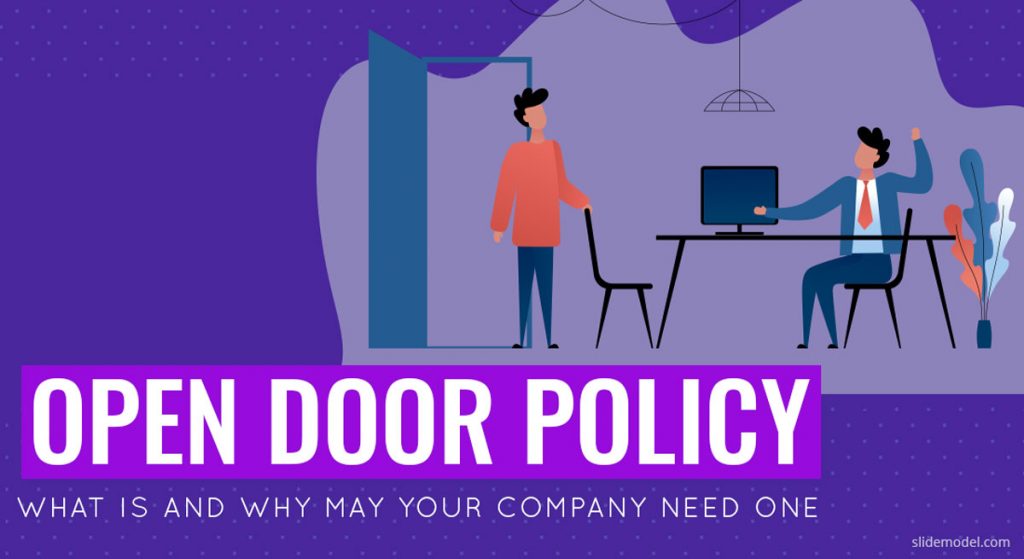 One of the main features that distinguish a good workplace from a mediocre one is effective communication at all levels — from interns up to the CEO. Ideas flow freely between different teams. Issues are identified at a nascent stage and resolved before they spiral into chaos. But what is the mechanics behind such exchanges? How do senior employees receive those insights? To a large extent, an open door policy enables such a setup.
What is an Open Door Policy?
The simplest open door policy definition (business) is this one:
An open-door policy formalizes the organization's commitment to transparent and direct communication between management and team members.
In essence, such a workplace policy implies that every managers' door should remain open to a lower-level employer wishing to share any feedback, ideas, or concerns.
Here are few open door policy examples from well-known companies:
Hewlett-Packard (HP) open door policy: The essence of [our policy] is open communication in an environment of trust and mutual respect that creates a solid foundation for collaboration, growth, high performance, and success across HP.
Walmart open door policy: If you believe your immediate manager is involved in the problem, discuss the issue with the next level of management who is not involved, use the Open Door Helpline, or … contact the Global Ethics Helpline.
As the statements above indicate, both companies have formalized open door policy human resources process for ensuring that every employees' voice can be heard. That pays off in terms of high employee engagement, workplace well-being, morale, and overall job satisfaction.
Open Door Policy Purpose in Business
An open door policy at work is aimed at shaping a candid and flexible workplace culture of accountability, collaboration, and trust from the ground-up. So that the company operates in an environment where:
Honest communication between managers and employees is an everyday business practice.
Employees have a reliable mechanism for escalating issues, seeking council, or receiving feedback on their ideas.
Management is held accountable for engaging with the grassroots staff and promoting a positive environment where all issues get heard, addressed, and resolved.
As a result, any workplace issues or suggestions can resurface early and can be openly shared with others without any fear of retaliation. An open door policy workplace has no room for toxic behaviors, gross misconduct, passive-aggressive communication, or behind-the-scene scheming.
The Open Door Policy Benefits
At the end of 2020, the rates of employee engagement hit a record lowest. Per Gallup, only 31% of US workers identify themselves as "engaged". This is problematic, especially in the current state of (indefinite) remote work.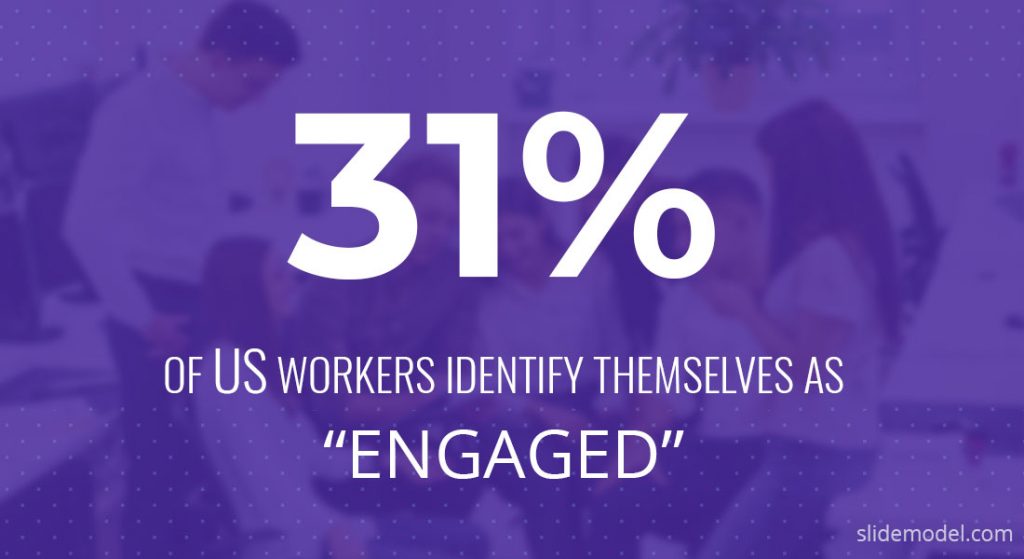 While an open door policy alone cannot address all the underlying engagement issues, it can create a good avenue for at least identifying them. Most employees prefer to discuss workplace issues with their colleagues, rather than bring them to the upper level. As a result, leaders can remain unaware of the troublesome happenings around the premises.
In that sense, an open door policy (assuming both in-person and virtual meetings) can drive the following benefits:
Improved communication flows across — both top-down and bottom-up
Promote faster issue/conflict resolutions among staff and management
Resurface unknown inefficiencies and blockers to productive performance
Identify problematic persons at the workplace and assign corrective measures for them
Help build closer working and personal relationship between managers and their team members.
Do Startups Need an Open Door Policy?
Bigger corporations are often plagued with ineffective communication due to their size and 'crustier' corporate culture.
Startups, on the other hand, have a more agile, collaborative environment, effectively mirroring their approach to product development. However, in pursuit of customer-centricity, some overlook the importance of leading transparent and feedback-driven communications internally.
Being a startup, SlideModel also recognized the need to have a formalized open door policy. Putting our commitment to building a transparent, flexible, and safe workplace culture has positively impacted our teams' overall wellbeing. On top of that, a series of open door meetings resurfaced a couple of processual inefficiencies our people have been dealing with and patch those up!
But to keep this discussion fair, it's also worth mentioning that an open door policy may not be a timely initiative for every startup.
The managing team of a startup at a high-growth stage might not have enough "bandwidth" to personally deal with a flurry of employee queries or suggestions. Or they might now have sufficient HR resources to facilitate open door policy management.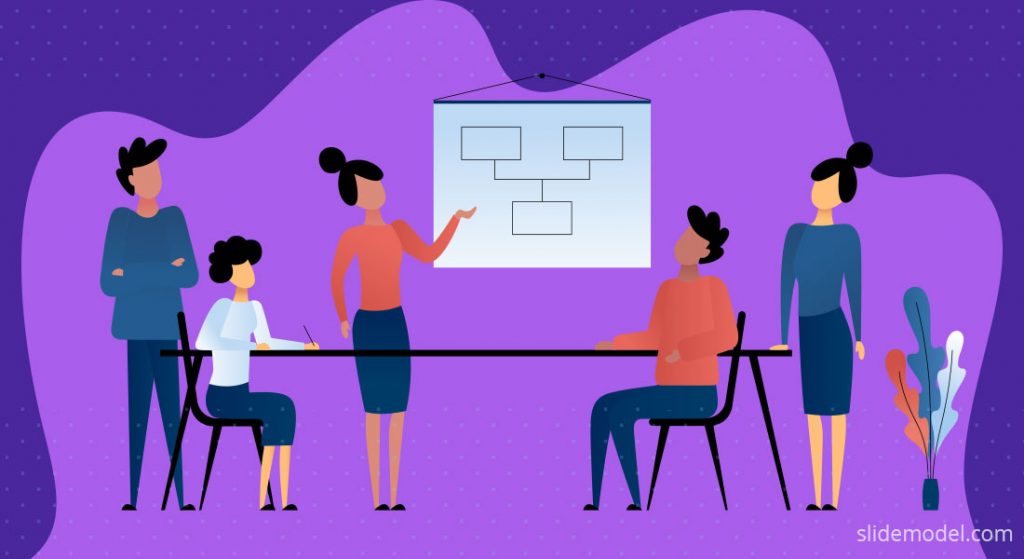 Because of that, some companies are finding the open door policy to be more of a nuance than a positive add-on to the workplace. Here are some commonly-cited disadvantages of the open door policy:
Over-leverages the managers' time. Between 25%-80% of a manager's productive time can indeed be occupied by all sorts of meetings. Adding impromptu requests from employees can leave them even shorter on time. The solution? Allow each manager to set several 'open door days' per month or collect feedback via other means — surveys, project retrospectives, or after-action reviews. 
Results in low individual accountability. Some leaders are concerned that an open door management style may prompt the team to bring all sorts of issues to the manager, instead of dealing with the minor problems on their own. A well-worded open door policy provides a clear explanation regarding what issues should or should not be presented to the manager. 
Meetings turn into venting sessions. Initially, some employees may view the policy as an authorized method for complaining and venting out frustrations. But a good policy is more than just hearing about a problem — it should promote action. Train your managers to funnel the complaint into further action. Each meeting should be concluded with a series of steps that both will take to resolve the problem, along with a follow-up check-in date. 
All in all, an open door policy is effective only when it has a clear structure, further backed by action from both the managers and the employees.
How to Create an Effective Open Door Policy at Your Company
To some an open door policy may appear similar to a corporate mission — a statement defining the commitment to better communication.
That's true to only a certain extent. The 'policy' component also assumes a certain processual structure, specifying the scope and boundaries of the initiative. Or else, you risk joining the ranks of people, considering an open door policy to be ineffective.
With that in mind, let's take a closer look at how to draw your corporate open door policy.
1. Understand the Main Open Door Policy Components
A standard open door policy template includes the following components:
Summary of the rationale behind the policy
Communication funnel:

Which issues should be discussed/escalated?
Who is the first point of contact for general concerns?
How to contact them/schedule a meeting?
Who is the second point of content if the first person is unavailable/cannot help?

Extra tips and pointers, explaining how the open policy works at your company and when the employee is encouraged to take advantage of it.
This is a basic canvas you refine over time as you gather feedback from your team and the managers.
2. Align the Expectations
To be effective, any policy should be bounded by responsibilities. In this case, you should manage expectations both among the staff and management.
Everyone should know when and how to approach a superior and whom they should choose to contact first. In particular, list all the cases when a person should take advantage of the open door policy. For example:
Ask for feedback/advice
Voice our a complaint or concern
Raise awareness for a problem
Seek resolution of a dispute/conflict
Propose a change or improvement
Ask questions about certain subjects
Discuss a personal issue
Also, it would help if different departments received a customized list of contacts to address their concerns. For example, a lot of people might want to speak to your CEO or Head of IT with a new product idea. But, in most cases, that's not the best first person to hear their idea. Also, provide instructions on how to schedule a meeting or which office hours are allocated open-door meetings with a particular manager.
Next, all the managers should be informed about their roles and responsibilities in this process. Specifically, explain that during such sessions they must:
Listen intently without passing immediate judgments
Be honest and transparent when probed with a question
Provide clear feedback and advice. Or direct the employer to a more competent member
Take follow-up action if the issue cannot be resolved in one session.
3. Strive to Build a System
Systemization and standardization is the key to developing an effective open door policy and prompting wider organizational changes within your company.
Your policy needs to be further backed by a streamlined process for collecting, processing, and acting upon the incoming suggestions, feedback, and complaints. Without such a system, your policy will hardly yield the aforementioned benefits.
How do you build that system?
Train your managers: Focus on improving their soft skills — active listening and emotional intelligence. These two qualities will help the naturally grumpier types appear more approachable. Also, consider distributing roles to servant leaders at first, so they can set a good example for others and gain trust from employees.
Automate feedback collection. A lot of workplace issues or suggestions will be repetitive or not as significant to warrant an in-person meeting. Still, you'd want to be kept in the loop. Thus, consider using software to automate feedback gathering across departments and the company as a whole. Break the notoriously long "annual corporate survey" into shorter monthly check-ins with teams, themed around certain issues.
Document progress in the corporate wiki. Keep refining and experimenting with different methods for collecting and acting on employee feedback. Survey the participating managers about their successes and collect these into your corporate 'playbook' — a collection of processual steps and best practices of workplace communications.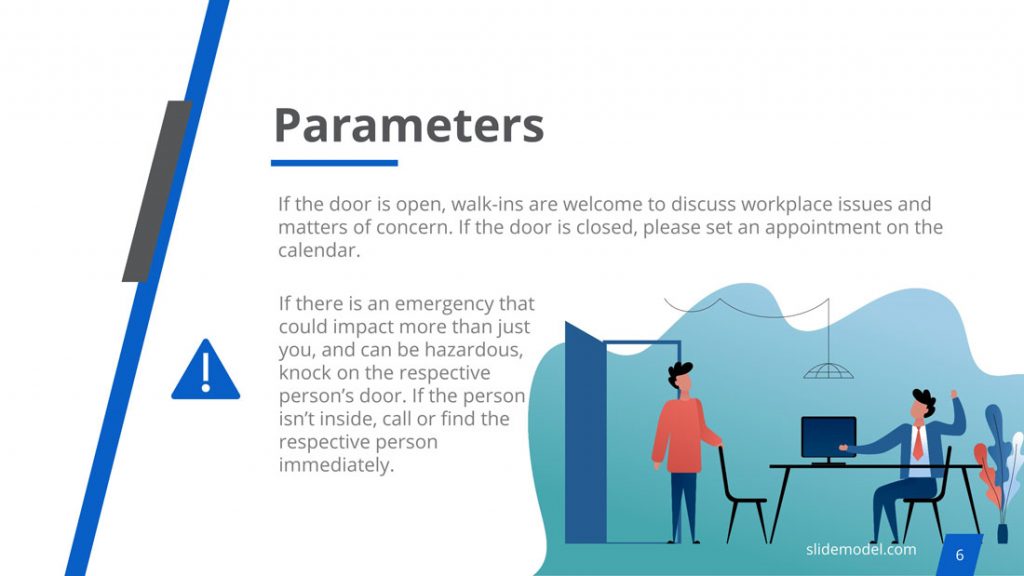 To Conclude
An open door policy is more than a proclamation of your intentions. It's a systemized initiative that requires daily input from all your staff. At first, it may be hard to break through the initial 'closed door policy' some managers have relied upon for years. So seek out easier targets at first — the approachable, servant leaders, who could set the example for others. Then, work with the employers themselves and 'sell' them your policy premises — honesty, candidness, and transparency. By continuously engaging different people within your organization, you'd be able to break through the silo!