Overview
It is easy to schedule daily tasks, like making a bed or doing laundry. However, if more than one person is living under the same roof, and many more chores need to be arranged, managing everyone's tasks can be more challenging. If task organization goes wrong, the clean-up team might face a discussion, waste time, or use more cleaning products than they should; therefore little to none cleaning will be done at the end of the day.
Now let´s translate this to a working environment. It can get increasingly hard to get more people aligned with tasks, and more so, getting them effectively completed. Luckily, the "Kanban" or the "Signal" method is here to help. In its most basic form, it coordinates efforts within a workflow that everybody can understand in three very simple steps: To-Do, Doing and Done.
What is Kanban theory?
Kanban is a modern lean method for knowledge service management, which means "Signal" or "Symbol" in Japanese, and it brings to the table a visual way of planning and delivering "To Do's".
Kanban is collaborative, intuitive, and flexible. It helps delivery teams break down big projects into smaller tasks, avoiding over-commitment, roadblocks, and over-estimation of efforts while maximizing productivity and efficiency. This method was first used in the 1940's by Toyota, in its car manufacturing processes. Nowadays, it's been increasingly used by teams across all industries to increase productivity with structured workflows.
Kanban is one of the Agile methods that focuses on continuous improvement. Even though the Kanban Principles can be applied to any project, in software development, as used with the Agile artifact "Product Backlog", shows a prioritized list of "To Do's" that a team must deliver to achieve an outcome. The Product Backlog fills up the projects pending task list while  the Kanban Board will reflect the flow of each item at every stage of delivery. This is where the Kanban Board comes in very handy.
How does a Kanban system work?
A Kanban Board is a physical or virtual canvas that serves as a workflow visualization tool. Using only a Kanban Board and Cards, the Kanban method can be applied. The Kanban board uses columns to represent different stages of a workflow. The most basic structure of a Kanban can be described with 3 columns. From left to right; the first column labeled as "To Do", the second column labeled as "In Progress", and the third and last column labeled as "Done".
Each Kanban Card represents a work item; the card will flow through the columns from left to right as the work is being completed. It will start from To Do, will move on to In Progress and will finish up on Done. This way, every member of the team will be able to see where in the flow is a certain task. The card will have only the essential information required for completion, the expected effort, the assignee, the progress to date, and any relevant details.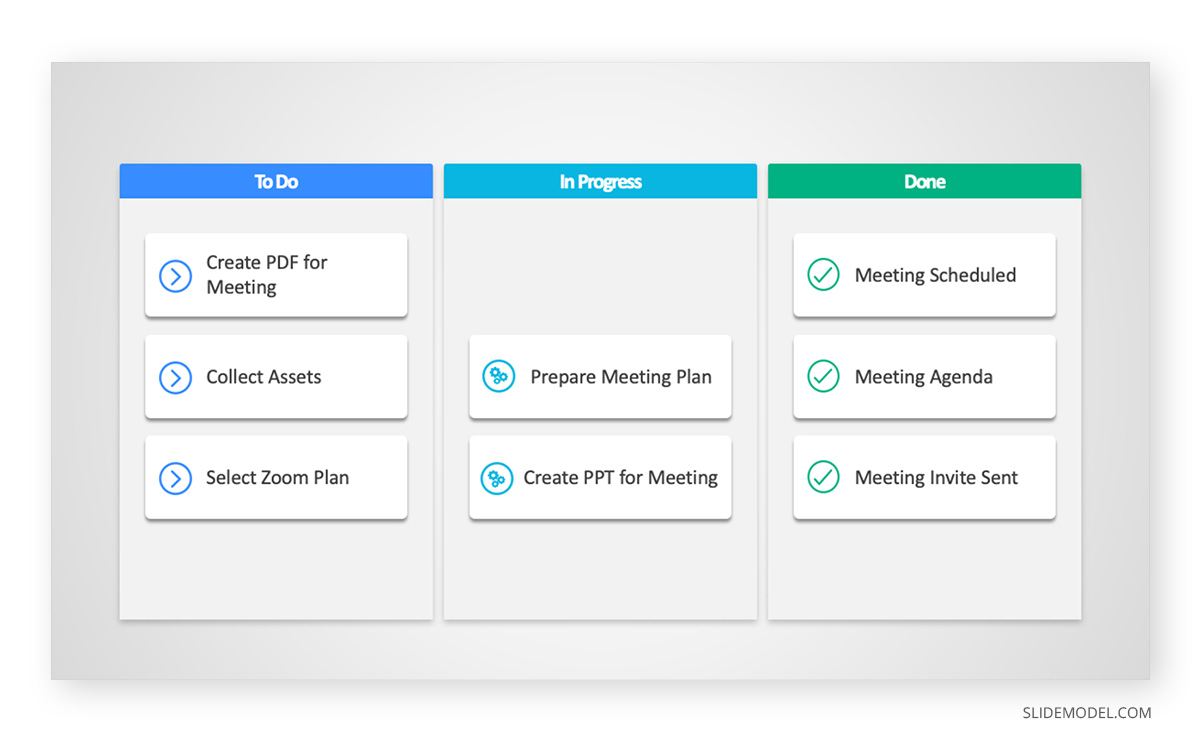 Why Kanban is Used ?
Kanban´s popularity has been overgrowing quickly in the last decade, as it's manageable to apply across industries, teams and tiers. Some of the most relevant companies worldwide improved their productivity by applying the Kanban method to maintain a structured workflow with each one of their teams.
Pixar, one of the companies who has used Kanban for years, began using it because the founder wanted to change the company's culture of communication. This allowed everyone on the team to track their work and get involved in the creative process. Using Kanban, Pixar ensured that the staff working on a production knew exactly what everyone else was doing, and how their work directly affected their colleagues.
How Kanban works in agile ?
Start with what you know.
Kanban boards can effectively reflect any workflow by customizing the columns. Start simple and immerse the project with the Kanban system slowly, as too many columns can cause confusion. Eventually Kanban will show you the perfect number of columns.
Work In Progress Limits
Limit you work in progress effort as per team and personal capacity. Multitasking is ok up to a certain point, however too many tasks can get out hand very quickly and efficiency can become a problem. By setting up a limit on the amount of work a team can do, a manager can ensure that no work overload on assignees and no casualties for burnt out staff members are suffered.
Transparency
Get your team together for 15 minutes and review the board on a daily basis. Anyone can look at the status of each one of the card items and quickly see what is in their pipeline. It is also a good opportunity to plan the day or have your team speak out any concerns they might have with their work. The Kanban Board will provide a clear definition and don't allow any subjective interpretation of what that card intends.
Use powerful colors
As mentioned before, the Kanban board is customizable. Colours help to create a visual impact. Use different colors to reflect different types of work, or indicate task priority indifferent roles within your project teams. Another example of color coding is for status, benefit from the interpretation of these colors. Red cards can be used for "blocks", yellow cards for "warnings" and green cards for "done". Plus, the use of a color code will come in handy if a project decides to go with Kanban Metrics option.
Flexibility
The Kanban method, even though it has specific principles, is highly customizable and can be applied to any kind of projects: from home improvement to applying for a job. Place a card under a column, and move them to the right once each column phase is complete. As the scope or the type of a project gets more and more complex, the workflow system stays the same.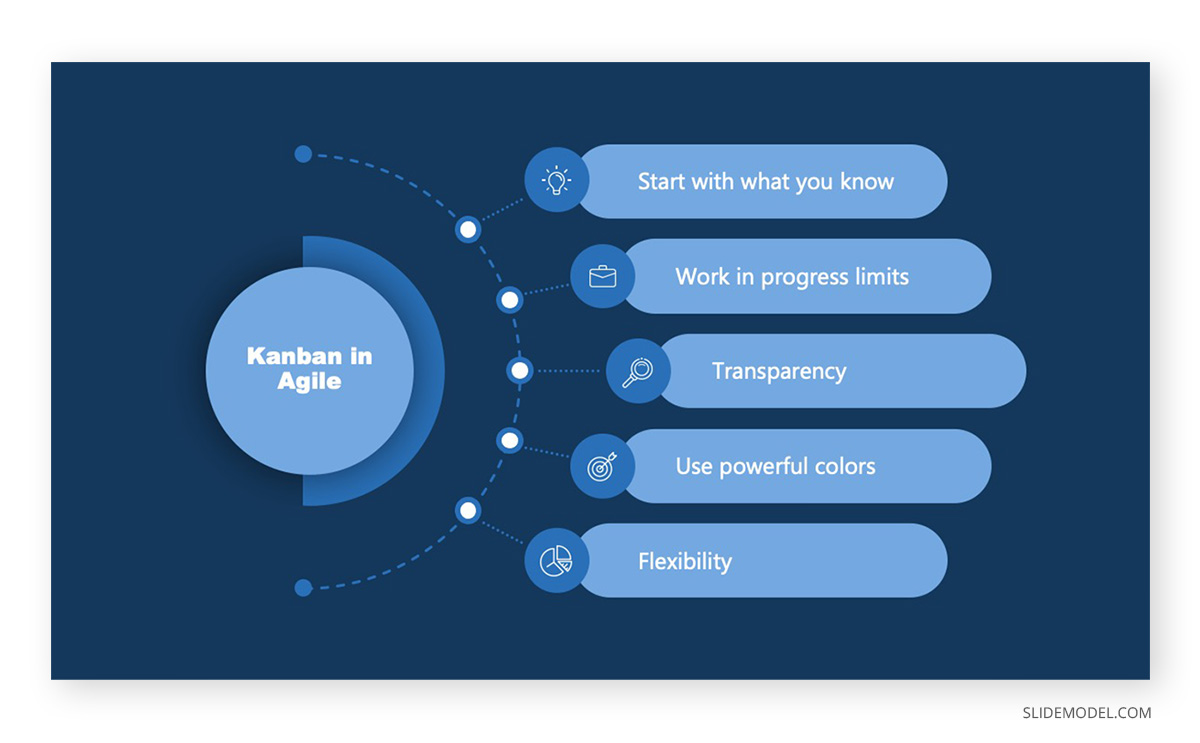 Kanban Use Cases In Organizations
Editorial Marketing
Using a Kanban board can help build an editorial calendar and track the lifecycle of each content piece. The Kanban board allows at a glance, to understand who is doing what, and when it will be ready. This will avoid missing a publishing date.
Human Resources Teams
The hiring cycle is an interesting application of the Kanban Board in Human Resources departments. The board will have several columns representing each stage of the hiring process, and each applicant could be represented by a card. The implementation of Kanban solves process roadblocks and timelines.
Marketing
The customer's journey is the story of a buyer and all the steps they take prior to making a purchase; it is a must-have marketing tool. Using a Buyer Funnel Sales Process PowerPoint Template can be an excellent visual representation of the journey from advertising up to converting into a sale. Kanban board columns could be represented by each of the customer's journeys and its columns can be customized to marketing content planning.
Executive Teams
Last but not least, board meetings have agendas and a lot of tracking to do. Kanban can provide leadership teams the chance to visualize the progress of several decisions at the same time without looking endlessly for emails.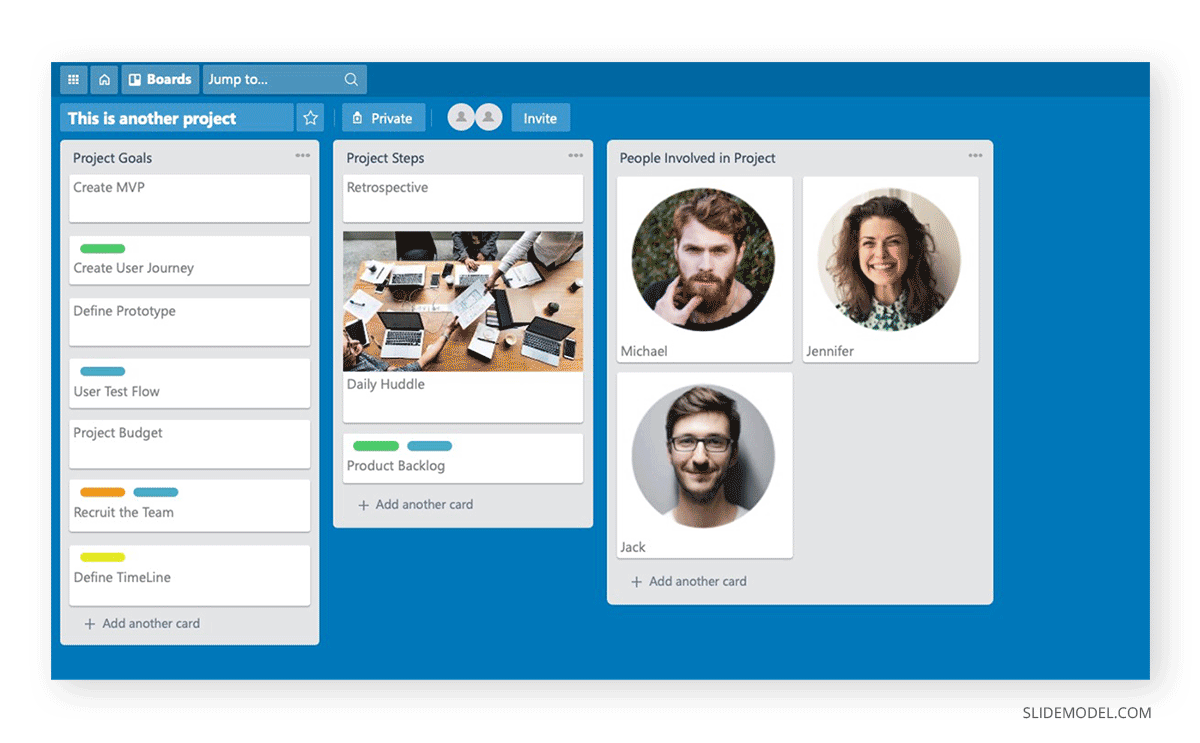 Final Words: The Power of Visuals
A Kanban Board plays a vital role not only displaying the task workflow, but on the team's synergy. Gathered comfortably, a team can collaborate and identify discoveries and challenges. It also creates an appropriate atmosphere for innovation aligning project expectations with new initiatives. A Kanban Board highlights a team's productivity first by looking at a project as a whole and by everyone. Furthermore, it responds to the new demand of flexibility in the workplace. A Trello Board PowerPoint Template in Google Slides is the perfect online tool for home-office meetings.
Probably the biggest benefit of actually seeing and touching Kanban Cards, is being able to limit work and not moving forward unless complete. Showing that your project workflow is predictable, the organization embraces agility by focusing on the flow and continuous improvement making it´s mark on the organization.
Freelancers and remote startups can benefit from editable Kanban Boards. Slidemodel.com offers a great resource for organizing work collaboratively using PowerPoint Templates. They can be used as a Task Management Dashboard, as it provides all of the benefits of Kanban's visual components that make task assignment and scheduling easy to follow. Take advantage of the visuals of a Kanban Board in any practice, avoid confusion, stress, overwhelming behavior and the dreading's of project failure.