When it comes to recording a presentation in PowerPoint a presenter might be looking to record a narration with the slides or to simply create a tutorial with web cam input and narration. In this post we will show you how to record a presentation in PowerPoint for narrating your slides or making elaborate video tutorials. For the purpose of this post we will use PowerPoint and the Blue Business PowerPoint Template to demonstrate our tutorial.
How to Record a PowerPoint Presentation
Step 1: You can start recording your slides via the Slide Show tab. To start recording your narration go to Slide Show –> Record Slide Show. In the drop down menu which opens up you can choose to initiate recording from the beginning or the current slide.
Note: You might also notice a third option (Clear), which might or might not be grayed out. Don't use this option unless you want to delete your recordings.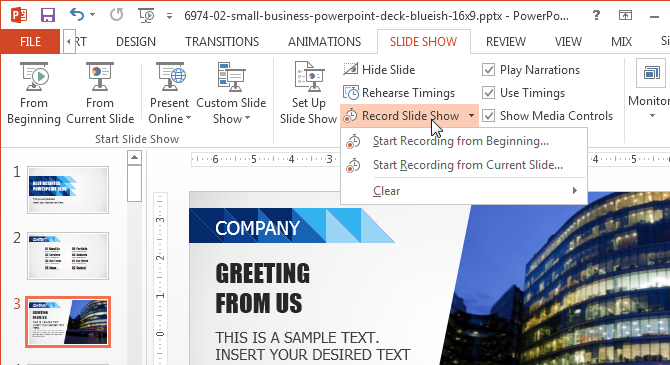 Step 2: You will be presented with a dialogue box which will allow you to start the recording process. Before you begin recording you can optionally uncheck options to disable recording of slide and animation timings, as well as narrations and laser pointer.
Slide and animation timings: This feature enables PowerPoint to record the time you spend on your slides, which includes time spent on each slide and the time consumed by animations and triggers.
Narrations and laser pointer: This option enables you to record your voice input (narration) as you present your slides. You can use the pen, highlighter, laser and the eraser tool if this options is enabled. PowerPoint will record your activities with the aforementioned tools and make the content available in your recordings.
Note: The pen, highlighter and the eraser tool is only available for users who have the Feb, 16th, 2015 update for PowerPoint 2013 or are using a later PowerPoint version like PowerPoint 2016.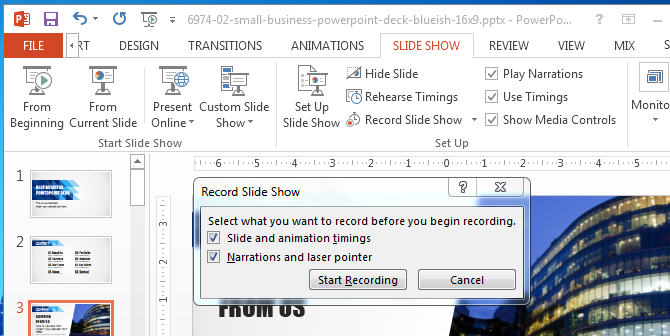 Step 3: Once in recording mode, you will be able to navigate between your slides and record voice narrations. You can click Pause to pause your presentations. In case you want to resume from where you last left off, you can simply click Resume Recording.
Arrow: Enables going to the next slide
Pause: Pauses the recording
Reverse Arrow: This option can be used to re-record the current slide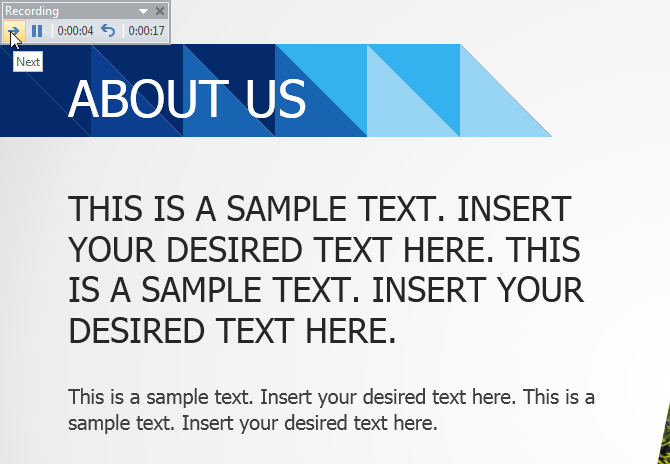 Step 4: You can use the pen, highlighter, laser pointer and eraser via the right-click menu. The right-click context menu also provides options to switch between slides (Next, Previous, Last viewed), view all slides, Zoom, switch to Presenter View, turn screen black or white and to pause or end the presentation.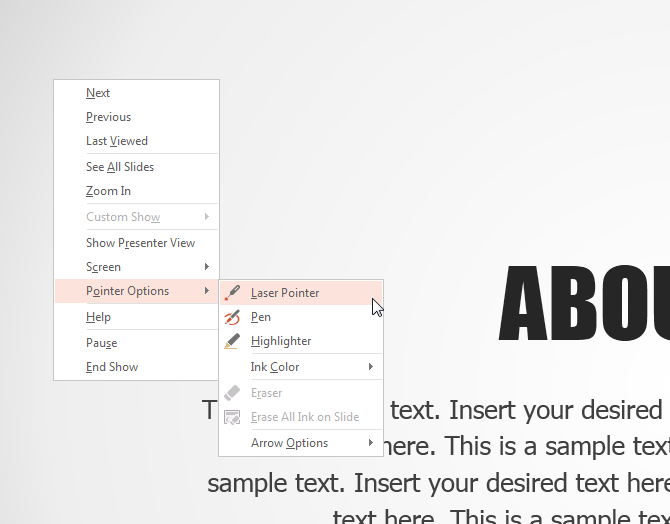 Step 5: To end your recording anytime right-click the slide show and select End Show.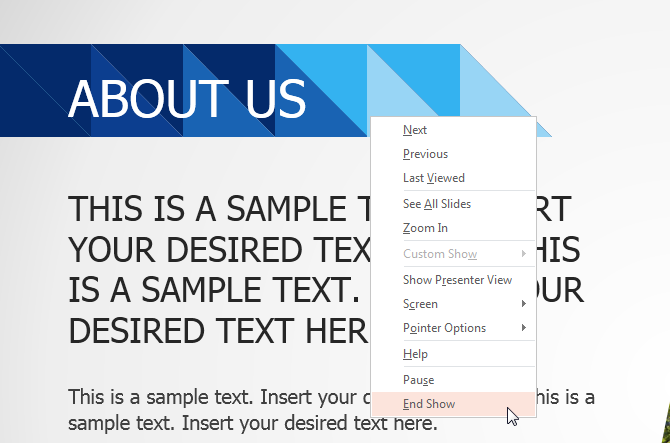 Step 6: Once your recording concludes you can preview your recorded presentation via Slide Show –> From Beginning. Also note that a speaker icon will appear on your slides once recording is concluded. Hovering your mouse over this icon will allow you to playback the narration.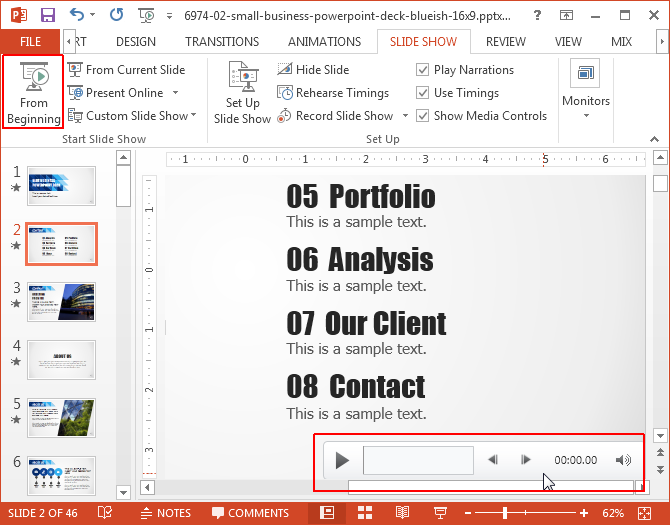 How to Create Elaborate Video Presentations or Tutorials using Office Mix Add-in
There are a number of tools that you can use for making video tutorials in PowerPoint such as BBFlashback Studio and Camtasia Studio. However, these tools come with limited features in free or trial versions and you can always opt for something better as an alternative, such as the Office Mix add-in.
Office Mix is a free add-in which provides a plethora of options for recording your presentations with voice narrations, cam input and annotations. The add-in provides a presentation with links to video tutorials upon first launch. These tutorials walk you through the use of all major features.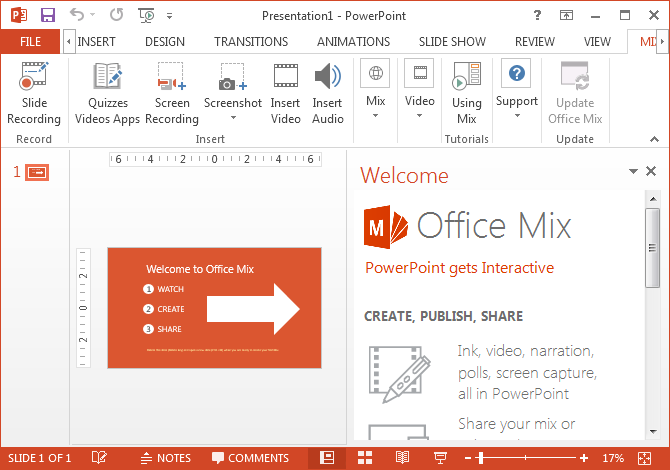 The Mix tab in PowerPoint provides self-explanatory options for making your PowerPoint video presentations. The options in this tab enable you to initiate recording for your presentations, take screenshots, add apps and quizzes to PowerPoint, preview your video, as well as to upload your video online or to export it offline.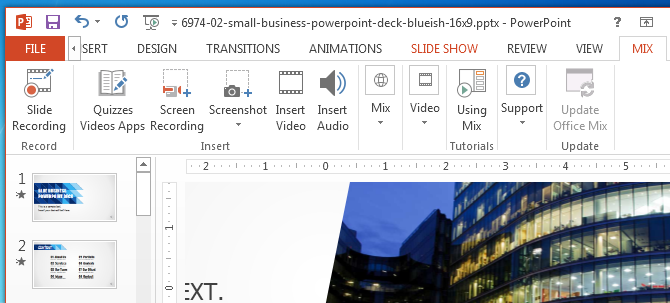 Once you click Slide Recording the recording mode opens, you can adjust your microphone and cam settings. Once you're ready, click Record to initiate the recording process.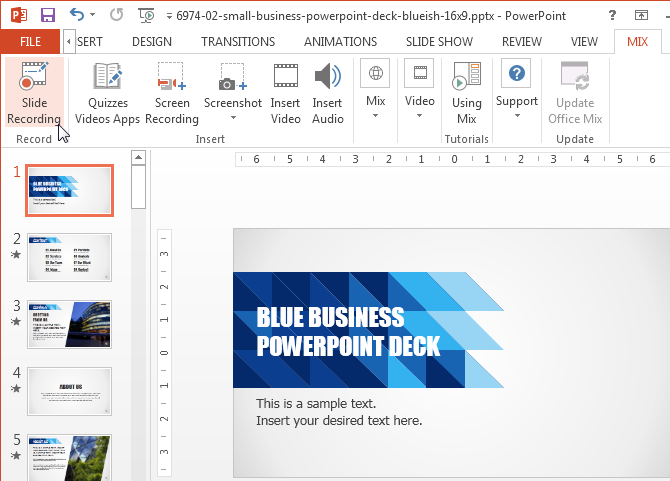 When recording your video presentations you can make use of a number of tools such as the Pen Tools to annotate your slides. You can erase your annotations anytime using the Eraser.
To sum it up, when recording presentations you can freely navigate between your slides, draw to demonstrate your ideas, record audio narrations and also include your cam input to create a lively video presentation or tutorial.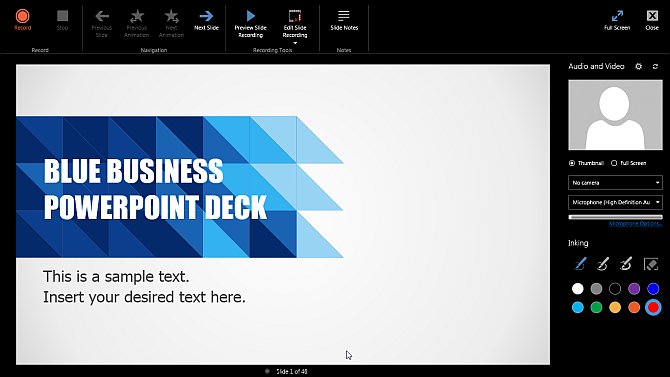 The supported features allow you to export and manage your Mixes online or as an MP4 file. The supported export options also support SCORM.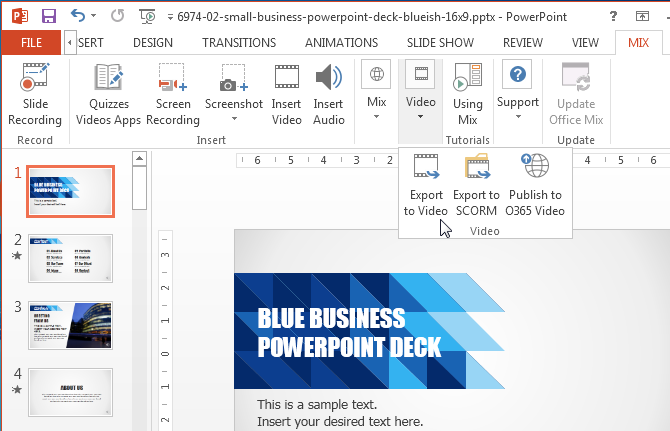 As mentioned earlier, you can also upload your Mixes online and even manage them from your Office Mix account.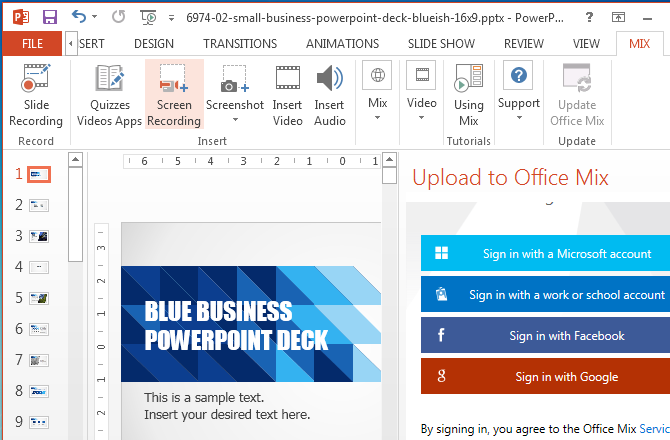 To start using Office Mix simply download the add-in by logging in with your Microsoft, Google, Facebook or registered work or school account. Once done, make sure PowerPoint is closed and install Office Mix from the installation file.
Go to Download Office Mix
Tip: When making tutorials and video presentations you should use high-quality PowerPoint templates because a hazy or badly crafted slide deck can ruin your entire presentation. You can download high-quality PowerPoint presentation templates for making video tutorials and video presentations from our vast archive of Professional PowerPoint Templates.