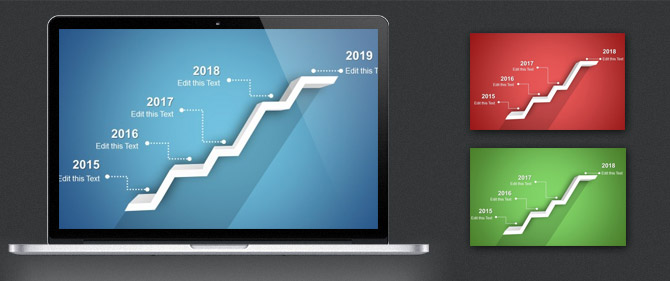 Timelines are a very powerful tool while making presentations for project management and planning. In a timeline it is common to find labels of events and milestones with dates on points where these events would have happened along the time.
If you are using our creative timeline template designs for PowerPoint you may want to consider editing the timeline content in order to match your presentation needs. Here we will show you how to open and edit the timeline content. Also, check out our tutorial on how to create a timeline in PowerPoint and Google Slides.
Edit the PowerPoint Template to Make a Custom Presentation with a Cool Timeline
1. First of all, download the template from our site and open it in Microsoft PowerPoint. In many cases, our timelines come with different background colors and variants on the number of steps and milestones. Make sure to choose a template with the number of steps & milestones you need for your presentation. For this example we have used the Timeline Template design with 4 stages but you can also find other variants with 3 stages and 5 stages.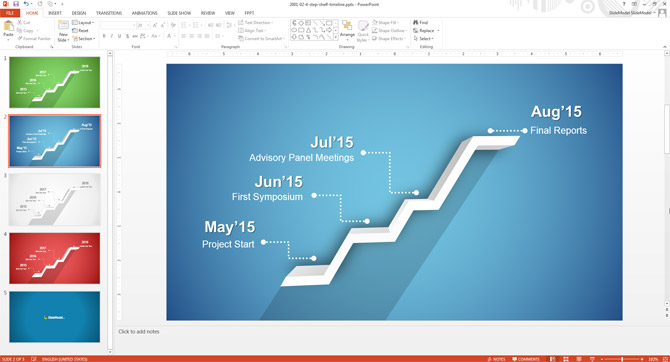 As soon as you open the PPT template in PowerPoint you can notice most of the text elements are created as editable text boxes. This means that you can easily edit the content and update the text to fit your needs. Moreover, you can change the font properties and styles.
2. Click on a text box element and edit the text to add a title and event description.

Now if you was working in the presentation content using a separate file, it is time that you copy and paste the entire slide into your PowerPoint presentation. Select the slide from the list of slides and copy it (you can use CTRL-C or right click to display the menu and then click Copy). Now go back to your original presentation and paste the slide in order to insert the timeline design.
More cool timeline templates that you can download from SlideModel.com:
This kind of timelines may not look as the typical timeline design but the flat and singular 3D & perspective effect can make shocking presentations.
A timeline template like the creative timeline PowerPoint designs can help you to speed up the design process by reusing a timeline design with editable elements so you only need to make small adjustments entering your milestones and fine tuning the timeline. Alternatively you can make a timeline design in PowerPoint using custom shapes or insert a SmartArt graphic representing a timeline. For project planning you may find useful the article Top Creative Gantt Chart Templates for PowerPoint.