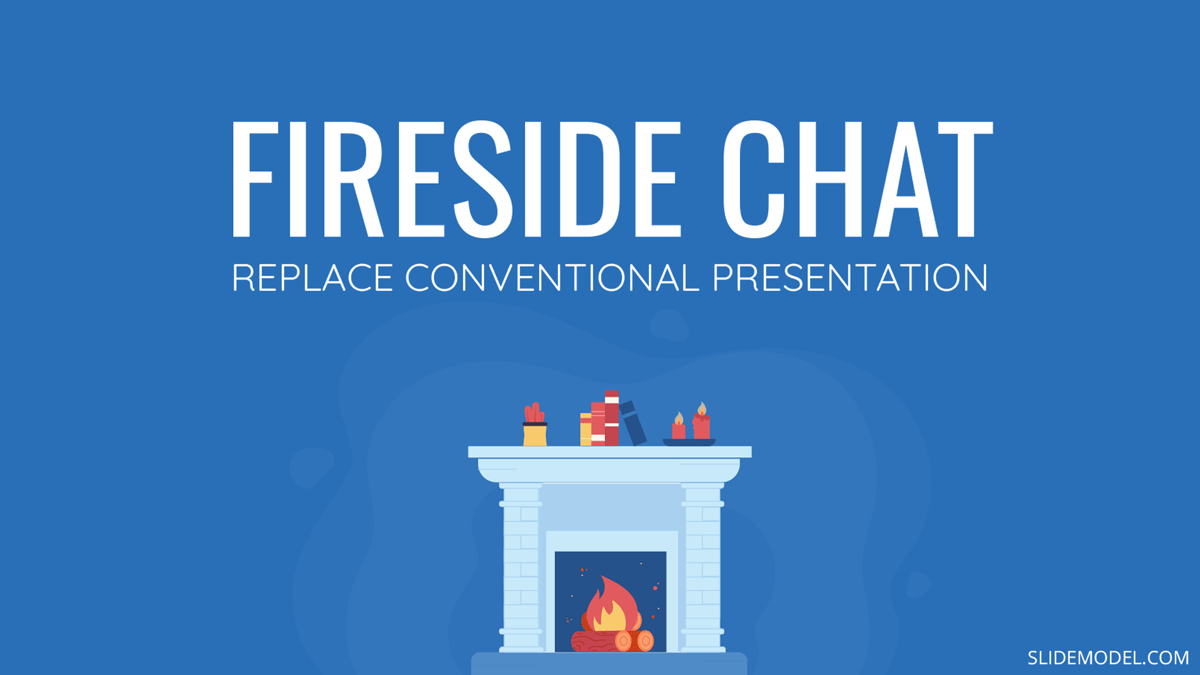 When the word presentation pops up, many people think of lengthy PowerPoint slides with a forgettable discussion, causing Death by PowerPoint. It can be hard to remain engaged during presentations by the audience since, arguably, very few people have the skill to keep their audience glued to their seats. However, all that can be changed by conducting more interactive sessions to engage the audience, such as a fireside chat.
What is a Fireside Chat?
A fireside chat replaces the traditional presentation style consisting of countless PowerPoint slides and a presenter behind a lectern. A fireside chat consists of a format similar to a TV chat show with a moderator interviewing the guests in an informal setting. Such conversations are without a prescribed format and often involve the guest's interaction with the audience.
The history of fireside chats can be traced back to U.S. President Franklin D. Roosevelt. During the Great Depression and World War II, he gave a series of radio addresses between 1933 and 1944. These addresses became known as FDR and fireside chats. What made these radio addresses stand out was their informal tone, which allowed Roosevelt to quell rumors, convince the public regarding his policies and instill a sense of confidence among the American people in his leadership.
Nowadays, a fireside chat implies informal interviews with influential people amidst a relaxed setting. Like the Roosevelt radio addresses, these events create a personalized and casual conversation between the audience and the primary guest.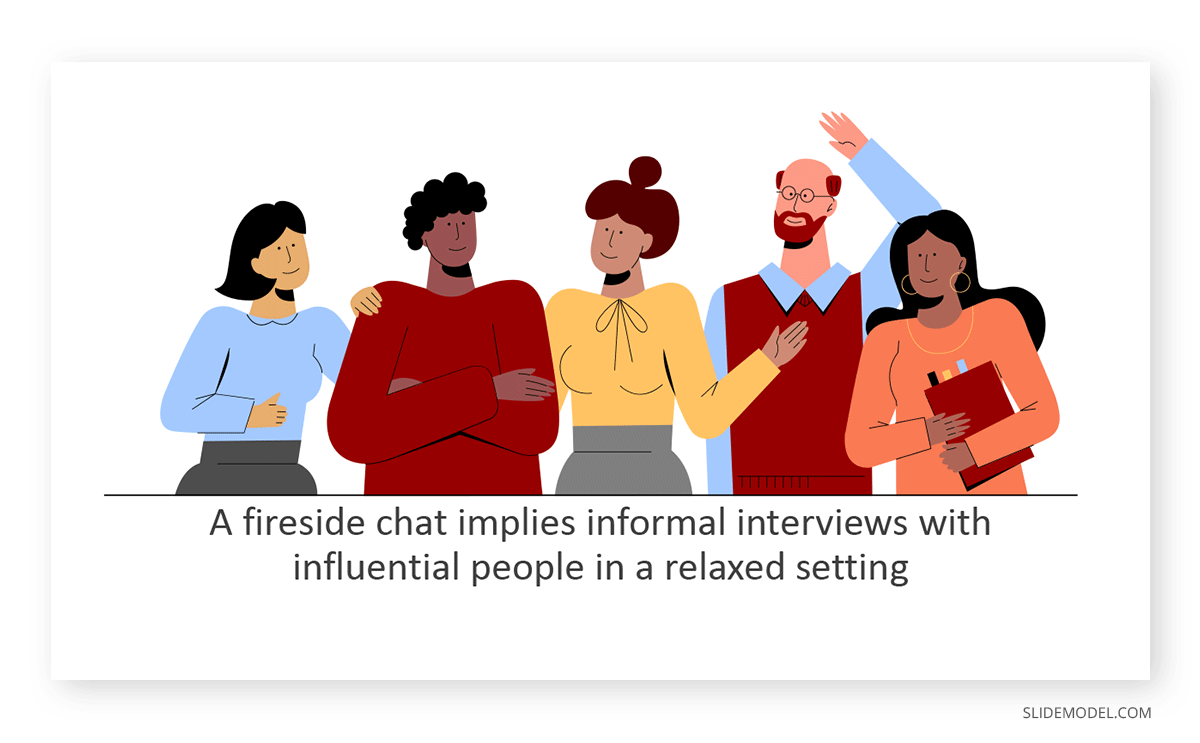 When to Conduct a Fireside Chat?
While there is no hard and fast rule as to when one should conduct a fireside chat, using such an informal setting can create an environment where the audience can feel connected to the primary guest. Below are a few examples of how a fireside chat can be beneficial at various types of events.
At a Corporate Event
Be it a corporate event to attract investors, interact with the media, motivate employees, or give clients and consumers a more personalized view of the company, a fireside chat can make all the difference at corporate events. For example, the founder of Amazon, Jeff Bezos, conducted a fireside chat with Indian movie stars during his recent tour to India. Bezos spoke of the rising viewership of Amazon Prime and discussed increased investment for Prime Video investments in India.
Bezo's informal interaction with Indian actors served various purposes. He used their star power to encourage potential customers in India to switch to Amazon Prime and garnered positive media coverage. Jeff Bezos is no stranger to fireside chats as he has frequently used this format at Amazon's Robot Conference in June 2019.
This shows that fireside chats at corporate events can be a great way to get favorable coverage from the press, create buzz for a product launch, and encourage consumers to buy a product or service.
At a Fundraiser
Many non-profit organizations use celebrities to raise funds at fundraisers. A fireside chat can help create an informal setting to encourage people to contribute to the fund. This can be especially effective if people and organizations with a history of making handsome contributions towards the cause are invited to interact with a celebrity. Similarly, such an event can also include auctions of celebrity items to raise money.
In July 2019, American Presidential hopeful Kamala Harris took part in a fundraiser with a fireside chat format. The fundraiser was organized by American business person and record executive Scooter Braun. The California senator was backed by star power from Ariana Grande, Demi Lovato, and Katy Perry.
During Company Meetings
Company meetings can often be dull and boring. Many people in the room can be mentally absent during the long conversations during company meetings. The CEO and senior management can help improve this situation by switching to a more informal format, at least once in a while. Fireside chats in the form of company meetings can be conducted with employees by senior management to encourage them to discuss company policies, provide suggestions, and reduce resentment; to show employees that their voice is valued and heard in the company.
When Conducting Learning Sessions
Some organizations conduct events where guest speaker share their experience with an internal or external audience. This can include company employees, consumers, college students, etc. Such company-sponsored sessions or learning sessions can be made more meaningful with a fireside chat format to allow interaction between the guest speaker and the audience.
To Boost Audience Engagement
For any event where audience engagement is expected to be low, a fireside chat format can help improve audience engagement and raise energy levels. This can include anything from replacing a conventional presentation format with a fireside format to a meeting with investors, consumers, or people from the same industry.
To Create Goodwill for a Brand
The fireside chat of Jeff Bezos mentioned earlier is an example of how companies can build goodwill for a brand using such sessions. Similarly, in January 2020, Microsoft's corporate vice-president of business applications and global industry, Alysa Taylor, conducted a fireside chat where she discussed Microsoft's first Canadian Azure ExpressRoute in Canada. Azure ExpressRoute is a service by Microsoft which links a private connection between the Azure data center to an organization's infrastructure.
A fireside chat can help CEOs and senior company representatives reach out to the general public and discuss their contribution to the consumer's welfare in the hope of earning goodwill for the product. In December 2019, Coca-Cola CEO James Quincey, during a fireside chat, lamented that the company should have moved into the sparkling water business sooner. During this informal discussion, he also took the opportunity to discuss plans by Coca-Cola for its sparkling water products. Discussions like these allow the public to see beyond the rigid corporate image of organizations and find a way to connect with company heads by dwelling on their successes and failures. This creates an atmosphere where the consumer can relate with the guest, which also generates goodwill for the product.
Key Elements of a fireside chat
Now that you know the various benefits and uses of the fireside chat format let us explain the key elements of a fireside chat. And the things you should consider when conducting a fireside chat session.
1. Create the Right Setting
A fireside chat is supposed to have an informal setting, the conversations should be fluid, and the whole environment should not disconnect the audience from the primary guest. As the name goes, there is no harm in making the premises a bit cozy with a fire burning around the guest and the moderator, with guests seated nearby. Depending upon the number of people in the audience, you can make the seating arrangement in an environment the audience might find familiar, such as a café or coffee shop-like arrangement where friends meet to work on projects or discuss ideas.
2. Pick a Moderator
Moderators are used to keeping fireside chat sessions in check. A moderator keeps the conversation going by interviewing the guest and ensures that the audience can be allowed to interact with the guest speaker systematically.
3. Pick Key Topics for Discussion
Fireside chats are meant to be fluid; therefore it's essential to determine a few key topics of discussion to keep the session focused. Company executives conducting such a session focus on their product and include existing success and plans for expansion to give consumers a heads-up regarding what to buy shortly.
4. Determine the Number of Participants
It can be hard to conduct a fireside chat with thousands of people at an event, this is likely to create disruption and be an organizer's nightmare. To make such a session a success, you should look to keep the audience number limited to a few dozen or less to make it easier to moderate sessions, cut down on potential disturbance from the audience, and keep the session engaging.
5. Determine a Wrap-up Time
An informal session with a celebrity with a fluid discussion can quickly turn into a never-ending story. The guest is likely to have other commitments, and a fireside chat session going off the rails when it comes to time constraints isn't the best thing to do. Therefore, a wrap-up time should be pre-determined to ensure that the moderator can conclude the session in time and the guest knows how much time he/she has to indulge the audience.
6. Use a Digital Medium for Streaming and Remote Participation
While the audience for a fireside chat can be limited, the goodwill can be extended across millions using digital mediums to stream the session. Many of Jeff Bezos's fireside chats are available on YouTube, which extends the impact of his sessions beyond the events he attended. Additionally, remote participation by celebrities can further add to the value of such sessions, where the guest speaker interacts with someone famous during the session to add more value to the event.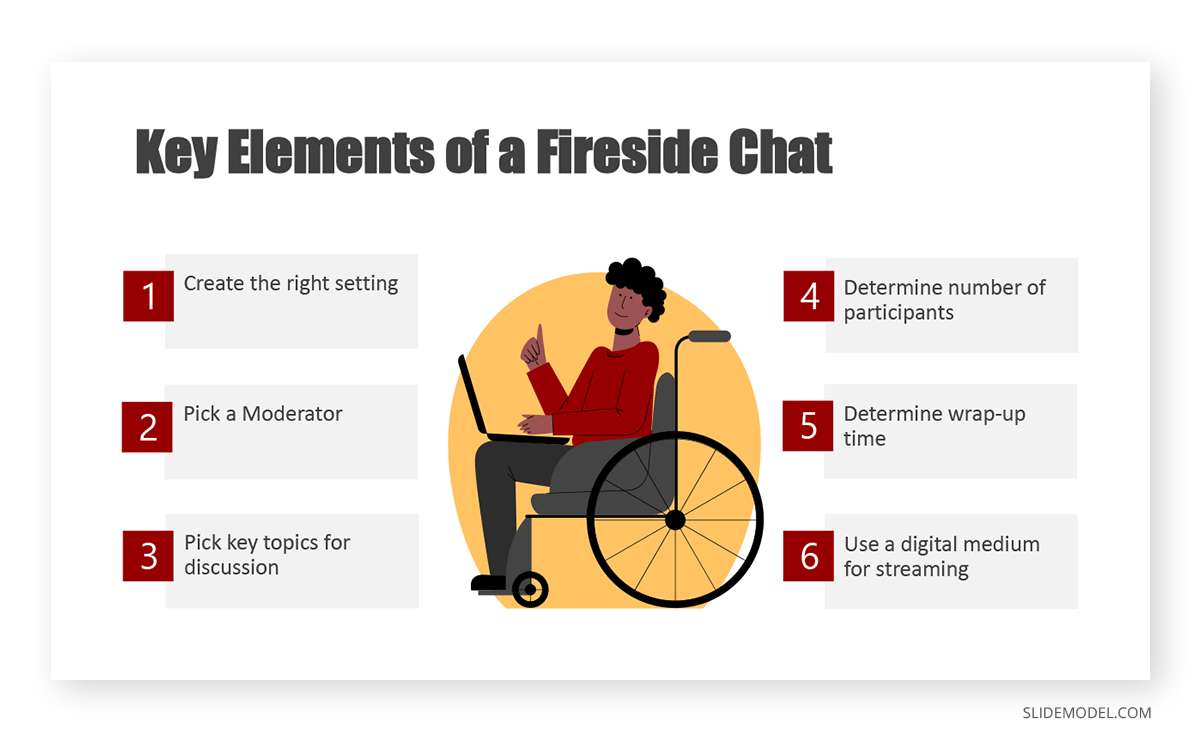 Final Words
Fireside chat sessions have replaced conventional presentations and are now the preferred mode of interaction by the world's top business executives, politicians, actors, sports personalities, etc. Such a session enables guest speakers to informally discuss their views candidly while reaching out to the audience with an image that appears more relatable. For example, politicians often want to project themselves as people like ordinary people and not apart. Similarly, CEOs of the world's top companies would like to reach out to their customers personally by sharing their successes and failures to avoid appearing as merely business-minded and selfish. Every large corporation tries to project an image where they can be seen as caring and considerate of the customer and exist only for their welfare.
Fireside chats can be a great way to engage the audience and replace conventional presentations. Even if you can't arrange for someone famous to be at your event, you can opt for people who have achieved something special in the wake of incredible odds or wish to showcase their talent. This can include social activists, budding artists, entrepreneurs from small and medium-size organizations, etc.