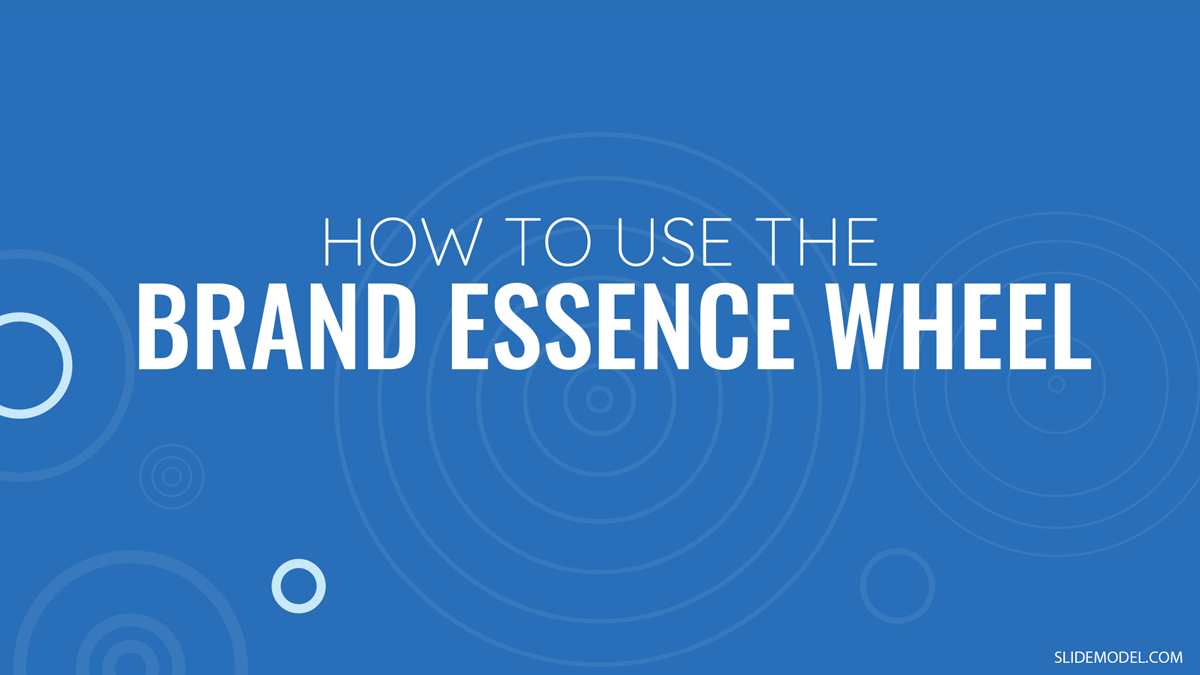 For any brand to be successful, it needs to resonate with the target market. For example, some brands might offer a low-cost product, whereas others might be seen as a symbol of success and luxury. How a brand makes a consumer feel, be viewed by others, and the utility it offers boils down to the 'brand promise.' To understand what your brand symbolizes, its value for consumers, and its core promise, it is important to understand the brand essence wheel that acts as the driving force.
Examples of Brand Essence of Famous Brands
To understand brand essence, it is essential to understand that the company might have multiple brands with a different essence, whereas taglines need to be viewed in isolation. Taglines can be tied to products for a period of time or indefinitely, in line with the brand essence. To better understand this concept, let's look at a few examples of the brand essence of famous brands.
Brand Essence of Google
Before the advent of Google Search, the concept of search engines was rarely understood. Google's mission is to 'organize the world's information and make it universally accessible and useful. This is the core principle that drives all Google products: its search engine, Google Ads, Google Analytics, Google Search Console, Google Maps, Google Earth, or even their email service, Gmail.
Since Google aimed to venture beyond its scope of information management and accessibility, it was restricted in 2015 and now falls under the parent company, Alphabet Inc. While Google's brand essence is making information easily accessible for end-users, Alphabet has had ventures ranging from private equity to human health, autonomous driving, and drone-based delivery of freight.
Brand Essence of Apple
While Google can be viewed as an exceptional company, with unconventional products and innovations in data management technology, Apple products are geared towards a brand-conscious user base that likes to differentiate itself.
For many years Apple's brand essence was focused on being different from the bandwagon with its mac computers. Then came the smartphone revolution, led by none other than Apple's iPhone. The brand essence of Apple has hence shifted towards helping people to work with simplicity when using technology. While maintaining a reputation for their brands being owned by people deemed tasteful. This is the brand essence consistent with all Apple products, be it their iDevices, Mac computers, or wearable products like the Apple Watch and AirPods.
Brand Essence of BMW
Bayerische Motoren Werke (BMW) does not simply produce vehicles that can provide the basic functions of an automobile. This is because the brand essence of BMW is 'driving pleasure.' BMW also owns Rolls-Royce, which aims to embody 'beauty, luxury, style, and perfection.' This seems to be a bit different from the promise of the iconic BMW. Therefore Rolls-Royce is a separate brand with its own brand identity and brand essence. On the contrary, BMW is all about providing the vehicle owner with the sheer pleasure of driving. This can also be observed from BMW's advertisements, depicting their cars to be capable of driving through various types of rough terrains with ease and grace, hence, focusing on the pleasure of driving.
Brand Essence of Adidas
Adidas is one of the largest sportswear manufacturers with the brand essence of 'relentless.' Unlike its competitor, Nike, Adidas does not focus on 'innovation and inspiration' but rather giving that feeling of relentlessness when using Adidas products. Consumers are expected to push their boundaries while using Adidas products, with the promise of supporting them in their relentless endeavor to achieve their sporting or fitness goals.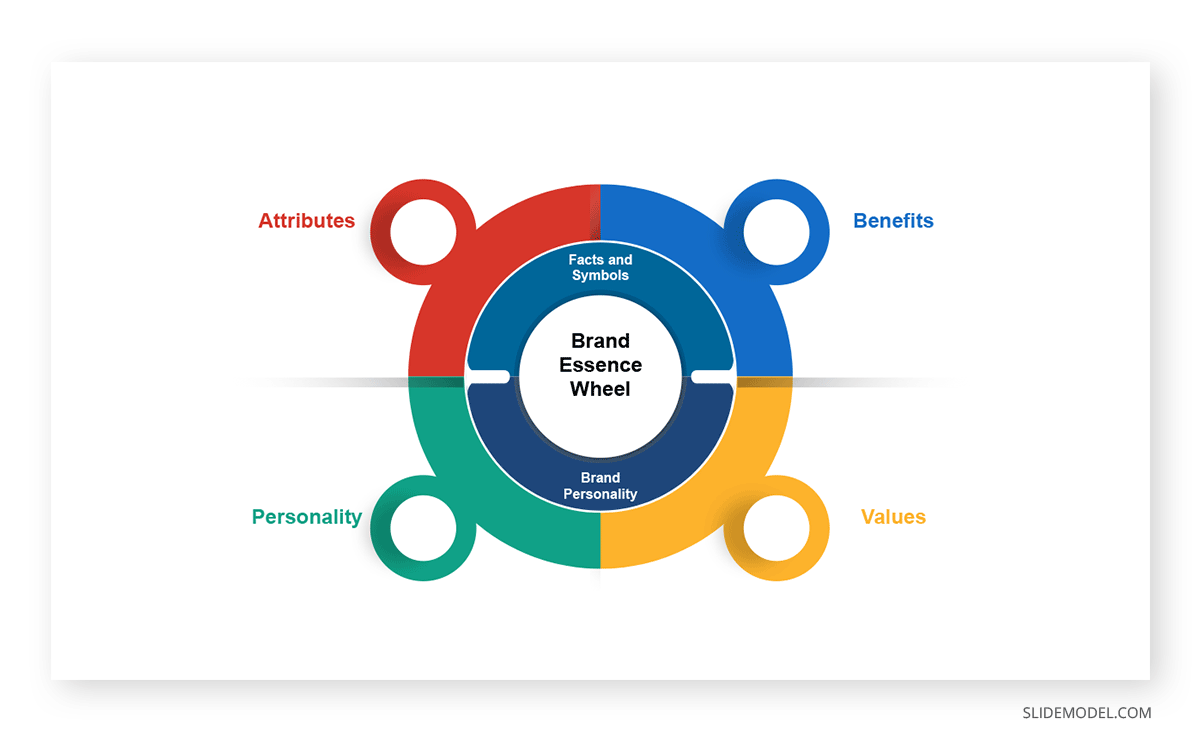 How to use the Brand Essence Wheel like Disney?
Disney is known as one of the largest entertainment companies in the world. A few of the brands that fall under the umbrella of The Walt Disney Company include Disney Media and Entertainment Distribution, Disney Parks, Experiences and Products, The Walt Disney Studios, Disney General Entertainment Content, ESPN and Sports Content, and Marvel entertainment. Notice that all of these brands do not necessarily reflect the brand essence of Disney's products like the Walt Disney Studios, Walt Disney Animation Studios, and Disney Land Resorts. Disney brands these on being 'magical,' offering magic, family, and fun. Some of the other brands under The Walt Disney Company, such as ESPN, 20th Century Fox, or Marvel Entertainment, do not seem to match this brand essence; hence, these are separate brands.
To better understand brand essence, we can create a brand essence wheel. The wheel consists of three layers, each with its own significance for the brand. The outer layer represents the facts and symbols associated with a product, followed by the middle layer with the brand's values and personality. At the core lies the brand promise and what it truly represents. The sections below describe these three layers in line with the Disney brand.
1. Outer Ring – Facts and Symbols
The outer ring of the brand essence wheel focuses on external factors. These include the facts, attributes, and advantages associated with a brand.
Surface Level Facts and Attributes
The outer ring of the wheel consists of verifiable facts. These might include the market share, properties owned by the brand, types of products, etc.
Advantages of the Brand/Product
The outer layer of the wheel also includes the advantages derived by the consumer from the product(s) or brand. In the case of Disney, it would be family-oriented entrainment that gives people a magical experience like no other.
If you want to drive your brand essence wheel in a direction inspired by Disney, you will require offering something surreal to the consumer. While this is easier said than done, even small brands can focus on something out of the ordinary to offer something that makes consumers feel valued with a family-oriented service or product. What makes brands like Disney successful are not just their theme parks or animated characters but that sense of belonging and happiness that gives the consumer happy memories they associate with the Disney brand. A deeply entrenched feeling with the consumer is likely to result in brand loyalty, even for a local retailer.
2. Middle Ring – Values and Brand Personality
To follow the example of Disney and any successful brand, you need to see your brand not as an inanimate entity but as a living, breathing person with its own personality. You need to align your brand values and personality with your goals to reach your intended audience.
Identify what Makes Your Brand Special for Your Customer
We can argue that in the case of Disney, the aspect of family-oriented fun makes it special. This is unlike the competitors that would find it hard to match Mickey Mouse, Daffy Duck, or the iconic Snow White with her seven dwarf friends. Be it the Disney theme parks, animated movies, or the renditions of their famous characters, Disney has something special to offer its customers, and that includes fond memories and a sense of happiness. This means that you need to resonate with your target audience personally and offer something that can be both memorable and fun for them.
How Does the Customer Define the Product?
If there were one word used for describing Disney's theme parks, it would probably be 'fun.' How the customer describes your product could make or break your product or brand. No company wants to be known for low-quality products and services, but many end up with just that reputation due to their negligence of realizing how they are perceived.
What Does the Brand Say About the Customer?
Luxury goods are meant to give people an elegant and classy look. Whereas brands deemed too cheap or inferior can make people look miserly or inferior in the eyes of society. Brands often use these discriminatory societal attitudes to build their brand reputation, even selling overpriced products to those who can either afford them or are aspirational consumers.
The Disney brand is not for people looking for R-rated content but rather falls under the G or PG 13 rating. In other words, something the whole family can enjoy. On the contrary, other brands owned by The Walt Disney Company, such as Marvel entertainment, has a separate identity with characters like The Punisher, Thanos, or the X Men that are meant for a quite different audience.
How Does Your Brand Make the Customer Feel?
How would you feel if you visited Disney Land? Would it be something 'fun and magical'? Now imagine going to the Scare Kingdom Scream Park. The latter would be for thrill-seekers and people looking for some excitement through what the park describes as a 'scare entertainment experience'. How the brand makes the customer feel has a lot to do with how the brand aims to succeed and what market niche it intends to cater for.
3. Inner Ring – The True Brand Promise
At the core of the brand, the essence wheel is the brand promise and what it truly stands for.
Define the Key Essence of the Brand
To make your brand stand out and be consistent with your intended brand personality, the core of the brand should reflect everything the brand stands for. For Disney, it would be the promise of a magical experience. In other words, magic, family, and fun.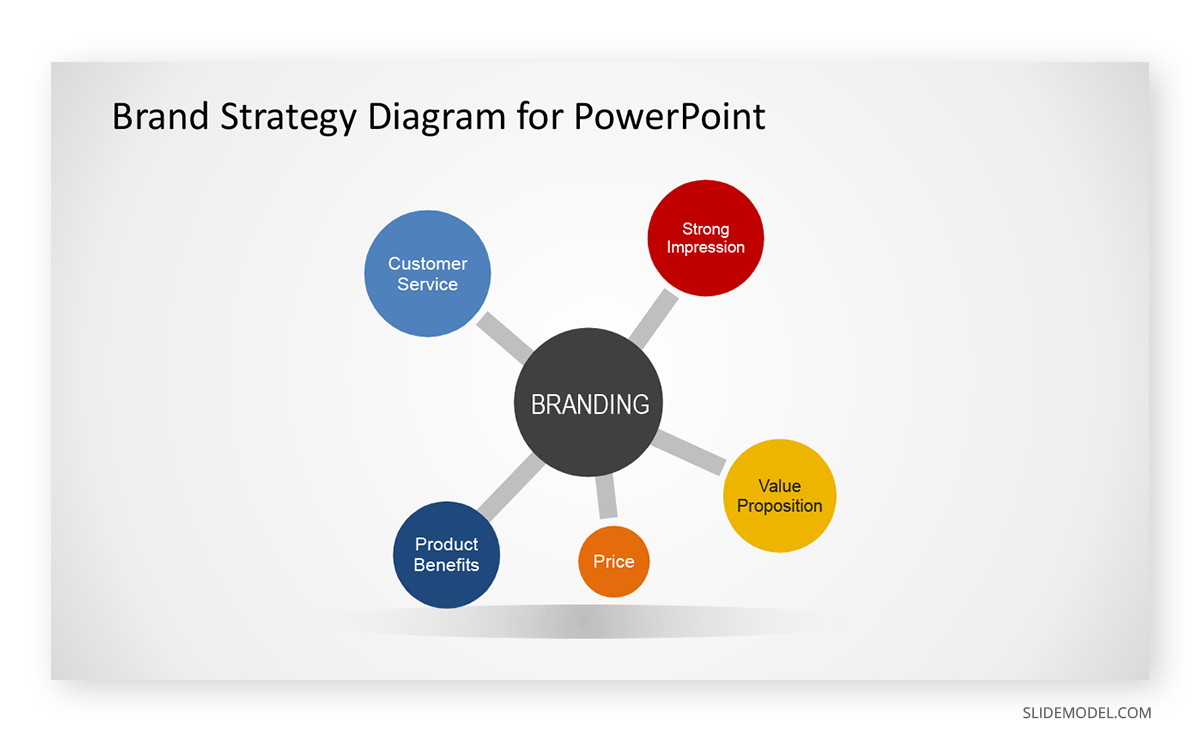 How to Present the Brand Essence Wheel
The brand essence wheel requires all three layers to be aligned. You can use the following steps to create and present your brand essence wheel.
1. Identify Brand Characteristics: Identity what makes your brand special and list its characteristics, including what makes it different from competitors.
2. Identify Target Audience: Define your target audience and make sure you are specific about the type of audience your brand intends to cater to.
3. Consider the Optics of Your Brand: Consider how your brand would make your customer look and feel. Is it a luxury good? Are you looking to provide value for money? How your brand is perceived will have a major impact on your long-term goals. Many brands find it hard to shed the inferior brand tag even when their products become better due to customer perceptions. Once your brand identity is set, it can be hard to change.
4. Create a Brand Essence Statement: Your brand essence statement should align with your values, brand personality, and essence.
5. Create a Brand Essence Wheel: Based on the data you have gathered, create a brand essence wheel. You can use the Brand Essence Wheel PowerPoint Template to create such a presentation. This customizable template provides you with a sample brand essence wheel with various sections that can be customized to create the outer, middle, and inner rings with relevant information related to each part of the wheel.
Final Words
A good brand focuses on its attributes and utility and aims to create an emotional attachment with the customer. Disney has famously branded Disney Land with taglines like 'Watch Dreams Come True at the Happiest Place on Earth. So, Disney aims to create an emotional attachment, offering a magical experience to help people find memories and consider it a place where the impossible is possible through their rides and entertainment options. Similarly, Disney's movies aim to replicate a similar feel with magical stories and perhaps more happy endings for their movies than you are likely to see for any studio.
Whether you are looking to position your new brand or reorient an established brand, the brand essence wheel can be a good tool to determine the best way forward for your brand and how it would impact your customers to achieve desired goals.